Axios Navigate
April 03, 2019
Good morning from D.C., where I'm attending the Washington Auto Show and Mobility Talks International. Thanks for reading. Please share this newsletter and tell your friends they can subscribe here.
New: Axios Space — your new weekly missive covering the latest in the trends, business and science of space — is launching Tuesday with Axios Space reporter Miriam Kramer anchoring. Sign up here 
1 big thing: AVs won't fix Lyft's profits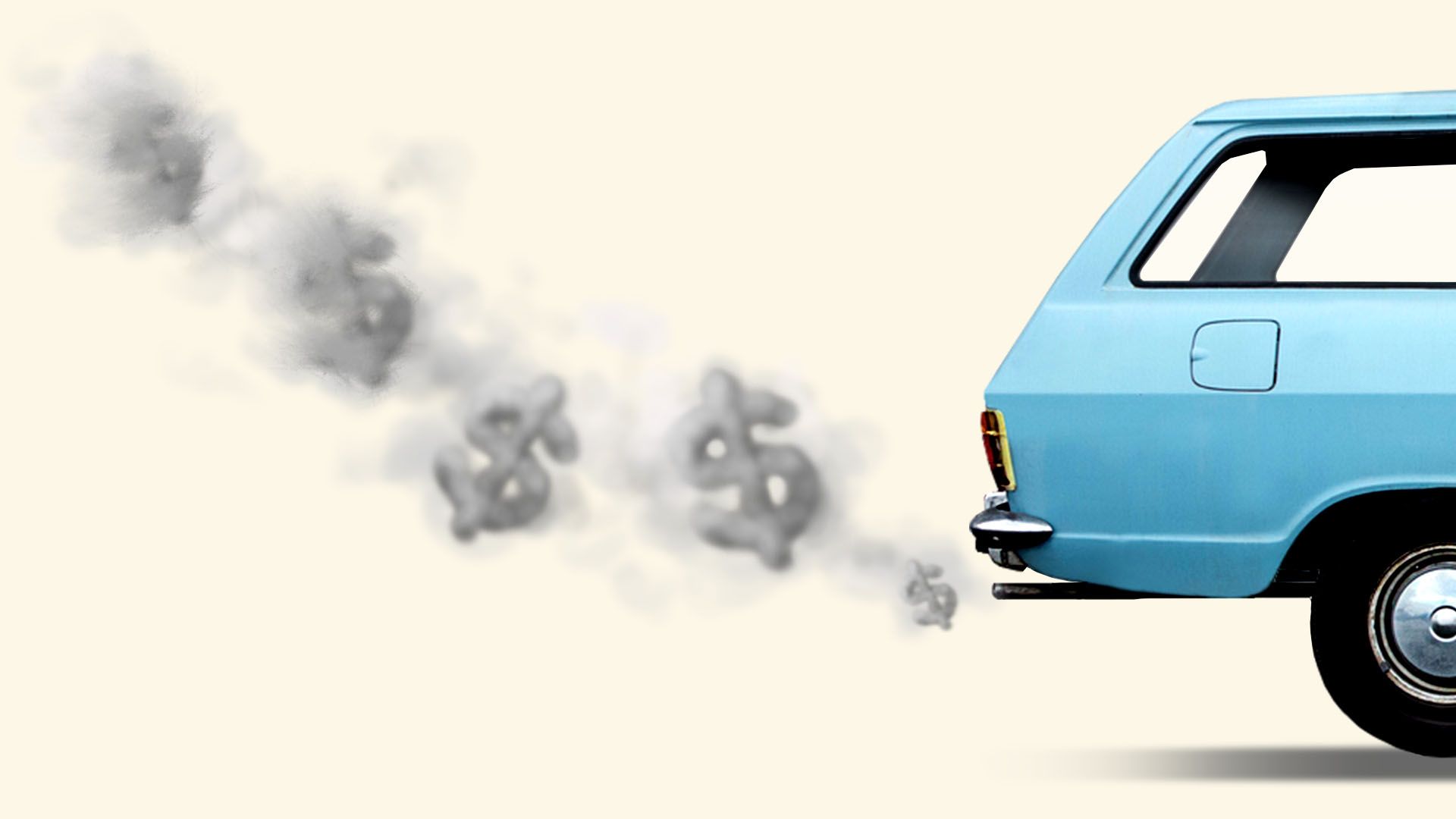 Lyft — and now their shareholders — are banking on robotaxis to replace high-priced drivers and help turn ride-hailing into a profitable enterprise. Don't count on it.
The big picture: Creating and deploying a robotaxi service is an expensive proposition — pegged by one AV company at $5 billion to $6 billion for the vehicle, the AV technology and the fleet operations and maintenance.
Even with partners to share the burden, those added costs would likely offset any savings from the elimination of human drivers, experts tell Axios.
What's happening: Lyft's initial public stock offering — likely to be followed by an Uber IPO within weeks — is a measure of investors' faith in the company's growth prospects.
Lyft's newly listed stock surged to nearly $89 after its $72 debut last Friday, but plummeted since then.
Lyft's shareholder prospectus frequently touted its ambitious long-term AV aspirations — including a broad range of ride-hailing and transportation scenarios over the next 5–15 years.
It's hard to know if the stock's decline is tied to skepticism about AVs in particular or ride-hailing in general.
Details: Lyft said it has a two-pronged strategy to bring AVs to market. 
Its open platform lets AV developers use their vehicles to fulfill rides on Lyft's network, gaining insights into ride-hailing networks. In Las Vegas, for example, auto tech supplier Aptiv has deployed a fleet of automated BMWs (with a safety driver) on the Lyft network, providing 35,000 rides since January 2018.
Meanwhile, in Silicon Valley, Lyft is working with another big supplier, Magna, to jointly develop full self-driving technology. The team includes more than 300 engineers and robotics experts, a Lyft spokesperson says.
Magna can share their co-developed technologies with other customers, an arrangement Lyft says will accelerate the introduction of self-driving vehicles and "democratize" access to the technology.
Yes, but: Lyft already loses massive amounts of money — $911 million in 2018 — even though it's the epitome of an "asset light" business, with neither cars nor drivers on its books.
The bottom line: Perhaps Lyft is betting that more AVs on the road — from any automaker — will fuel growth in its ride-hailing network. But the company is not saying much so it will be up to investors — and customers — to decide.
2. High hurdles for flying cars
Hundreds of companies are working on flying car concepts, but before they can be deployed, researchers need to solve complex technological barriers, according to a new report from aviation experts at Deloitte.
Why it matters: Though they sound far-fetched, flying cars could profoundly impact how we live and work, and potentially change the face of cities.
What's happening: In January, Boeing flew a prototype of its small pilotless vehicle and CEO Dennis Muilenburg told Axios he expects the skies to be filled with electric, autonomous flying vehicles within a decade.
Yes, but: First, developers have to solve these technological challenges, Deloitte says, including...
Cheaper, longer-lasting batteries for long-range commutes. Hybrids could help in the interim.
Better situational awareness systems to detect buildings, power lines and cell towers. To chart a safe flight path will take advanced AI technology and more sensors.
Advanced detection and collision avoidance systems that can identify objects over longer distances, over difficult terrain, and in bad weather.
Seamless communication networks, like 5G, and a comprehensive air traffic control system.
Noise reduction — if flying cars are too noisy, the public won't accept them.
What to watch: The first flying cars, like AVs being tested on the ground, will likely have safety pilots, says Robin Lineberger, leader of Deloitte's aerospace and defense industry practice. He expects them in the next 5 to 10 years, with self-flying cars by 2o30.
3. GM, Ford and Toyota to lead AV safety group
GM, Ford and Toyota are joining forces with SAE International, a professional engineering group, to try to address a gap in safety testing practices for AVs.
Why it matters: Many carmakers and tech companies are running AV test pilots on public roads, but there are no accepted safety policies for how to conduct those tests, a problem underscored when a pedestrian was killed by an Uber self-driving test vehicle in 2018.
Details: The three automakers, along with SAE, are the founding members of the new Automated Vehicle Safety Consortium.
They will work to define best practices for safety testing and other "pre-competitive" issues surrounding the development of AV technology.
The consortium will address training recommendations for AV safety drivers, communicating with pedestrians, and how first responders should interact with AVs.
The effort is expected to lead to the development of formal standards and rulemaking for AVs in the U.S., which can then be harmonized with other countries throughout the world.
The ultimate goal is to create public trust and confidence in AVs.
"It's a new industry and obviously there are a lot of new entrants," said Edward Straub, executive director of the new consortium.
GM, Ford and Toyota have a long history of testing and deployment of new safety technologies, Straub said. "It makes sense that these companies should be leading this charge."
Other companies will be invited to join the consortium later, he added.
Go deeper: Americans still don't trust self-driving cars (Paul Lienert and Maria Caspani — Reuters)
4. Driving the conversation
AV testing: Want to know how well China's autonomous cars are driving? Ask California (Echo Huang — Quartz)
Why it matters: China's first report on AV testing results — like similar reports in California — is largely meaningless, but it's the only metric we have to measure AV companies' progress.
In China, Baidu is by far the most active, but that doesn't mean it's doing great. When you compare its progress to Waymo in California, the Chinese giant lags by a lot.
Bug: Researchers trick Tesla Autopilot into steering into oncoming traffic (Dan Goodin — Ars Technica)
The big picture: By putting inconspicuous stickers on the road, the hackers were able to convince the Tesla that traffic was shifting to the left — into oncoming traffic. Exploits like this show that AV developers have to consider how vulnerabilities can occur from changes to the environment, not just inside the car.
Of note: Tesla has had a "bug-bounty program" since 2014 to encourage hackers to find bugs in its software so it can make its cars better. In this case, Tesla had already fixed the problem.
Sensory Overload: Sun plays tricks on Cadillac's Super Cruise (Michael Wayland — Automotive News)
My thought bubble: The problem described in the article — sunlight blinding the infrared camera that's supposed to monitor the driver's attentiveness — is what caused a sudden swerve by the Cadillac CT6 I was driving in December 2017.
GM has updated the software since then and tells Automotive News that the sunlight problem will be part of "significant changes" coming in the next-generation Super Cruise hardware.
5. 1 last thing: Ride in a self-driving car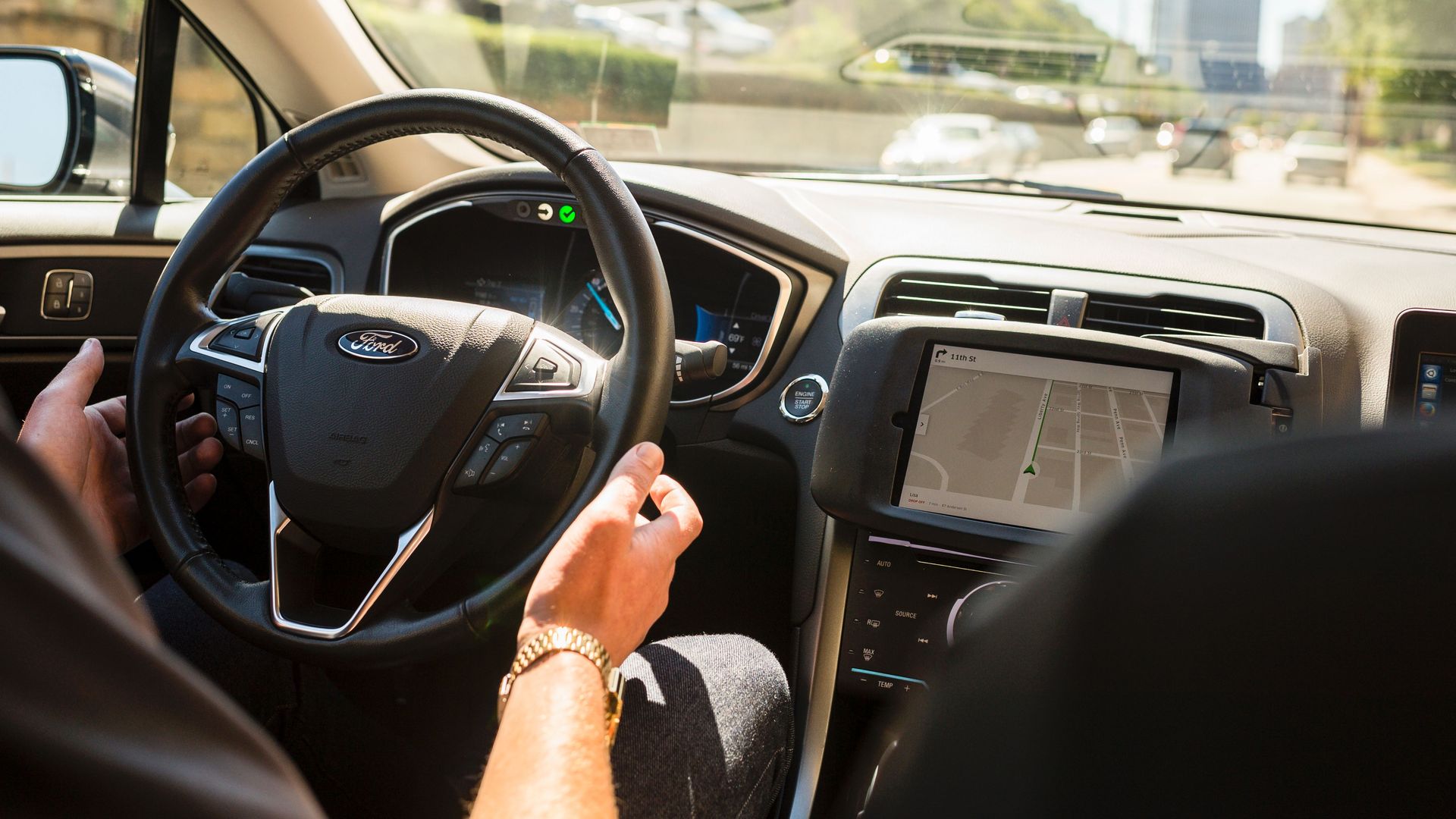 If you've been wondering what it's like to ride in a self-driving car, here's your chance.
What's happening: PAVE, a consortium dedicated to educating the public about AVs, is holding its first public demonstration at Detroit's Cobo Center this weekend.
Why it matters: 71% of American drivers would be afraid to ride in a self-driving car, according to AAA. But fear of the unknown could be a factor — AAA found that the more exposure people had to safety technologies, the more likely they were to trust them.
Learn more about the event, or sign up for your own ride in an AV. And keep an eye out for other PAVE events across the country.