Axios Austin
October 26, 2023
Greetings this Thursday, friends.
⛈️ Today's weather: Showers and storms all day. A flood watch is in effect until this afternoon. High of 83.
Let's get to it.
Today's newsletter is 811 words — a 3-minute read.
1 big thing: Rainy Austin winter in the works
There's a decent chance of a wetter-than-normal winter in Austin this year, per the National Oceanic and Atmospheric Administration's seasonal outlook.
Why it matters: Apart from this week's rains, it's been bone dry and super hot in Central Texas.
Lakes Travis and Buchanan, the chief reservoirs for Central Texas, are only 39% full.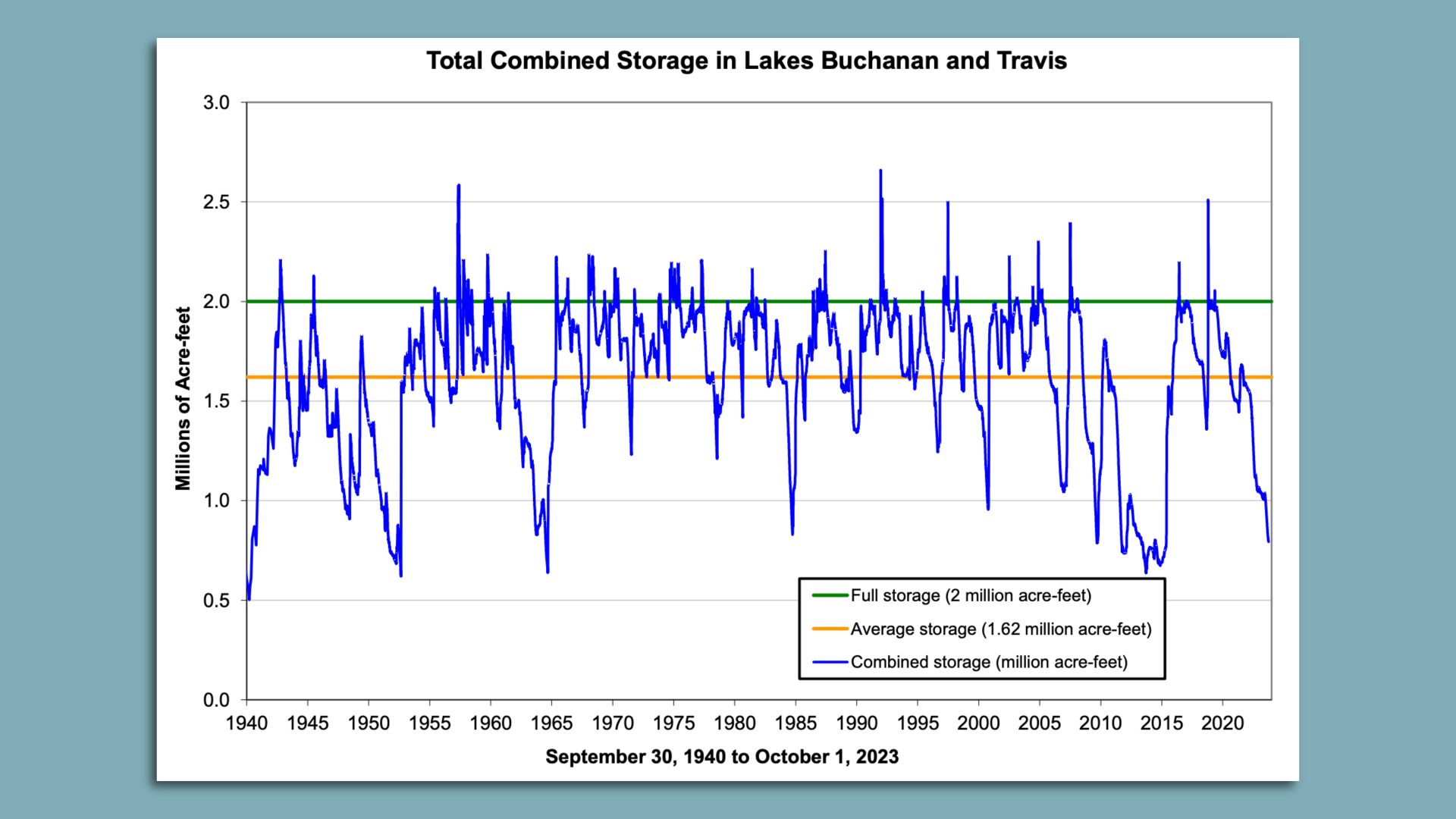 Zoom in: Austin has a 40% chance of a wetter-than-average winter, per NOAA.
The big picture: This summer was the driest in 113 years in Austin, forcing many Central Texas communities to enact water restrictions.
As the region's drought has dragged on, we've seen wildfires and a hit to the state's agricultural economy.
Not to mention a deep-down feeling of misery, one that has a lot of Austinites talking about finally moving to some place like Oregon.
By the numbers: Our rainfall to date this year totals nearly 20 inches — more than 10 inches below our normal rainfall for the year at this time, per National Weather Service data.
Yes, but: Through yesterday, 3.47 inches of rain had fallen so far this October, outstripping the customary 3.17 inches during the period.
The intrigue: It's not yet clear how record warm global average temperatures will tip the scales in terms of U.S. air temperature and precipitation trends this winter.
But they do raise the threat for some surprises, potentially in the form of extreme weather events.
The bottom line: Rain, rain, come again.
2. Austin-based music app uses generative AI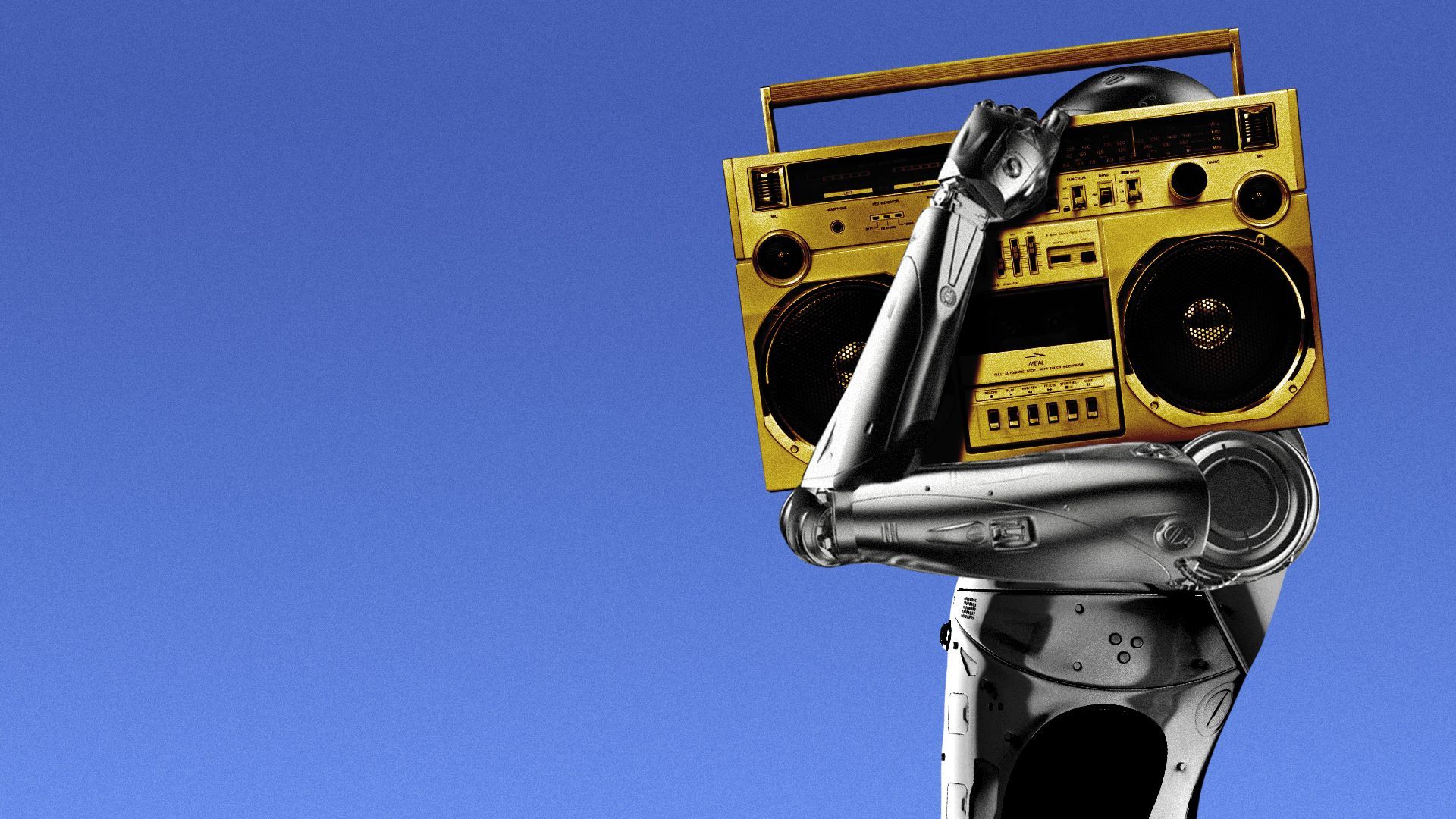 Users of Austin-based social listening app Earbuds can now build playlists, find songs and discover new artists with the help of a virtual assistant powered by ChatGPT.
Driving the news: The app, which allows users to easily share music across streaming platforms, recently announced that it has integrated generative artificial intelligence.
What they're saying: Founder and CEO Jason Fox said that leveraging AI for music discovery will provide a more personal experience than typical algorithms.
"If we're helping users discover songs, discover artists, discover new music — that's going to lead them to share it with their network," he told Axios. "If we can power that discovery, that's going to help the rest of our mission as well."
Catch up quick: Fox, a former NFL offensive tackle who now resides in Austin, launched Earbuds in 2019 while watching current Carolina Panthers quarterback Cam Newton warm up before a game.
"I was curious what he was listening to, but more than that, how many people watching would love to be in Cam's headphones right now," he said.
The app allows a listener on one streaming service to share a song with a friend on another platform, livestream music and comment on friends' music picks.
The company now has eight full-time employees and two contractors. Investors in Earbuds include Techstars, Ecliptic Capital and individuals like Kansas City Chiefs quarterback Patrick Mahomes and football legend Brett Favre.
What's new: Fox hopes the latest update using generative AI will keep users on the app, even if they have yet to add friends.
Earbuds can now create AI-generated playlists based on user prompts.
There's also a private chat feature where users can ask their virtual assistant to create playlists, find songs or learn more about an artist.
3. 🤠 The Roundup: Wrangling the news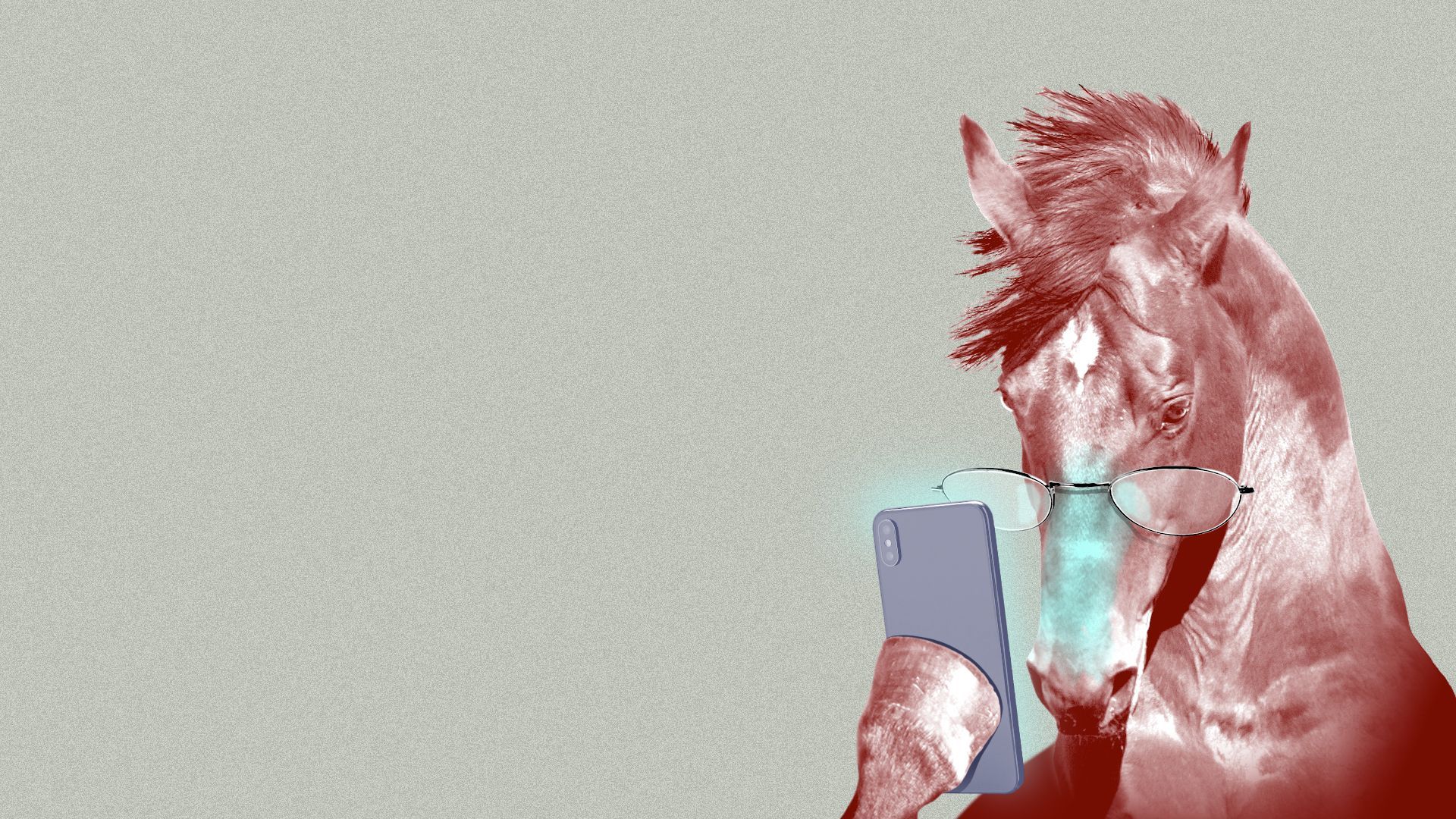 🚙 Citing safety concerns, California has revoked the driverless testing permit of Cruise, which also operates in Austin. (Axios)
🚨 Six Austin public schools — Austin High School, O. Henry Middle School, Kealing Middle School, Rosedale School, Hill Elementary and Casis Elementary — are no longer in "Secure" mode after the school district says they received emailed threats. (Fox 7 Austin)
👖 Matthew McConaughey and Camila Alves McConaughey launched their new joint tequila brand, Pantalones Organic Tequila. (People)
Stat du jour
Over a five-year period, 77% of people killed in Austin car crashes tested positive for drugs or had a blood alcohol content above .08%, the legal limit for driving.
—
A new city report
4. Chupacabra moves to round three
Big Foot stomped out La Llorona in our clash of the cryptids bracket, but the Chupacabra is advancing.
Details: Chupacabra received 51.6% of the vote, beating the Wendigo, an evil spirit originating from Indigenous folklore.
Big Foot took in 58.3% of the vote over La Llorona.
What's next: Our sole hope is riding on Chupacabra. It'll face Mothman, a winged creature from West Virginia known as the omen of a deadly bridge collapse.
Voting for round 3 closes today at 2pm. Vote here to make sure Chupacabra heads to the frightful final four.
Fresh job openings around town
5. 🏀 Dispatch from Spurslandia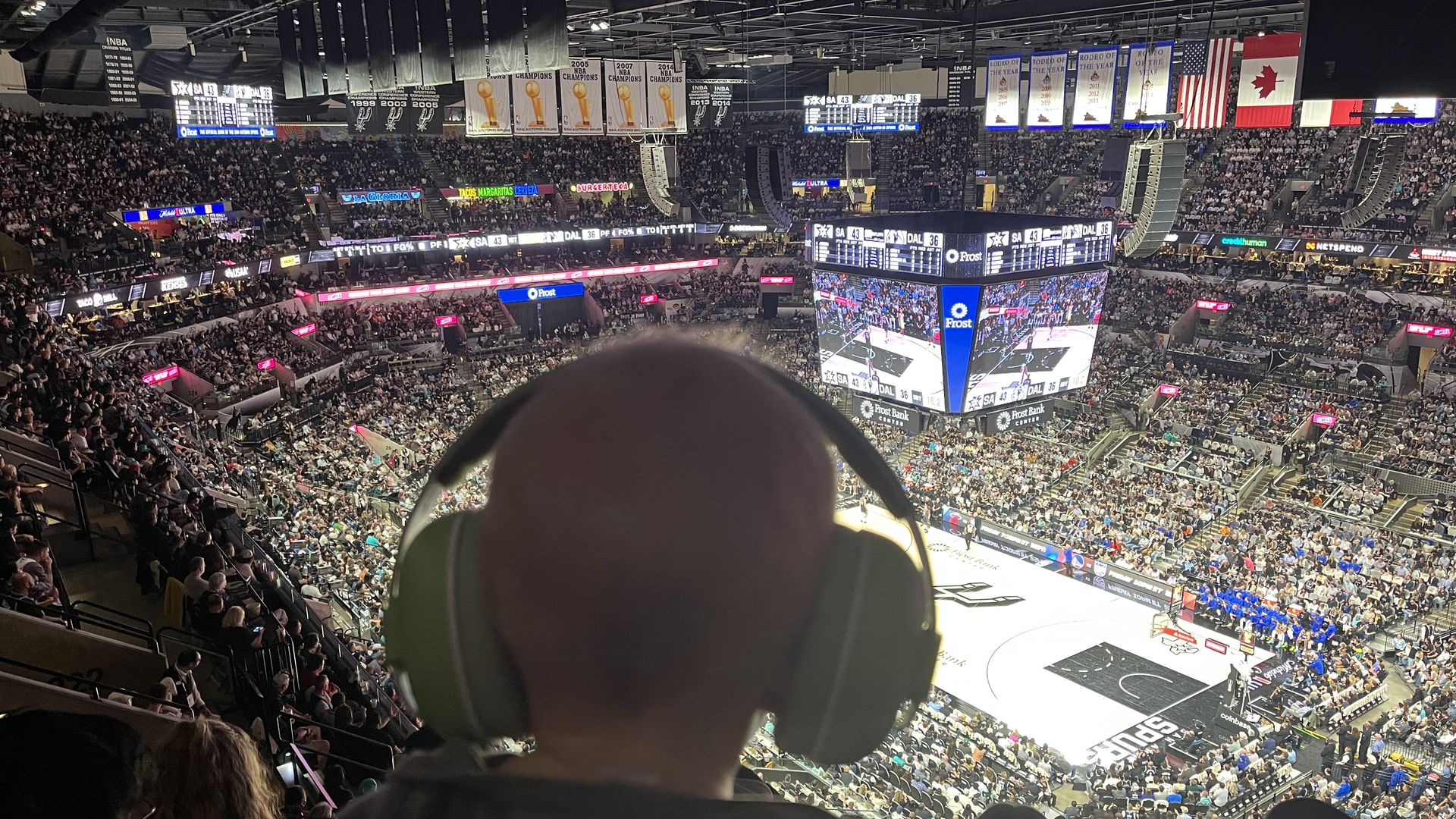 Pro tip: Turns out taking your kid to the Spurs season opener is a little like bringing him on an airplane.
If you're under age two, you go for free, as long as you're sitting on someone's lap.
But watching Wemby in action is way more fun than getting crammed into seat 21B.
Bottom line: The Spurs lost 126-119 last night to Dallas, but rookie Victor Wembanyama looked promising despite foul trouble.
Thanks to Chloe Gonzales for editing and Kate Sommers-Dawes and Keely Bastow for copy editing this newsletter.
We're thinking of Maine as we learn more about the events of last night.