Axios Austin
March 22, 2023
Happy Wednesday, and Ramadan Mubarak to everyone celebrating the holiday!
Situational awareness: Austin Resource Recovery has begun its second pass to collect winter storm debris from its customers.
Crews will drive every street to pick up debris properly set at the curb.
After April, customers should contact 311 to request a special collection for remaining storm debris.
☁️ Today's weather: Overcast but warmer — a high of 81°.
🌈 Sounds like: "Reading Rainbow," sung by Tina Fabrique.
Today's newsletter is 914 words — a 3.5-minute read.
1 big thing: Eviction filings back to pre-pandemic levels
Eviction filings in Austin have returned to pre-pandemic levels, according to data from Princeton University's Eviction Lab.
Driving the news: Sweeping local and national eviction moratoriums helped keep many families in their homes through the heart of the COVID-19 pandemic, but with those moratoriums long since over, many Americans are once again exposed to the threat of displacement.
What's happening: Austin averaged 207 eviction filings per week over the four weeks prior to March 4, per the Eviction Lab.
That's up 3.5% over last year and more than seven times higher than the weekly average when pandemic moratoriums were in place.
Average weekly eviction filings hovered around 27 during the moratorium period.
Zoom in: Texas lawmakers are considering measures that would offer statewide tenant protections similar to what's being considered in Dallas and already offered in Austin, per the Texas Tribune.
The Republican-led Legislature has not expressed much interest in tenant-rights bills, however, per the Tribune.
Austin's policy allows landlords to issue a notice to vacate if a tenant owes three or more months of rent, and renters also have a grace period between seven and 30-days instead of the current three-day grace period under Texas law.
Yes, but: Local renter advocates fear that's not enough.
Emily Blair, executive vice president of the Austin Apartment Association, told Community Impact that the latest protections didn't do enough to halt evictions.
"Payment plans, rental assistance, and other outreach efforts are what kept renters housed," Blair said in an October statement.
Of note: The Eviction Lab's data set doesn't capture illegal evictions, nor does it include cases where renters are effectively forced out by large rent hikes.
2. New East Austin trail plans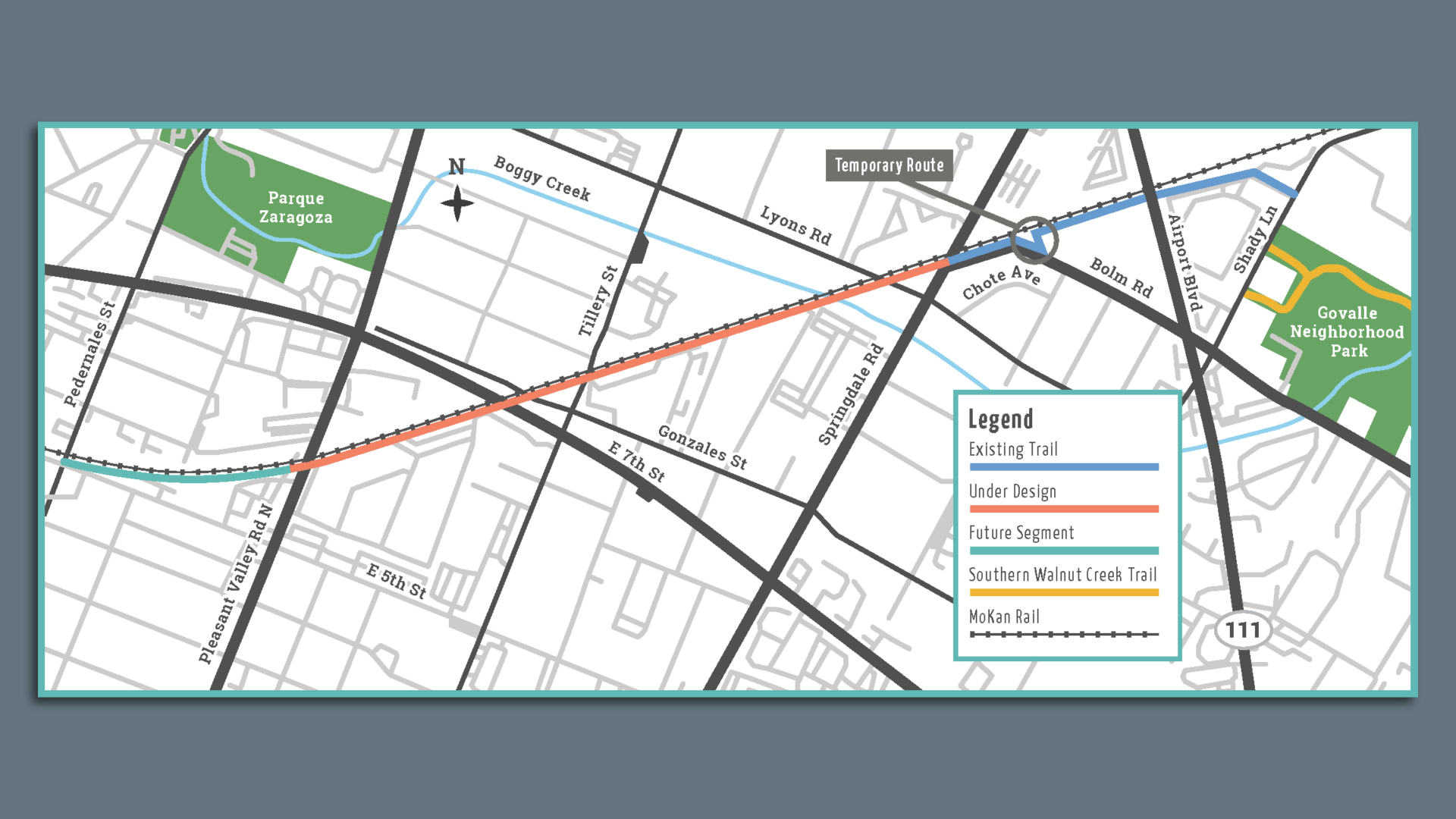 A new trail coming to East Austin would connect an existing bike path to the Southern Walnut Creek Trail system.
Driving the news: Austin Public Works officials are asking residents to weigh in on the project until April 23 through a virtual open house.
Why it matters: The trail is intended to help safely connect pedestrians and cyclists to transit stations, parks, schools, grocery stores and more.
Details: A private developer previously built a quarter-mile section of the MoKan Trail, which runs along a railroad from Springdale Road to Shady Lane and opened in January. The new project would develop a three-quarter-mile trail segment from North Pleasant Valley Road to Springdale Road.
The trail section is funded by the 2020 mobility bond and $1 million in federal dollars.
Find the full plan here.
Of note: Residents also have options to make in-person comments on the proposed design at four locations.
3. 🤠 The Roundup: Wrangling the news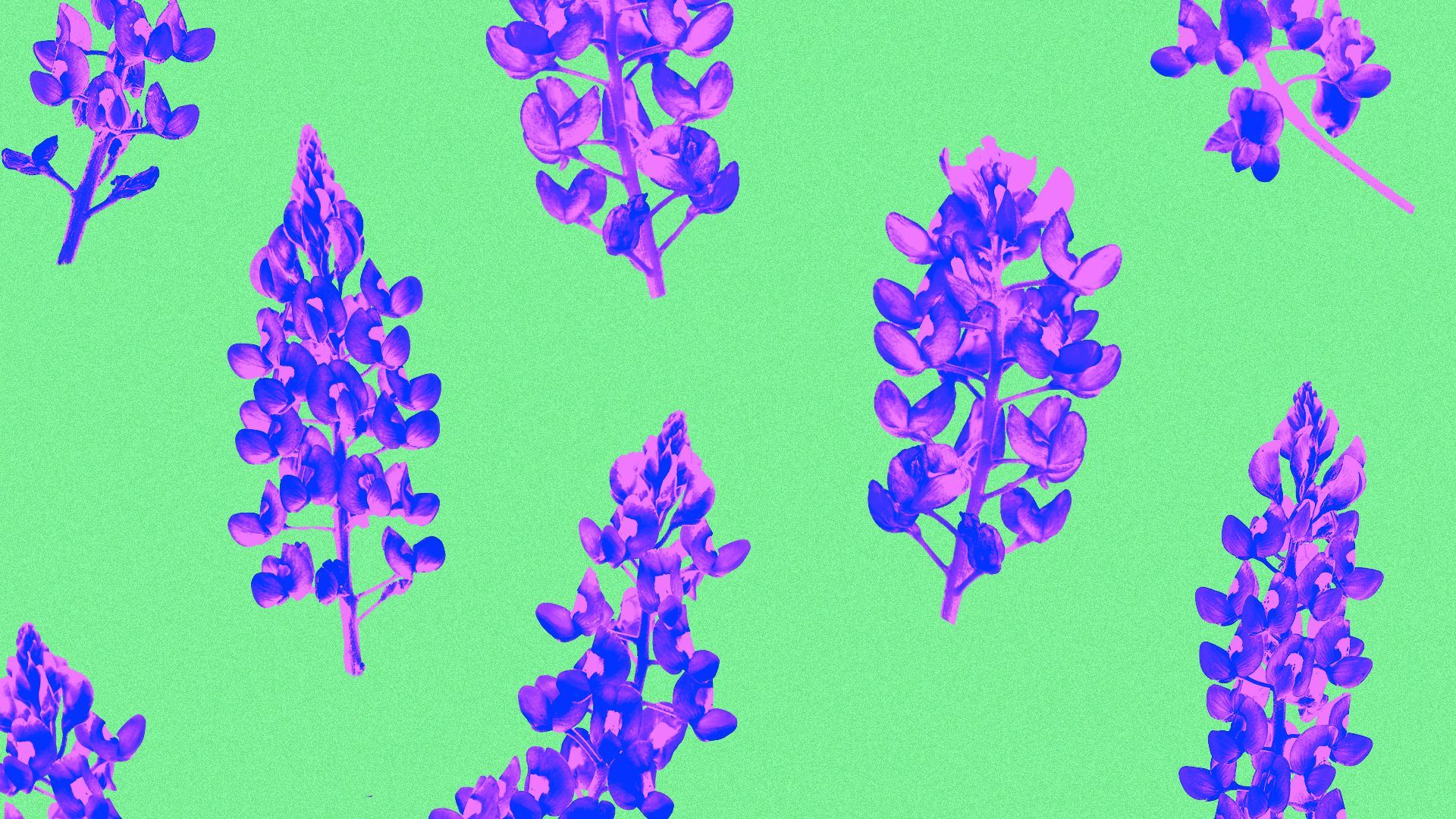 💰 Austin ISD will receive $4 million in federal funding to help narrow the equity gap, which will be distributed among 36 campuses district-wide. (KXAN)
💉 Austin Public Health is offering $50 Visa gift cards to anyone who gets a COVID-19 vaccine or booster shot at an APH vaccination event. (KUT)
Nearly 60% of Black Travis County residents have not received any COVID-19 vaccine, compared to around 40% of Hispanic residents and 37% of white residents.
🎶 "Brothers in Blues," a documentary about Jimmie and Stevie Ray Vaughan, will make its Austin premiere tonight at the Paramount Theatre. (Austin American-Statesman)
4. Pflugerville's new (and only) bookshop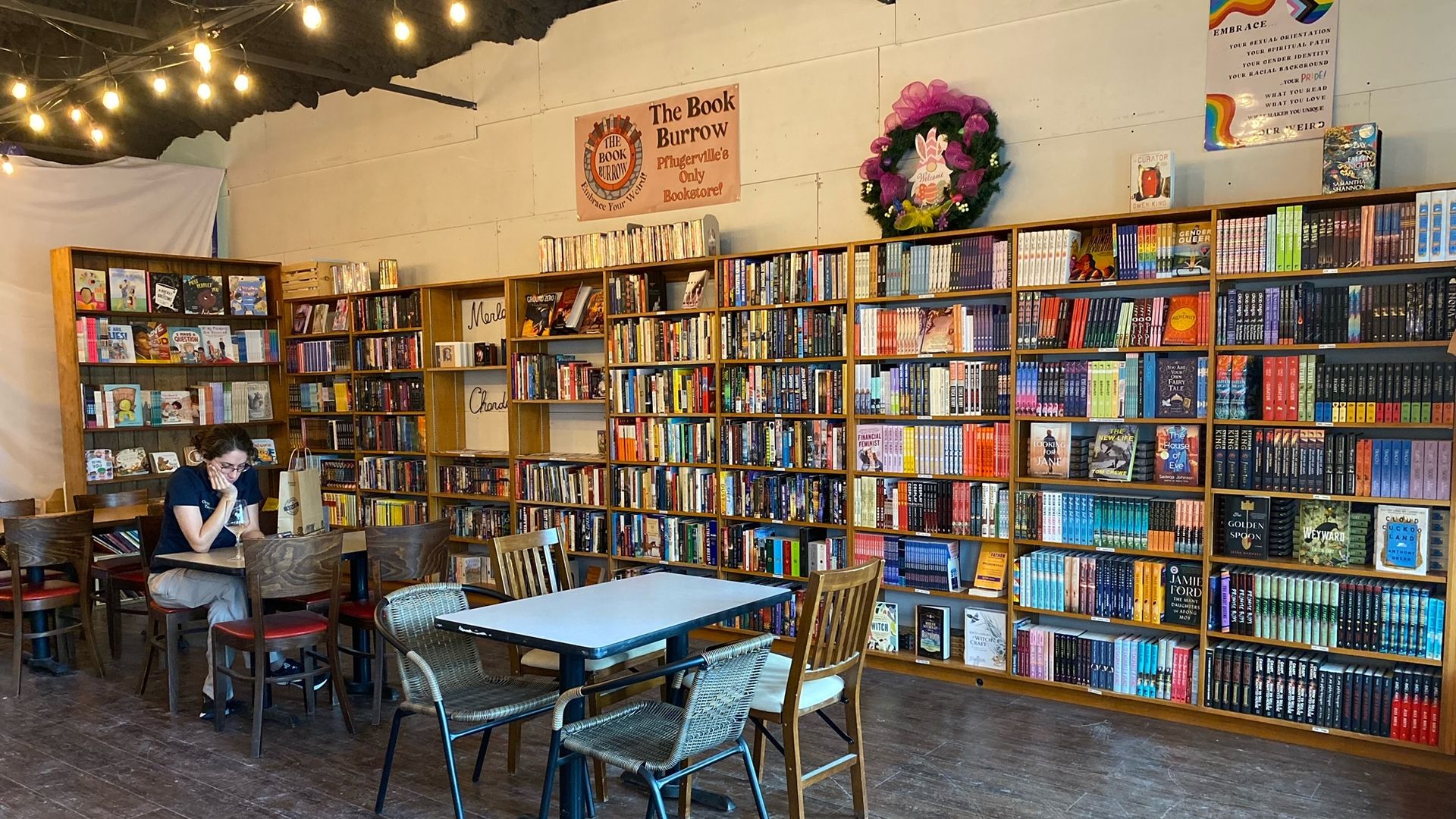 A new, independent bookstore that aims to be a welcoming spot for all readers opens in Pflugerville on Saturday.
Driving the news: The Book Burrow peddles new books of all genres, as well as ones that are used (or "pre-loved," as the bookstore calls them), a robust kids' section and books that are now banned elsewhere.
The atmosphere: Homey.
A wall of shelves faces a handful of tables, with Connect Four and other games on hand.
During a soft opening event, a bookstore employee kept kids rapt with a reading of "The Box Turtle," by Austin children's book writer Vanessa Roeder.
What they're saying: "We want to create a community, where every single person who walks through the door feels loved and accepted for who they are," store owner Kelsey Black, previously a data analyst for Google, tells Axios.
Of note: The bookstore shares a space with the charming Three-Legged Goat, a bar that serves up Texas wines and beers — and the two businesses are teaming up for Friday night wine-and-book pairings.
If you go: The bookstore is at 200 E. Pecan St., sharing a strip mall with Pfinesse Salon and Spa, American Shaman CBD, and the Mexican restaurant El Rincon … so you can get your hair done and your enchiladas on before or after your book browsing.
5. Netflix doc looks back at Waco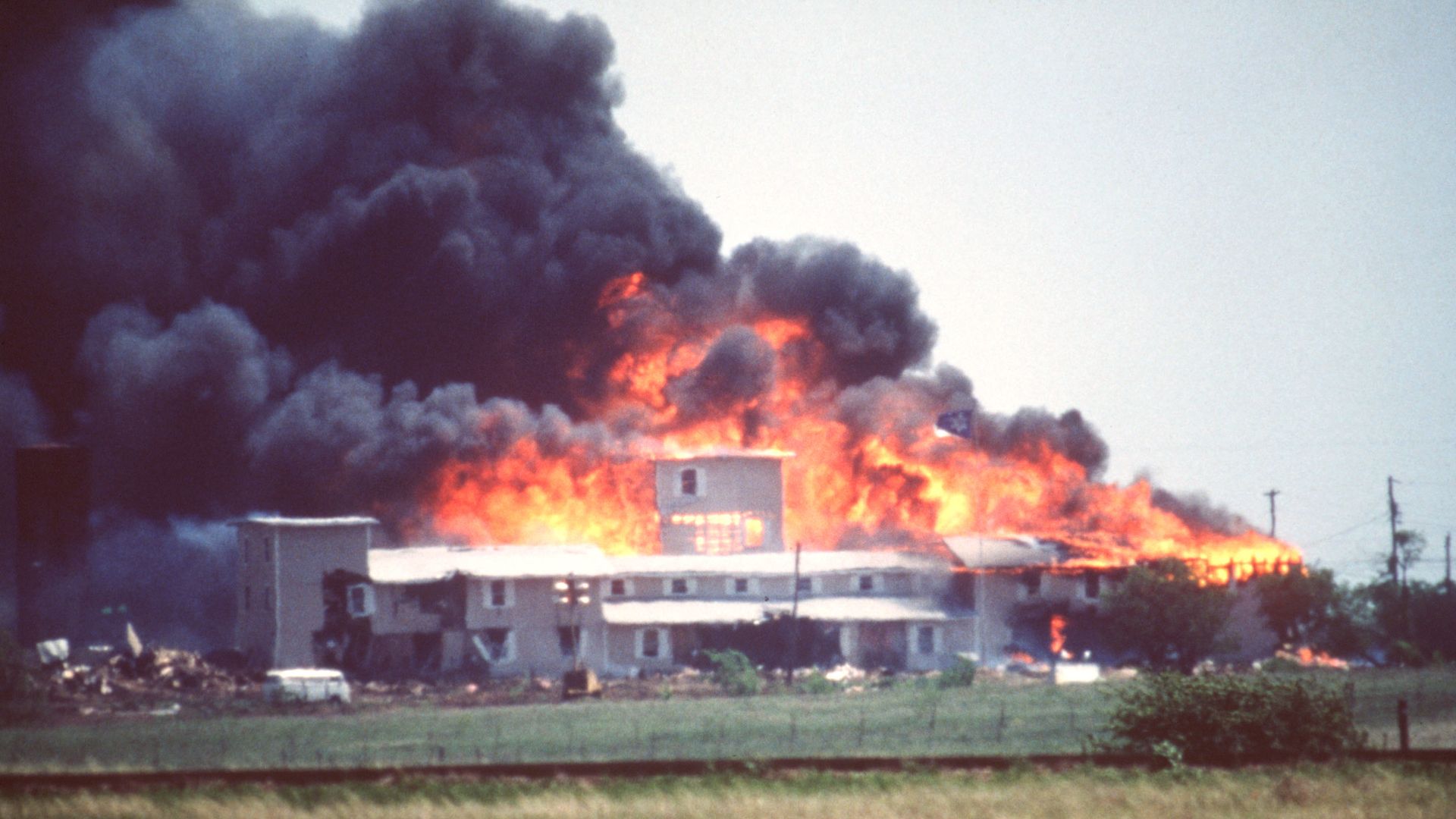 David Koresh now has his own Netflix special.
Driving the news: The online streaming service launches "Waco: American Apocalypse" tonight, a three-part series about the terrible events that transpired north of Austin three decades ago.
Between the lines: In its promotional material, Netflix describes the events in Waco as "the biggest gunfight on American soil since the Civil War," one that "ended with a fiery inferno captured live on national television."
What they're saying: "In the end, the story is the same one we've been watching for thirty years now, an unbroken loop of images that always leads to the same agonizing end," O'Neal writes, suggesting the new series "doesn't say much of anything."
What's next: On Saturday, former President Trump will hold a Make America Great Again rally at the Waco airport, raising the symbolic stakes of his ongoing grievances as possible indictments hang over him.
Thanks to Bob Gee for editing and Kate Sommers-Dawes and Keely Bastow for copy editing this newsletter.
🧐 Asher is reading this essay about Robert Morgenthau and Donald Trump — the DA and the developer.
🧅 Nicole is pickling red onions.