Axios Austin
June 16, 2022
Hi, Thursday! Also known as: Friday junior.
🥵 Today's weather: Mostly cloudy, then gradually becoming sunny and hot, with a high of 101 degrees.
Don't forget: If you live near seniors or people who might be vulnerable to higher heat, check on them.
Situational awareness: You can blame Austin's hazy skies on Saharan dust, which has returned to the area for the second time this season.
Expect a drop in air quality through Friday, which can impact those with asthma and other respiratory problems.
Today's newsletter is 916 words — a 3.5-minute read.
1 big thing: City mulls south terminal takeover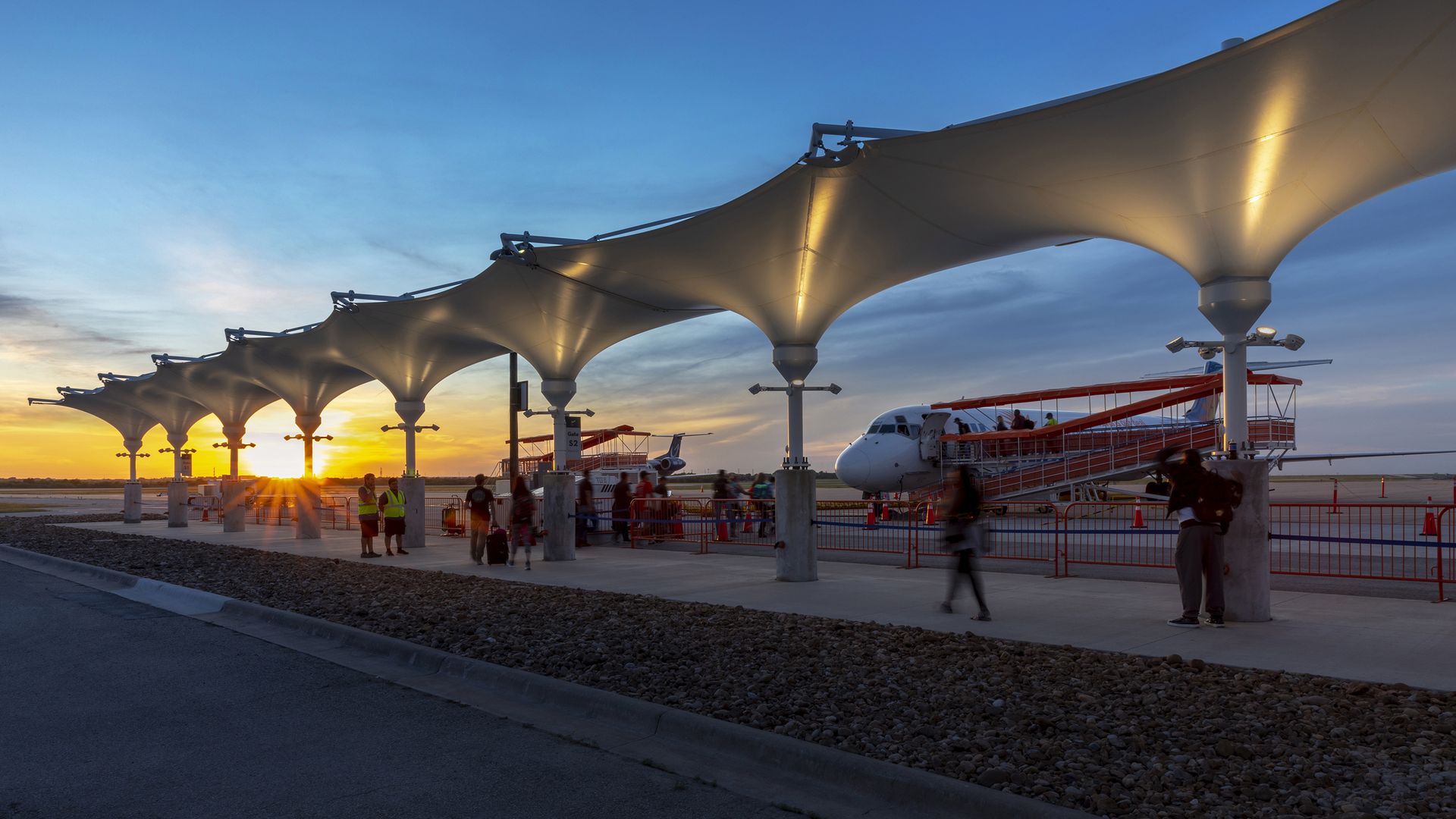 Austin City Council members will decide today whether to use eminent domain proceedings to take over the airport's south terminal.
Why it matters: The move is part of an expansion plan at Austin-Bergstrom International Airport, which set a new passenger record for the second month in a row in April.
City officials want to add a new concourse by 2028 with at least 10 new gates and the ability to expand to 40.
The rub: The south terminal would be demolished under the plan — no longer housing budget-friendly airlines like Allegiant and Frontier.
State of play: LoneStar Airport Holdings, which leases and operates the south terminal, has rejected a $1.9 million offer from the city to take it over.
Jeff Pearse, CEO of LoneStar Airport Holdings, penned an open letter to the Austin City Council yesterday, saying the current expansion program throws "the south terminal and its budget-conscious travelers to the wayside."
Pearse called for a new proposal that would maintain the south terminal while still making way for the Barbara Jordan Terminal expansion.
The other side: Jacqueline Yaft, the airport's executive director, has said the south terminal needs to be demolished for a new taxiway by July 2023 to keep up with the high demand.
What's next: If the council votes to move forward with eminent domain, the city will file a condemnation lawsuit.
The meeting begins at 10am. Watch here.
2. DACA's 10th birthday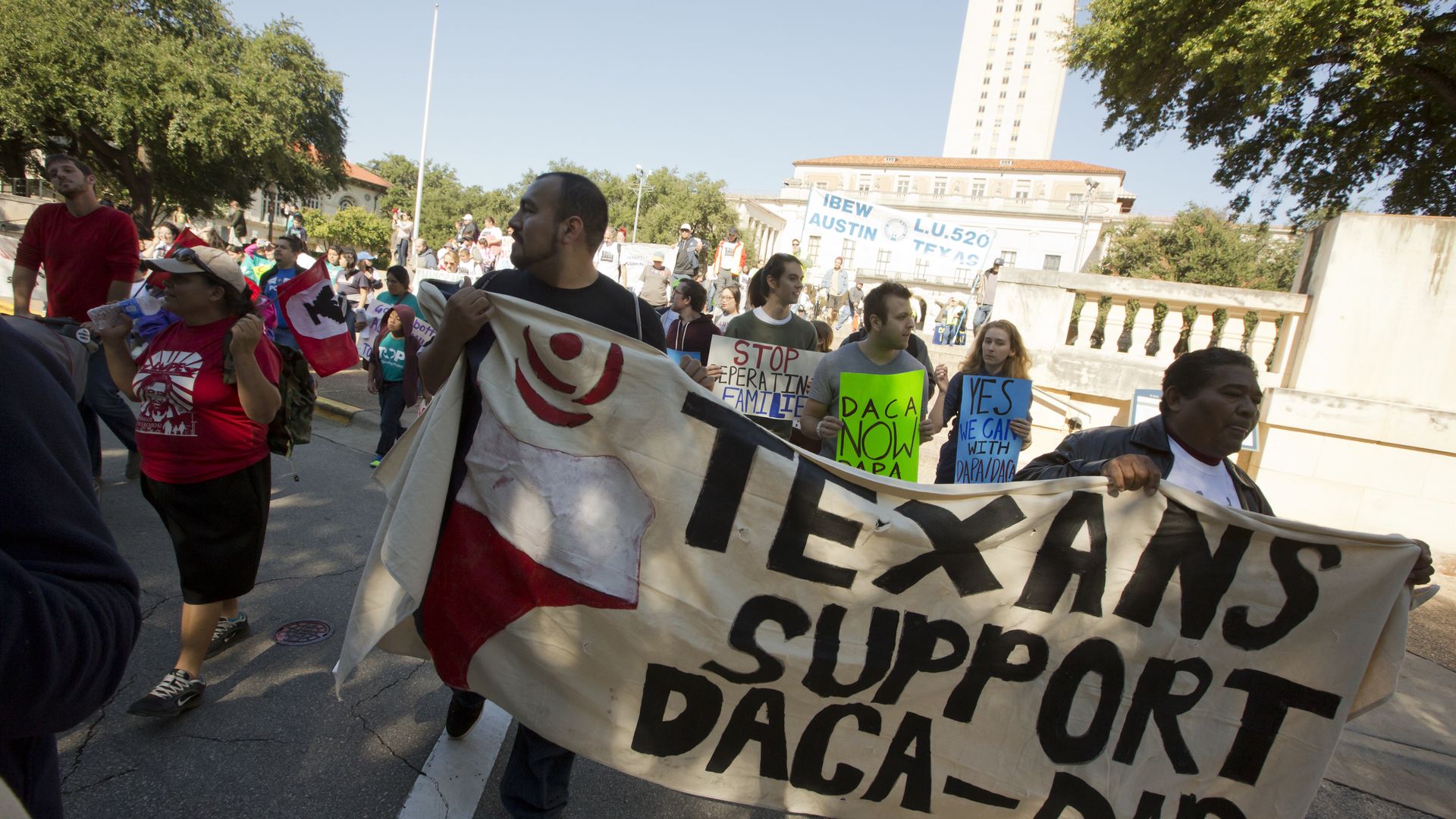 Ten years after then-President Obama established the Deferred Action for Childhood Arrivals (DACA) policy to shield undocumented immigrants who came to the U.S. as minors, the over 600,000 people who rely on it to work, study and access better opportunities remain uncertain of their future, Axios' Shawna Chen writes.
Why it matters: A 2020 Pew Research Center survey found that roughly 75% of U.S. adults say they are in favor of granting permanent legal status in these cases, yet the program dangles in peril.
What they're saying: Austin realtor Diego Corzo, who came to the U.S. as a child in 1999 from Peru, told KXAN that before DACA he was "afraid of getting deported."
After becoming a DACA recipient, he finished at the top of his college class and now leads a team of 10 agents at Keller Williams.
State of play: In a GOP-led legal challenge, a federal judge in Texas ruled last year that Obama did not have the legal authority to create DACA, forcing the Biden administration to cease approving new applications.
The 5th Circuit Court of Appeals is set to consider the case later this summer.
3. 🤠 The Roundup: Wrangling the news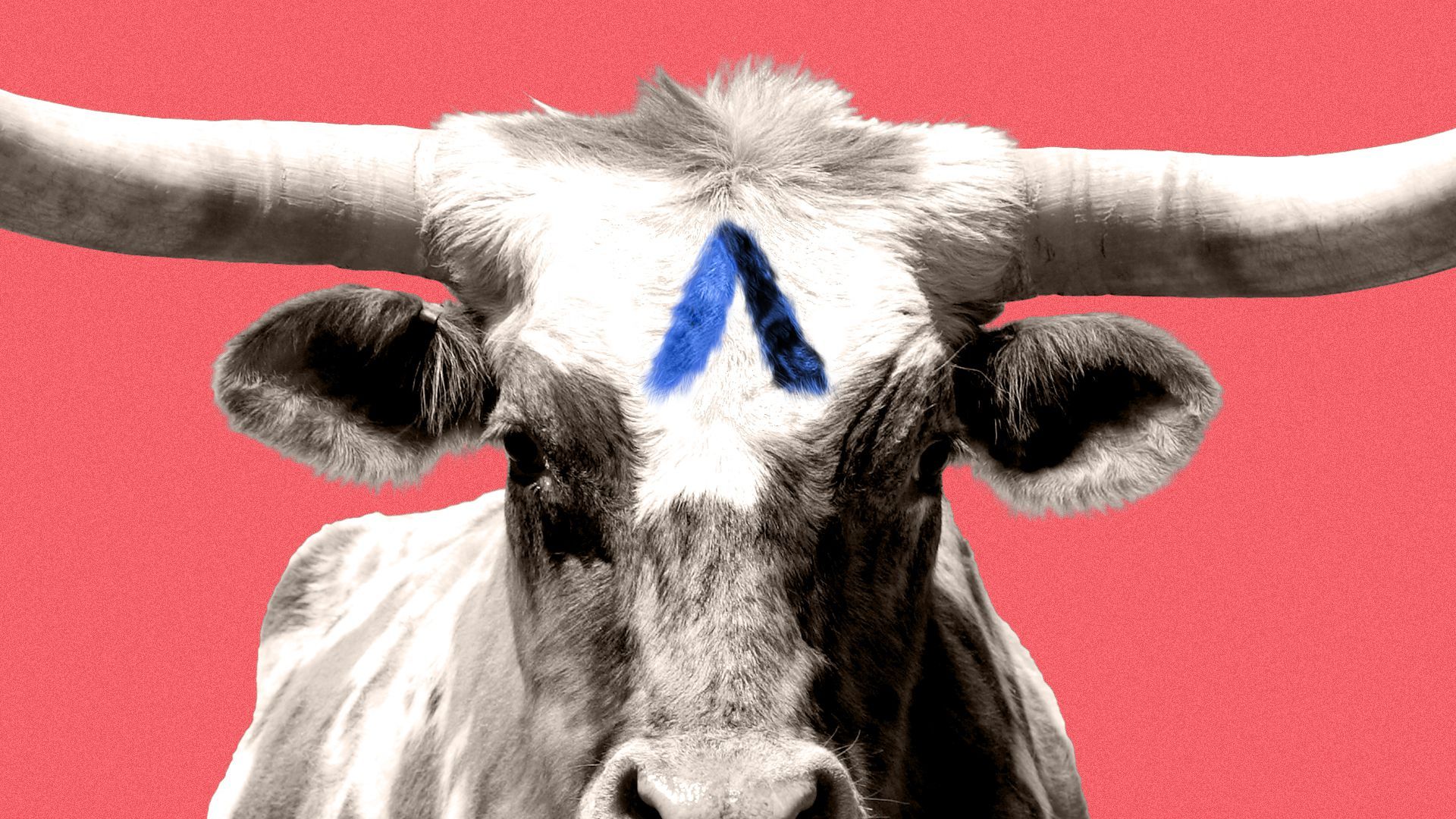 💰 Austin-based DealHub, a configure, price and quote software firm, secured $60 million for sales tools. (TechCrunch)
📈 Travis County COVID metrics are on the rise again, but UT modelers expect that the latest wave "will be more gradual" because of the area's high level of immunity. (KXAN)
⚽️ A referee named to oversee matches at this year's World Cup got his start supervising North Austin youth soccer games. (Austin Chronicle)
The Texas Republican Party's convention begins today in Houston. (Texas Tribune)
4. Musk watch: Autopilot edition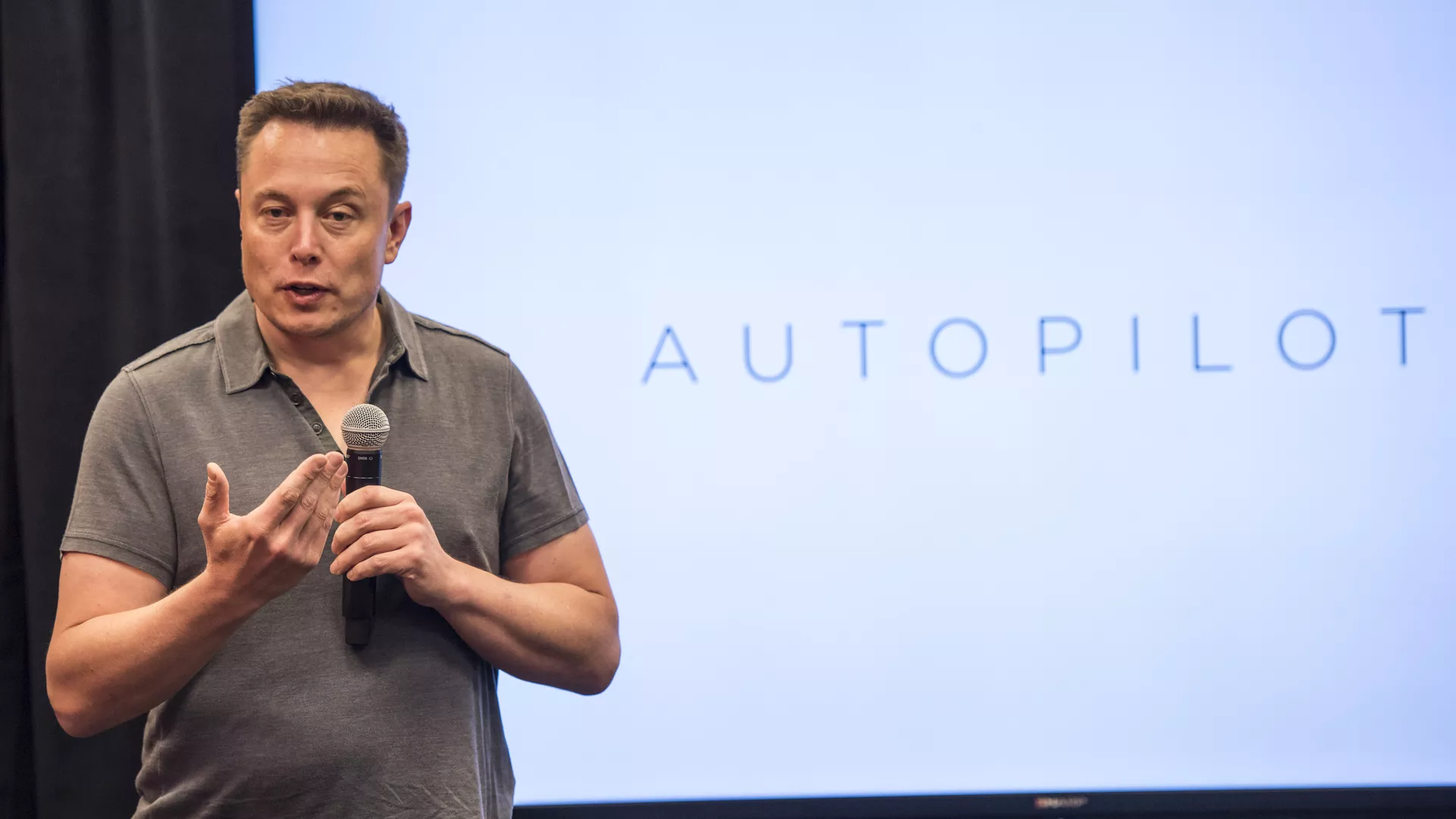 Elon Musk is on the hot seat again over the performance of his Austin-based car company.
Driving the news: Tesla vehicles using the Autopilot function were involved in 273 crashes over roughly the last year, per data the National Highway Traffic Safety Administration (NHTSA) released yesterday.
Why it matters: Tesla has made up nearly 70% of the 392 car crashes involving vehicles using advanced driver assistance systems that have occurred since last June.
Yes, but: About 830,000 Tesla cars in the U.S. are equipped with Autopilot or the company's other driver-assistance technologies.
Be smart: Advanced driver assistance systems help cars steer, stay in their lane and brake in emergencies.
State of play: Last August, the NHTSA opened a formal investigation into Tesla's Autopilot function after a series of crashes.
What they're saying: Tesla did not respond to Axios' request for comment.
Other Musk news: The tycoon said yesterday on Twitter that he was leaning toward supporting Florida Gov. Ron DeSantis for president in 2024.
DeSantis, a Republican, has not said whether he will run.
💭 Our thought bubble: Gov. Greg Abbott, who has posted buddy-buddy pictures with Musk and just possibly has his own designs on a 2024 presidential run, may be feeling a little forgotten.
Now hiring: New job openings
5. Stat du jour: Avocado prices 📈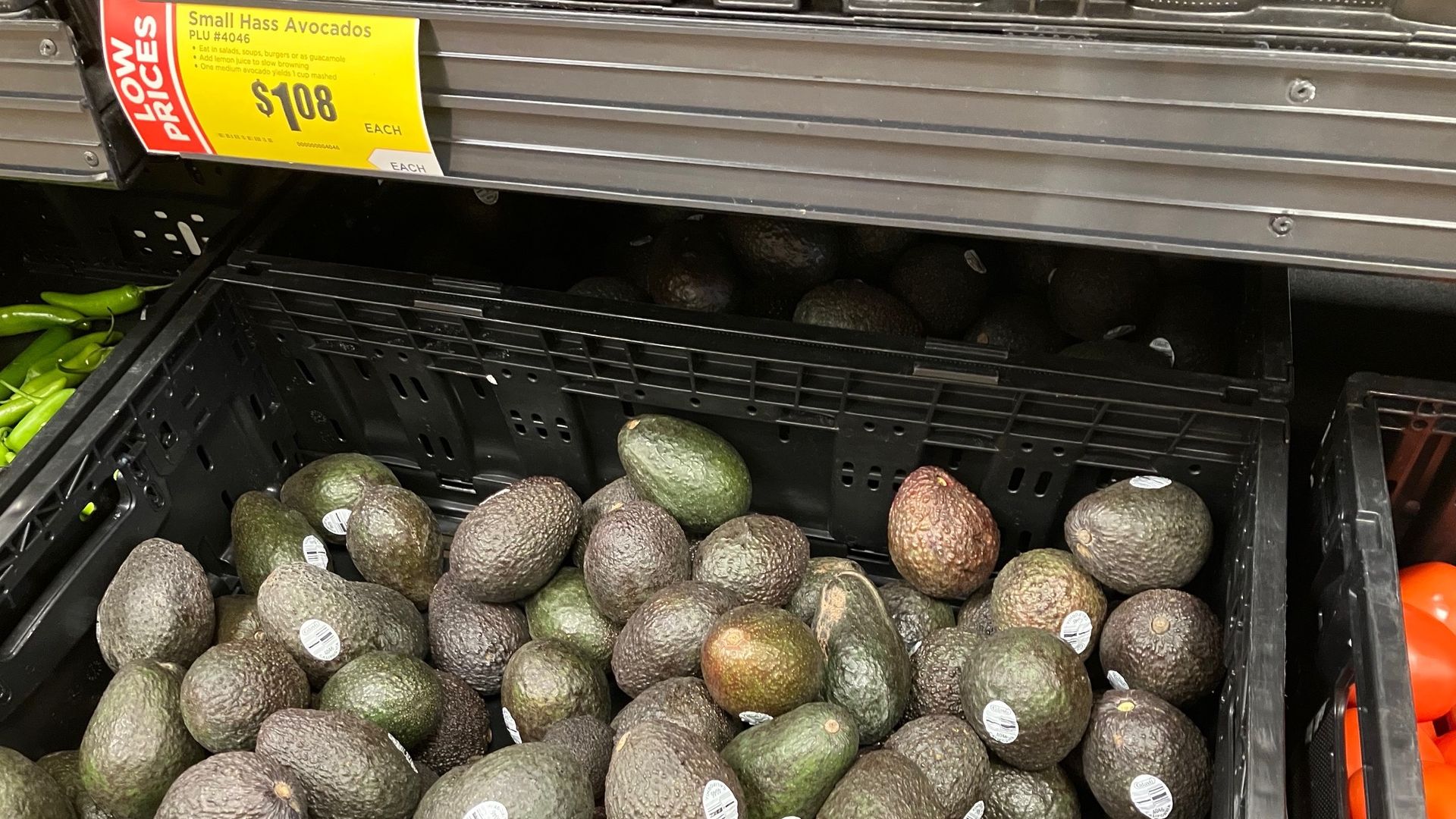 Checking in with our avocado price-tracker: In January, small avocados went for 91 cents apiece at H-E-B; a year before that, it was 52 cents.
Why it matters: Getting that avocado home and cutting it open only to find bruising is a more expensive disappointment than ever.
🏆 Pro tip: We like to buy our avocados hard, store them in the fridge and take them out about a day before we want to eat them.
Between the lines: The price hikes are chiefly due to supply issues.
"​​The stage was set previously with the Texas border inspections back in April and already-tightening supplies from Mexico," Melissa Reeves, national retail manager for the USDA, tells Axios.
"Consumer demand seems to be steady at retail as avocados have become more of a staple in homes," she says.
📫 What has been costing you more lately? Hit reply and let us know.
🎥 Asher's enjoying the very-dry comedy "Frances Ferguson," by Austin filmmaker Bob Byington.
😵‍💫 Nicole is trying to figure out how she can maintain her running habit this summer when she has a hard time waking up before 8am.