Axios @Work
March 10, 2021
Welcome back to @Work. I'll be fielding your feedback at [email protected] or @erica_pandey on Twitter.
Today's edition is 1,634 words, a 6-minute read. We'll begin with...
1 big thing: The long road to putting America back to work
One year into the pandemic, more than 10 million Americans are still out of work — and many of the jobs they lost won't even exist when this is over.
The big picture: Putting the country back to work will require vast amounts of retraining and career shifting, as former bartenders learn to code and former cruise ship workers look for jobs at data centers. The U.S. is still unprepared to take that on at scale.
What's happening: Job training and reskilling will be an essential part of America's post-pandemic bounce back, but neither of the two COVID relief bills passed during the last year earmarked any money for it.
"We just don't do this. We're not a training nation," says Anthony Carnevale, director of the Georgetown University Center on Education and the Workforce. "It's a systemic failure when you compare us to other nations."
By the numbers: The pandemic's disruption of work will push around 17 million U.S. workers to find new occupations by 2030, according to a recent McKinsey Global Institute report.
Even before the pandemic, 70% of employers reported having trouble filling roles because of a skills gap in the labor force, per Bloomberg.
After the pandemic, high-skilled jobs, like web developers and epidemiologists, are expected to boom. And low-skilled ones, like restaurant hosts, bartenders and ticket agents are projected to bust.
"We knew artificial intelligence was going to devastate jobs, but, frankly, I thought that was five or seven years away," says Plinio Ayala, CEO of the job training company Per Scholas.
"The pandemic accelerated that. The number of jobs that existed before the pandemic will not be the same number after, and most of those jobs were occupied by people of color and women."
"I'm concerned about a real uneven recovery."
All of this points to an urgent need for the U.S. government and companies to invest in retraining the workforce, but job training remains underfunded at the federal level. And it's a patchwork system in the private sector.
Add to that the fact that many of the organizations that have short-term adult education courses and training programs are getting hit by the pandemic. "The community colleges are crashing," Carnevale says.
But, but, but: The reskilling crisis has not yet gotten much attention in Washington. Says Carnevale, "I doubt anybody would go to the floor and vote against training right now, but there is no prominent bill."
What to watch: On the campaign trail, Biden called for a $50 billion federal investment in workforce training. If such a sizable investment becomes a reality, it could help millions of Americans switch careers post-pandemic.
2. "Returning" from maternity leave in a pandemic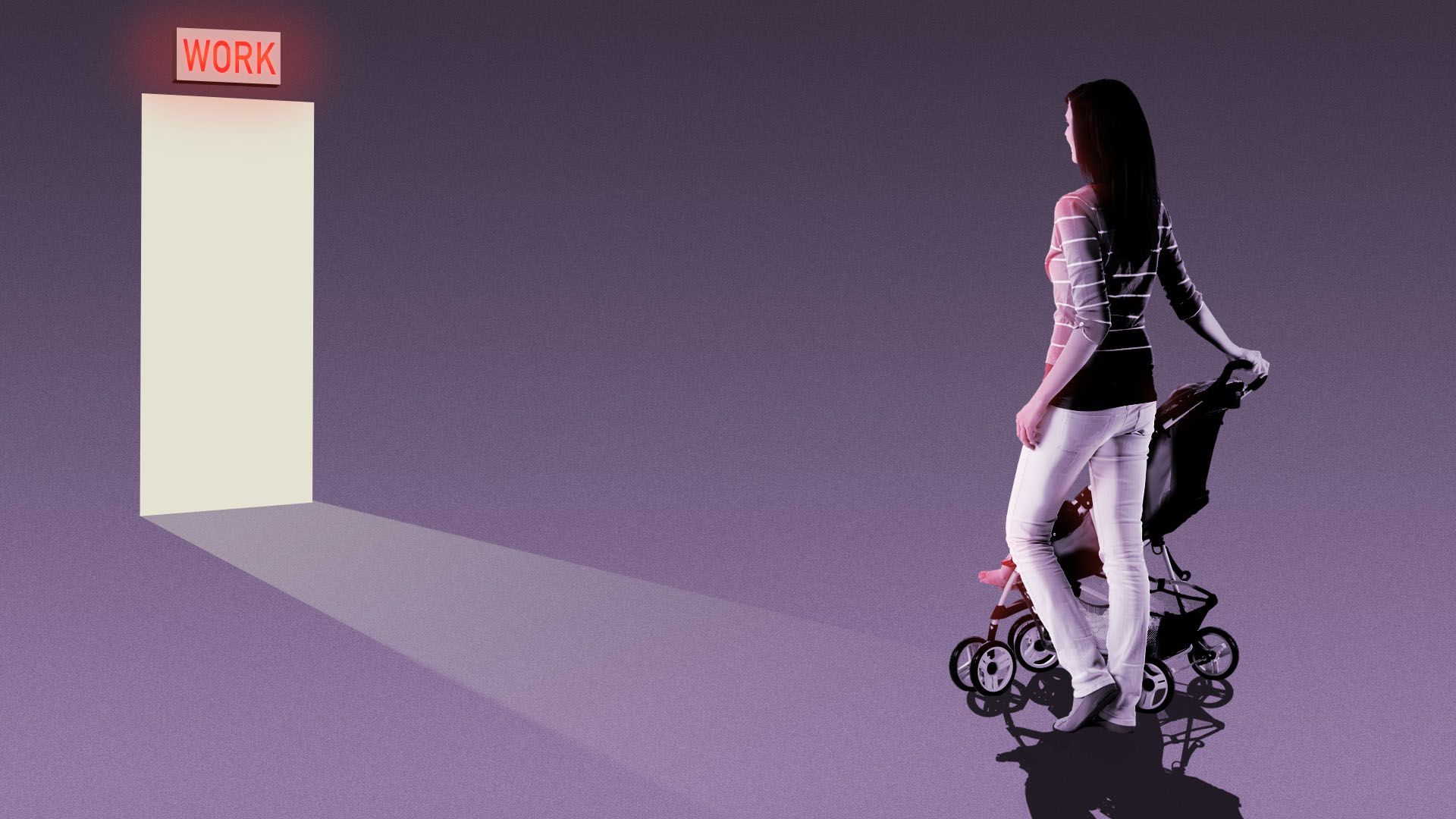 Making the shift back to work after having a baby is always jarring. Doing it during a global pandemic is isolating and can be emotionally crippling — and that could drive a cohort of new moms out of the workforce, my colleague Kim Hart writes.
Why it matters: 1 in 4 women are thinking of downshifting their careers or leaving the workforce altogether, according to data from McKinsey and Lean In. Experts say the risk is higher for mothers trying to return to work without the support systems and child care options they may have had pre-pandemic.
Quick take: Last month, I came back to work after taking time off to care for my daughter, who was born eight weeks premature. She is my third child, so I thought I knew how to manage the transition. Boy, was I wrong.
I didn't anticipate how hard it would be to go into work mode when my "office" is a few feet away from her crib. I miss the support of other moms that I would have seen at the office. Or even a "welcome back!" from colleagues who, in a remote world, may not have even known I was pregnant in the first place.
I'm no stranger to the anxiety of being a working parent. But during a pandemic, there's zero margin for error when it comes to finances, staying healthy and the logistical game called "child care Tetris."
For moms like me who suffered from severe postpartum depression, the loneliness of maternity leave followed by the loneliness of more remote work can make trying to return to "pandemic normal" feel like crawling out of a deep, dark hole.
The big picture: "The issue with the system is, at best, it's not set up to support working mothers or working families, and at worst, it really works against them," said Danna Greenberg, professor at Babson College and co-author of "Maternal Optimism," on a Harvard Business Review podcast on the topic.
Humans crave routines, and those are hard to come by these days for working families, she said. It's also impossible to have "layers of child care" that working families rely on because of health concerns and school closures.
On top of that, in March 2018, only 17% of civilian workers had access to paid family leave, according to the Bureau of Labor Statistics.
The financial burden on parents trying to care for a newborn with no paid leave during a pandemic is enormous.
Early indicators already suggest a pandemic "baby bust," with women rethinking having kids during this stressful time.
3. How workplace safety fell apart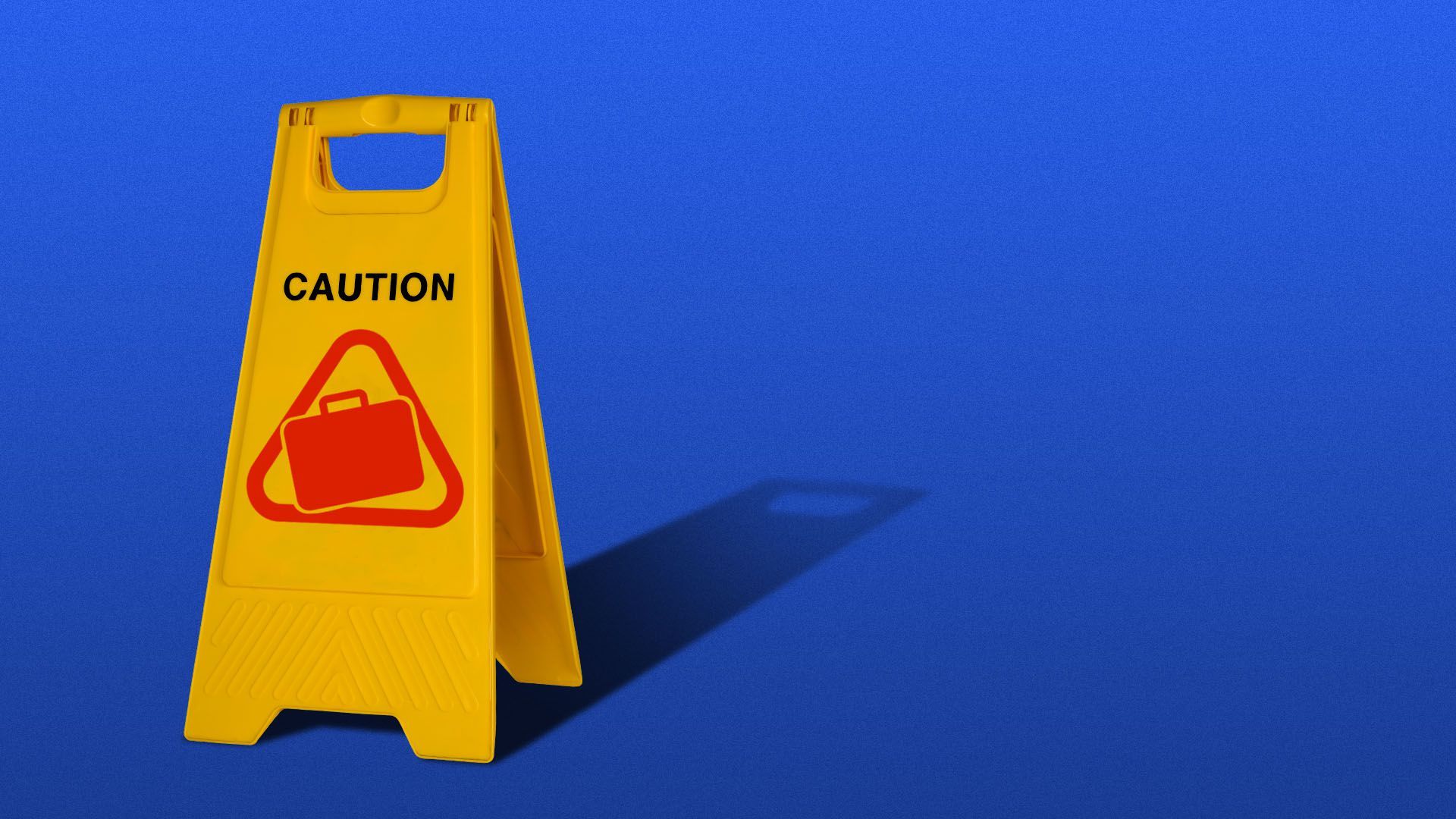 The pandemic was a major test of whether essential workplaces could keep their workers safe — and many of them failed.
Why it matters: The missteps of employers and the lack of oversight from federal agencies may have led to deaths across America.
Driving the news: The Wall Street Journal's Alexandra Berzon, Shalini Ramachandran, and Coulter Jones are out with a deep dive on the Occupational Safety and Health Administration, and its failings amid the pandemic.
The historically underfunded and understaffed OSHA was ill-equipped to handle a workplace hazard as far-reaching as the coronavirus pandemic, they write:
"The Wall Street Journal identified more than 1,000 worker deaths from Covid-19 that circumstances suggest were linked to workplace transmission of the virus but that were never investigated by an OSHA agency, as of early February."
The big picture: The workplace safety crisis is far from over.
Nearly 30% of workers still do not feel safe from contracting the virus at work, according to a new survey conducted by JUST Capital and Harris Poll, shared exclusively with Axios.
Part of the reason is that Americans are continuing to go to work even when they don't feel well because they don't want to lose their jobs in the middle of a recession.

20% of workers reported going to work when sick in the last year. And 67% of them said it was because their employers did not provide sick leave and they did not want to get fired.
4. Inside the room: The day Facebook sent everyone home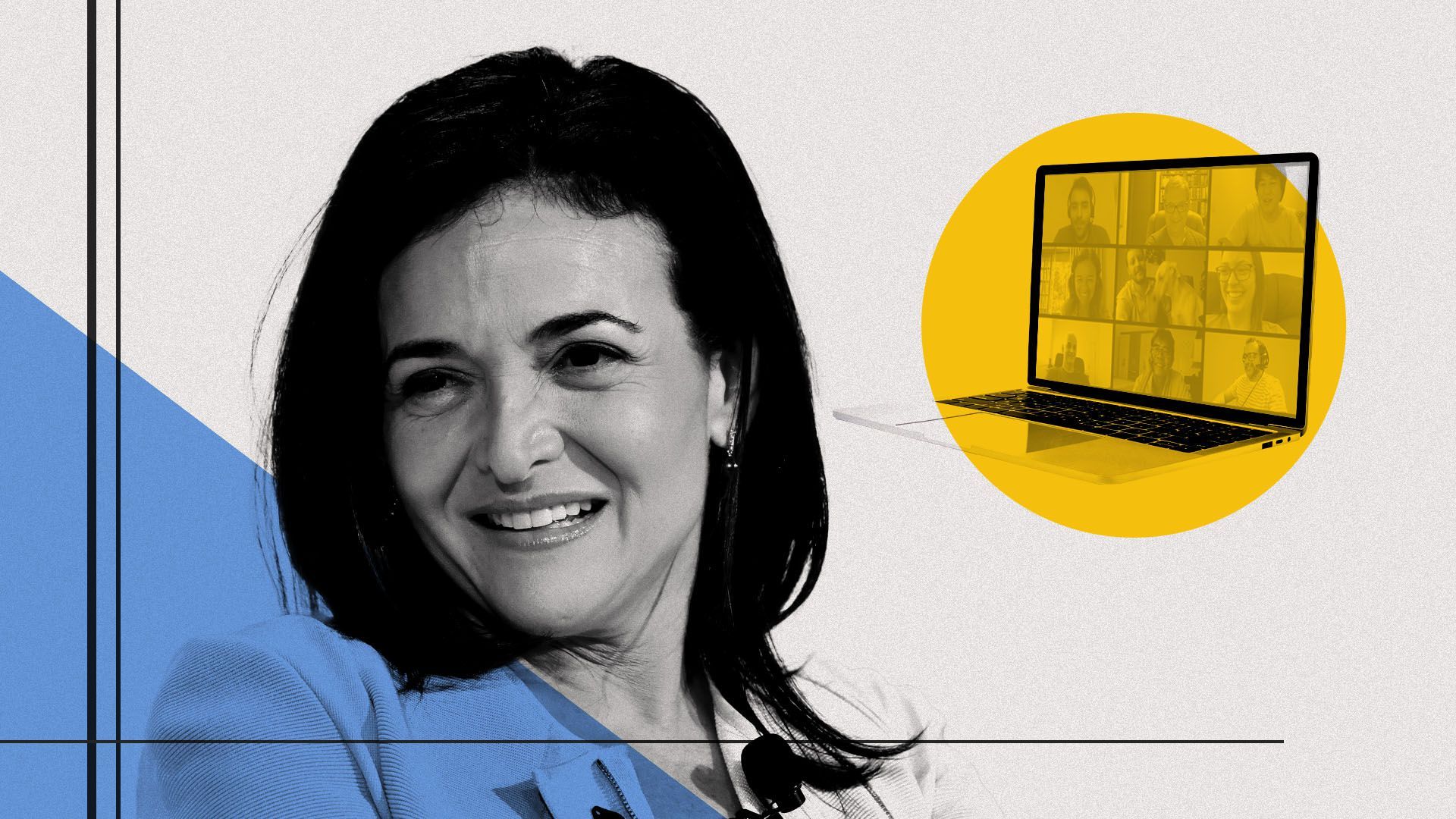 COO Sheryl Sandberg thought Mark Zuckerberg was "nuts" when he raised the possibility in January 2020 that 50,000 Facebook employees might have to work from home. By March 6, they were, Axios' Jacob Knutson writes.
The big picture: In an interview Monday with Axios Re:Cap, Sandberg explained how Facebook moved quickly to respond to the pandemic with grants for small businesses and work-from-home stipends for its employees, and how the company has been watching the unfolding crisis for women in the workforce.
Flashback: "In January, Mark told me and others that we should get ready for the possibility that we would all have to work from home and there might be a pandemic," Sandberg told Axios Re:Cap host Dan Primack.
"And I thought he was nuts. I was like, 'What do you mean there'd be a pandemic. What's a pandemic? And would we really work from home?' But he said, 'No, no. It's possible that everyone's going to have to, like, go home.'"
Axios is looking back at the week of March 9, 2020 — the week high-profile leaders were forced to make consequential choices that upended society.
Subscribe to Axios Re:Cap for more interviews with the key decision-makers, including the NBA's Adam Silver and NIAID director Anthony Fauci.
5. Worthy of your time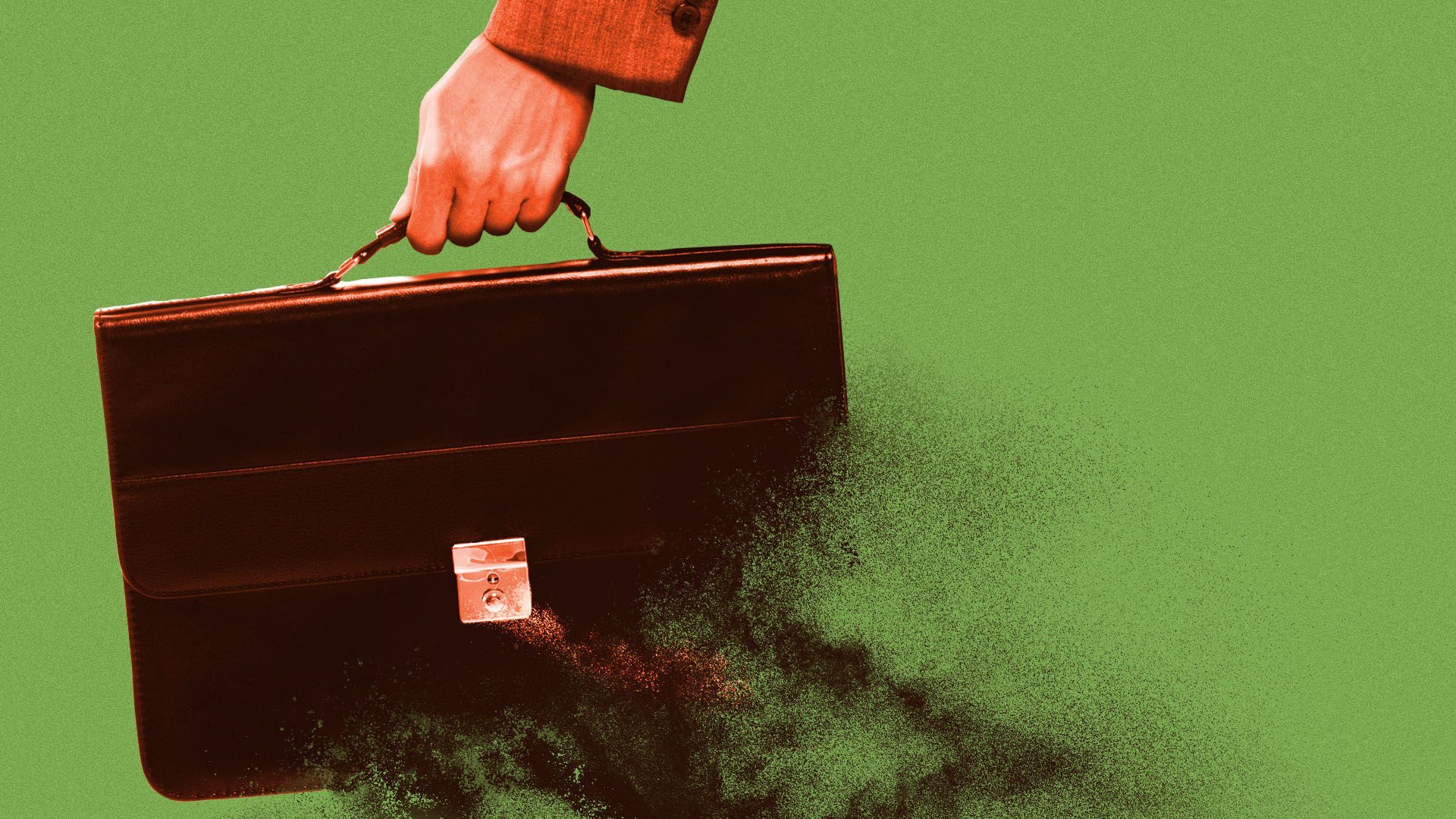 Female workers haven't been hit this disproportionately hard by a recession in at least 40 years. The global lockdown annihilated industries that are heavily concentrated with female workers: retail, restaurants, etc.
That also meant female-owned small businesses — also concentrated in these areas — saw more grim prospects.
In addition, more often than not, women gave up jobs to take care of children as schools and daycare centers closed.
The pandemic's normalization of remote work has made it easier for neurodiverse workers who feel more comfortable away from typical office environments to flourish in their roles, Alexandra Samuel writes for the Wall Street Journal.
The pandemic is dragging on, and it's starting to weigh on us all. "We're all walking around with some mild cognitive impairment. Based on everything we know about the brain, two of the things that are really good for it are physical activity and novelty. A thing that's very bad for it is chronic and perpetual stress," Mike Yassa, a neuroscientist at UC Irvine, told the Atlantic's Ellen Cushing.
The Times' Kevin Roose puts it best: "The robots are coming. Not to kill you with lasers, or beat you in chess, or even to ferry you around town in a driverless Uber. These robots are here to merge purchase orders into columns J and K of next quarter's revenue forecast, and transfer customer data from the invoicing software to the Oracle database."
6. 1 💤 thing: Making money while you sleep
Last week, I wrote about the future of workplace benefits. Well, one of those could be getting paid to get a good night's sleep.
What's happening: WHOOP, the fitness company, has a sleep bonus. Employees who wear the WHOOP fitness tracker and achieve 85% or more of their sleep need for a given month get $100.
My thought bubble: I wish more companies had benefits like this. Encouraging your employees to take time off and to take care of themselves and their families is great, but actually putting cash behind it — both to incentivize them and to show them you really mean it — is even better.
The other side: Your employer tracking your sleep patterns sounds pretty creepy.