Axios @Work
July 07, 2020
Welcome back to @Work. Send your feedback and ideas to [email protected], or just hit reply to this email.
I've got 1,386 words for you today — a 5-minute read. We'll start with...
1 big thing: Surveilled at work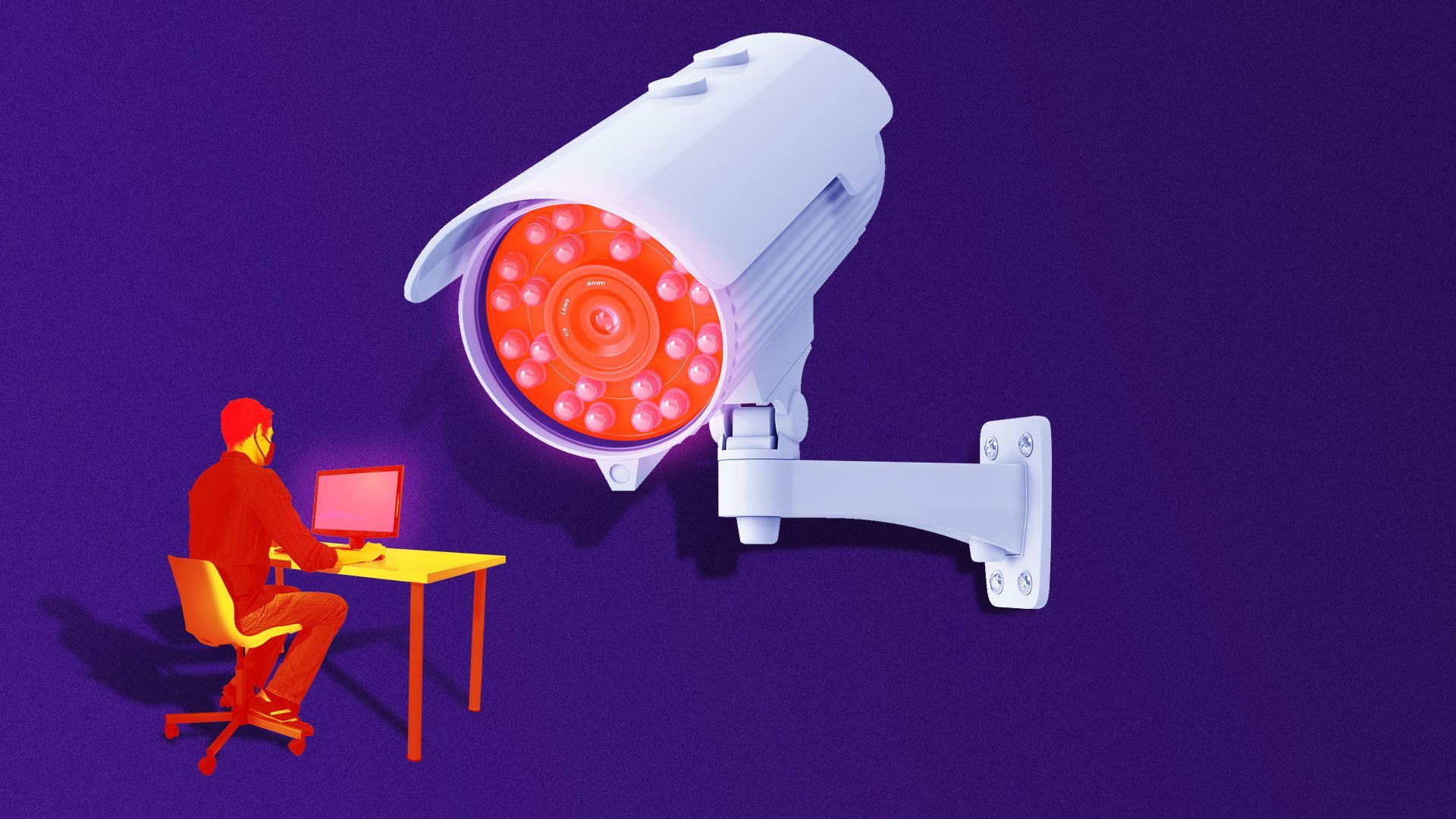 As companies continue to prepare for the return of their employees to the workplace, they're weighing new types of surveillance in the name of safety.
Why it matters: Just as the coronavirus pandemic has acted as an accelerant for the adoption of remote work, it has also normalized increased surveillance and data collection. In the post-pandemic workplace, our bosses will know a lot more about us than they used to.
What's happening: "We're in this new era of biodata collection," says Amy Webb of the Future Today Institute.
A majority of employers, 51%, have begun or are planning to begin collecting temperature data on employees, according to survey data from Gartner provided to Axios.
60% are collecting self-reported data from employees on symptoms, and another 25% are asking employees to report who they've been in contact with. And 5% of firms say they're going as far as collecting workers' medical histories.
"It is all a form of surveillance," says Brian Kropp, head of Gartner's human resources practice.
"I think most of it doesn't have nefarious intent," Webb says. "But, that being said, we don't have clarity on how these data might be accessed by an insurer, for example. There isn't enough regulation or transparency around where data are being stored."
Another form of pandemic-era surveillance that's gaining popularity is the use of temperature-reading infrared cameras to watch over workers and customers.
"When the pandemic took hold, I started seeing more and more companies like Amazon using this technology to help identify sick people in their warehouses. Thermal imaging cameras are beginning to appear in Subway restaurants. Carnival Cruise Lines, whose ships became hot spots for the virus's spread, said all passengers and crew would be screened when it began sailing again," the New York Times' Jonah Kessel writes.
These cameras are not always accurate and raise a whole host of privacy concerns.
And even those who work from home may have to deal with a rise in surveillance.
Since the start of the pandemic, a slew of companies have asked their newly remote employees to install software that tracks their mouse movements or keystrokes — or which webpages they visit as a way — to ensure they're being productive, NPR reports.
What to watch: Past studies have shown us that many workers aren't willing to put up with employer data collection. In a 2019 Gartner survey, 23% of workers said it was unacceptable for employers to ask for medical data.
But now, the desire to stay safe at work could quickly change those opinions and clear the lane for robust workplace surveillance.
2. The pandemic exposed workers' lack of power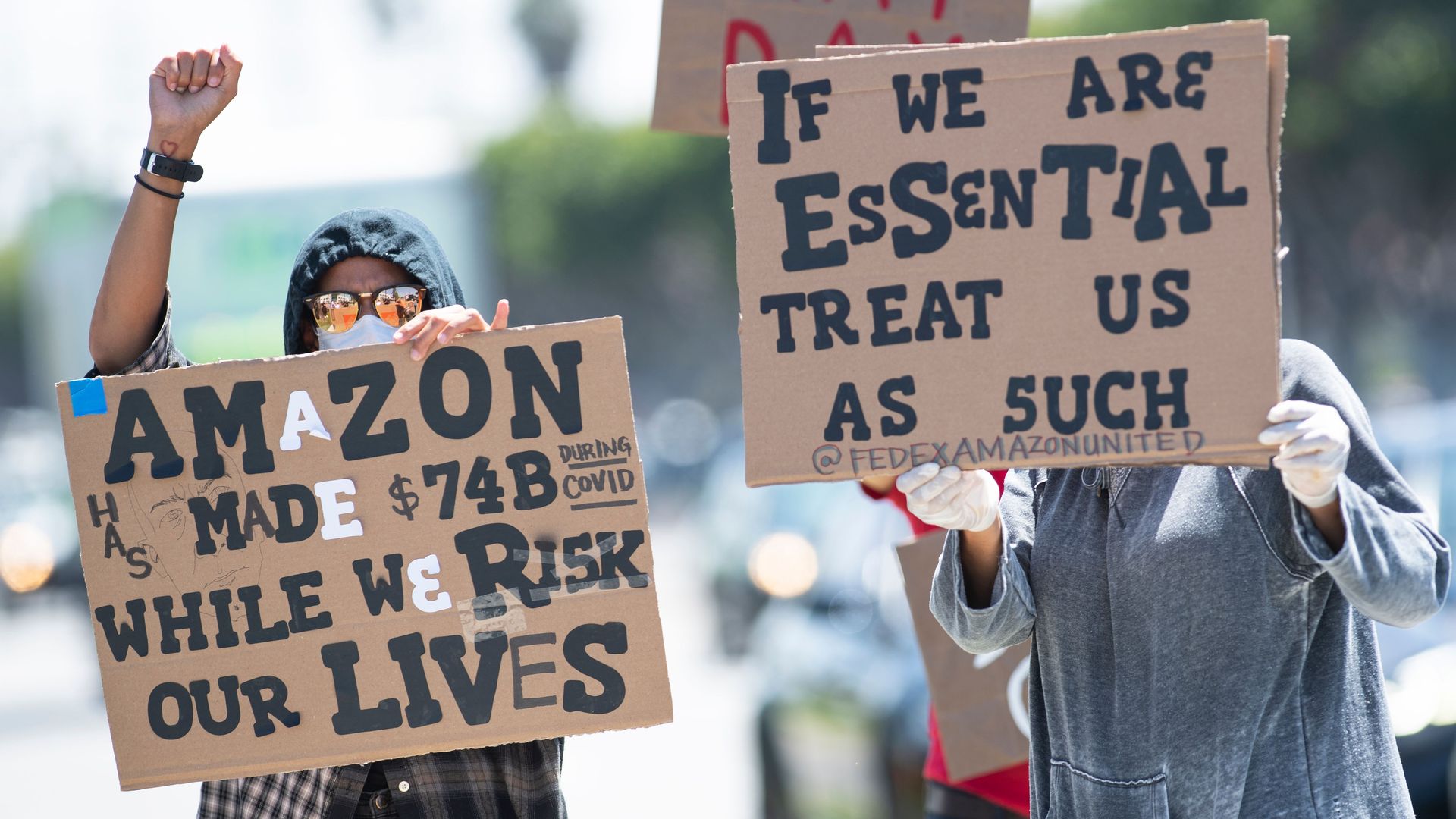 The coronavirus is spotlighting longstanding shortcomings in worker power at big companies — and that could lead to lasting change, experts say.
What's happening: "When the pandemic hit us and the protests emerged, it just illustrated that workers don't have a voice," Tom Kochan, a professor of industrial relations, work and employment at MIT, tells Axios.
"Whether it's economic conditions or dignity at work or ways of appealing safety concerns or freedom from discrimination or freedom to speak their minds," workers have little power to change their fates, and recent events have made that starkly clear, he says.
Amazon fired employees who protested for safer working conditions amid the outbreak.
A Vox investigation found a disconnect between what CEOs are saying about safety standards and what workers are experiencing on the ground at Walmart and Kroger, among other places.
On top of that, conversations spurred by the recent anti-racism protests have highlighted how Black workers are disproportionately dealing with the hazards of essential work during the pandemic.
What's next: "The key to going from isolated protests at a place like Amazon or Walmart to a force that's really going to get the company to respond is the customer," says Kochan, whose brief on how the U.S. can bolster worker power after the pandemic will publish tomorrow as part of M.I.T.'s Work of the Future report. "Customers are the hidden source of power for workers."
We've seen plenty of examples of companies changing their ways because of protesting consumers.
Consumer outrage against giants like Amazon and Walmart aren't yet loud enough for these firms to open a dialogue with their workers, but the pandemic's exposure of conditions at these workplaces could push us to that tipping point, Kochan notes.
Yes, but: There are major barriers to workers organizing at big companies.
Unions have steadily gotten weaker in the U.S., and big firms have shown that they're determined to stop unionization campaigns, says John Logan, a U.S. labor historian at San Francisco State University.
"The law makes it virtually impossible for employees to unionize in the private sector if the company has the resources and the stomach for a fight," he says.
Go deeper: "Disposable workers" doing essential jobs
3. Telecommuting and the digital divide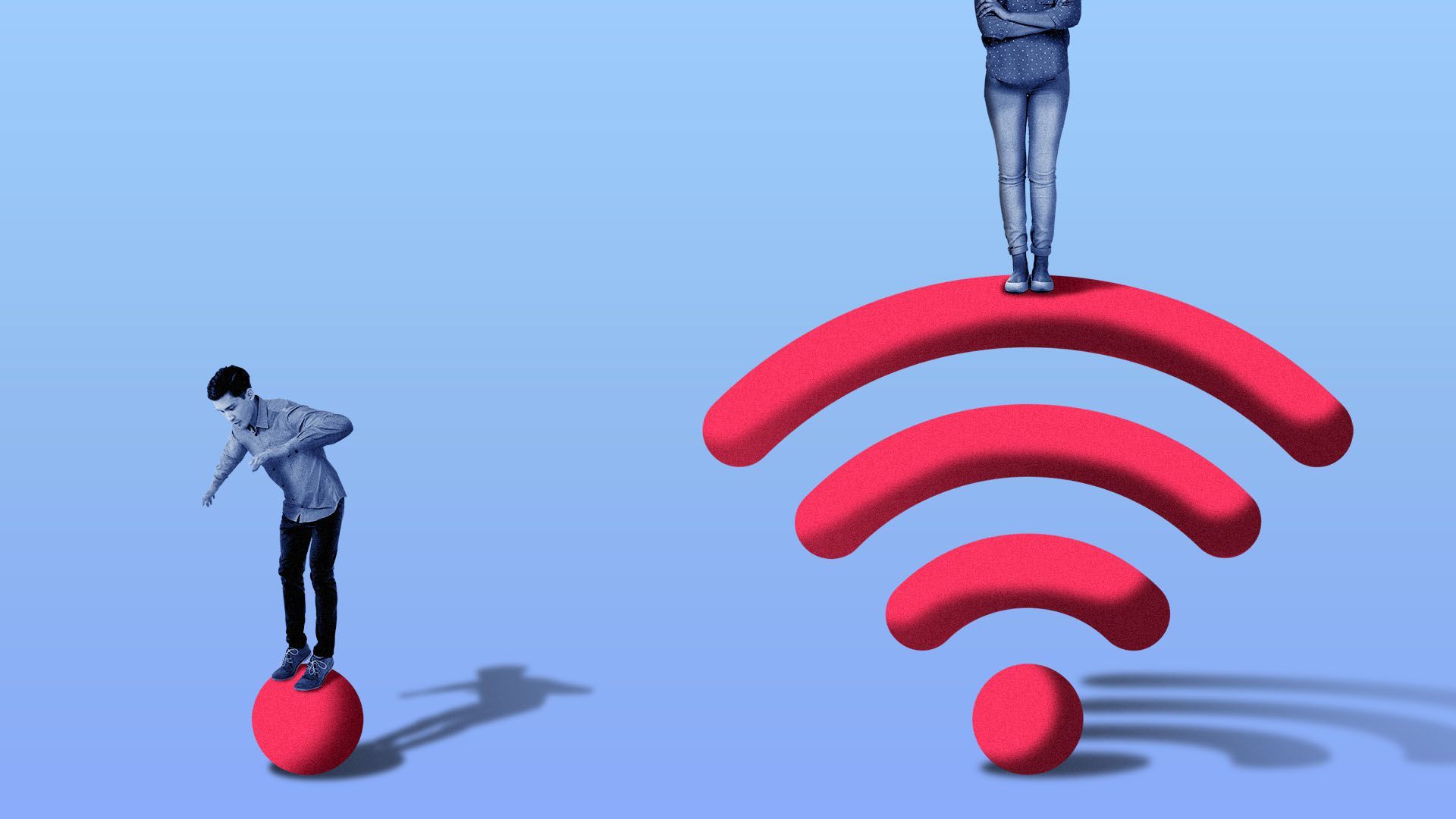 Remote work and remote learning look likely to continue through the end of the year or longer, potentially exacerbating inequalities in the workplace and at schools.
Why it matters: The coronavirus has laid bare how unequal access to technology divides us. And the longer-term implementation of telecommuting could make these issues, which disproportionately harm Black and Hispanic Americans, much worse.
Working from home typically calls for access to a computer, internet speedy enough to handle video calls, and space to work without distractions — and there's a clear racial divide when it comes to having these things.
By the numbers:
Per a 2019 report from Pew Research Center, 58% of Black adults and 57% of Hispanic adults have a laptop or desktop computer, compared with 82% of white adults.
66% of Black adults and 61% of Hispanic adults have broadband access at home. Among white adults, the share is 79%.
According to a recent survey from WayUp, Black and Hispanic job applicants are 145% more likely than their white counterparts to be concerned about their ability to do a job remotely.
"Census data shows that Black households have 20% more people and Hispanic households have 80% more people compared to White households, which can result in concerns about background noise, distractions, as well as the basic concern about lack of space," CNBC's Kelsey Johnson reports.
The bottom line: The growing list of companies — led by Silicon Valley tech giants — that are considering extending remote work beyond the end of the pandemic will have to consider how those policies could chip away at diversity and inclusion in the workplace.
4. Worthy of your time
Here's what I'm looking at this week.
The myth of closing the racial wealth gap through savings (Axios)
An oft-suggested reason for the massive wealth gap between Black and white families in the U.S. is that Black Americans simply don't save or invest enough. Data shows that is untrue.
Federal employees head back to the office (New York Times)
As the private sector continues to extend remote work policies, U.S. government employees are going back to work. That could jeopardize the progress Washington, D.C. has made in containing the spread of the coronavirus.
Why workers are choosing buyouts (CNN Business)
Thousands of employees are volunteering for layoffs and agreeing to buyouts from their companies, even though it's a particularly difficult time to be unemployed. Here are some of the reasons why.
Retail's not-so-grand reopening (Retail Dive)
Stores are reopening around the country, but it's not business as usual yet. Retail Dive takes an in-depth look at all of the ways in which the pandemic continues to complicate things for retailers and the innovations that might gain traction as stores try to work around the virus.
5. 1 surprising thing: Where postings are plummeting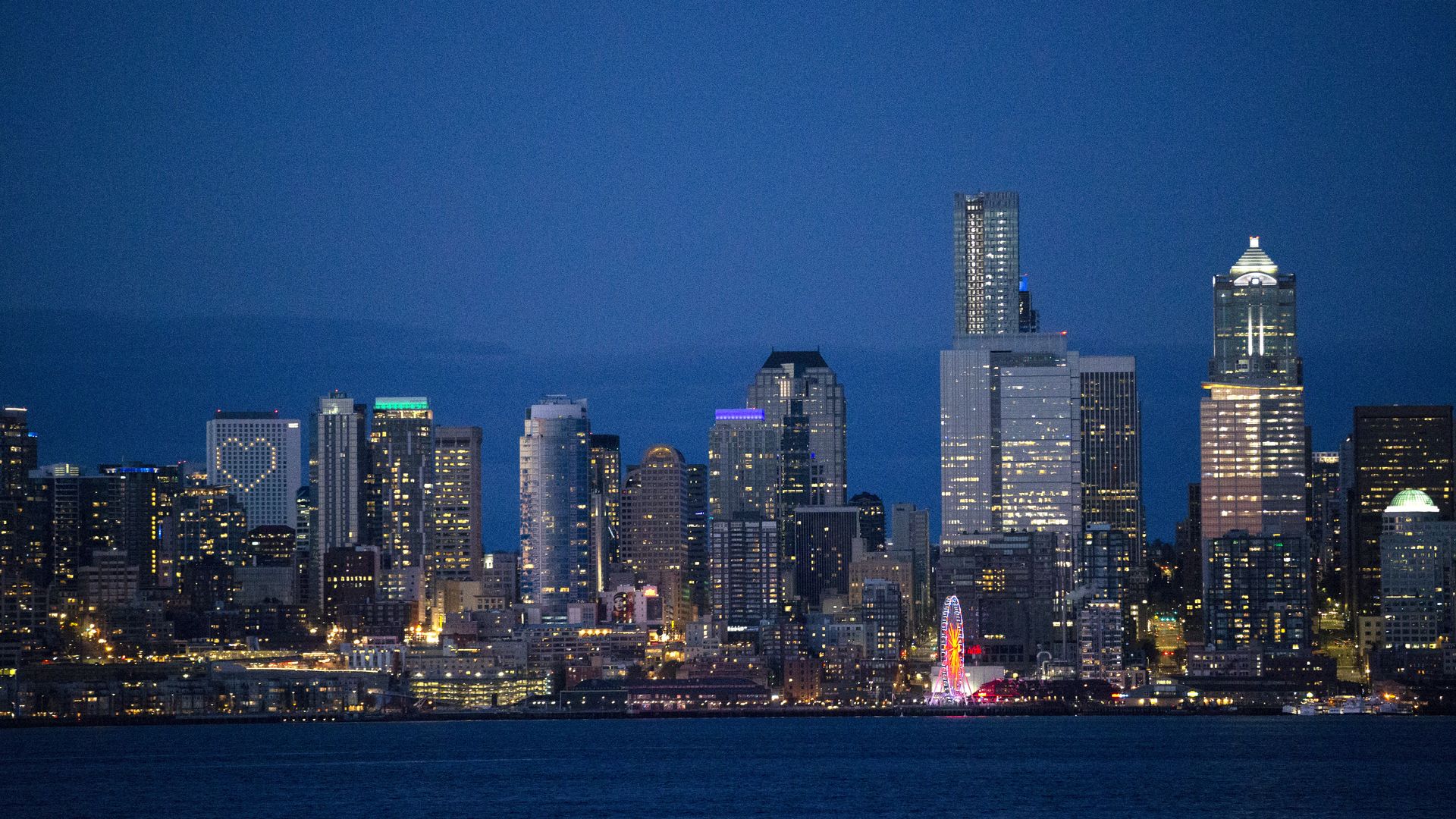 Contrary to what you might expect, it's actually America's tech and finance hubs — where the most jobs can be done remotely — that are seeing the biggest declines in job postings amid the coronavirus pandemic.
The top 10 drops, according to an Indeed analysis of job postings this June compared with last June:
Honolulu, HI: -45.7%
Seattle-Tacoma-Bellevue, WA: -41.7%
San Francisco-Oakland-Hayward, CA: -41.6%
New York-Newark-Jersey City, NY-NJ-PA: -40.8%
Chicago-Naperville-Elgin, IL-IN-WI: -40.7%
Miami-Fort Lauderdale-West Palm Beach, FL: -40.6%
Boston-Cambridge-Newton, MA-NH: -40.4%
Oxnard-Thousand Oaks-Ventura, CA: -40.3%
Denver-Aurora-Lakewood, CO: -40.0%
San Jose-Sunnyvale-Santa Clara, CA: -39.9%
Between the lines: Honolulu as the leader makes sense due to the fall of the tourism industry, but the appearance of all the major tech metros in the top 10 is surprising.
Those declines can be explained by the fact that postings for service industry jobs have fallen in the cities where a larger share of the population is working remotely, and therefore able to stay home.
"Job postings in these in-person service sectors — retail, food preparation, sales, and beauty & wellness — have fallen more in metros where people are more likely to work from home, like San Francisco, Washington, Boston, and Seattle," Jed Kolko, Indeed's chief economist, writes.