Axios @Work
August 04, 2020
Welcome back to @Work.
The newsletter will be off next week, and I'll be back on August 18th with a special edition on how the pandemic has affected older workers.
In the meantime, keep sending your feedback to [email protected].
One more thing: Jonathan Swan, Axios' national political correspondent, interviewed President Trump about the coronavirus, the upcoming election and more in a must-see episode of "Axios on HBO." You can catch the full interview for free here.
Today's edition is 1,553 words — a 6-minute read. First up...
1 big thing: Setting back a generation of women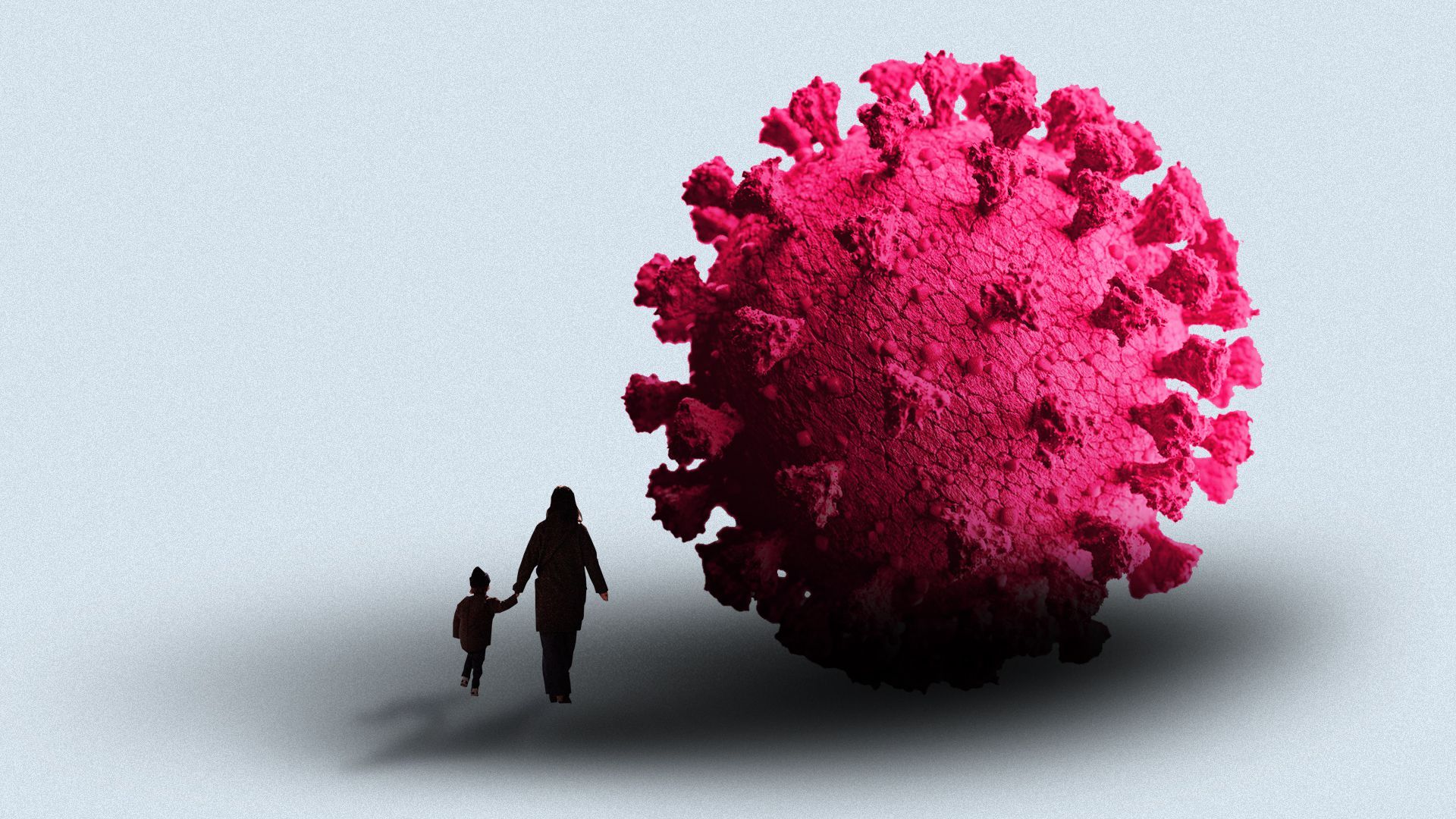 The coronavirus' disproportionate impact on women workers is eroding years of progress.
Why it matters: In the long run, the pandemic could chip away at women's representation in the workforce and widen the gender pay gap, experts say.
What's happening: Women in the U.S. hit a milestone in February when, for the first time in history, they held the majority of non-farm payroll jobs, outnumbering men in the workforce. Then the pandemic hit, exacerbating many of the issues working women face.
Closed schools and day care centers along with stay-at-home orders dramatically increased the amount of housework that needed to be done. Women took on the bulk of that unpaid labor — and many were punished for it.
Working mothers are also facing overt discrimination.
As women lose or leave their jobs, or cut back on hours to make time for other types of work, they'll likely miss out on raises and promotions.
The stakes: All this "could lead to an increase in the gender employment gap," says Willem Adema, a senior economist at the Organisation for Economic Co-operation and Development. "And in the long term, it could increase the gender wage gap."
A bit of silver lining: The pandemic is at least starting conversations about issues that working women have faced for decades — a dynamic that could prompt change. "The elephant in the room is on the table," says Lorraine Hariton, CEO of Catalyst, an organization that works with companies to put women in leadership roles.
2. Tech jobs aren't immune to the coronavirus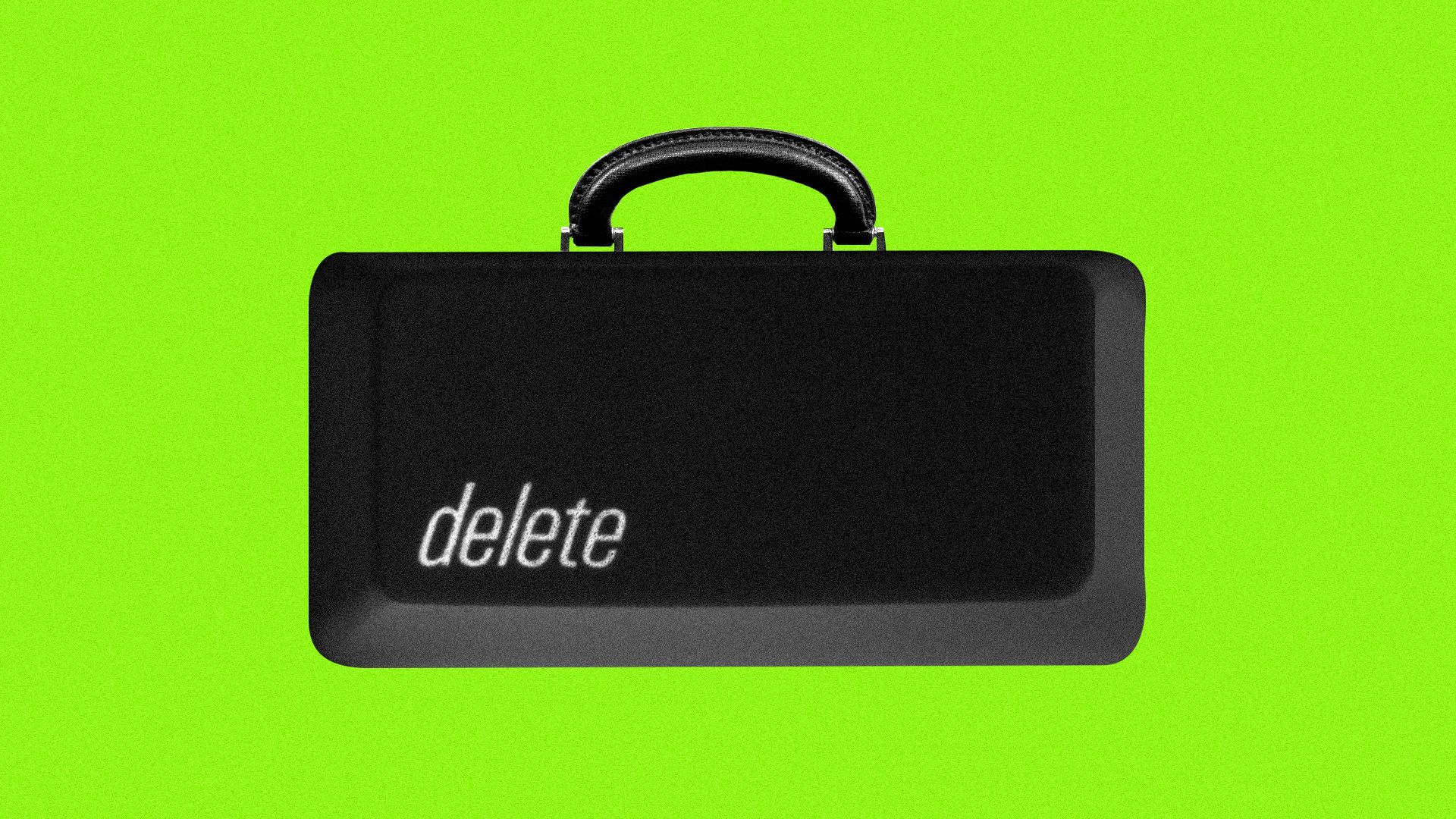 It's not just lower-wage service jobs in retail and at restaurants anymore. The effects of the coronavirus are beginning to reach the seemingly impervious tech industry.
By the numbers: New data from the jobs site Indeed shows that tech job postings were down 36% in late July, compared with the same time last year. That's even worse than the overall year-over-over drop in job postings of 21%.
What's happening: "At the beginning of the crisis, tech job postings initially fared better than overall postings. That may be because lots of tech work doesn't require much face-to-face interaction. What's more, some tech companies already had remote work policies in place, making it easy to scale up work from home," Indeed economist AnnElizabeth Konkel writes.
But, as the pandemic drags on, all companies are attempting to cut costs as it becomes increasingly apparent that the problem isn't going away anytime soon.
"There's so often the point of 'Is tech different?' It's kind of lost that status now," Konkel tells Axios.
Even the so-called jobs of the future have been hit hard by the pandemic: postings for jobs in artificial intelligence and machine learning are down 29%, per Indeed.
Worth noting: IT operations and help desk jobs are faring slightly better than other types of tech jobs. That's likely because companies are continuing to hire workers to help navigate the massive transition to telecommuting, says Konkel.
3. Unemployment math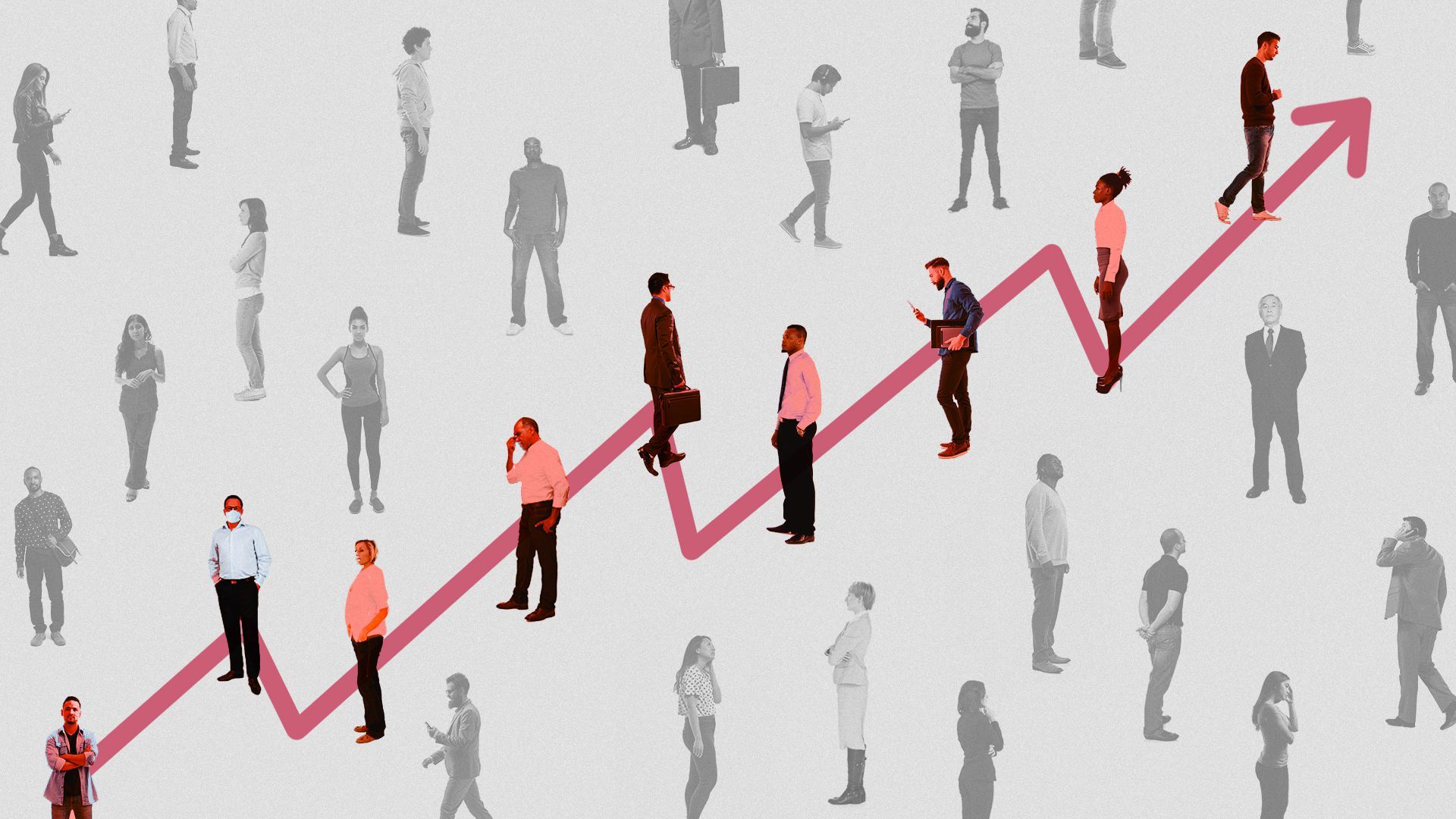 The extra $600 a week of unemployment insurance isn't creating a disincentive for job seekers, per a new study by Yale economists.
Why it matters: Even with that extra help, millions of Americans are barely making ends meet. Now it has expired, and congressional Republicans' argument against extending it — that it rewards unemployment — isn't backed by the data.
The big picture: Some small-business owners around the country have said they believe the extra $600 a week was making it more difficult for them to hire workers. But when the Yale economists zoomed out, they found that the benefit had no effect on the labor market.
"Our findings don't imply that nobody is making this particular tradeoff, but what we do find is that [the extra benefit's] aggregate effect on employment is zero," Dana Scott, one of the study's authors, tells Axios.
In fact, there are around 14 million more unemployed people than there are jobs, per the Economic Policy Institute. "If we're in a scenario where the jobs aren't there, searching isn't going to help," Scott says.
The stakes: Reducing — or doing away — with the benefit could actually lead to bigger economic problems as people have even less money in their pockets and cut back on consumer spending, she says.
4. Charted: Job sites are getting fewer hits
As I wrote above, economists found that extra pandemic-era unemployment benefits did not deter people from going back to work.
But whether they're discouraged by the lack of postings or afraid to work amid a public health crisis, Americans aren't searching for jobs as vigorously as they used to.
Traffic to career sites like Indeed.com, Careerbuilder.com, Monster.com and others is down during the coronavirus pandemic, according to a new half-year traffic report from SimilarWeb, reported by Axios' Sara Fischer.
More than half of the visits to sites in the career category were made by people ages 34 and under.
Overall, all sites within the career category experienced year-to-date decreases in monthly unique viewers, and the category as a whole saw a decrease of 14.6%.
The top five non-branded organic keywords driving traffic to the category were "jobs near me," "jobs," "cover letter," "work from home jobs," and "interview questions."
5. Why the work lunch matters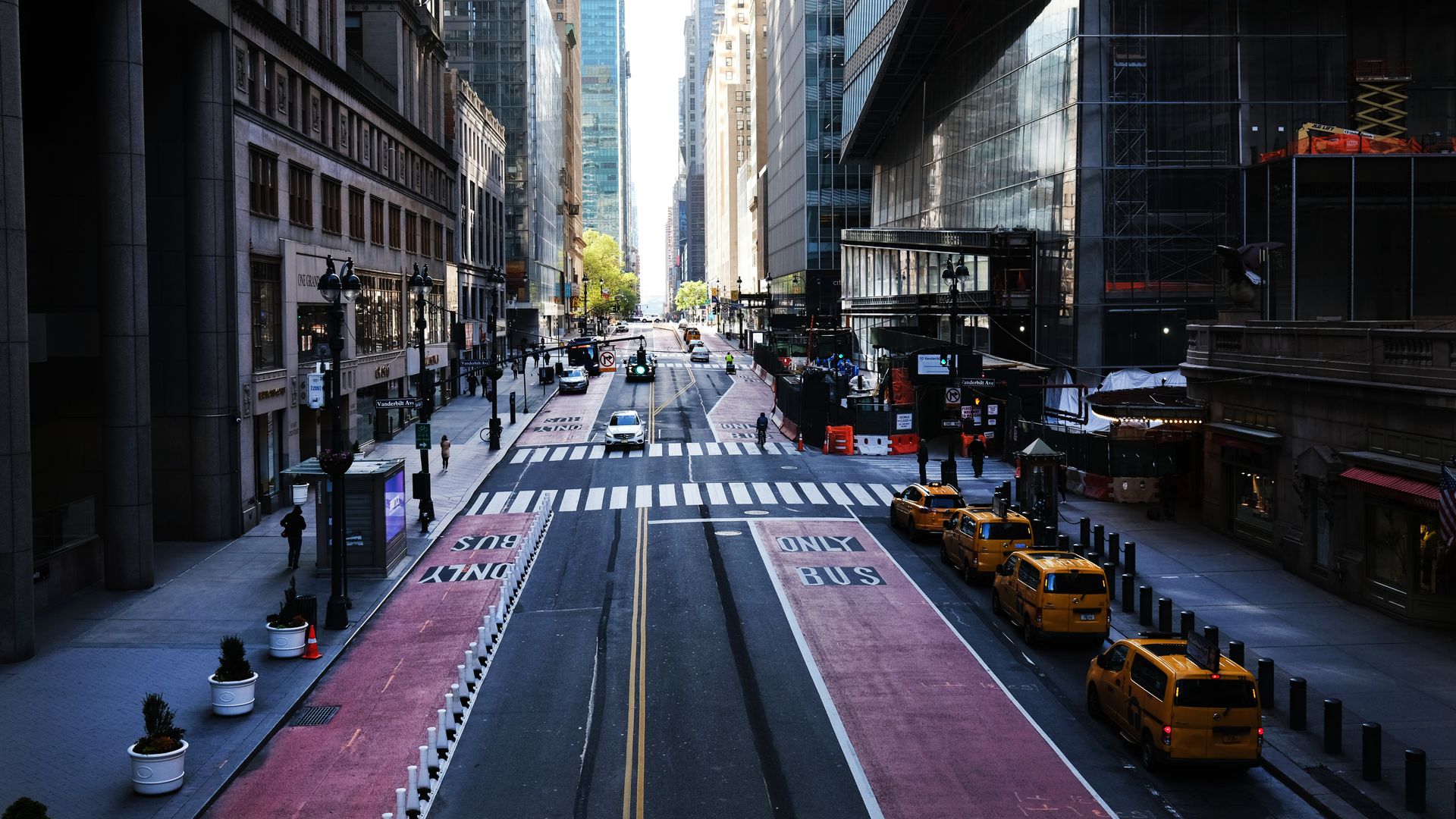 The epicenter of New York City's small business apocalypse is in Manhattan, where scores of office buildings have been closed for months.
The big picture: Widespread remote work has produced a chain reaction. With no office workers stepping out for coffee or lunch throughout the day, many small businesses have had no choice but to shutter.
Why it matters: New York's small businesses employ 3 million people — or about half of the city's workforce, the New York Times reports. And these shops and eateries are what give each of the city's neighborhoods its soul and identity.
By the numbers, per the Times:
"More than 2,800 businesses in New York City have permanently closed since March 1, according to data from Yelp, the business listing and review site — a higher number than in any other large American city."
Half of those were in Manhattan.
6. Worthy of your time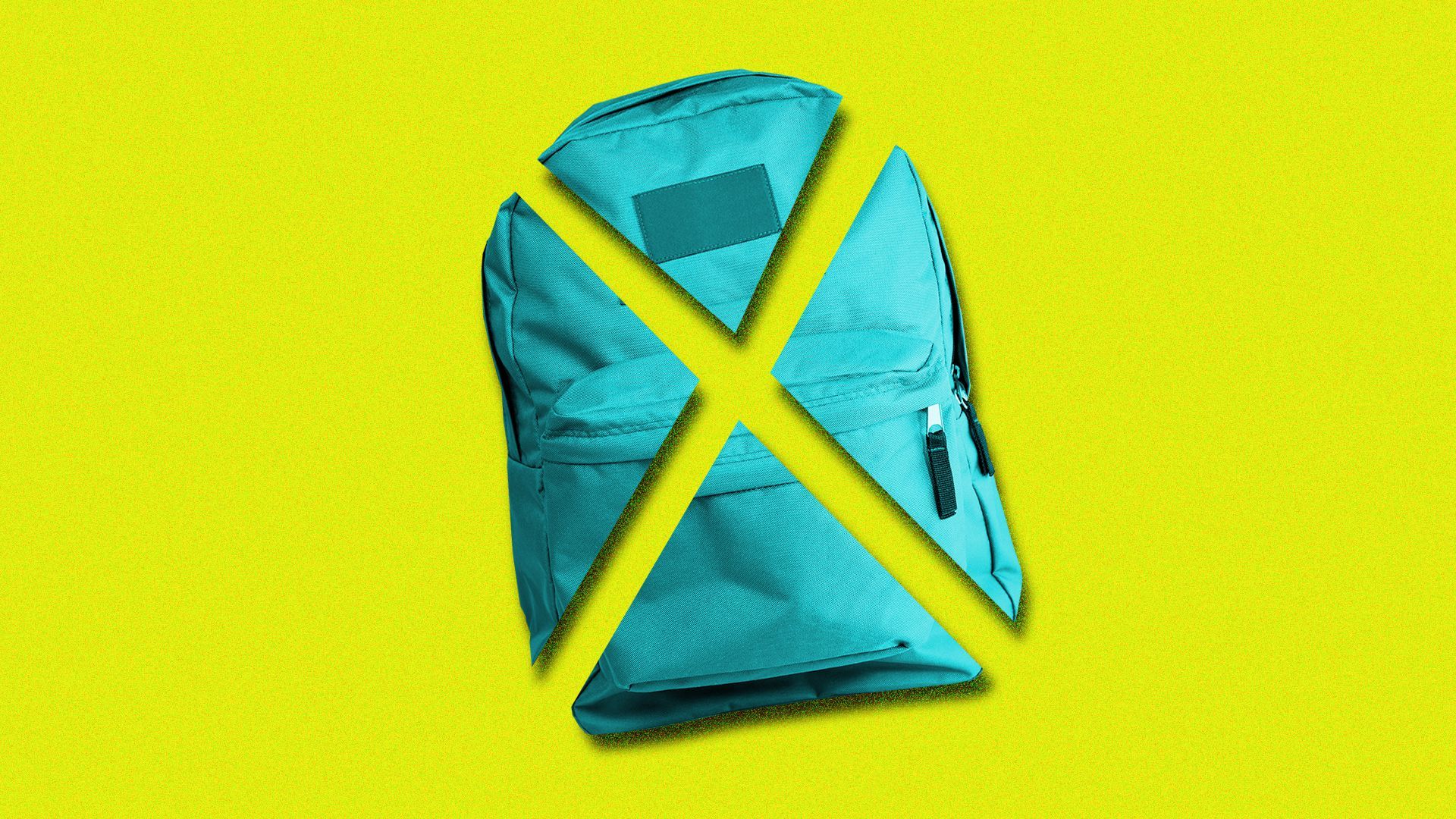 Virtual school will push retailers even closer to the brink (Axios)
Back-to-school season is the second-biggest revenue-generating period for the retail sector, after the holidays. But retailers say typical shopping sprees will be smaller with students learning at home — another setback for their industry, which has seen a slew of store closures and bankruptcy filings since the pandemic hit.
Being Black on Wall Street (Bloomberg)
Black people have been shut out of the finance industry for decades. Bloomberg reporters interviewed several professionals — some who found success, and others who left disenchanted — to tell the story of being Black on Wall Street.
How to make remote work work (New York Times)
If telework is leading to all sorts of new problems, your company might be doing it wrong. The Times has compiled some tips on how to adjust work styles and office routines to make telecommuting work well.
The highest-paying jobs have the worst racial salary gaps (Quartz)
It's industries like finance, law and software development that show the widest Black-white salary gaps. Quartz digs into some of the structural inequities behind the data.
7. 1 🎓 thing: The coronavirus move-in day
The pandemic has already upended all kinds of life events, from birthdays to weddings to graduations.
The next rite of passage that the coronavirus is complicating is the college drop-off, Julie Weed writes in the New York Times.
Many of us remember the quiet drive from home to the dorm before the start of freshman year.
Some families turn it into a big road trip, traveling across several states, while others are just dealing with a trip across town. Regardless, it's often an important moment for students, parents and siblings to reflect on the end of an era and celebrate the next big thing.
The virus makes that difficult — or impossible.
Families are trying to figure out how they can say their goodbyes while staying safe.
"Nearly half of the country's states currently have statewide travel restrictions, with various degrees of self-quarantine orders — encouraged, strongly encouraged, mandatory — not to mention suggested or required testing," Weed notes. On top of that, colleges have their own restrictions.
I'll admit I'm personally bummed about this one. My sister starts at Northwestern this fall, and she'll likely be making the trip from Boston to Evanston alone.