Axios @Work
May 05, 2020
Welcome to the inaugural edition of @Work, Axios' new newsletter exploring the social, technological and economic trends transforming jobs and the workplace.
To start, we'll dive into the effects of the coronavirus pandemic, which is changing work more quickly and dramatically than any event in recent history.
I'd love to hear your responses to today's issue and your thoughts on what trends and topics I should examine in future issues. To get in touch, just hit reply to this email or write to me at [email protected].
For workplace news and updates throughout the week, follow me on Twitter @erica_pandey and subscribe to the @Work channel in the new Axios app on your iPhone or Android device!
I've got 1,535 words for you today — a 6-minute read.
1 big thing: The new working world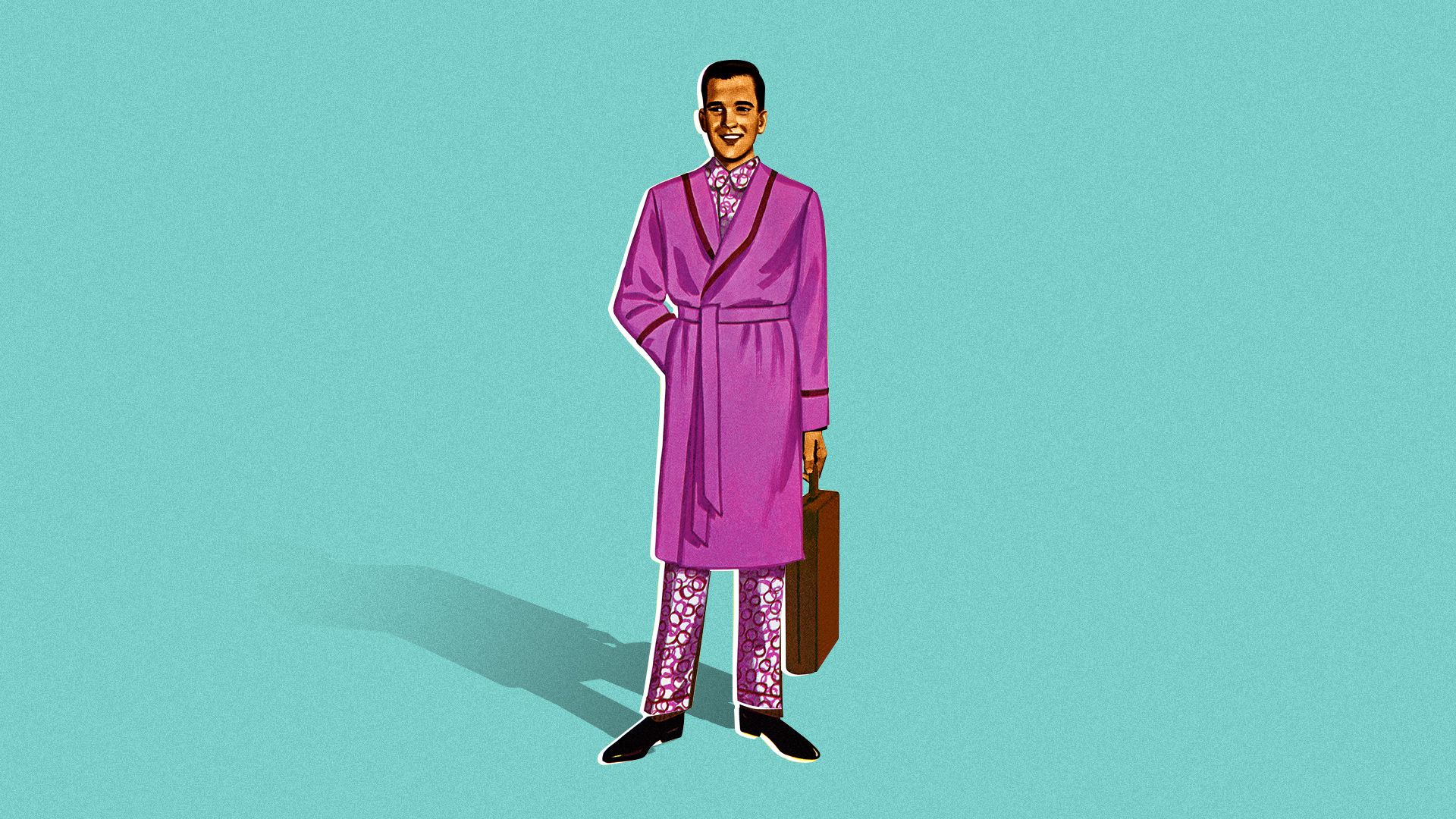 In a matter of weeks, the coronavirus crisis has triggered indelible shifts in the way America works.
The big picture: The pandemic is accelerating the onset of new trends in work — toward telecommuting, new office layouts and a different work-life balance. And we're already seeing signs that these effects will outlast the crisis.
Teleworking has taken over. Many of us are entering the second full month of working from home — and growing steadily accustomed to that lifestyle. "Remote work has gone from an HR-level discussion to a C-suite-level discussion," says Prithwiraj Choudhury, a professor at Harvard Business School.
Before the pandemic, less than 4% of American employees worked from home full time.
That has jumped to more than half, per Brookings. Among the top 20% of earners — who are more likely to have desk jobs that can be done from anywhere — that share is closer to 70%.
Not all of those people will immediately — or ever — go back to their offices when states reopen.
With many companies directing employees to work from home for the rest of the summer (or longer), lots of people are leaving urban hotspots, where coronavirus cases are concentrated, Axios' Kim Hart reports. If the trend sticks, it will start to reverse a century-long move toward urbanization.
"Remote work is going to increase dramatically" after the crisis abates, says Isabel Sawhill of the Brookings Institution. "There's a demonstration effect that this current crisis is producing: It's showing that work can be done from home."
Families are changing. Suddenly, Americans are doing their jobs, schooling their children and spending family time in the same space. Despite the inevitable tensions, these months of togetherness could strengthen family ties for years to come.
Several families tell Axios they plan to cook more meals at home or do more arts and crafts with kids after the pandemic — incorporating crisis-era practices into normal life.
On the other hand, many working parents are more exhausted than ever now that they have no break from either set of responsibilities — and no clear end in sight.
Workspaces are transforming. The offices that workers eventually return to won't look like the ones they left in March.
Tightly packed conference rooms and co-working spaces will — at least temporarily — give way to spread-out office layouts that allow for social distancing.
And as more Americans work remotely, look for homebuilders to give extra thought to the home office (which could have the added perk, under some circumstances, of being tax deductible).
The bottom line: It's still too early to gauge the extent of the coronavirus' impact on work, but the changes it's already creating have implications for everything from how we conduct meetings with colleagues to how we file income taxes to the nature of our lunch breaks.
Says Sawhill: "Humans are creatures of habit, and right now we're forming new habits."
2. The bad news about working from home...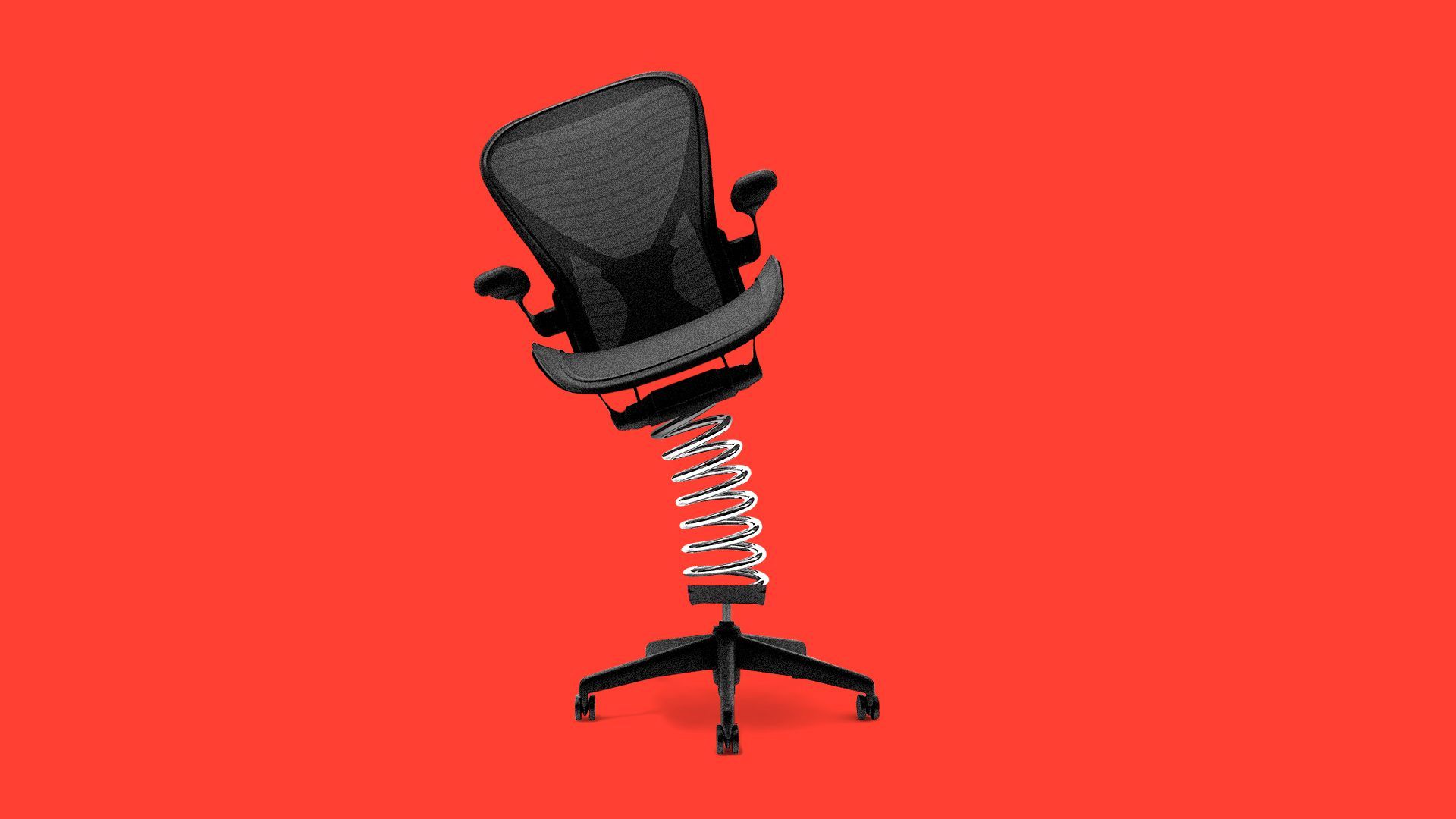 Although many, many companies pulled off relatively seamless transitions to operating fully remote, workers are discovering unforeseen consequences of the sudden switch.
The big picture: This is not normal teleworking. Typically, employees aren't caring for or schooling kids while on the job — and they're not prohibited from seeing friends, working from a coffee shop or going to the gym.
People are experiencing Zoom fatigue, as the in-person meetings and happy hours of yesterday have been replaced by ceaseless calendar invites to join video calls, writes Axios' Scott Rosenberg.
Parents — who make up around one-third of the U.S. workforce — are dealing with unprecedented stress and exhaustion.

At the end of March, 57% of mothers and 32% of fathers of kids under 18 said their mental health has deteriorated during the pandemic, per a survey by the Kaiser Family Foundation.
There could also be longer-term consequences of this grand experiment in remote work, experts tell Axios.
It could lead to an increase in outsourcing. "If a job can be done remotely by a worker in the U.S., it can also be done remotely by, say, a worker in India or China," says Brookings' Sawhill.
And we don't yet understand the effect of telework — particularly at such a massive scale — on productivity. Past studies have reached conflicting conclusions as to whether working remotely leads people to be more productive, with some finding that staying home helps workers and others reporting that it leads to disengagement.
3. ...and some good news
At the same time, companies are coming up with innovative ways to ease employees' discomfort and pain as they navigate working while quarantined.
Harvard's Choudhury, who has spoken to chief executives at companies around the globe about the shift to remote work, tells Axios that firms are using video teleconferencing as the new community gathering spot, hiring DJs for virtual dance parties or fitness instructors for group workouts.
There are also companies attempting to help working parents by offering virtual homework help for the kids, he says.
The novel coronavirus is also accelerating the adoption of certain workplace benefits that were already on the rise, reports Fortune, citing survey data from the Society for Human Resource Management.
More firms are adding online therapy sessions and telemedicine services: 72% of employers provided telehealth benefits in 2019, compared with 86% after the coronavirus crisis began.
Around half of employers are offering to reimburse certain remote working costs, like new monitors or boosts to internet speed.
4. Staggering stat: One-fifth of the country didn't go home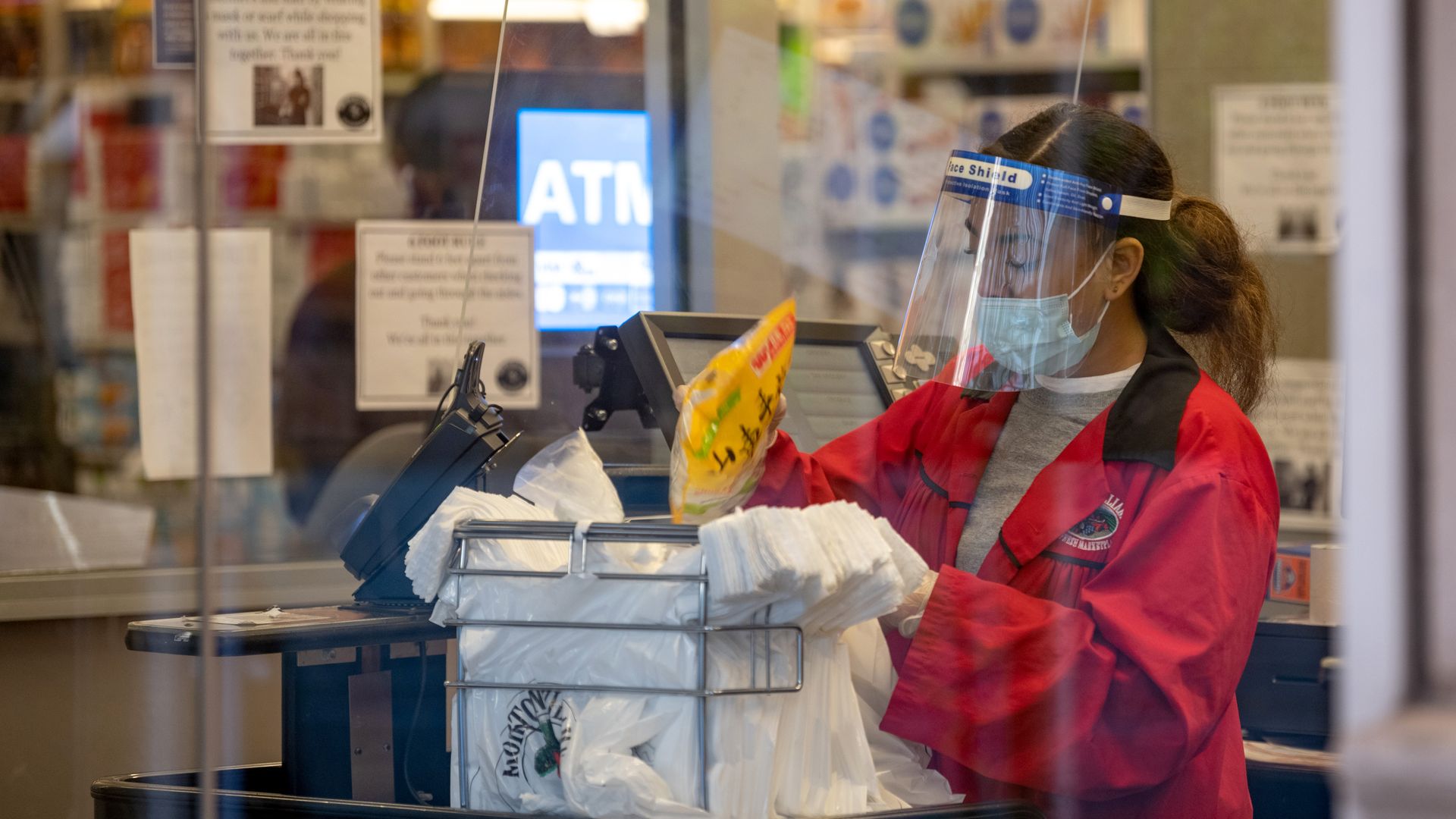 Discussions around remote work in the time of coronavirus overlook a huge share of Americans: The 60 million essential workers who didn't go home — and who are dealing with the most drastic and dangerous workplace changes.
By the numbers: Only around 37% of U.S. jobs can be done remotely, per new research from University of Chicago economists.
There's a racial divide: Asian (37%) and white (30%) workers are the most likely to be able to work from home, according to the Economic Policy Institute. Black (20%) and Hispanic (16%) workers are the least likely.
Next week's issue of Axios @Work will zoom in on the rapidly changing workplace for those on the crisis front lines.
5. America's shrinking offices
Companies abruptly sent their employees home to curb the spread of the coronavirus, but bringing those apprehensive employees back after the pandemic won't be so easy — particularly to increasingly cramped, open-plan offices.
The big picture: If you remember accidentally kicking the wastebasket under your desk or constantly scooting in to let your co-worker walk by back in the days when we still went to offices, you're not alone. Over the last four decades, Americans' personal space at work has steadily shrunk.
The average square feet of office space per worker in the U.S. has been declining since 1990, to 214 today from around 260 square feet then, according to data from commercial real estate firm CoStar.

There was an uptick between 2008 and 2010 due to companies laying off workers during the financial crash — but keeping their office leases.

The numbers are even smaller when looking just at cities, says Paul Leonard, a managing consultant at CoStar. The average space per worker is around 180 square feet in the country's largest metro areas.
And co-working spaces tend to be even smaller. Consider WeWork, which has been leading the recent redesigning of offices, where space per worker is 75 square feet — the equivalent provided in a medium-sized roll of Reynolds aluminum foil.
What to watch: Companies may have to alter their office layouts drastically in order to welcome back employees safely — and some firms are already doing so.
WeWork is removing some seats and desks at its locations and halving many conference rooms' capacities so workers can observe 6-foot social distancing guidelines. It'll add hand-washing or sanitizing stations as well as wipe dispensers to high-touch common areas like kitchens and phone nooks.
Commercial real estate firm Cushman & Wakefield has a workspace prototype called "the 6 feet office," which includes work stations with 6-foot radii and routing signs to direct traffic around the office in a manner that minimizes closeness.
6. Worthy of your time
Here's what I'm reading this week:
J. Crew's bankruptcy is likely the first of many driven by coronavirus shutdowns (Axios)
Several more weeks (or months) of social distancing may compel many companies in the retail and restaurant sector to pursue bankruptcy protection, analysts project (though that doesn't automatically mean that their stores will close).
South Korea's guide to reopening your office (Quartz)
The government that's received the most praise for its handling of the coronavirus crisis has a manual on how post-pandemic offices should operate.
Crying on the job (The New York Times)
Leaders — from governors to chief executives to TV anchors — have normalized crying in public amid the pandemic. That can be immensely validating to the rest of us.
Imagine the post-pandemic misery of business travel (The Economist)
Likely horrors include long lines at airports (as new processes for disinfecting luggage and reading passports electronically tack on time), flights without a beverage cart, and hotels without room service — just to name a few.
7. 1 unexpected boom: Plexiglass everywhere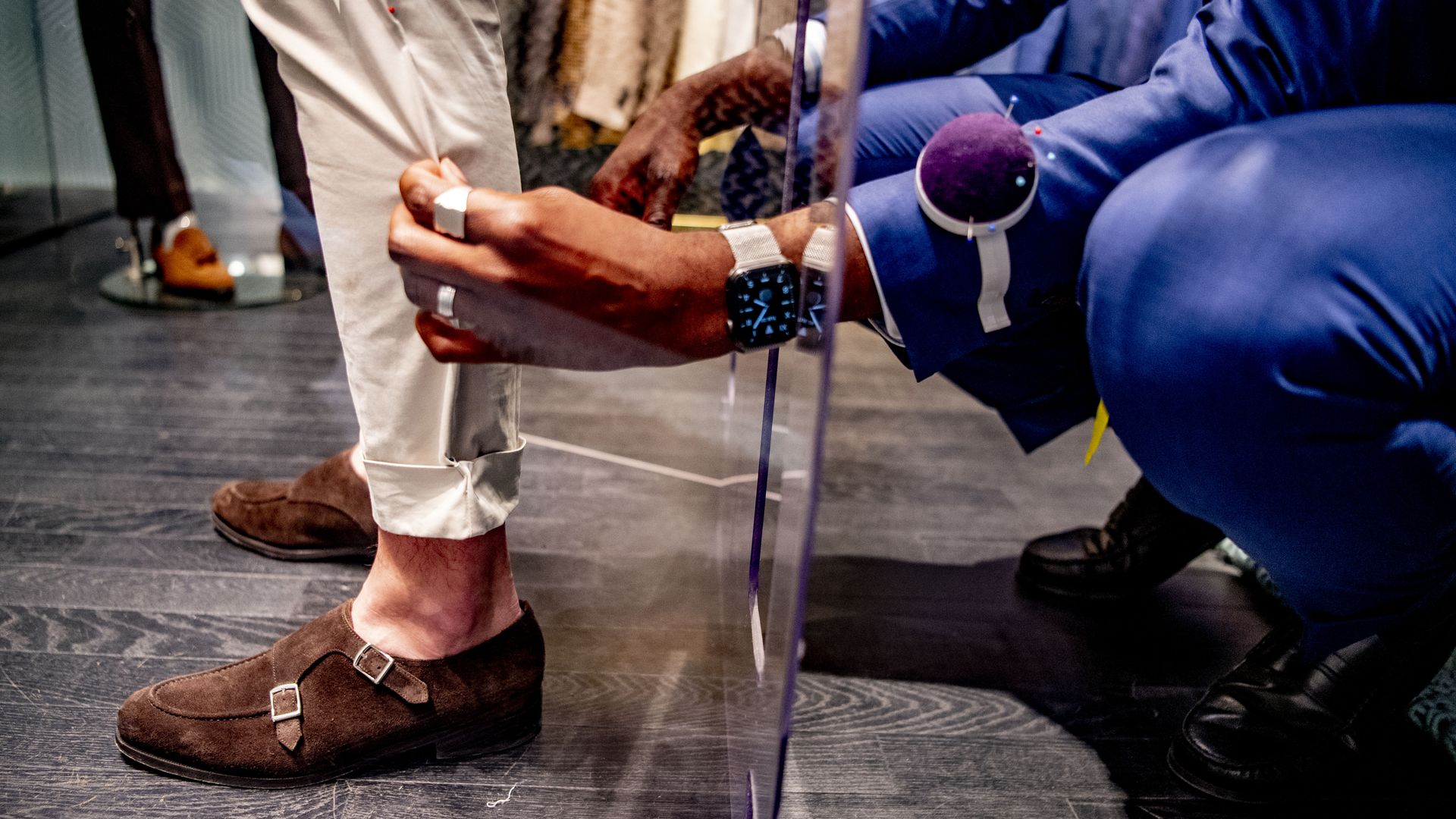 The coronavirus is prompting a plexiglass manufacturing boom.
What's happening: Plexiglass sales have tripled — or even quadrupled — across the U.S. and in the U.K., Amelia Tait writes in Medium's Marker. That demand will climb even higher if states begin to reopen before there's a coronavirus vaccine (the likely scenario).
Seemingly overnight, grocery stores and pharmacies across the U.S. outfitted their locations with plexiglass shields to separate workers and customers.
Expect this to become the new normal. Even after the worst of the pandemic is over — and nonessential businesses start to reopen — plexiglass dividers in clothing shops, public restrooms and movie theaters could become commonplace.
One European company is even working on transparent plexiglass cubicles for sunbathers at the beach, which sounds dystopian yet oddly relaxing...?