Axios @Work
May 19, 2020
Welcome back to Axios @Work. Keep sending your thoughts and ideas by replying to this email or writing to me at [email protected]
Our weekly Axios Science newsletter returns Thursday, with reporting on biomedicine, public health, emerging technologies and more. Sign up here. 
You're invited: Axios is holding a live virtual event about remote learning on Thursday at 12:30pm ET, hosted by Kim Hart and Jim VandeHei. Register here.
Today's edition is 1,446 words — a 5-minute read. We'll begin with...
1 big thing: Never going back to the office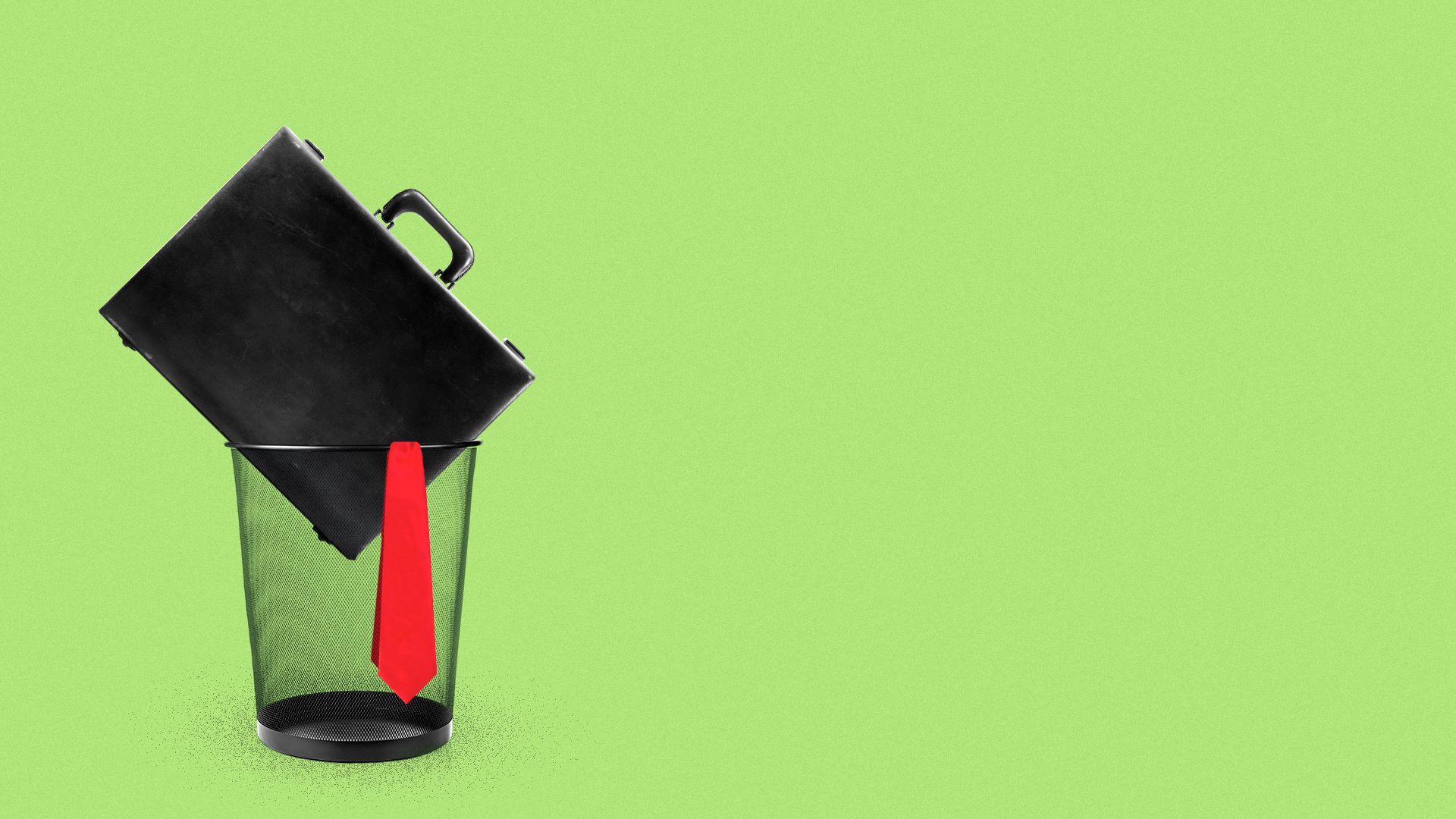 Led by the Silicon Valley tech giants, more and more companies are extending their timelines for remote work — and some are weighing letting employees work from home forever.
Why it matters: It's becoming clear that there's no going back to the way work and workplaces were structured before the coronavirus pandemic.
Driving the news: Last week, Twitter became the first company to acknowledge that the coronavirus-triggered experiment in telecommuting is working — and told employees they never have to come back to the office if they so choose.
Square, the contactless payments company that shares CEO Jack Dorsey with Twitter, announced a permanent work-from-home option this week.
Amazon has extended its remote work policy through October, and Facebook and Google have done so through the end of the year. Look for these extensions to turn into permanent policies, too.
"This is the global awakening of, 'We've been making it way more complicated to work than it has to be,'" says Darren Murph, head of remote work at GitLab, the world's largest all-remote company. "So many companies have just been waiting for another company to go first."
The big picture: As I wrote in the first issue of this newsletter, a shift to remote work has wide-ranging implications that will touch everything from companies' balance sheets to commercial real estate and urban planning.
Companies can save thousands per employee. And workers might save some money, too.
Firms will have to spend some money to make the transition work. For example, Twitter is giving each employee $1,000 for remote work supplies.
But in the long run — when considering cutting the costs of renting, heating and furnishing an office — telework could save firms up to $11,000 per worker per year, according to a new report from the Cognizant Center for the Future of Work.
Workers stand to save up to $7,000 per year in commuting, child care and wardrobe costs, the report notes.
Workplaces can become more diverse and inclusive. If place no longer matters, the pool of people from which firms can hire will get much, much bigger.
People who don't live in the big, expensive cities where the jobs are — as well as people who have caretaking responsibilities or disabilities that keep them at home — might now get recruited by some of the most innovative companies in the country.
"Tech companies attract the best and the brightest, and they all move to Silicon Valley. But now those that don't move there or can't move there could work for these big, potentially life-changing companies," says Desmond Dickerson, the author of Cognizant's report.
Cities could change — dramatically.
"This is a gift for big cities," Murph says. Population booms in places like San Francisco and New York have sent rents soaring and driven millions out. Some deurbanization fueled by the rise of remote working could ease the pain in these metros.
Telework at scale — the way Twitter and Square are offering — could also help the environment. Global carbon emissions have dropped 17% due to pandemic lockdowns.
The bottom line: "There's no putting this genie back in the bottle," says Murph.
Even while working from home in the worst conditions — during a global health crisis, while taking care of children, and isolated from friends and family — many workers have gotten used to the new way of life.
2. Mapped: Where the remote jobs are
This map presents a compelling argument for why the coronavirus' ushering in of a remote work revolution could lead to deurbanization.
It's typically the most expensive cities in the country that also have the largest share of jobs that can be done remotely.
Imagine if those who tolerate small apartments, high rents and traffic jams just to live where they work no longer had to do that.
3. Summer camps vs. coronavirus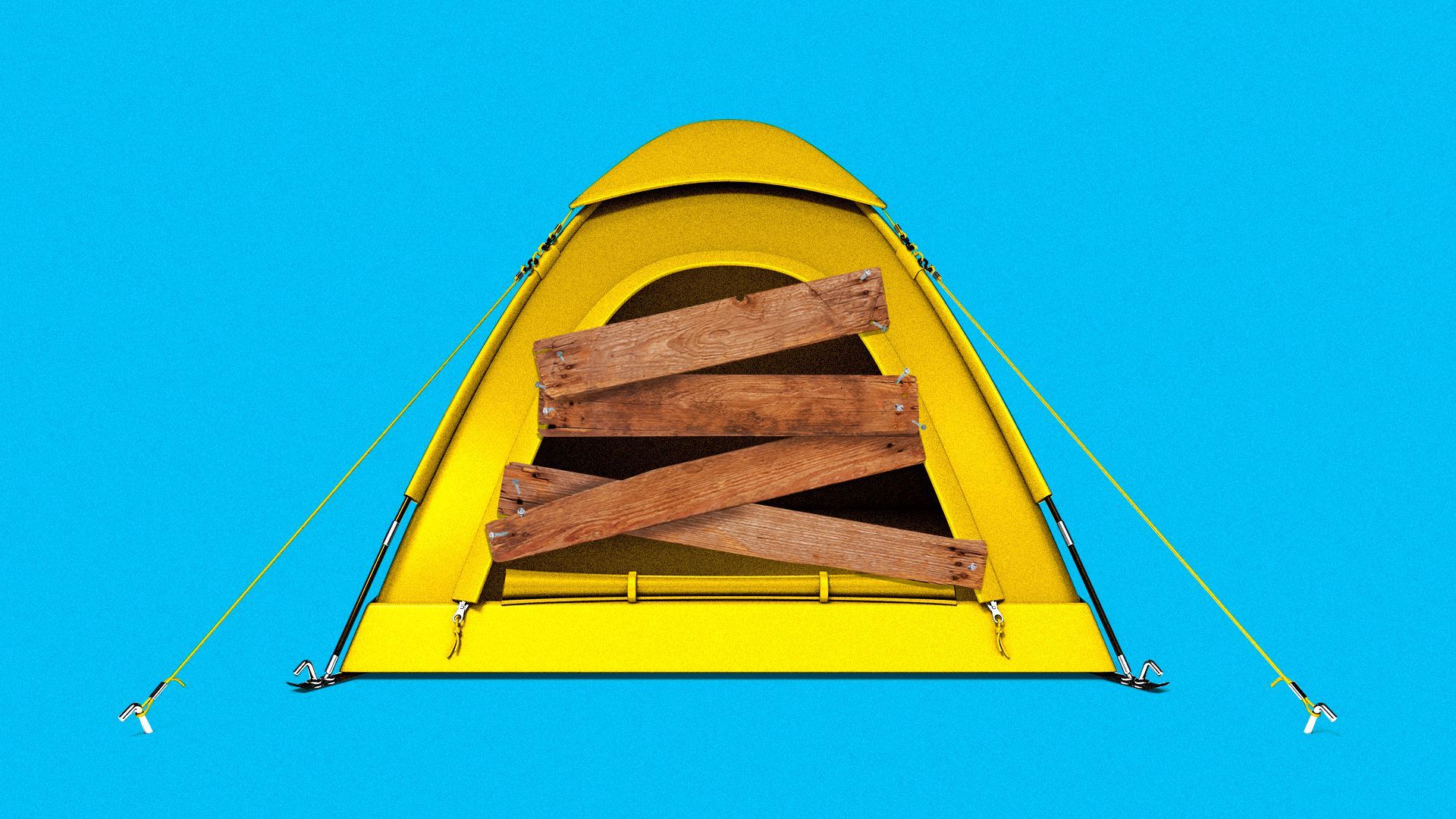 Summer camps around the country have begun announcing cancellations, a bleak sign for overwhelmed parents and stir-crazy kids for the months ahead.
Why it matters: Camps are a lifeline for parents trying to cope with the pandemic's exhausting double whammy of working from home with schools closed.
"One big thing that's shifted for us is thinking about camp less as a recreational summer activity and more as a necessary child care function," a director at a North Carolina day camp told Axios.
CDC guidelines say camps shouldn't open if their home states aren't open, or if they aren't able to screen kids and counselors for symptoms and exposure.
If camps do pass those requirements, the CDC and American Camp Association recommend they practice social distancing, require masks and check temperatures frequently.
Camps from coast to coast are making changes. For instance, Barrie School — a private school in Silver Spring, Maryland, that runs a summer camp — is dotting its 45-acre grounds with handwashing and sanitizing stations.
Some planned activities, such as day trips, have to be canceled because kids can't social distance on buses, director Dan Hayden says.
Several camps are facing steep cost increases:
The North Carolina camp is doubling its staff so it can divide campers into 10-person groups that will stay together for the summer.
The camp is also halving pool capacities and doing away with high-contact activities like basketball and soccer.

It's also reducing the day's schedule from five activities to four to add in time for handwashing.

"Financially, camp is barely viable this summer, but we decided to run it as a service to our community," the director says.
And camp might go virtual:
Camp Supernow — founded after the coronavirus crisis began — is offering two-week sessions of Zoom camp starting in June.
Kids will be sorted into virtual cabins to participate in activities like talent shows or backyard scavenger hunts.
There are obvious drawbacks to moving camp online — given that it's normally all about being outside and with other kids. Children can only pay attention on Zoom for about an hour at a time, Rachel Breitenwischer, a co-founder of Supernow, says.
But for overwhelmed parents, "even the hour here and there is incredibly valuable as time to have back," says Lyndsey Wheeler, another Supernow co-founder.
4. The new coronavirus careers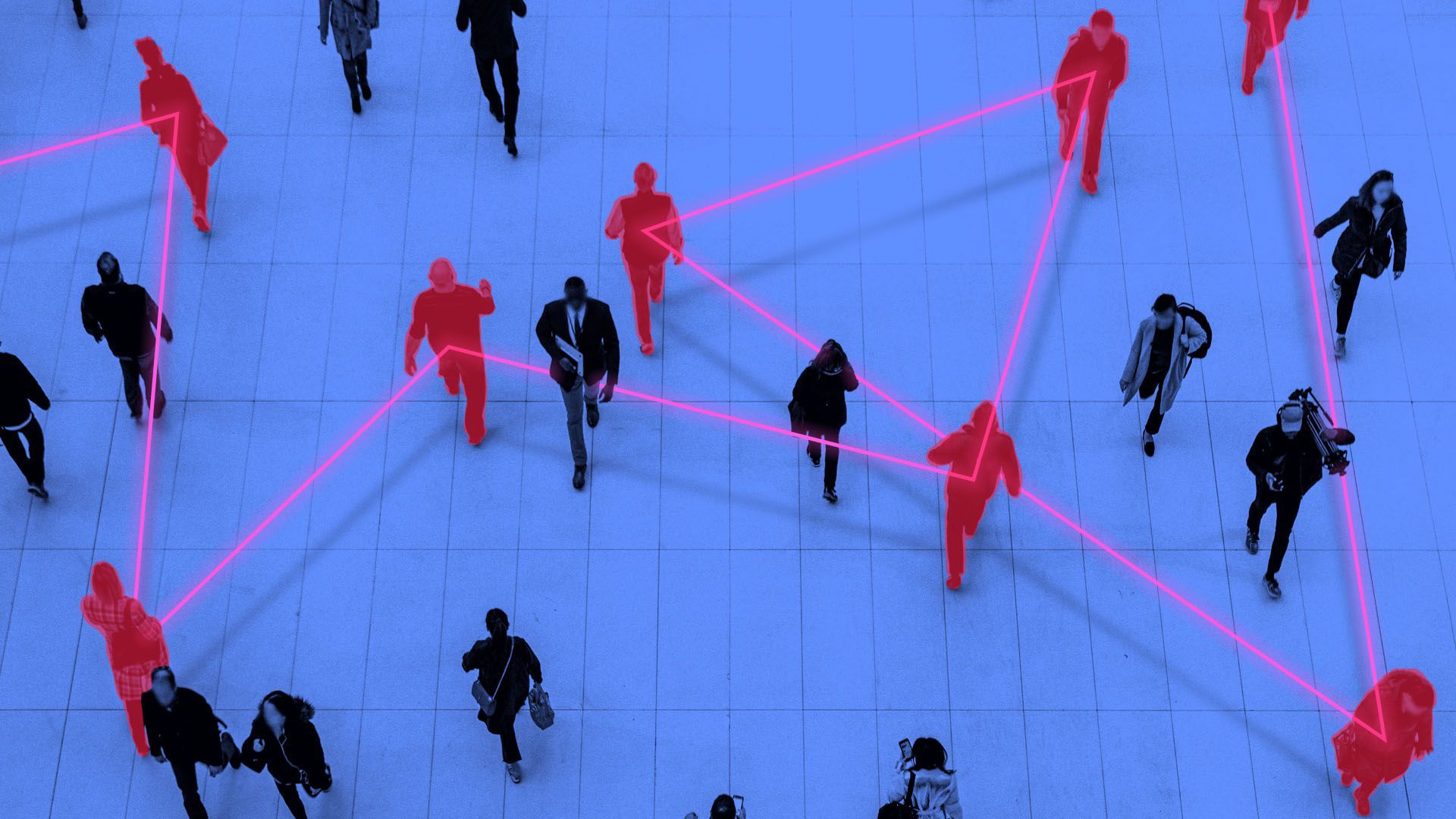 Making sure we can safely return to work and public life post-coronavirus will require new rules, new equipment — and even whole new jobs.
The big picture: The U.S. needs anywhere from 100,000 to 300,000 contact tracers, whose job it is to keep track of people who have been exposed to the virus and give them advice on how to contain it, the New York Times' Jacey Fortin writes.
There are already several thousand people doing the job today. It pays between $17 and $25 an hour and can be done from home via phone.
"As communities begin to open up and more people venture outside their homes, the job is expected to become more crucial — and more difficult," Fortin notes.
Another post-pandemic job will be that of temperature checkers, who will station themselves at offices and schools to screen people.
The Washington Post already has job openings for such workers.
5. Worthy of your time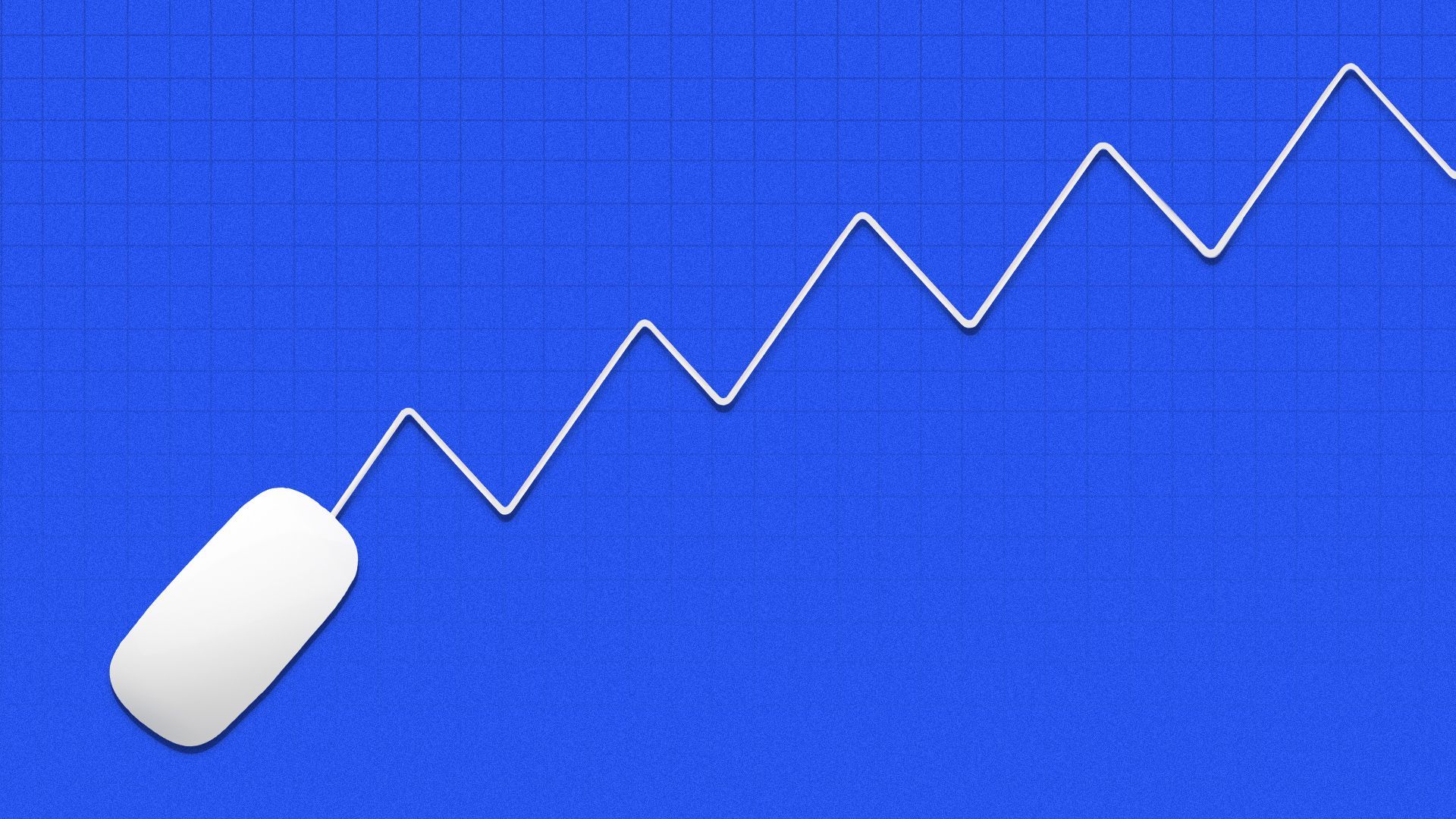 The pandemic downturn might yield a new startup wave (Axios)
It may sound counterintuitive to launch new businesses in the middle of an economic crash, but it's worked during past downturns, and Silicon Valley's founders and investors remain willing, so far, to keep rolling the dice.
Coronavirus empties call centers (MIT Tech Review)
The pandemic is accelerating workplace automation, as AI chatbots take the place of workers sent home from crowded call centers.
America stares down a wave of bankruptcies (The Economist)
J. Crew, Neiman Marcus and Gold's Gym have already gone belly up, and Hertz and Chesapeake Energy aren't far behind — putting 2020 on track to be the worst year for bankruptcies since 2009, at the peak of the financial crisis.
Your food is in the mail (New York Times)
Before the pandemic, meal kit delivery services like Blue Apron were suffering. Now, as a country learns to cook every meal at home, they're fielding crushing demand.
6. 1 kinda creepy thing: Dining with mannequins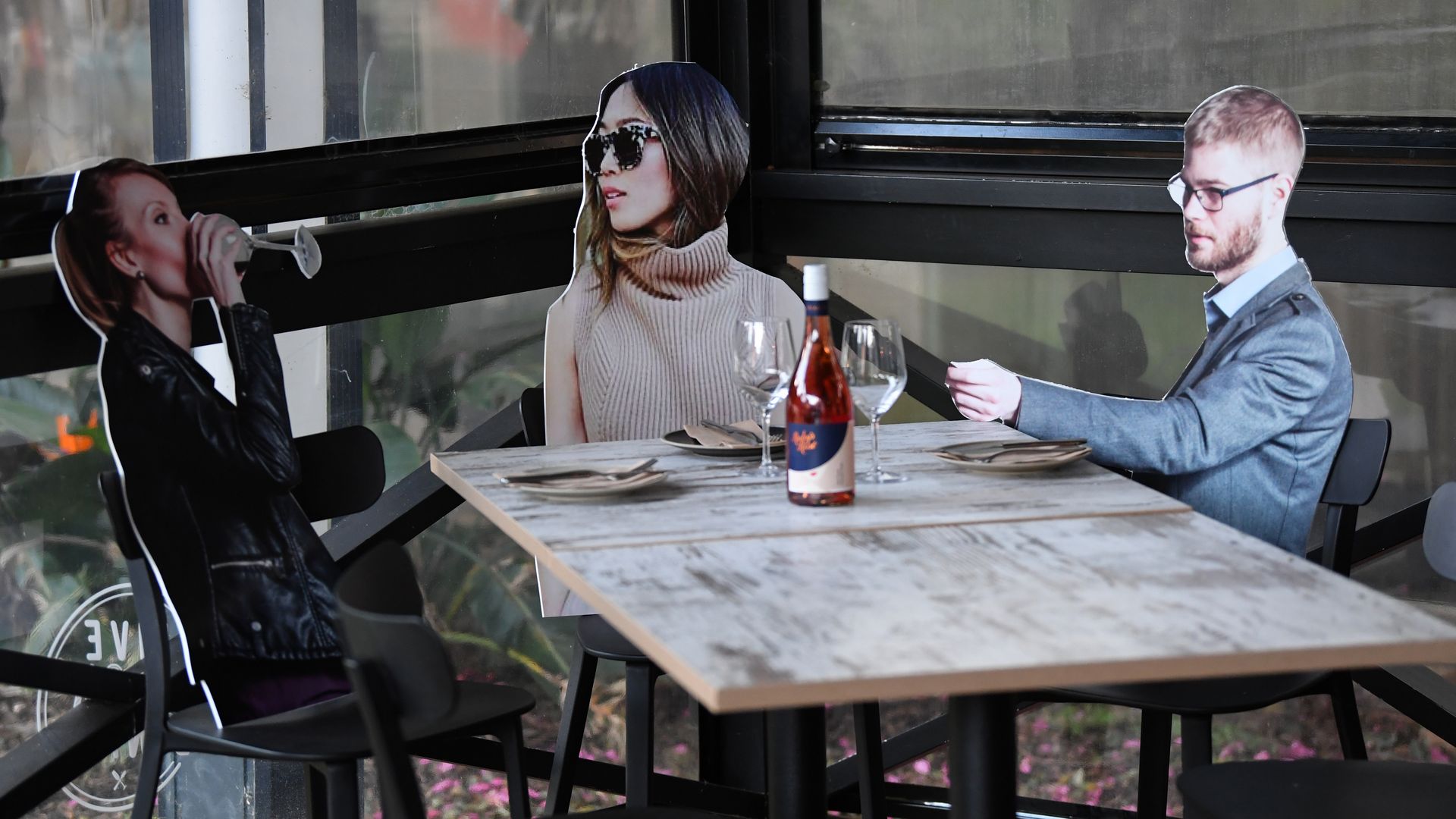 Restaurant economics have been upended, and many restaurants will never reopen. Those that do will be changed radically, Axios chief financial correspondent Felix Salmon writes. (Sign up for his excellent newsletter here.)
Space per diner will increase. Restaurants that offer outdoor seating will have a huge advantage.
Menus will become more limited, as kitchens become less crowded. Expect much more emphasis on daily specials.
Takeout and delivery will become central to the business.
Landlords will often be the deciding factor in terms of which restaurants survive and which do not. Momofuku founder David Chang is closing two locations that won't reduce rents, saying, "I understand their decisions. I don't respect their decisions."
In Australia, dining rooms can serve no more than 10 patrons at a time, and each customer needs at least 43 square feet of space.
That's prompted Frank Angeletta, the owner of Five Dock Dining, to put cardboard cutouts of diners at tables (pictured above) that would otherwise be disconcertingly empty.
The Inn at Little Washington, an ultra-high-end Virginia restaurant, is doing something very similar with mannequins.
My mom's thought bubble: What if retailers rented out those mannequins and cutouts and used them to advertise and sell their wares?