Axios @Work
January 27, 2021
Welcome back to @Work. Have thoughts or feelings on today's issue? Email me at [email protected] or hit me up on Twitter @erica_pandey.
Today's newsletter is 1,722 words, or a 6-minute read. To start...
1 big thing: Telework's tax mess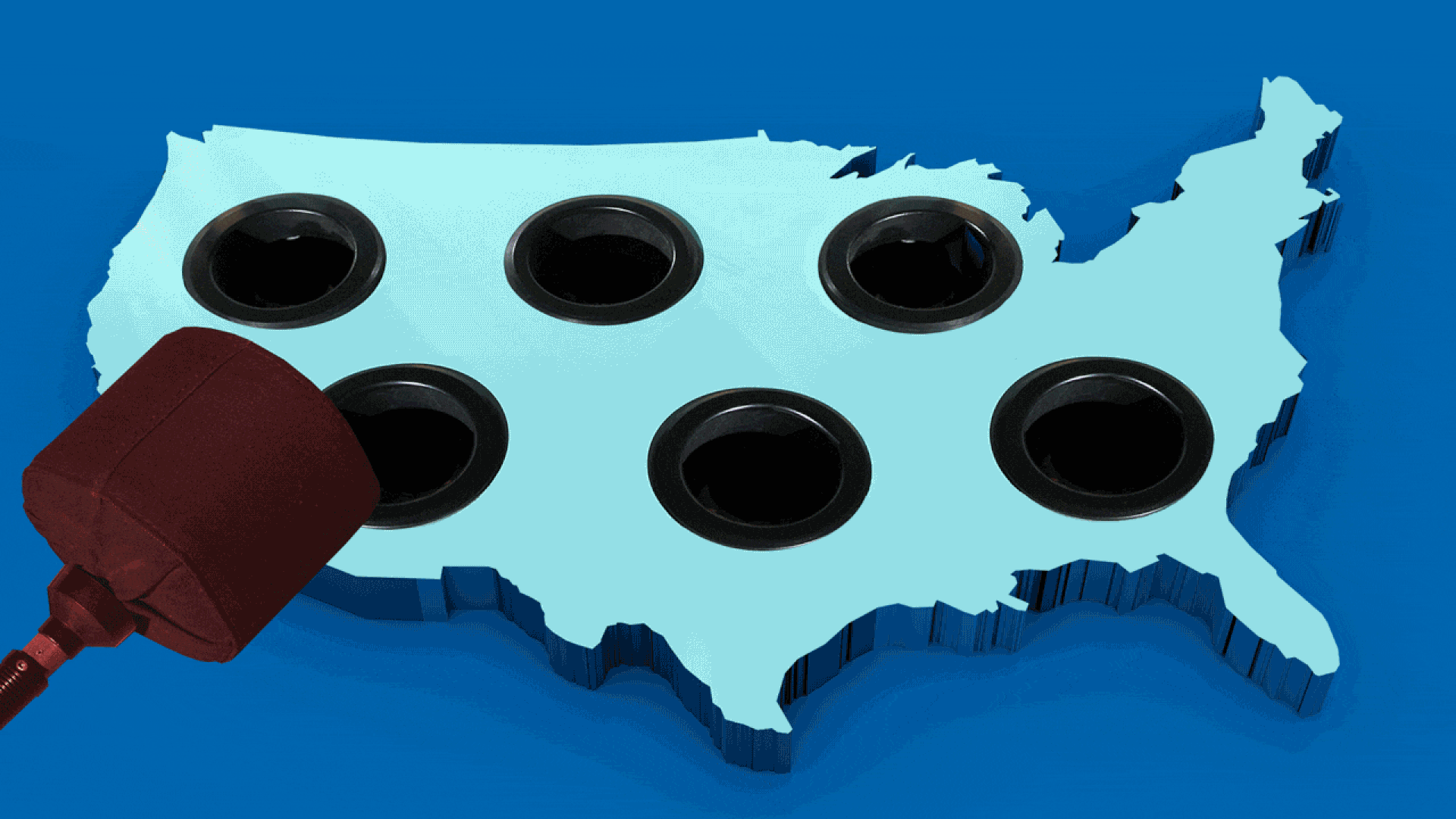 As teleworkers flit from city to city, they're creating a huge tax mess.
Why it matters: Our tax laws aren't built for telecommuting, and this new way of working could have dire implications for city and state budgets.
"There's gonna be a shakeout of what economic activity looks like and where it's going to get done, and that's going to require cities to rethink what their tax base looks like," says Kim Rueben of the Urban-Brookings Tax Policy Center.
The backdrop: By and large, Americans owe income taxes where they work, Rueben notes.
Here's a good example: Professional baseball players owe tax money in the states where their away games take place.
So if a New Hampshire resident is commuting to a Massachusetts-based company, that person will pay taxes to Massachusetts.

If the worker is only commuting four out of five days a week, they'll owe Massachusetts taxes on four-fifths of their income, says Rueben.
The pandemic upended that system. Now, that same New Hampshire resident is following stay-at-home orders and working from home every day. So does that worker owe Massachusetts any tax money?
It's a huge question that has reached the Supreme Court.
New Hampshire, which doesn't have an income tax, is suing Massachusetts for asking telecommuters to pay income taxes on work completed outside of Massachusetts.
But Massachusetts is saying that work would have been done within its state if not for the pandemic and is asking out-of-state commuters to pay taxes on the days they would have come to the office.
New Jersey and Connecticut have backed New Hampshire's position, as those states are in a similar bind. They each have hundreds of thousands of residents who usually commute to New York City and pay New York state income tax as well as a New York City commuter tax, but have been working remotely this past year.
In normal times, states like New Jersey credit their residents who commute to New York City so they don't have to pay income tax to New Jersey as well. Now, New Jersey is saying it shouldn't have to pay out that credit for the pandemic months during which its resident telecommuters didn't set foot in New York City for public safety reasons.
The big picture: The pandemic has exposed our tax laws' inability to handle remote work at scale — which is sure to be a permanent side effect of this time period.
Even if people choose not to work from home 100% of the time, many will cut down the number of days in the office. That means they may move out of expensive cities and spend less time at local businesses.
So in addition to potential income tax revenue loss, cities may see diminished property and sales tax revenue, too, says Jed Kolko, chief economist at the jobs site Indeed.
"While a lot of cities will be on the losing end of the revenue stick as taxpayers shuffle around the country, the one that's likely to be hit the hardest is San Francisco, where about half the professional workers live outside city limits (and are probably working from home) and lots are moving to cheaper places," Axios cities expert Jennifer Kingson tells me.
Go deeper: The Philly Inquirer has an excellent dive into what remote work could mean for city finances.
2. The rebellion against Silicon Valley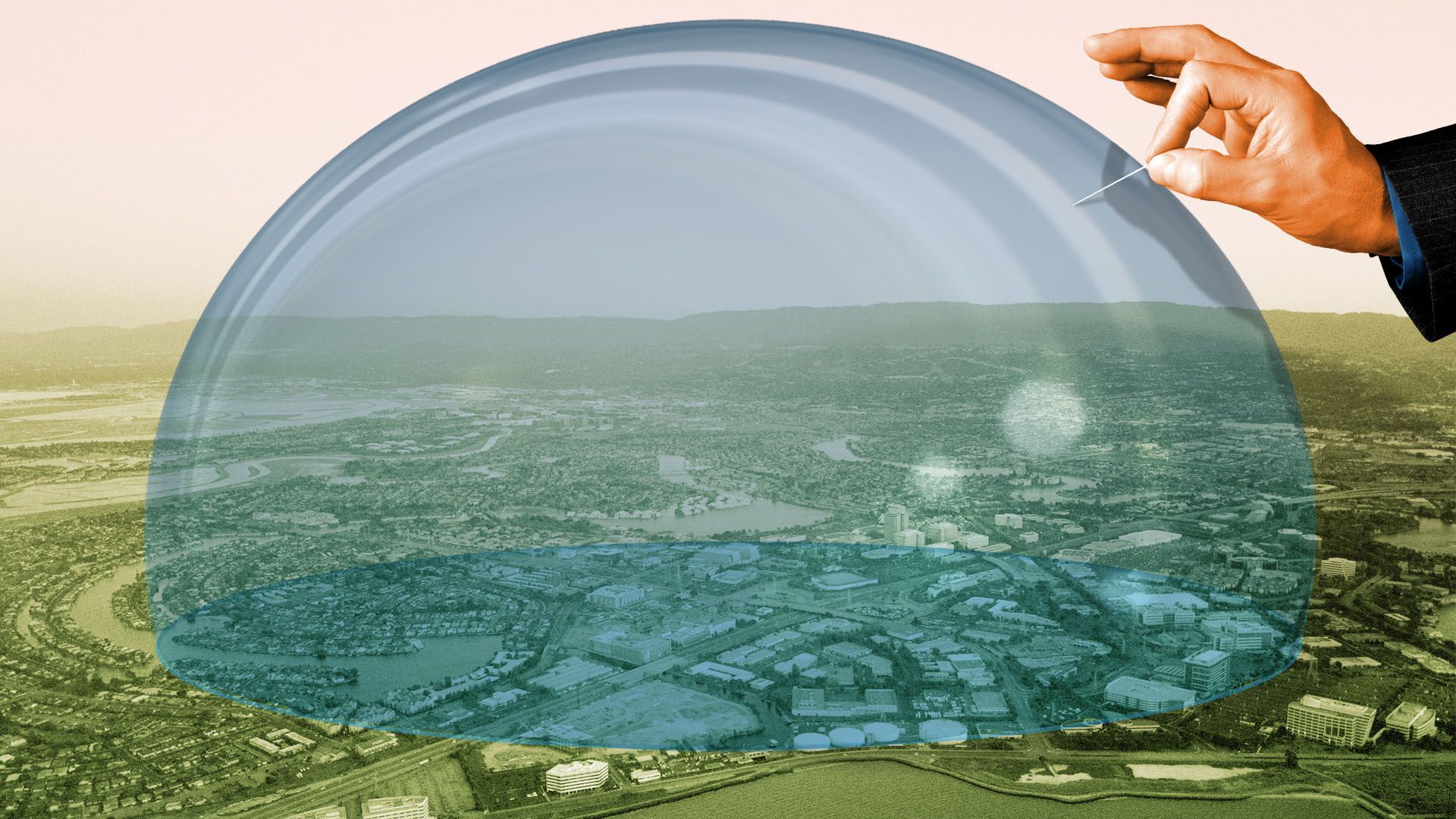 Silicon Valley may be a "state of mind," but it's also very much a real enclave in Northern California. Now, a growing faction of the tech industry is boycotting it, writes Axios tech reporter Kia Kokalitcheva, who's based in San Francisco.
Why it matters: The Bay Area is facing for the first time the prospect of losing its crown as the top destination for tech workers and startups — which could have an economic impact on the region and force it to reckon with its local issues.
What's happening: Those who never wanted to live in San Francisco (or the greater Bay Area) are finally getting the permission not to.
While the pandemic's arrival sent tech workers to toil from home just as the Bay Area's housing crisis and mounting quality of life problems bubbled over, some are taking the opportunity to move to cities that better suit their lifestyles.
As many as an estimated 89,000 households have left San Francisco.
"New office-leasing activity in 2020 dropped a staggering 71% compared with the year before, according to the real estate brokerage Cushman & Wakefield, from 7.7m to 2.2m sq ft — the lowest since the early 1990s," reports the Guardian.
"The majority of people I've spoken with ... are doing it not because of COVID-19 directly but because of the resulting degradation of public safety," says venture capitalist and former San Francisco mayor Mark Farrell.
The buzz: Recently a small-but-vocal group of investors, workers and entrepreneurs like Keith Rabois and Joe Lonsdale are loudly advertising their exits from the Bay Area and other high-priced cities like New York, and they're encouraging others to follow suit.
Miami and Austin are being praised as the new tech hotspots. While it hasn't caused a bump in startup funding in those cities, according to Pitchbook data, investors from influential firms like Founders Fund and Andreessen Horowitz have set up shop there.
The bottom line: Silicon Valley's grip on the tech industry will likely loosen as a myriad of other cities' local ecosystems continue to grow into their own and provide more options for those who want to work in technology.
3. Tech companies gobble up office space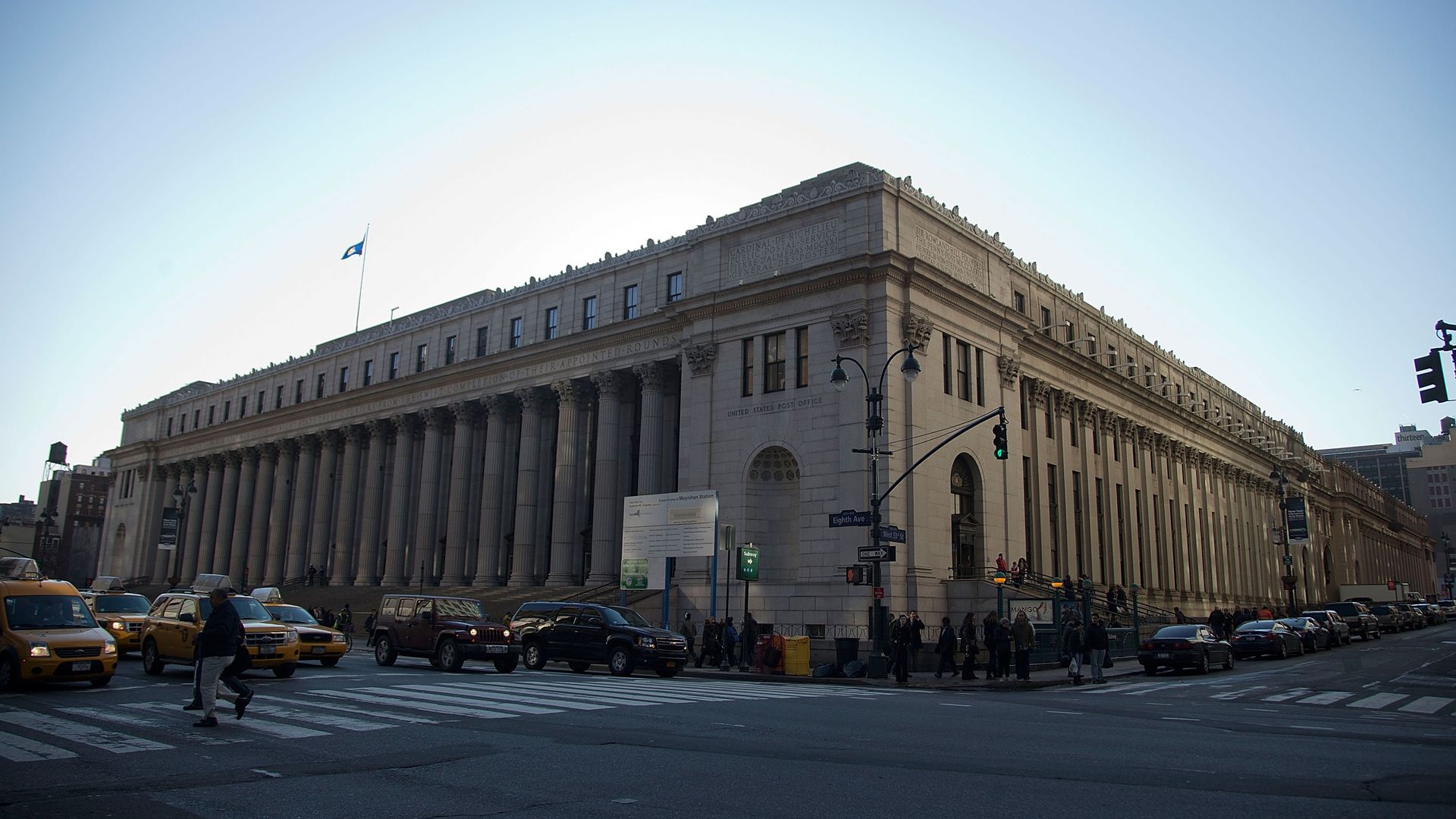 The pandemic-induced shift to remote work has pushed Corporate America to rethink the need for office space.
By the numbers: The signing of new leases and the renewals of existing leases fell 36% in 2020, compared with 2019, according to a new report from the commercial real estate firm CBRE, shared exclusively with Axios.
But, but. but: The pandemic won't kill the office.
As I've reported, the same tech companies that were first to send workers home — and tell them they could stay home forever if they wanted — are signing big leases in big cities.
For example, Amazon is adding 900,000 square feet of office space in New York City, Phoenix, Dallas, Detroit, San Diego and Denver. And Facebook is expanding its New York footprint with 730,000 additional square feet in midtown Manhattan.
The CBRE report bears out this trend: Tech companies were the leaders in signing and renewing leases in 2020, accounting for 24% of leasing activity by square footage.
Sign of the times: Manhattan swept up 20 of the 100 biggest leases of 2020, which came out to 6 million square feet.
But the city has been walloped by the pandemic and saw a 50% drop in new leases and renewals when compared with 2019, notes CBRE's Travis Deese.
4. Everybody loves the hybrid workweek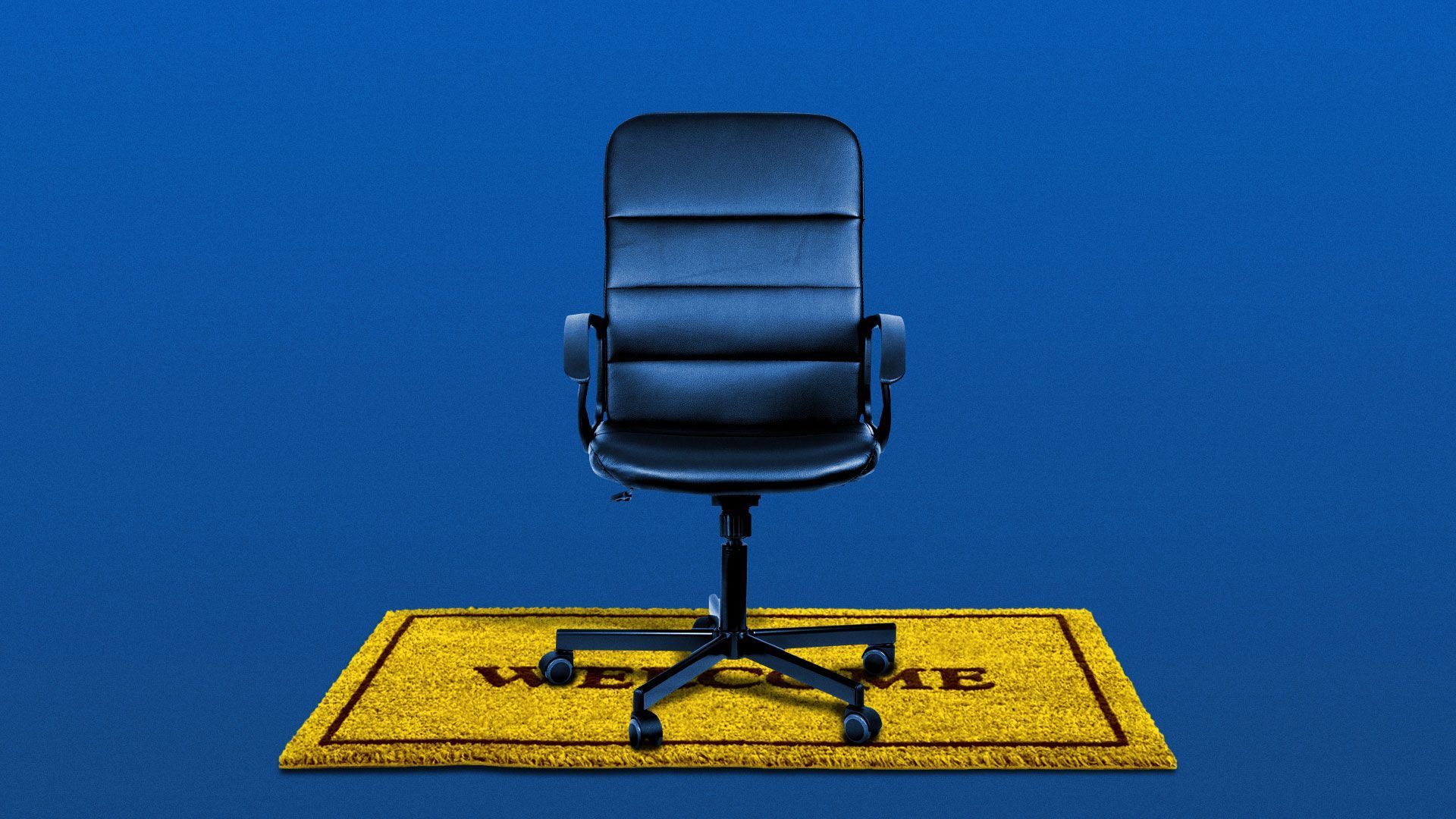 The longer people spend working from home, the more they're embracing the idea of a hybrid post-pandemic workplace.
Why it matters: Working from home a few days a week was once a fringe idea, and many managers would never have allowed it. Now it's the norm.
That's the takeaway from Slack's latest Remote Employee Experience Index, which is part of its new Future Forum, provided first to Axios.
Slack surveyed 3,480 teleworkers across the U.S., U.K., France, Germany, Japan and Australia.
63% like the hybrid working model, 20% want to work from home full time, and just 12% want to go back to the office five days a week.
The hybrid hype is even stronger among younger workers. 82% of 25- to 34-year-olds in those countries prefer this mixed way of working.
5. Worthy of your time
Student debt is stopping millions of Americans from buying homes, buying cars and starting families — and the crisis is rapidly getting worse. But addressing the ballooning debt burden is much more complicated than it seems. Here's what Biden's plan to immediately cancel $10,000 in debt for every borrower wouldn't do.
Some staggering stats that illustrate how the richest Americans have benefitted from rising stock prices while the rest of the country has suffered during a pandemic and recession: "The top 1 percent control 18 percent of equity in residential real estate, 24 percent of the cash held in liquid bank accounts, and 51 percent of the value of accounts that directly hold individual stocks," the New York Times' Robert Gebeloff writes.
"About 47% of parents with children who are learning entirely remotely or are in hybrid situations because of the coronavirus pandemic are working full-time, compared with 71% of parents whose children are physically back in school buildings," per survey results from the Franklin Templeton-Gallup Economics of Recovery Study, reported by the Wall Street Journal.
The ability to dine outside year-round has been a bright spot during the pandemic. Now that we've shown that we can pull it off in the summer and in the winter, rain or shine, why not make it a thing in the post-pandemic world?
6. 1 fun thing: The fake commute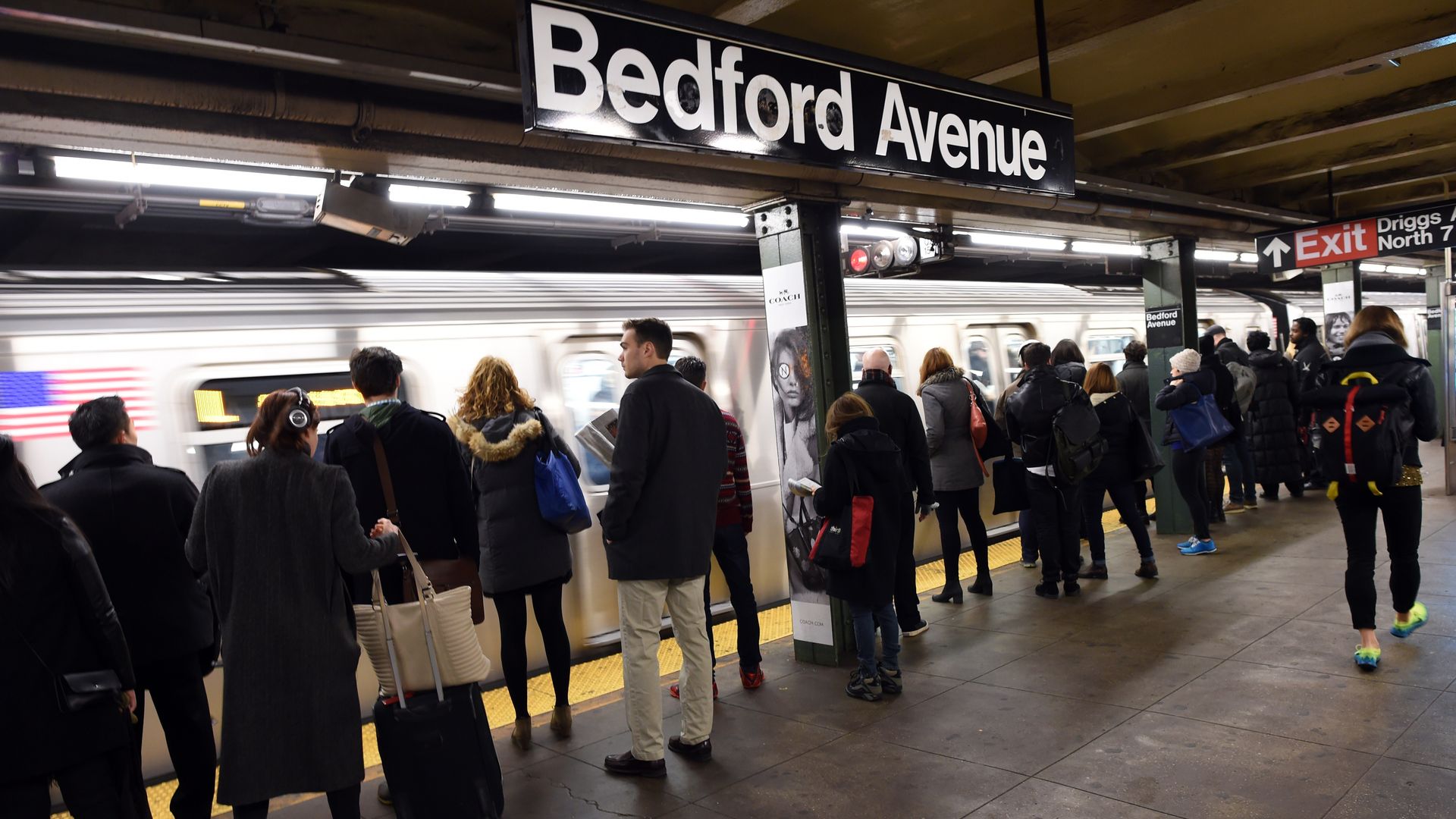 For many Americans, one of the best parts of pandemic-era remote work has been the time and money saved by nixing the commute to work. But many others are really missing that daily routine.
The big picture: The commute can act as much-needed "me time." Some use it to catch up on podcasts or listen to music, while others use it to get into the mindset of work or mark the end of the day. To reap those benefits during the pandemic, some people are embarking on fake commutes, the Wall Street Journal's Jennifer Levitz writes.
Here's a smattering of fake commutes from Levitz' story that made me smile:
Frank Oteri, a magazine editor in New York misses being able to read without any distractions on the subway. During quarantine, he has designated an hour each morning as reading time to replicate that subway experience.
Sacramento sales consultant Eddie Fairchild used to complain about traffic on his way to work, but loved using that time to call friends or his grandma. Now, he re-creates that commute by driving from the suburbs, where he lives, to a coffee shop downtown two mornings a week — even though there are plenty of other coffee shops closer by.
Beth Kanter, a nonprofit consultant in San Jose, California, takes a walk around her neighborhood and visits her plants at the start and end of the workday to bring back some of the work-life balance that she got from her commute.