Axios @Work
October 13, 2020
Welcome back to @Work. Let me know what you think of today's newsletter by writing to me at eri[email protected], or join the conversation on Twitter @erica_pandey.
I've got 1,401 words for you — a 5-minute read. Here we go...
1 big thing: The winners of the stay-at-home economy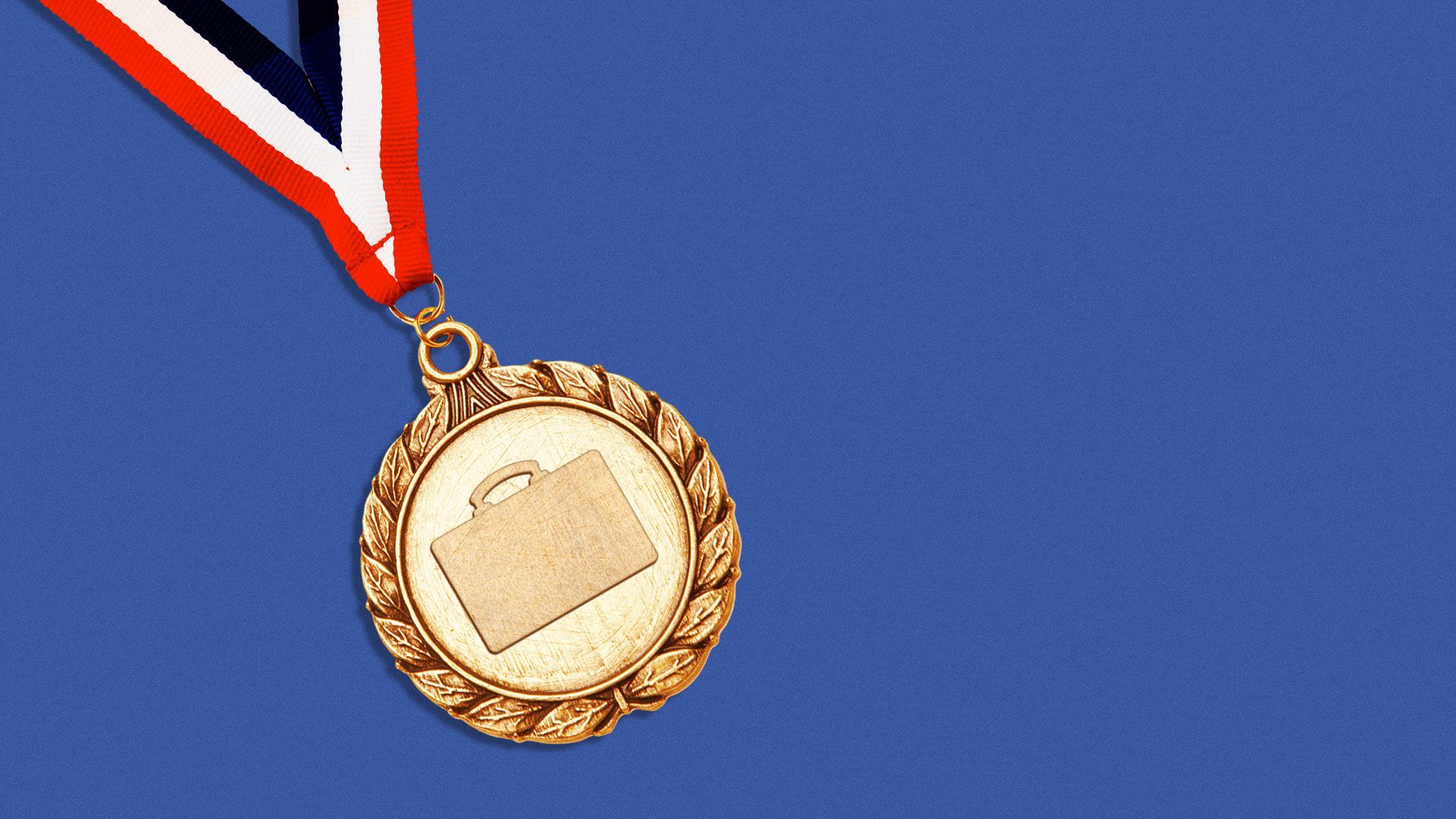 The coronavirus pandemic has created a stay-at-home economy worth trillions.
The big picture: While the pandemic is killing scores of businesses that depend on office workers, it's also making way for startups and titans alike to conquer a new industry — powering our remote lives.
Why it matters: It's typically small businesses — independent restaurants and retailers in central business districts — that suffer most when workers stop going to the office. It's the already-rich tech companies and big, essential retail chains that are profiting from the remote revolution.
Look at who's hiring:
Grocery and food delivery became wildly popular when the pandemic began, and the allure hasn't faded as people still prefer dining at home. Amazon and Walmart alone have hired several hundred thousand people since March. Instacart has made big hiring moves, too.
Job postings at Slack, Zoom and Microsoft — all of which facilitate remote workplace collaboration — spiked early in the pandemic.
Meanwhile, struggling restaurants and retailers continue to shed jobs, turning furloughs into layoffs.
Look at downloads and subscriptions:
Streaming services like Netflix and Disney+ have seen strong and steady subscriber growth, and delivery app downloads surged during spring and summer lockdowns, the World Economic Forum reports.
Look at the stock market:
Zoom's stock price has jumped 358% since the beginning of March.
Amazon, 76%.
Microsoft, 29%.
Slack, 19%.
Look at which businesses are turning record profits:
Amazon did $89 billion in sales and $5 billion in profits in the second quarter, setting company records. Look for the company to rake in big bucks during its Prime Day event today and tomorrow.
Zoom's profit was up 3,300% year-over-year in Q2.
By contrast, over 1 million small businesses, including at least 100,000 restaurants, have shuttered for good due to the pandemic.
What to watch: The Big Tech companies' dominance of the stay-at-home economy could become fodder in Washington's debate over whether they are monopolies, says Sally Hubbard, a former assistant attorney general in New York's antitrust bureau and the author of a new book, "Monopolies Suck."
"This shift to work from home should be an opportunity for new companies to come in with new innovations to fill our needs," she says. And the success of Slack and Zoom are examples of that.
But these relatively small firms are also fending off competition from the big guys, like Microsoft Teams and Google Meets, which are grabbing users by bundling their services and offering chat or video calling at no additional cost.
"It's a very effective tactic for eliminating competition. It's really hard to compete with free," says Hubbard. "We're in danger of what healthy competition we have seen going away."
2. Charted: Pandemic hiring surges
Speaking of winners... While the coronavirus has dampened hiring across states and sectors, some industries have fully recovered — or are doing even better than they were before the pandemic.
Postings in Indeed's driving category, which includes trucking and other delivery driving jobs, are up 11.1% compared with the beginning of February.
Construction jobs are up 6.7% as people take advantage of the time to make home improvements — adding offices or decks.
Beauty and wellness has recovered, too. People are booking hair, nail, training and dental appointments to catch up on the personal grooming and care they skipped during lockdowns.
3. Talking politics at work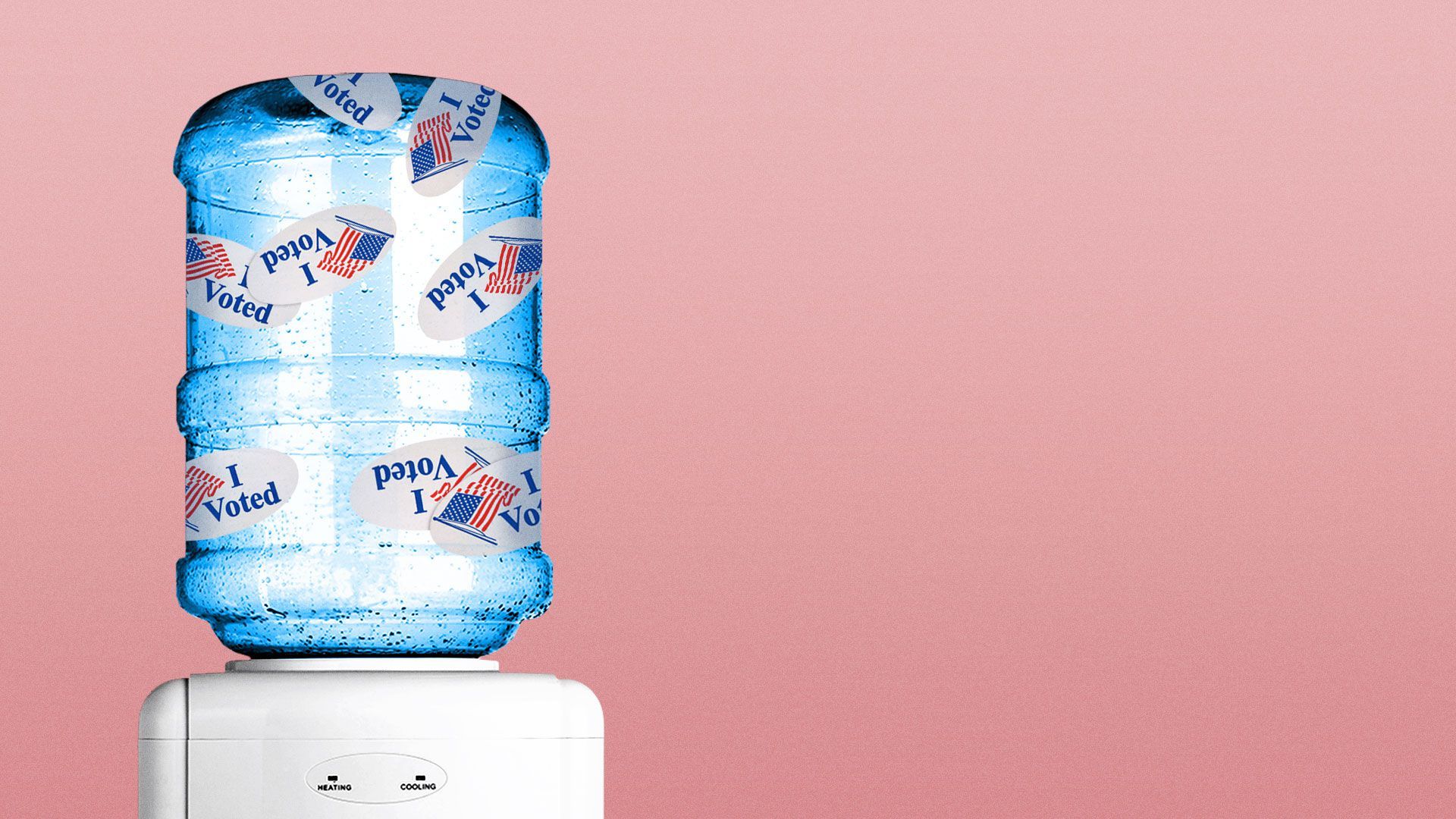 The virtual office water cooler is the new Thanksgiving dinner table.
The big picture: There's a brewing debate over whether politics belongs at work — and while most Americans think it doesn't, per a new Harris Poll survey shared with Axios, they also think companies shouldn't back down from speaking out on social justice issues.
Driving the news: The cryptocurrency company Coinbase made headlines when CEO Brian Armstrong said the firm would bar political activism at work. "We don't engage here when issues are unrelated to our core mission, because we believe impact only comes with focus," he wrote in a Medium post.
The move garnered mixed reviews, with some calling it a smart corporate move and others saying it crystallized the problems with Silicon Valley's culture.
Around 5% of Coinbase's workforce has already quit, accepting a severance package the company offered to workers who wanted to leave over the policy. And Armstrong expects more to follow.
But Coinbase might have picked up on a common sentiment.
According to the Harris Poll survey, 70% of Americans would support companywide policies that limit the discussion of politics in the workplace or with colleagues.
And even just among millennials — who are often cited as the most socially conscious employees — 67% would support such policies.
The problem may be one of feeling safe enough to talk politics at work: 32% of those surveyed say they don't feel comfortable expressing their political leanings in the office.
But, but, but: Even if Americans don't think political conversations should be had at work, they do believe their employers should speak up.
Go deeper with Wired's excellent dive into the turmoil at Coinbase.
4. Breaking down Microsoft's telework move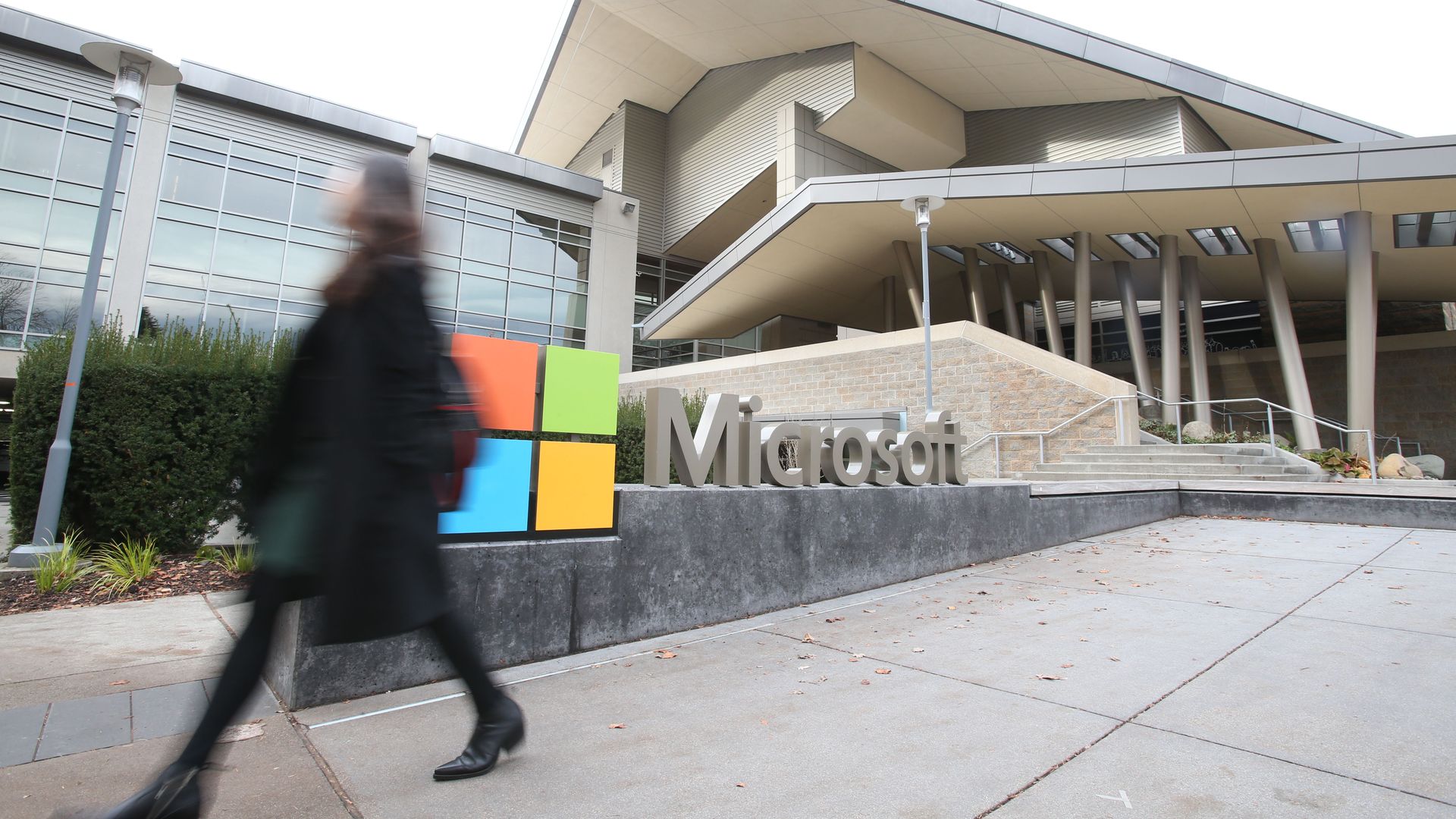 Microsoft is the latest big company to embrace the work-from-home experiment, announcing that it will allow all employees to telework up to 50% of the time and some employees to work remotely forever.
Why it matters: Microsoft's approach will be a test of whether the hybrid workplace model can succeed at a massive scale.
The big picture: Facebook, Twitter and Microsoft have now all bought into the remote future, saying some or all workers can stay home permanently.
And earlier today, Dropbox, a tech company with well over 2,000 employees, announced that it's going "virtual first." "Remote work (outside an office) will be the primary experience for all employees and the day-to-day default for individual work," the company said.
"It's just further confirmation that there's no putting this genie back in the bottle," says Darren Murph, head of remote work at GitLab, the world's largest all-remote company. "These are massive companies with massive quarterly reports on the line, completely rearchitecting their businesses."
Two things to watch:
Choosing the remote option could slash pay. Facebook and Microsoft have both said their teleworkers can move out of the expensive tech hotspots of Silicon Valley and Seattle, but they've added that employee salaries and benefits will be adjusted according to where they live.
The future of tech playgrounds is up in the air. Microsoft will ask permanently remote employees to give up their desks. If more and more techies choose the work-from-home option, tech giants could begin to downsize their huge campuses.
5. Worthy of your time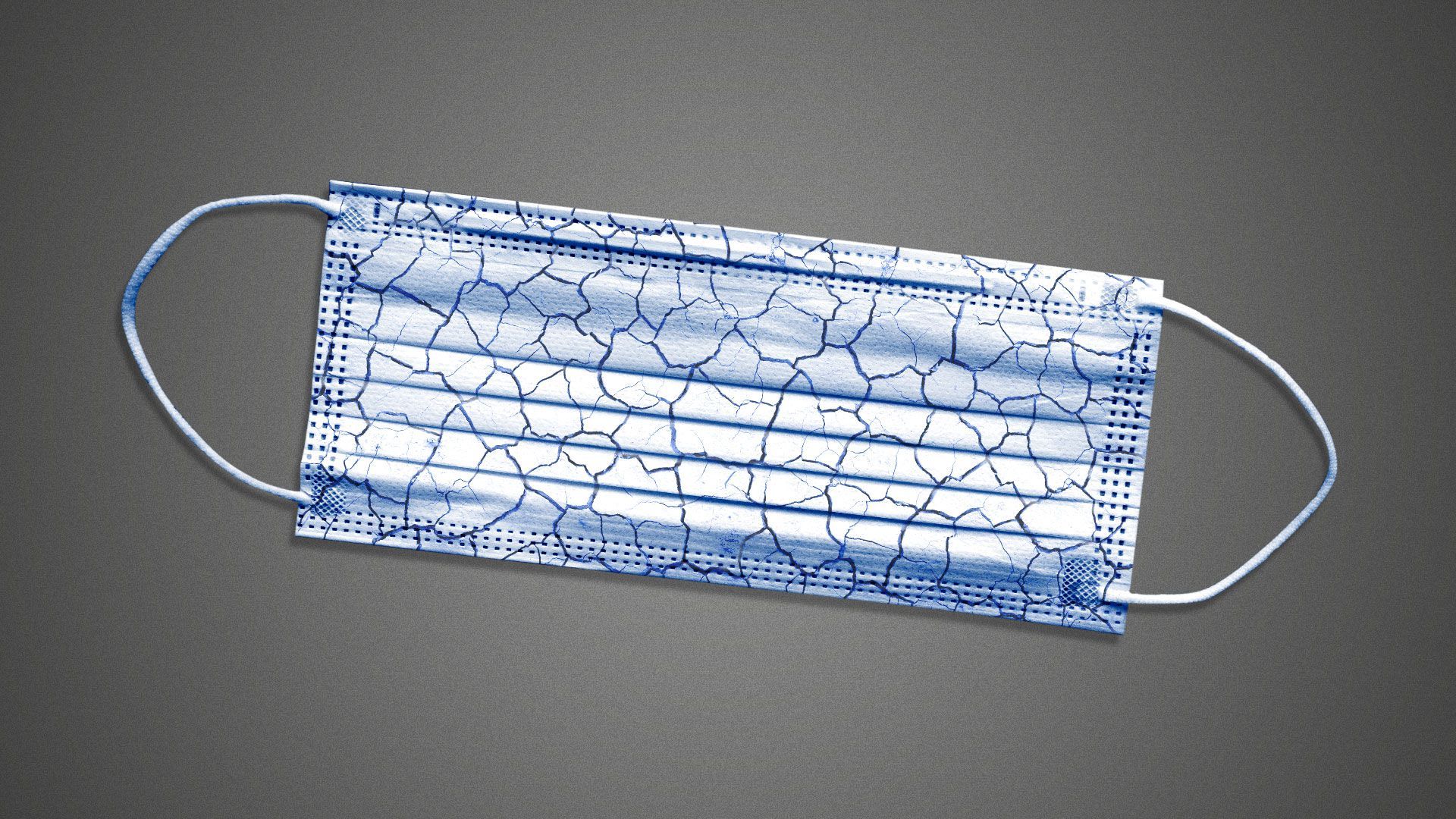 It's about to get even worse (Axios)
During the summer, businesses took advantage of outdoor dining, exercise and shopping, and families and friends safely gathered outside and at a distance. As the season changes, much of what made the last several months bearable will vanish.
Working from home is making a lot of people miserable (Slate)
Some people miss their co-workers, others miss the structure of the office-based workday, and others still are just sick of trying to get things done while at home. But the sharpest observation in this Slate piece was from one weary teleworker who said working from home just feels like "living at work."
The burden on Black employees to fix the workplace (New York Times)
The New York Times' Jennifer Miller spoke to Black professionals who are being asked to take on their firms' diversity, equity and inclusion tasks — like writing company statements, leading micro-aggression trainings, and running employee resource groups — simply because of the color of their skin.
Why America has way more roads than it needs (Fast Company)
Road-building has outpaced population growth in the U.S., and that has induced traffic. (Basically, more lanes to drive on means more trips will be made by car.) But now, as the pandemic pushes more and more people to realize how much they hated their commutes, we could finally see a major overhaul of the way we move around our communities.
6. 1 fun thing: An office chair wasteland
Herman Miller chairs are among the finest — and they once were highly sought after to furnish offices around the country. Now, thousands of them are collecting dust in a New Jersey warehouse.
"Executive Liquidation Inc. in Moonachie, N.J. ... emptied the offices of a major consulting firm back in March," the Wall Street Journal's Rachel Wolfe writes. It now has more than 25,000 office chairs and 1,000 desks at that location.
The chairs, which retail for thousands, are selling for steep discounts — around 80% off.
If you're not sure how much longer you'll be working from home and you haven't yet invested in a chair that doesn't kill your back, get online and see what's out there. There's apparently never been a better time to buy a $1,000 office chair.