Axios @Work
July 14, 2020
Welcome back to @Work. Send your thoughts to [email protected], or just hit reply to this email.
A cool new event on the Axios calendar: We'll interview Austin, Texas, Mayor Steve Adler tomorrow at 12:30pm ET on the state of small businesses during the coronavirus outbreak. Register here.
Today's edition is 1,384 words — a 5-minute read. Starting with...
1 big thing: A grim future for business travel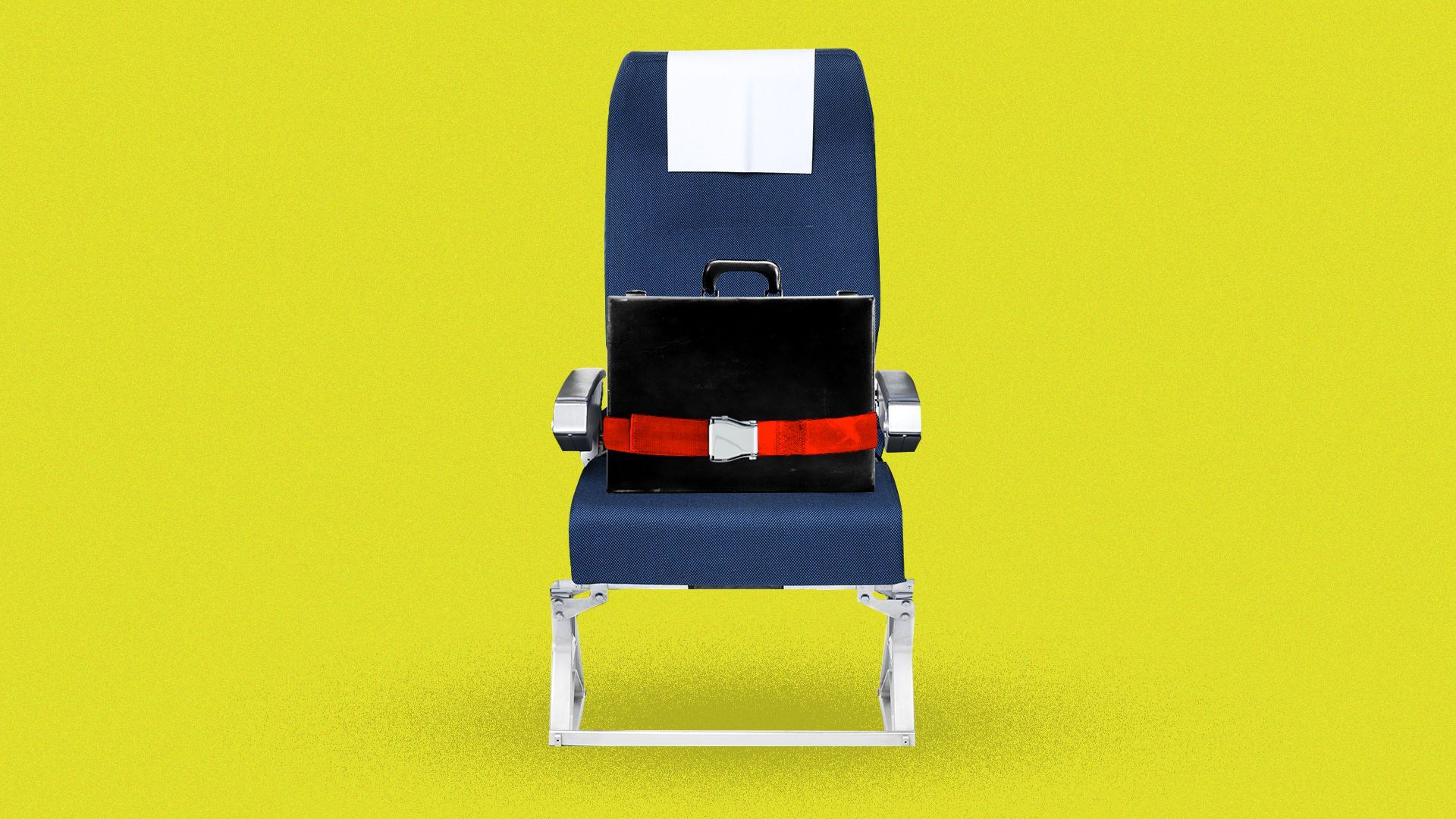 Coronavirus lockdowns and the grand work-from-home experiment killed the business travel industry — and, just like everything else, it's not going back to normal anytime soon, if at all.
Why it matters: Traveling for work is a $1.5 trillion industry that encompasses transportation, hospitality and much more, and this moratorium is threatening countless firms and jobs.
"There is no doubt that COVID-19 has a devastating impact on global business travel, with business travel almost grounding to a halt overnight," says Dave Hilfman, executive director of the Global Business Travel Association, a trade group with around 9,000 members, including many airlines, hotels, ride-sharing and rental car companies.
Since March, the industry has lost around $518 billion, the group estimates.
And if all the management consultants, techies, campaign workers and journalists have shown that they can handle travel-heavy jobs from home, doing away with business trips could be a huge way for firms to cut costs in the post-pandemic world.
By the numbers: American professionals took more than 464 million business trips in 2019.
Business travelers make up around 10% of airline passengers across the major global carriers, but they account for 55%–75% of revenue, because they're typically more willing to spend big on last-minute tickets or book premium seats, reports the New York Times' Jane Levere.

Experts tell the Times that business flights won't be back to normal for a few years or longer.

People traveling for work make up a big share of hotel occupants, too. Hotel occupancy in the U.S. — which stood at 65% in February — dropped to a low of 22% in April and rose to around 46% as of the beginning of July, according to STR, a hospitality industry market research firm.

McKinsey projects it'll take until at least 2023 for hotel occupancy to return to pre-pandemic levels.
There are glimmers of hope. "For the first time since the start of the pandemic, we are now starting to see some positive signs of recovery," Hilfman says. He tells Axios that his trade group's members are reporting upticks in bookings in the last few weeks.
But even as travel slowly comes back, business travel looks like it'll be the last to recover.
"Leisure demand has started to return before business demand," a United Airlines executive told reporters last week, per Axios' Joann Muller.
Nearly a third of Global Business Travel Association members say they believe the worst is yet to come in terms of layoffs and furloughs as well as revenue loss.
The bottom line: "We don't believe we're going to see full recovery until we see significant advancement in the treatment of COVID-19 and until we see a vaccine for COVID-19," the United Airlines executive said.
2. A tech fight you should be following
Pandemic-induced telecommuting is spotlighting a new war in business: the fight to dominate work-from-home technologies.
The big picture: For many firms, virtual meeting and chatting software went from nice-to-haves to must-haves as they rushed to replicate the communication and collaboration that happens in person at the office.
It's a market worth billions, and two front-runners — Slack and Microsoft Teams — have emerged.
The state of play: Both have exploded in use and popularity during the pandemic, as they offer the ability to put the office online.
In a recent earnings call, Microsoft CEO Satya Nadella said the number of daily active Teams users has skyrocketed to 75 million, from 44 million in March.
Slack's latest number is 12 million daily active users, which it reported in October. It's likely much, much higher now.
Back in March, just a few days after coronavirus lockdowns began, Slack said active usage minutes per user had spiked 35%.
Startups seem to love Slack — nearly 60% of them pay for it, per Recode.
But Teams dominates among bigger companies, perhaps because it's free to tack on if you've got a Microsoft 365 subscription, and it integrates seamlessly with Outlook and any other Microsoft products, notes Ben Thompson in his excellent newsletter, Stratechery.
The bottom line, per Thompson:
"This is what Slack — and Silicon Valley, generally — failed to understand about Microsoft's competitive advantage: The company doesn't win just because it bundles, or because it has a superior ground game."
"By virtue of doing everything, even if mediocrely, the company is providing a whole that is greater than the sum of its parts, particularly for the non-tech workers that are in fact most of the market."
3. Buildings are getting tested for coronavirus, too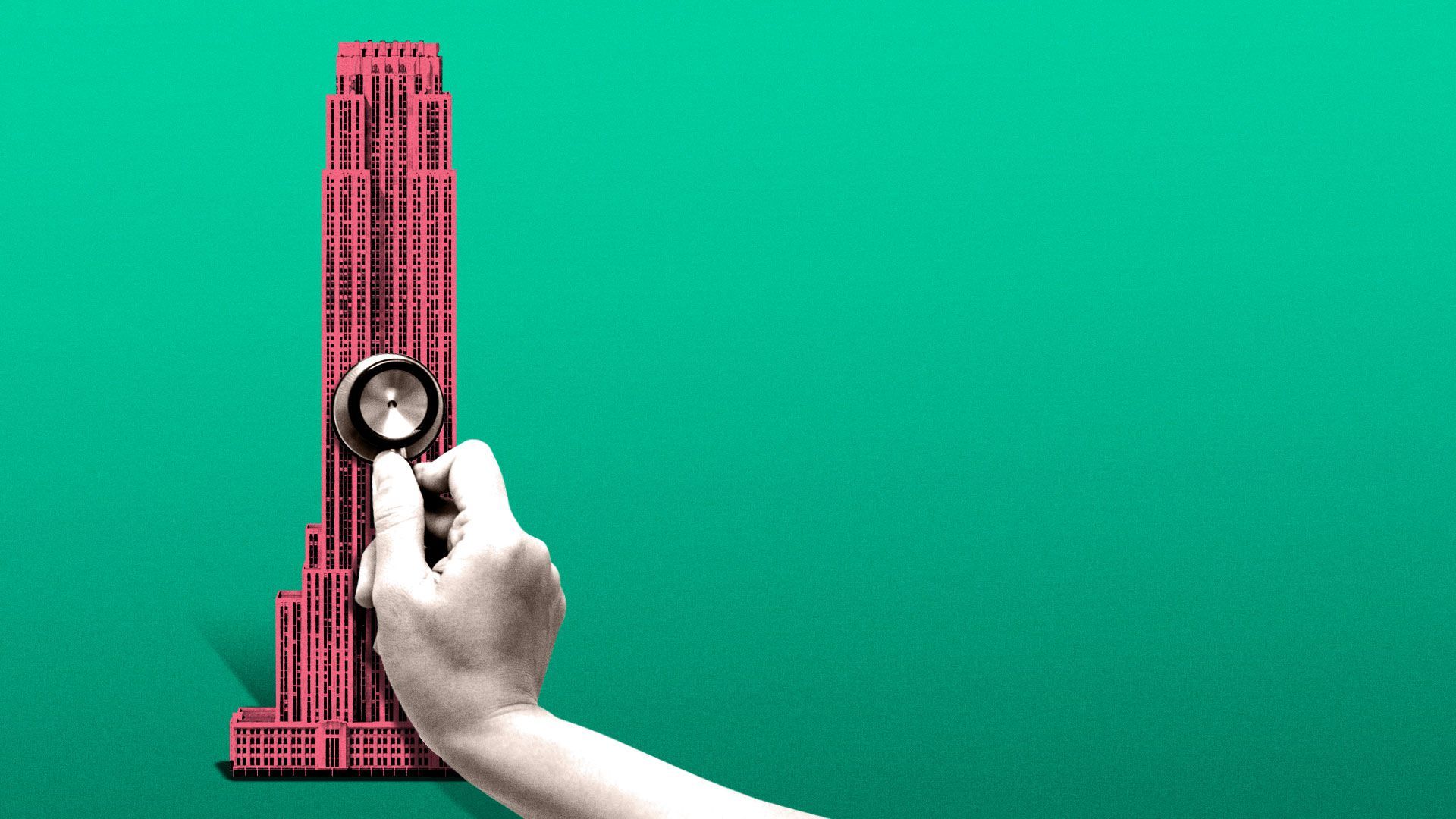 Testing buildings — not just people — could be an important way to stop the spread of the coronavirus, Joann writes.
Why it matters: People won't feel safe returning to schools, offices, bars and restaurants unless they can be assured they won't be infected by coronavirus particles lingering in the air — or being pumped through the buildings' air ducts.
One day, even office furniture lined with plants could be used to clean air in cubicles.
The big picture: Prodded by more than 200 scientists, the World Health Organization now acknowledges there is emerging evidence of airborne transmission in crowded or poorly ventilated settings.
In Florida, Texas and other Sun Belt states, a dramatic rise in COVID-19 cases has been linked to air-conditioned bars, house parties and other large gatherings.
The virus thrives indoors in both heated and cooled environments if the humidity is below 40%, scientists say.
Driving the news: New research from the University of Oregon, in partnership with the University of California-Davis, suggests heating, ventilation and air-conditioning systems could be contributing to the spread of the disease in health care facilities.
There are some fairly easy fixes, like installing more sophisticated air filters, drawing more fresh air into buildings and cranking up the humidity, which tends to kill the virus.
But when it's extremely hot or cold outside, some of these measures could overwhelm HVAC systems, ventilation experts say.
Environmental testing could provide early warnings of an outbreak, says Kevin Van Den Wymelenberg, director of the Institute for Health in the Built Environment at the University of Oregon.
A biotech startup called Enviral Tech teamed up with his lab to conduct weekly tests of 52 long-term care facilities in a half-dozen states in the Pacific Northwest. At least four showed signs of the virus.
Springs Living, an assisted living center in Portland, detected the virus in an air duct three weeks into the pilot, after showing no signs in the previous tests.
Management quickly tested all residents and staff, and found a handful of positive cases, though none of the individuals showed symptoms until five days later.
They were quarantined while the building and HVAC system were thoroughly cleaned. No other cases developed and everyone survived.
4. Worthy of your time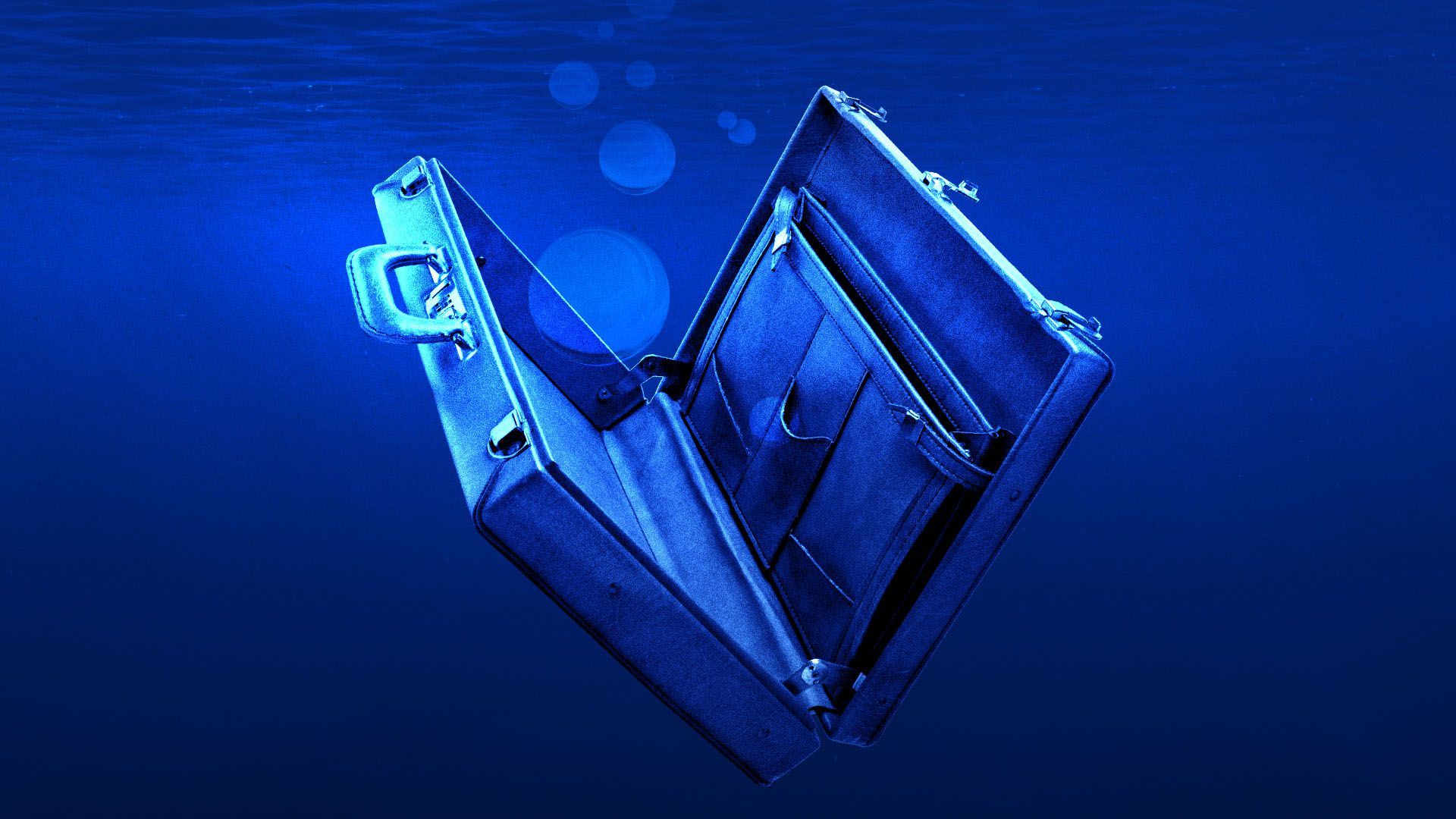 PPP was not enough for small businesses (Axios)
The Paycheck Protection Program has left much to be desired for needy small businesses around the U.S., and the overwhelming majority of recipients are about to exhaust their funding and may start laying off employees.
Demand for chief diversity officers is high — so is turnover (WSJ)
Companies are rushing to hire top executives to oversee diversity and inclusion, but chief diversity officers often leave soon after they join. Many cite a lack of resources, little support from other executives and unrealistic expectations as their reasons for leaving.
This is not sustainable for working parents (The Atlantic)
Family life has always revolved around child care, and now, as the pandemic upends child care and the possibility of school remaining virtual in the fall becomes greater, parents are utterly overwhelmed. This has already taken a toll on working parents' — especially mothers' — careers.
Signs that remote work is here to stay (CNBC)
Startups are letting their leases expire and bigger companies are downsizing to smaller office spaces, as they learn that telecommuting can work at scale. Even the companies that are asking employees to come back to work predict many won't be in the office five days a week ever again.
5. 1 not-so-popular thing: Sky-high heels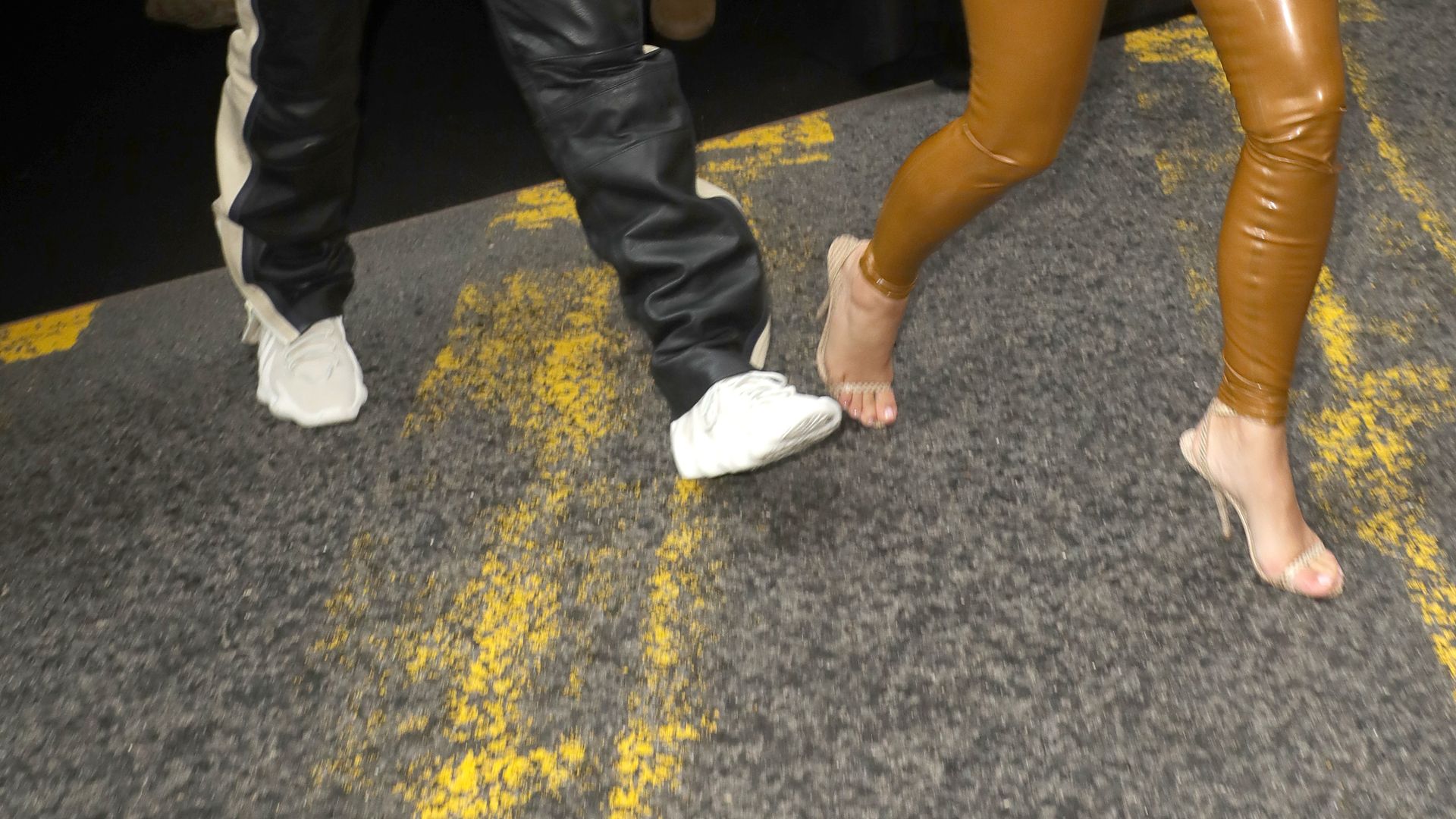 With millions of Americans working from home, stiletto sales are tanking, Quartz reports.
"Really the dress shoe business, in general, is under pressure," John Idol, CEO of Capri Holdings, which owns Jimmy Choo, Versace and Michael Kors, said in a recent earnings call.
Oxfords and loafers are also seeing sales slumps.
On the other hand, sweatpants, pajamas and loungewear sales have been surging throughout the pandemic. And many fashion brands have shifted their focus and put out loungewear lines.
My thought bubble: Wall Street's big banks — the companies that are among the final bastions of business formal attire — had already started to relax their dress codes before the pandemic. Maybe this extended period of working from home in comfortable clothes will push them, and others that insist women wear heels to work, over the edge.