Axios @Work
February 24, 2021
Welcome back to @Work. Keep your musings coming to [email protected] or on Twitter @erica_pandey.
🚀 My colleague Courtenay Brown has launched a smart, essential daily business news digest. Sign up for Axios Closer here to get the business headlines you need to close out the day and to follow the trends that will shape tomorrow.
Today's edition is 1,384 words, a 5-minute read. Kicking us off...
1 big thing: How corporate America leaves behind Black professionals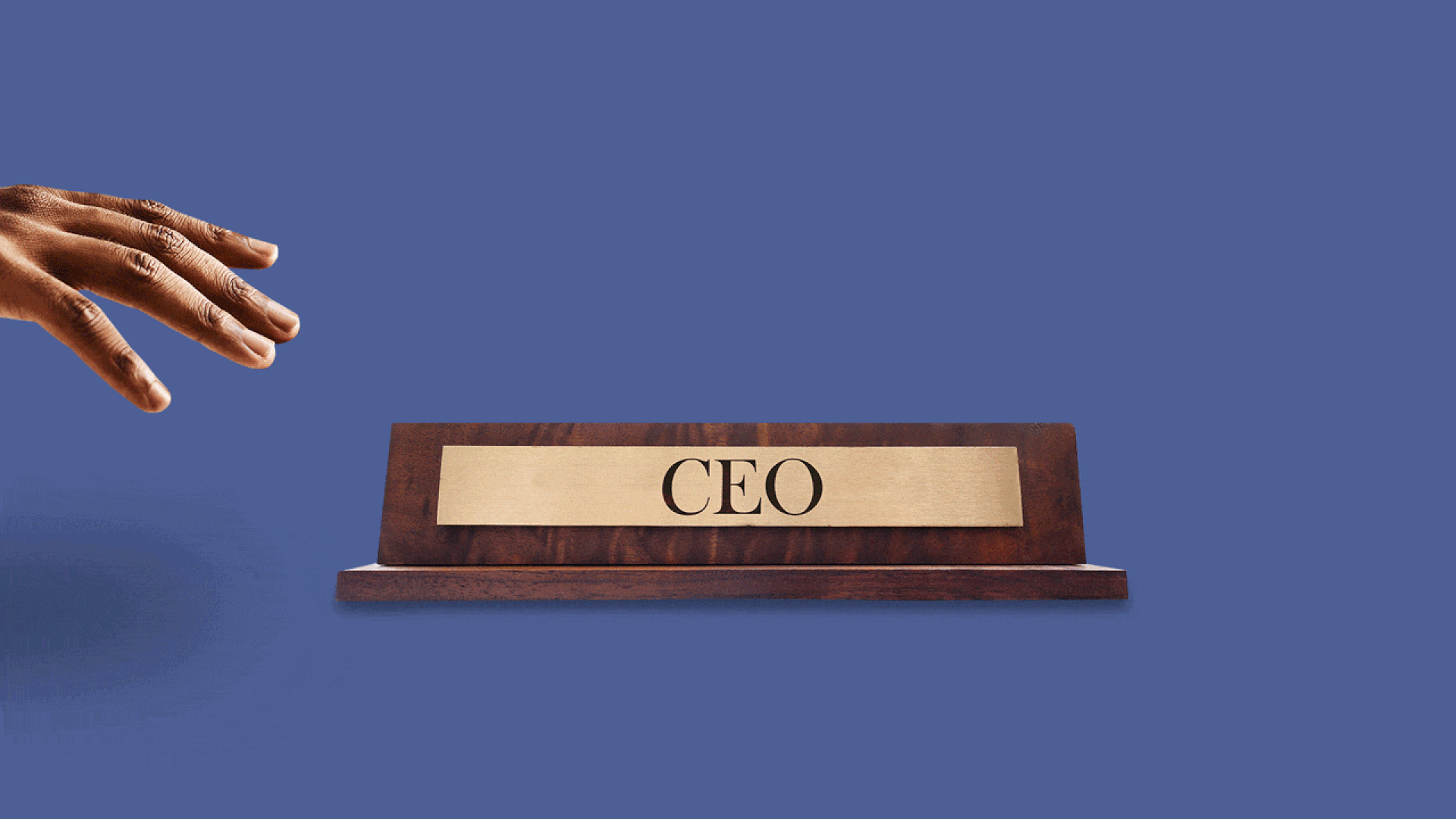 Across cities, companies and industries, Black professionals are underrepresented in the top jobs.
Why it matters: Fixing the broken pipeline for Black executives is not only the right thing to do, but improving boardroom diversity has also been proven to drive profits.
Driving the news: A pair of new reports, from McKinsey and Glassdoor, show the plethora of cultural, geographic and other barriers that keep Black workers out of the C-suite.
By the numbers:
Black Americans make up 12% of the U.S. population. They're proportionately represented in entry-level professional jobs (12%), but underrepresented at the manager level (7%). Black professionals are even more severely underrepresented at the senior manager, VP and SVP levels (4%).
On the other hand, Black workers are overrepresented (18%) in the low-paying jobs in food service, e-commerce and beyond that are on the pandemic front lines.
If corporate America sticks to its current trajectory, it'll take Black professionals 95 years to get to 12% representation at the manager level, per McKinsey.
What's happening: A range of factors are hindering progress.
60% of Black workers live in the South, which has far fewer job growth centers than other parts of the country, according to the McKinsey analysis. Put another way, only 1 in 10 Black workers live in cities with high projected growth, like Seattle or Provo, Utah.
Black workers are overrepresented in front-line jobs that pay hourly wages. "It's hard to see the pathways from those jobs to more lucrative jobs in the economy," says Lareina Yee, McKinsey's chief diversity and inclusion officer. "You don't see much jump for Black workers from hourly to salaried."
And even for Black professionals who are in lucrative jobs, attrition rates are high.
Those attrition rates can too often be linked to company culture.
Just 53% of Black employees believed their co-workers valued and embraced diversity, compared with 75% of white employees, McKinsey found.
And Glassdoor's analysis of company reviews across its platform found that Black employees report below-average experiences at work at many prominent firms.

Black workers gave Amazon an overall company rating of 3.2/5, compared with the average rating of 3.9. Macy's got a 2.7 from Black employees, compared with a 3.4 average. Black workers rated Citi 3.4, and the average rating was 3.9.
Worth noting: Some companies saw higher-than-average ratings from their Black employees. At Kroger, Black reviewers gave a 3.6 versus the 3.2 average.
"This suggests that there is not just one culture at Amazon or Google or Facebook," says Andrew Chamberlain, chief economist at Glassdoor. "Just as our society creates pockets of inequality, companies create them, too."
The good news: While the geographic and industry concentration of Black workers is a major structural issue, companies do have a great deal of control over culture, and they can take steps to make their Black employees' experiences more equitable, experts say.
Companies can start adding transparency to recruiting and promotion processes, setting up ways in which employees can report discrimination, and hold aggressors accountable, Patrick McKay, a professor of human resource management at Temple University, told me.
The problem is "deep down, organizations are highly inertial," he says.
2. By the numbers: The child care crisis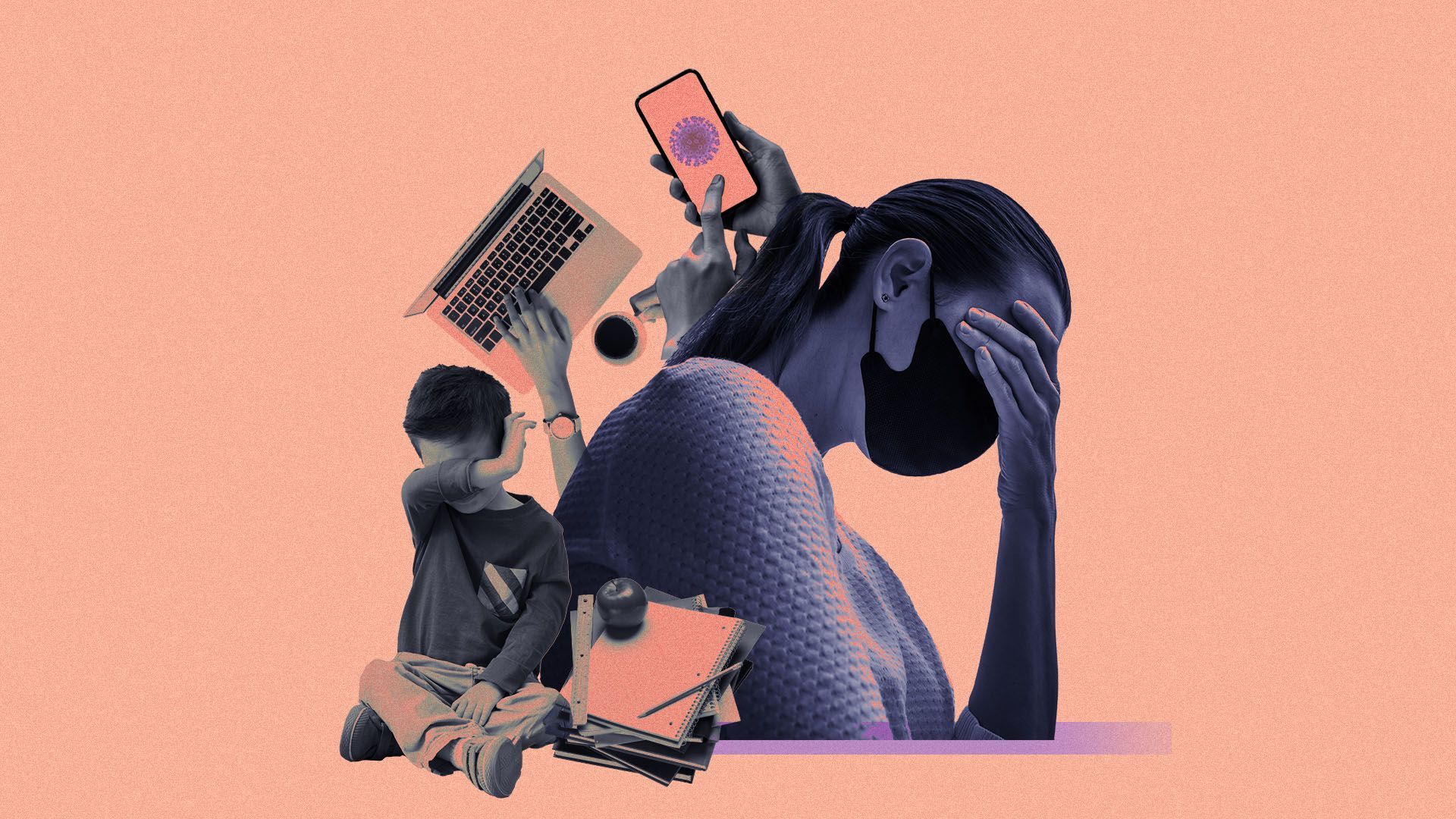 As the pandemic drags on, child care is not getting any easier for working parents, and more and more are hitting their limits and leaving their jobs, per a new report from the think tank Third Way, provided exclusively to Axios.
The big picture: Lack of child care is now the third-most cited reason for not working, behind layoffs and furloughs. At the very beginning of the pandemic, it was No. 5.
What's happening: Prices at child care centers have gone up nearly 50% since the onset of the pandemic due to increased sanitization and staffing costs, making them unaffordable for many Americans.
And the 56% of Americans who rely on relatives or grandparents to take care of their kids can no longer do so because it's unsafe.
So more and more parents — especially mothers — are dropping out of the labor force for their children.
Superstar cities are seeing big increases in labor market dropouts related to child care, Third Way found.
Since late April, New York has had 240,000 such cases; San Francisco, 50,000; Houston, 110,000.
Worth noting: The pandemic is hurting child care providers, too. 1 in 5 jobs in the child care industry — which disproportionately employs women of color — are now gone.
The bottom line: "The crumbling child care industry is increasingly holding back economic recovery across the country," writes Jillian McGrath, an economic policy adviser at Third Way.
3. Some good news: We're happier at work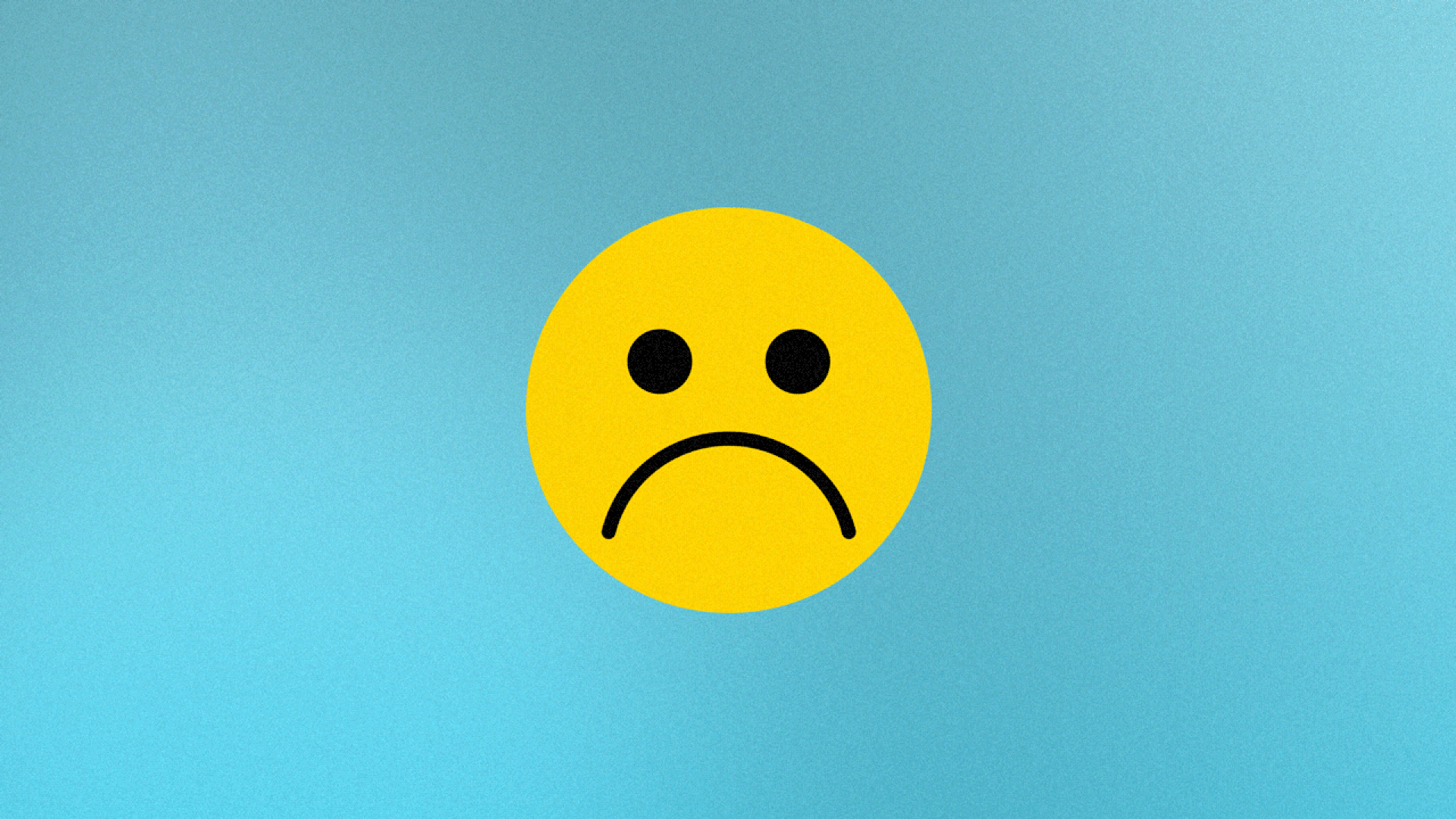 Employee happiness is up 5.4% from December 2019 to December 2020, according to a global survey of more than 9 million people conducted by Glint, a human resources platform owned by LinkedIn.
The big picture: As the workers of the world navigate a pandemic, many are finding comfort in the familiarity of work and the companionship of colleagues.
"While uncertainty emerged for people in their outside lives, many found relief in the community, support and agency work provided," says Amy Lavoie, who leads people science at Glint. "At its best, work can provide people with meaning and purpose."
The camaraderie of the pandemic also appears to be strengthening workplace cultures, Lavoie notes.
73% of organizations saw increases in employees reporting a sense of belonging at their organizations.
67% of companies saw an increase in their employees' confidence in leadership.
But, but, but: As workplace happiness levels increased from 2019 to 2020, burnout levels also jumped 32% over the same time span, per Glint's survey.
There's a gendered effect. Women were 20% more likely to say they experienced an "overwhelming workload" than men, which suggests that the source of rising burnout may be the child care or household responsibilities that are disproportionately taken on by women in the U.S. and around the world.
4. Where the pandemic-era labor market booms —and busts — are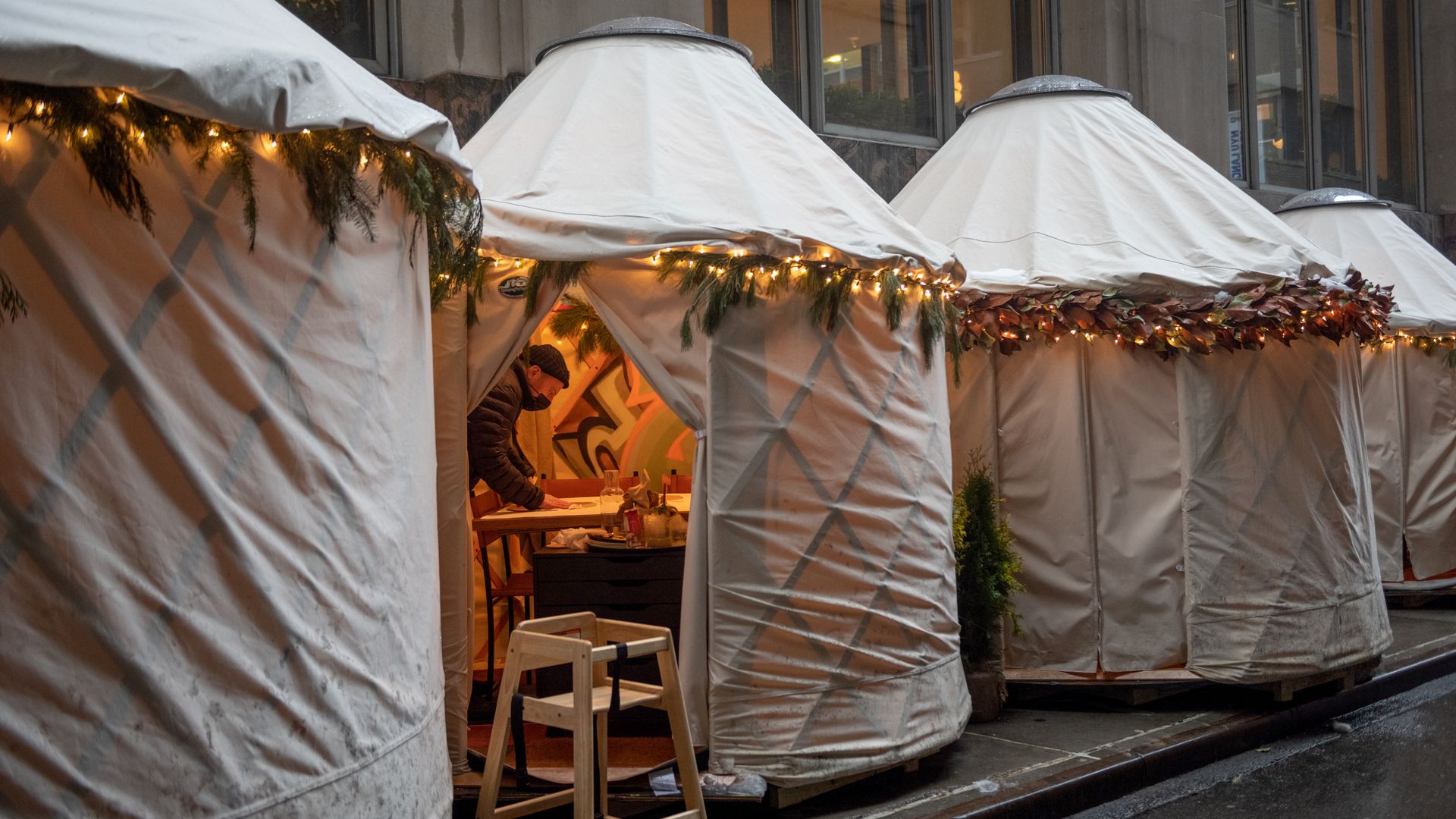 In a new analysis, U.S. government economists have used data to project which jobs will fare well and not so well in the next several years.
Why it matters: The findings show how the pandemic has allowed some industries to thrive while decimating others, Jed Kolko, chief economist at the jobs site Indeed, writes in the New York Times.
The booms:
The job of epidemiologist is projected to grow by 25% by 2029, meaning there will be 25% more epidemiologists in 2029 than there would have been without the pandemic.
Medical scientists, not including epidemiologists, 23% growth.
Web developers, 11%.
Biochemists and biophysicists, 10%.
Computer systems administrators, 10%.
The busts:
The job of host or hostess at a restaurant is expected to decline by 24% by 2029, meaning 24% fewer hosts and hostesses in 2029 than there would have been sans pandemic.
Bartenders, –19%.
Travel and ticket agents, –17%.
Hotel and motel clerks, –16%.
Servers, –16%.
The bottom line: It's typically low-skilled, low-wage jobs that require a high school diploma or less that are getting — and will continue to get — hit hardest, underscoring the need for the U.S. to train and upskill its workforce post-pandemic.
5. Worthy of your time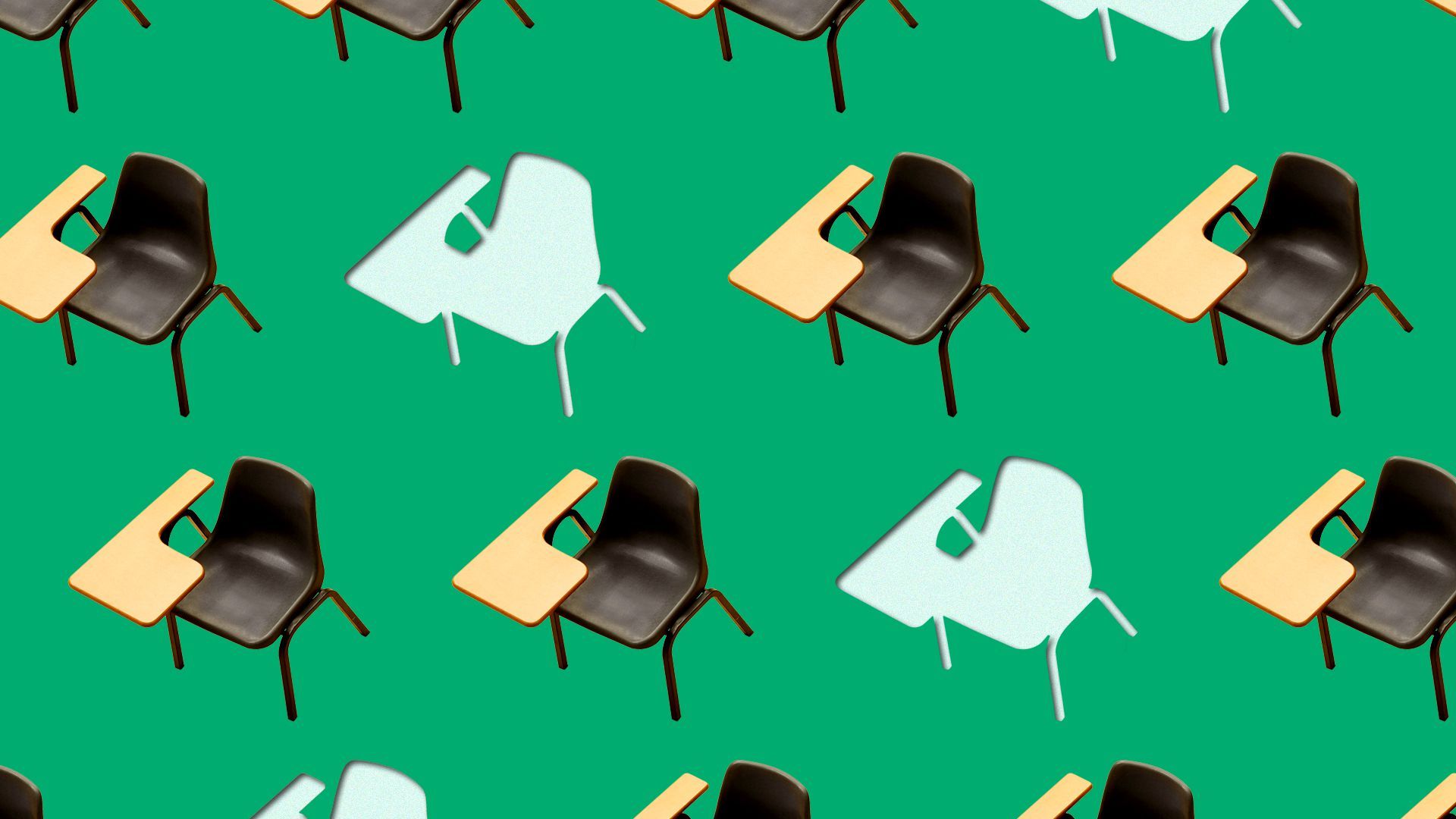 Enrollment drops 10% at community colleges (Axios)
Students at community colleges tended to struggle to balance their education with the demands of home life even before the pandemic. But the added challenges of virtual learning and an economic downturn have led to significant drops in the number of students attending across the country.
The boredom economy (New York Times)
The pandemic has had a profound impact on the economy by making people bored, writes Sydney Ember of the New York Times. People are spending more money on home improvements because they're tired of staring at the same surroundings. And they're buying more things online than ever because they're bored and browsing.
Having an office crush can boost productivity (Quartz)
Office romances are thriving during the pandemic. As I reported last week, the prevalence of office flings in the U.S. increased 7 percentage points from 2019 to 2020. The good thing about that is that having even just a crush at work can make you happier, more excited to start the day and even more productive.
An Amazon warehouse's high-stakes union drive (The Guardian)
The Guardian's Steven Greenhouse interviews Amazon workers at a warehouse in Bessemer, Alabama. They have gotten closer than Amazon employees ever have to forming a union, and if successful, they could set the stage for more organizing at Amazon.
6. 1 fun thing: The only part of a suit you need
There's a new work-from-home outfit that is brilliantly doing the absolute least while still allowing you to look professional, the Wall Street Journal reports in the latest A-hed.
Taichi Ito, who works for the Japanese company Whatever Inc., has designed a sweatsuit that has the top part of a suit sewn onto it. The suit part goes down roughly to your elbows.
So on camera, in Zoom meetings, or on virtual panels, it looks like you're dressed in business formal. But just out of sight is your comfy grey outfit.
Just make sure you don't get up to grab a glass of water with your camera on.
Check out the sketches of Ito's design in the Journal.