January 21, 2022
Happy Friday, y'all!
☁️ Today's weather: High of 37 and cloudy. Meh.
🛒 Situational awareness: An Atlanta company has opened a free-food store for residents of a senior tower in Midtown.
Today's newsletter is 815 words — a 3-minute read.
1 big thing: 💉 Georgia vaccination rates by race
The percentage of white, Black and Hispanic residents in Georgia who have received at least one dose of the COVID-19 vaccine continues to lag behind the national average, according to data from the Kaiser Family Foundation.
Why it matters: If fewer people are vaccinated, that means more are at risk of contracting severe cases of COVID-19. This is true especially for Black and Hispanic Americans, whose vaccination rates tend to be lower than their white and Asian neighbors.
The big picture: As of yesterday 54% of eligible Georgians are fully vaccinated, compared to 63% nationally.
36% of fully vaccinated Georgians have also received a booster, versus the national boosted rate of 39%.
Of note: Georgia's Asian residents have an 8 percentage point lead over the national average of people in that racial group who have received at least one dose of the COVID vaccine, Kaiser Family Foundation data indicates.
2. 🚓 Perdue's election police
Former senator and gubernatorial hopeful David Perdue says he wants to create an "Election Law Enforcement Division" within the Georgia Bureau of Investigation to enforce election laws, investigate election-related crimes and arrest offenders.
Why it matters: This is the latest Republican proposal circulating in response to the 2020 election, in which the U.S. attorney general found no evidence of widespread voter fraud.
Yes, but: In his budget proposal Gov. Brian Kemp has included about $500,000 per year to create two full-time and two part-time dedicated election complaints investigators within the Georgia Bureau of Investigation.
House Speaker David Ralston plans to introduce a bill that would give GBI the ability to investigate election law violations without being invited by local governments.
The GBI assisted with the Secretary of State's Office's election investigations last year.
The big picture: The Secretary of State's Office already employs two dedicated election investigators within a force of about two dozen POST-certified investigators (who are also charged with investigating things like licensing violations).
Investigators refer cases to the State Election Board, which then votes on whether to send cases to either a district attorney or the Georgia Attorney General for further legal action.
Secretary of State Brad Raffensperger has asked for more resources for his investigations unit for years, including this past week.
Of note: At one time, the secretary of state's entire investigations unit focused on last year's election-related allegations and launched more than 250 investigations. The State Election Board referred 35 complaints to district attorneys and the attorney general.
What he's saying: Perdue told a Valdosta radio program that the secretary of state managing both elections administration and elections investigations is like "grading your own homework."
Context: This election law enforcement agency idea has already been proposed in Florida by Republican Gov. Ron DeSantis.
3. Fulton DA requests special grand jury in Trump election probe
Fulton County District Attorney Fani Willis has asked for a special grand jury to help in her investigation into former President Donald Trump's attempts to interfere with the 2020 election.
Driving the news: Willis wrote a letter Thursday to Fulton County Superior Court Chief Judge Christopher Brasher asking for the jury because "a significant number of witnesses and prospective witnesses have refused to cooperate with the investigation absent a subpoena requiring their testimony."
The grand jury would not have power to return an indictment, but could recommend criminal prosecution in the investigation, the letter notes.
4. 🥾 Pic du jour: Keep climbing
👋🏻 Hi, Thomas here! Why stay in town where forecasts say the temperatures will be (relatively) warm when you can head toward the North Georgia cold?
I think hiking uphill, getting your heart rate up, and having a picnic at the top of Springer Mountain (and then Waffle House on the way home) is a wonderful way to feel refreshed after a tough week.
Where to go: For a challenge, consider Yonah Mountain, Cloudland Canyon, Amicalola Falls State Park (some trails will be closed for repairs) or Blood Mountain. Shorter hikes and nature walks are also options.
If you want to reach the highest point in Georgia, check out Brasstown Bald.
Before you go: Check the weather and park conditions, as some trails might be closed. Dress extra warm, with layers. Don't forget comfortable boots with grip.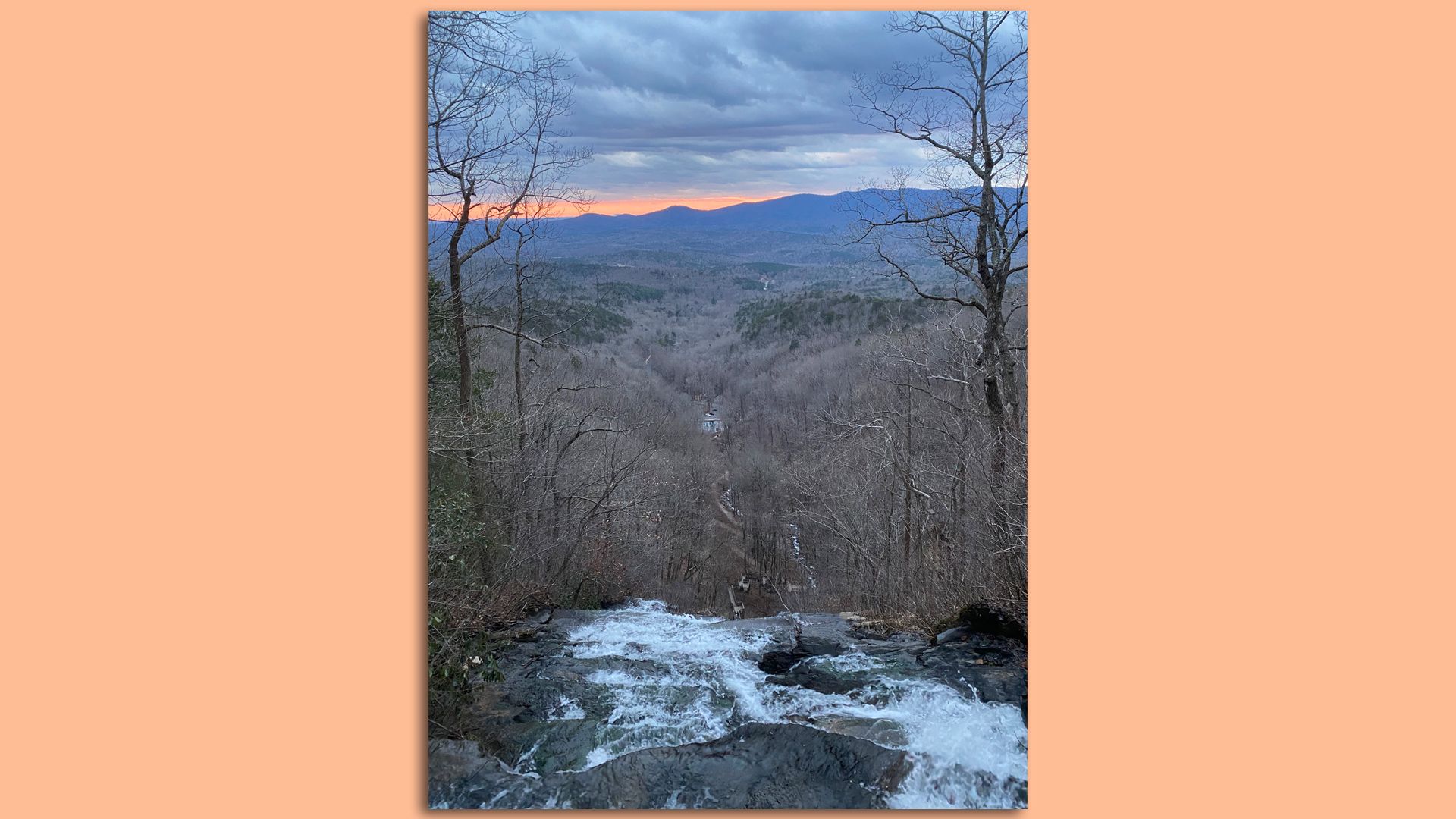 Other options: Stick closer to home and head to Sweetwater Creek State Park, any one of Atlanta's calm nature preserves or Island Ford, one of our favorite parts of the Chattahoochee River National Recreation Area. The weather will be nice.
Bottom line: Head outside. You'll be glad you did.
5. 🛍️ Five points: Contactless shopping spree
🏳️‍🌈 Nonbinary LGBTQ rights activist to run for State House seat. (Project Q Atlanta)
‍🏫 Climate change is now part of the curriculum for Emory University's School of Medicine. (WABE)
🛍️ The first, Black-owned contactless market opens in Fayetteville. (Urbanize Atlanta)
🤔 Some DeKalb County employees could be exempt from marijuana testing. (Fox 5 Atlanta)
🗑 Investigation shows Georgia Power bypassed federal rules for properly disposing of toxic waste. (ProPublica)
☺️ Kristal is looking forward to a restful weekend.
🎇 Emma is looking forward to breaking out of COVID jail (quarantine).
🏕 Thomas is spending all weekend doing last-minute shopping before he goes camping in the Okefenokee Swamp.