Axios AM Deep Dive: Hard Truths
March 20, 2021
Good afternoon and welcome to the fifth in our Hard Truths Deep Dive series. This edition — drilling down on systemic racism in sports — was led by Kendall Baker, Sara Kehaulani Goo and Michele Salcedo.
Join Axios on Tuesday at 12:30 p.m. ET for our Hard Truths event, a discussion on systemic barriers in sports. Register here.
🎧 A special edition of our "Axios Today" podcast: How one of the world's best lacrosse players and his team, the Iroquois Nationals, have been shut out from playing on the biggest world stage. Listen.
Today's Smart Brevity™ count: 1462 words...~ 6 minutes.
1 big thing: Unequal playing field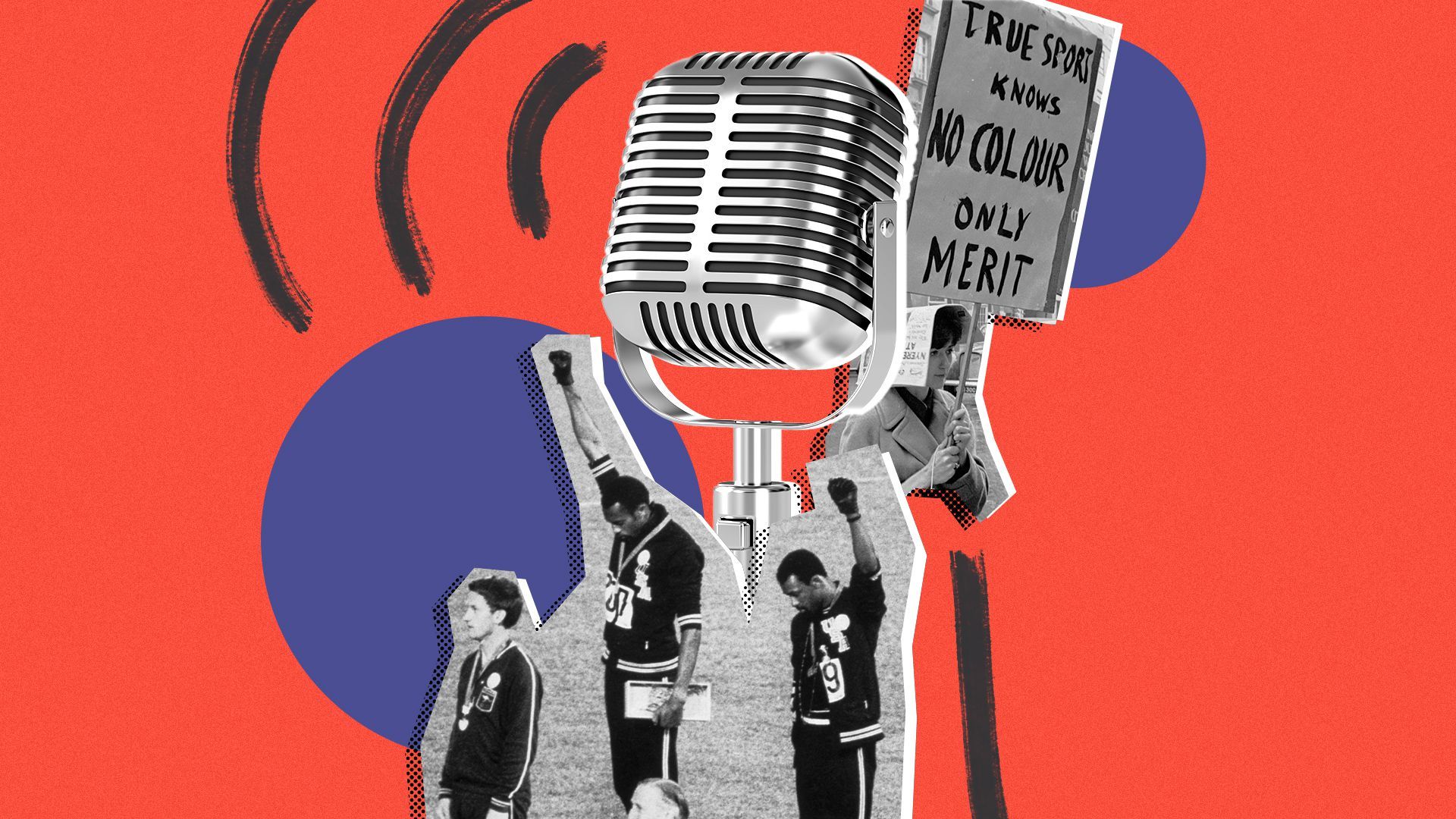 Sports are often sold as the great equalizer. Yet time and again, the sports meritocracy has proven to be a myth.
Why it matters: In theory, sports are an escape. In reality, they're a mirror — often perpetuating the most unjust aspects of society.
"We tend to think of sports as being at the forefront of racial progress," says Damion Thomas, sports curator at the Smithsonian National Museum of African American History and Culture.
"But historically, sports have also been symbols of oppression that reinforce negative stereotypes."
The big picture: At each step along the athlete's journey — from youth sports to college to the professional world — there are glaring inequities, often along racial lines.
Youth: The widening accessibility gap in youth sports has led to historically low participation and ended a disproportionate number of minority children's athletic careers before they started. Read more about race and youth sports.
College: Universities generate millions of dollars in revenue off the backs of predominantly Black football and basketball players, while affluent sports like fencing help funnel rich white athletes to elite institutions. Read more about race and college athletes.
Post-playing career: Many retired athletes stay around the game, but minority candidates lack opportunity. People of color make up over 75% of NFL players — but only 12.5% of the head coaches and 6.5% of the general managers. Read more about race and team ownership.
Between the lines: It's not just the way sports are structured that can limit people of color and perpetuate stereotypes; it's also the way we talk about those sports.
Looking ahead: In 2020, athletes of color fully realized the power of their collective voice, driving the national conversation and inspiring change in ways their predecessors could only dream about.
With new legislation that will allow college athletes to profit off their name, image and likeness, at least one part of the system will begin a course correction.
2. Timeline: People of color in sports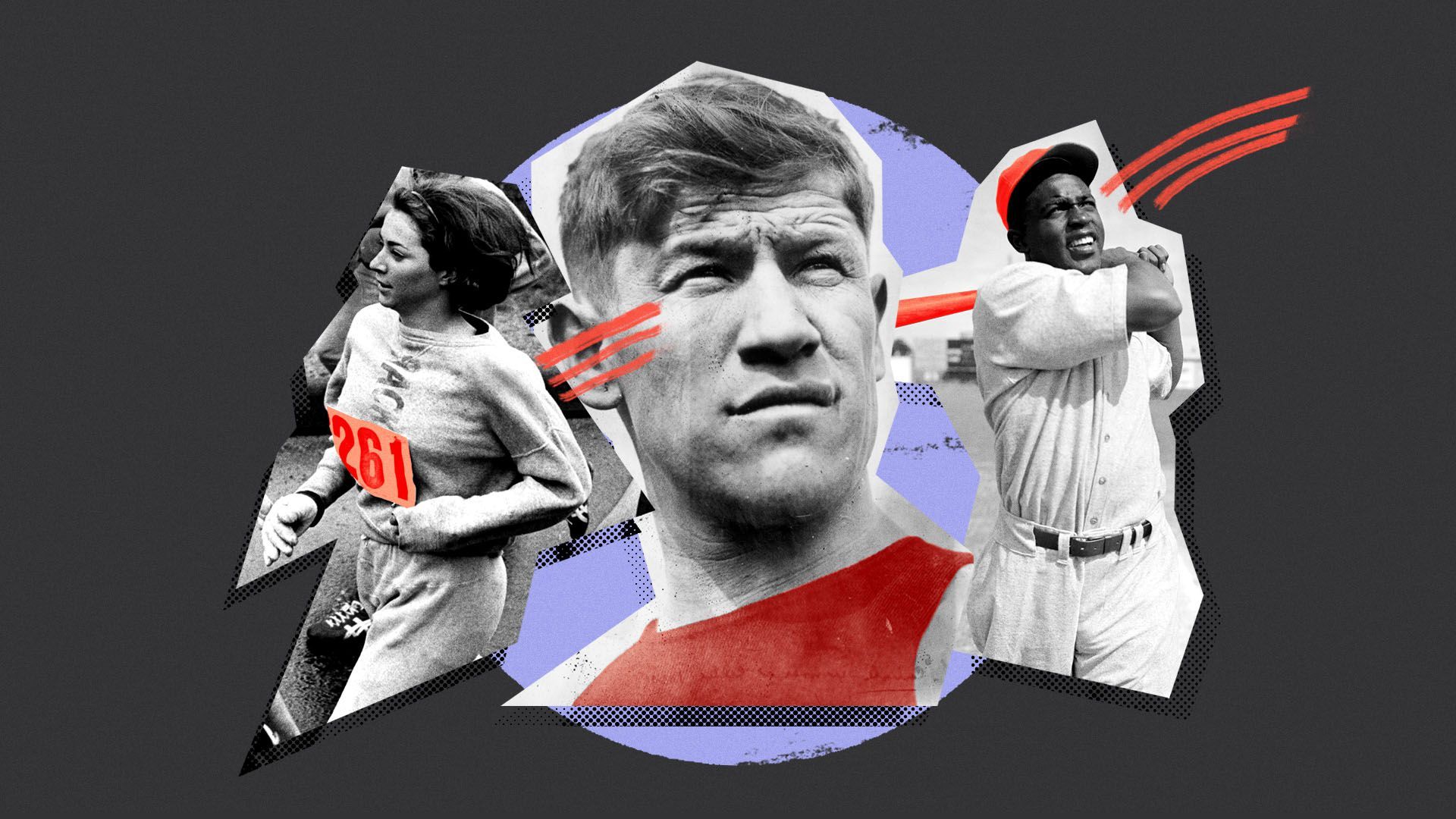 3. Closed doors of youth sports
Youth sports have become a $19 billion industry centered around suburban life, propped up by the ubiquity of mega-complexes, pay-to-play leagues, personal trainers and constant travel.
Why it matters: The status quo has created a system that disproportionately affects children of color, who already seem to have two strikes against them before even stepping into the batter's box.
The problem largely boils down to cost and access, which combine to limit opportunities for children of color.
By the numbers: American families in 2014 spent an average of $2,292 per year on youth sports, and sometimes as much as $20,000, according to a study by Utah State University.
The exorbitant cost of participation has priced out many families. According to 2018 census data, the median income for Black families ($40,258) and Latino families ($50,486) are both significantly less than that of white families ($68,145).
Then there's access. Suburban kids are more likely to play sports than city kids, according to an Ohio University study. But while Black and Latino residents make up 44% of the population of urban counties, that falls to just 25% in the suburbs, per the Pew Research Center.
Asian Americans' average income actually outpaces the field, but while they don't face the same socio-economic barriers, they're often discouraged from participating by racism and stereotyping.
Native Americans, for whom basketball is a way of life in high school, continue to be overlooked when it comes to college recruitment.
Between the lines: The overrepresentation of children of color in sports like football and basketball — which provide a vast majority of college scholarships — is more a symptom of the issue than a sign of progress.
4. The college sports machine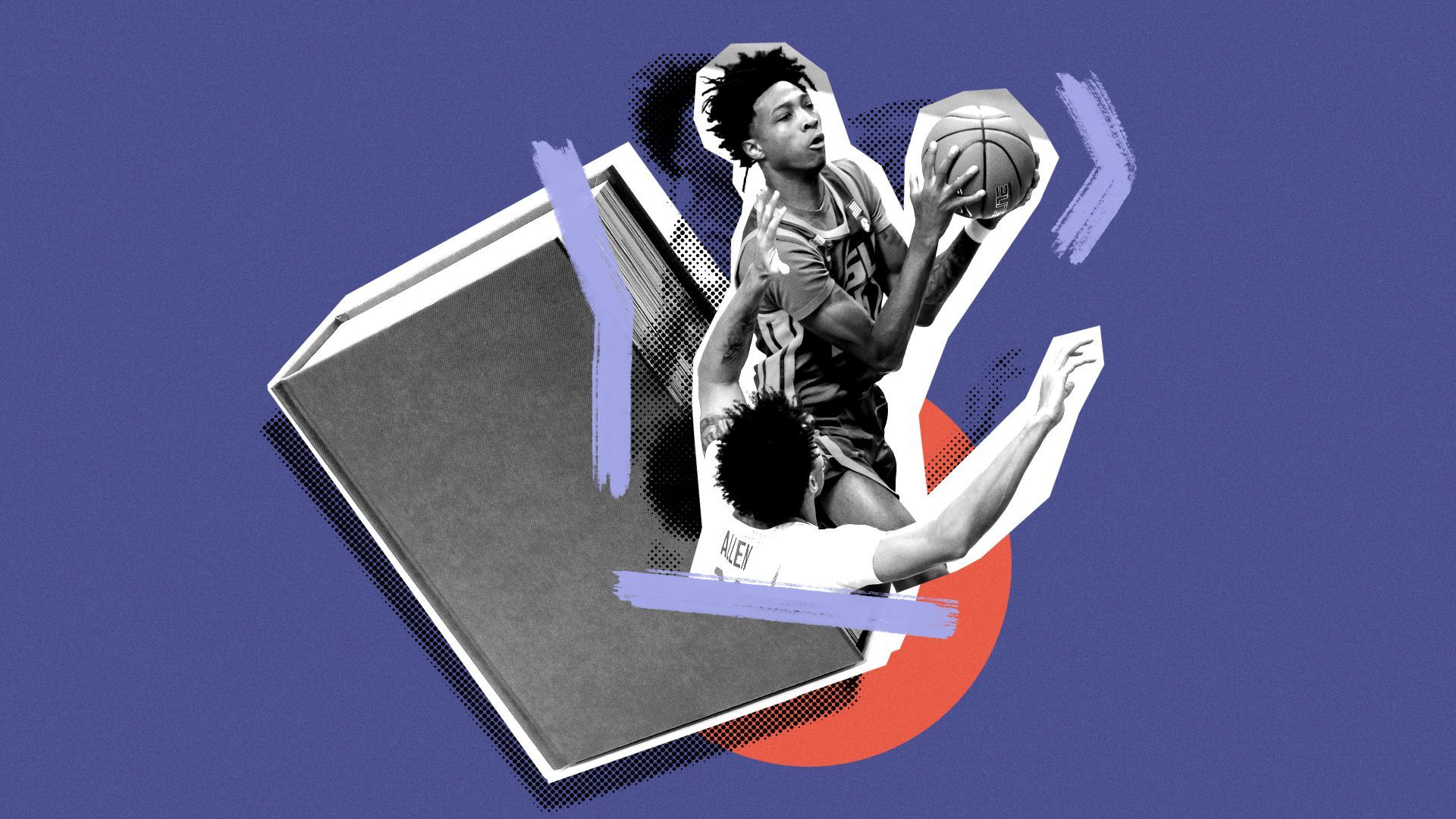 College sports is a multibillion-dollar industry built largely on the backs of Black student-athletes who can't profit off their name, image and likeness (NIL), and graduate at far lower rates than their white teammates.
The state of play: Football and men's basketball — both predominantly played by Black athletes — generate the vast majority of the revenue that underwrites college athletic departments and pays coaches' massive salaries.
In 40 states, a head college football or basketball coach was the highest-paid public employee as of January 2020, per ESPN.
Yet athletes have no collective bargaining rights, long-term medical care or even guaranteed scholarships.
By the numbers: On most Division I campuses, Black students are disproportionately athletes. Take Louisiana State University, where 1 out of every 11 Black males is a scholarship athlete — compared to 1 out of every 125 white males.
The average Graduation Success Rate (GSR) for Black football players on bowl-bound teams in 2020 was 73.4%, 16.3% lower than white players (89.7%), per The Institute for Diversity and Ethics in Sport.
39.3% of bowl-bound schools had GSRs for Black football student-athletes that were at least 20 percentage points lower than the rates for white players.
The big picture: The popularity of football and basketball disguises the fact that the rest of college sports is made up of predominantly white, middle-class athletes.
And since those sports don't make money, the revenue generated by football and basketball subsidizes their very existence, as well as some academic endeavors.
5. Stereotypes deter Asian Americans' pro sports dreams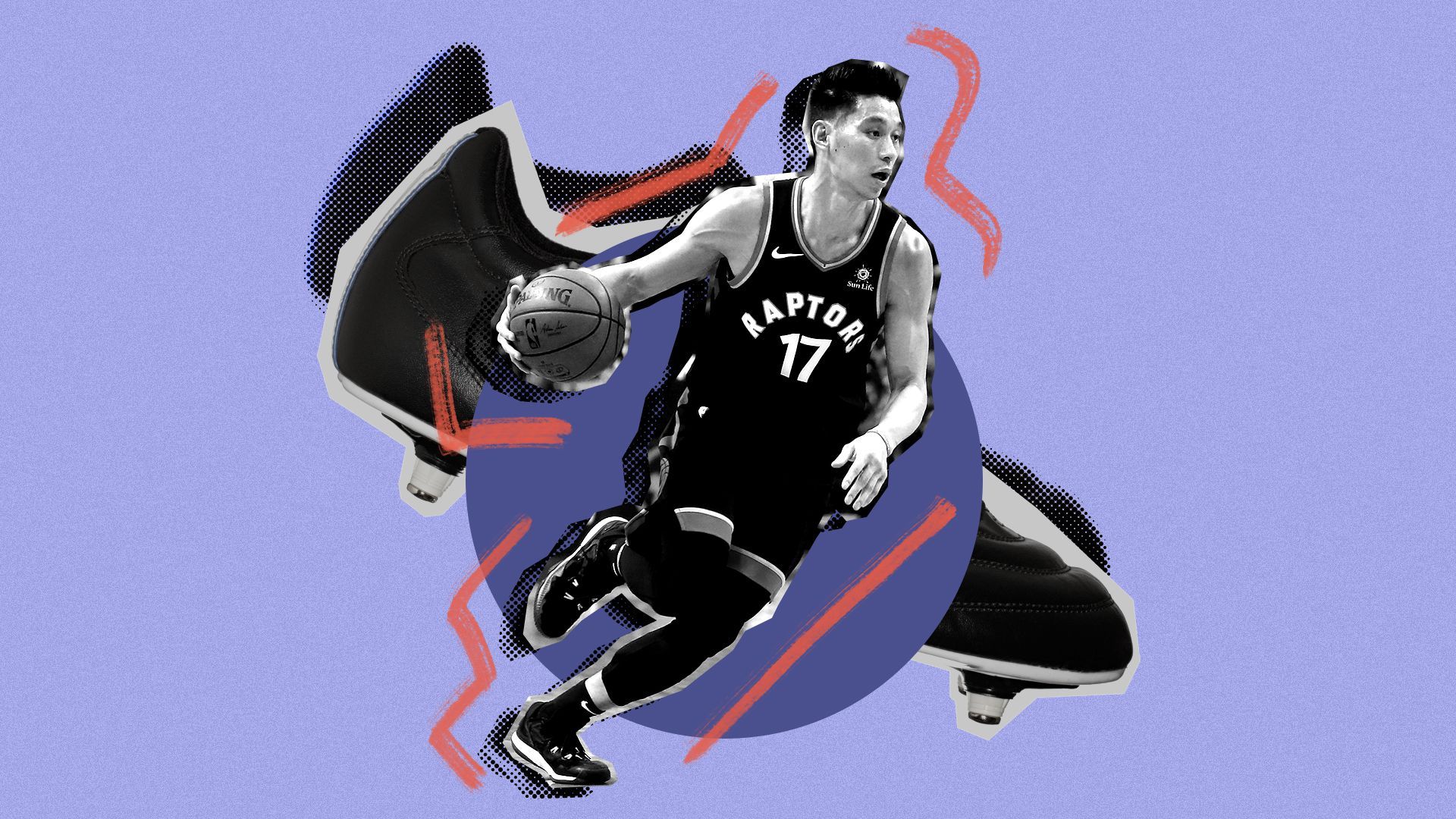 Taiwanese American Jeremy Lin was the Knicks' star player in 2012, handing his team a turnaround victory and sparking "Linsanity." But that didn't stop the racial slurs hurled at him then — and today.
Why it matters: Lin has bounced around the NBA from team to team, and from the pros to the minor leagues and back. He's one of a handful of professional Asian American athletes who have broken color lines and struggled to break new ground for athletes coming after them.
Scholars say Asian American children are stereotyped toward academics and aren't recruited the way Black and Latino youth are. Parents also seek to protect them from discrimination.
Sports organizations don't mentor Asian American athletes because Asian Americans are perceived as "not really athletic," Stan Thangaraj, an anthropology professor at The City University of New York, told Global Sport Matters in 2018.
Between the lines: Facing slurs while playing scrimmage as children also discourages young Asian Americans, Souichi Terada writes for The Guardian.
Asian/Pacific Islander kids quit sports at the youngest age out of all racial groups, according to the Aspen Institute.
6. Barriers remain to the business side of sports
Breaking through the systemic barriers in place for people of color on the mostly white business side of pro sports is a herculean task.
Why it matters: When their short-lived careers are over, many professional athletes are not welcomed into the sport's established power structure. Instead, they face retirement with sometimes limited earning potential as they make the transition.
The big picture: A pro sports career can be broken into four end goals: playing, coaching, top-level management and ownership. Success on the field or court isn't an easy way of "making it" to other levels.
Yes, household names like Magic Johnson and Michael Jordan went from marquee NBA superstars to sports team owners and private sector moguls — and LeBron James just became part-owner of the Boston Red Sox.
But for most, it is a difficult path from player to power broker.
Background: When Jackie Robinson became the first African American to play in Major League Baseball in 1947, he paved the way for racial integration in sports.
However, the domino effect led to the destruction of the multimillion-dollar Black-owned and -run Negro Leagues, as the MLB pilfered the talent pool, says Kenneth L. Shropshire, CEO of Global Sport Institute.
The result: Minority-led groups have been shut out of ownership for generations. Even Hall of Fame baseball player Reggie Jackson was repeatedly rebuffed on attempts to become an owner.
Fast-forward: A meteoric rise in team values means people of color are still locked out of ownership because of the racial wealth gap.
Present-day teams are sold for $3 billion-$5 billion, precluding almost everyone aside from the predominantly white billionaire set, said Shropshire.
The lack of diversity at the top trickles down to hiring for senior management and coaching roles.
The vast majority of NFL coaches are white even though coaches of color may boast better statistics, according to a Global Sport Institute analysis of hiring and firing trends.
Despite a rule requiring teams to interview at least one diverse candidate for vacant head coaching positions, there are now three Black coaches total — the same number as when the so-called Rooney Rule was implemented in 2003.
And more white head coaches are hired at a wider age range and land jobs more frequently for senior positions after being fired, the report showed.
The bottom line: Progress on representation of people of color in sports has been uneven.