Hap-PY Friday! If you're in D.C., I hope you you'll join me this morning (new start time 7:45, to accommodate one of the governor's schedules — doors now open earlier, at 7:15) for a conversation about education in America with several of the nation's governors, as they arrive in town for the National Governors Association winter meeting.
The Axios Events maestros tell me we'll have an oatmeal bar, with a variety of sweet and savory toppings and drizzle options! RSVP here for location.
Situational awareness: Missouri Gov. Eric Greitens, 43, once a GOP rising star, was indicted on a felony charge of invasion of privacy stemming from a 2015 affair. The former SEAL is accused of threatening to release a nude photo of the woman, blindfolded and hands bound, if she revealed the affair. (Kansas City Star)
https://www.axios.com/newsletters/axios-am-ff4a0345-da33-4c43-8136-c38dedde8d20.html?chunk=0#story0
1 big thing: In Trumpworld, every day is yesterday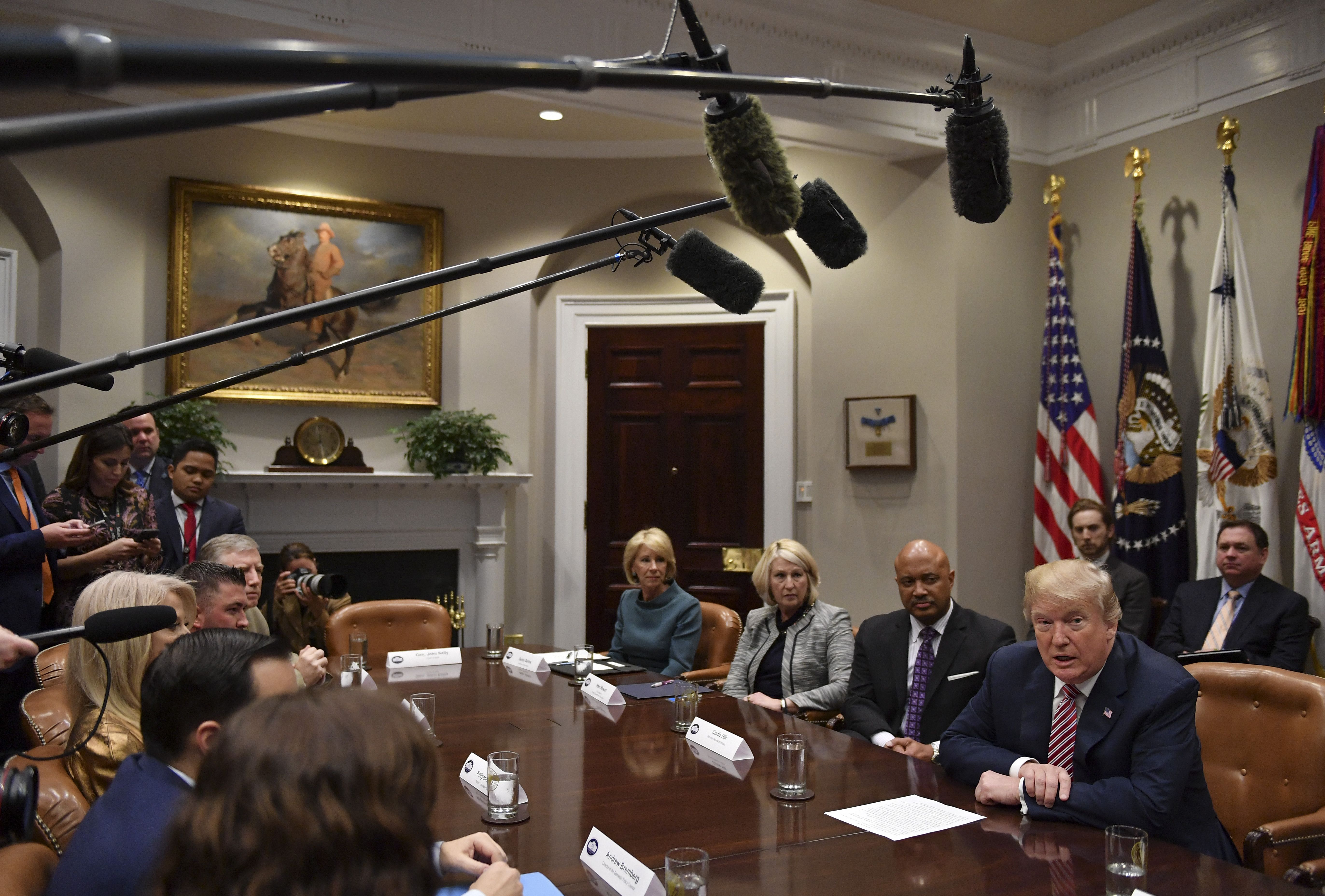 President Trump talks with state and local officials on school safety in the Roosevelt Room yesterday. (Ricky Carioti / The Washington Post via Getty Images)
When it comes to President Trump — and his trickle-down moods that drive the West Wing, his party, the nation — February 2018 is no different than February 2017:
He's still stuck on the exact same internal fights about trade, the same complaints about top staff, the same obsessive gripes about media coverage.
And the episodic drama is almost impossible to cover accurately, because the views reflected in the press often depend partly on which characters in the drama are most aggrieved at the moment, and which faction they belong to.
Remember that President Trump thinks of each day as a new episode in a reality show, with him as the star, writer, producer and critic.
Here's a perfect example: West Wing aides privately admit they have no earthly idea what Trump will do about anything — whether it be guns, immigration, their own careers, or the fate of Chief of Staff John Kelly.
Some of his staff are convinced the general is on thin ice. A source close to the president told us: "The president is displeased — with a capital D — with how the White House is functioning right now."
But here's a scoop: First Lady Melania Trump genuinely supports Kelly and likes him a lot. Thinks he's a pro. And Kelly has been wise to cultivate her and to make sure he includes her, and factors her schedule into events.
So will Kelly go? Sure — sometime. But the apparent imminence of his departure depends completely on which part of the cast you're consulting, and what the president's whim was in his most recent conversations.
Is Trump asking people's opinions about Kelly, and about possible successors — exactly the way he did in the weeks before his first chief of staff, Reince Priebus, got the boot? He is.
Trump is privately asking friends and staff about Kelly: "What's up with this guy? He can't get along with anybody?"
Trump was walking around Mar-a-Lago last weekend, informally polling people on Kelly. He'd got it in his head that nobody on his staff liked him. But he's heard some more positive opinions about Kelly in the past few days, including from Melania. 
One thing is certain: The mystique that initially surrounded Kelly has worn off.
Trump would love nothing more than if prospects for chief like Gary Cohn, Kevin McCarthy and Mick Mulvaney would beg for the job. That would make it easier to transition — he could say "make it happen," hire them on his terms and outsource the removal of Kelly. But they won't beg. So it's a standoff with no obvious end in sight.
What is true is that the West Wing got more chaotic beginning with the botched departure of Staff Secretary Robert Porter two weeks ago:
The episode revived West Wing leaking and backbiting that had waned since the Reince/Bannon era. That's been very dispiriting for those on staff who want to hold things together and accomplish policy goals.
They look around in senior staff meetings and know that some of their colleagues are presenting one face to them in the room, and quite another behind their backs. It has devastated morale, which is currently about as low as it could go.
If a few people leave — like economic adviser Gary Cohn or national security adviser H.R. McMaster — many others might follow:
We have no idea who'd replace them. And from what we can tell, Kelly hasn't done a ton of succession planning. 
Some aides feel the place is unraveling, that they can't trust their colleagues, that they don't know what's going on, that there's no path upward.
But you know what? That sentence was as true in February 2017, in the frenzied weeks after the inauguration, as it is today.
In Trumpw0rld, every day is yesterday.
https://www.axios.com/newsletters/axios-am-ff4a0345-da33-4c43-8136-c38dedde8d20.html?chunk=1#story1
2. How Putin meddles in Western democracies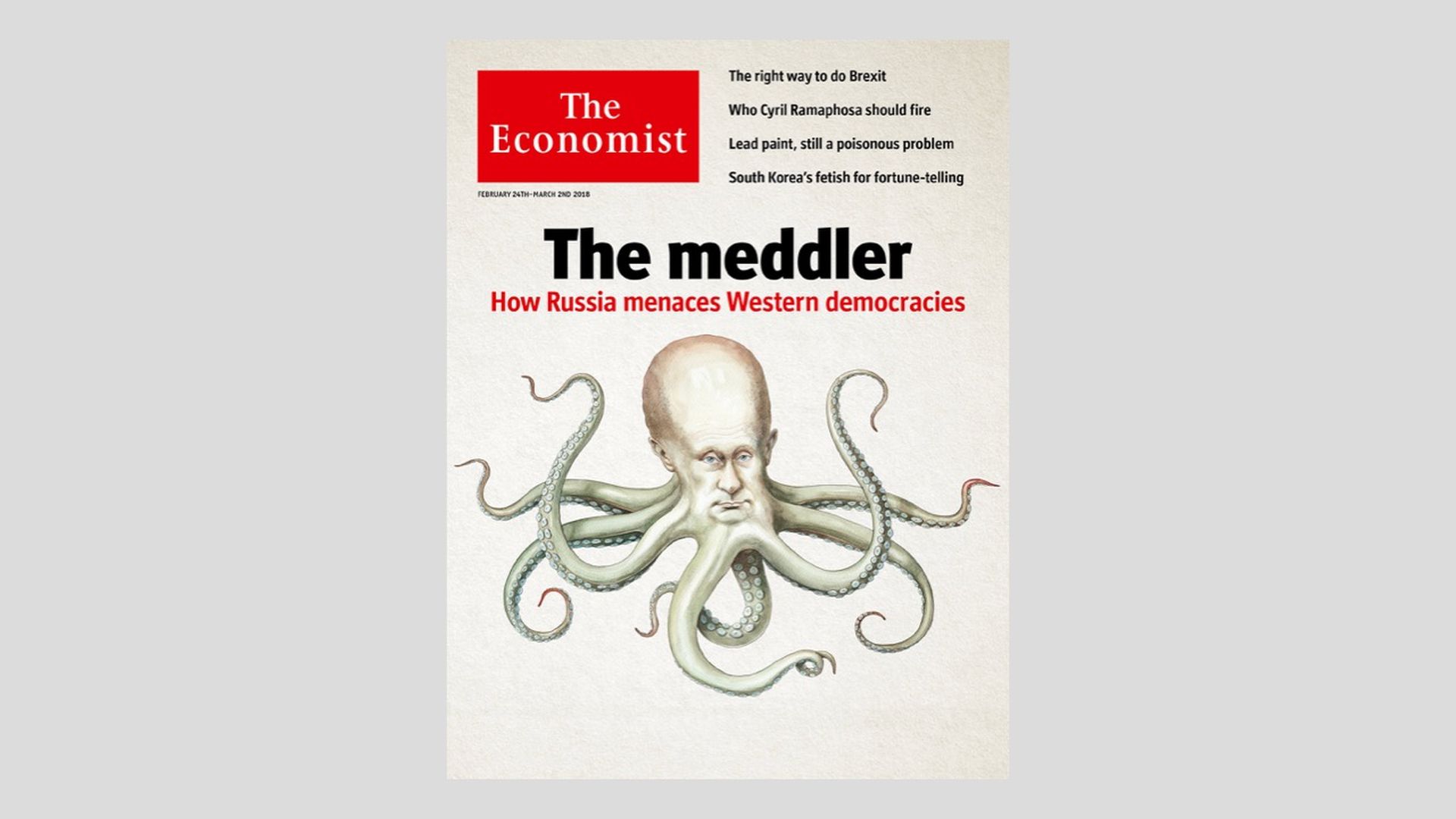 An uncomfortable pair of stories for the White House ...
"Russia's dirty tricks ... And why the West's response is inadequate" — The Economist cover editorial:
What happened: Special counsel Robert "Mueller alleges that in 2014 Russia launched a conspiracy against America's democracy, and he believes he has the evidence to withstand Russian denials and a court's scrutiny."
Trump "should have spoken out against Mr Putin and protected America against Russian hostility. "
"Republican leaders in Congress are failing their country: at the least they should hold emergency hearings to protect America from subversion in the mid-term elections."
Why it matters: "[W]ith Mr. Trump obsessively blaming the FBI and Democrats, it looks as if America does not believe democracy is worth fighting for."
Zing: "Were Mr. Trump to sack [Mueller] now, it would amount to a confession."
The Washington Post's lead story shows that the Kremlin confrontation can be kinetic as well as digital ...
"A Russian oligarch [who was indicted by Mueller last week and is] believed to control the Russian mercenaries who attacked U.S. troops and their allies in Syria this month was in close touch with Kremlin ... in the days and weeks before and after the assault," according to the WashPost blockbuster.
"In intercepted communications in late January, the oligarch, Yevgeniy Prigozhin, told a senior Syrian official that he had 'secured permission' from an unspecified Russian minister to move forward with a 'fast and strong' initiative that would take place in early February.
Why he matters: The oligarch — nicknamed "Putin's chef" — "is known to have close ties to Russian President Vladi­mir Putin, forged when [the oligarch] was a restaurateur in St. Petersburg and expanded through what became Prigozhin's wide-ranging business empire, including extensive contracts with Russia's Defense Ministry."
Why this news matters: "[T]he attack marked the biggest direct challenge to the U.S. military presence in eastern Syria since U.S. Special Operations forces began deploying there in 2015 in support of their Syrian allies in the fight against the Islamic State."
https://www.axios.com/newsletters/axios-am-ff4a0345-da33-4c43-8136-c38dedde8d20.html?chunk=2#story2
3. Trump's gun stance puts pressure on Congress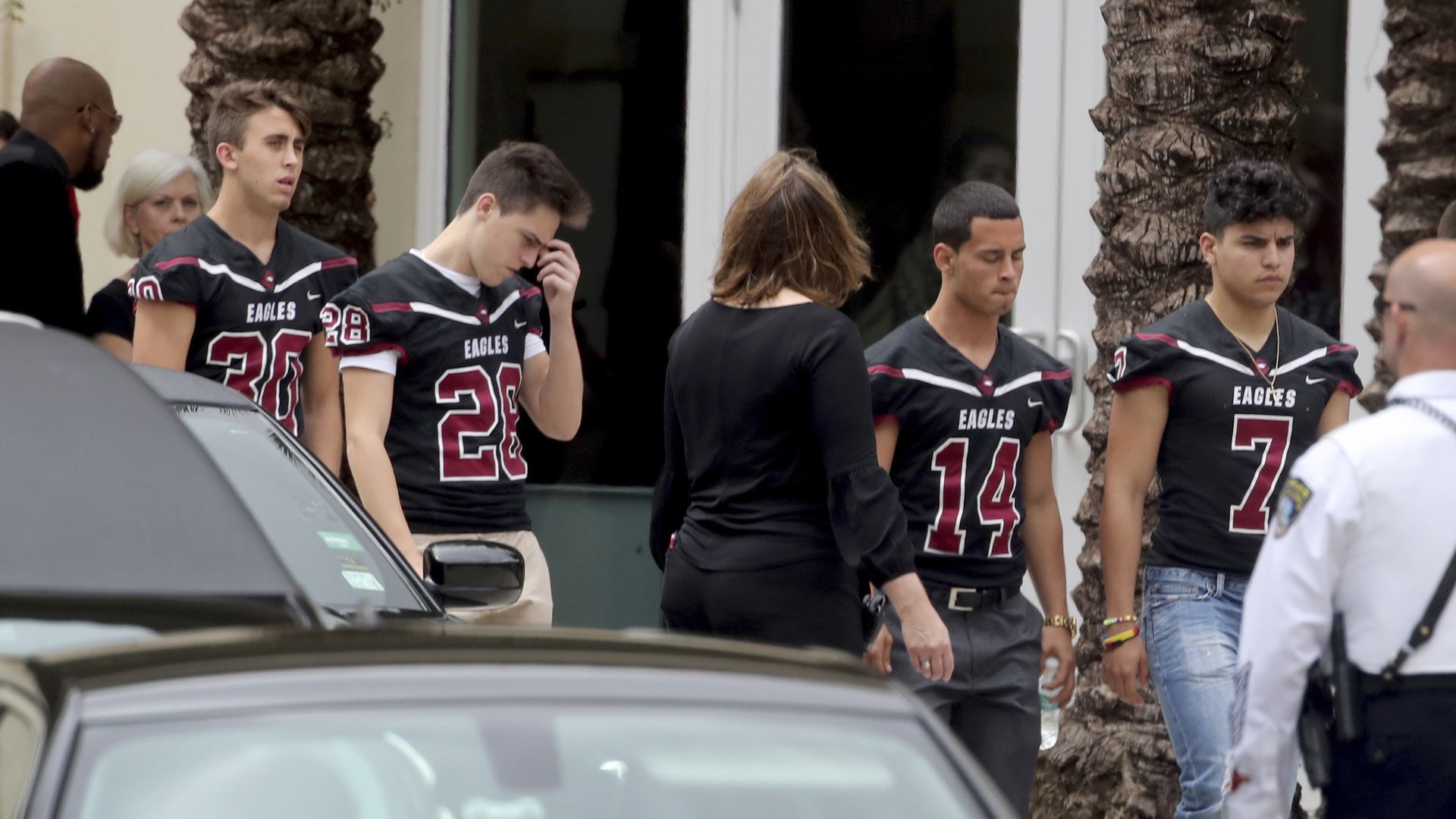 "Trump's calls for changes to gun laws in the wake of last week's Florida school shooting push Congress toward a new politically fraught debate just months before the midterm elections," the Wall Street Journal reports on A1:
Why it matters: "For more than a decade, and after multiple attacks on students, lawmakers have shied from making any significant changes to gun legislation in part because of the influence of the National Rifle Association."
The president's plan: "Trump said 'hardened' school security would be central to stopping future shootings, which echoes the NRA position, while he also floated proposals to keep weapons out of the hands of young people and the mentally ill."
"He repeated his call for arming teachers to help protect students, both as a deterrent and to provide a quicker response, but he said that only highly trained people would carry weapons in school."
Trump: "I think a concealed permit for teachers, and letting people know there are people in the building with a gun, you won't have … these shootings."
P.S. "Even in gun-friendly locales like rural Indiana, teachers reacted with alarm to Mr. Trump's plan," per the N.Y. Times.
This is interesting: "Despite opposition to the idea, dozens of schools across the country, many of them in Ohio, say they have successfully started programs in which select teachers are trained and armed."
https://www.axios.com/newsletters/axios-am-ff4a0345-da33-4c43-8136-c38dedde8d20.html?chunk=3#story3
Bonus: Another Rupert Murdoch memo to POTUS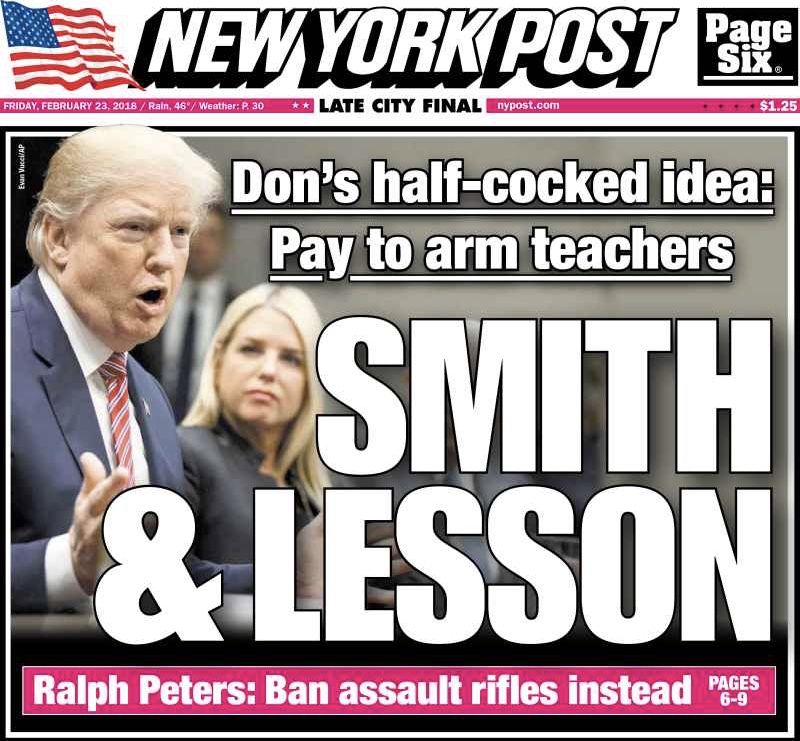 Courtesy N.Y. Post
The long view ... "Why This Gun Debate Is Different From the Rest," by N.Y. Times' Peter Baker and Mike Shear:
"The gun control side has developed a well-financed infrastructure that did not exist" for the Sandy Hook shooting in 2012.
"[T]he We-Call-B.S. teenagers of Florida have injected a passionate new energy into a stale debate, organizing demonstrations, flooding the Statehouse in Tallahassee, composing songs, creating protest signs, confronting politicians and taking to TV airwaves with an intensity and composure and power rarely seen in recent years."
https://www.axios.com/newsletters/axios-am-ff4a0345-da33-4c43-8136-c38dedde8d20.html?chunk=4#story4
4. Shooting: "abject breakdown at all levels"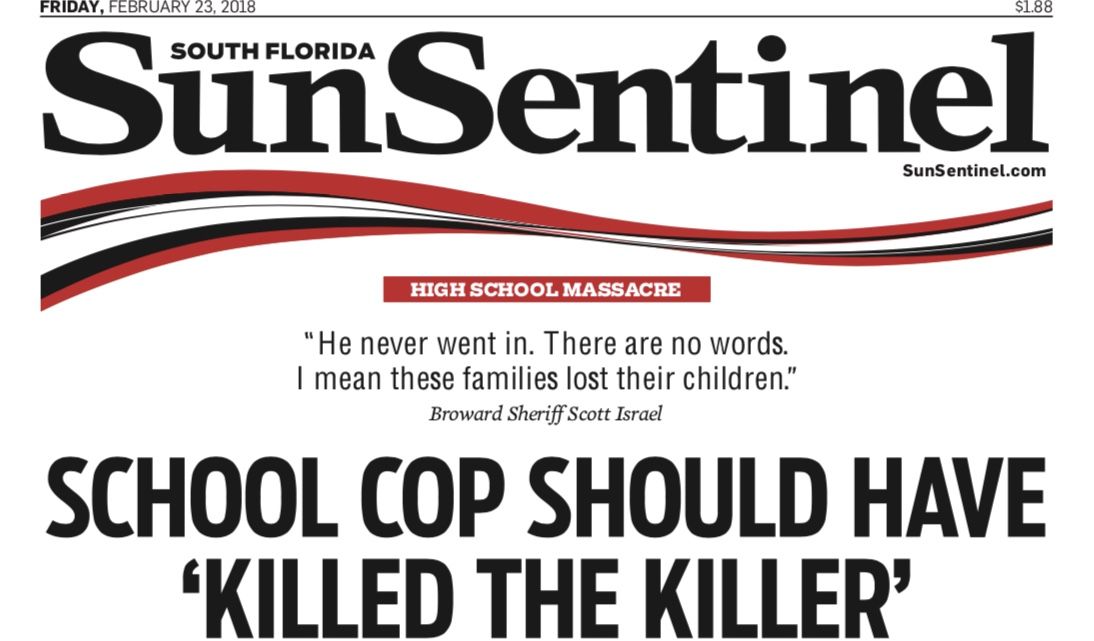 Courtesy the Sun Sentinel
"The police officer assigned to Marjory Stoneman Douglas High School resigned [yesterday], under investigation for failing to enter the building as a gunman opened fire and killed 17 people," per the Fort Lauderdale Sun Sentinel:
Broward County "Sheriff Scott Israel said Deputy Scot Peterson [age 54] should have 'went in. Addressed the killer. Killed the killer.'"
"Video footage showed ... Peterson was outside the building for 'upwards of four minutes' while students were gunned down inside."
"[T]wo deputies were put under investigation for how they handled potential warnings about Cruz, including one from November in which a caller said Nikolas Cruz 'could be a school shooter in the making.'"
P.S. "[A] top FBI official acknowledged that proper protocols weren't followed on the tip about Nikolas Cruz, the confessed shooter," per CNN:
Acting FBI deputy director David Bowdich, at a news conference: "There was a mistake made, we know that."
https://www.axios.com/newsletters/axios-am-ff4a0345-da33-4c43-8136-c38dedde8d20.html?chunk=5#story5
5. Thunder on the right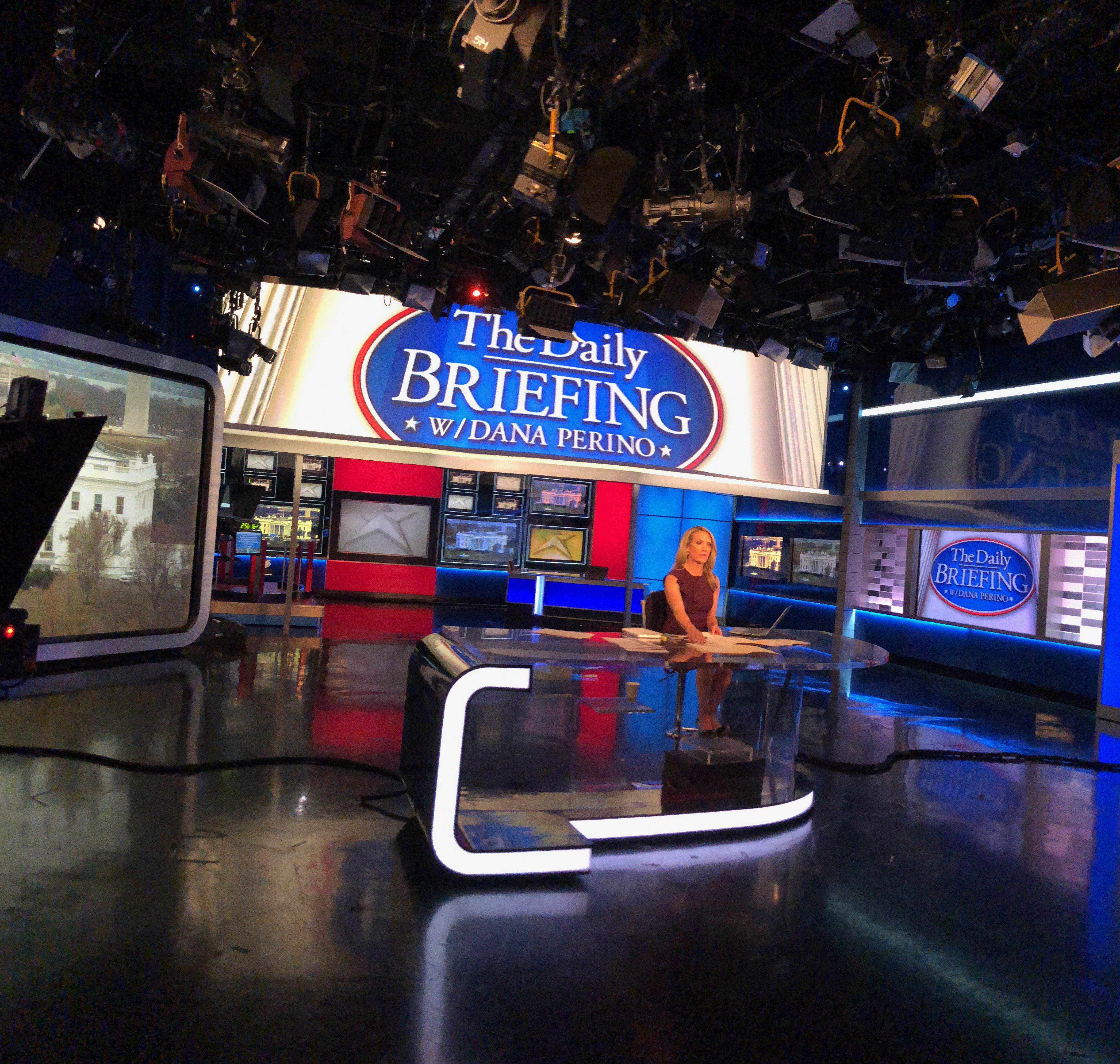 Fox News
Fox News' Dana Perino, who today marks show #100 of "The Daily Briefing" (2 p.m. ET; launched Oct. 2), yesterday interviewed Matt Schlapp — chairman of the American Conservative Union, which hosts CPAC, where President Trump will speak today at 10:05 a.m.
Schlapp, on yesterday's CPAC appearance by NRA CEO Wayne LaPierre: "It would be a mistake for CPAC to back away from having the appropriate conversations around the Second Amendment, violence in society and what's happening in our communities."
Life lessons ... Dana points out that you never get in trouble for a tweet you don't post. She jokes about writing a book, "Tweets I Never Sent."
https://www.axios.com/newsletters/axios-am-ff4a0345-da33-4c43-8136-c38dedde8d20.html?chunk=6#story6
6. Rising on the left
"Medicare Extra for All," a proposal from the Center for American Progress, or CAP, would provide a path toward universal health care coverage, AP reports:
"But in a nod to political pragmatism, the plan would preserve roles for employer coverage and for the health insurance industry. Employers and individuals would have a choice of joining Medicare Extra, but it would not be required."
"That differs from the more traditional 'single-payer' approach advocated by Vermont independent Sen. Bernie Sanders."
"The plan's authors acknowledge that the plan would require significant tax increases."
"Even though it has no chance of passing in a Republican-controlled Congress, center president Neera Tanden said, 'there is consensus on the progressive side that universal coverage should be the goal and health care is a right.'"
Why it matters: Paul Waldman of The American Prospect, says on the WashPost's Plum Line that CAP's plan is "a significant marker in the evolution of the Democratic Party, and eventually perhaps the American health-care system."
https://www.axios.com/newsletters/axios-am-ff4a0345-da33-4c43-8136-c38dedde8d20.html?chunk=7#story7
7. The real America
Across the coal belt in Kentucky, West Virginia, and Virginia, "Black Lung Disease Makes a Grim Comeback, Even Among Younger Miners," per the N.Y. Times:
David Blackley, an epidemiologist who led research that identified, in Virginia, the largest cluster of advanced black lung cases ever recorded: "There's an unacceptably large number of younger miners who have end-stage disease, and the only choice is to get a lung transplant or wait it out and die."
https://www.axios.com/newsletters/axios-am-ff4a0345-da33-4c43-8136-c38dedde8d20.html?chunk=8#story8
8. Snapchat story
Shot ... "In One Tweet, Kylie Jenner [who has 24.5 million Twitter followers] Wiped Out $1.3 Billion of Snap's Market Value." (Bloomberg)
The tweet: "sooo does anyone else not open Snapchat anymore? Or is it just me... ugh this is so sad."
Chaser ... "Evan Spiegel, the billionaire creator of Snapchat, is likely to be crowned the highest-paid US chief executive of 2017, after his total remuneration hit $638m. ... Spiegel received a huge one-time stock award, valued at $637m." (FT)
https://www.axios.com/newsletters/axios-am-ff4a0345-da33-4c43-8136-c38dedde8d20.html?chunk=9#story9
9. Chinese cash flows into Latin America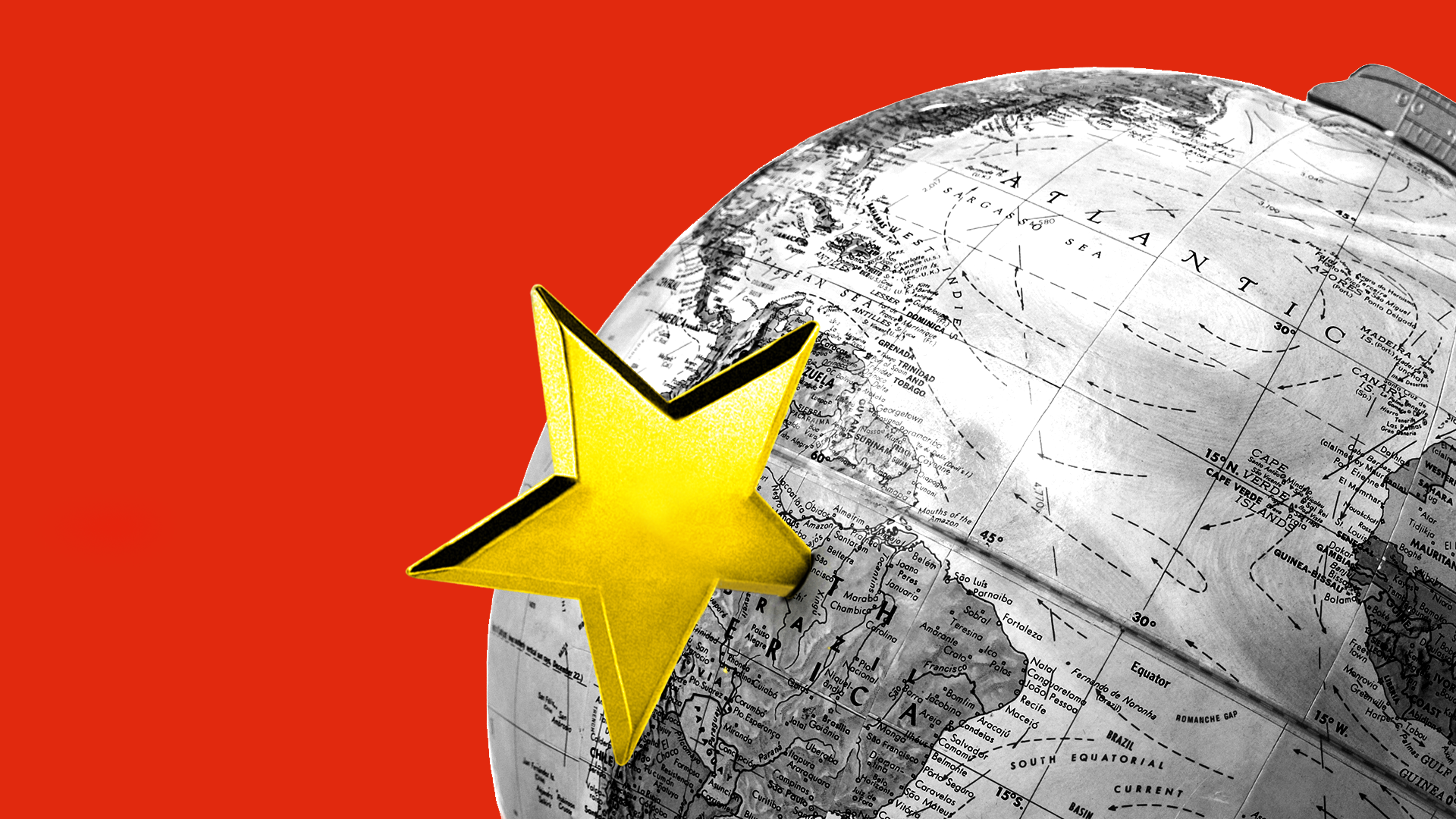 The Monroe Doctrine is running up against the Xi Reality in Latin America, Axios' Erica Pandey writes:
China has now surpassed the U.S. as the leading trading partner of several South American countries, including Brazil, and stepped up investments in the region dramatically at a time when U.S. engagement is on the wane.
Why it matters: Despite its status as a developing nation itself, China is well on its way to becoming the world's largest investor, Brookings China expert David Dollar tells Axios.
https://www.axios.com/newsletters/axios-am-ff4a0345-da33-4c43-8136-c38dedde8d20.html?chunk=10#story10
10. 1 snow thing: USA medal haul fell way short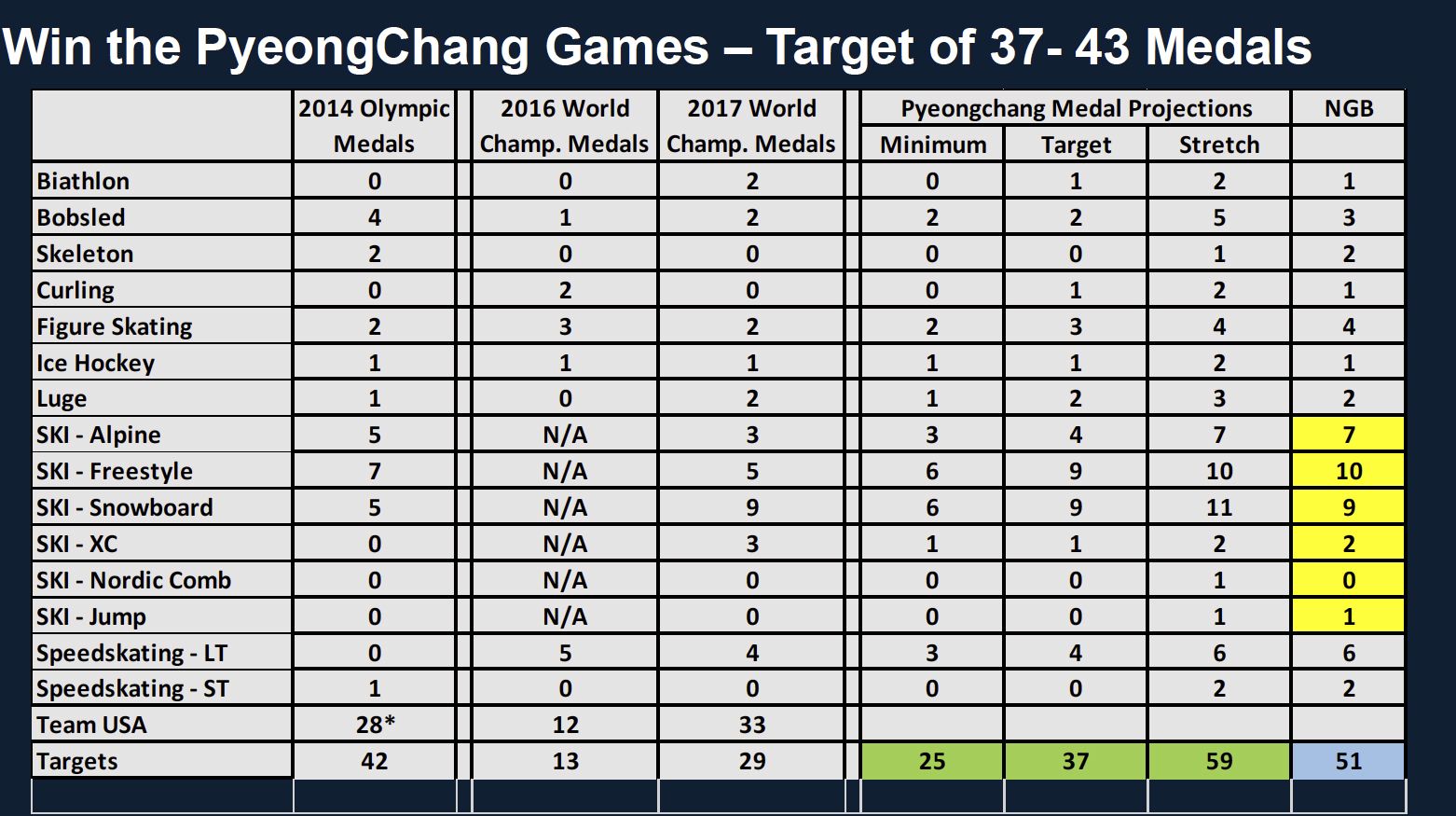 This chart obtained by AP shows the U.S. Olympic Committee's medal projections for the 2018 Winter Games in a slide presented last year to the USOC board. (AP photo)
Leaders at the U.S. Olympic Committee projected Team USA would win 37 medals at the Pyeongchang Games — a goal the U.S. will not come close to reaching when the Olympics close on Sunday, AP's Eddie Pells reports:
AP obtained a slide that was presented to the USOC board in meetings last year, and used to set expectations and funding levels for the Winter Games.
Heading into the final 48 hours of action, the United States had 21 medals. Even if things were to go well over the handful of remaining events, the team will fall more than 10 medals short of the goal.
Alan Ashley, the USOC's chief of sport performance, says another way to view it is the number of close calls: 21 U.S. teams or athletes finished fourth or fifth.
The bottom line: The U.S. dipped to 28 medals in 2014, and the AP projects a finish of 23 this year. Reflected as a percentage of medals won — the number available has steadily grown with the addition of more action sports, among others, to the program — the U.S. took 14.3 percent in 2010, 9.6 percent in 2014 and will be at 7.5 percent this year if it closes with 23.