https://www.axios.com/newsletters/axios-am-fe694050-9a90-4b08-a424-d28f5ccdcc49.html?chunk=0#story0
1 big thing: An epic healthcare gamble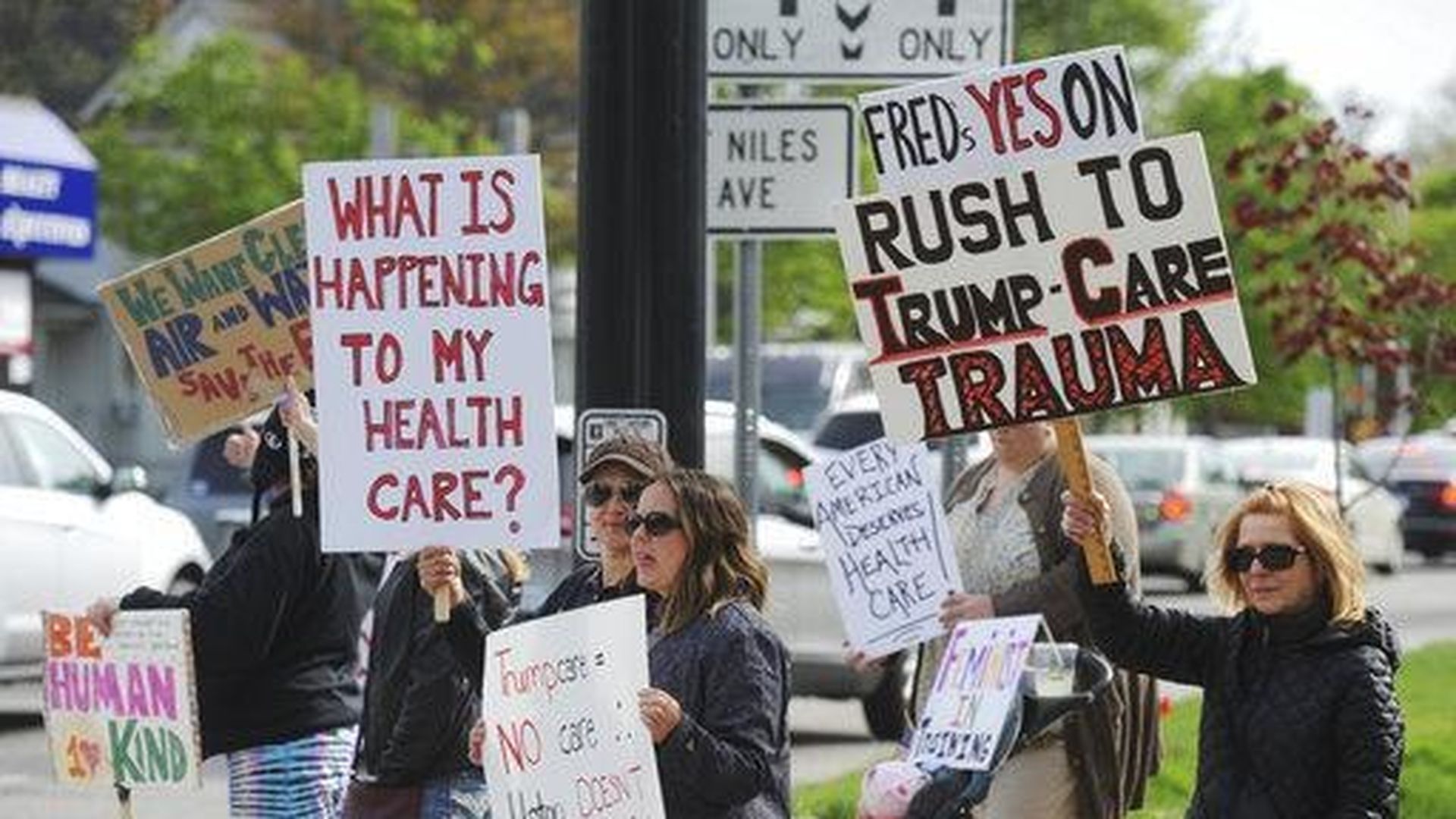 House Republicans — promising that they really, really have the votes this time — plan to rush into a health-reform vote this afternoon without waiting for a Congressional Budget Office estimate of how the updated bill will affect estimates of the costs and impact.
The WashPost warns: "[I]ndependent analysts remained skeptical that the new proposal would fully address the needs of at-risk patients who receive coverage guarantees under the Affordable Care Act."
With the House in recess next week, neither end of Pennsylvania Avenue wants to take a chance on delaying the vote, which would give President Trump his first big legislative victory. The Journal says a win would "redeem" Ryan, and The Times says it'd be "redemption for both Mr. Ryan and Mr. Trump."
But plunging ahead carries its own risks — short- and long-term:
Potential landmine 1: House GOP is voting on a bill not knowing how many people it covers and how much it costs. Maybe the numbers will come back fine — but imagine if they don't.
Potential landmine 2: Tampering with protections on preexisting conditions is the new "third rail of politics." Think about how easy it will be for Democrats to argue this bill erodes protections for your mom with cancer or friend with multiple sclerosis.
Potential landmine 3: Republicans are playing with a fire they have seen burn fatally before. Obama lost a Democratic-ruled Congress by jamming through a complex and easily demagogued health-care law during his first two years in office. Now Trump, with his own full control of Congess, is doing the same thing.
Sound smart: Do you really think Republicans would suffer in any way, shape or form from waiting a few days to read the bill and find out CBO's cost and coverage numbers?
Joe Scarborough calls it "political day-trading" by members: "This vote hangs around them forever. ... They can't just give this to someone to get a quick headline. ... They're cobbling a bill together. They had six, seven years to do this. They're not ready yet. ... They're going to jump off the cliff."
https://www.axios.com/newsletters/axios-am-fe694050-9a90-4b08-a424-d28f5ccdcc49.html?chunk=1#story1
2. Your media future foretold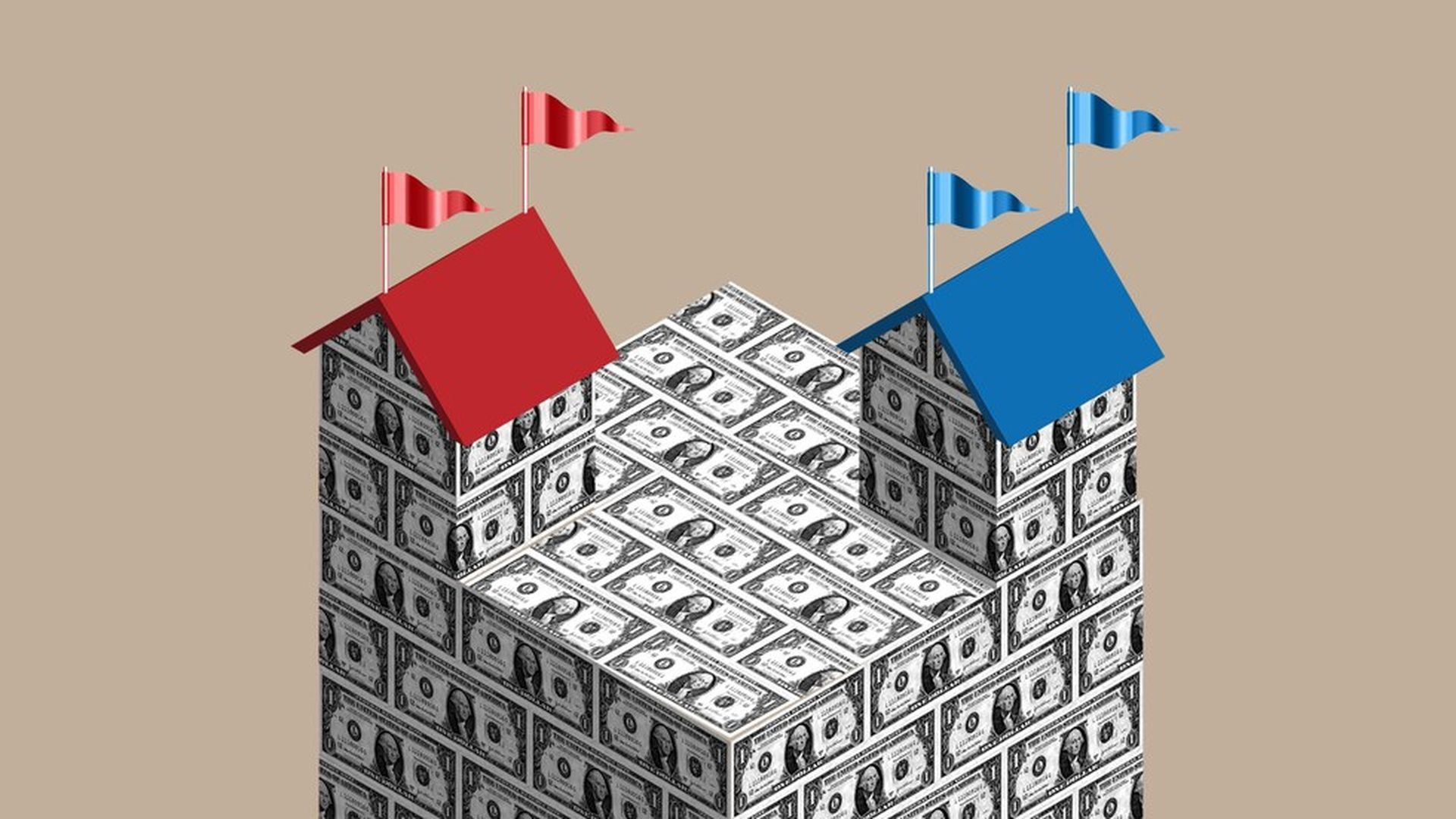 Three headlines capture massive media disruptions:
TV stocks take a beating. (Broadcasting & Cable)
Hulu launches streaming service as cord-cutting explodes. (Fortune)
Financial reports this week show that Google and Facebook (the two largest advertising companies in the digital ecosystem) are thriving despite controversies that have raised questions about how safe their platforms are for advertisers, Axios' Sara Fischer writes.
Why it matters: TV/cable are getting hit by the same wave of change that destroyed the newspaper industry as you knew it — with much higher stakes. This is going to get ugly.
Facebook backlash ... "USA TODAY spoke with users all over the country angered that Facebook had not done more to shield them from live-streamed sexual assaults, shootings and suicides," the newspaper reports in a front-pager by Jessica Guynn in San Francisco:
"A few even encouraged the Silicon Valley company to shut down its live-streaming product until it could assure the public that these videos would no longer be broadcast."
"Steps announced Wednesday by Facebook to hire 3,000 more people to review videos for graphic or inappropriate material and to make videos easier for users to flag as violent were a good start, they said."
Reality check: "In a conference call with financial analysts on Wednesday, Facebook CEO Mark Zuckerberg conceded: 'No matter how many people we have on the team, we are never going to be able to look at everything.'"
https://www.axios.com/newsletters/axios-am-fe694050-9a90-4b08-a424-d28f5ccdcc49.html?chunk=2#story2
3. Trumpology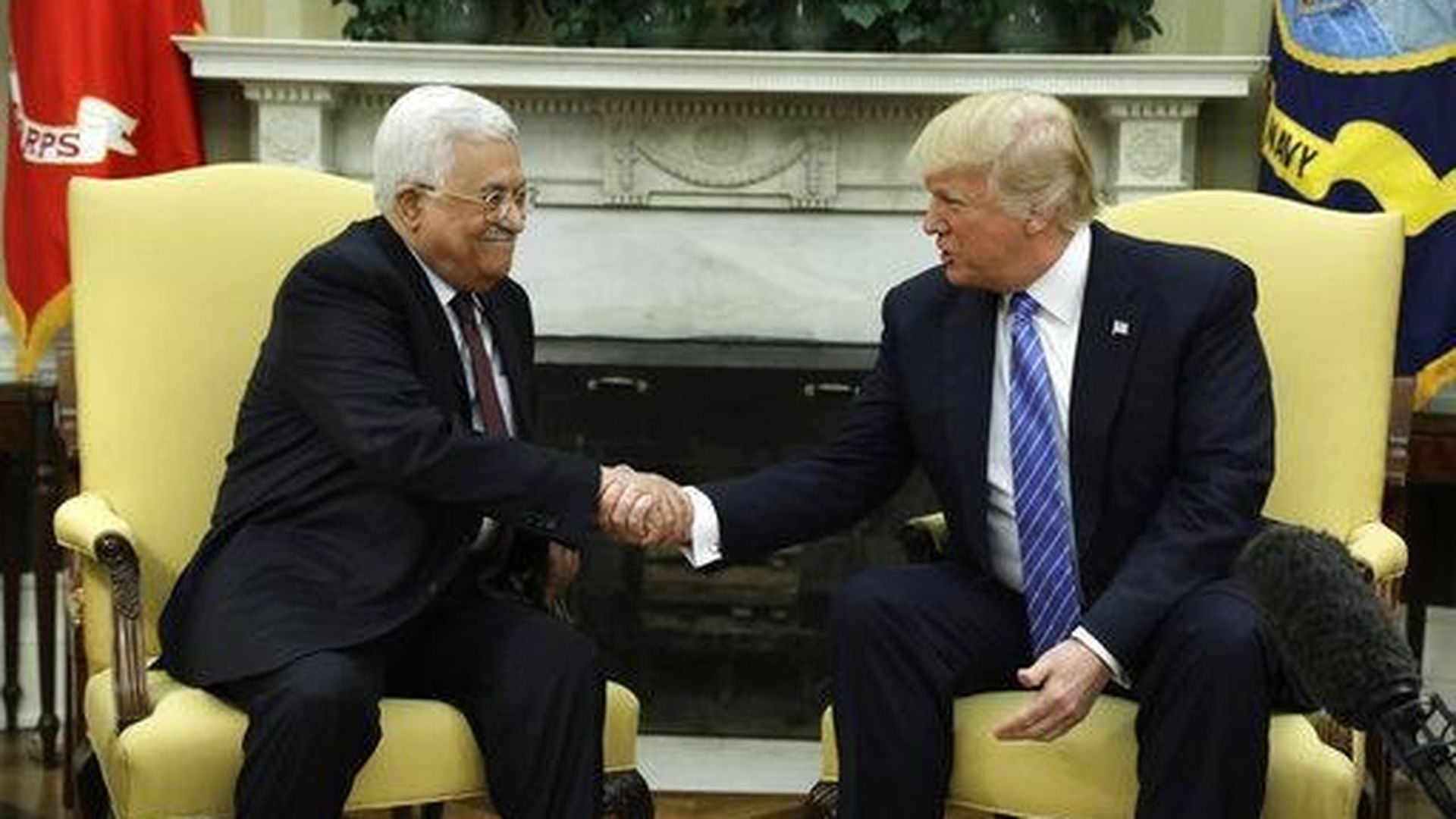 For the lovers ... Newmax's Chris Ruddy, Mar-a-Lago member and friend of the president, has a New York Times Op-Ed, "The Power of Trump's Bully Pulpit": "Through his message he has moved markets, steered global business in a better direction for American companies and defended American workers. He has also put bad actors, domestic and foreign, on notice. Even I do not agree with everything the president says or does. But we should be willing to recognize that, at times, he can be very effective. The Chinese have."
For the haters ... George Will's WashPost column, "Trump's dangerous disability," begins: "It is urgent for Americans to think and speak clearly about President Trump's inability to do either. This seems to be not a mere disinclination but a disability. It is not merely the result of intellectual sloth but of an untrained mind bereft of information and married to stratospheric self-confidence."
P.S. Quote of the month (already!) ... FBI Director James Comey, testifying on the Hill yesterday: "It makes me mildly nauseous to think that we might have had some impact on the election. But honestly, it wouldn't change the decision."
https://www.axios.com/newsletters/axios-am-fe694050-9a90-4b08-a424-d28f5ccdcc49.html?chunk=3#story3
4. One sad, astonishing stat
About 1 in 10 babies born in the main hospital in Huntington, W.Va., are born addicted to heroin or some other opiate. CNN, which highlighted this estimate in December, wrote: '[I]t is their shrill screams that caretakers find so heart-wrenching."
Think about that for a moment: If you walked through the maternity wing in this white, working-class town of 50,000 people, every tenth baby is going through withdrawal — many from drugs no one was even talking about a decade or so ago.
https://www.axios.com/newsletters/axios-am-fe694050-9a90-4b08-a424-d28f5ccdcc49.html?chunk=4#story4
Breaking
Big announcement about Prince Philip [husband of Queen Elizabeth II] from Buckingham Palace this morning, via the Beeb:
"The Duke of Edinburgh is retiring from royal duties this autumn ... The duke, who turns 96 next month, will attend previously scheduled engagements between now and August but will not accept new invitations. The Queen [who turned 91 last month] 'will continue to carry out a full programme of official engagements.'"
https://www.axios.com/newsletters/axios-am-fe694050-9a90-4b08-a424-d28f5ccdcc49.html?chunk=5#story5
5. Postgame: The risks of old tech
This is a good discussion text for anyone who leads an organization. Have your team read it as a thought-starter, then brainstorm about your own vulnerability.
The Wall Street Journal's "The Middle Seat" columnist, Scott McCartney, writes on the front page about "What Caused an Epic Meltdown at Delta" — those 4,000 canceled flights during spring break when weather crippled the Atlanta hub:
The basic cause: "telephone busy signals."
Say what? "Though puzzling in the age of instant digital communications, it turns out employees were dependent on dialing and circuits were overloaded. Computers told gate agents rescheduled crews would be there; customers waited at gates for hours. Then flights would end up canceled for lack of a crew member lost in Delta's communications fiasco, unaware of the assignment."
The consequence: "A recovery that should have taken the airline a day or two stretched into the following week."
https://www.axios.com/newsletters/axios-am-fe694050-9a90-4b08-a424-d28f5ccdcc49.html?chunk=6#story6
6. "Bitter personal drama"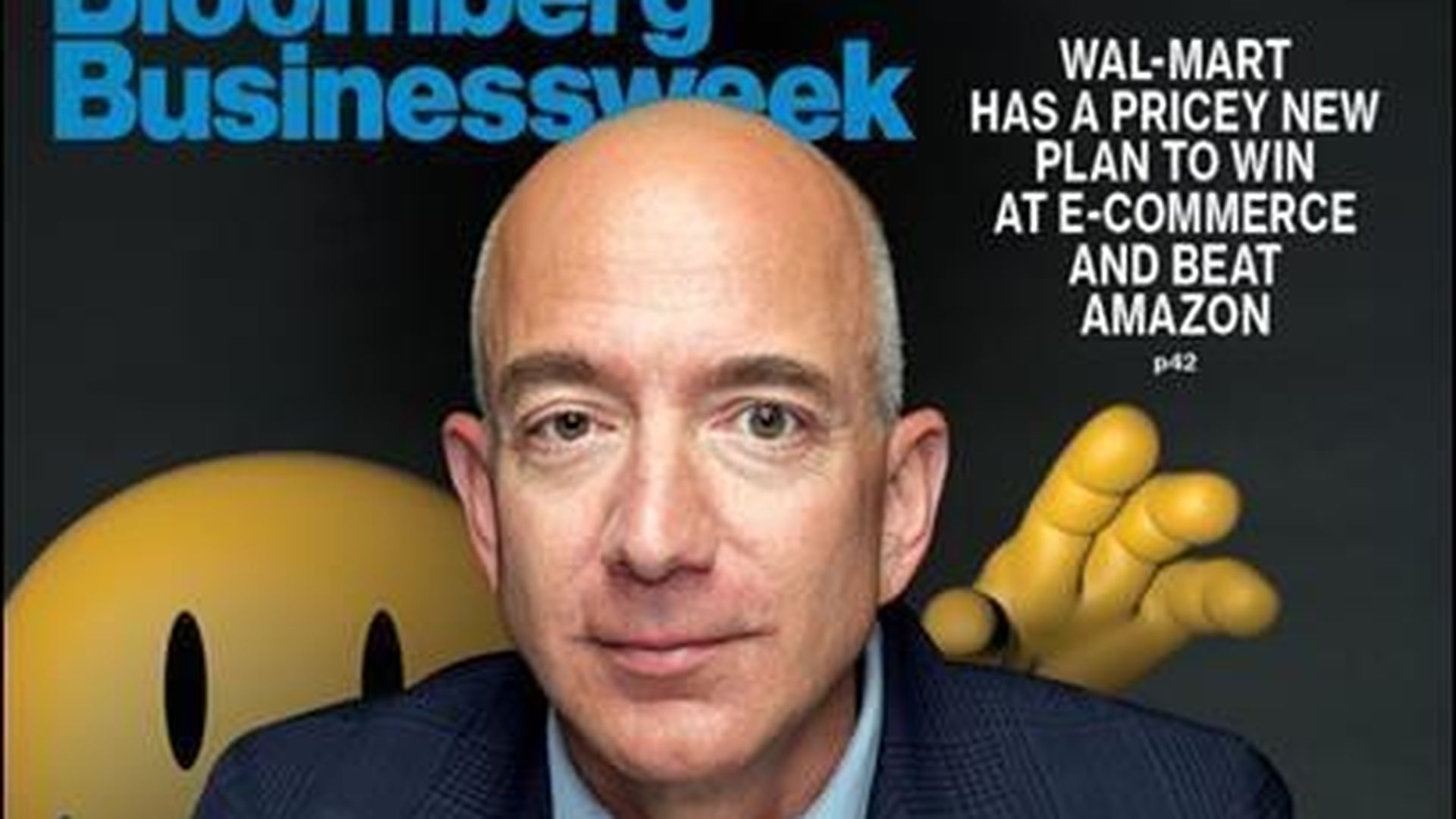 Bloomberg Businessweek cover, "Can Wal-Mart's Expensive New E-Commerce Operation Compete With Amazon? A recent acquisition spree including Jet.com gives the retail giant much-needed digital chops," by Brad Stone and Matthew Boyle:
Wal-Mart's biggest challenge is that its primary rival isn't standing still. An estimated half of all U.S. households subscribe to Amazon Prime ... And Amazon currently takes more than $5 out of every $10 spent buying stuff online ...
In Seattle, Amazon is also trying out concepts, such as the Amazon Go store, where customers are automatically charged for items they pick from shelves without going through a checkout line.
https://www.axios.com/newsletters/axios-am-fe694050-9a90-4b08-a424-d28f5ccdcc49.html?chunk=7#story7
7. Immelt: a new kind of globalization
GE chairman and CEO Jeff Immelt will make a strong case against protectionism in remarks at Georgetown this afternoon, and will acknowledge that global companies like his (operates in 180 countries) have made past mistakes by being too elite:
"When companies believe that globalization is only about outsourcing … and when our country is less competitive … and when our government does not engage … and when companies reduce investing … workers suffer. That is what happened in the U.S. Because of these factors, we are not going back to a pure free trade world."
"The role of government is to level the playing field. In this regard, President Trump is right. We don't have the same opportunity to sell our products globally that is enjoyed by those selling in the U.S. or our global competitors. Trade can be made more fair, and American workers would benefit."
Why it matters: This is an executive who has called out Trump on issues including climate and the travel ban, but is working to navigate the new Washington.
The formula: Concede some points, but don't surrender.
https://www.axios.com/newsletters/axios-am-fe694050-9a90-4b08-a424-d28f5ccdcc49.html?chunk=8#story8
8. "A hyperconnected planet with hyperinfectious diseases"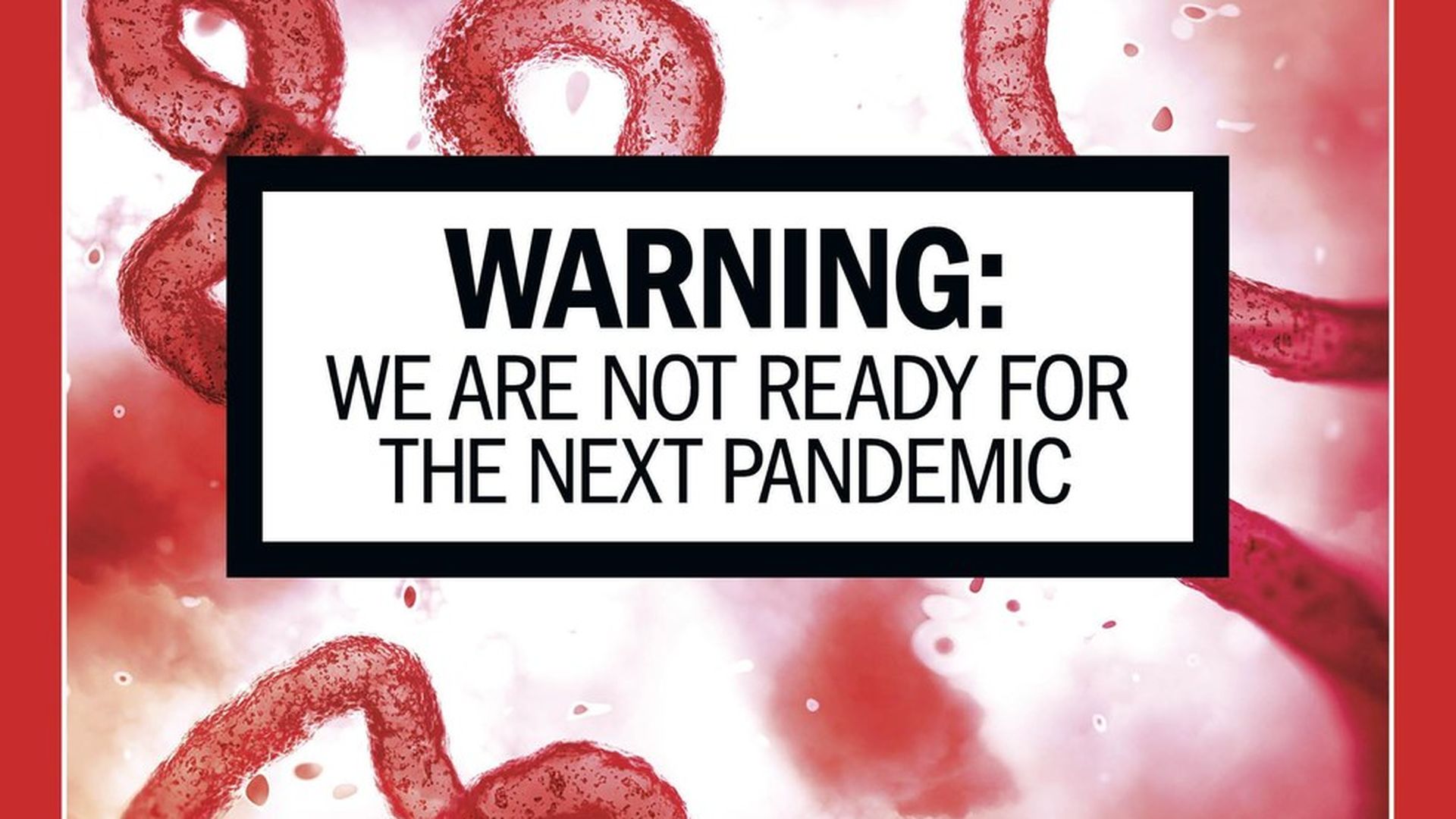 Bryan Walsh in TIME's cover story (posting soon): "From Ebola in West Africa to Zika in South America to MERS in the Middle East, dangerous outbreaks are on the rise around the world. The number of new diseases per decade has increased nearly fourfold over the past 60 years, and since 1980, the number of outbreaks per year has more than tripled."
Why it matters: "The consequences of a major pan­demic would be world-changing. ... Because people no longer stay in one place ... neither do diseases. An infection in all but the most remote corner of the world can make its way to a major city in a day or less."
https://www.axios.com/newsletters/axios-am-fe694050-9a90-4b08-a424-d28f5ccdcc49.html?chunk=9#story9
9. Colbert: "I don't regret that"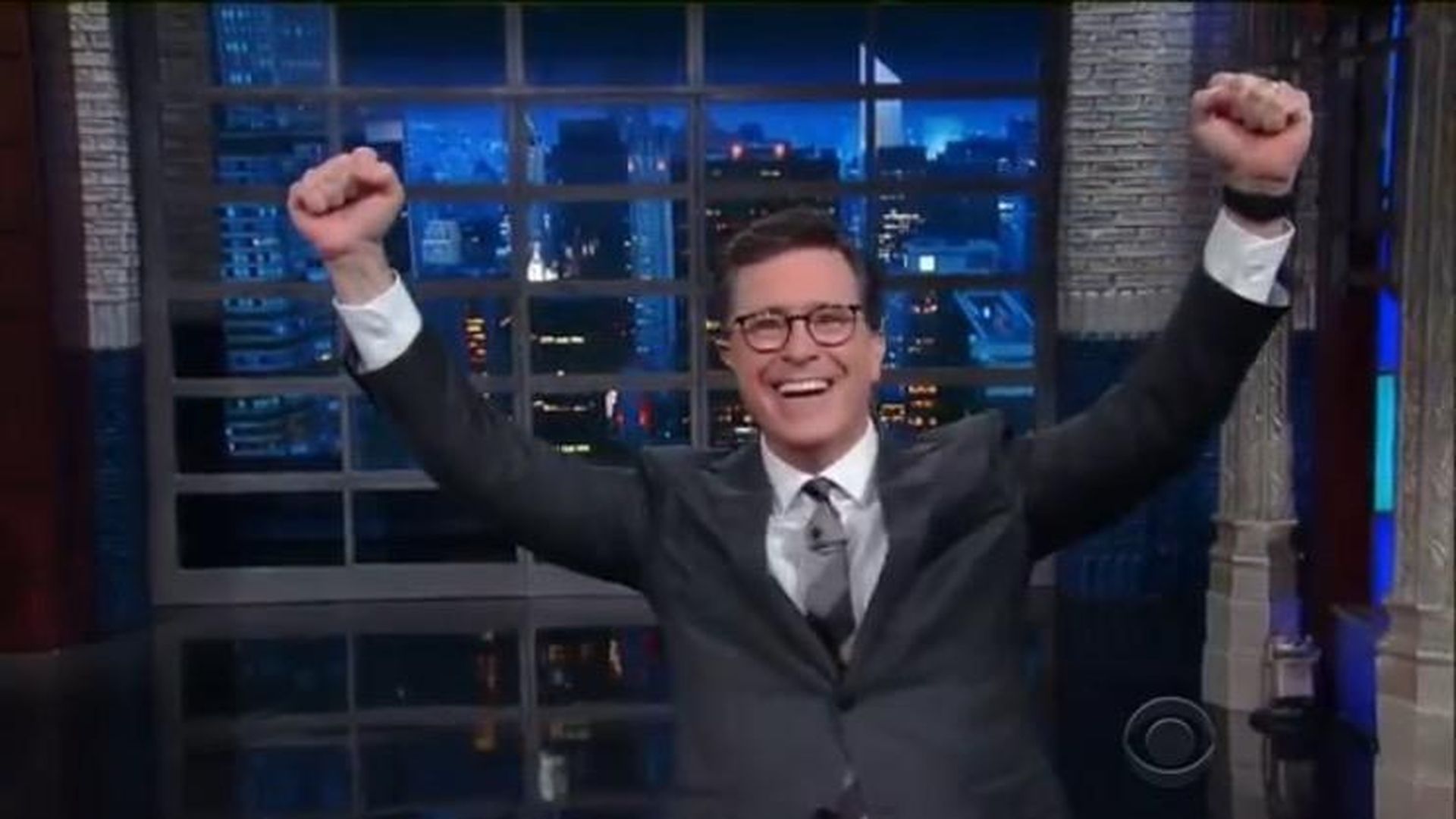 Stephen Colbert last night, on his anti-Trump rant that led to the #FireColbert backlash:
"[I]f you saw my monologue on Monday, you know that I was a little upset with Donald Trump for insulting a friend of mine [John Dickerson]. So, at the end of that monologue, I had a few choice insults for the president in return. I don't regret that. [Cheers and applause.] I believe he can take care of himself. I have jokes, he has the launch codes so it's a fair fight.
"So while I would do it again, I would change a few words that were cruder than they needed to be."
https://www.axios.com/newsletters/axios-am-fe694050-9a90-4b08-a424-d28f5ccdcc49.html?chunk=10#story10
10. 1 fun thing: Car confusion
I don't think this is the problem ... "Tesla's loss grows as Elon Musk claims customers are confused by Model 3 name," by L.A. Times' Russ Mitchell in San Francisco:
"Elon Musk used his quarterly conference call with analysts ... to talk about his ... S3X problem. ... Tesla now sells two luxury cars, the Model S and the Model X. Musk wanted to call the midmarket car the Model E. S-E-X. Get it? And there's the upcoming Model Y."
"But Ford laid previous claim to the designation, and Musk went with 3, which sort of looks like a backward E."
Musk: "The joke's on me because it's caused confusion in the marketplace ... We're going to be a broken record on this front because we have to clear up an error."
The bottom line: "Tesla says Model S orders have taken a hit because some customers think the 3 is a new version of the S, so they're holding off on Model S purchases. 'It's a bit confusing because one is a letter and one is a number.'"