September 24, 2022
Hello, Saturday. Smart Brevity™ count: 983 words ... 4 mins. Edited by Donica Phifer.
🌀 Breaking: Tropical Storm Ian, which formed late last night over the southern Caribbean, could become a major hurricane — crossing Cuba, then turning toward Florida by midweek. Get the latest.
🗳️ 1 big thing: Fall airwave stench
Fall TV ads in Senate, House and governor's races are breaking records for negativity, according to a data-rich report by the Wesleyan Media Project.
Much of the increase in negativity is driven by pro-Republican ads, according to the project, based at Wesleyan University in Middletown, Conn.
Why it matters: A June poll by Gallup found that 2% of Americans had a "great deal" of confidence in Congress. This fall's toxic blast can only deepen public cynicism about Washington.
🖼️ The big picture: Abortion remains a top topic for Democratic ads, while Republicans largely avoid the subject.
🔬 Zoom in: Eight Senate contests are seeing 60% pure attacks on TV, with Alaska and Arizona at the top of the list (76%), Wesleyan found.
The others are (in descending order) North Carolina, Nevada, Georgia, New Hampshire, Wisconsin and Ohio.
Over 70% of ads in the gubernatorial races in Georgia and Wisconsin are attack ads.
Las Vegas, Milwaukee and Phoenix were the markets with the largest volume of House, Senate and gubernatorial ads.
Go deeper: Read the report, with state-by-state, market-by-market and even candidate-by-candidate breakdowns.
2. 💰 Rise of the six-figure salary
If you worked full-time for all of 2021, there's a 24% chance you made more than $100,000, Axios' Felix Salmon writes from Census Bureau data.
For men, it's 25%. For Asian men, it's 41%.
The number for Black women is just 11%.
Our thought bubble, from Axios' Emily Peck: The gap between men and women is eye-popping but not surprising.
Men begin out-earning women early in their careers. The gap widens when motherhood arrives.
Wage gaps are the widest for the highest earners. Professionals who need more flexibility — often mothers — wind up earning less money.
3. Two big stock-market debuts
Very few companies would voluntarily try to go public in the current stock market. Yet two multi-billion-dollar household names, both of them profitable, are planning blockbuster IPOs by year's end, Felix Salmon writes in Axios Markets Weekend.
Why it matters: The IPO market has flipped from favoring sellers to favoring buyers. In the case of Porsche and Instacart, that could be exactly what the companies' major shareholders are looking for.
🧠 What's happening: Normally, companies going public try to raise as much money as possible at as high a valuation as possible. But that's not what's going on in these cases.
Instacart (IPO not set, but likely in Q4) is profitable, has already raised money at a $39 billion valuation in 2021, and has $1 billion of cash in the bank. It's likely to raise very little money in its IPO, and most of the shares for sale will be coming from employees.
Porsche AG (begins trading Thursday) is a subsidiary of Volkswagen — which in turn is controlled by Porsche SE, the investment vehicle of the Porsche-Piëch family. The family is buying, rather than selling, a 25% voting stake in its eponymous marque, and is borrowing to do so. They couldn't afford a much higher price.
The bottom line: Porsche could be one of the year's biggest stock debuts and one of the largest ever in Europe.
4. 🔭 Our sharpening Neptune-vision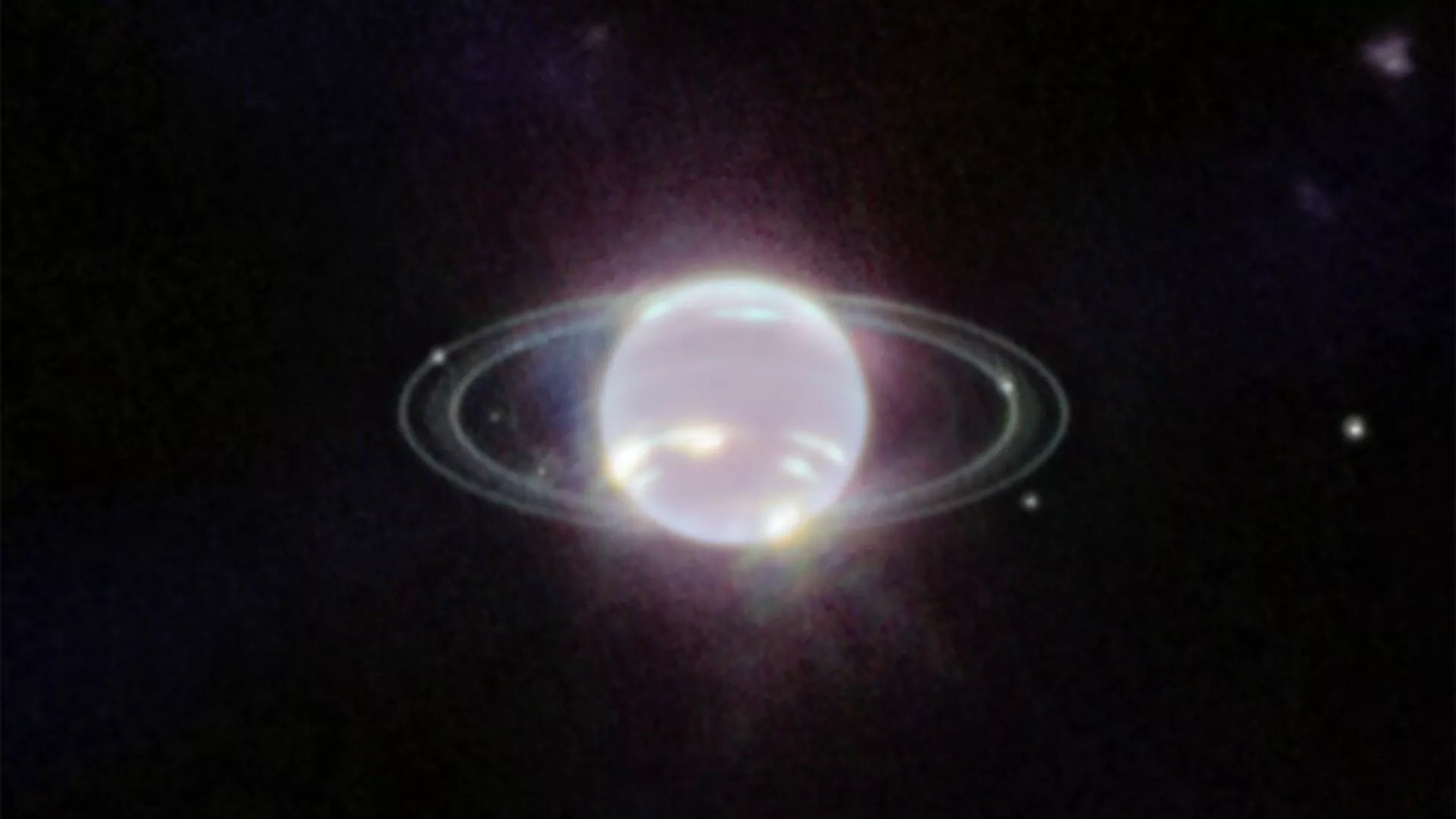 Neptune is glowing in a new light in photos taken of the distant planet by the James Webb Space Telescope, Axios' Miriam Kramer writes.
Why it matters: Webb is designed to catch glimpses of some of the first galaxies to form after the Big Bang. But it could also be transformative for scientists hoping to understand more about the inner-workings of our solar system.
Webb captured Neptune and its moons in infrared light, revealing the planet's rings in amazing detail.
"In addition to several bright narrow rings, the Webb images clearly show Neptune's fainter dust bands," NASA said. "Webb's extremely stable and precise image quality also permits these very faint rings to be detected so close to Neptune."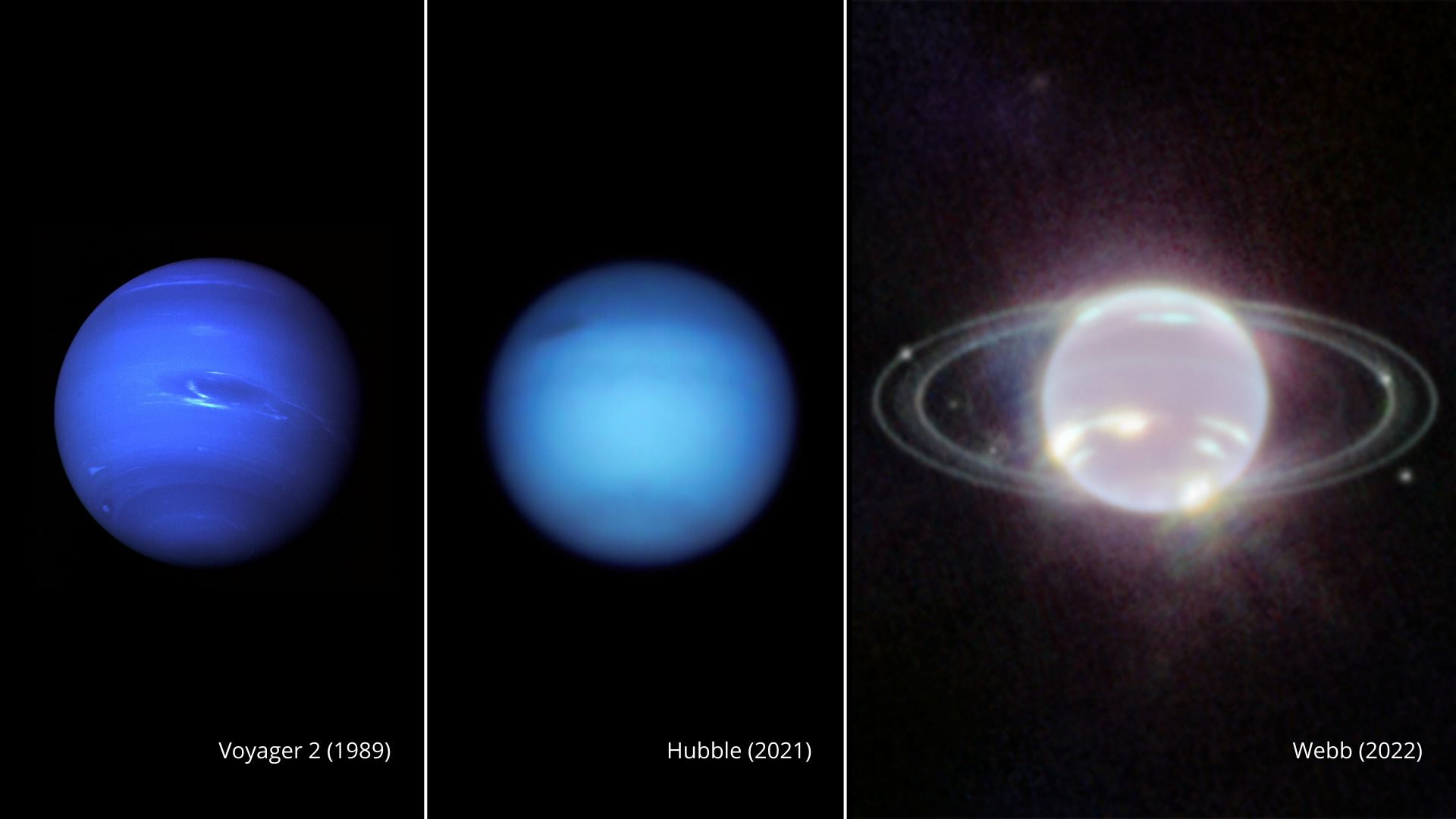 Neptune through our eyes, narrated by NASA:
The image at left — taken by Voyager 2 in 1989 — shows a dark blue sphere, with pale blue or white streaks.
The middle one — taken by Hubble in 2021 — shows a fuzzier, paler blue sphere.
At right, taken by Webb this year: Neptune is seen in near-infrared light — resembling a pearl with thin, concentric oval rings.
🚀 Get Axios Space, Miriam Kramer's weekly newsletter ... Share this story.
5. ⚾ Fourth player to 700 homers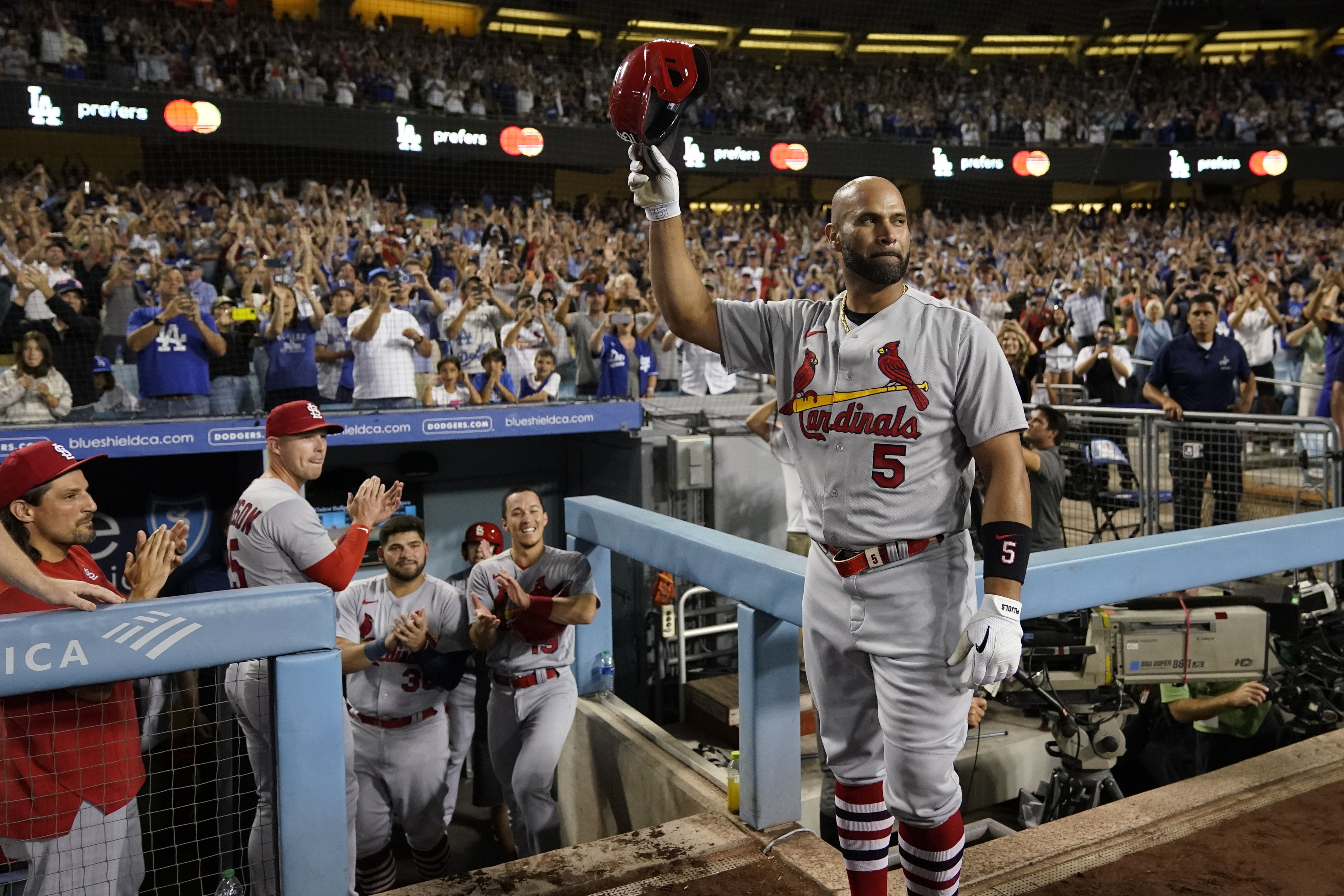 St. Louis Cardinals designated hitter Albert Pujols joined the exclusive 700 Home Run Club with a three-run shot in the fourth inning at Dodger Stadium last night.
The 42-year-old Pujols, who has said this is the final season of his 22-year career, joined Barry Bonds (762 homers), Hank Aaron (755) and Babe Ruth (714) as the only sluggers in AL/NL history to hit at least 700 long balls, MLB.com reports.
Alex Rodriguez had 696.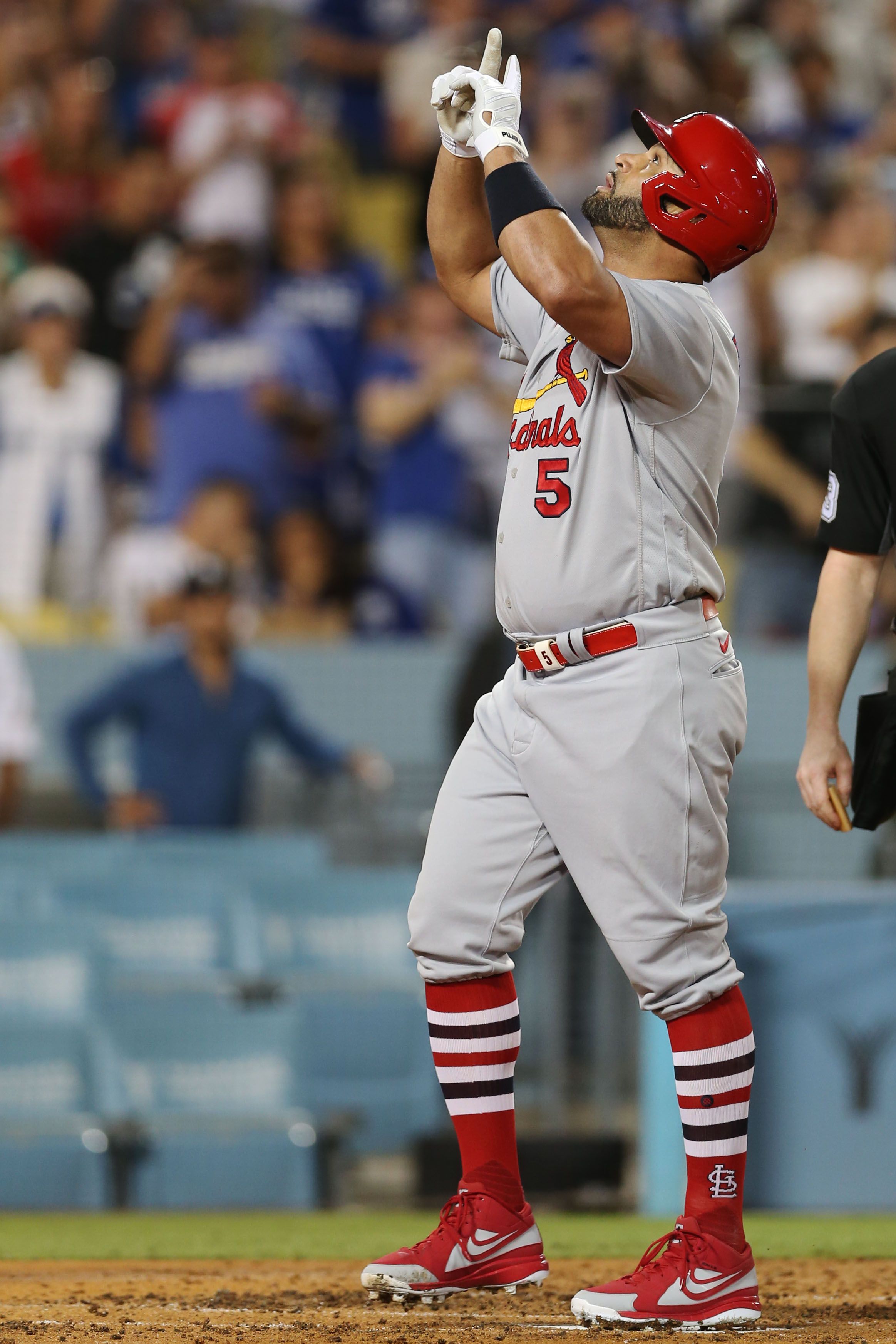 Above: Pujols after hitting No. 699 in the third inning.
"What a special night," Pujols said. "To have my family in town and to do it at Dodger Stadium. ... [M]y joy ... of this game came back last year [while playing for the Dodgers] ... I'm just thanking God."
Cards routed Dodgers, 11-0.
6. Parting shots: Elton John @ White House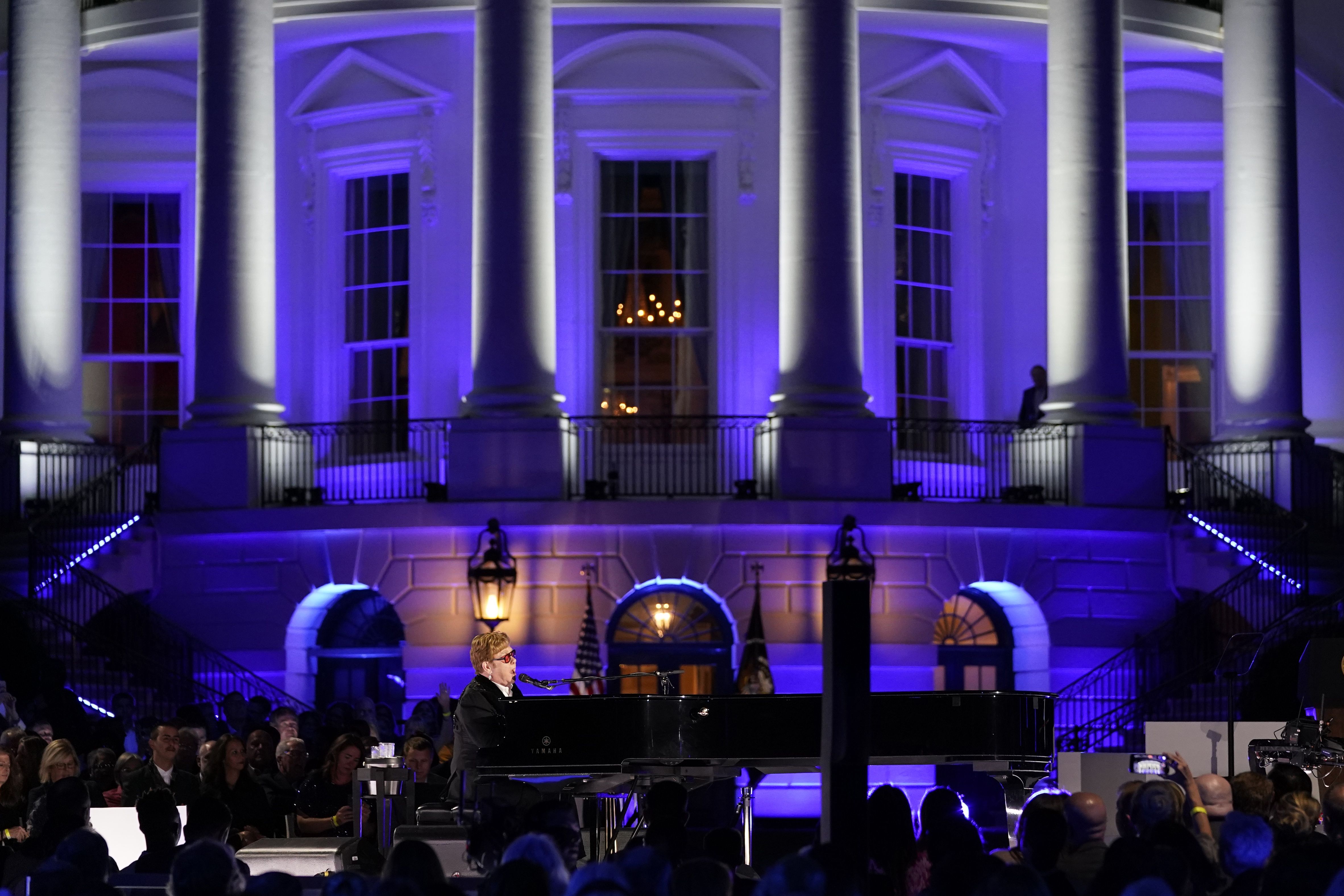 Sir Elton John, 75, performing on the South Lawn last night, called the show "A Night When Hope and History Rhyme" — a reference to a poem by Irishman Seamus Heaney that President Biden has quoted.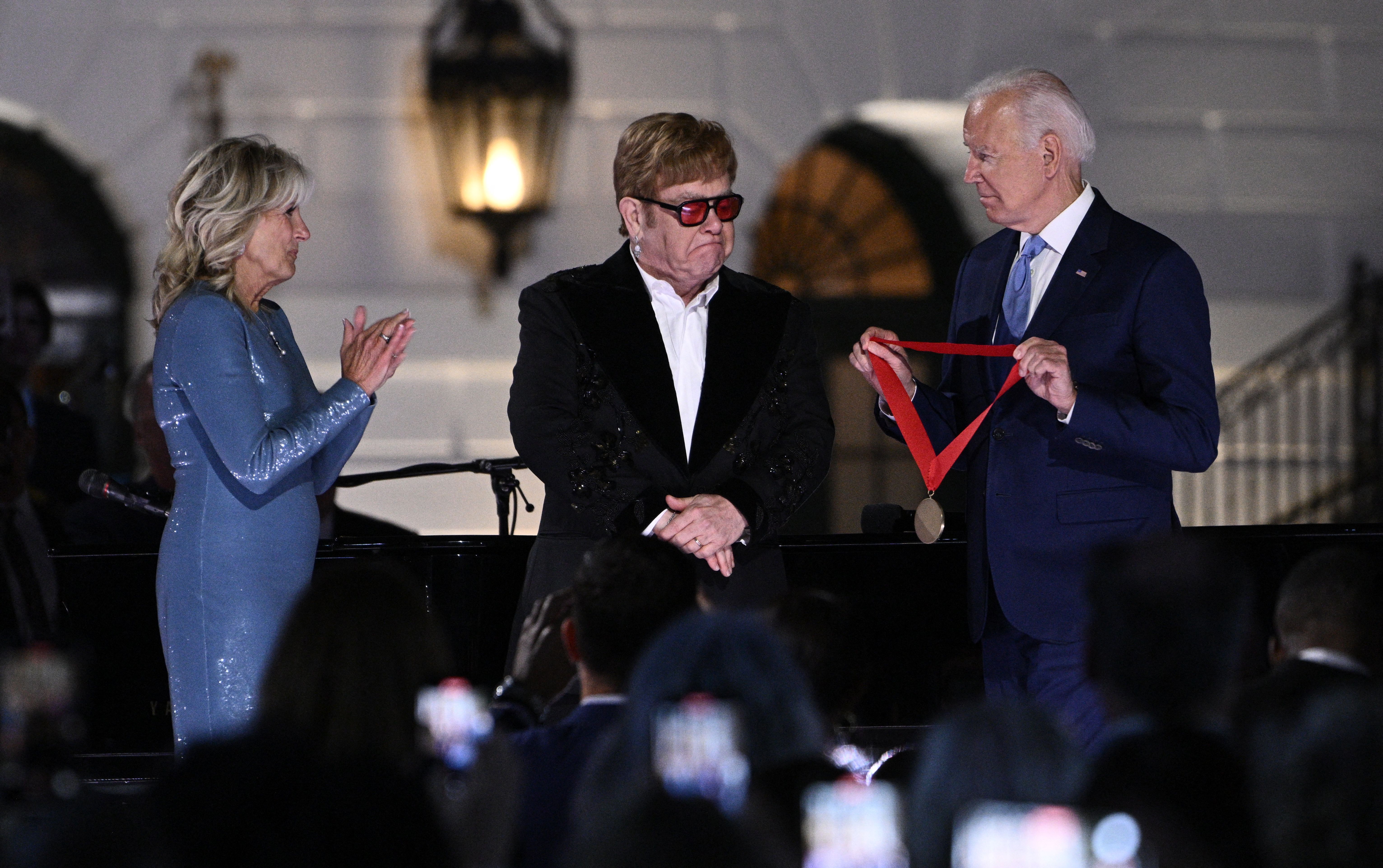 The Rocket Man had tears in his eyes as President Biden surprised him with the National Humanities Medal.
"I'm never flabbergasted. But I'm flabbergasted," John said.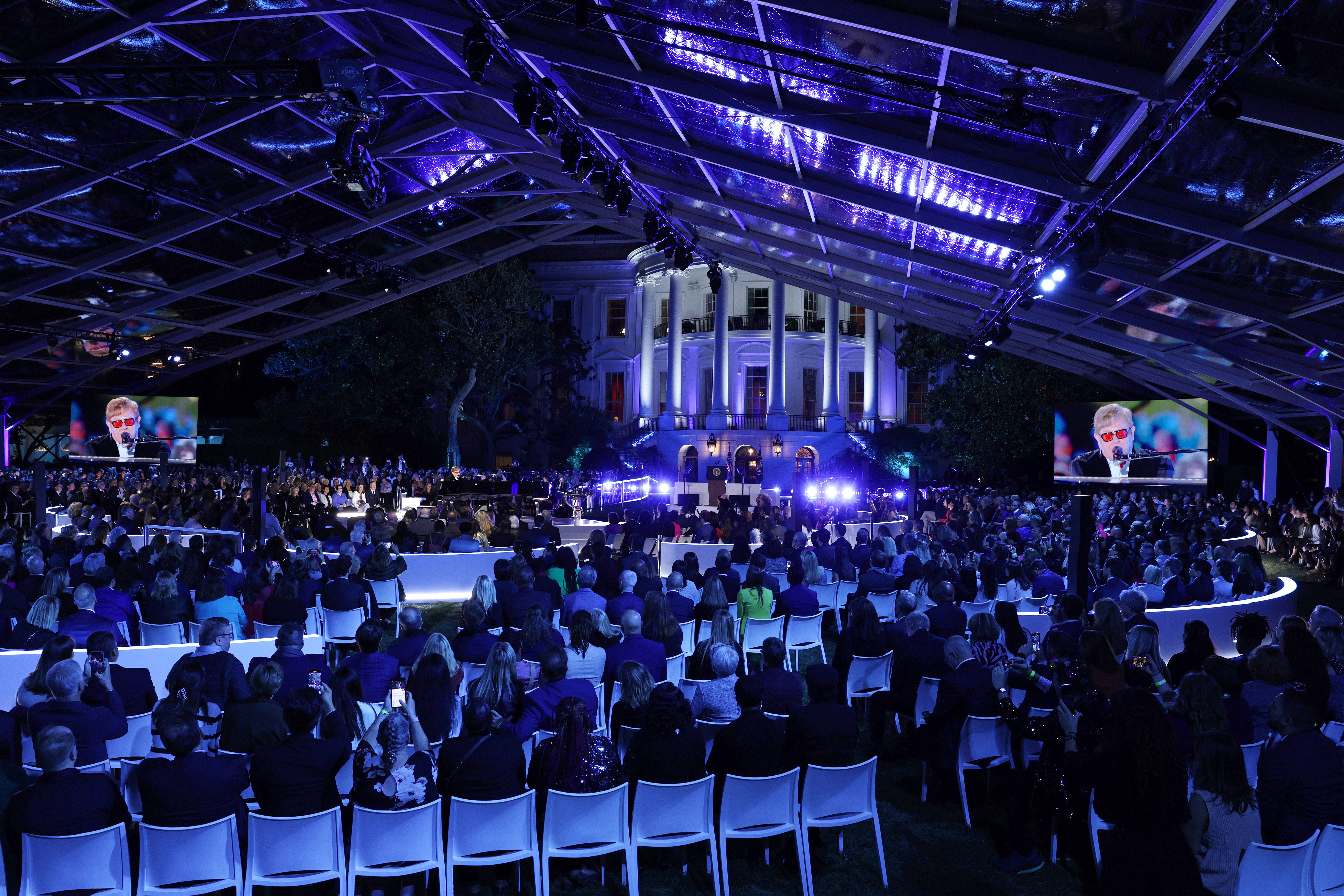 The event was paid for by A+E Networks and the History Channel.
📬 Invite your friends to sign up to get their daily essentials — Axios AM, PM and Finish Line.