September 12, 2021
Good Sunday morning. Smart Brevity™ count: 1,188 words ... 4½ minutes. Edited by Fadel Allassan.
🚲 Today at 11 a.m. ET, Axios' Dan Primack leads a Peloton fundraising ride benefiting Tuesday's Children, which helps families affected by terrorism, military conflict and mass violence. Riders click here ... Or please donate here.
1 big thing: Dictators destroy media
The press is being pulverized in places where democracy is deteriorating, leaving little visibility into how regions are transforming under authoritarian rule, Axios Media Trends author Sara Fischer writes.
Why it matters: A new wave of geopolitical tension is exacerbating the toll on press freedom, already diminished by the pandemic.
In Hong Kong, Next Digital, a media company founded by press tycoon Jimmy Lai, says it's shutting down in response to new Chinese Communist Party restrictions that made it impossible to operate.
"The climate of fear is unbelievable," said Mark Clifford, an independent non-executive director of Next Digital's board.
Several countries have seen press freedoms fall apart in response to rising authoritarian regimes:
Afghanistan, where a vibrant press scene grew over the past two decades, has been radically transformed by the Taliban takeover. Journalists are being beaten and arrested.
Belarus: President Alexandre Lukashenko's war on journalism made global headlines in May after leaders in his Eastern European country used a supposed bomb threat to ground a Ryanair flight carrying an opposition journalist.
Amid the pandemic, several countries including — Hungary and the Philippines — introduced "fake news" laws to curb the spread of social media.
Such efforts, experts argue, aren't meant to quell misinformation but to empower autocrats.
Leaders of Turkey and Brazil introduced similar measures.
What's next: The world will be looking to the Biden administration to set the tone for what the U.S. deems acceptable.
Press activists condemned the administration's decision earlier this year not to sanction Saudi Crown Prince Mohammed bin Salman for the murder of journalist and American citizen Jamal Khashoggi.
2. George W. Bush warns of homegrown extremists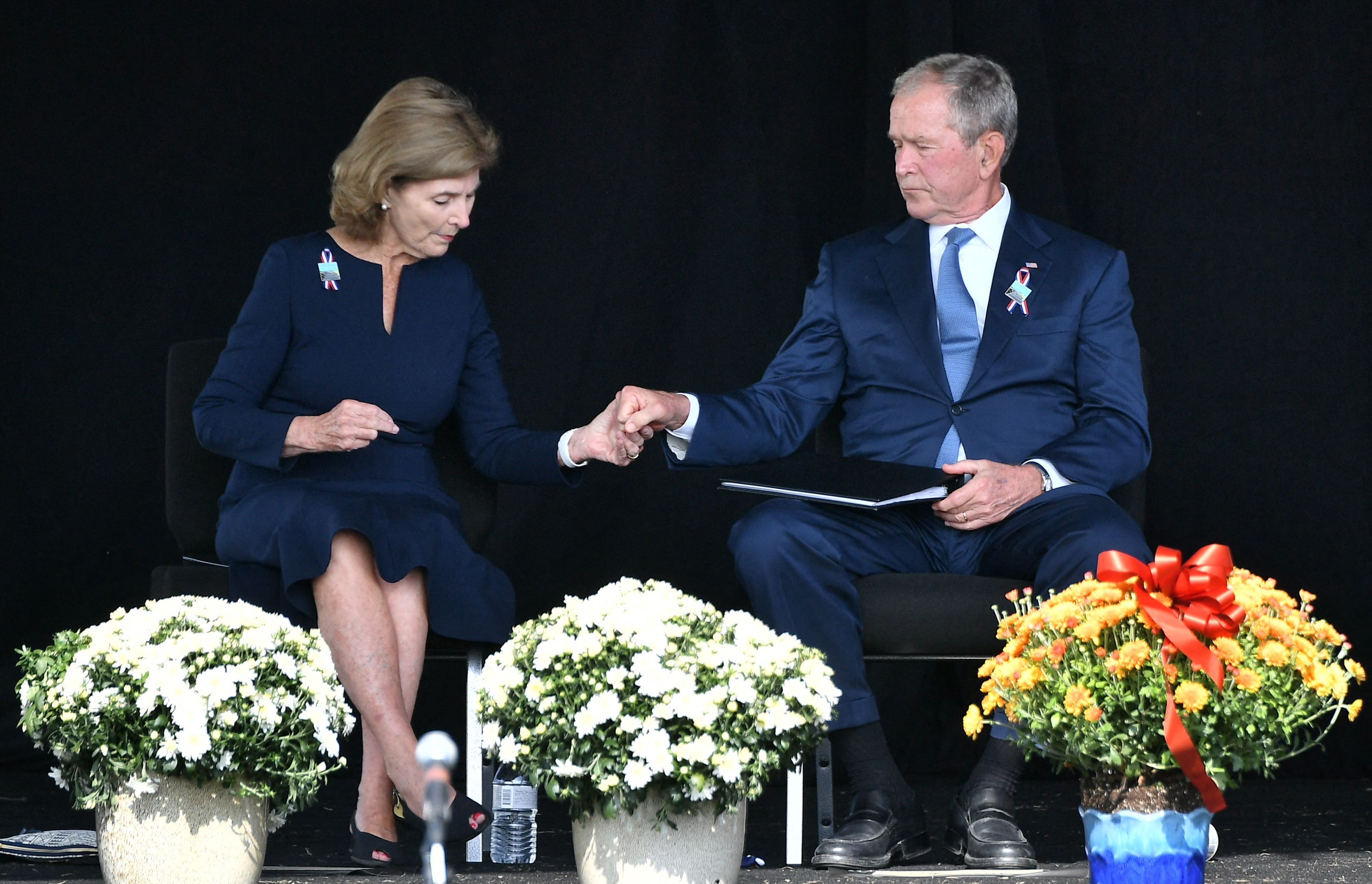 In the most memorable remarks on the day America commemorated 20 years since 9/11, former President George W. Bush alluded to the Capitol rioters as he spoke at the Flight 93 Memorial in Shanksville, Pa.:
[W]e have seen growing evidence that the dangers to our country can come not only across borders, but from violence that gathers within. There is little cultural overlap between violent extremists abroad and violent extremists at home.
But in their disdain for pluralism, in their disregard for human life, in their determination to defile national symbols, they are children of the same foul spirit. And it is our continuing duty to confront them.
Harkening back to the months after 9/11, Bush added (to applause):
"At a time when nativism could have stirred hatred and violence against people perceived as outsiders, I saw Americans reaffirm their welcome of immigrants and refugees. That is the nation I know."
3. Taliban twists knife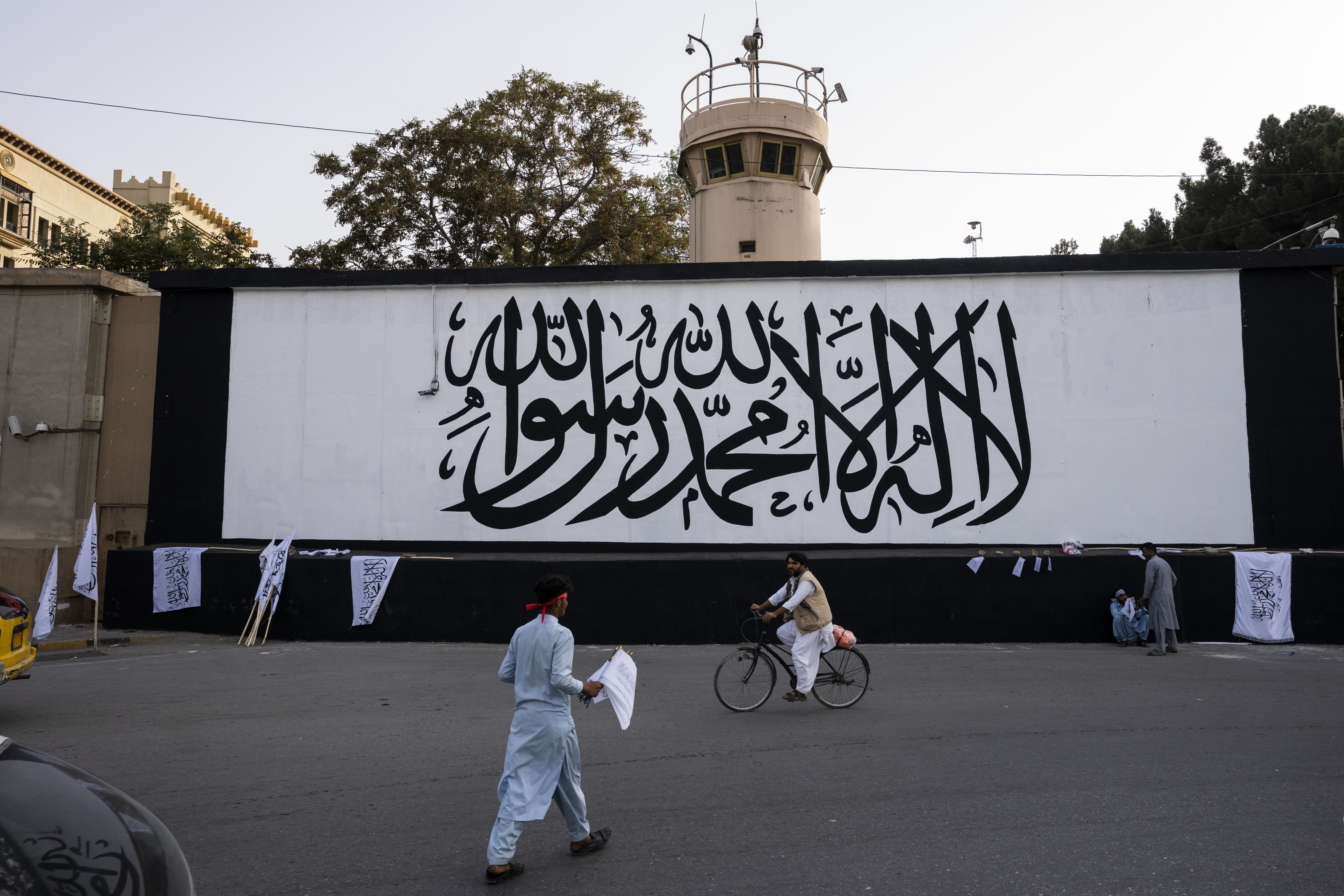 The Taliban raised their flag over the Afghan presidential palace yesterday, a spokesman said, as the world marked the 20th anniversary of the Sept. 11 attacks, AP's Kathy Gannon reports from Kabul.
The banner was hoisted by Mullah Mohammad Hassan Akhund, the interim government's prime minister, said Ahmadullah Muttaqi, multimedia branch chief of the Taliban cultural commission.
The all-male, all-Taliban government, announced Tuesday, is stacked with veterans of the hardline rule of the 1990s.
🔒 P.S. Abimael Guzmán — leader of the Shining Path rebels, who nearly toppled the Peruvian state in a bloody Maoist revolution — died in prison in Lima at 86 ... 29 years after he was captured. (Reuters)
4. 📷 Two moments ... 20 years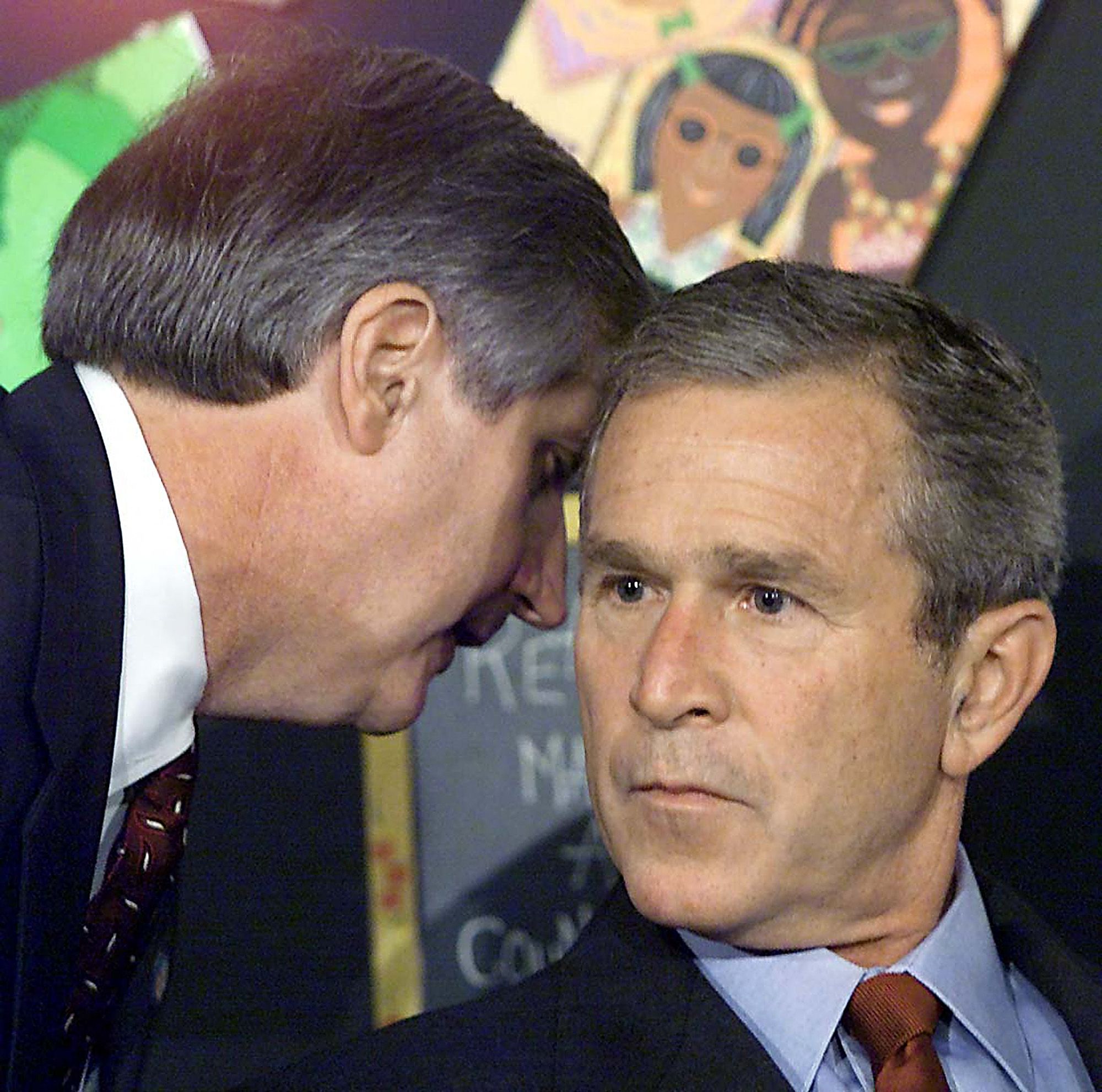 9/11/2001 ... Chief of Staff Andy Card informs President Bush — reading to second-graders in Sarasota, Fla. — that "America is under attack."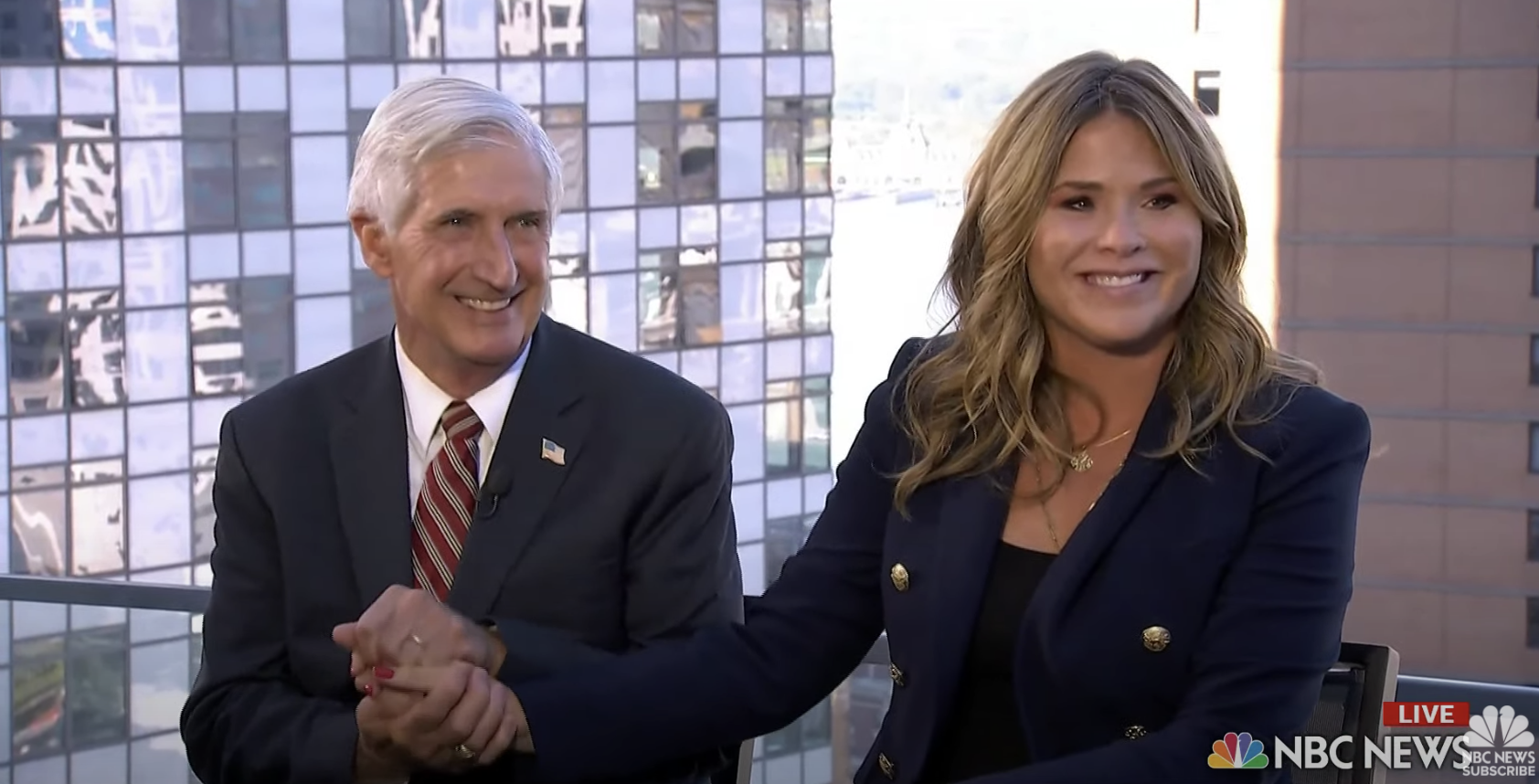 9/11/2021 ... Andy Card, 74, joins Jenna Bush Hager, 39 — former President Bush's younger daughter, now co-host of NBC's "TODAY with Hoda and Jenna" — in Lower Manhattan yesterday for the network's live coverage.
Andy Card: "I wanted to be efficient with my words. I didn't want to have a conversation ... I presumed a boom microphone would be over him. I just whispered in his ear: 'A second plane hit the second tower. America is under attack.'"
Jenna Bush Hager: "I was a 19-year-old college kid and Andy had to sometimes reprimand me for some bad behavior. And I just showed him a picture of my little boy, and I said: 'Can you believe it? It feels like just yesterday I was the little kid who was getting into trouble.'"
5. 🗞️ 20 years ago this morning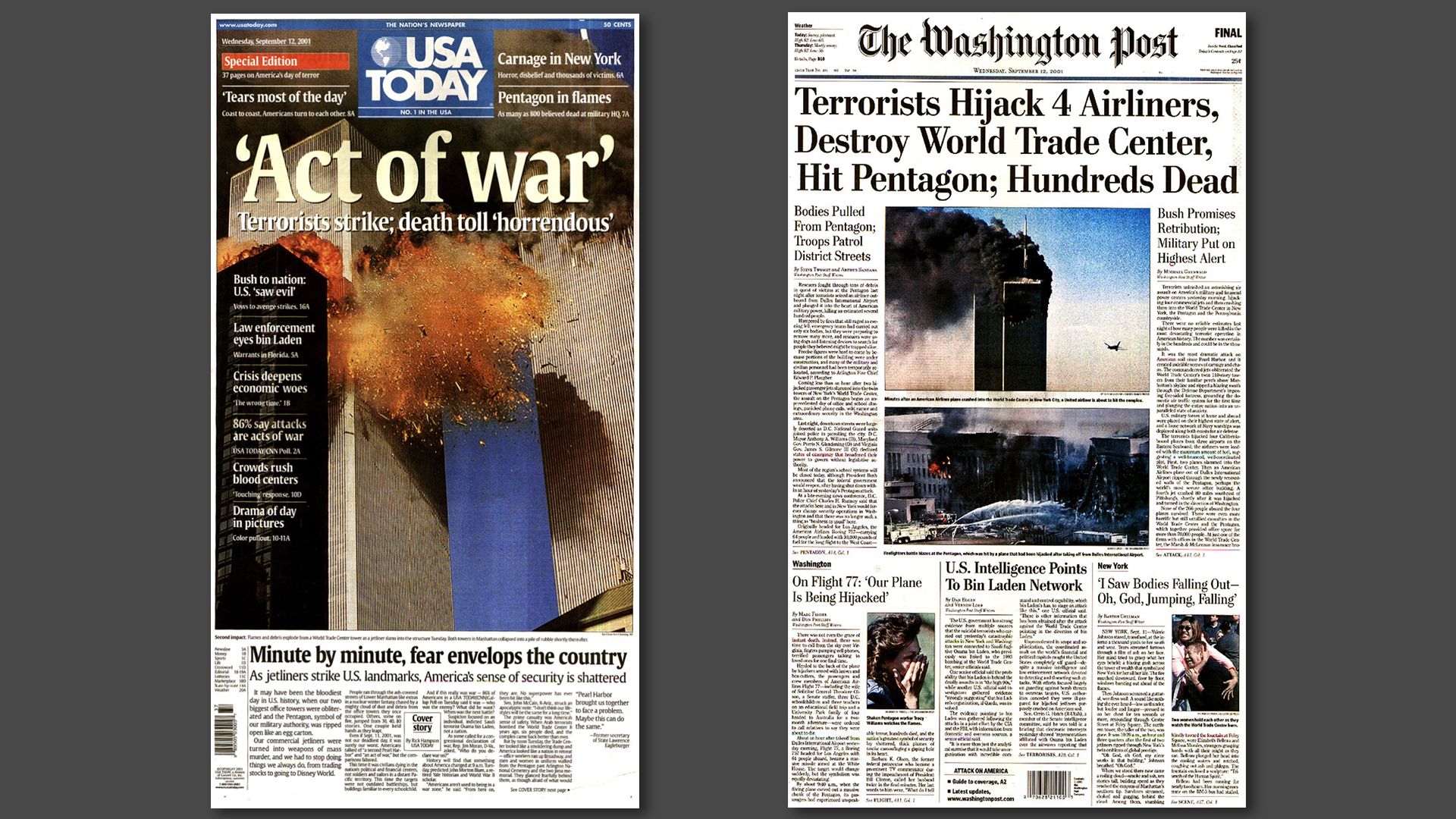 An 18-page special section in today's New York Times includes, in tiny black type, the names of all 2,977 victims at the three 9/11 attack sites.
6. Top talker: Blazing SigAlerts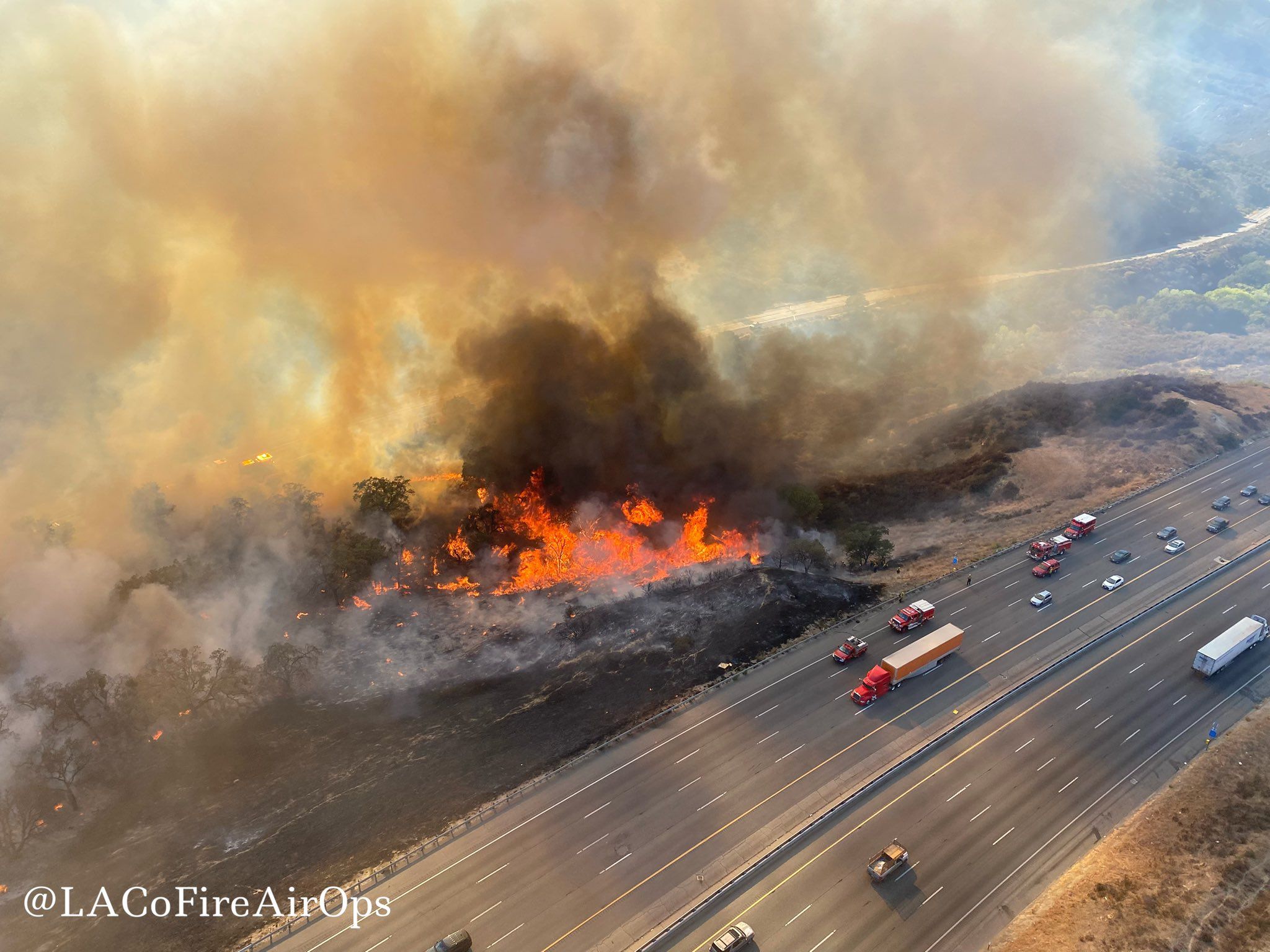 A wildfire — the Route fire, "0% contained" — broke out yesterday in mountainous terrain near Castaic in L.A. County, prompting the CHP to close a stretch of the 5 Freeway in both directions. (L.A. Times)
7. 👢 Salesforce offers to relocate workers with abortion concerns
After Texas' anti-abortion law was upheld, Salesforce told employees via Slack that the company will help them relocate "if you have concerns about access to reproductive healthcare in your state," CNBC reports.
The company didn't take a stand on the Texas law, but said: "We recognize and respect that we all have deeply held and different perspectives. ... [W]e stand with all of our women at Salesforce and everywhere."
🍊 With Florida legislators planning to take up new abortion restrictions in January, Gov. Ron DeSantis is backing away from the Texas law's bounty provision, BuzzFeed's Kadia Goba reports.
DeSantis press secretary Christina Pushaw told BuzzFeed: "Gov. DeSantis doesn't want to turn private citizens against each other."
8. 🎸 The Boss: " I remember you, my friend"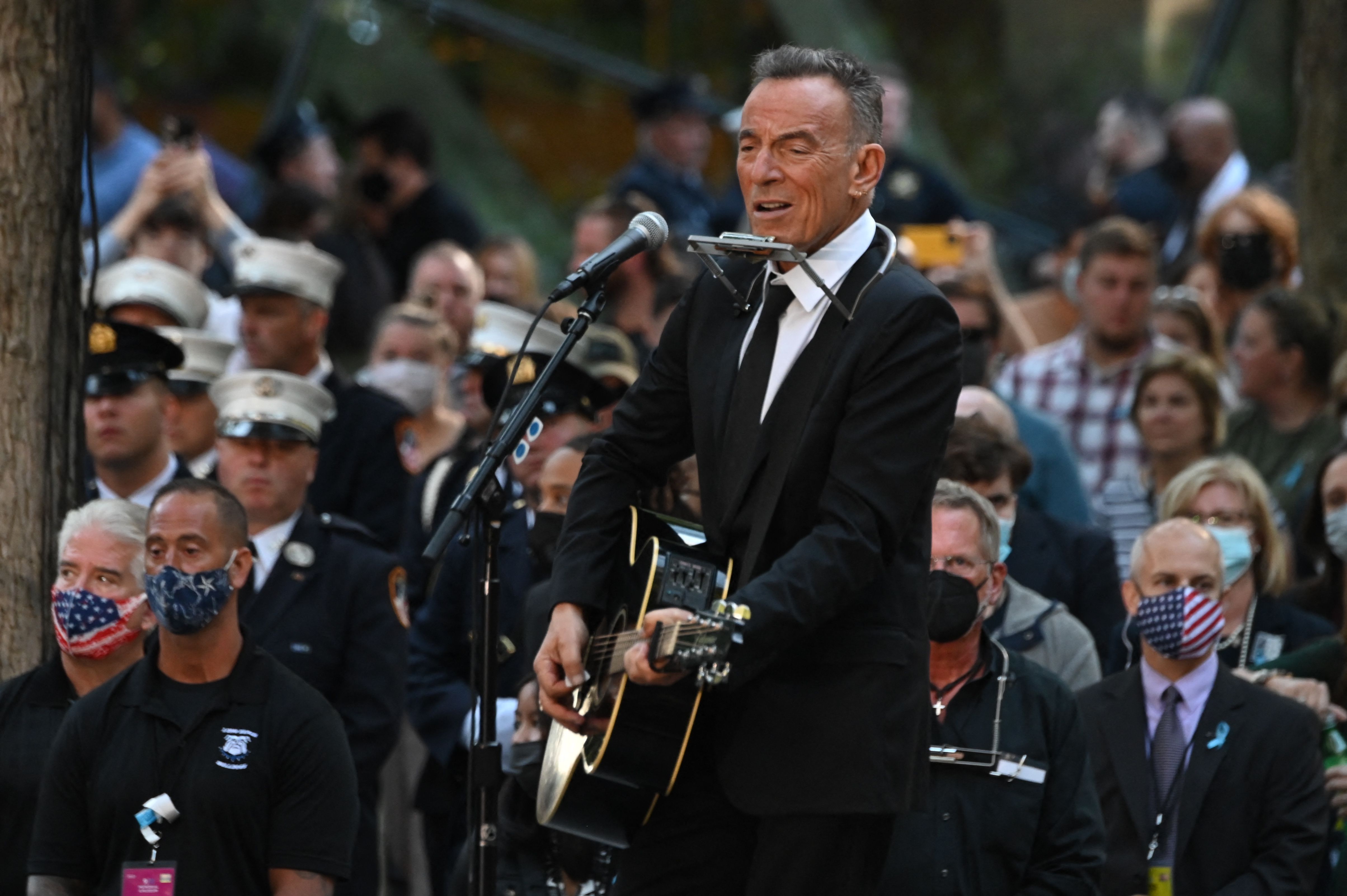 Bruce Springsteen sang "I'll See You in My Dreams" at the 9/11 Memorial, on the site of the Twin Towers:
I got your guitar here by the bed
All your favorite records and all the books that you read
And though my soul feels like it's been split at the seams
I'll see you in my dreams.
9. 🏈 College games honor the lost
Above, members of the U.Va. Cavaliers marching band — most not born on 9/11 — perform a memorial salute at halftime at Scott Stadium in Charlottesville.
College football teams across the country unveiled tributes, including special uniforms.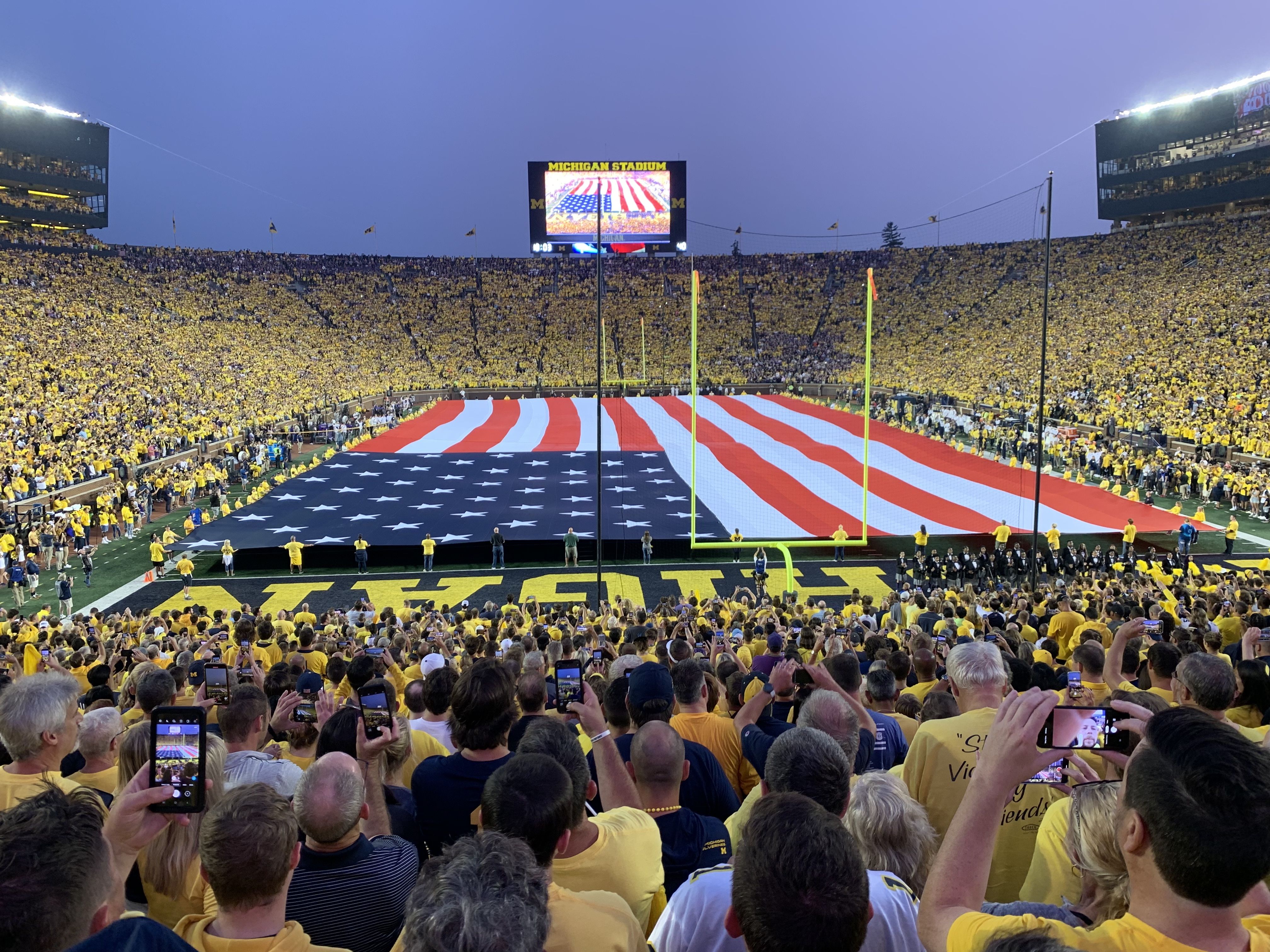 Axios' Joann Muller sent me this evening shot from the Big House at the University of Michigan, in Ann Arbor.
Attendance: 108,345. Michigan says that's "the 295th consecutive game with more than 100,000 fans at Michigan Stadium."
10. America on pause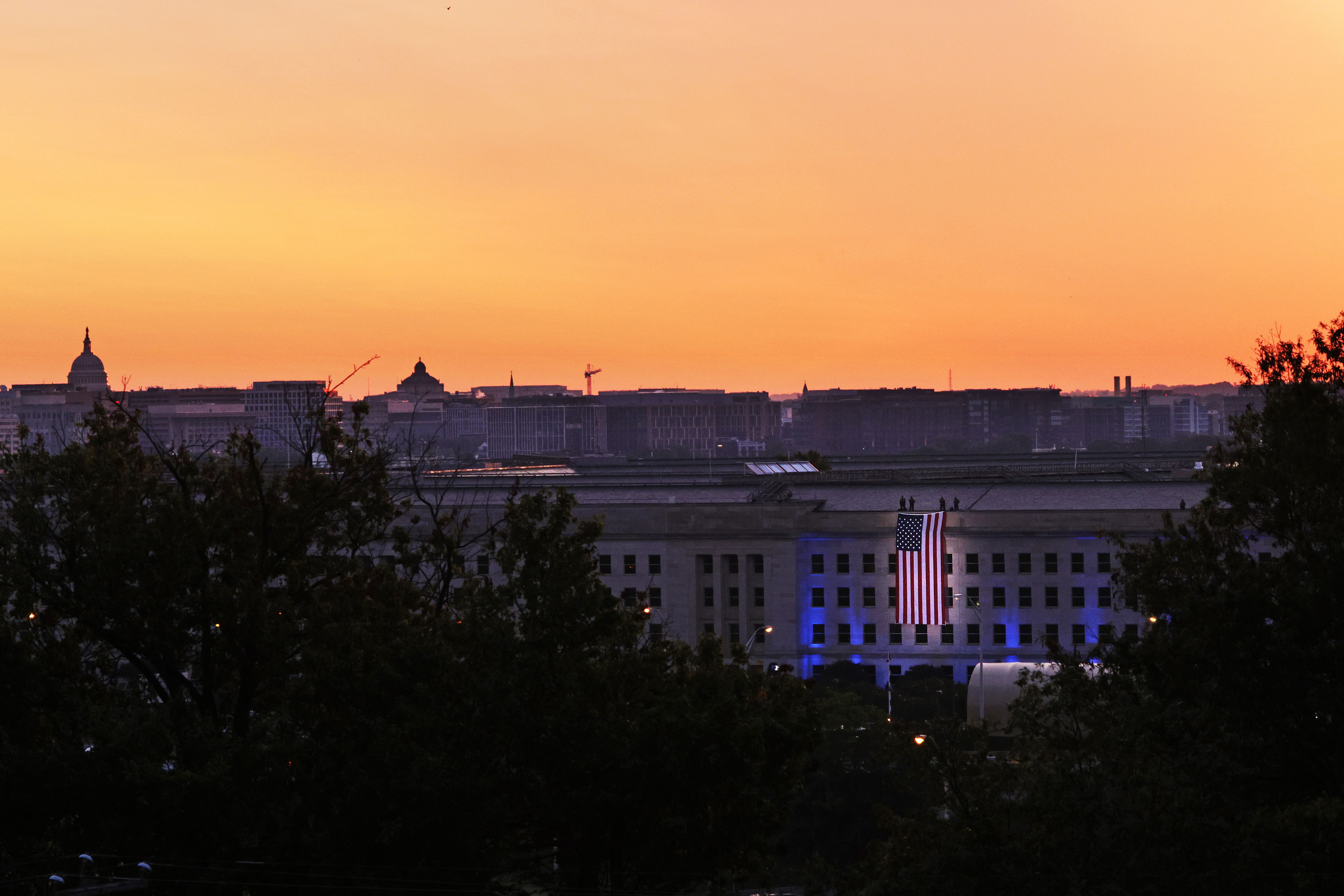 An unfurled American flag greets the day at the Pentagon.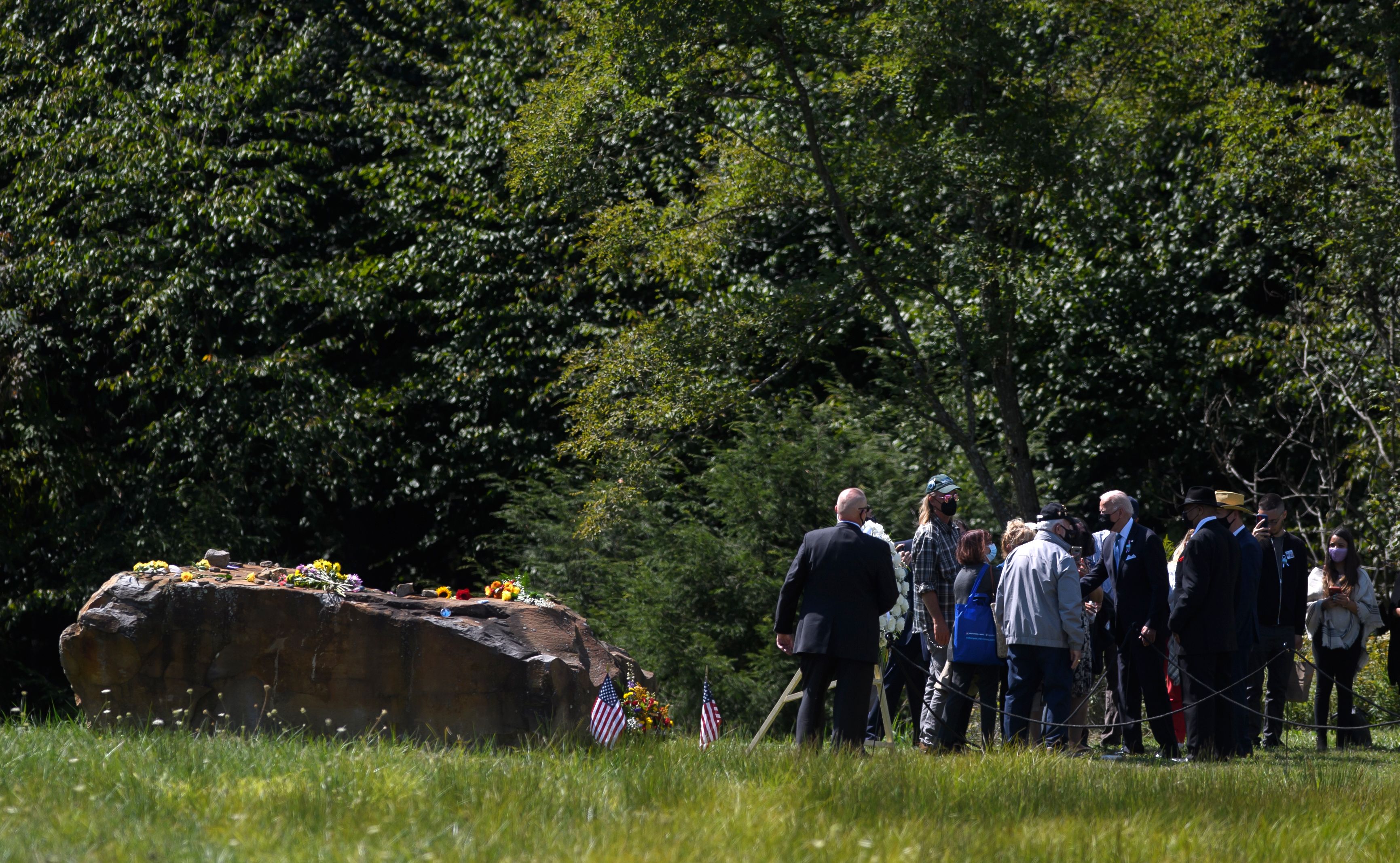 President Biden and Dr. Jill Biden greeted families and laid a wreath at the Flight 93 National Memorial in Shanksville, Pa.
This native, 17½ ton sandstone boulder was placed in 2011 to show the edge of the impact site in an open field, next to a hemlock grove.
More photos from Shanksville ... Read Biden's remarks.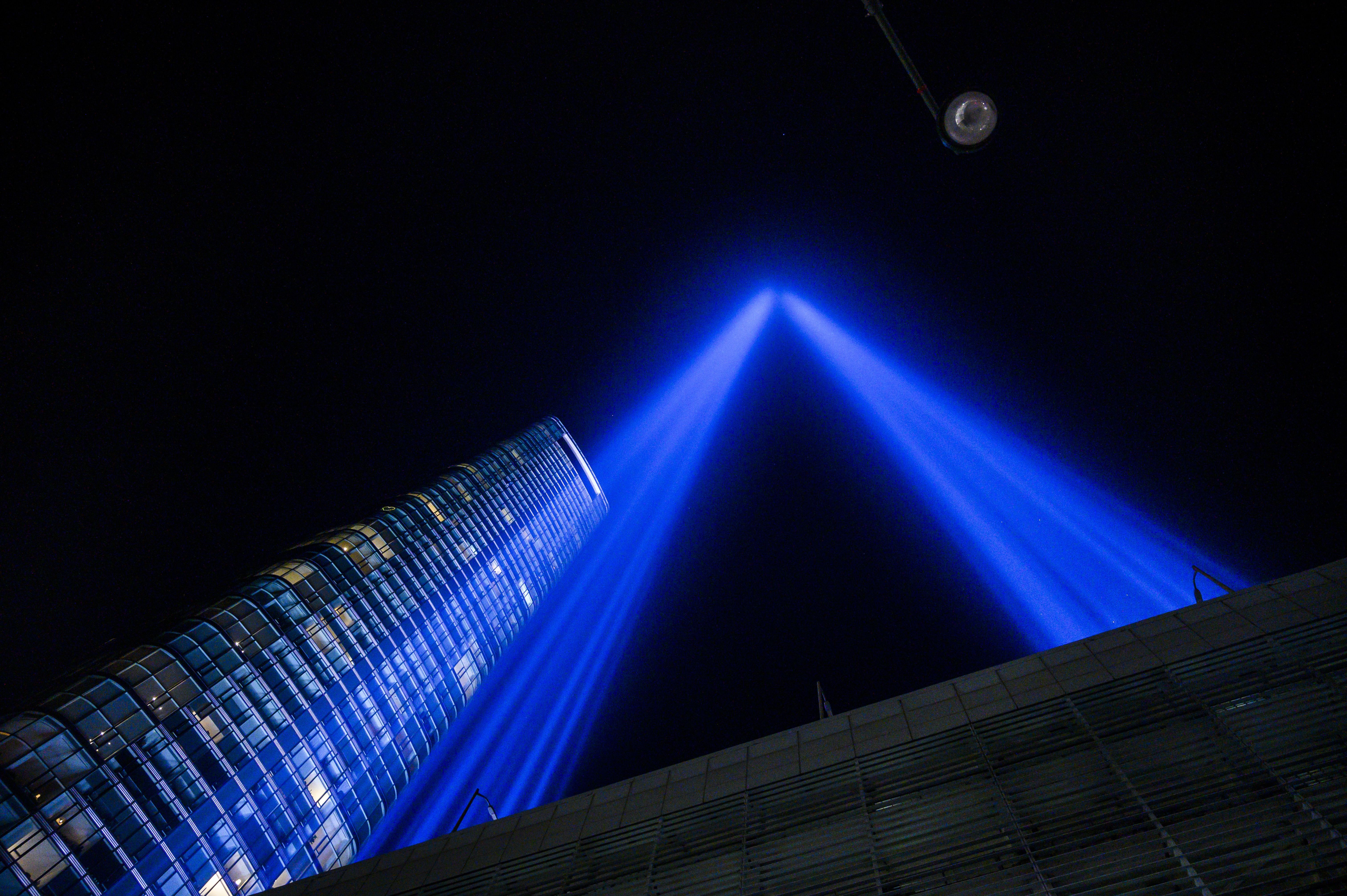 The "Tribute in Light" beams in Lower Manhattan consist of 88 xenon light bulbs, each 7,000 watts, positioned in two 48-foot squares on the roof of the Battery Parking Garage, south of the 9/11 Memorial.
They can be seen for 60 miles.
More photos from Ground Zero.
📬 Invite your friends to sign up for Axios AM and Axios PM.