July 27, 2018
Happy Friday!
Situational awareness: Speaking at a steel mill in Granite City, Ill., President Trump predicted data today will show the U.S. economy is in "terrific" shape amid forecasts that growth topped 4% in the second quarter, the fastest since 2014, per Bloomberg.
Trump called recent economic figures "unthinkable," and said: "If it has a four in front of it, we're happy."
1 big thing: Facebook's fall marks decisive turn in tech
Facebook's $120 billion stock drop — a company's biggest one-day loss of market value in U.S. history — isn't solely about Facebook, Felix Salmon, Slate columnist and "Slate Money" podcaster, writes in a special guest analysis for Axios:
The 19% plunge reflects the fragility of the tech sector as a whole.
And it's all the proof you need that tech investors have moved from greed to fear.
Absent the shortfall from what had been promised, the Facebook earnings reported Wednesday evening were objectively excellent, up 32% year-over-year, with revenues up 42% (and up 11% quarter-over-quarter).
And while user growth has pretty much flatlined in the mature markets of the U.S. and Europe, it's been obvious for a while that those regions were running out of new customers.
Which means that the panicked aftermarket flight was partly a function of investors taking the excuse to sell near all-time highs. (Although the rest of the tech stocks held their ground: Google nailed its numbers and its stock was rewarded.)
Here's the logic behind the loss:
Facebook stock is now back to where it was after the Cambridge Analytica scandal broke, and the negative headlines aren't going away.
The best-case scenario for investors is that Facebook will hurt its earning power by throwing so many workers and so much money at the problem of fake, dangerous, and toxic content that it will go away. That's going to be a huge ongoing expense.
The worst-case scenario is that Europe and other jurisdictions ban all targeted advertising, the Facebook earnings machine.
Valuations are stretched across the sector, and shorts, especially in Tesla and Netflix, have already been hurt badly. Short squeezes are great for momentum, but they rarely last very long.
Be smart: The broader narrative has turned, decisively.
The single most important thing any tech investor should do is to go see the new Boots Riley film Sorry To Bother You, which nails the mood of the nation, and its mistrust of Big Tech: People who invested in utopian visions are beginning to feel bait-and-switched.
P.S. An eye-opening way to look at the $119 billion loss, per the Wall Street Journal (subscription): That market value is "larger than 457 of the 500 companies in the S&P 500."
Per AP, "the collapse eclipsed Intel's decline of $91 billion in September 2000, without adjusting for inflation. ... Mark Zuckerberg saw his net worth fall by roughly $16 billion ... It was Facebook's worst trading day since going public in 2012."
2. Chaser: Amazon's profit soars to record
Blockbuster quarter ... Amazon's "profit topped $2 billion for the first time, powered by the company's newer services businesses that are ushering the online retail giant into an era of swelling profitability," The Wall Street Journal's Laura Stevens writes (subscription):
"Fast-growing areas [include] the company's cloud-computing business, advertising offerings and services it provides to sellers on its site."
"[E]xecutives said heavy investments are paying off. Those businesses have helped offset its traditional retail business, which tends to yield lower margins although still the bulk of its revenue."
The "second-quarter profit of $2.53 billion, up from $197 million a year earlier," makes "three straight quarters of profits over $1 billion, and extends Amazon's profitability streak across three years."
Why it matters: "No longer is Amazon known for suffering losses or producing razor-thin income by plowing every dollar it makes back into investments."
Key stat: "Amazon ... is now estimated to draw roughly half of every dollar spent online in the U.S."
3. Cohen claims Trump knew in advance of 2016 Trump Tower meeting
Michael Cohen, President Trump's former personal attorney, "claims that then-candidate Trump knew in advance about the June 2016 meeting in Trump Tower in which Russians were expected to offer his campaign dirt on Hillary Clinton," CNN's Jim Sciutto, Carl Bernstein (!) and Marshall Cohen report:
What's new: "Cohen alleges that he was present, along with several others, when Trump was informed of the Russians' offer by [Donald] Trump Jr."
"By Cohen's account, Trump approved going ahead with the meeting with the Russians."
"Cohen is willing to make that assertion to special counsel Robert Mueller."
Why it matters: "Cohen's claim would contradict repeated denials by Trump, Donald Trump Jr., their lawyers and other administration officials who have said that the President knew nothing about the Trump Tower meeting until he was approached about it by The New York Times in July 2017."
"Trump said on July 12, 2017, that he 'only heard about it two or three days ago.'"
P.S. "Michael Avenatti, ... who represents adult film star Stormy Daniels, ... will speak next month at a Iowa Democratic fundraising dinner, a frequent stop for potential presidential candidates." (CNN)
4. Pic du jour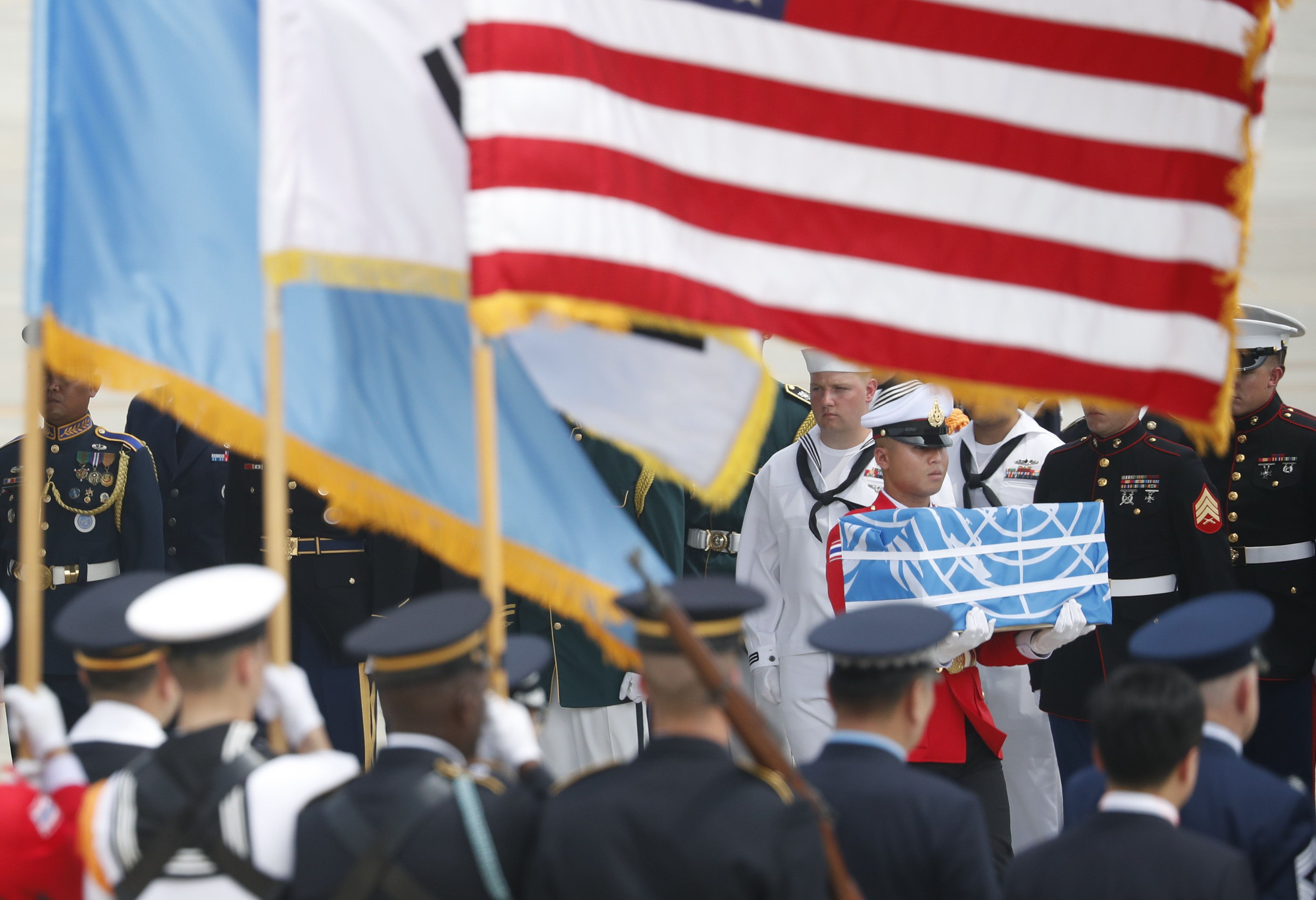 North Korea today "returned the remains of what are believed to be U.S. servicemen killed during the Korean War, the White House said, with a U.S military plane making a rare trip into North Korea to retrieve 55 cases of remains," per AP.
The scene above is from "Osan Air Base in Pyeongtaek, near the South Korean capital of Seoul. A formal repatriation ceremony will be held there Wednesday."
5. New poll: Trump underwater with key groups
Axios and SurveyMonkey will be tracking five key voter groups through the Nov. 6 midterms and into President Trump's reelection race. Our opening data is a stark sign of the narrow path for the GOP in 2018 and for Trump in 2020.
The most important group to watch will be #NeverHillary independents, Axios' Alexi McCammond writes:
These swing voters (who supported both Barack Obama and Donald Trump) narrowly disapprove of Trump's performance, according in the Axios-SurveyMonkey poll.
It's also not a good sign for Republicans that Trump's disapproval ratings are high among suburban white women, a critical swing voter group:
Nearly half strongly disapprove of Trump, but they're almost evenly divided between Democrats (44%) and Republicans (42%).
They care a lot about health care and immigration — two of the biggest issues that are likely to drive Democrats to the polls.
The other groups lean pretty much the way you'd expect:
Rural Americans are overwhelmingly white (76%), and many love Trump (38% strongly approve). They care most about jobs and the economy, but if Republicans want their help, they'll have to address the concerns of the 42% who disapprove of Trump.
African-American women are often called the backbone of the Democratic Party, and not surprisingly, they overwhelmingly disapprove of Trump.
Millennials (18-34) don't like Trump, and they are more likely to mention education and the environment over issues like health care and immigration.
6. 🌊 Wave watch: GOP's toughest map in 88 years
We told you earlier this week about Democratic strength in midterm House races. Now in a special preview for Axios readers, here's a new analysis by David Wasserman of Cook Political Report, unpacking the GOP's daunting math:
"With 102 days to go, Democrats remain substantial favorites for House control. A big reason: Republicans are defending 42 open or vacant seats, a record since at least 1930." (After the March victory by Democrat Conor Lamb in Pennsylvania, Democrats need to flip 23 seats to take the House.)
"Of Republicans' 42 incumbent-less seats, eight are in districts that voted for Hillary Clinton in 2016, and an additional 13 are in districts where President Trump received less than 55 percent."
Killer stat: "[S]ince 1992, in situations when a president's party was stuck defending an open seat two years after the president failed to carry it, that party has batted zero for 23 keeping it in their column."
"Fundraising deficits are a growing GOP problem":
"[I]n 20 of the 42 seats, the leading Democrat raised more than the leading Republican between April and June, including in seven of eight Clinton-carried districts (Rep. Dave Reichert's open WA-08 was the only exception) and 13 of 34 Trump-carried seats."
David's ratings for the 42 Republican open seats: 3 Likely D ... 5 Lean D ... 4 Tossup ... 7 Lean R ... 4 Likely R ... 19 Solid R.
7. Most separated families are reunited, U.S. says
A court filing says the Trump administration has reunified 1,442 of the 2,551 migrant children between the ages of five and 17 who had been separated from their parents, Axios' Stef Kight reports.
One big question: What happens to the kids whose parents have already been deported?
While some parents elected not to be reunited with their kids and were read their rights in a language that they understand, according to a Department of Homeland Security official, it's uncertain what will be done about other parents who have been deported.
Go deeper: a detailed breakdown.
8. Mapping 168,000 precincts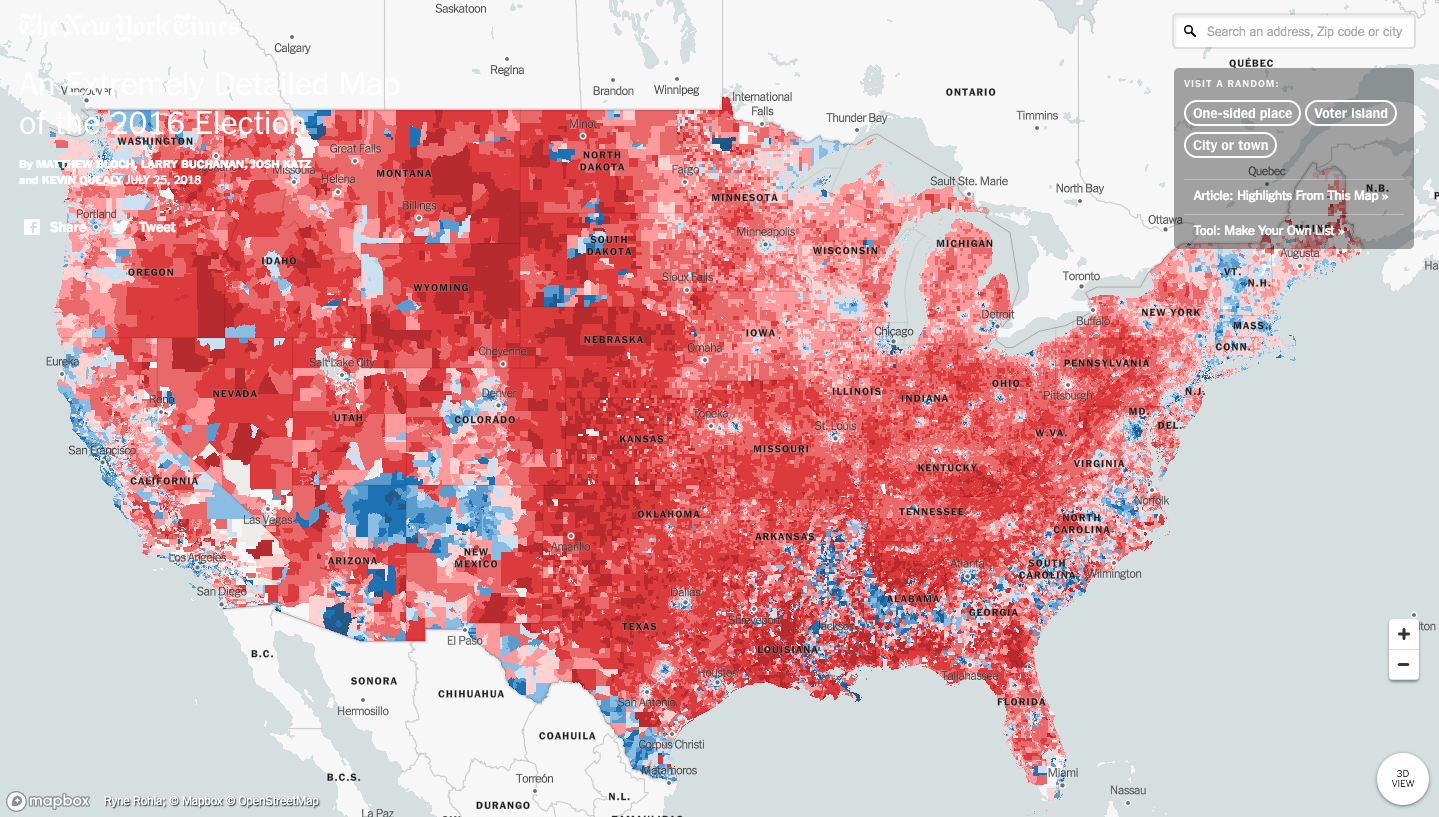 "An Extremely Detailed Map of the 2016 Election" ... The N.Y. Times posted a map that lets you explore the 2016 election by precincts — which may contain thousands of voters, or a handful.
"Our previous election maps contained results for about 3,100 counties; here we show results for more than 168,000 voting precincts."
Key stat, from a highlights page: "More than one in five voters lived in a precinct where 80 percent of the two-party vote went to Mr. Trump or Mrs. Clinton."
9. How U.S. tech powers China's surveillance state
Technologies developed by American companies are helping power China's sophisticated systems of state surveillance, Axios' Erica Pandey reports:
Beijing has used U.S. tech to surveil its citizens, violate human rights and even modernize its military.
Why it matters: Companies doing business in China often get caught in a web: Beijing uses its economic leverage to draw them in and then uses their technology for police-state tactics.
As a result, "there are American companies enabling or complicit in major human rights abuses," says Elsa Kania, a technology and national security expert at the Center for a New American Security.
10. 1 fun thing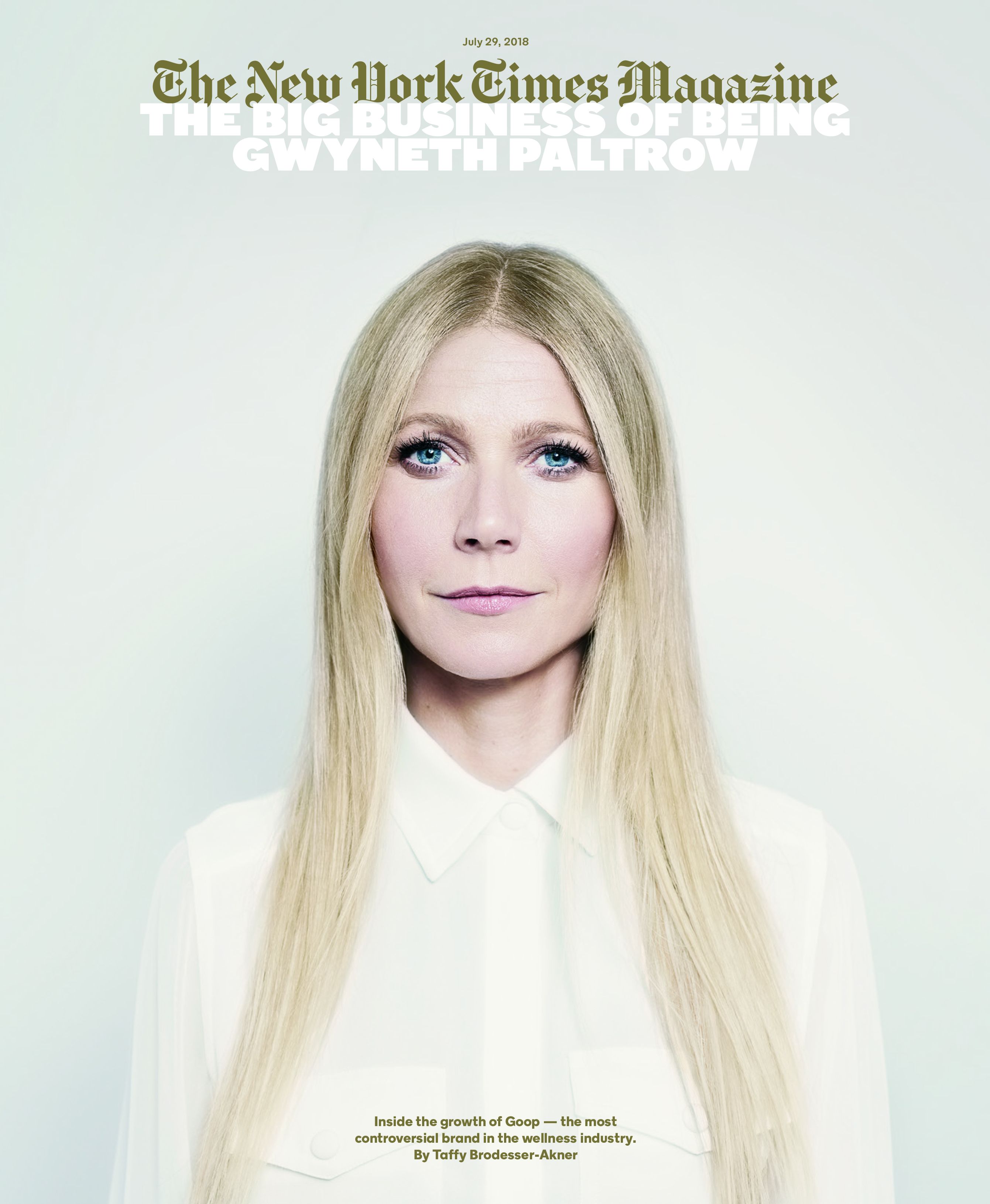 "Inside the growth of the most controversial brand in the wellness industry" —N.Y. Times Magazine cover story by Taffy Brodesser-Akner:
Goop, Gwyneth Paltrow's lifestyle-and-wellness e-commerce business, was "named not just for her initials and for, you know, goop, but because someone along the way told her that all the successful internet companies had double O's."
"Goop is now worth $250 million, according to a source close to the company."
Why it matters: "[P]eople were looking for leaders, and she was already committing public displays of ostentatious wellness: She showed up at a movie premiere with cupping marks on her back; she let bees sting her because I don't know why. Suddenly Gwyneth Paltrow, the movie star, was a major player in an industry that was big business."
Thanks for reading. Updates today and all weekend on Axios.com.