May 26, 2022
Hello, Thursday. Smart Brevity™ count: 1,136 words ... 4½ mins. Edited by Noah Bressner.
📨 Please join Axios' Sara Kehaulani Goo, Shawna Chen and Niala Boodhoo tomorrow at 12:30 p.m. ET for a half-hour virtual event on Asian American visibility and vulnerability, during AAPI Heritage Month. Register here.
1 big thing: Guns now kids' top cause of death
The leading cause of death among American children is now guns.
Firearms passed motor vehicles as the top killer of kids in 2020, the most recent CDC data available, Axios' Caitlin Owens writes.
Why it matters: The firearm death rate among children is steadily rising.
More kids are involved in gun-related homicides, including Tuesday's mass shooting in Uvalde, Texas — and in suicides and accidents.
Nearly two-thirds of the 4,368 U.S. youths up to age 19 who were killed by guns in 2020 were homicide victims, the CDC says.
Motor vehicle crashes, formerly the leading cause of death for kids 1 and older, killed nearly 4,000 children.
D.C. had the highest firearm death rate, followed by Louisiana, Alaska and Mississippi.
There were stark racial disparities: The firearm death rate for Black children was more than four times that of white children. White children were still more likely to be killed by motor vehicles than guns.
30% of firearm-related child fatalities were suicides, 3% were accidental and 2% were of undetermined intent.
Male youths were significantly more likely to be killed by guns, while vehicle crashes claimed more females.
Among children younger than one, congenital anomalies — or birth defects — were the leading cause of death in 2020, resulting in 4,043 fatalities, per the CDC.
2. Uvalde latest: What we know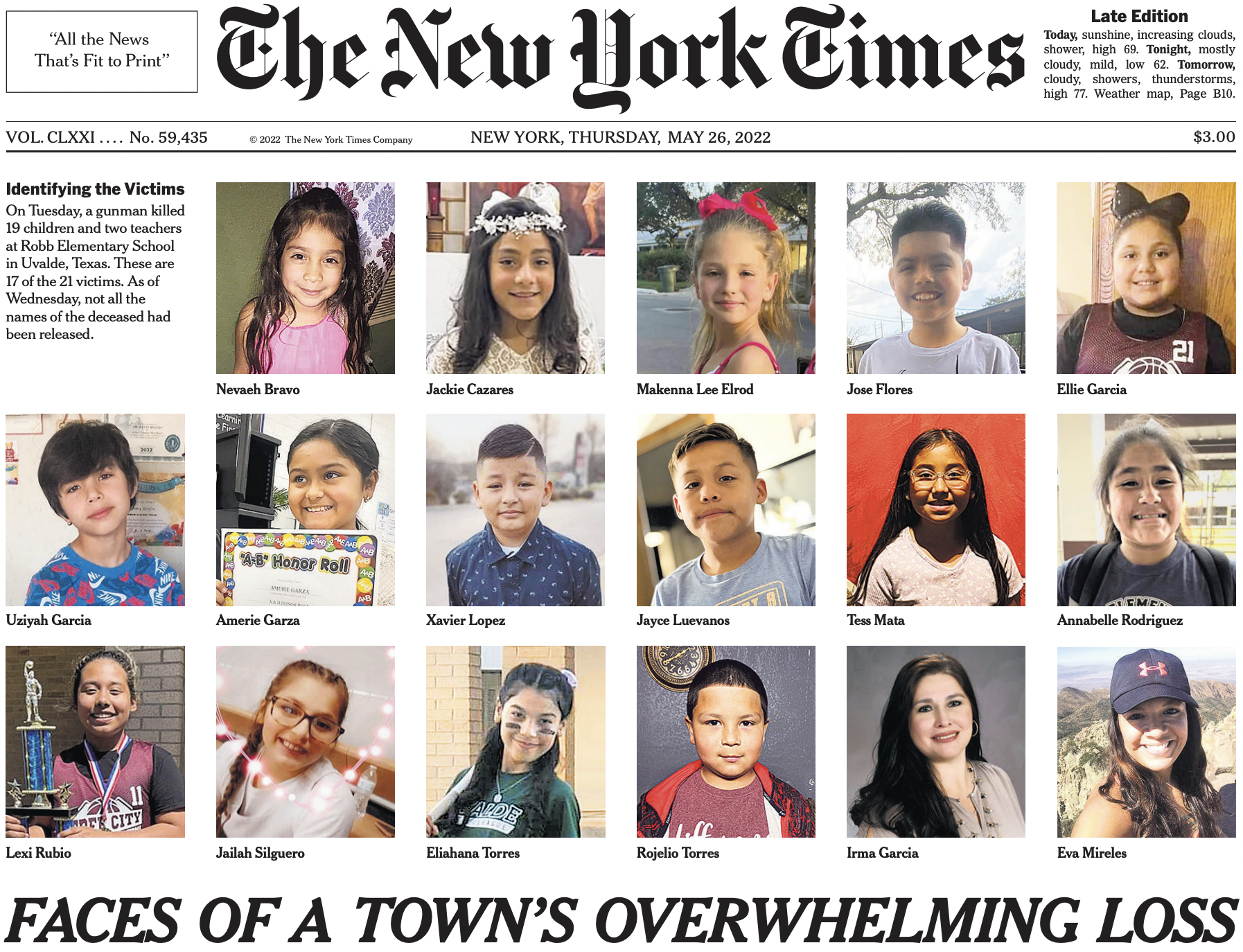 Across Texas, police departments increased security at schools and graduations, reports Asher Price of Axios Austin.
Austin is adding bullet-resistant material at the entryways of all public schools.
Frustrated onlookers urged officers to charge into Robb Elementary School during the Uvalde massacre, which lasted 40 minutes to an hour.
A Border Patrol tactical team shot the 18-year-old gunman several times, killing him.
Officials say the gunman "encountered" a school district security officer outside the school. Authorities gave conflicting accounts of whether they exchanged gunfire.
Border Patrol agents had trouble breaching the classroom door where the killing was taking place, and had to get a staff member to open the room with a key, a law-enforcement official told AP.
What's next: Interfaith protests are planned for the NRA annual meeting, going ahead in Houston over Memorial Day weekend. (Bloomberg)
3. 💰 Spoiler: Tech is still winning
Look at tech stocks this year:
Headlines about the stock retreat — worse for tech than other sectors — focus on trillions of dollars of "value destroyed" or "wealth evaporating," writes Scott Rosenberg, Axios managing editor for tech.
But look at tech stocks over the past five years:
Even with this year's drop, and even with the potential for steeper losses, the tech market has nearly doubled.
The bottom line: The tech market's long ride up made investors feel a lot wealthier. Its recent slump has exaggerated their sense of loss.
4. 📷 1,000 words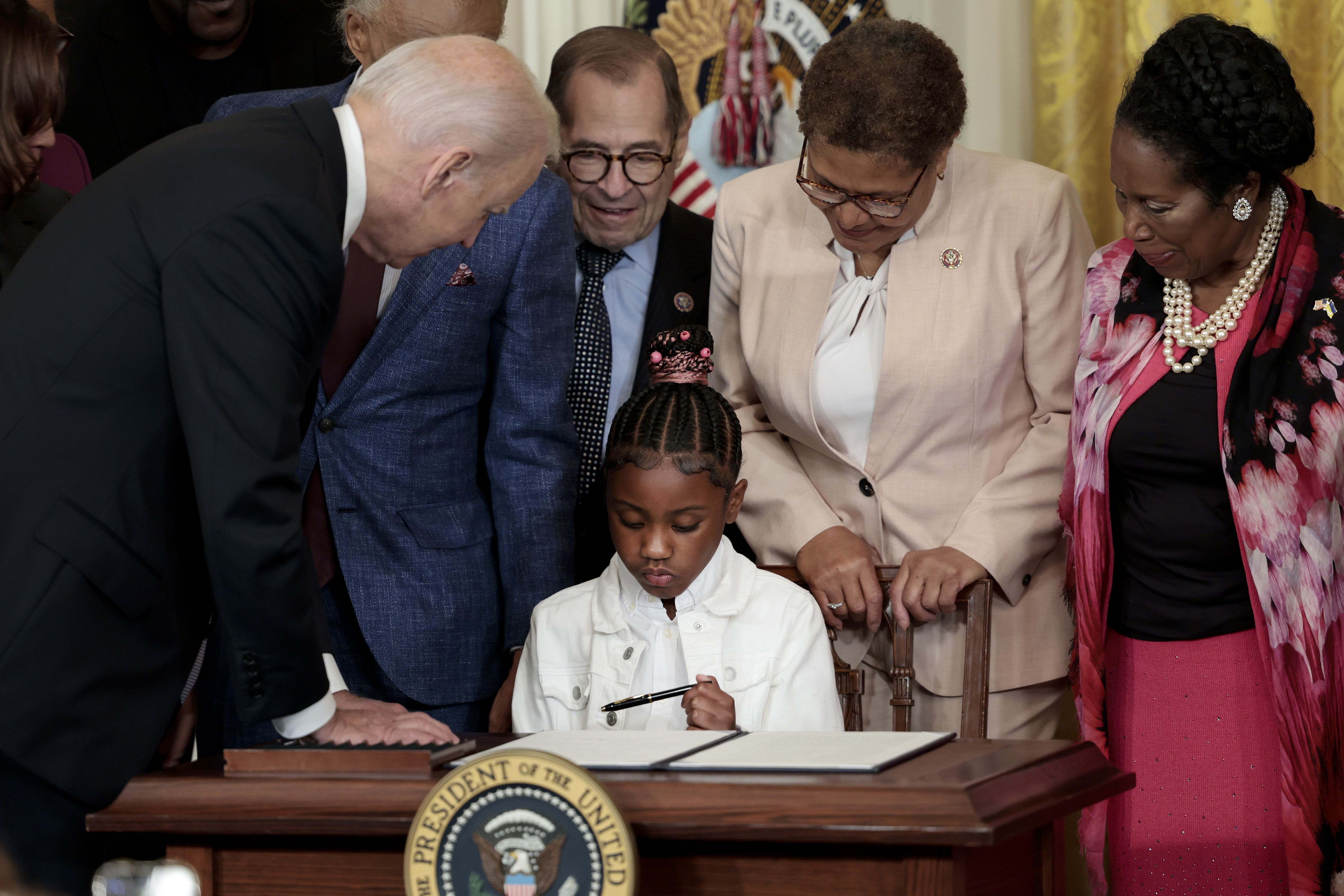 Gianna Floyd, 8, daughter of George Floyd, sits at the presidential signing desk in the East Room, holding a pen President Biden had just used to sign an executive order enacting further police reform.
5. 🚀 Back to Earth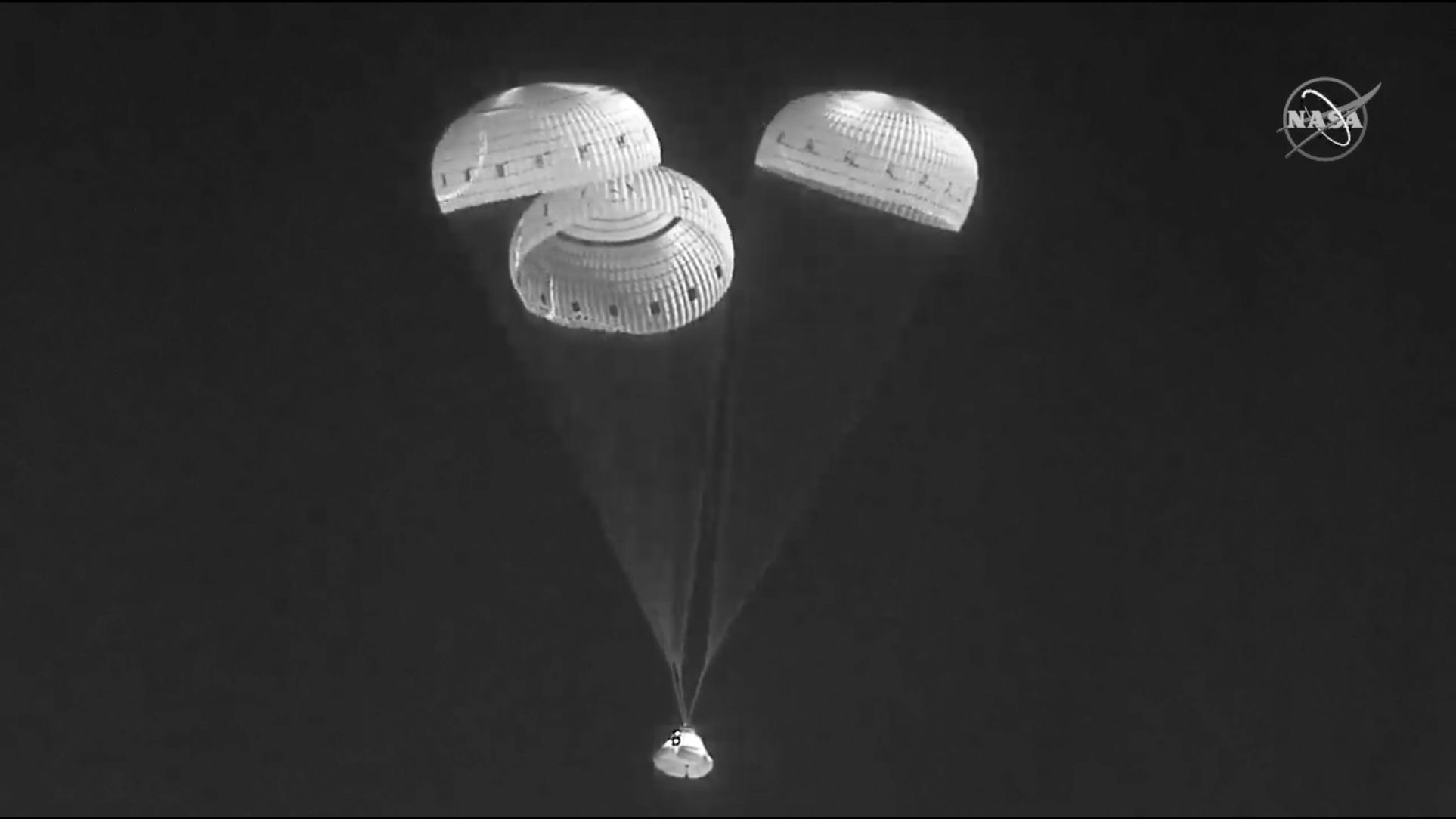 Above: An infrared image from NASA video shows the Boeing Starliner capsule using parachutes as it descends for a bullseye landing at the White Sands Missile Range in New Mexico yesterday.
The crewless capsule touched down just four hours after leaving the International Space Station, Axios Space author Miriam Kramer writes.
Why it matters: The successful test run helps pave the way for Boeing to fly NASA astronauts to the space station, perhaps by year's end.
Airbags cushioned the landing. A mannequin was buckled in.
6. 📊 Health brands' reputations rise
A renewed focus on health and wellness has been a boon to the reputations of health care companies, Tina Reed writes from new rankings from our annual Axios/Harris Poll 100.
Why it matters: Health care brands helped Americans get through COVID, improving their level of confidence and trust with consumers in the process.
Health insurers are more visible than ever, with two — Blue Cross Blue Shield and UnitedHealth Group — returning to the list this year.
This comes after insurers — which handle both drug and medical bills for millions and, increasingly, play the role of providers — covered community-based and home COVID testing and therapeutics, as well as expanded telehealth options.
Between the lines: Unlike many industries, health care companies saw stronger scores across values like citizenship (value to a community) and trust, compared to attributes like products and services.
This was especially true for pharmacies, including Walgreens and CVS. Both national retail pharmacy brands focused on expanding their consumer health care delivery roles, with the distribution of COVID vaccines and therapeutics, and conducting COVID testing.
They also sold hand sanitizer and masks.
Reality check: Pfizer's reputation score, while still considered "very high," dropped significantly since last year, reverting back to pre-pandemic levels, as urgency around the COVID vaccine subsided.
Expectations have come down to earth a bit: The company has tried to message the need for boosters amid waning immunity while dealing with delays in the production of shots for kids under 5.
7. 🗽 NYC lobbies businesses to return
NYC Police Commissioner Keechant Sewell is giving private, unannounced security briefings to try to convince business leaders it's safe for workers to return to Manhattan, the N.Y. Post reports.
The briefings are virtual, natch.
An invitation to Big Four accounting firms said the police commissioner and Mayor Eric Adams "will discuss the City's priorities centered on public safety, homelessness, and protecting our community members and economy."
Why it matters: The city was rattled by this weekend's unprovoked subway killing of a Goldman Sachs research employee, Dan Enriquez, in Lower Manhattan.
The 48-year-old was shot to death by a stranger while heading to Sunday brunch on a Q line train from Brooklyn to Manhattan. A suspect is under arrest.
The mayor knows the city's economic recovery depends on more office workers returning.
🥊 Just 8% of Manhattan office workers were on-site five days a week, according to mid-April data from the Partnership for New York City.
8. 🏡 1 fun thing: Translating home listings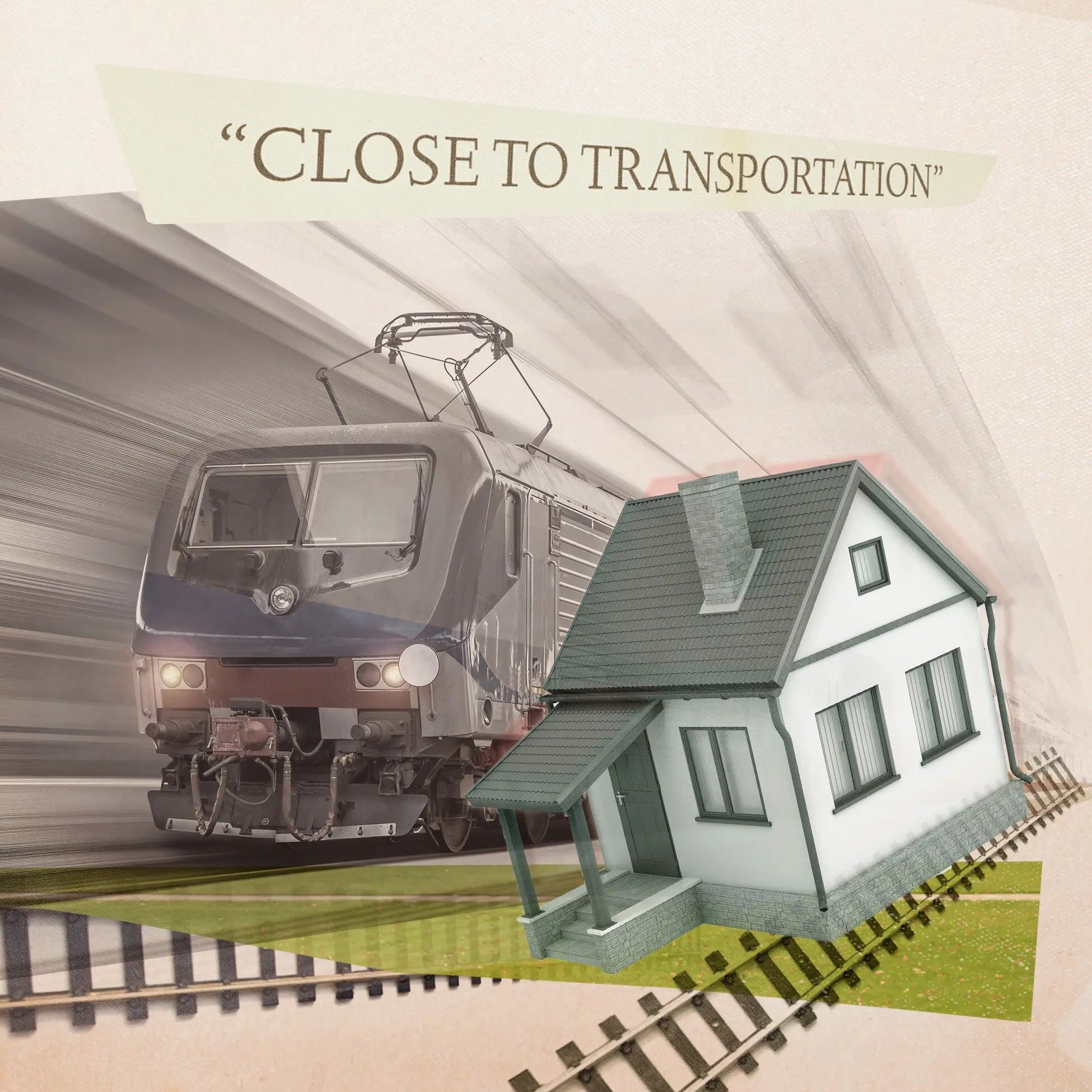 For homebuyers bewildered by listings' lush prose, the N.Y. Times' Joanne Kaufman offers this "Real Estate Translation Guide":
Description: Cozy.
Translation: Small and dark.
Description: Natural beauty.
Translation: It's not landscaped.
Description: Good bones.
Translation: It's a wreck. Get out your checkbook.
Description: Create your dream house.
Translation: It's a teardown.
And her article raises a good question: Shouldn't all properties be "priced to sell"?
📬 Invite your friends to sign up here to get their daily essentials — Axios AM, PM and Finish Line.