Axios AM
January 20, 2021
🇺🇸Good Wednesday morning, and welcome to Inauguration Day.
Today's Smart Brevity™ count: 1,357 words ... 5 minutes.
📱Hit Axios.com all day for our constantly updated Speed Screen dashboard, with all the news and smarts you want while you watch.
1 big thing: 🔮 What to listen for in Biden's address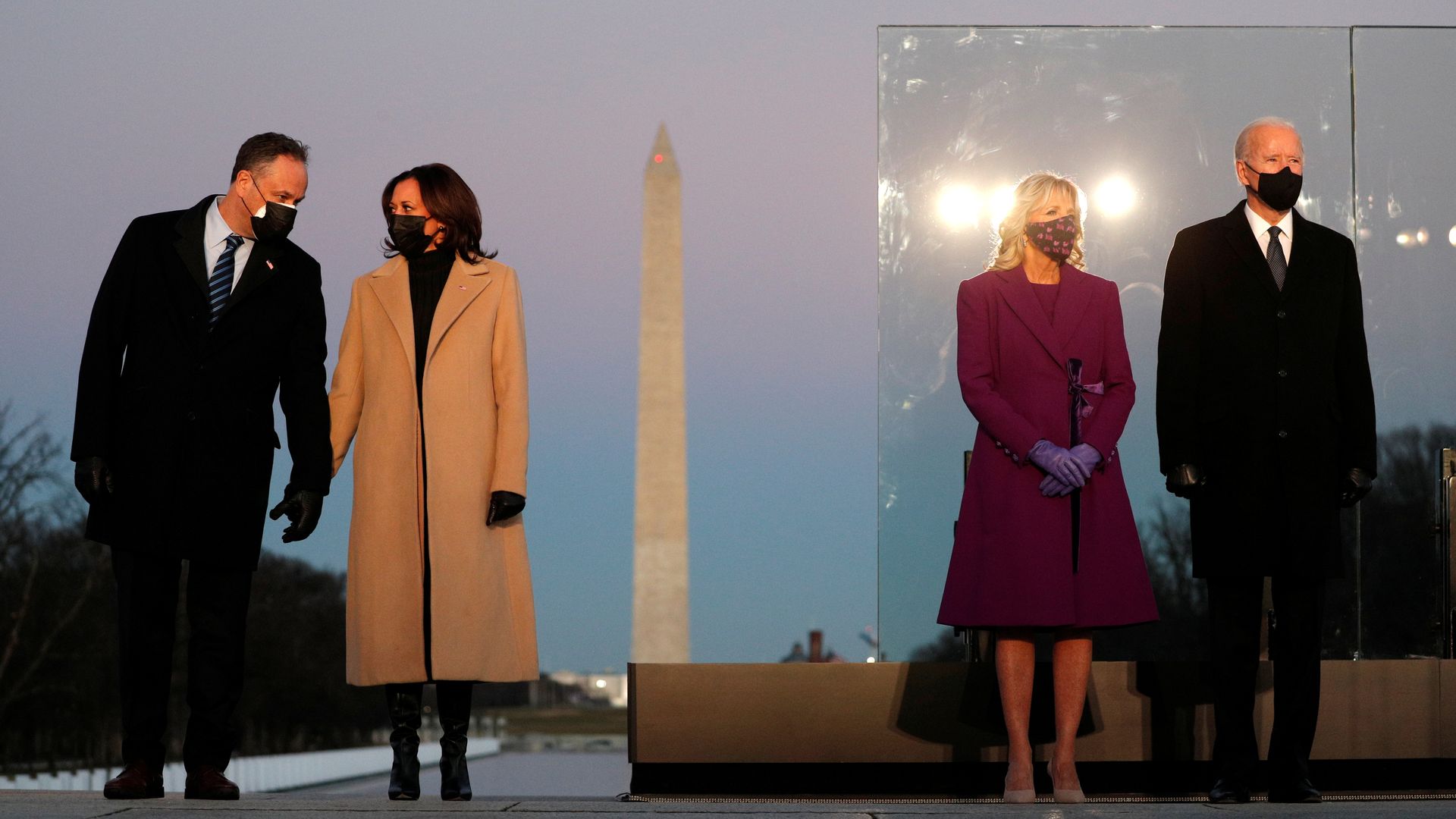 Reflecting both the man and the times, President Joseph Robinette Biden Jr.'s inaugural address needs as much reality as poetry.
The president-elect will do both, sources tell me: Biden's biography equips him not just to deliver a great speech, but also to start putting the public sector back in good working order.
That includes a federal mask mandate, vaccine mobilization and other practical steps that make up his 100-day plan to, as he put it in December, "change the course of the disease and change life in America for the better."
A test for this unusual inaugural address is whether Biden can combine prose poetry with his "Here's the deal" common touch.
The country wants both, his advisers believe — to be elevated as in presidencies of old, and to be reassured that Biden is grounded in the grim reality so many Americans are feeling, including his warning of the "dark winter" ahead.
Mike Barnicle writes in a Daily Beast column, "Why Joe Biden Will Be Our Most American President" (subscription):
"Joe Biden arrives now to tell America the truth."
What's next: After the festivities, Biden will take 15 "Day One Executive Actions," getting a head start on reversing Trump policies.
👀 What to watch ... Full schedule.
2. 🐊 The Swamp wins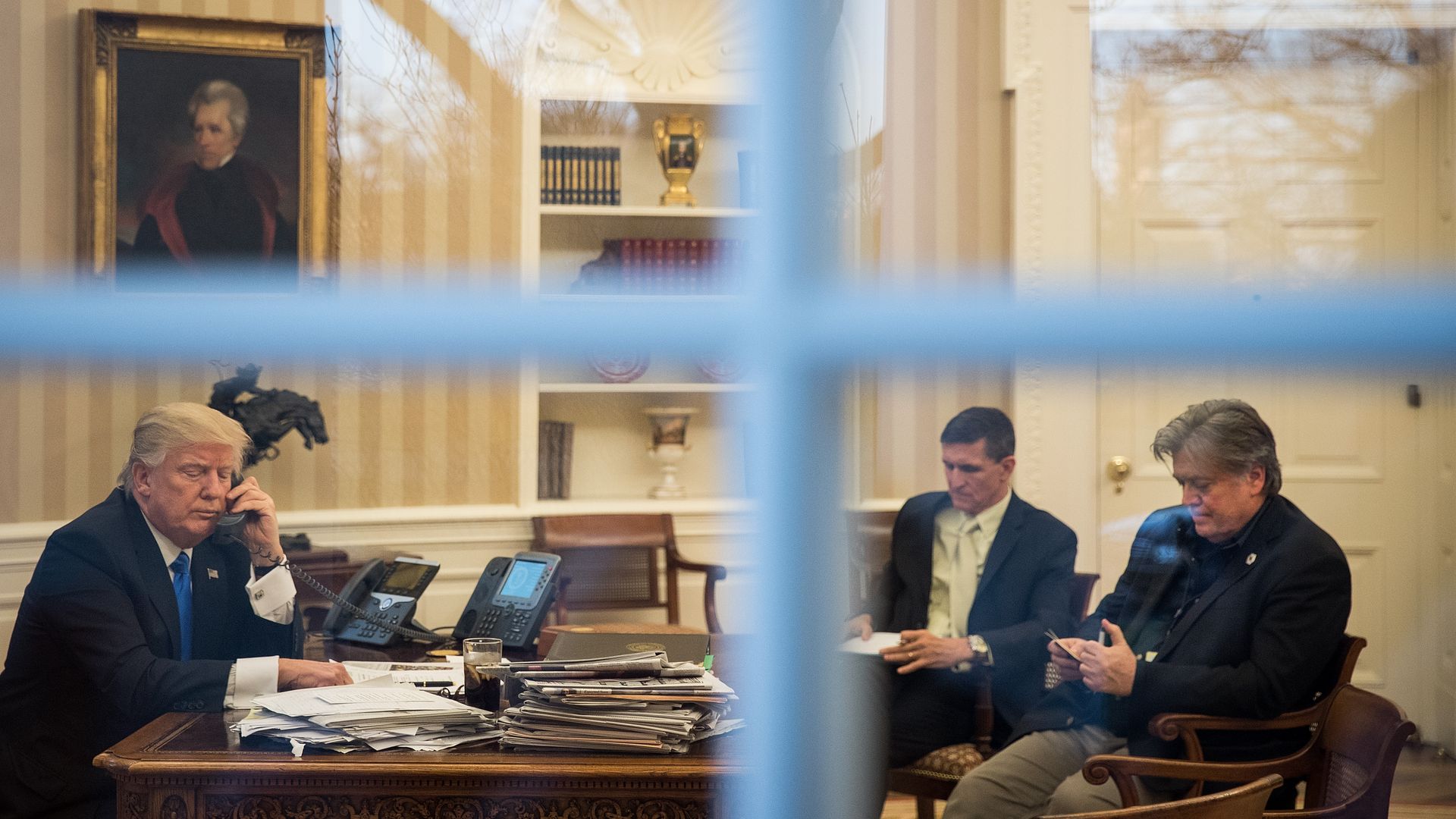 It was 12:50 a.m. on Inauguration Day when President Trump announced 143 pardons and commutations — including a pardon for Steve Bannon.
Seventeen minutes later, the White House released an executive order that said it all about his failure to "drain the Swamp," as he'd promised in the '16 campaign:
Trump revoked an executive order, signed eight days after he took office, that limits his appointees' lobbying for five years after leaving the administration.
That's a huge victory for Swamp creatures and — as Axios' Alayna Treene points out — Trump's final "screw you" to the criminal justice system that he thinks unfairly targeted him and his allies.
Among Trump's final-hours pardons:
The Bannon pardon spared a longtime ally from a federal fraud prosecution over his alleged misappropriation of nonprofit funds for a privately financed border wall, Axios' Lachlan Markay writes.
Elliott Broidy, former top Republican fundraiser who pleaded guilty to conspiring to violate foreign lobbying laws.
Rapper Lil Wayne, who had pleaded guilty to a gun charge.
3. "Off the rails": Trump turns on Pence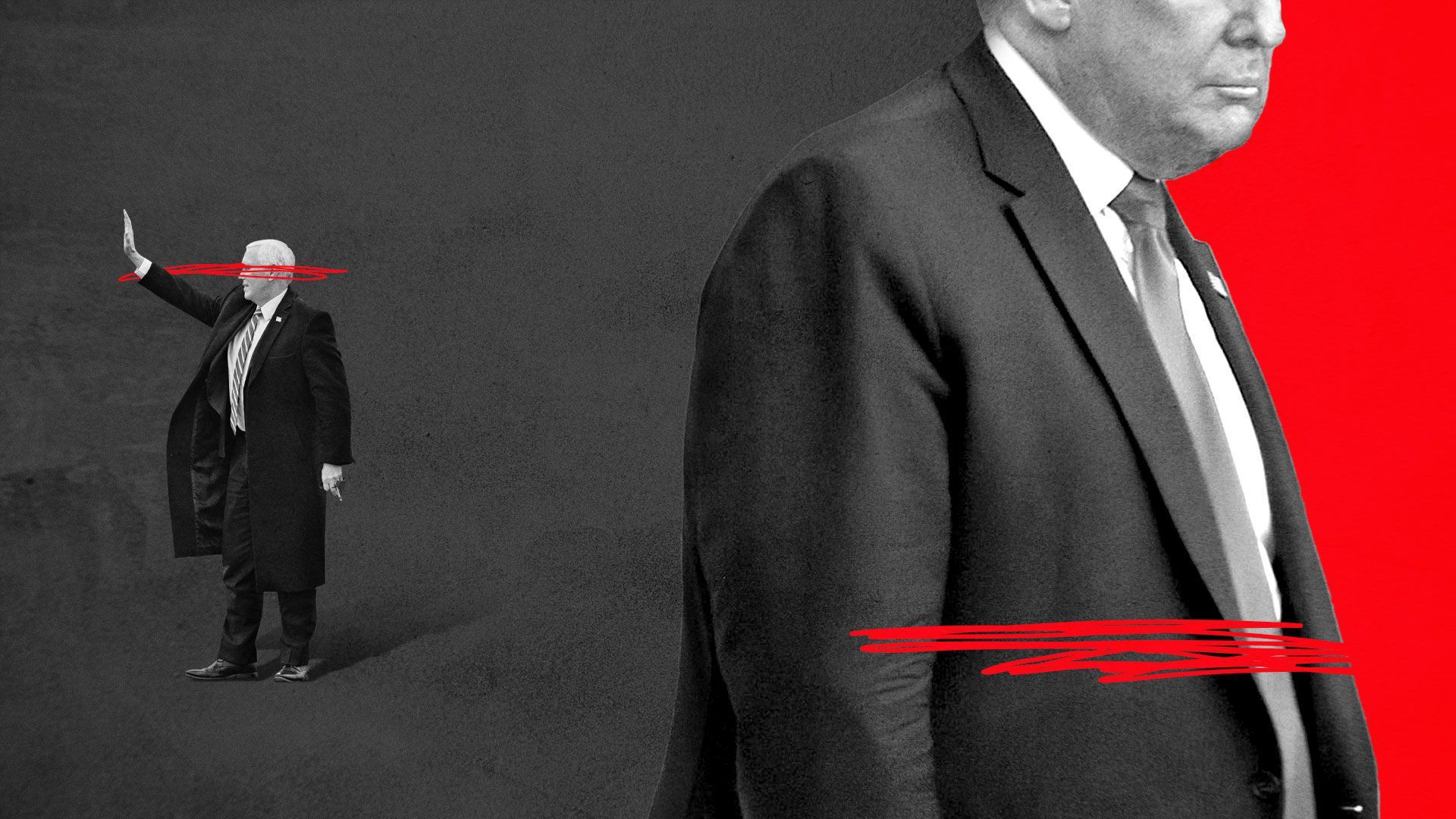 Episode 7 of "Off the rails," our fly-on-the-wall series by Jonathan Swan and Zachary Basu:
"The end is coming, Donald." The male voice in the TV ad boomed through the White House residence during "Fox & Friends" commercial breaks.
Over and over and over. "The end is coming, Donald. ... On Jan. 6, Mike Pence will put the nail in your political coffin."
The Lincoln Project, the anti-Trump PAC dedicated to pissing off the president with viral commercials, was back in his head with their voodoo.
President Trump, furious, told his vice president to send the Lincoln Project gang a cease-and-desist letter. In reality, this would have only further delighted Trump's tormentors and provided ammo for another ad.
Marc Short, Pence's chief of staff, consulted officials on the Trump campaign.
Their advice: Just ignore it.
The idea for the ad had popped into Steve Schmidt's head when he woke on the morning of Dec. 2. Schmidt was a former Republican strategist who had renounced the party and dedicated himself to its destruction after Trump's ascent. Schmidt was also a co-founder of the Lincoln Project.
"There's zero [effing] chance Trump knows what happens on Jan. 6," Schmidt told ex-GOP strategist Rick Wilson and other Lincoln Project members on a team conference call later that morning.
By that afternoon, the Lincoln Project had finalized a 70-word script and shipped it to their lawyers. A cut of the commercial was ready early the next day, and by Dec. 10 the 38-second spot would hit the air. They made a cheap booking for Fox News shows running in the D.C. market.
Their target audience of one lived at 1600 Pennsylvania Ave.
Trump called Pence late morning on Jan. 6 to take one last shot at bullying the vice president into objecting to the certification of Biden's victory.
During the riot, Pence and family were evacuated from the Senate chamber and taken to a secure site, where the vice president remained for hours.
Trump, sequestered in his private dining room to watch the TV coverage, placed no calls to check on Pence's safety.
After all the bullying, the abuse, the Twitter tirades, the calls to violence, Pence assessed his options. He'd stood with Trump — not complaining, not explaining — through four years.
On the eve of the transfer of power, Pence's team made clear he'd not be able to attend Trump's final sendoff at Joint Base Andrews, choosing instead to attend Biden's swearing-in.
Many believe Pence intends to run for president in 2024. He's likely to preserve his bridge to Trump beyond Jan. 20, at least long enough to understand whether it's needed.
Go deeper: Read the full episode in the Axios stream.
🎧 Listen to Jonathan Swan on Axios' new investigative podcast series, "How it happened: Trump's last stand."
🥇 It was the No. 1 podcast in the world yesterday, which PodBoard100 said is "the first time a debut episode has achieved this since Michelle Obama."
Read the rest of the "Off the Rails" episodes here.
4. Pic du jour
5. Right wing's new conspiracy: "The silencing"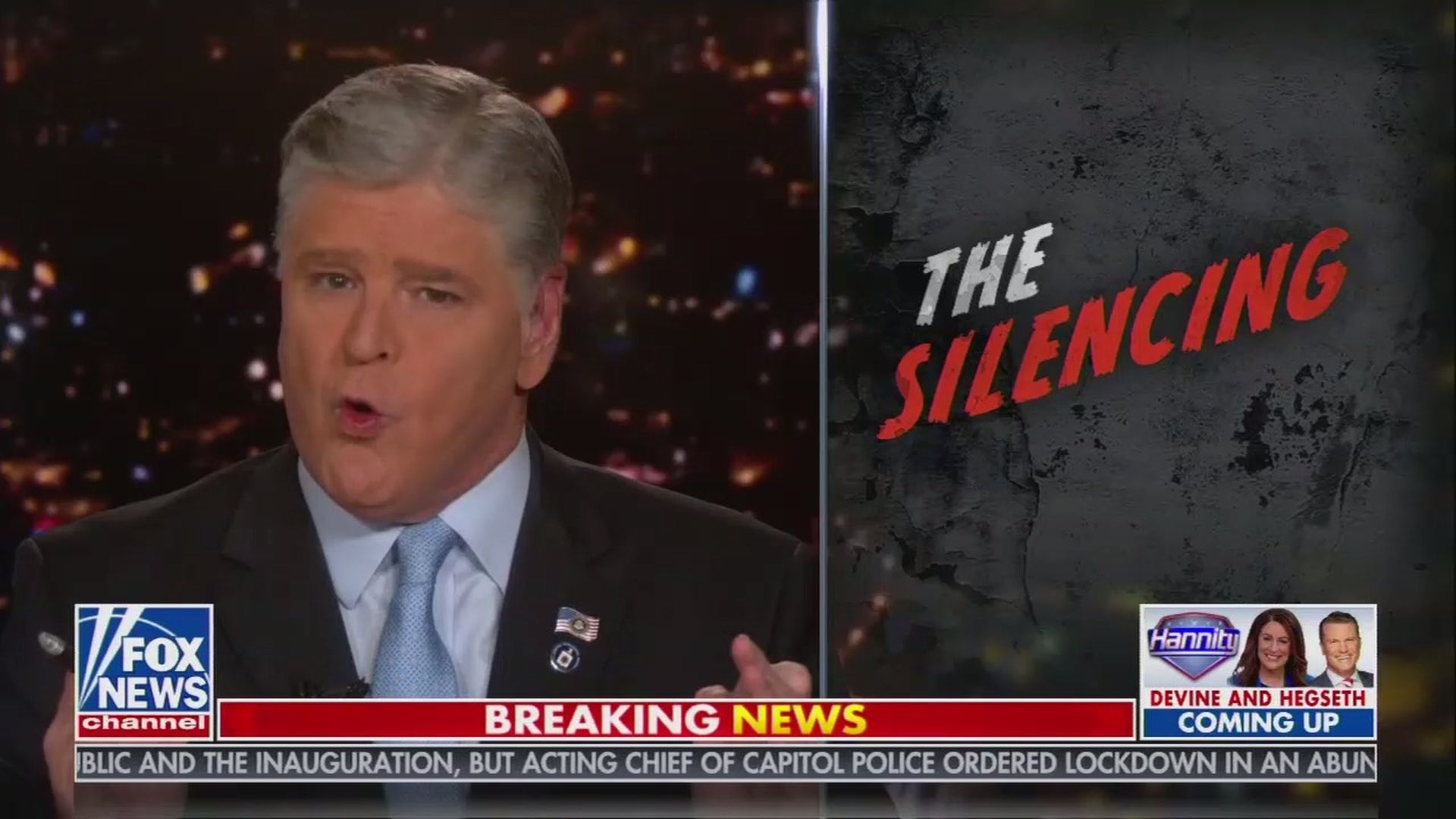 A new right-wing conspiracy, sprouted by Fox News' Tucker Carlson and Sean Hannity, is spreading fast on social media: Joe Biden and the federal government are systematically silencing half of America. And it will only get worse. 
Why it matters ... The new argument is simple and salient for pro-Trump Americans: federal troops are stationed in DC not for protection, but to scare and silence conservatives. At the same time, they are muzzling those same conservatives with corporate blacklisting and social media speech policing.  
Zoom in: Hannity on Monday night accused Democrats of "a chilling, Orwellian effort ... to silence, cancel, any opposition voices."
Carlson said Democrats' message is: "Do not question us. Men with guns enforce our decrees."
The big picture: Look for this to be a unifying argument of the right as the Biden era begins. 
🦊 Two Fox News executives involved in the controversial — but correct — Decision Desk call of Arizona for Joe Biden are out, AP reports:
Bill Sammon, managing editor at Fox's Washington bureau, announced his retirement Monday. Politics editor Chris Stirewalt was let go yesterday as part of a restructuring of Fox's digital operations.
Fox said in a statement to Axios: "As we conclude the 2020 election cycle, Fox News Digital has realigned its business and reporting structure to meet the demands of this new era."
6. 🐦 1,462 days of President Trump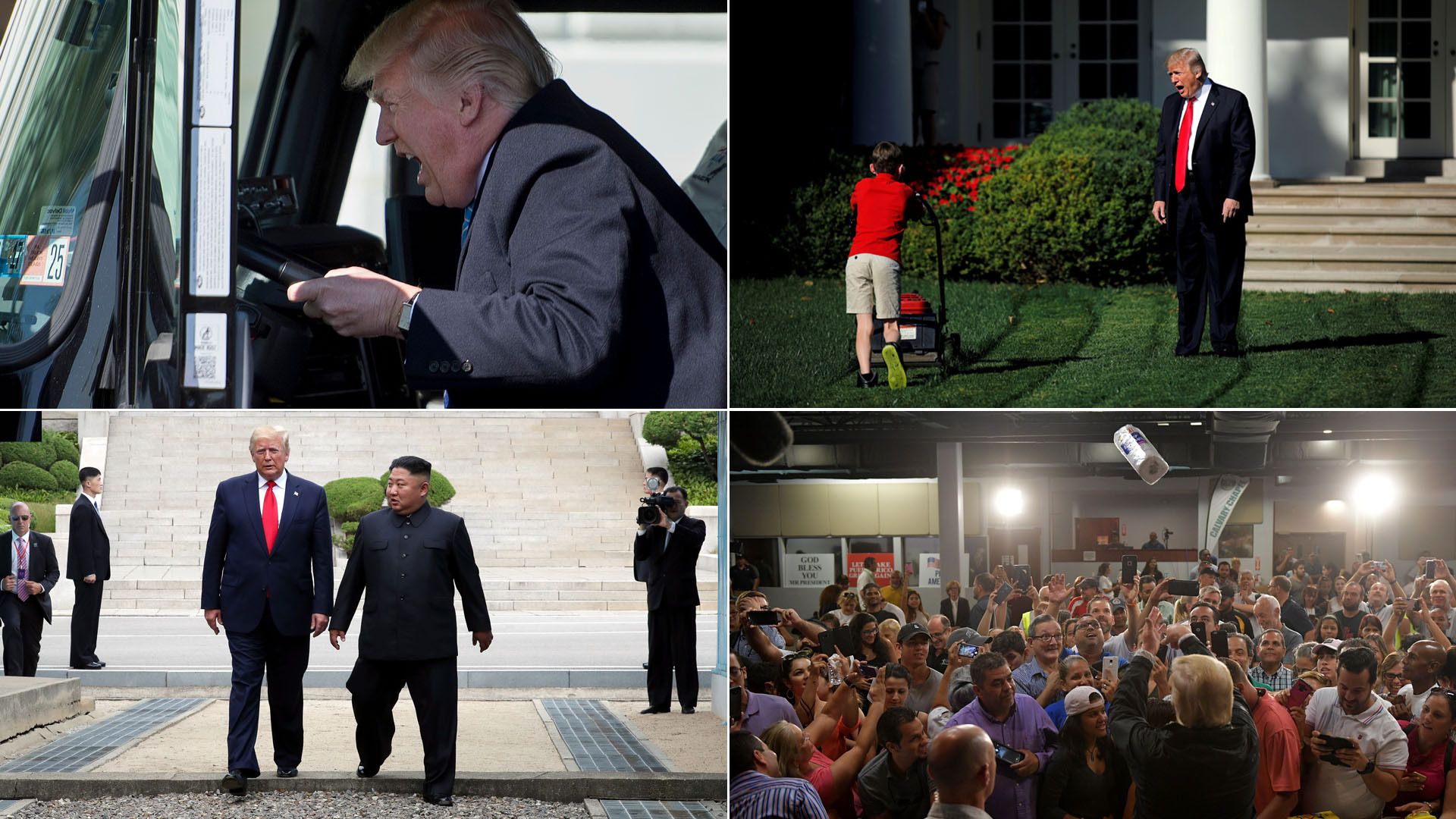 N.Y. Times Quotation of the Day, from a front-page, above-the-fold story, "It's the Dawn of an Era. The Nation Is Exhausted" (subscription):
David Betras, former Democratic Party chairman in Mahoning County, Ohio, who likened the tweets and drama from the Trump White House to a car horn that won't stop honking during dinner:
In the last four years, has there been a day when Trump wasn't somewhere in your orbit? Every day, I couldn't get him out. He was just everywhere. It was like an omnipresence.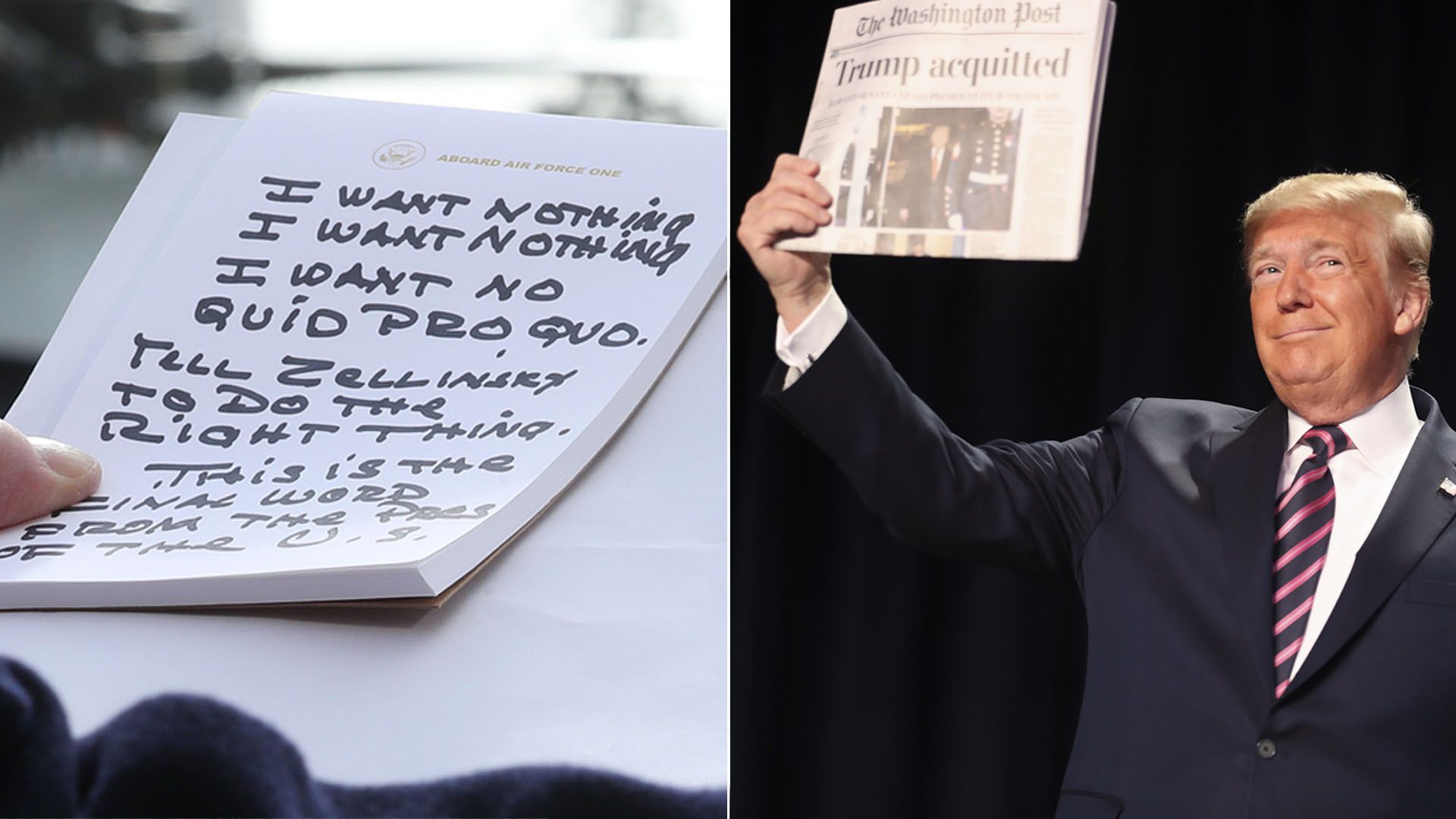 7. Big Tech's post-riot reckoning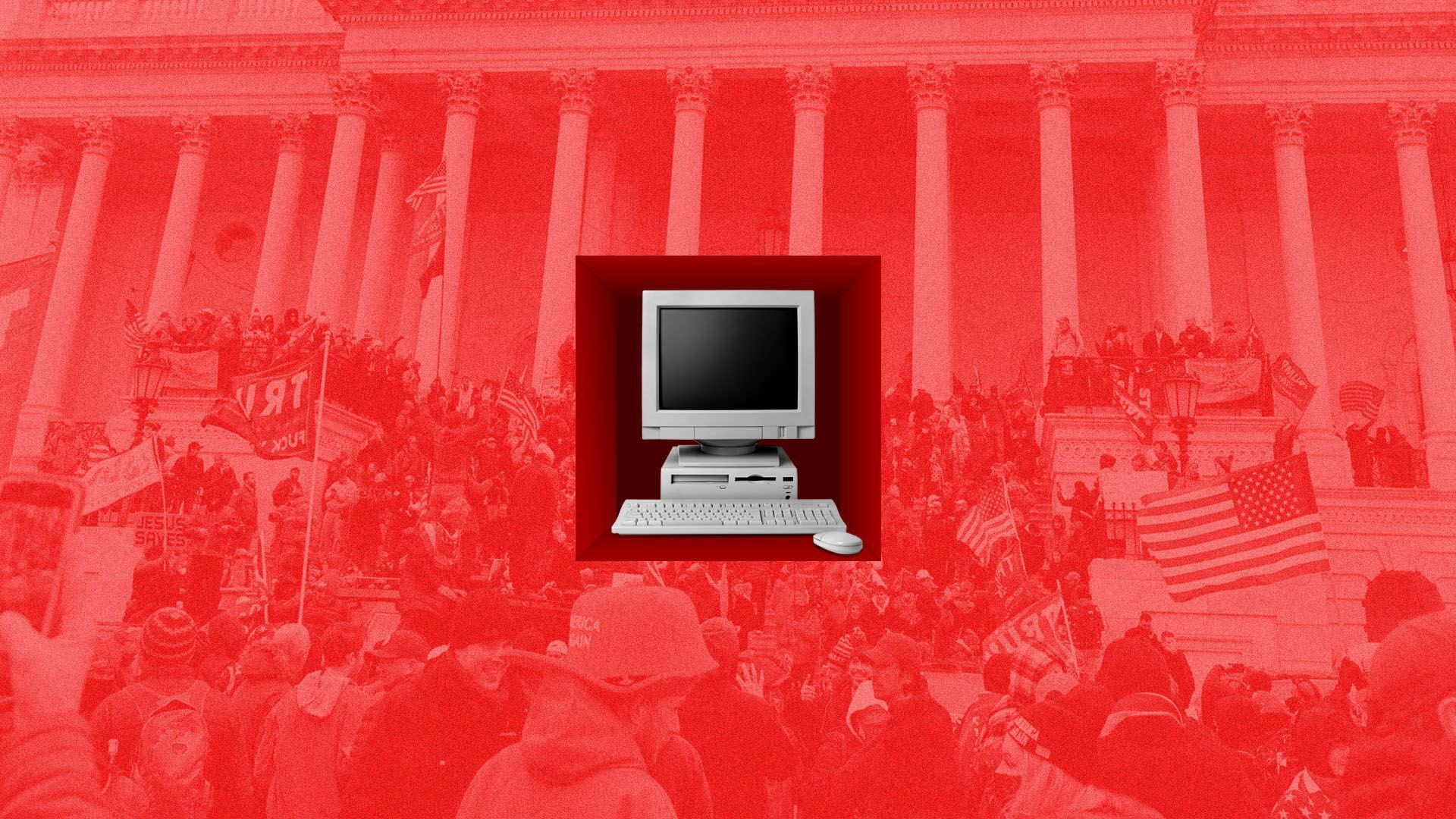 The Capitol insurrection means the anti-tech talk in Washington is more likely to lead to action, since it's ever clearer that the attack was planned, at least in part, on social media, write Axios' Margaret Harding McGill, Ashley Gold and Ina Fried.
Why it matters: The big platforms may have hoped they'd move to D.C.'s back burner, with the Hill focused on the Biden agenda and the out-of-control pandemic. But now, there'll be no escaping harsh scrutiny.
8. Why domestic terrorists are so hard to police online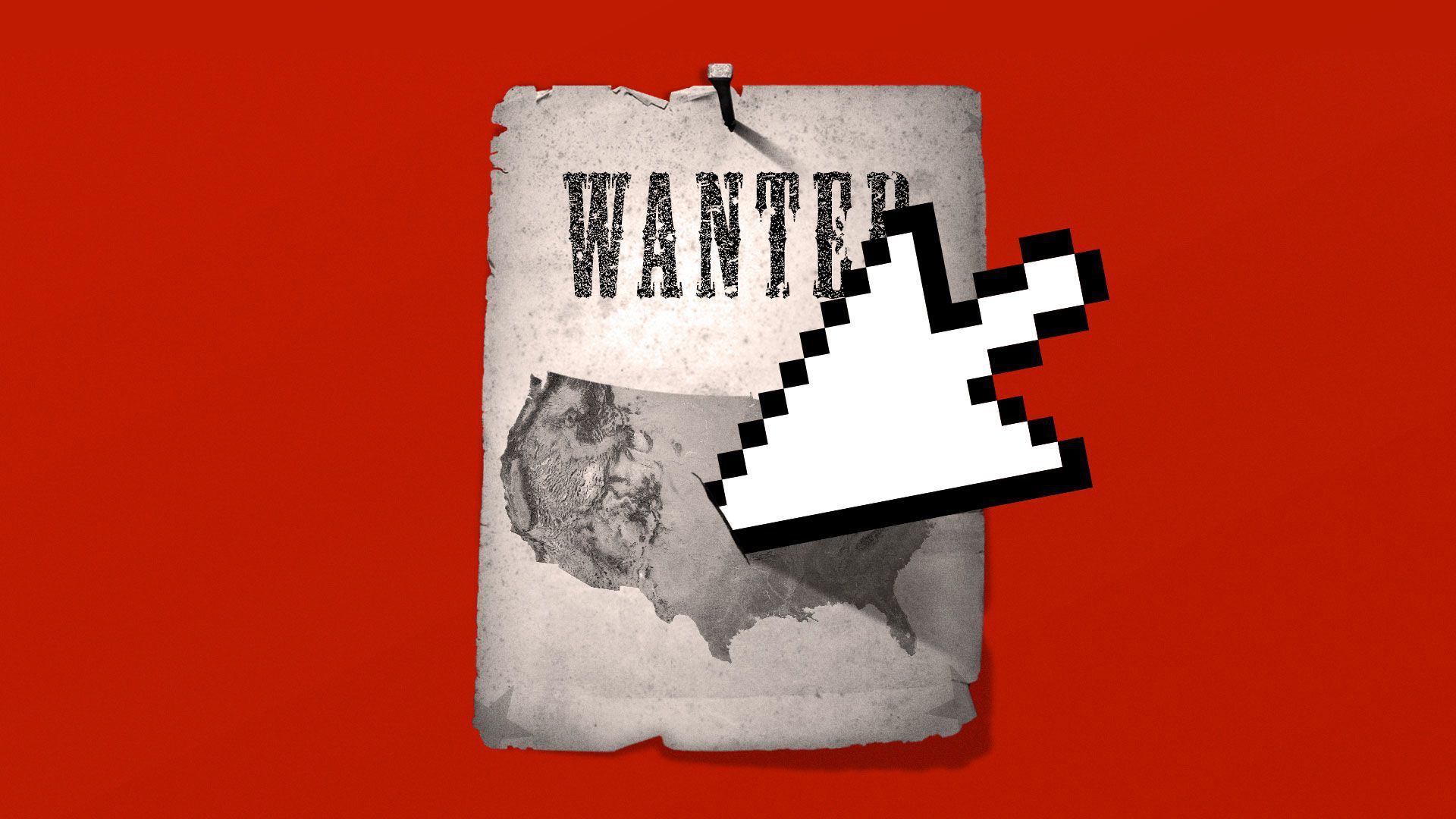 Domestic terrorism has proven to be more difficult for Big Tech companies to police online than foreign terrorism, largely because the debate is so politically charged, writes Axios' Sara Fischer.
The big picture: There's more unity around the need to go after foreign extremists than domestic ones — and less danger of overreaching into protected free speech and provoking a backlash.
One of the key differences between ISIS and today's domestic extremists is that being part of ISIS, a group that designates its members, is effectively illegal, says Alex Stamos, director of the Stanford Internet Observatory and former Facebook Chief Security Officer.
Being a follower of a fringe-right group like QAnon or Proud Boys isn't inherently illegal.
9. 🗞️ Living history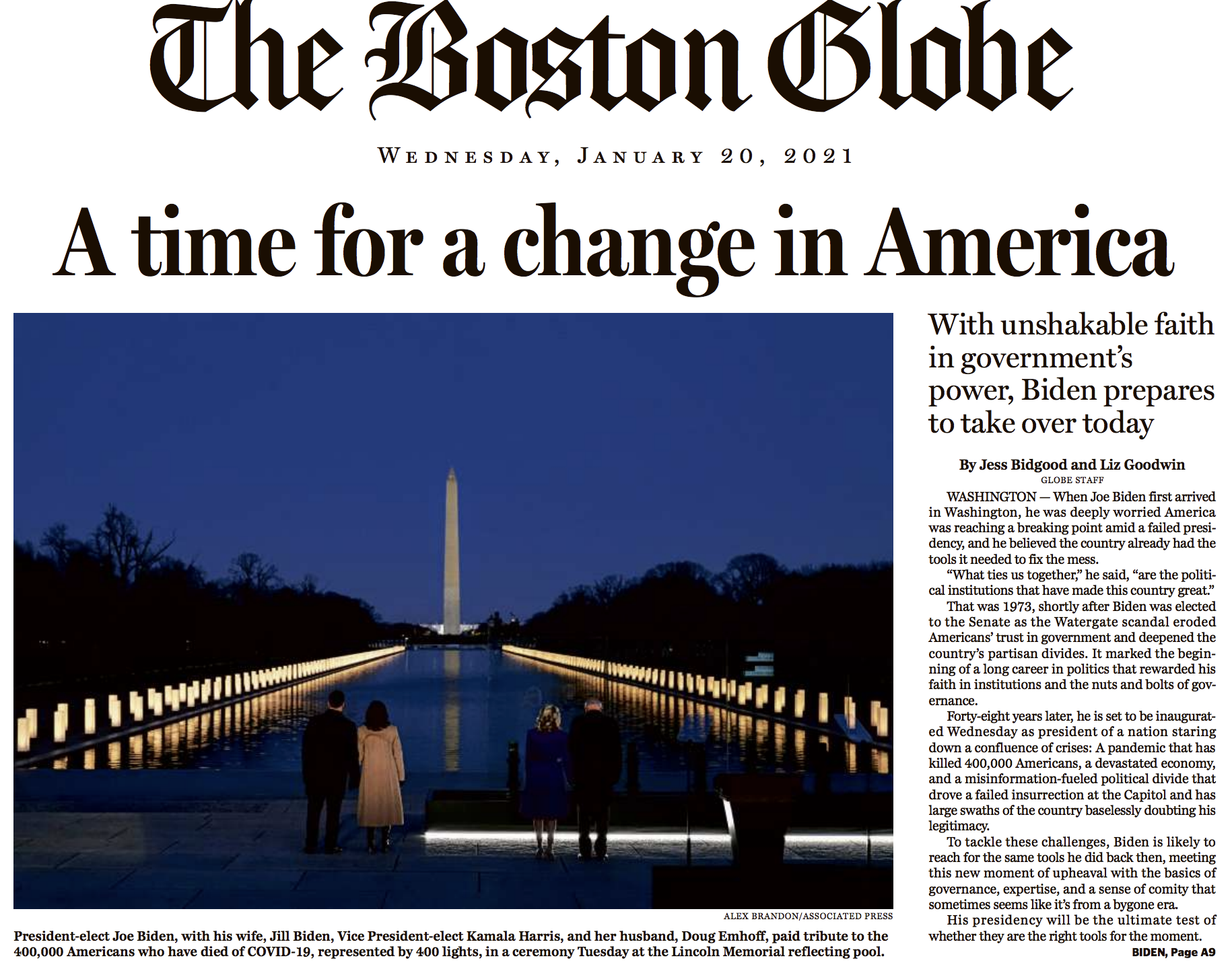 10. 1 smile to go: Each presidency's best team
Axios Sports' Kendall Baker and Jeff Tracy, who made these picks, give their top three candidates to take the crown during the Biden-Harris years:
🏈 Kansas City Chiefs
🏈 Alabama
🏀 Lakers
Sign up for our daily Axios Sports newsletter.
📬 Thanks for starting a new term with us. Please invite your friends to sign up for Axios AM/PM.