June 28, 2019
⚡ With a smirk and a finger point, President Trump told Vladimir Putin at the G20 in Osaka, Japan: "Don't meddle with the election." (AP)
☕ Happy Friday! Today's Smart Brevity count: 1,461 words ... < 6 minutes!
Was this email forwarded to you? Get your own! Sign up here.
1 big thing: Kamala Harris' night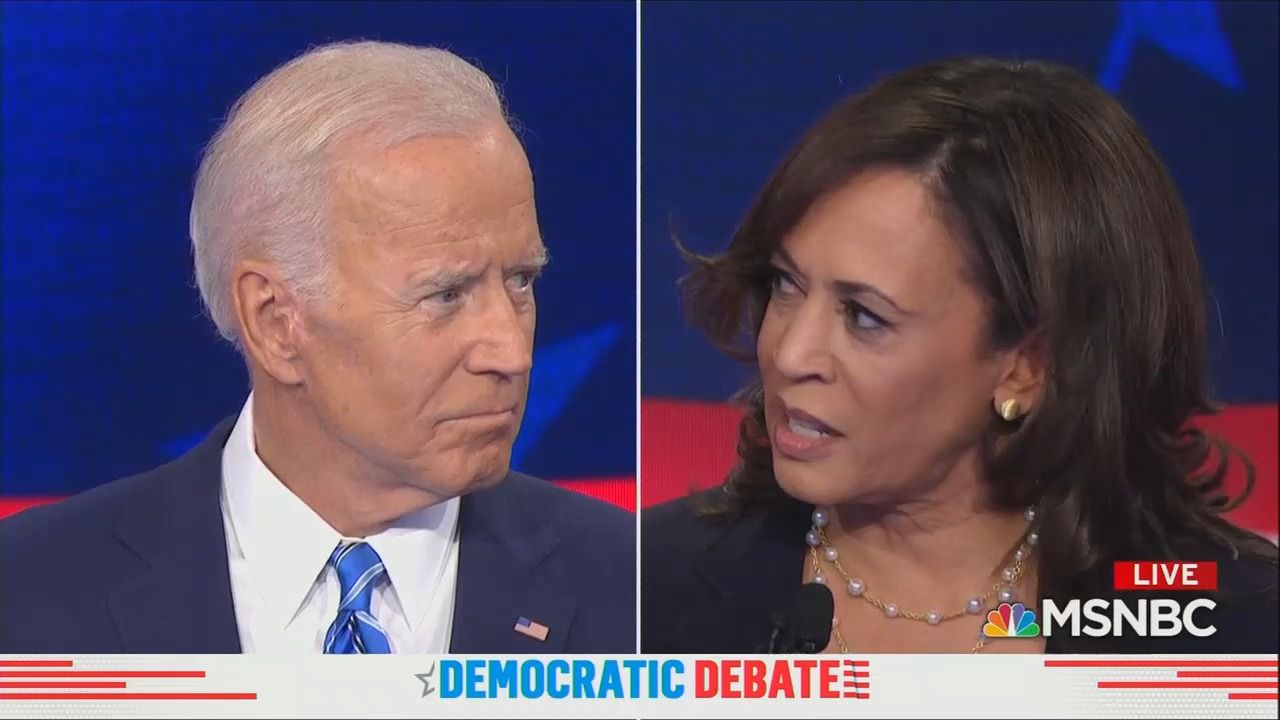 Sen. Kamala Harris of California, 54, stared down Joe Biden, 76, in a raw exchange on race and personal history that defined last night's Democratic presidential debate, Axios' Alexi McCammond reports from Miami. (See the video.)
Why it matters: Harris took control of the night by not waiting for the NBC moderators to bring up segregation. She addressed Biden directly, repeatedly going over her time.
She positioned herself as a product of history, but future-oriented and raring to change things in a way that Biden isn't.
A big question is who voters can picture onstage with President Trump. Harris was tough but also showed emotion, per Axios' Alayna Treene.
In the most electric moment of this week's back-to-back debates, Harris told Biden:
I do not believe you are a racist ... But I also believe, and it's personal ... [I]t was hurtful to hear you talk about the reputations of two United States senators who built their reputations and career on the segregation of race in this country. And it was not only that, but you also worked with them to oppose busing.
And, you know, there was a little girl in California who was part of the second class to integrate her public schools, and she was bussed to school every day. And that little girl was me.
Biden fumbled his response, not pausing to acknowledge her life experience, and tapping out before he was cut off:
It's a mischaracterization of my position across the board. I did not praise racists. The fact is that, in terms of busing, the busing, I never — you would have been able to go to school the same exact way because it was a local decision made by your city council. ...
I supported the ERA from the very beginning. I'm the guy that extended the Voting Rights Act for 25 years. ... I've also argued very strongly that we, in fact, deal with the notion of denying people access to the ballot box. I agree that everybody, once they, in fact — anyway, my time is up. I'm sorry.
🎤 How it's playing ... Stephen Colbert on a special live edition of CBS' "The Late Show": "I believe in global warming, because Kamala Harris was on fire."
Joy Reid on MSNBC's postgame: "She destabilized him on the race question."
Drudge Report: "BIDEN STAMMERS AS KAMALA EATS HIM ALIVE!"
Transcript of busing exchange. ... Debate transcript.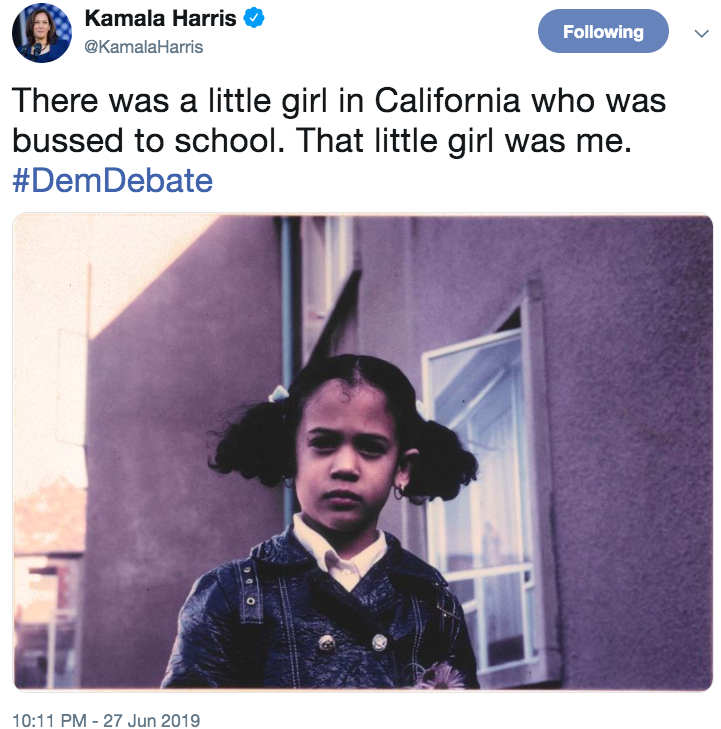 2. What we learned in the last 50 hours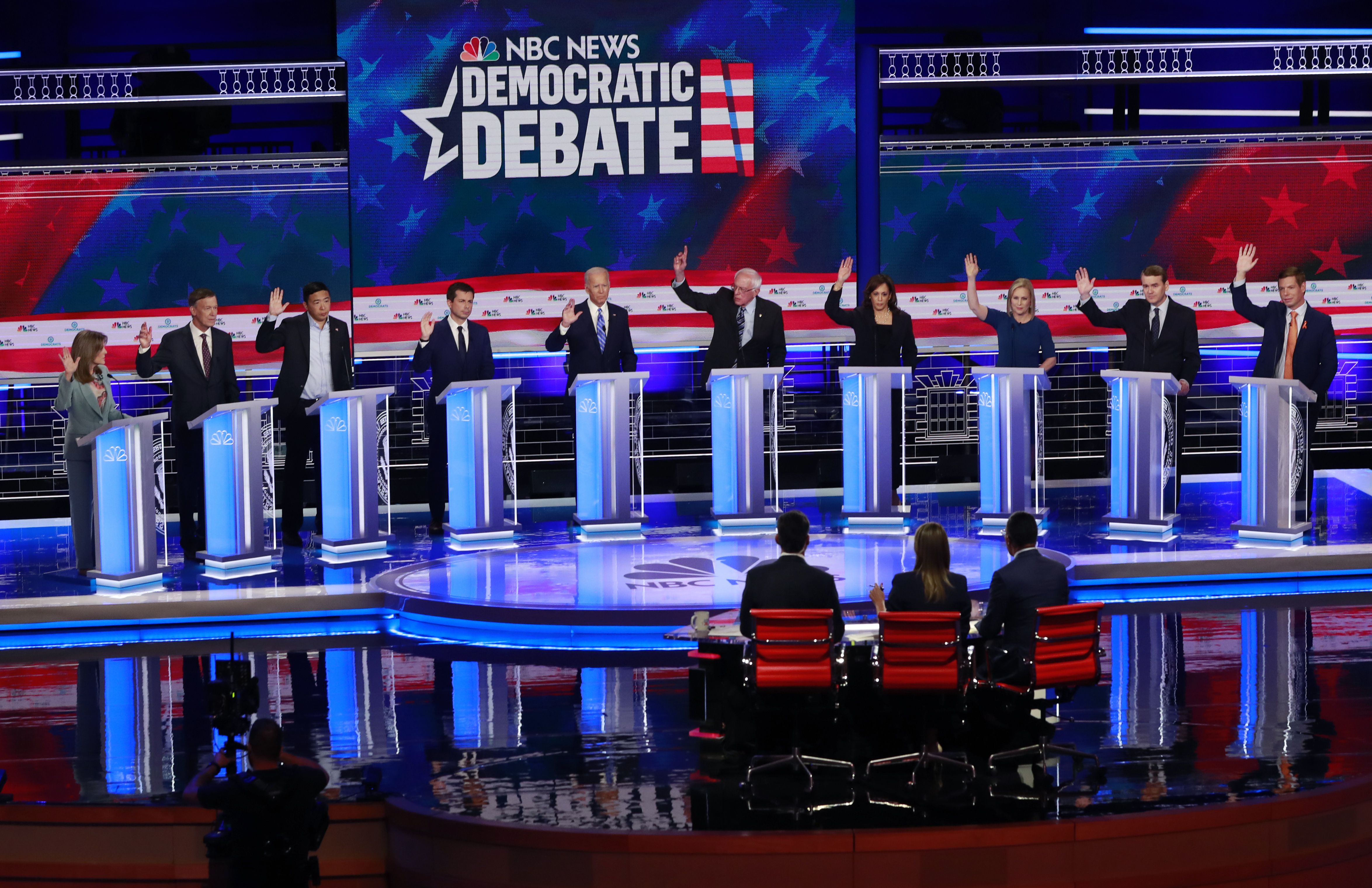 Top takeaways from this week's opening debates of 2020, from Axios' Alexi McCammond in Miami, managing editor David Nather, Alayna Treene and me:
They're not united on everything: If one of the more progressive Dems won, they'd still have plenty of moderates telling them to get real and stop trying to offer free college to everyone or abolish private health insurance.
Sen. Bernie Sanders seemed like a sidelight: Nearly everyone else could name the first issue they'd push as president but he couldn't, or wouldn't, choose. (Biden, seeming to misunderstand the question, said: "[T]he first thing I would do is make sure that we defeat Donald Trump, period.")
Pete Buttigieg had a moment of blunt honesty when asked why the diversity of the South Bend police force hadn't improved during his two terms as mayor: "Because I couldn't get it done. ... I am determined to bring about a day when a white person driving a vehicle and a black person driving a vehicle, when they see a police officer approaching, feels the exact same thing."
3. Ruling raises Supreme Court as 2020 issue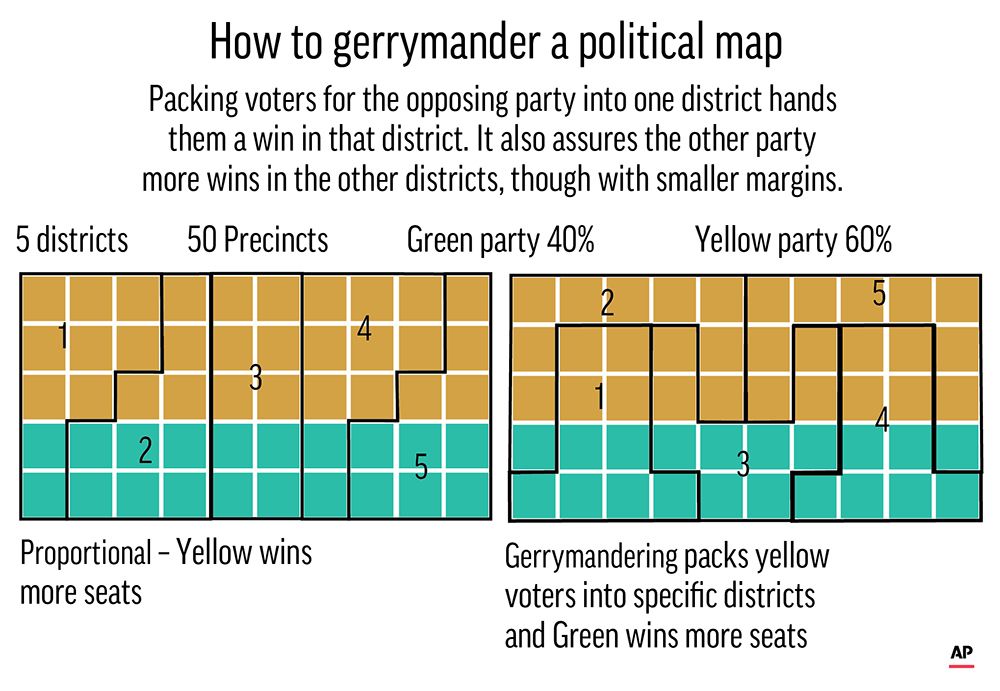 The battle for political advantage in state capitols will become more intense after a 5-4 Supreme Court decision declaring that federal judges have no role in settling disputes over partisan gerrymandering, AP reports.
Why it matters: The momentous ruling could empower the parties controlling state legislatures and governorships to become even more aggressive in drawing districts after the 2020 census.
Be smart, from WashPost: The gerrymandering decision is "a dramatic example of how a new justice [Brett Kavanaugh] can create monumental change."
On the final day of the term, the court also voted 5-4 to freeze "the Trump administration's plan to include a citizenship question on the 2020 Census form, ... saying the government had provided a 'contrived' reason."
President Trump tweeted: "I have asked the lawyers if they can delay the Census, no matter how long," until the Supreme Court makes a final ruling.
4. What a difference 35 months makes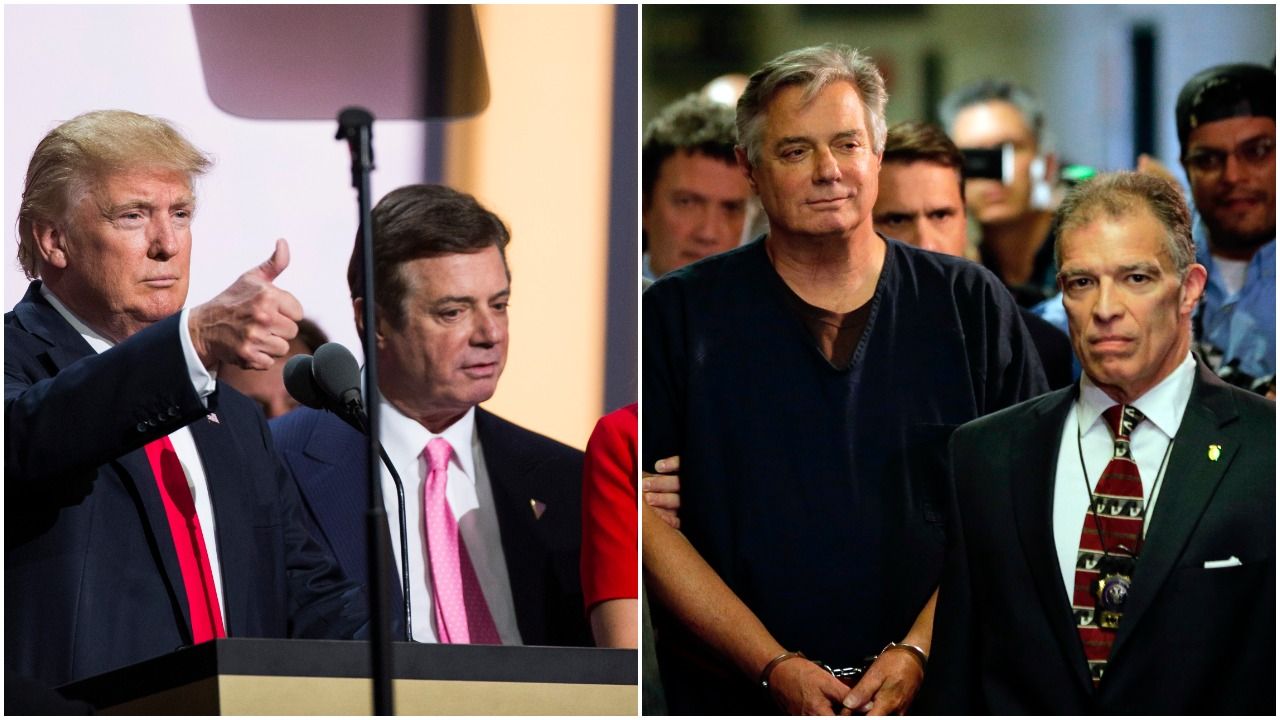 At left, President Trump does a walk-through of the Republican convention hall in Cleveland with his campaign chairman, Paul Manafort, in July 2016.
At right, Manafort wore handcuffs and prison garb yesterday as he arrived in court in New York to plead not guilty to state mortgage fraud charges. (AP)
5. Hot doc: How to reach Trump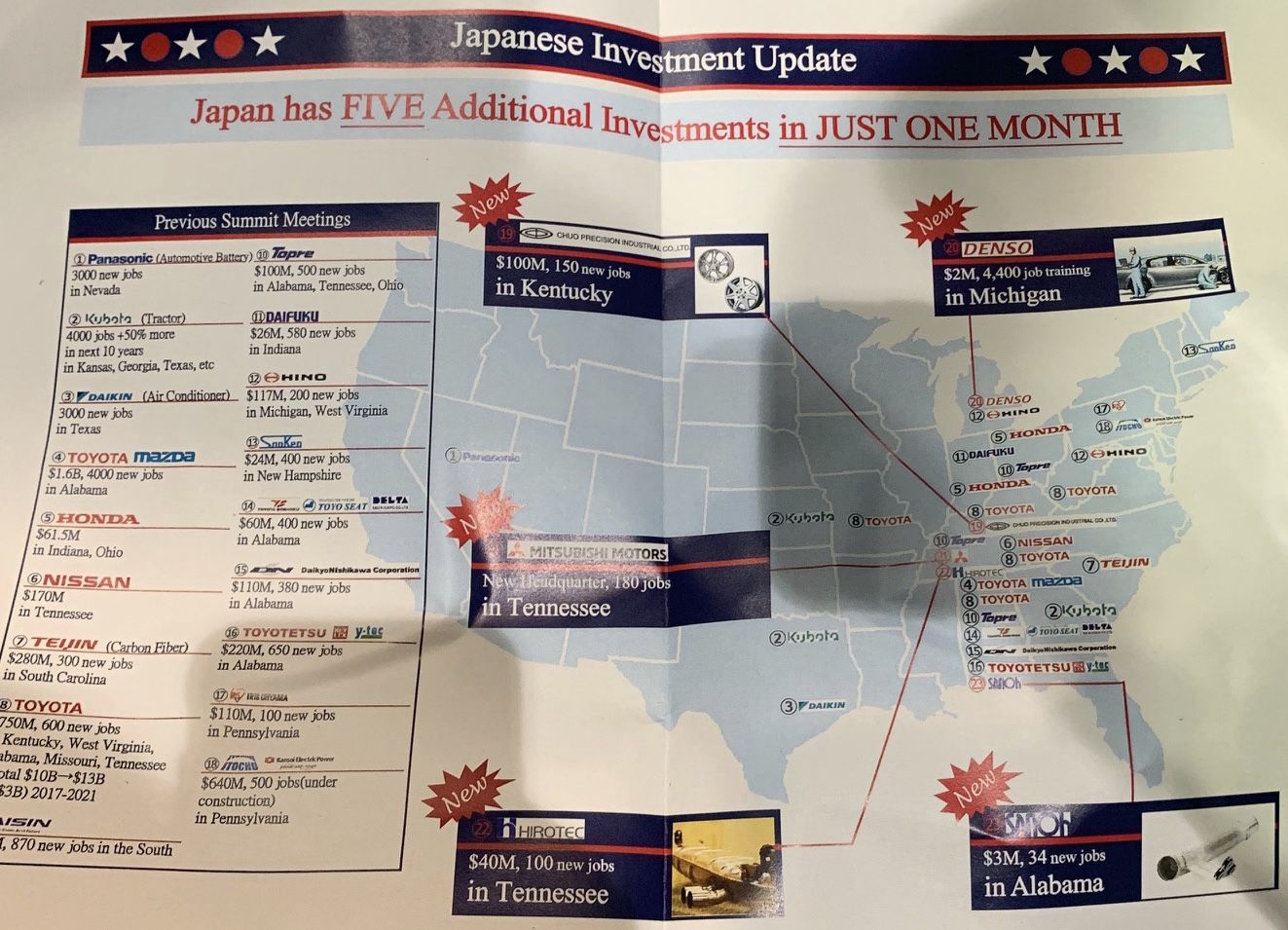 Japanese Prime Minister Shinzo Abe knows that graphics are an effective way of communicating with President Trump, who can resist traditional briefings.
A White House official said Abe gave Trump this document, which shows some of the Japanese investments in the U.S. to which Trump has referred.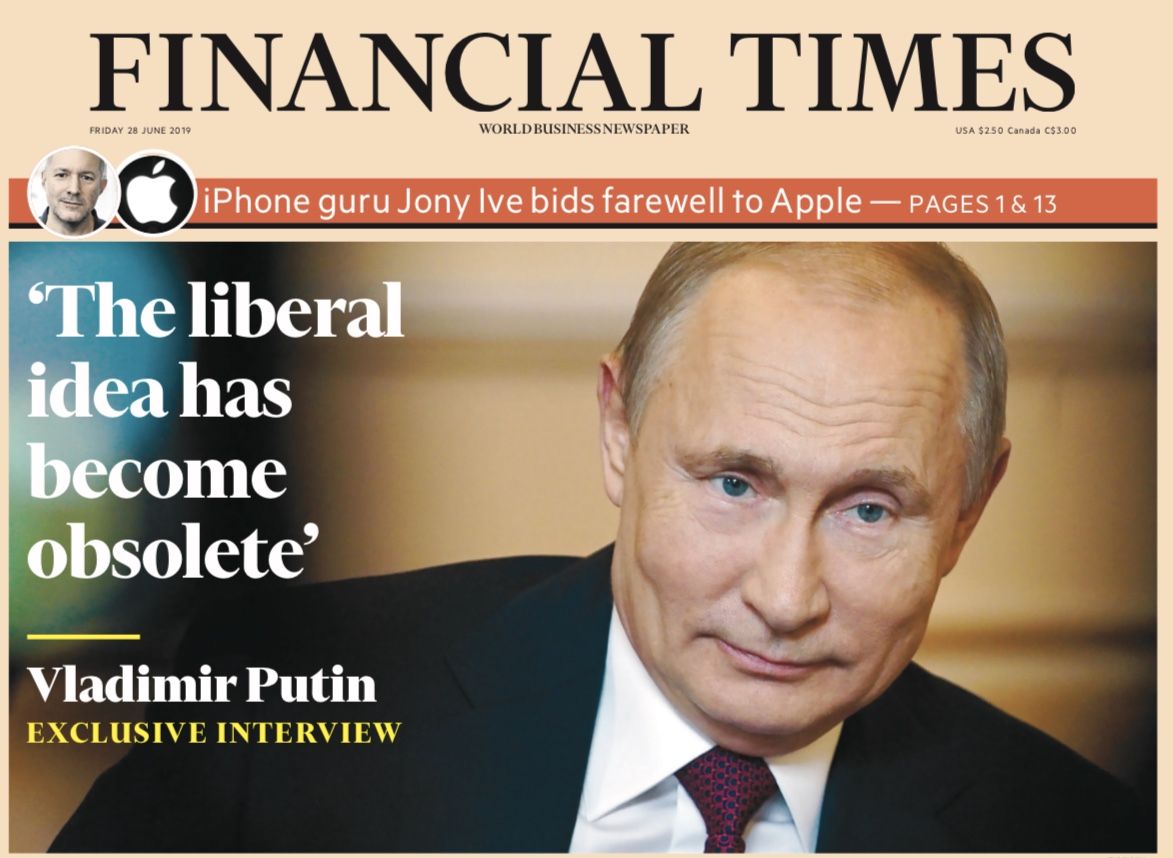 Vladimir Putin told the Financial Times' Lionel Barber and Henry Foy (subscription) in a Kremlin interview that "the liberal idea" had "outlived its purpose" as the public turned against immigration, open borders and multiculturalism.
6. Visionary behind Apple's designs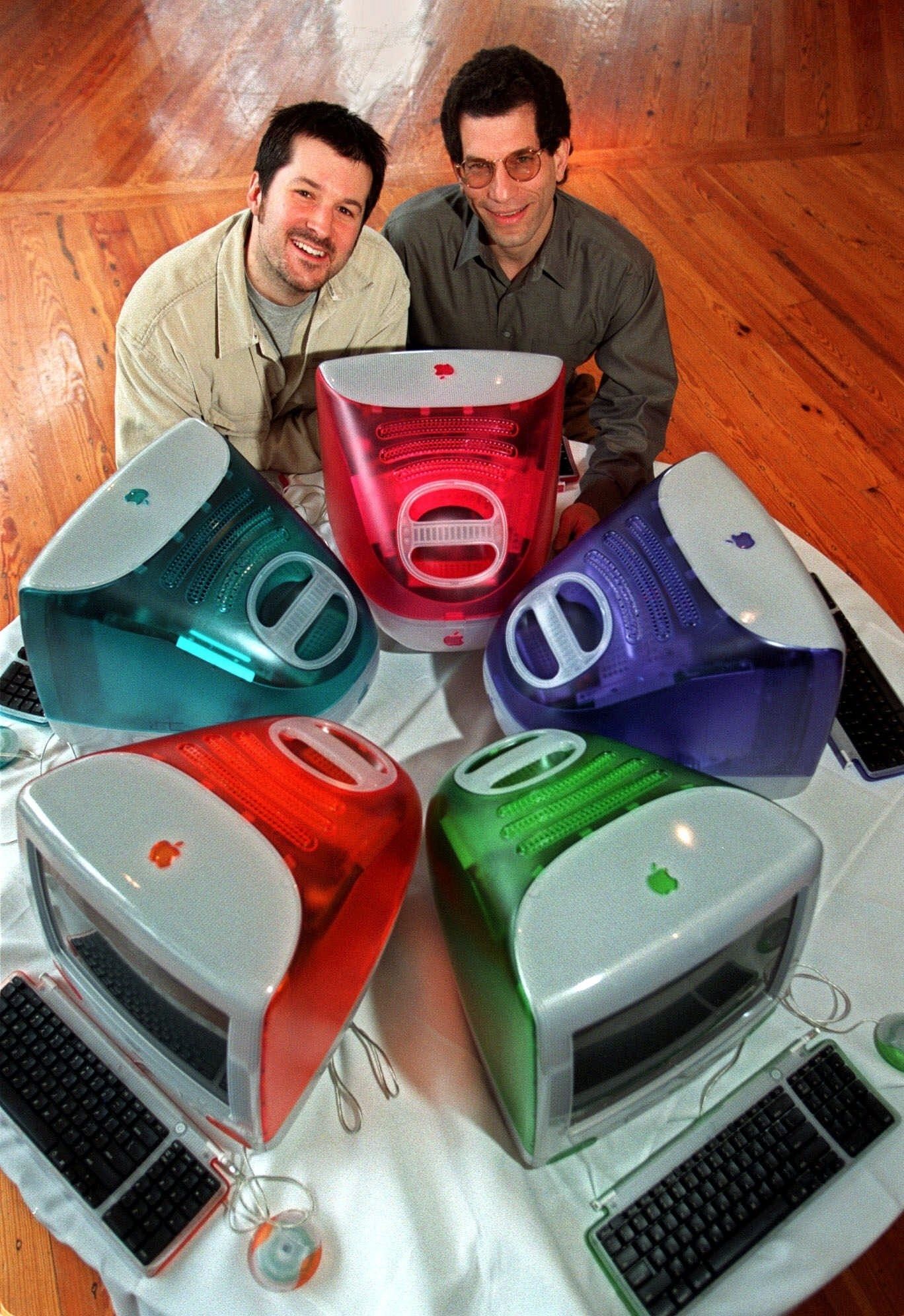 Jony Ive will leave Apple later this year "after more than two decades in which his iconic designs for the Mac, iPod and iPhone ... defined a generation of consumer products," the Financial Times' Tim Bradshaw reports (subscription).
Apple's chief design officer "is setting up his own new venture, a creative business called LoveFrom, with Apple as its first client."
Why he matters: Ive is "the world's most famous industrial designer and the custodian of the entire Apple aesthetic."
Ive told the FT he will "continue to work on wearable technology and health care, two of Apple's strategic priorities."
Steve Jobs told Walter Isaacson for his biography, "Steve Jobs," that Ive "understands what we do at our core better than anyone." (N.Y. Times)
7. First look: Brett Kavanaugh book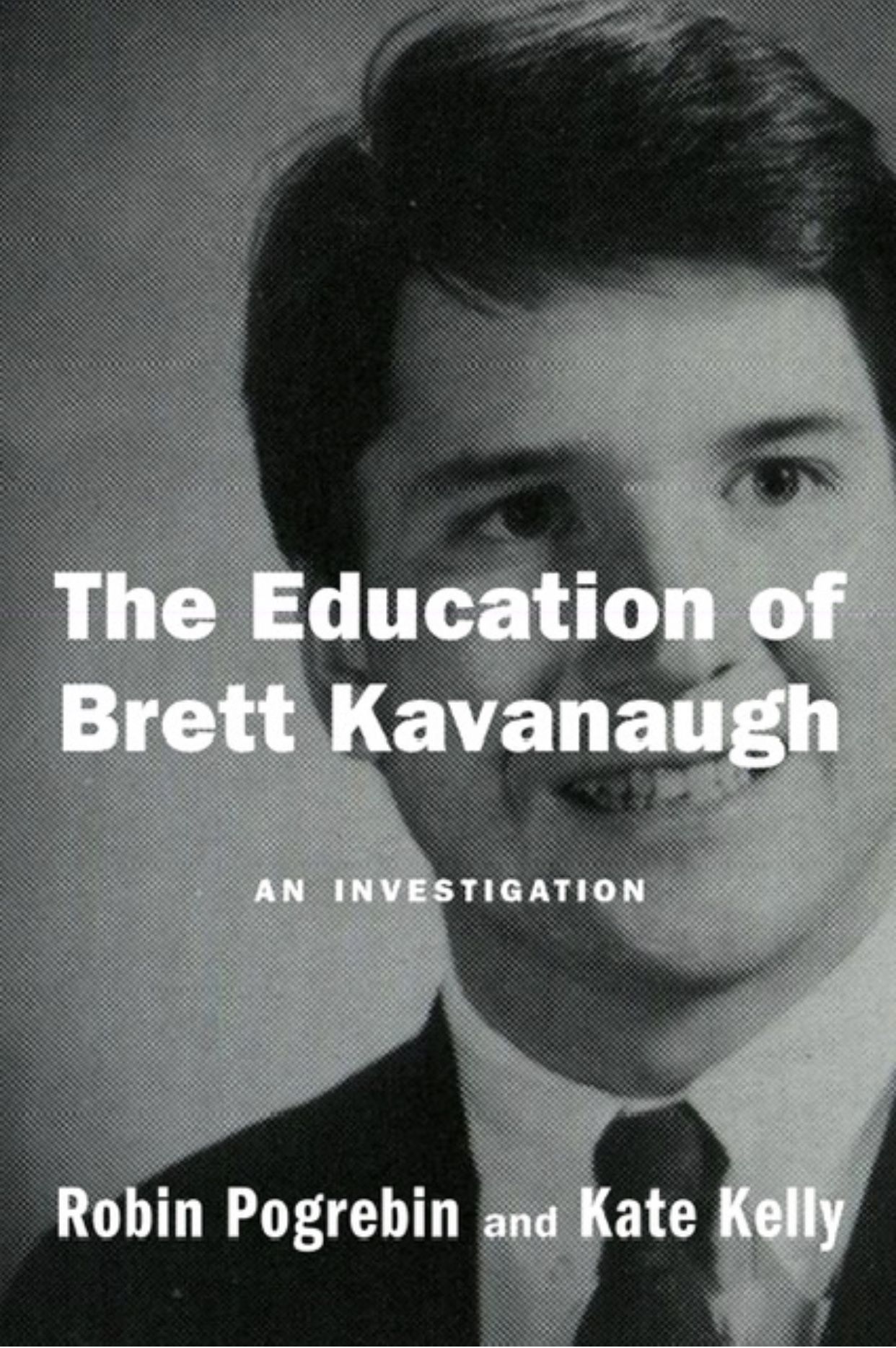 Here's a first look at the cover of "The Education of Brett Kavanaugh," coming Sept. 10 from N.Y. Times reporters Robin Pogrebin and Kate Kelly.
Portfolio, the publisher, says the book "paints a picture of the prep-school and Ivy-League worlds that formed our newest Supreme Court Justice."
During Kavanaugh's confirmation hearings, when the two reporters broke big stories about his past, "They were inundated with tips from former classmates, friends, and associates ... Now, their book fills in the blanks."
8. Scoop: Brian Stelter's next book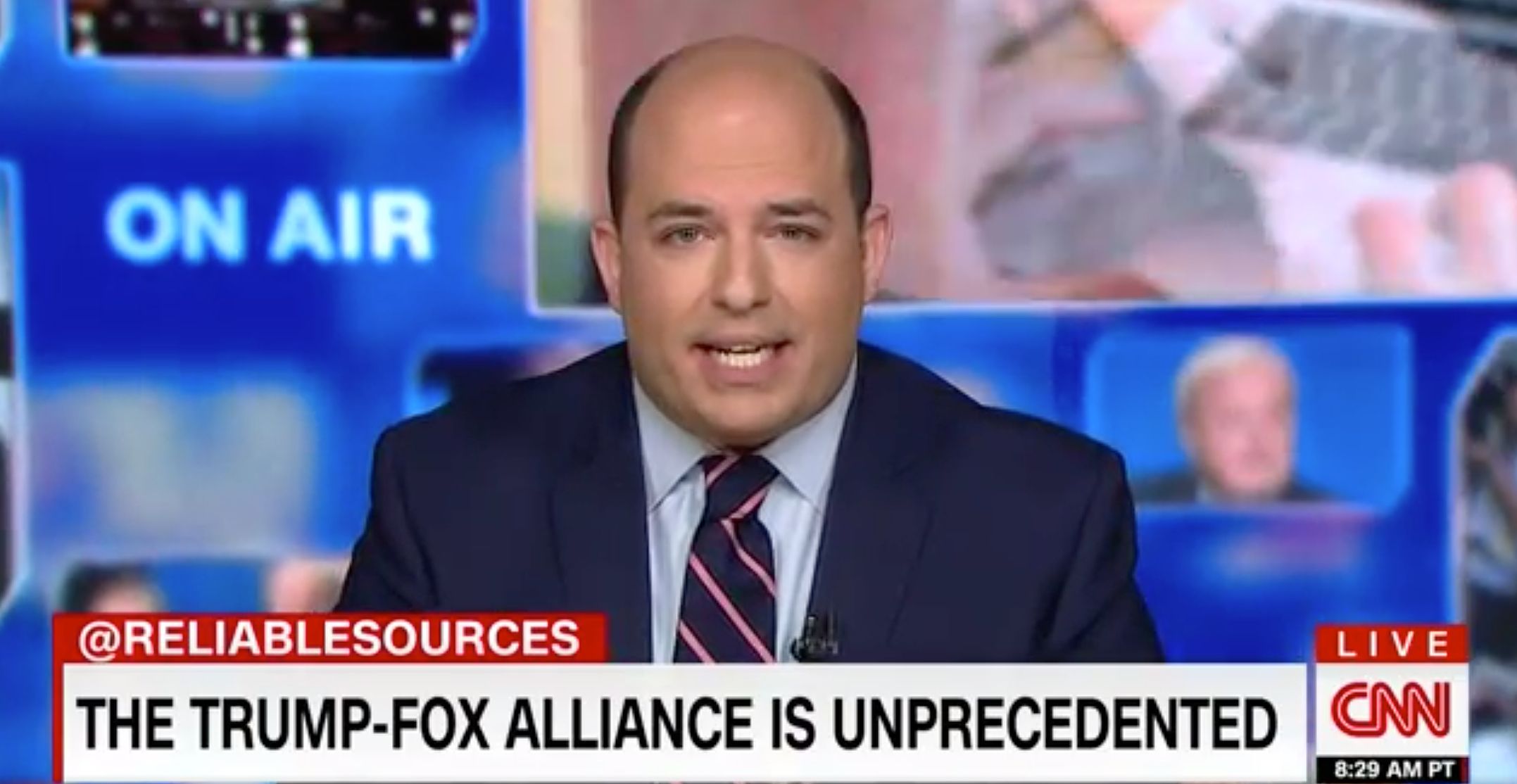 CNN chief media correspondent Brian Stelter has begun a book about Fox News in the age of Trump, and Trump in the age of Fox.
The book (no title yet) will be out next year from One Signal, an imprint of Simon and Schuster.
The publisher says the book will go "behind the scenes of a TV network and a White House merging in unprecedented fashion."
Stelter will draw on 15 years of reporting, going back to his days running TVNewser, a site he founded in 2004.
Stelter's first book — "Top of the Morning," about morning shows — hit the N.Y. Times bestseller list in 2013.
Mood music: Showtime's "The Loudest Voice," featuring Russell Crowe as Roger Ailes, premieres Sunday at 10 p.m. ET/PT.
9. Tracking the candidates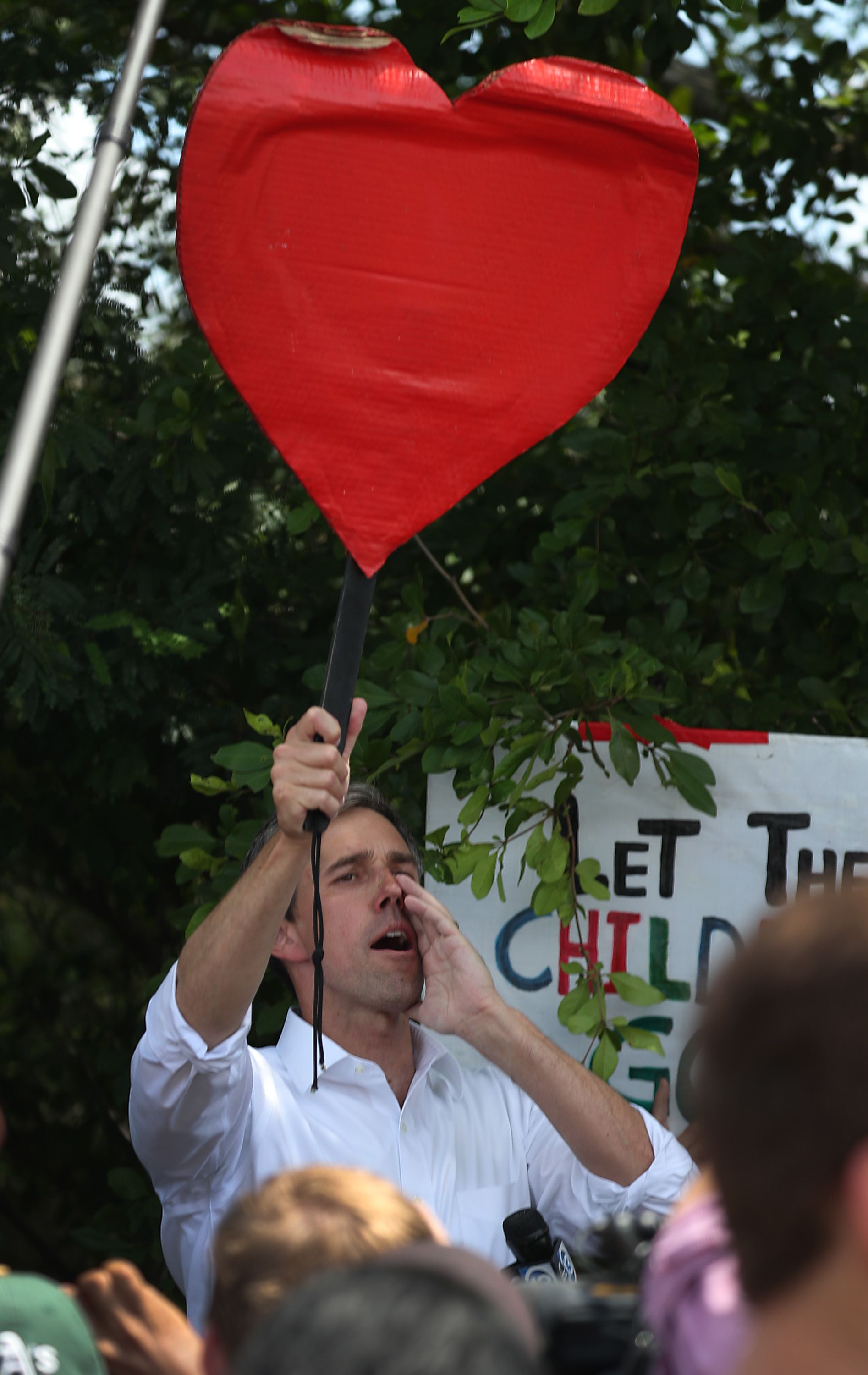 Democratic candidates climb a step ladder in Homestead, Fla., and wave at teenagers behind a chain-link fence covered with a mesh screen, AP reports:
Nearly a dozen White House hopefuls have transformed the nation's largest child migrant detention center into a destination on the campaign trail.
Sen. Elizabeth Warren, New York Mayor Bill de Blasio, Beto O'Rourke and Sen. Bernie Sanders each made the same climb.
With TV cameras swarming, O'Rourke shouted in Spanish that the children were loved. He and his wife, Amy, held up a sign shaped like a heart.
First look: Next month, O'Rourke and Sen. Kirsten Gillibrand will appear with Stacey Abrams, Trevor Noah, John Legend, Laurene Powell Jobs, Mark Cuban, Carlos Watson, John Kasich, Malcolm Gladwell and more at OZY Fest — an annual music, food and ideas festival in Central Park.
10. 1 historic thing: 50 years ago today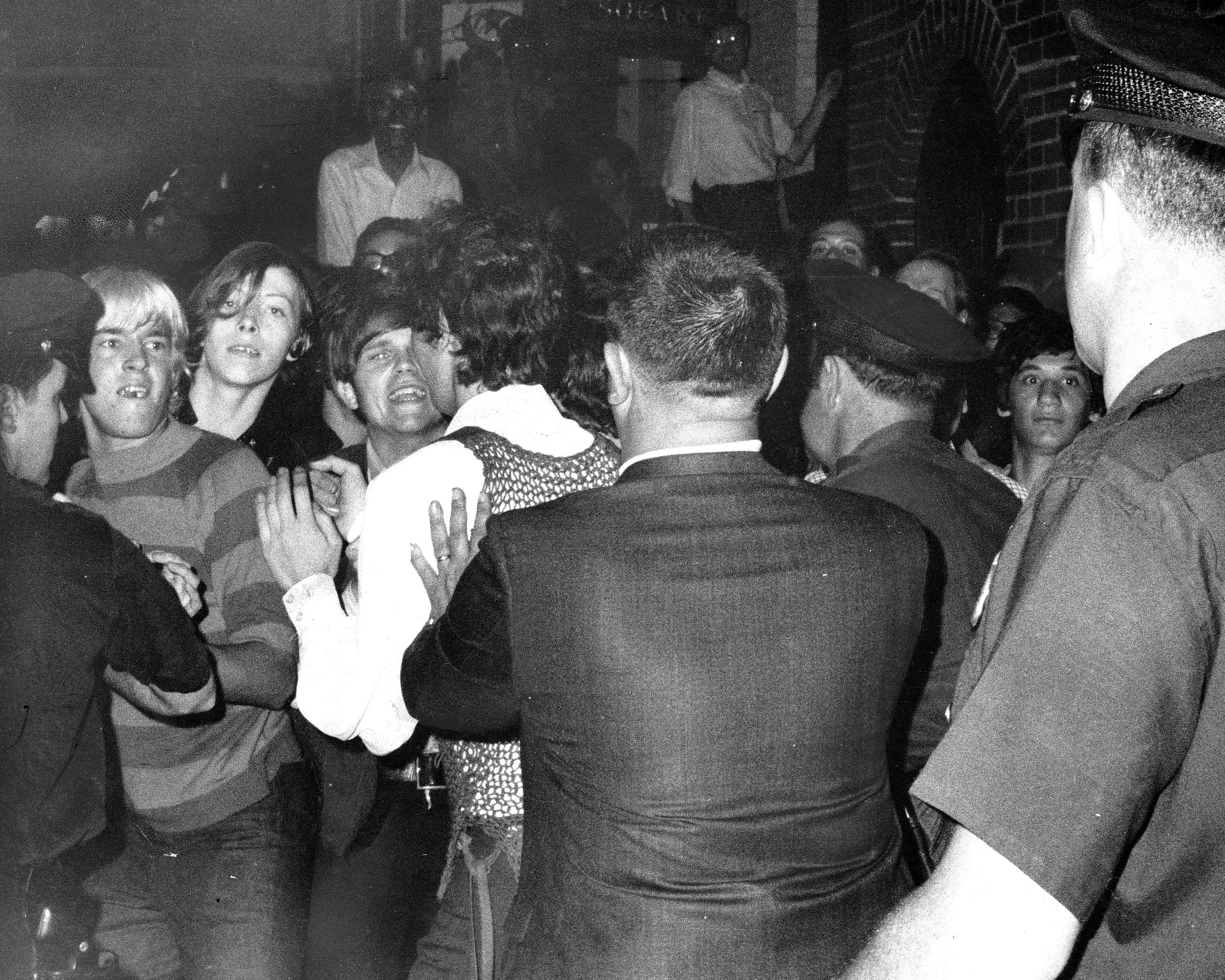 In the photo above — on June 28, 1969 — a crowd outside the Stonewall Inn, a gay bar on Christopher Street in Greenwich Village, resists police arrests.
Why it matters: The raid gave rise to a series of riots that provided a spark to the nascent LGBTQ rights movement.
The uprising catalyzed decades of demonstrations and individual acts of defiance that changed workplace, public policy and societal attitudes. (AP)
📱 Thanks for reading Axios AM. Invite your friends, relatives, co-workers to sign up here.