🇨🇭 Good Thursday morning from Davos. If you have friends or colleagues who'd enjoy the world's best breakfast conversation, have them sign up free for Axios AM here.
https://www.axios.com/newsletters/axios-am-f26e3a1a-f096-4fd0-a376-92561fd2ee9d.html?chunk=0#story0
1 big thing: Trump's "everyone's dirty" strategy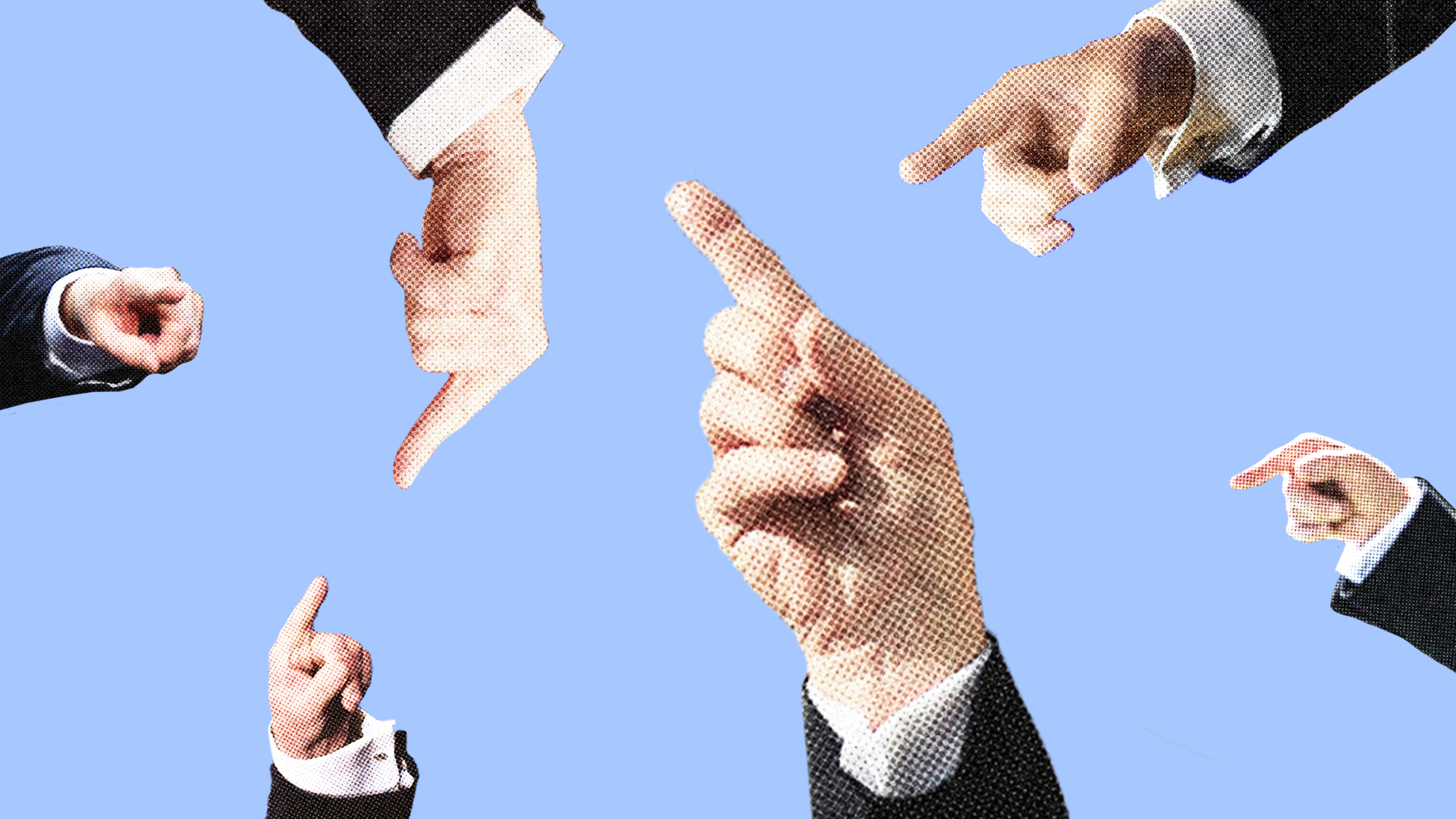 We're getting a vivid preview of how President Trump and his conservative allies will likely fight Robert Mueller if he accuses POTUS of obstructing justice, by firing James Comey/pressuring the FBI.
The chief attack: Mueller, the roots of his investigation and the FBI aren't on the level — and haven't been since even before he took office. 
A longtime Trump political associate told me: "Using the Clinton-Starr playbook, kill the special investigator and obfuscate the charge. ... This is the Government against the People's President. It is an easy narrative."
Conservative media is exploding with stories/conspiracies about rampant corruption at the FBI and a "secret society" to undermine Trump given some agents' love for and protection of Hillary Clinton.
Conservative columnist Noah Rothman on Twitter yesterday: "I've done two conservative radio shows today playing a generally adversarial role in defense of the FBI. The grassroots is eating up the notion Trump is a victim of systemic corruption in law enforcement."
Lots of attention is being paid to Trump's comments yesterday that he's willing to be interviewed under oath, and deservedly so.
But Trump's key line from yesterday's impromptu West Wing availability might be this, as the WashPost's Devlin Barrett notes: "Now they're saying, 'Oh well, did he fight back?' ... You fight back, oh, it's obstruction."
Fox's Sean Hannity continued to build a narrative of an anti-Trump strain in the FBI when he reported this "game-changing development" last night: "[T]he Department of Justice has started to recover some of the five months' worth of missing text messages between FBI Agent Peter Strzok and ... Lisa Page."
The "everyone's dirty" scenario is less a coordinated strategy — with careful planning involved — than it is a reflection of Trump's genuine belief that the intelligence community is out to get him, Axios' Jonathan Swan points out:
Trump's right-wing base authentically believes the same, and sees the missing FBI text messages as evidence that there's a Deep State out to get Trump.
Behind the scenes, Trump has been obsessing over the texts. He talks to plenty of people in his out-of-office hours, and in the residence, who fuel his sense that the intelligence community is populated by enemies out to get him — who are trying to engineer a coup and nullify his presidency.
Donald Jr. tops this list. 
Remember, one of the reasons Trump bonded so tight with Michael Flynn was their shared penchant for conspiratorial thinking. Flynn would use his many hours by Trump's side on the campaign to fill his ears with his bitter analysis of Obama's intelligence apparatus. 
Be smart: Trump has created "reasonable doubt" about Mueller's investigation among a significant portion of the GOP base — enough that he may have already won his case with the "jury" that matters most to him and his political future.   

https://www.axios.com/newsletters/axios-am-f26e3a1a-f096-4fd0-a376-92561fd2ee9d.html?chunk=1#story1
2. Trump to Davos: We're back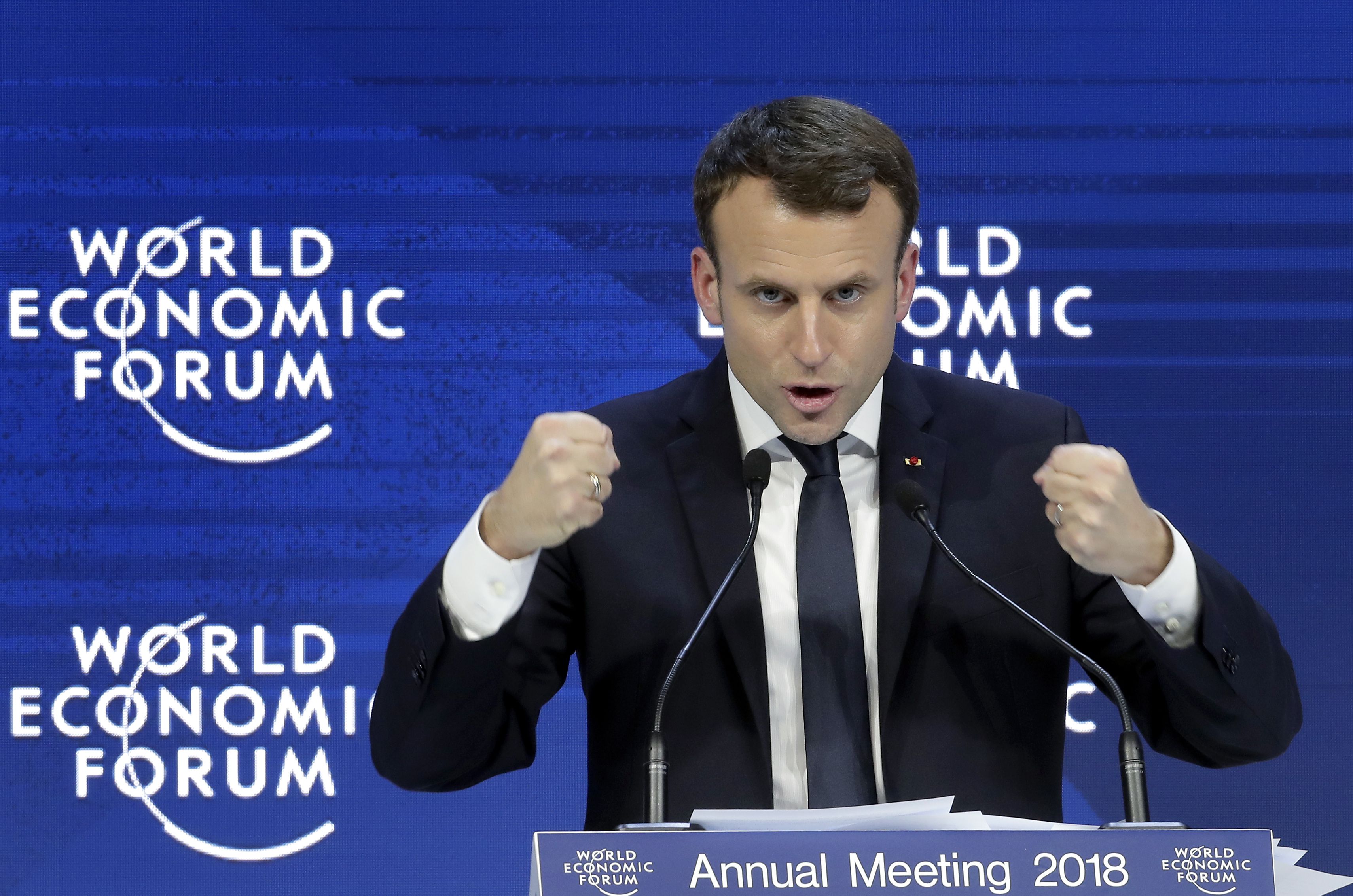 Emmanuel Macron, President of France, speaks in Davos. (AP's Markus Schreiber)
Breaking ... Air Force One landed in Switzerland this morning, ahead of Trump's speech to Davos tomorrow.
Trump advisers hope the takeaway will be: "America first" doesn't mean "America alone."
A top White House official tells me Trump's implicit message will be: "We're back."
N.Y. Times: "Bottom Line for Davos Elite: Trump Is Good for Business."
The backdrop ... "Europe's Core Leaders Tell Davos Why They're Different Than Trump" — Bloomberg:
"The leaders of Germany, France and Italy used separate appearances in the Swiss resort ... to beat the drum for free trade, globalization and more joint policy making in Europe."
German Chancellor Angela Merkel "was joined by French President Emmanuel Macron and Italian Prime Minister Paolo Gentiloni, who together represent continental Europe's three biggest economies."
N.Y. Times Quote of the Day ... Phil Levy, a former White House economist for President George W. Bush, on Trump's approach to planned trade pacts:
"Maybe there was some sort of presumption on the part of the president and his team that if the U.S. said stop, this process would come to a halt. What this shows is that's not true. The world just moves on without us."
https://www.axios.com/newsletters/axios-am-f26e3a1a-f096-4fd0-a376-92561fd2ee9d.html?chunk=2#story2
3. Larry Nassar will die in prison ...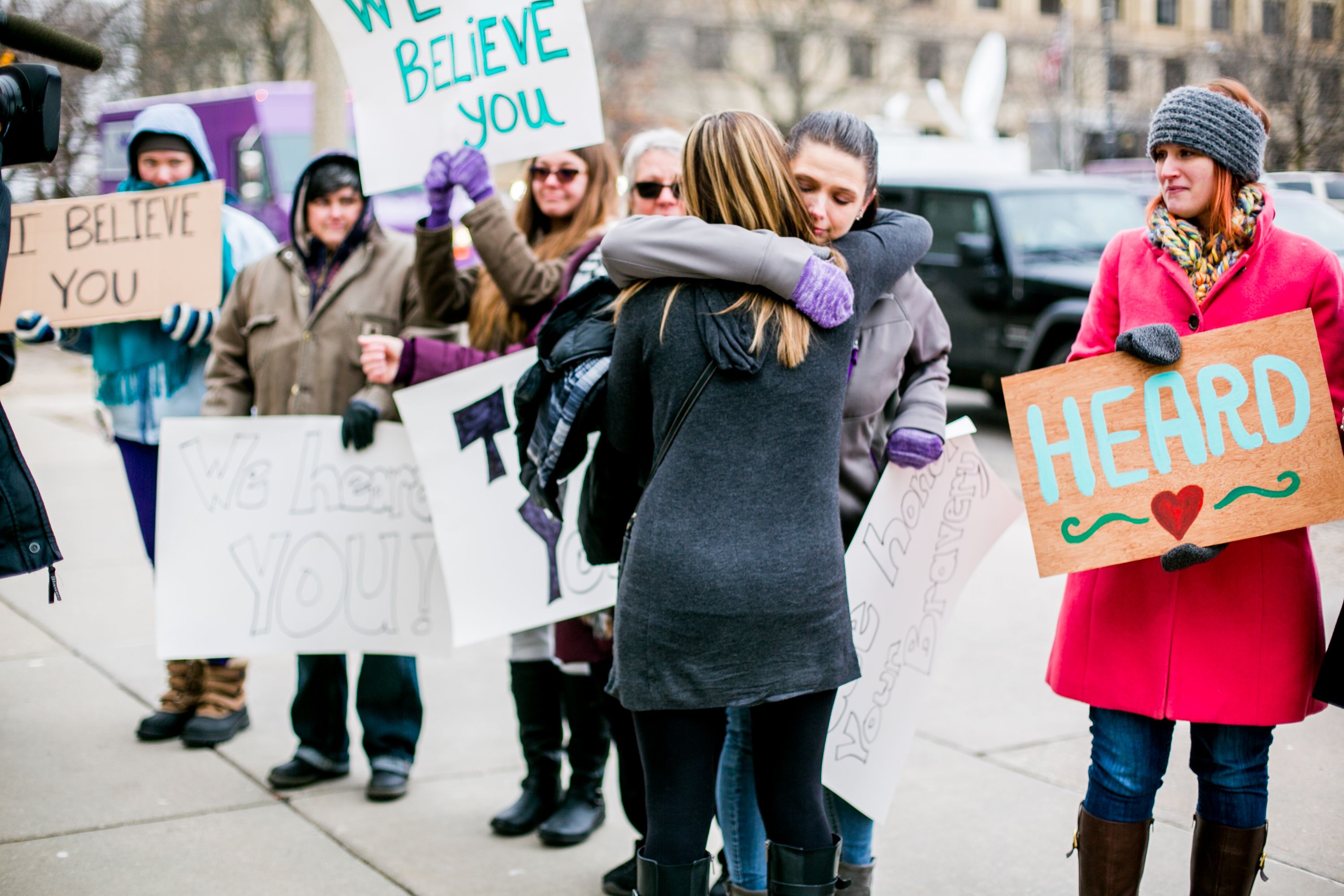 Victim-advocacy groups cheer for women as they leave the courthouse in Lansing, Mich., after the sentencing. (Anthony Lanzilote / Getty Images)
... Judge Rosemarie Aquilina has made sure of that, the Detroit Free Press reports:
 "I just signed your death warrant," Aquilina said in Ingham County Circuit Court, where she sentenced Nassar to 40 to 175 years in prison as part of a plea deal on seven counts of first-degree criminal sexual conduct involving more than 160 girls and women over more than two decades."
"Nassar — the once-acclaimed sports medicine doctor who traveled the world with the U.S. Olympic team, and treated athletes from Michigan State University to USA Gymnastics to private gyms — deceived athletes over more than two decades, manipulating them into believing sexual assault was medical care."
https://www.axios.com/newsletters/axios-am-f26e3a1a-f096-4fd0-a376-92561fd2ee9d.html?chunk=3#story3
Bonus: Pic du jour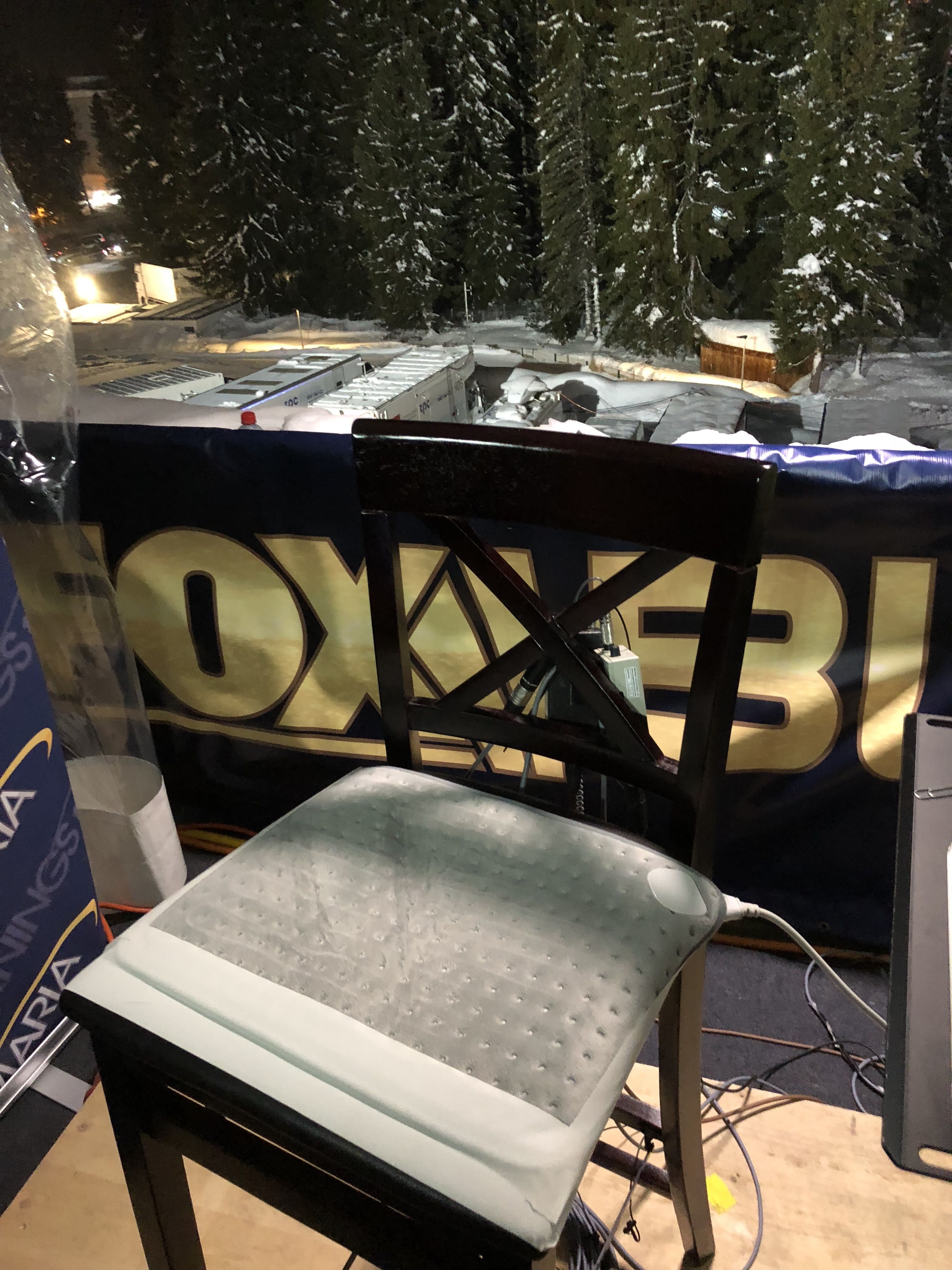 When you see Fox personalities wearing parkas as they deliver their reports from Davos, they may be a little more comfy than it looks.
The network tents in Davos have open backs, to enhance the "beauty shot" of the Alpine woods behind them.
But when I was a guest yesterday on Dana Perino's "The Daily Briefing" on Fox News (wearing an Old Navy coat), I discovered a secret.
Both of the Fox chairs are fitted with heating pads, like the heated seat in a fancy car.
https://www.axios.com/newsletters/axios-am-f26e3a1a-f096-4fd0-a376-92561fd2ee9d.html?chunk=4#story4
4. Gerrymandering's moment of reckoning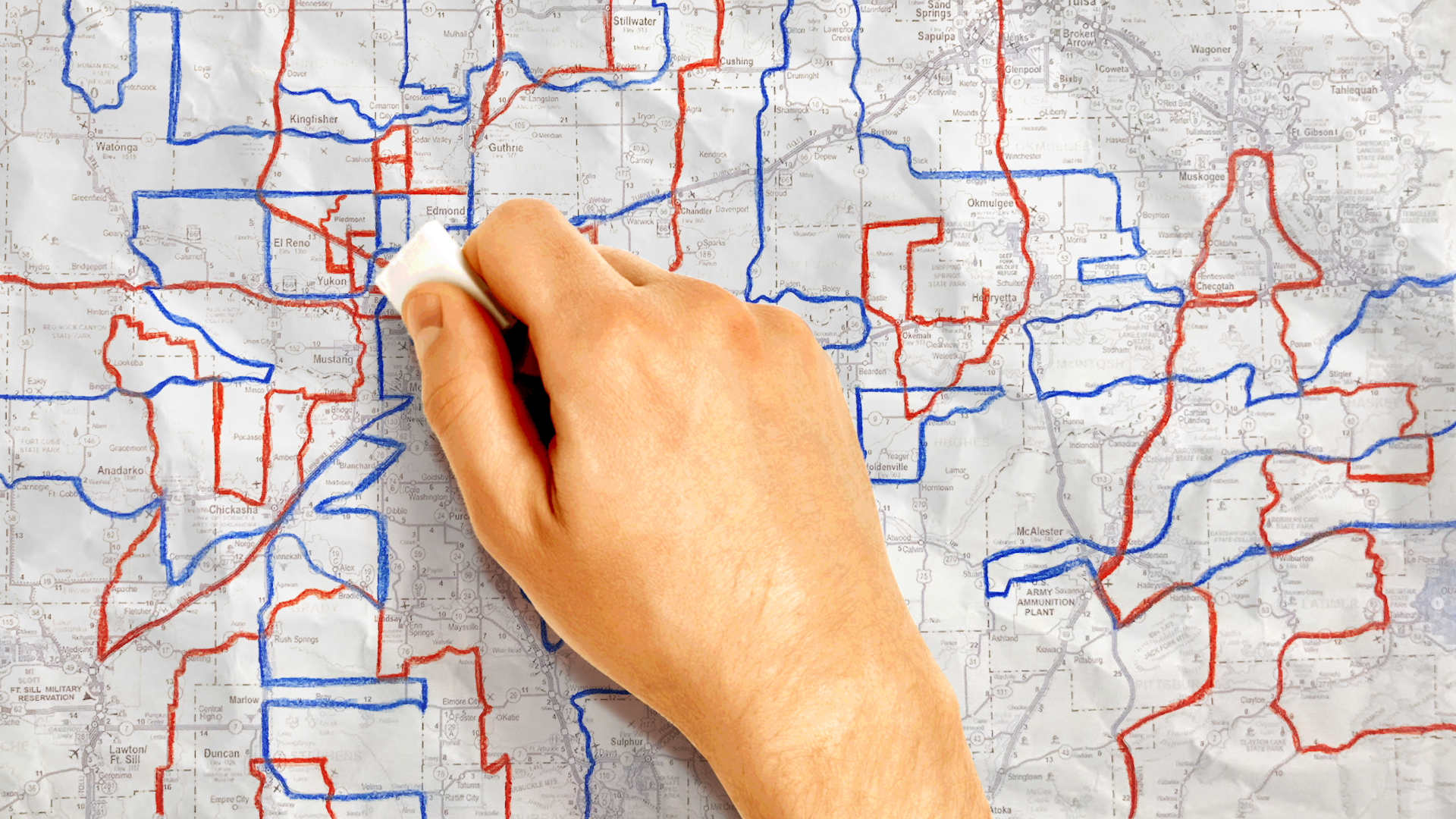 The dam has broken on partisan gerrymandering. The courts are taking a harder line than ever before, saying some states have simply gone too far as they tried to give one political party an advantage, Axios' Sam Baker reports:
But if the Supreme Court doesn't join the mounting legal backlash — and soon — there may be no limits on state parties' ability to design their own political battlegrounds.
Why it matters: The outcome of these legal battles not only has the potential to upend the 2018 midterms, but also the more fundamental tools of politics and governance.
Where it stands: After giving the states free rein for decades, federal courts recently struck down legislative maps in Wisconsin and North Carolina, drawing a constitutional line that had previously existed only in theory. Pennsylvania's Supreme Court also ruled last week that the state's Republican-led redistricting plan violated the state constitution.
https://www.axios.com/newsletters/axios-am-f26e3a1a-f096-4fd0-a376-92561fd2ee9d.html?chunk=5#story5
5. "Not a choice but a reality"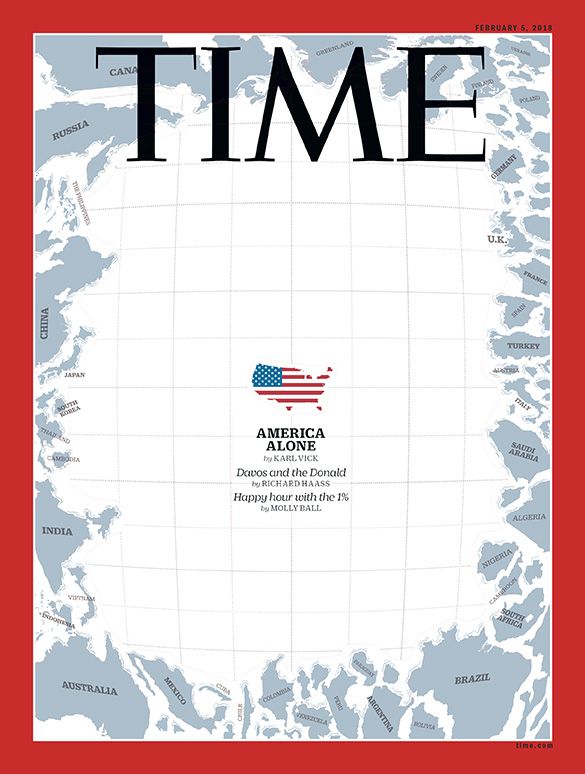 Courtesy TIME
CFR President Richard Haass, in TIME, on what the global elite can learn from Donald Trump:
"The Davos men and women need to open their minds to the idea that some of what Trump has to say may be right ... Elites need to get real about how to fix the world."
"For his part, Trump needs to understand that globalization is, in many dimensions, not a choice but a reality."
"No one expects Donald Trump to depart Davos a card-carrying globalist, but it would serve him well to return home recognizing that 'making America great again' requires that the world not come apart."
https://www.axios.com/newsletters/axios-am-f26e3a1a-f096-4fd0-a376-92561fd2ee9d.html?chunk=6#story6
6. The future of Amazon: How big is too big?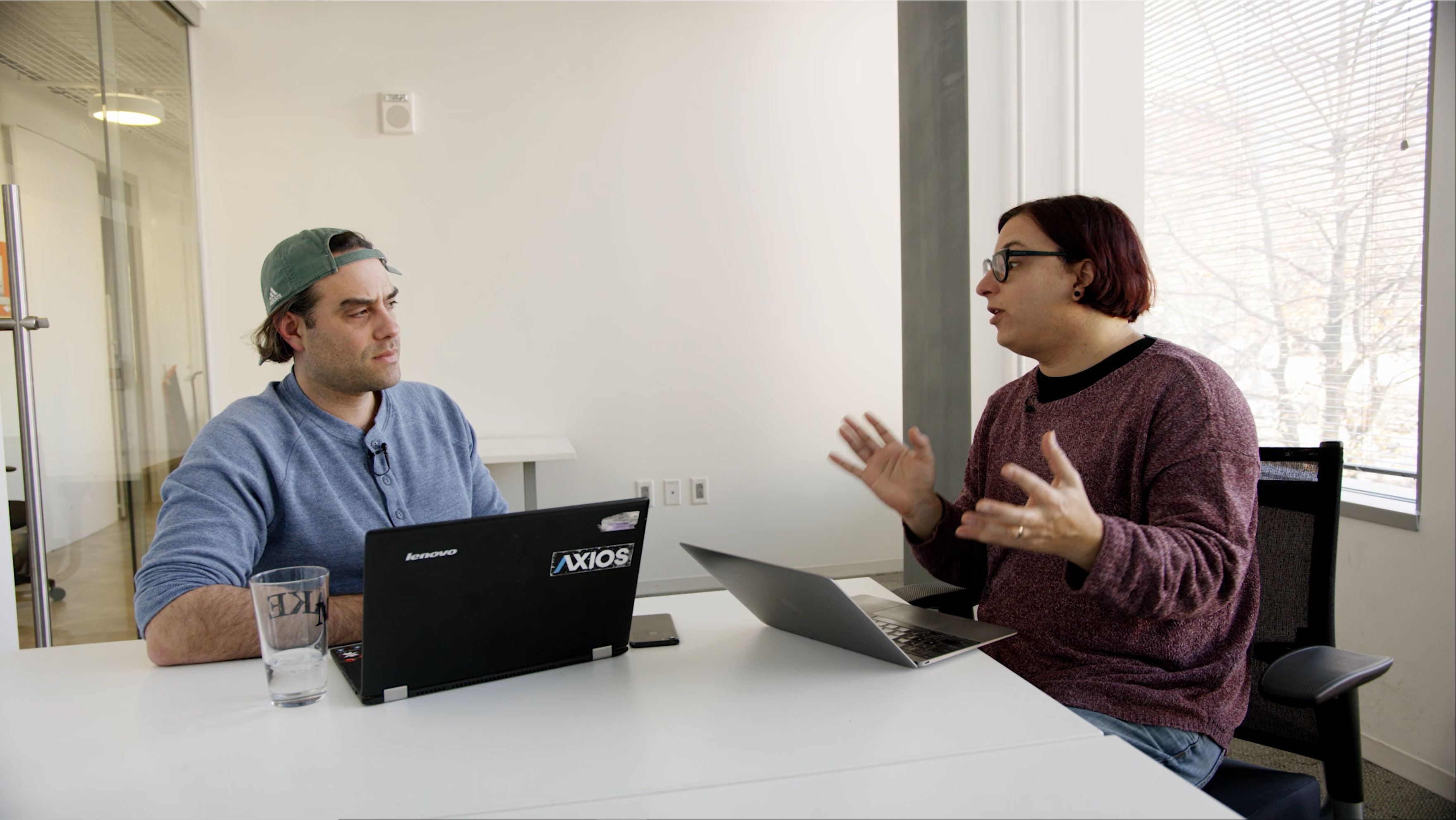 Axios' Ina Fried and Dan Primack discuss Amazon's dominance with an eye toward the future: at what point does the company get broken up?
https://www.axios.com/newsletters/axios-am-f26e3a1a-f096-4fd0-a376-92561fd2ee9d.html?chunk=7#story7
7. Sounds good, but be careful what you wish for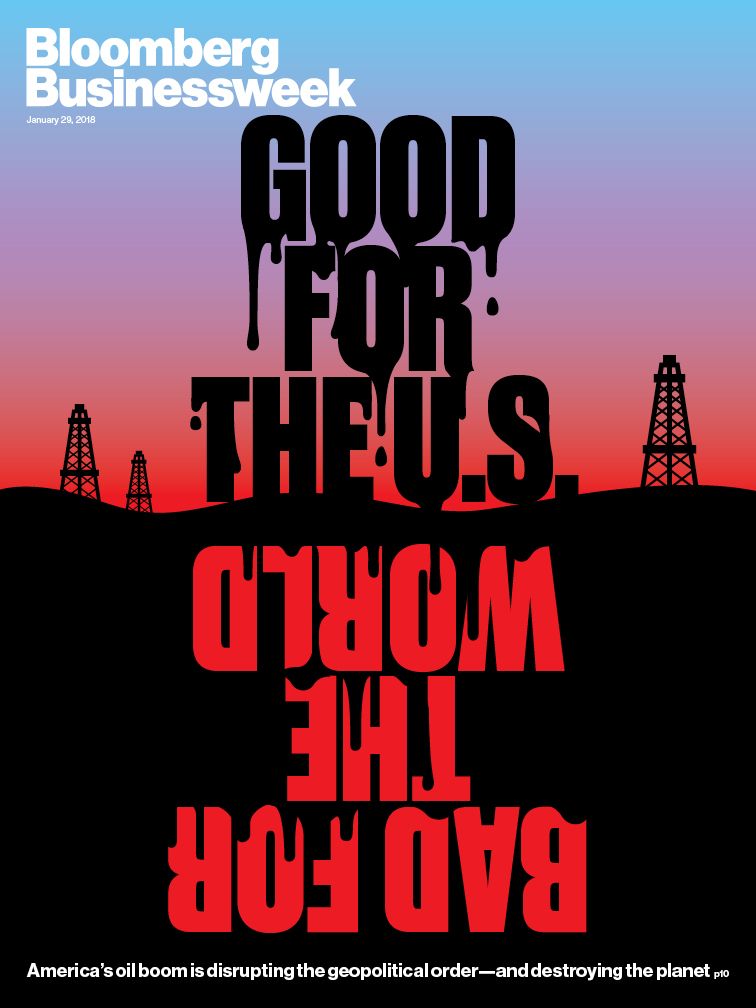 Courtesy Bloomberg Businessweek
"The Dark Side of America's Rise to Oil Superpower" — Bloomberg Businessweek:
The data: "America is on pace to become the world's biggest oil producer. ... With shale surging, U.S. imports of Saudi oil plunged to a 30-year low. When OPEC cuts production to raise prices, shale drillers can boost output, undermining OPEC. Biggest loser to keeping prices low is likely Russia."
Why it matters: "U.S. energy dominance isn't all that and a bag of chips, particularly since climate change repercussions will only get more expensive and the political influence of erratic petro-states will still persist."
https://www.axios.com/newsletters/axios-am-f26e3a1a-f096-4fd0-a376-92561fd2ee9d.html?chunk=8#story8
8. Phrase that pays
N.Y. Times columnist Frank Bruni, on the bro vibe among Trump, Tom Brady, Patriots owner Robert Kraft and coach Bill Belichick:
"These titans stick together in the way that many titans do, not because they share some special affection or particular philosophy but because each sees in the others' stature an affirmation of his own. They're a cluster strut."
https://www.axios.com/newsletters/axios-am-f26e3a1a-f096-4fd0-a376-92561fd2ee9d.html?chunk=9#story9
9. Reality TV escapes reality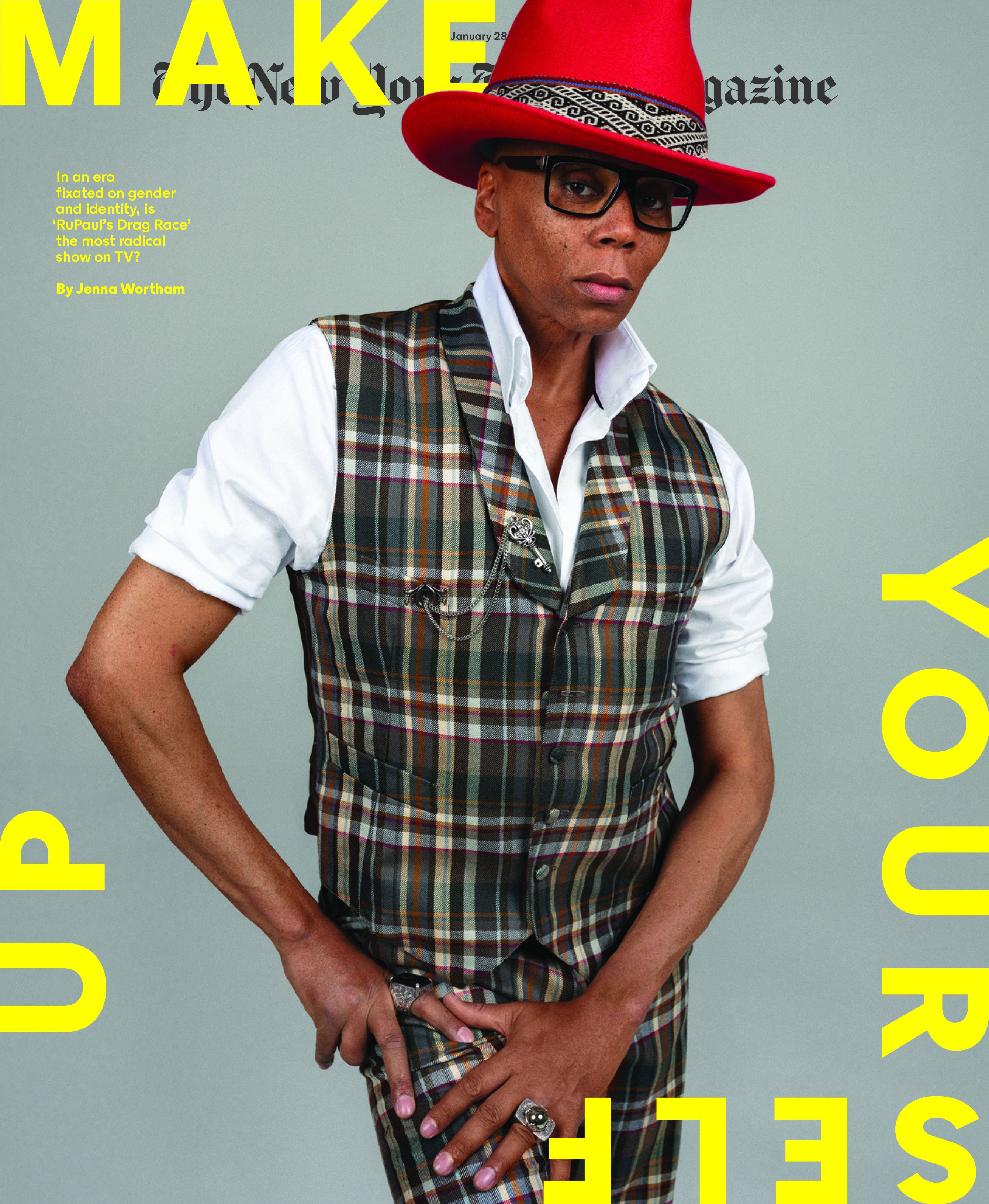 RuPaul Charles, by Graeme Mitchell for The New York Times
"Is 'RuPaul's Drag Race' [VH1] the Most Radical Show on TV? The reality-television competition that began nine years ago has evolved to reflect an era fixated on gender and identity — and the boundary-pushing spirit of its star," RuPaul Charles — N.Y. Times Magazine cover story by Jenna Wortham:
"Charles ... feels he is beyond categorization — he's black but he's not; he's gay but he's not. These days, when someone says that, it's usually met with a polite eye roll, the kind reserved for out-of-touch elders. The personal politics of this moment are almost entirely defined by naming."
"But Charles [age 57] belongs to a different generation, one that fought so hard for visibility that they feel they've earned the right to eschew all political decorum and enjoy the anarchy of reinvention, co-opting and bending language beyond recognition."
"When 'Drag Race' first began, it seemed like a fun window into an underground culture, but over the nine years it has aired, the show has evolved to reflect America's changing relationship to queer rights and acceptance."
https://www.axios.com/newsletters/axios-am-f26e3a1a-f096-4fd0-a376-92561fd2ee9d.html?chunk=10#story10
10. 1 fun thing: The new dating code
"The New Dating No-No: Asking for a Last Name — Now that smartphone apps are the primary way people meet, some things have become too awkward to ask"" — Wall Street Journal A-Hed by Nicole Hong:
"Tinder and Bumble, another service, typically show only first names."
"Many millennials say asking directly for a last name on a first date feels awkward, and signals too obviously they intend to scour the internet for biographical information."
"Others say that downloading a date's entire digital footprint—armed with the full name—can stop a relationship from developing organically."
Why it matters: "Asking for a last name 'is definitely a modern social cue' that trust is building in a relationship."
"There are ... tactics, such as taking a peek at an Uber account name or credit card after a date, or asking to exchange social media handles."