Good Saturday morning from Fort Worth.
Situational awareness: "A year into the Trump administration, the White House website still has no Spanish-language content, unlike during the two previous administrations and even though nearly 1 in 5 people in the United States speaks Spanish." (AP)
https://www.axios.com/newsletters/axios-am-f1a80fd1-5d6d-4ed5-8384-65f4a15d12d2.html?chunk=0#story0
1 big thing: West Wing reverts to early disarray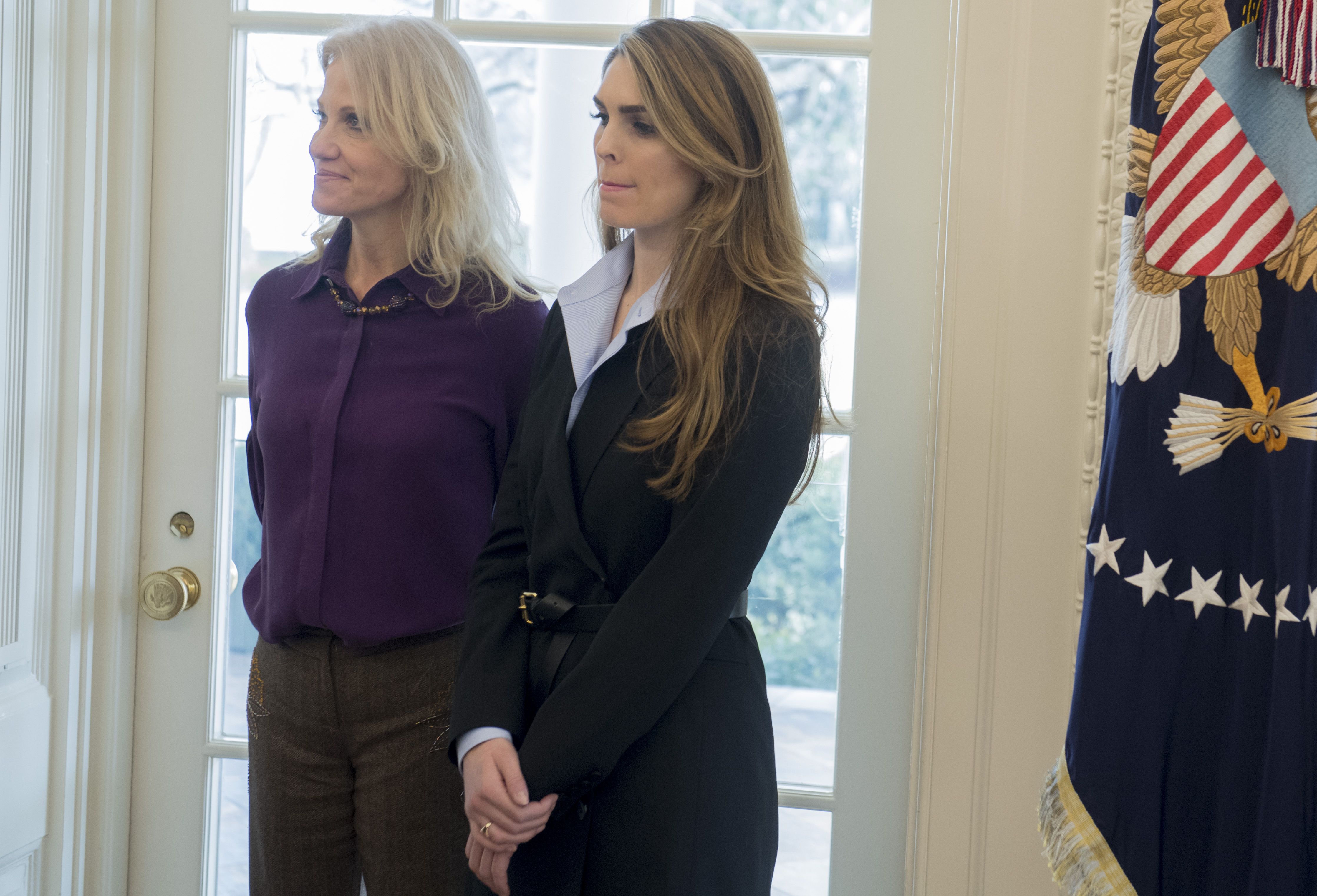 White House Counselor Kellyanne Conway (left) and Communications Director Hope Hicks listen as President Trump speaks about Rob Porter in the Oval Office yesterday. (Saul Loeb / AFP/ Getty Images)
In less than a week, months of progress in bringing order to President Trump's West Wing have been reversed.
The resignation of Staff Secretary Rob Porter has brought back many of the chaotic characteristics of the early months, according to conversations Jonathan Swan and I have been having:
Leaking in real time.
Internal finger-pointing, with factions turning on each other.
Frenzied internal speculation.
Staff members admitting they lack faith in the chief of staff's judgment.
More fires than aides can put out.
President Trump venting internally and externally, and calling old friends to air grievances about his team.
Why it matters: This time, all that is sprinkled with anger and panic. People around the president are unsure exactly what happened, and baffled about how to regain their footing.
The big picture: The White House has still not explained who knew what, and when.
The latest:
WashPost lead story, "Kelly's job may be in peril amid furor from Porter's exit": "[T]he man whose mission had been to enforce order in the West Wing, Chief of Staff John F. Kelly, was focused instead on [saving] his job."
"Kelly spent much of [yesterday] scrambling to preserve his credibility inside the White House. In a morning staff meeting, he told senior aides to tell lower-level staffers ... that he had taken action within 40 minutes of learning that abuse allegations from both of Porter's ex-wives were credible."
"[S]ome staffers left the meeting believing Kelly had asked them to lie."
The three potential Kelly replacements Trump has discussed — House Majority Leader Kevin McCarthy, OMB chief and acting CFPB head Mick Mulvaney and businessman Tom Barrack — are names that have circulated before, reflecting the White House's limited options.
Broke last night ... "Another Trump staffer quits after assault claims," per WashPost:
David Sorensen, a speechwriter at the White House's Council on Environmental Quality, resigned "after his former wife claimed that he was violent and emotionally abusive during their turbulent 2½ -year marriage."
Sorensen sent Axios a 12-page statement, including photos and screenshots, denying the allegations and contending he was the victim of abuse from her.
Be smart, from the N.Y. Times: Trump's "glowing praise of a staff member accused of serial violence against women was in line with the president's own denials of sexual impropriety ... and his habit of accepting claims of innocence from men [Roy Moore] facing similar allegations."
https://www.axios.com/newsletters/axios-am-f1a80fd1-5d6d-4ed5-8384-65f4a15d12d2.html?chunk=1#story1
2. Korean Olympics' surprise North-South thaw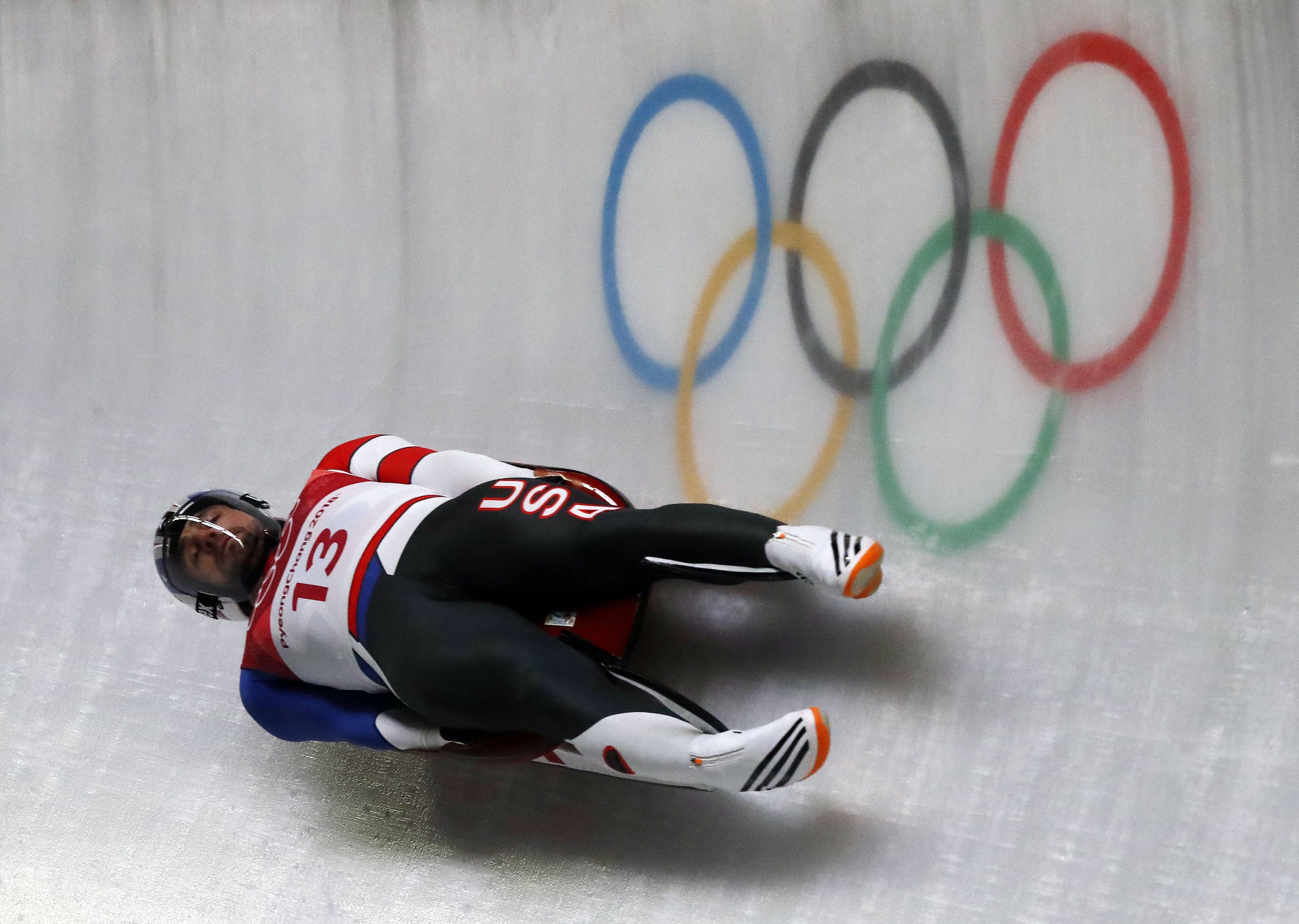 USA's Chris Mazdzer competes today in the second round of the men's luge. (AP's Andy Wong)
"A rare invitation to Pyongyang for South Korea's president marked Day Two of the North Korean Kim dynasty's southern road tour [at the Olympics], part of an accelerating diplomatic thaw," AP reports:
"Nothing has been settled on any trip north by South Korean President Moon Jae-in. But the verbal message to come at a 'convenient time' from dictator Kim Jong-un, delivered by his visiting younger sister, Kim Yo-jong, is part of a sudden rush of improving feelings between the rivals during the Pyeongchang Olympics."
Why it matters: "There's ... cautious optimism, or curiosity at least. If peace isn't imminent, a summit in Pyongyang between Moon and Kim Jong Un seems preferable to recent months' threats."
https://www.axios.com/newsletters/axios-am-f1a80fd1-5d6d-4ed5-8384-65f4a15d12d2.html?chunk=2#story2
3. Pence keeps distance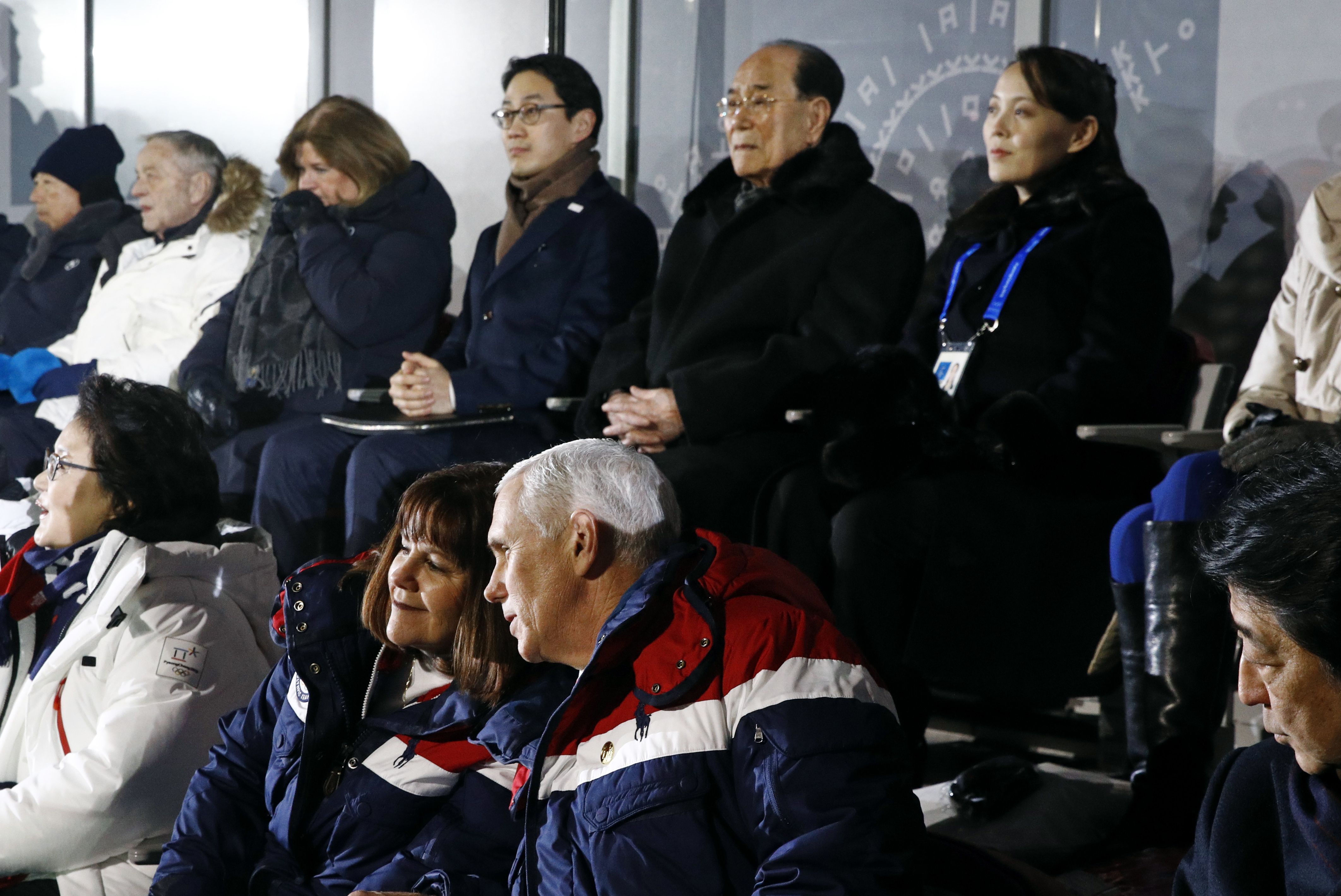 Vice President Pence talks to second lady Karen Pence during the Opening Ceremony. Behind them are Kim Yong-nam (second from right), North Korea's nominal head of state, and Kim Yo-jong, sister of North Korean leader Kim Jong-un. (AP's Patrick Semansky)
"No Handshakes as Pence Avoids Kim Jong-un's Sister at Olympics," by N.Y. Times' Mark Landler:
"They stood not 10 feet apart in a V.I.P. box: the 58-year-old vice president of the United States and the 30-year-old sister of North Korea's reclusive dictator."
"Mike Pence and

Kim Yo-jong

stared fixedly ahead during the chilly, blustery opening ceremony of the Winter Olympics ... There would be no dramatic handshake to upstage the athletes, flag carriers, drummers or torchbearers."
Behind the scenes: A week earlier in Washington, "Trump told Mr. Pence, in a meeting with Secretary of State Rex W. Tillerson and the national security adviser, Lt. Gen. H. R. McMaster, that he was open to a meeting between the vice president and the North Koreans — but only if Mr. Pence delivered a tough message, and only if the encounter was away from TV cameras."
Why it matters: "The tableau was still historic — the visible manifestation of a great contest playing out between the United States and North Korea."
https://www.axios.com/newsletters/axios-am-f1a80fd1-5d6d-4ed5-8384-65f4a15d12d2.html?chunk=3#story3
4. Pic du jour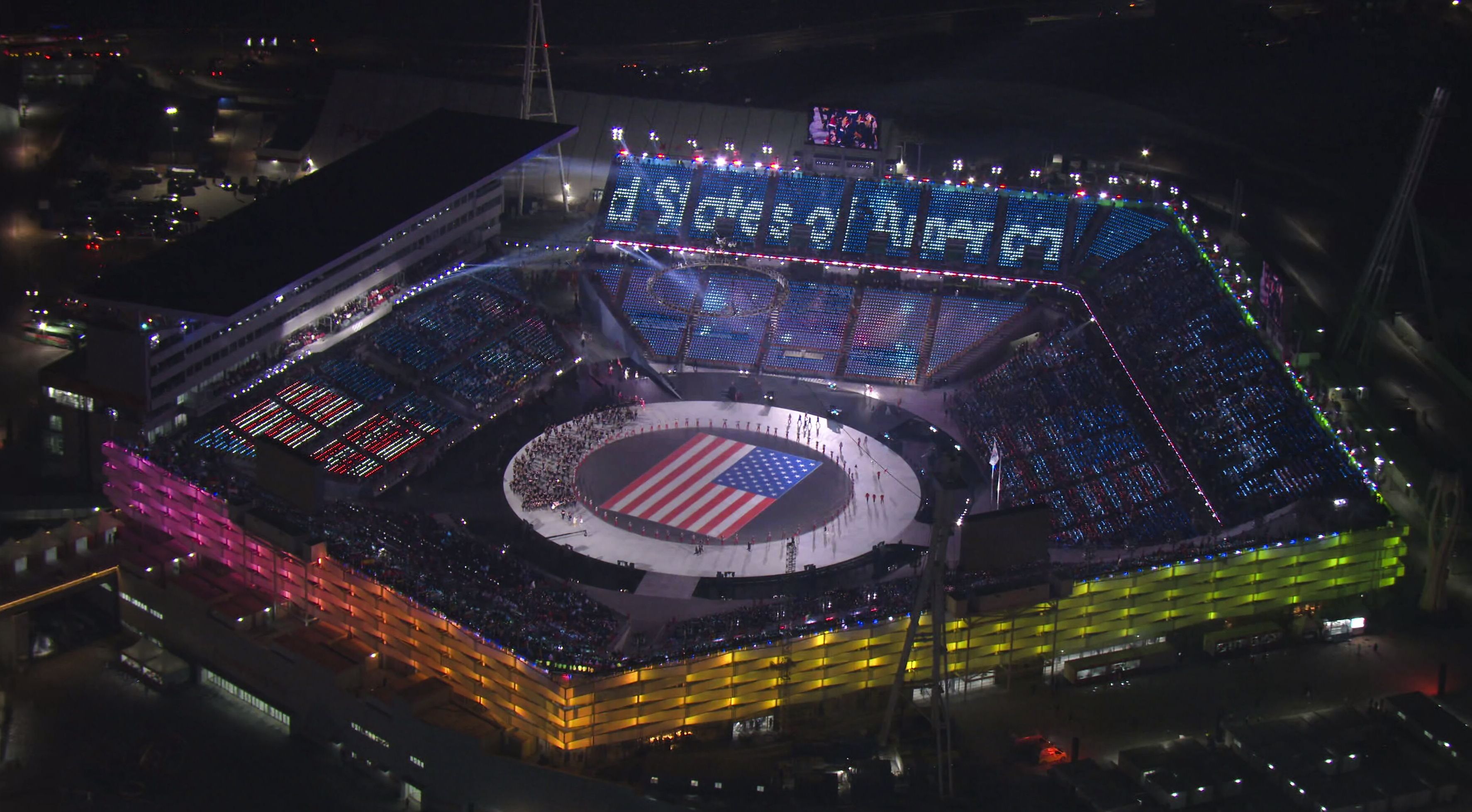 OBS-IOC via Getty Images
U.S. athletes are introduced during the Winter Olympics Opening Ceremony.
https://www.axios.com/newsletters/axios-am-f1a80fd1-5d6d-4ed5-8384-65f4a15d12d2.html?chunk=4#story4
5. Dem memo blocked
"The White House denied [last night] a request to release a Democratic memo that aimed to rebut GOP allegations, ... sending it back for revisions due to national-security concerns," per Wall Street Journal:
"Democrats on the [House Intelligence Committee] expressed frustration with the president's decision but said they were willing to re-examine the memo to address the concerns raised by law-enforcement and intelligence agencies."
Trump tweet this a.m.: "The Democrats sent a very political and long response memo which they knew, because of sources and methods (and more), would have to be heavily redacted, whereupon they would blame the White House for lack of transparency. Told them to re-do and send back in proper form!"
https://www.axios.com/newsletters/axios-am-f1a80fd1-5d6d-4ed5-8384-65f4a15d12d2.html?chunk=5#story5
6. New job for CEOs: Building trust
The United States is facing the worst collapse in the trust of institutions — businesses, media, NGOs, government — in the 18-year history of the annual Edelman Trust Barometer. But trust in employers has inched up.
CEOs are beginning to fill the gap, Axios' Kim Hart points out:
JPMorgan CEO Jamie Dimon, Amazon CEO Jeff Bezos and Berkshire Hathaway CEO Warren Buffett recently announced plans to team up to crack the health care system.
Google invested $1 billion in an initiative to teach digital skills to young workers.
IBM launched apprenticeship programs — with a particular focus in red states — to teach skills needed for open jobs in those communities.
https://www.axios.com/newsletters/axios-am-f1a80fd1-5d6d-4ed5-8384-65f4a15d12d2.html?chunk=6#story6
7. Material change in investor psychology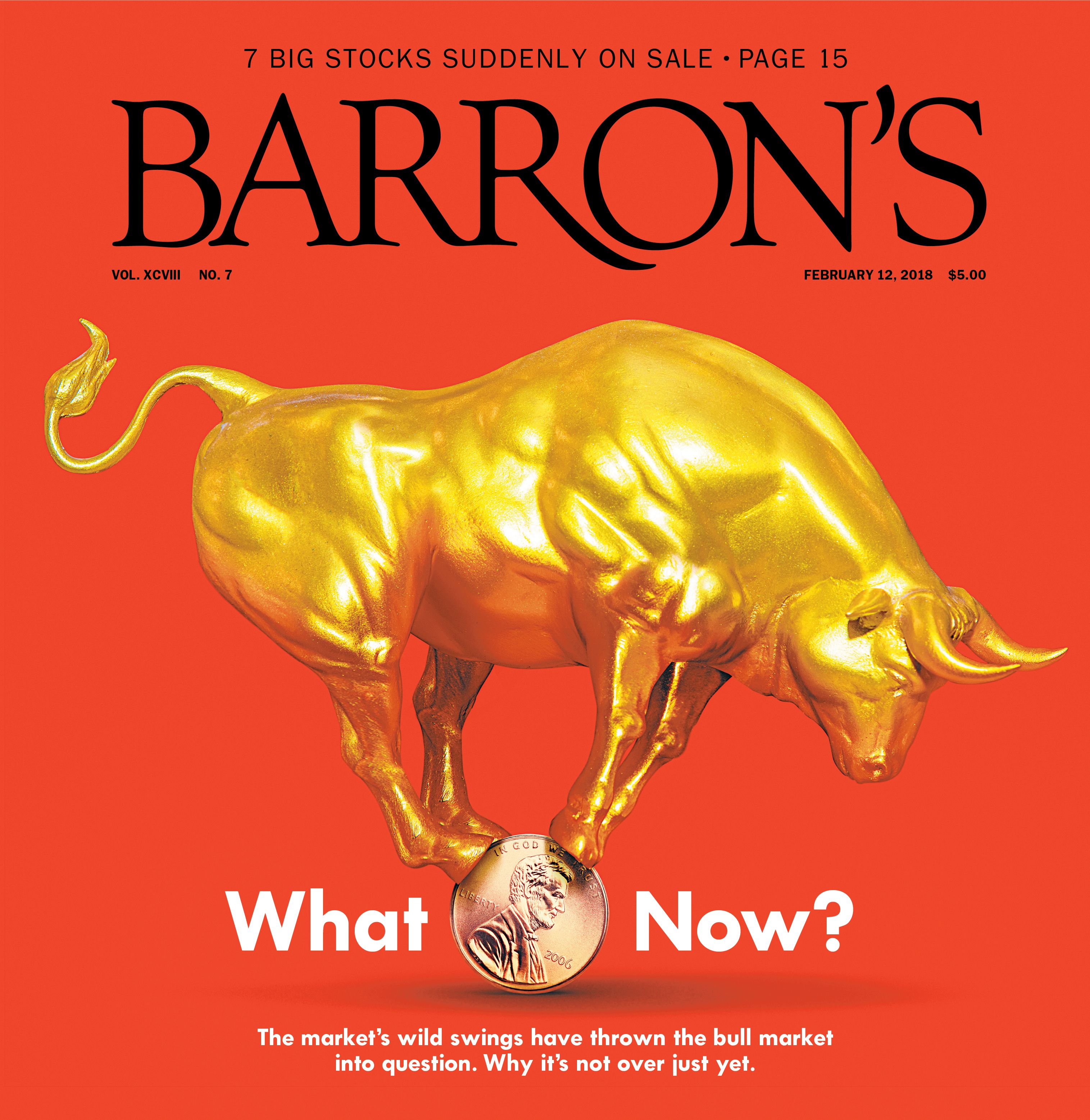 Courtesy Barron's
"For 15 months [after] the 2016 election of President Donald Trump, ... the stock market was a smooth, one-way trade: up 34%, with nary a significant pullback.," Barron's writes in its cover story:
"That beautiful ride is now over."
Why it matters: "A fast and vertiginous drop in February points to a material change in investor psychology, to cautious from enthusiastic."
"Where previously rising interest rates were acceptable because of strong global growth, now investors are focused on the potential inflationary threat from such growth."
What's next: "There are reasons to think the bull can continue to run. This time, however, trading is expected to be choppier, and investors more nervous than they have been for two years."
https://www.axios.com/newsletters/axios-am-f1a80fd1-5d6d-4ed5-8384-65f4a15d12d2.html?chunk=7#story7
8. Article du jour: Austerity era comes to end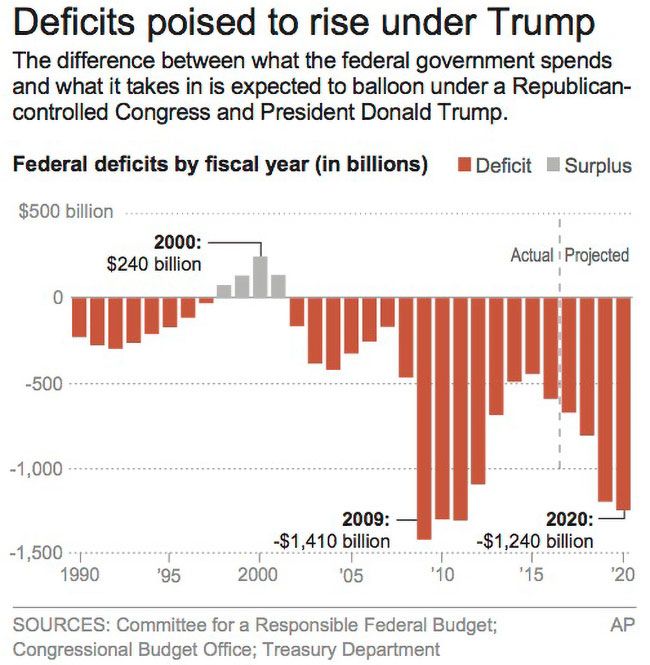 "The last seven weeks amount to a sea change in United States economic policy. The era of fiscal austerity is over, and the era of big deficits is back," the N.Y. Times' Neil Irwin writes:
"In the short run, expect some of the strongest economic growth the country has experienced in years."
"In the medium run, there is now more risk of surging inflation and higher interest rates."
Why it matters: In the long run, "The bigger costs of a high national debt may come in how much flexibility policymakers have to respond to a future recession or crisis. If the United States finds itself in a major war or a deep recession, its starting point in terms of debt load will be much higher than it was at the onset of the Iraq War or the 2008 financial crisis."
https://www.axios.com/newsletters/axios-am-f1a80fd1-5d6d-4ed5-8384-65f4a15d12d2.html?chunk=8#story8
9. Gatekeeper in spotlight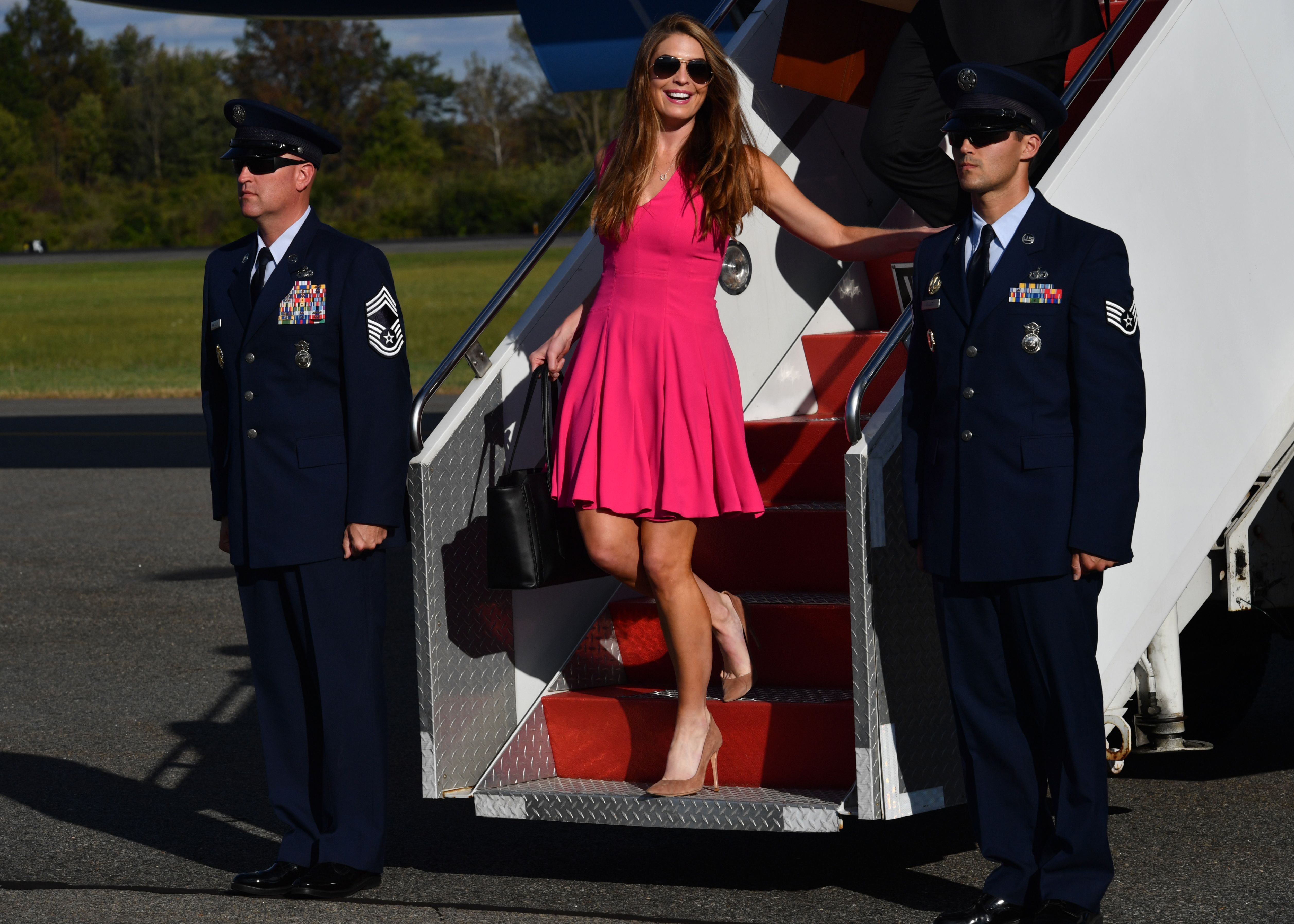 White House Communications Director Hope Hicks disembarks from Air Force One in Morristown, N.J., in September. (Nicholas Kamm / AFP / Getty Images)
White House Communications Director "Hope Hicks, the discreet aide always at President Trump's side whose desk is just outside the Oval Office, ... has worked with Trump longer than anyone he is not related to at the White House," the WashPost's Mary Jordan and Josh Dawsey write:
"[I]t is a sign of her influence with Trump, and her unusual role in the West Wing, that no one is seriously talking about removing Hicks even as the turmoil is threatening Kelly's job."
The background: "As a teen, she modeled for Ralph Lauren. After graduating from Southern Methodist University, she worked for a PR firm that counted the Trump Organization as a client. The Trumps persuaded her to work directly for the family business; among other duties, she helped publicize Ivanka Trump's fashion and accessory line."
Why she matters: "Hicks wields considerable power as Trump's gatekeeper and is often the last to see him every day as she walks him back to his residence."
P.S. N.Y. Times, "As Other Aides Face Trump's Ire Over Rob Porter's Departure, Hope Hicks Is Praised," by Katie Rogers:
Trump in a statement released through a spokesman: "Hope is absolutely fantastic ... She was with the campaign from the beginning, and I could not ask for anything more. Hope is smart, very talented and respected by all."
https://www.axios.com/newsletters/axios-am-f1a80fd1-5d6d-4ed5-8384-65f4a15d12d2.html?chunk=9#story9
10. 1 drone thing: This didn't quite happen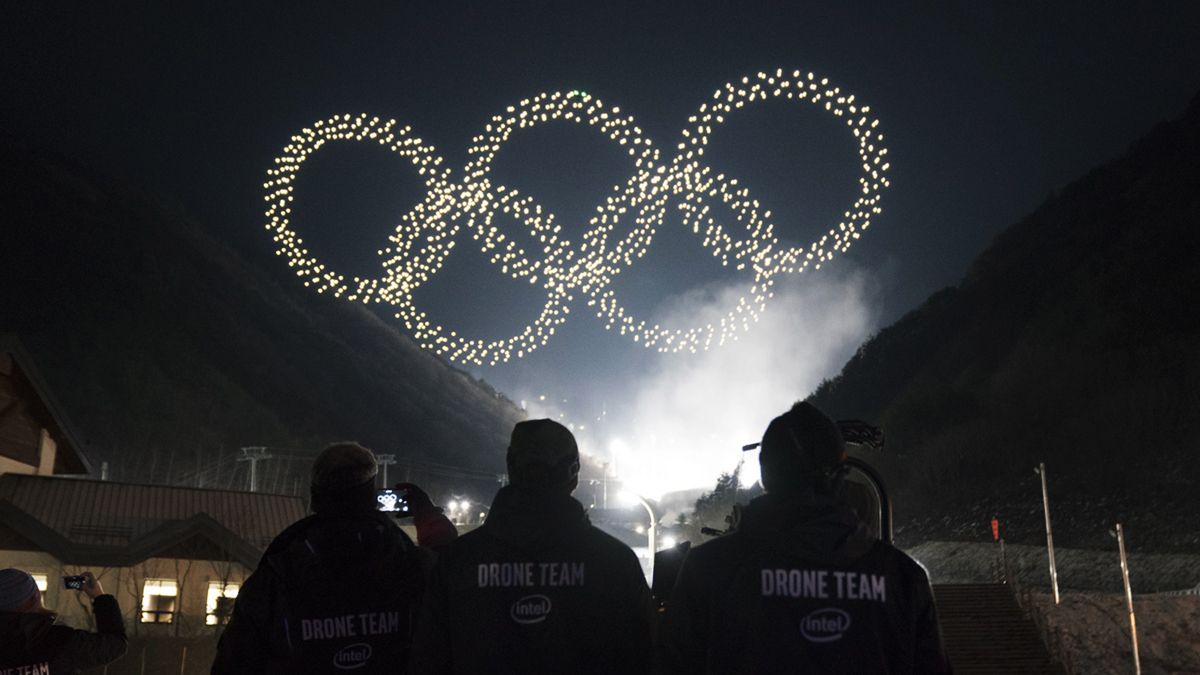 Intel Corp.
"An army of high-flying drones expected to light up the sky at the opening ceremony of the Olympics was grounded. Viewers of NBC's tape-delayed broadcast in the United States still saw it, but it was a pre-recorded version from a rehearsal," AP reports:
"Intel Corp. was expected to launch 300 drones as part of an extravagant light show, but those plans were scrapped" for unexplained reasons. "
"NBC aired a light show, but it was from Intel's launching of 1,280 drones in December in Pyeongchang."
"Intel celebrated breaking a Guinness World Record for the most drones flown simultaneously by tweeting a link to the video."
Why it matters: "The incident was reminiscent of the Sochi Games in 2014, when one of the five Olympic rings failed to light — but Russian state television aired rehearsal footage of it happening."