November 12, 2020
☕ Good Thursday morning, and welcome back. Today's Smart Brevity™ count: 1,383 words ... 5½ minutes.
🚨 Karl Rove, in his Wall Street Journal column (subscription), is definitive: "This Election Result Won't Be Overturned. Recounts occasionally change margins in the hundreds, never in the tens of thousands."
🏥 You're invited: Sam Baker hosts an Axios virtual event tomorrow at 12:30 p.m. ET on the future of health care. Register here. 
1 big thing: Scoop ... Trump eyes digital empire to "wreck Fox"
President Trump has told friends he wants to start a digital media company to clobber Fox News and undermine the conservative-friendly network, sources tell me.
Some Trump advisers think Fox News made a mistake with an early call (seconded by AP) of a Joe Biden win in Arizona. That enraged Trump, and gave him something tangible to use in his attacks on the network.
"He plans to wreck Fox. No doubt about it," said a source with detailed knowledge of Trump's intentions.
With loyal viewers and longtime dominance, Fox Corp. CEO Lachlan Murdoch said on a Nov. 3 earnings call:
"We love competition. We have always thrived with competition. ... Fox News has been the number one network, including broadcast networks, ... from Labor Day through to Election Day."
Here's Trump's plan, according to the source:
There's been lots of speculation about Trump starting a cable channel. But getting carried on cable systems would be expensive and time-consuming.
Instead, Trump is considering a digital media channel that would stream online, which would be cheaper and quicker to start.
Trump's digital offering would likely charge a monthly fee to MAGA fans. Many are Fox News viewers, and he'd aim to replace the network — and the $5.99-a-month Fox Nation streaming service, which has an 85% conversion rate from free trials to paid subscribers — as their top destination.
Trump's database of email and cellphone contacts would be a huge head start.
Trump's lists are among the most valuable in politics — especially his extensive database of cellphone numbers for text messages.
I'm told Trump may use vote-count rallies to undercut Fox.
"He's going to spend a lot of time slamming Fox," the source said.
Trump has increasingly complained that Fox News interviews more Democrats than it used to. He has needled the network by promoting other conservative outlets, including One America News and Newsmax.
"Fox has changed a lot," Trump said during the most recent interview he has given anywhere, with "Fox & Friends" on Election Day. "Somebody said: What's the biggest difference between this and four years ago? And I say Fox. ... It's one of the biggest differences this season compared to last."
2. Biden's Day 1: The virus
President-elect Joe Biden will take office with the most daunting inbox since FDR. This is the first in an Axios series taking you inside his colliding crises:
The coronavirus will keep getting worse every day, making it harder and harder for the Biden administration to solve, Axios health care editor Sam Baker writes.
Why it matters: The virus won't know there's a new president. It will simply keep spreading, and killing, until we stop it. Stopping it will be Biden's first, most urgent order of business. And it'll be incredibly difficult.
Biden will have to manage an enormously complicated behind-the-scenes response, but his biggest challenge will be to get the public to take advantage.
His administration will need to bring sidelined career officials back into the fold, untangle the Trump administration's processes and reorient the country's health agencies — while still staffing up those agencies.
The complicated logistics of distributing vaccines will likely be ramping up just as the White House changes hands.
The bad news: There won't be a lot Biden can do right away to turn things around.
Financial aid to make it easier for high-risk people to stay home would help, but that will be a tough fight in a divided government.
Biden has been clear about his intent to try to lead by example. But governors control most of the decisions about what's open or closed.
The good news: The scientists and researchers working on treatments and vaccines are moving with record speed around the world.
🎧 On "Axios Today," we talk with a nurse in El Paso who's on the COVID front lines. Hear it here.
3. Podcast wars heat up
Spotify's $235 million acquisition of podcast monetization company Megaphone yesterday is the latest in a frenzy that's stirring up the podcast industry, Axios' Sara Fischer writes.
Why it matters: The past year has seen several key companies invest hundreds of millions of dollars in podcast acquisitions, including Spotify, iHeartMedia, Apple, SiriusXM and others.
What's next: There are still a few independent podcast companies that are likely to get acquired as the podcast industry continues to consolidate.
🛰️ Sign up for Sara Fischer's weekly Media Trends newsletter.
4. Our weekly map: Not a single state improved
New coronavirus infections jumped by 40% over the past week. The U.S. is now averaging roughly 119,000 new cases per day — by far the highest daily average of any point in the pandemic, Axios' Sam Baker and Andrew Witherspoon write.
Why it matters: The U.S. has never controlled the coronavirus, and isn't about to start.
Cases rose over the past week in 45 states, and held steady in the other five. Not a single state saw an improvement.
Nearly 62,000 Americans are in the hospital for coronavirus infections.
5. Being Anthony Fauci
Anthony Fauci said in an interview with Australia's ABC that working with the Trump administration has been "very stressful."
Fauci's interview comes a week after Steve Bannon suggested on his podcast that Fauci's and FBI Director Christopher Wray's heads should be put on pikes, per the WashPost.
Fauci said: "When you have public figures like Bannon calling for your beheading, that's really kind of unusual."
6. Ron Klain is Biden chief of staff
President-elect Biden announced Ron Klain as his White House chief of staff, highlighting their long history of working together on the economy and public health crises, Axios' Margaret Talev and Alexi McCammond write.
Why it matters: Klain's experience working across the aisle and his role on Biden's coronavirus task force are two signals of the type of leadership Biden wants to bring to the White House.
Klain was an editor of the Harvard Law Review, and worked in the White House as chief of staff to Biden and Vice President Al Gore.
Klain managed the Ebola outbreak response in 2014 under President Obama's administration, and he's appeared in videos this year to highlight the Biden team's COVID work.
7. Foreign investors flood U.S. real estate
There's huge pent-up demand among wealthy foreigners to buy property in New York, Los Angeles, San Francisco and other cities — and some people began calling their money managers as soon as President-elect Biden's victory was announced, Axios' Jennifer A. Kingson writes.
Why it matters: Cities whose economies are withering under the coronavirus may see a fresh jolt of life from the high-end real estate sector in 2021 and beyond, with money from abroad creating new jobs and businesses.
8. Regulators fear commercial real-estate losses
Societal shifts triggered by the pandemic could "make downtown office buildings, hotels and stores less valuable, sending losses ripping through banks and bond investors that hold $3.4 trillion in commercial real estate debt," WashPost global economics correspondent David J. Lynch writes.
"Office space, the largest single slice of the commercial real estate sector, already is seeing rents fall as vacancies rise. Property values eventually could plummet 20 to 35 percent, according to a recent Barclays report. Hotels and retail properties have been hit even harder."
9. Tammy Duckworth's "Alive Day"
Today is the 16th anniversary of the "Alive Day" of Sen. Tammy Duckworth (D-Ill.) — the day she was shot down in Iraq and almost died, but didn't.
Why it matters: It's a very meaningful day that she views as sort of a second birthday, and always tries to do something special for the troops and medical staff who saved her life, an aide tells me.
Today, she's announcing the March 30 publication of a memoir, "Every Day Is a Gift," which will delve into the story of that day in Iraq, and "her less well-known childhood growing up around southeast Asia before living in poverty in Hawai'i."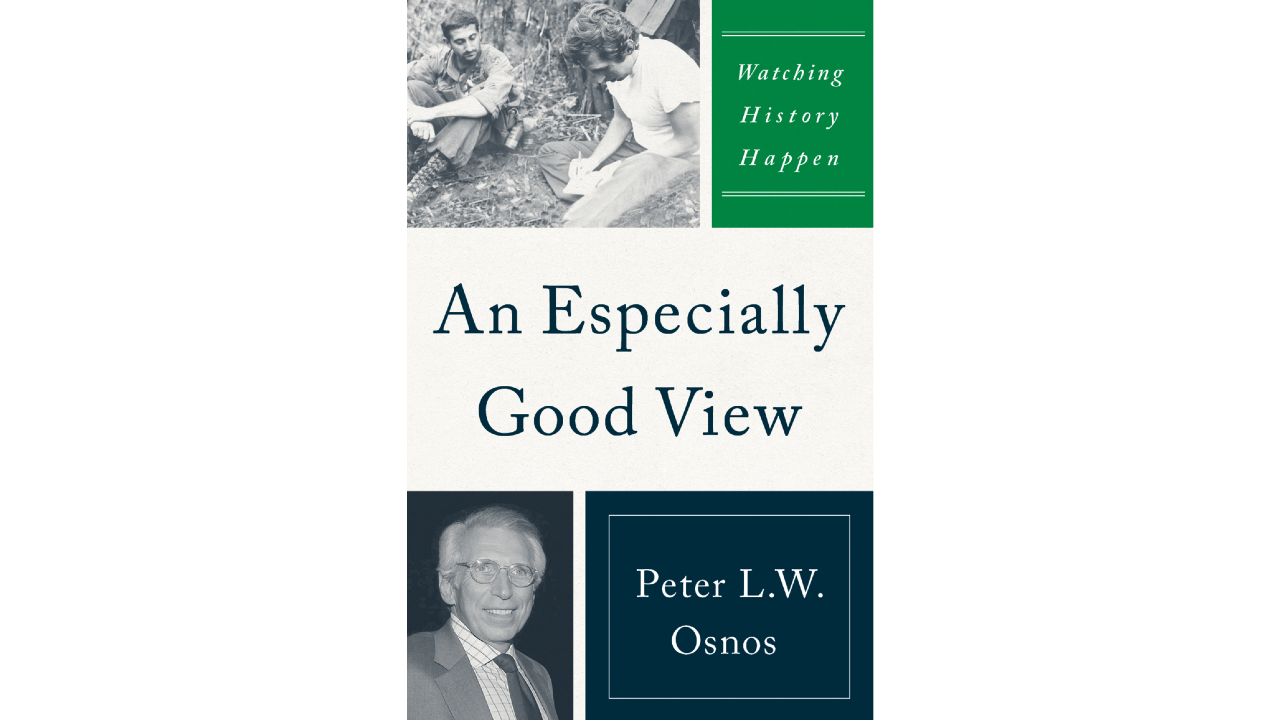 Peter Osnos — founder of the book publisher PublicAffairs, and legendary Washington Post editor and correspondent — will be out in May with "An Especially Good View: Watching History Happen."
It'll be published by Platform, a new imprint established by Osnos and his wife, Susan Sherer Osnos.
Osnos (father of Evan) goes inside the evolution of publishing, and his work "with four presidents — Obama, Trump, Carter, and Clinton — as well as scores of ... celebrated figures in politics, human rights, business, and media."
10. 1 fall thing: Augusta in autumn
After a seven-month delay, the Masters begins today — with no roars, no ropes, no grandstands, Axios Sports editor Kendall Baker writes.
No patrons: There's a certain feel about Augusta National; a certain rhythm to the Masters. Both will be impacted by this week's spectator-less grounds, with some players missing the roar of the crowd — and others enjoying the silence.
No azaleas: Augusta is designed to look beautiful in April, when its famous pink azaleas and white dogwoods are in full bloom. This year's fall foliage will provide a much different backdrop: less pink, more burnt orange.
Football looms: The Masters will be up against college football and the NFL for the first time. On Saturday, ESPN's "College GameDay" will broadcast live from Augusta ahead of college football's depleted slate, while Sunday's final round will end around 3 p.m. ET so CBS can broadcast three NFL games at 4 p.m.
⛳ Sign up for Kendall Baker's daily Axios Sports.
📬 Thanks for starting your day with us. Invite your friends to sign up for Axios AM/PM.