Good Friday morning from Silicon Valley.
Situational awareness: "The opening ceremony of the 23rd Winter Olympics unfurled in frigid temperatures and high spirits [in South Korea this morning, ET], as athletes from the two Koreas came together less than 50 miles from the heavily-fortified border between their nations and offered hope of a breakthrough in a tense, geopolitical standoff that has stirred fears of nuclear conflict." (N.Y. Times)
https://www.axios.com/newsletters/axios-am-ee6817fa-7265-448e-a098-570a19c5a2e6.html?chunk=0#story0
1 big thing: Chaos in West Wing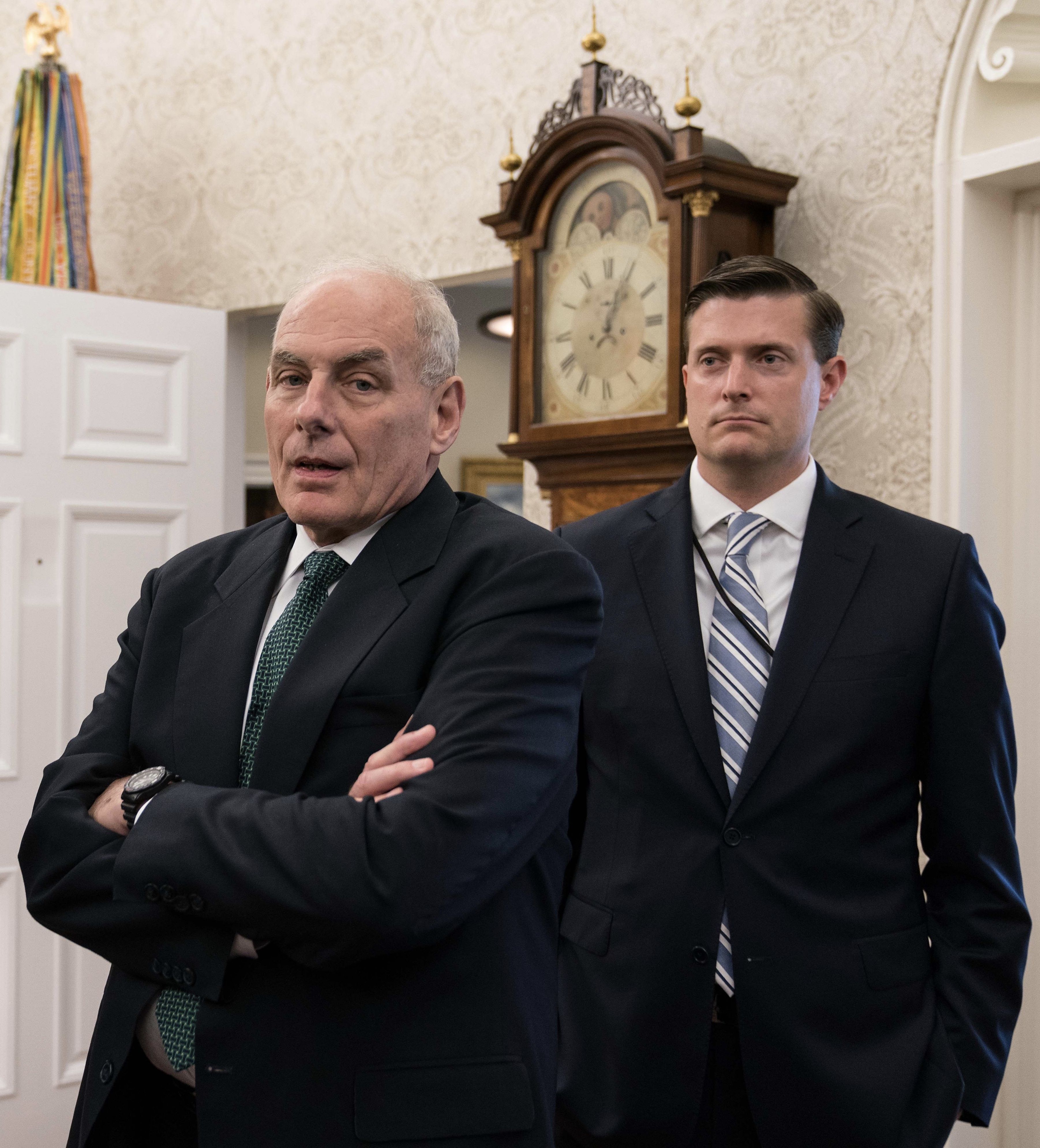 White House Chief of Staff John Kelly (left) and Staff Secretary Rob Porter, who resigned this week, watch President Trump sign a proclamation in the Oval Office in September. (Nicholas Kamm / AFP / Getty Images)
The Rob Porter crisis has become a John Kelly crisis, and it has now totally engulfed the West Wing, Axios' Jonathan Swan reports:
White House staff — especially Porter's close friendship circle — are shell-shocked by the allegations of domestic abuse by the departing Staff Secretary.
President Trump is enraged about the situation, though he still feels that it hasn't touched him.
The bottom line: Trump's affection for his chief of staff is gone, and Kelly has lost the goodwill of much of his staff.
If you read only 1 sentence: The president is mulling potential replacements, though aides doubt he has it in him to actually fire the retired general.
Where it stands: Kelly still has not adequately answered when he became aware of the horrific allegations against Porter. Nor have the other senior officials who should have had visibility.
The official White House line — that Kelly only became "fully aware" of the domestic assault allegations when the Daily Mail story broke — doesn't pass the smell test:
Both of Porter's ex-wives told the FBI about their claims.
There was a police report.
There was a restraining order.
There are photos.
All of this was part of his background checks which never passed muster.
The big picture: In any major corporation in America, Porter would have been escorted out the door the minute senior officials learned of these allegations.
Why it matters: This White House, already short on high-powered, experienced talent, is bleeding manpower — and brainpower. At the same time, the chaos scares off reinforcements. Two top White House officials told me this is the single greatest threat to American governance and security right now. 
The story gets worse ... Jennifer Willoughby, Rob Porter's second wife, goes on the "Today" show today for a live interview with Savannah Guthrie — after a long interview last night with CNN's Anderson Cooper.
https://www.axios.com/newsletters/axios-am-ee6817fa-7265-448e-a098-570a19c5a2e6.html?chunk=1#story1
2. Chaos in Congress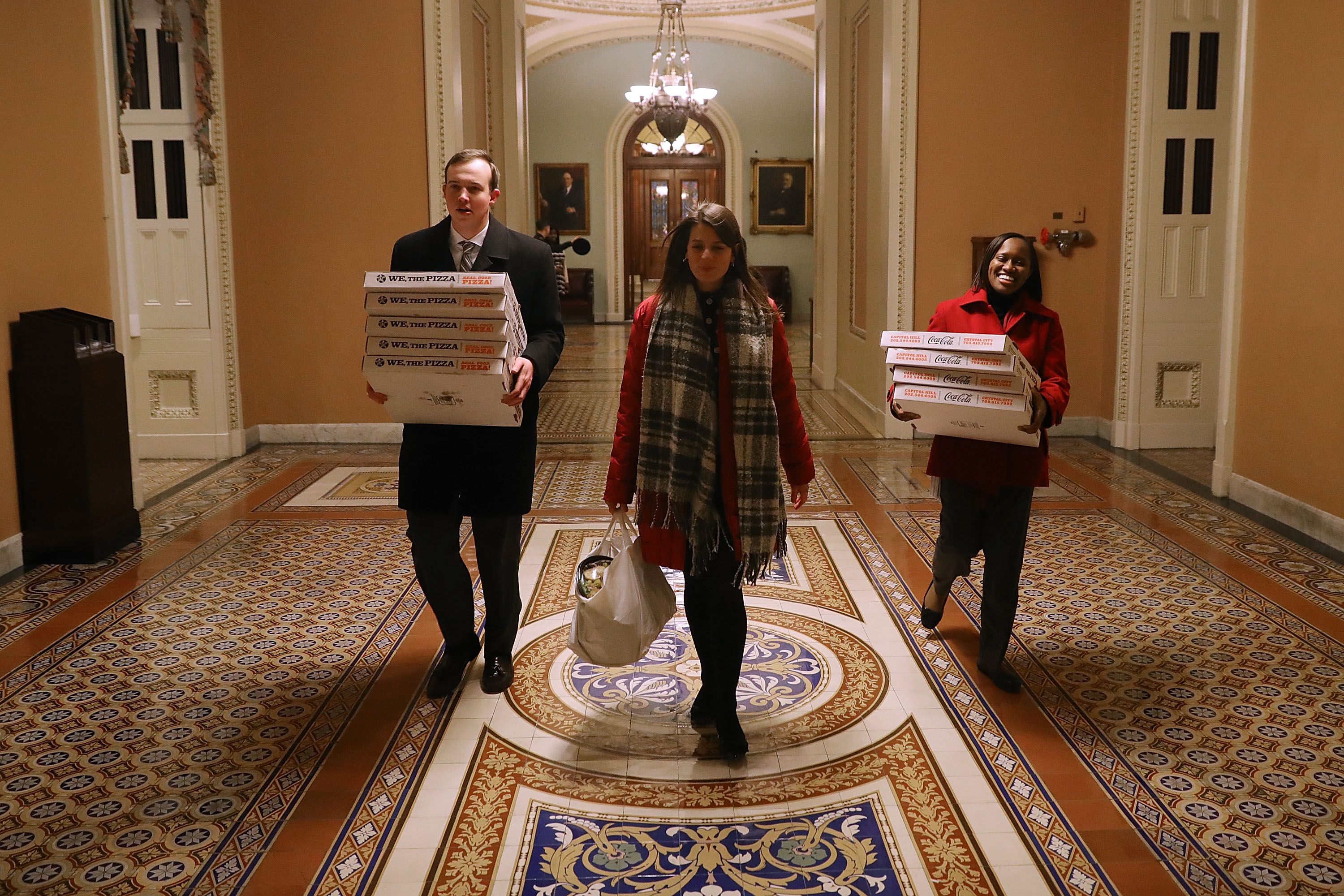 With a late night ahead, pizzas are carried to the offices of Senate Majority Leader Mitch McConnell in the U.S. Capitol last night. (Chip Somodevilla / Getty Images)
AP bulletin, midnight: "The U.S. government shut down at midnight, as Congress misses deadline to pass spending bill."
AP bulletin, 1:53 a.m.: "Senate passes budget deal and spending measure to reopen shuttered federal government, sending bill to the House."
AP bulletin, 5:33 a.m.: "House narrowly passes bipartisan budget measure, ending government shutdown."
What happened while you (hopefully) slept, via the WashPost:
"The Senate passed a sweeping bipartisan spending bill [this] morning, [after] the federal government [briefly] shut down when Sen. Rand Paul (R-Ky.) delayed the vote past midnight to complain about the budget deficit."
Why it matters: "It was the second government shutdown in less than three weeks. "
https://www.axios.com/newsletters/axios-am-ee6817fa-7265-448e-a098-570a19c5a2e6.html?chunk=2#story2
3. Chaos in markets
"Savaged global stocks head for worst week since 2011," per Reuters:
"A 4 percent drop in Chinese shares dealt reeling world stock markets a fresh blow [today], as nerves about rising borrowing costs and soaring volatility put them on course for their worst week since the height of euro zone crisis."
Why yesterday's 1,000-point Dow decline matters ... "The Dow Jones Industrial Average and S&P 500 entered correction territory for the first time in two years," The Wall Street Journal reports:
"The Dow hadn't been in a correction — a decline of at least 10% from a recent high [Jan. 26 ... 14 days ago!] — since February 2016."
"[T]raders were bracing for more upheaval."
But, but, but ... Edward N. Wolff, an economist at New York University, in N.Y. Times:
"For the vast majority of Americans, fluctuations in the stock market have relatively little effect on their wealth, or well-being, for that matter."
https://www.axios.com/newsletters/axios-am-ee6817fa-7265-448e-a098-570a19c5a2e6.html?chunk=3#story3
Bonus: Pic du jour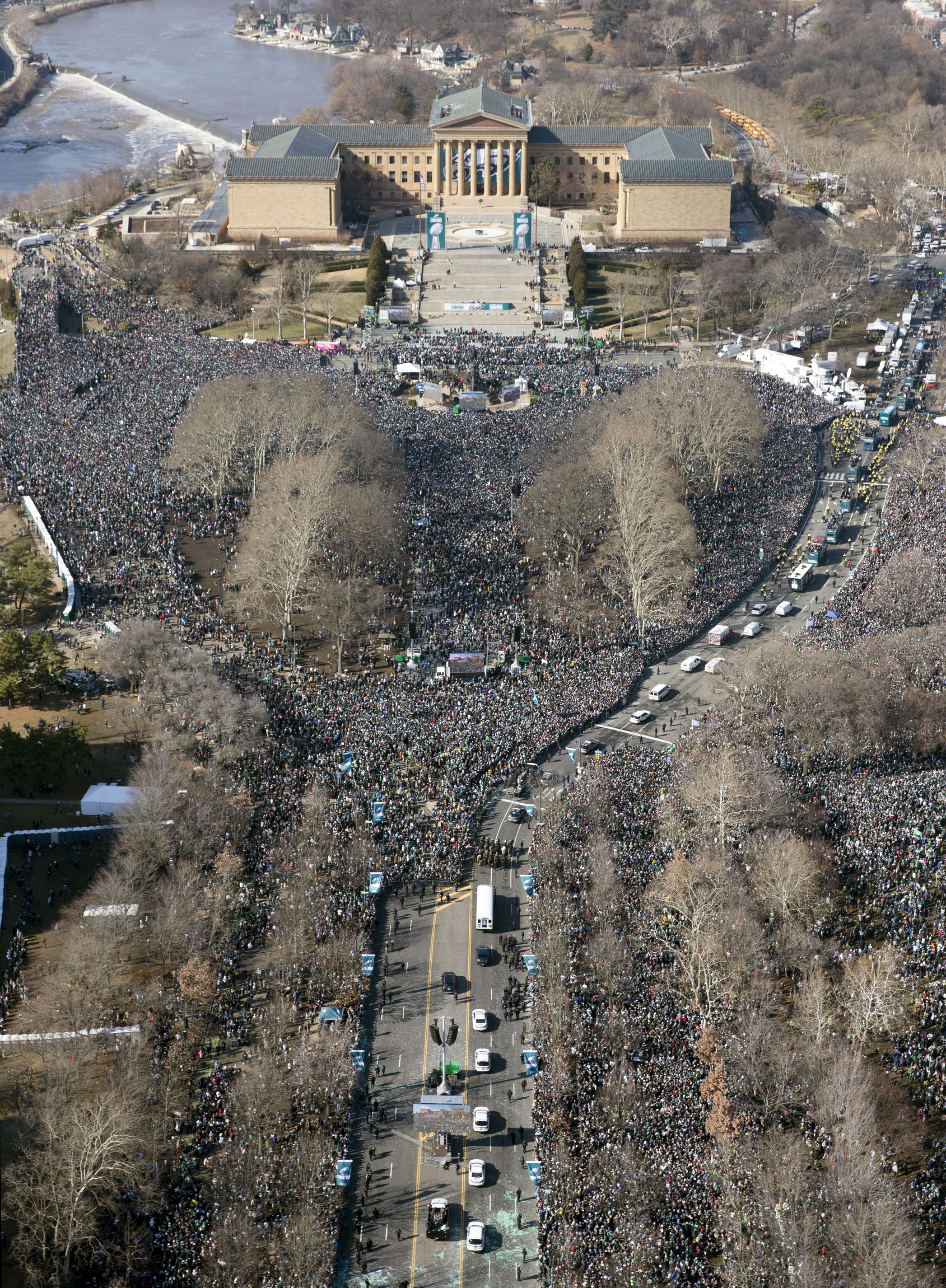 Jessica Griffin / The Philadelphia Inquirer via AP
Fans gather in front of the Philadelphia Museum of Art (famous for the "Rocky" steps) as the Philadelphia Eagles' Super Bowl victory parade proceeds along Benjamin Franklin Parkway yesterday.
Philadelphia Inquirer: "An estimated total of close to 700,000 Eagles faithful attended [the] parade, according to a team of crowd-safety experts at Manchester Metropolitan University in England."
https://www.axios.com/newsletters/axios-am-ee6817fa-7265-448e-a098-570a19c5a2e6.html?chunk=4#story4
4. Chaos in media
Twitter, Snap surge = bad news for publishers ... "Nearly all the social media and online advertising companies posted strong fourth quarter earnings in the last week," writes The Information's Tom Dotan:
"While it's no surprise that Facebook and Google did well, Snap and Twitter [which made money for the first time ever] both outperformed on revenue, which sent their stocks soaring."
"[M]any online [news] publishing executives have told me that the fourth quarter was incredibly tough for them as they struggled to bring in ad revenue."
Why it matters: "It raises the likelihood that the reason for the tough quarter for publishers was that Twitter and Snap sucked up much of the remaining oxygen that Facebook and Google hadn't already consumed."
Be smart: "While that's good ... news for the smaller social media companies it's a concerning trend for [publishers' already treacherous] ad business."
P.S. An encouraging publishing story ... New York Times Co. subscription revenue passed $1 billion last year, the paper reports: "Subscription revenue [more stable than ads] now accounts for 60 percent of the company's total revenue."
And a milestone for one of the past year's great media success stories:
"HBO has entered into a deal with Crooked Media, the media company founded by Jon Favreau, Jon Lovett and Tommy Vietor, to bring the hit political podcast 'Pod Save America' to the network this fall for a series of hour-long specials on the campaign trail."
https://www.axios.com/newsletters/axios-am-ee6817fa-7265-448e-a098-570a19c5a2e6.html?chunk=5#story5
5. Chaos greets new Fed chair Jerome "Jay" Powell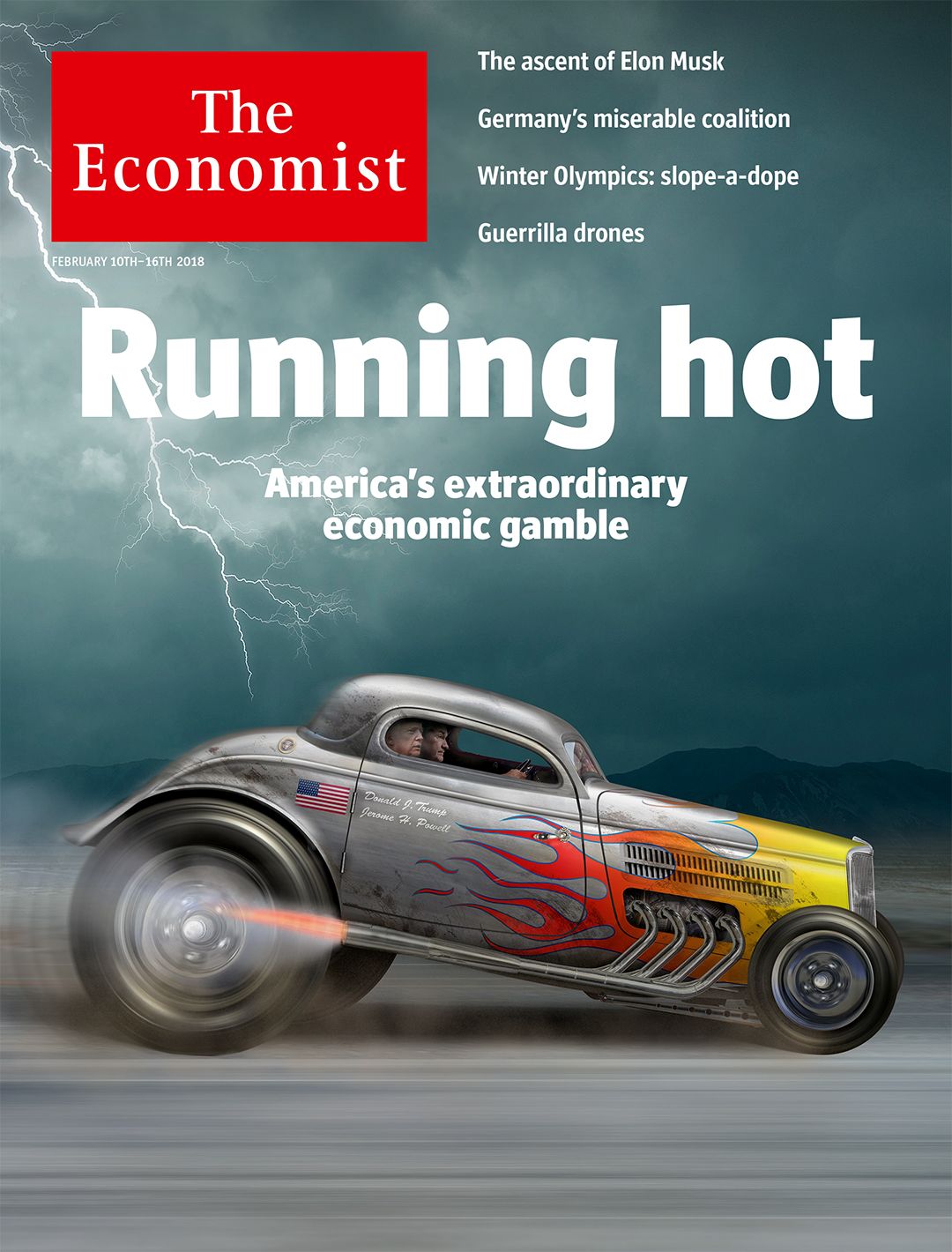 Courtesy The Economist
Jerome "Jay" Powell, who became Fed chair in a rocky week, has his white-knuckle in-box dissected on the covers of two new magazines:
The Economist (above) ... "Souped up growth ... Fiscal policy is adding to demand even as the economy is running hot": "Volatility is back. ... [T]he team that is steering this experiment, both in the White House and the Federal Reserve, is the most inexperienced in recent memory. Whether the outcome is boom or bust, it is going to be a wild ride."
Bloomberg Businessweek (below) ... "The new Fed chief will butt heads with the president if rate increases cool economic growth. ... Investors have come to believe that the Fed, under new leadership, is serious about raising rates to prevent inflationary overheating of the economy."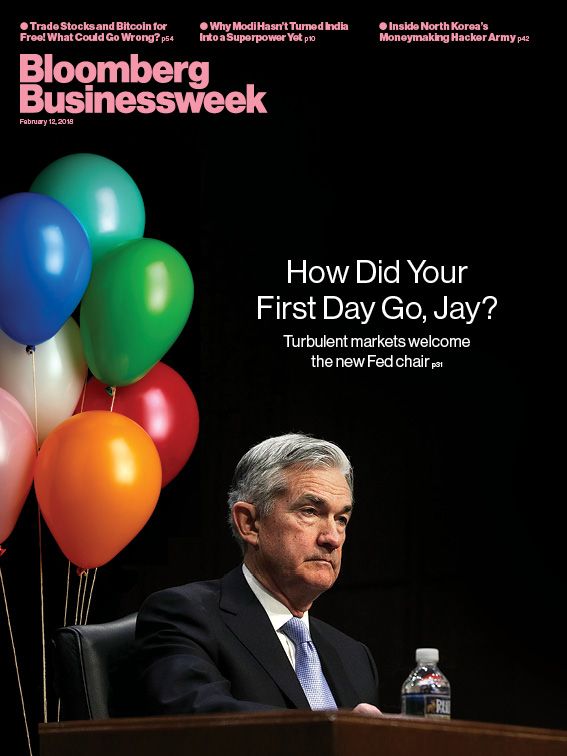 Courtesy Bloomberg Businessweek
https://www.axios.com/newsletters/axios-am-ee6817fa-7265-448e-a098-570a19c5a2e6.html?chunk=6#story6
6. The new party of big government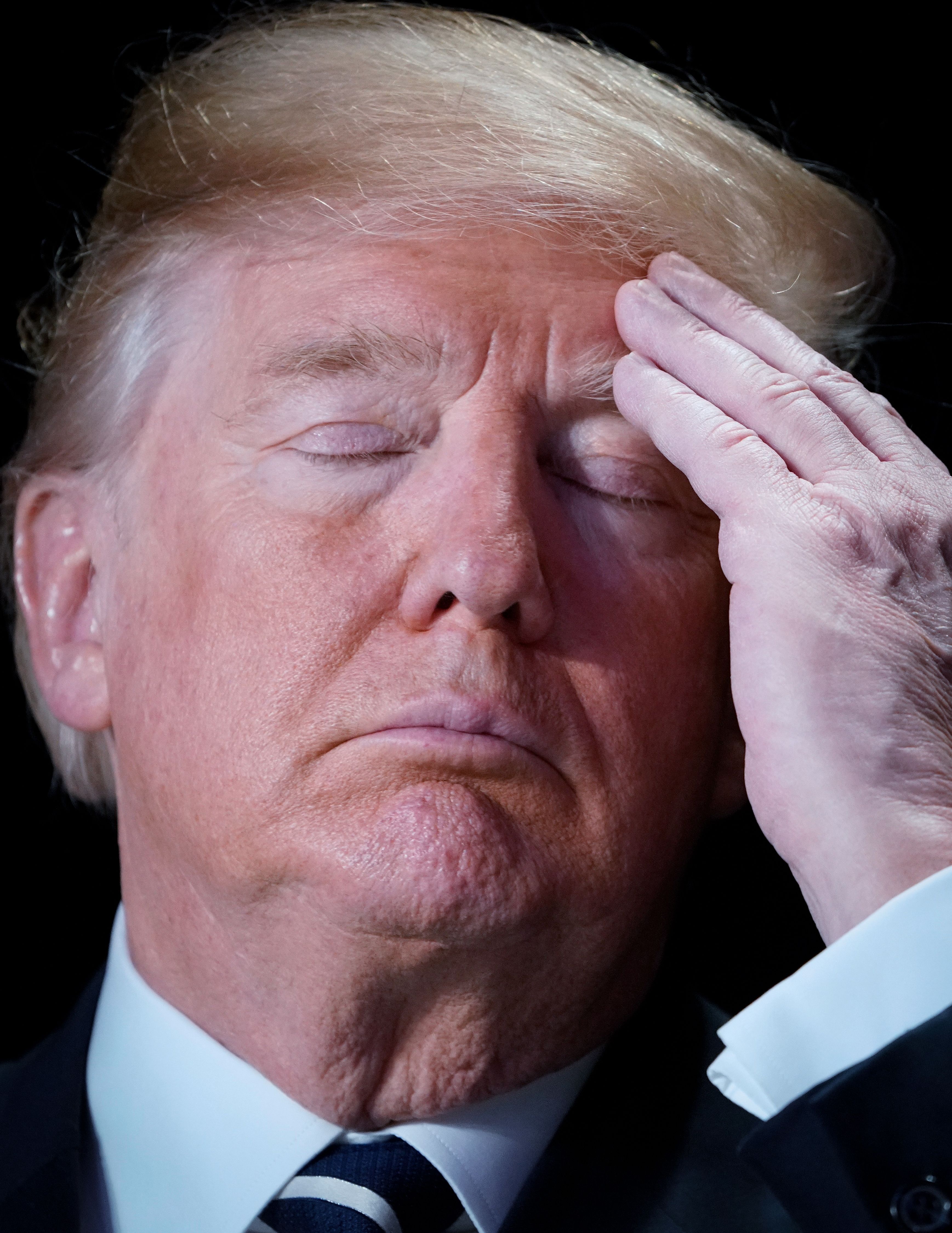 President Trump prays at the National Prayer Breakfast in Washington yesterday. (Mandel Ngan / AFP / Getty Images)
"The anxiety that has gripped the market this week appeared to escalate [yesterday] just as President Trump and lawmakers were setting the government up for annual budget deficits that would routinely exceed $1 trillion," AP's Josh Boak and Paul Wiseman report:
Why it matters: "The higher that deficits rise, the more likely it is that interest rates will surge, too, and undercut corporate profits, stock prices, consumer spending and the overall economy."
Data point of the day: 'The Committee for a Responsible Federal Budget ... estimates that the government funding deal would cause the 2019 deficit to balloon to $1.2 trillion, with trillion dollar deficits to continue 'indefinitely.'"
How it's playing ... N.Y. Times: "Republicans Learn to Love Deficit Spending They Once Loathed ... Once Deficit Hawks, Republicans Open the Money Spigot."
https://www.axios.com/newsletters/axios-am-ee6817fa-7265-448e-a098-570a19c5a2e6.html?chunk=7#story7
7. Mapped: China exports take over world
A snapshot on China's transformation into a manufacturing powerhouse, by Axios' Erica Pandey:
Two decades ago, China's gross exports were on par with those of the Netherlands, and only North Korea relied on the world's most populous country as its primary source of imports.
Now, China exports far more than any country on earth, and is the top supplier of countries in every corner of the world.
https://www.axios.com/newsletters/axios-am-ee6817fa-7265-448e-a098-570a19c5a2e6.html?chunk=8#story8
8. Where tech pay goes furthest: Austin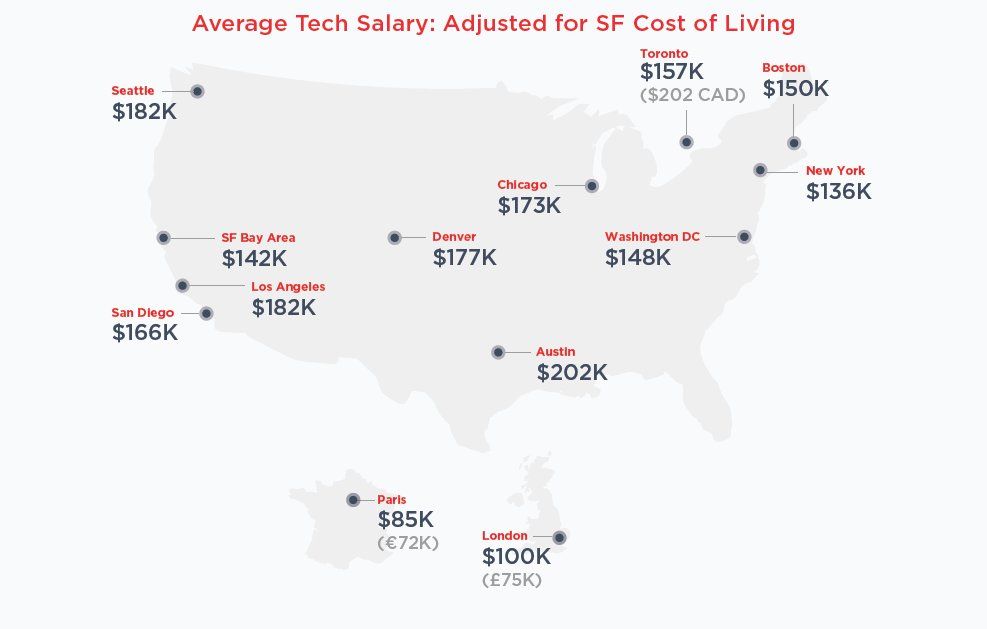 @Hired_HQ, a job-search firm
"Tech workers in Austin saw the sharpest salary increases, making 7 percent more on average last year than they did the year before, according to ... Hired, a job search marketplace," Recode reports:
"Workers in Los Angeles and Washington, D.C., were close behind Austin, making 6 percent more year on year, while workers in San Francisco saw a 5 percent increase."
"Based on gross pay, tech workers on average made the most in San Francisco ($142,000), followed by Seattle ($132,000), New York ($129,000) and Los Angeles ($129,000)."
The bottom line: "[W]ith cost of living adjustments, Austin tech workers made the most at $202,000 per year, followed by Los Angeles and Seattle, both at $182,000."
https://www.axios.com/newsletters/axios-am-ee6817fa-7265-448e-a098-570a19c5a2e6.html?chunk=9#story9
9. When teens use porn as a how-to guide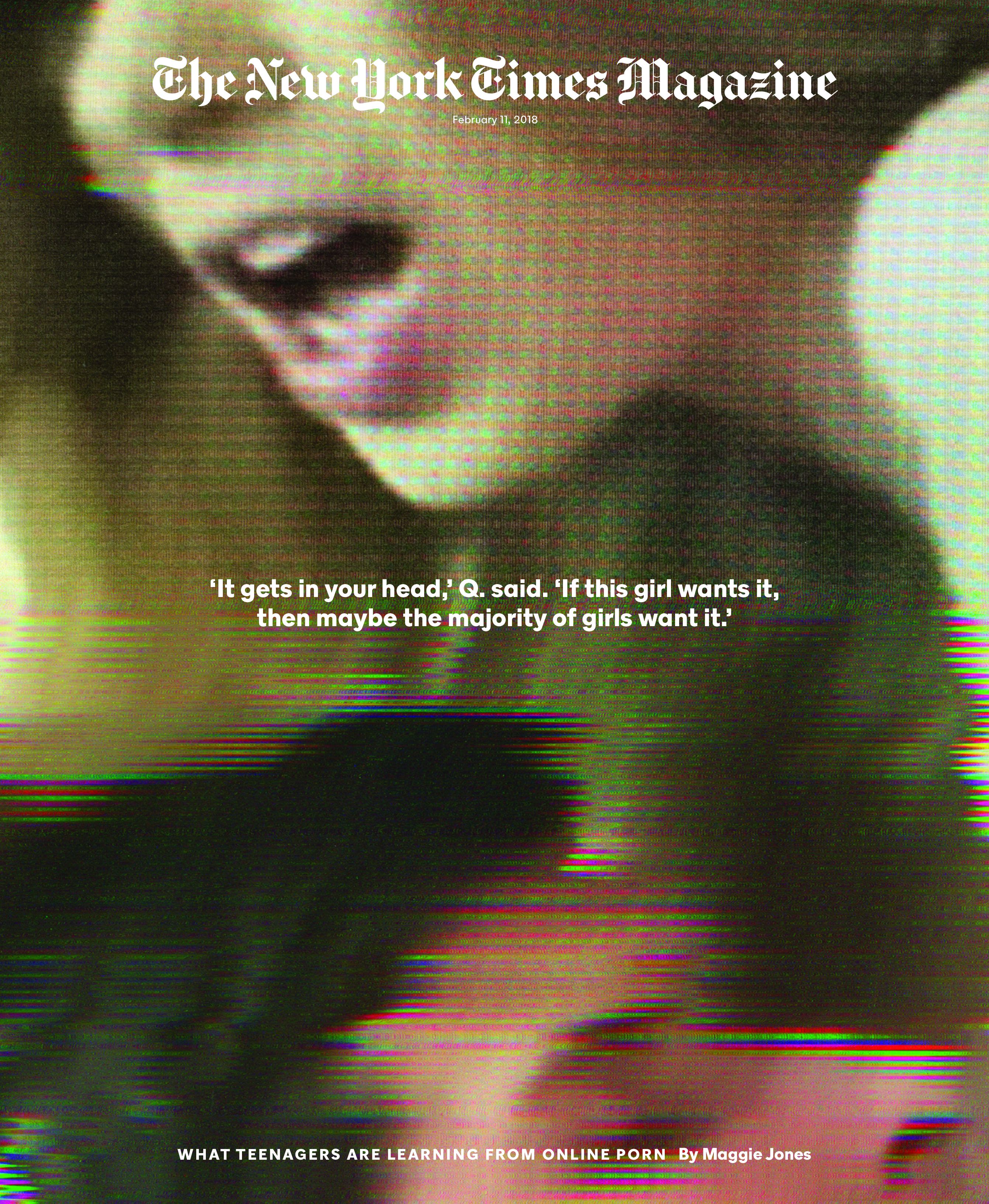 Courtesy The New York Times
The N.Y. Times' current "Most Shared on Facebook" story ... From the forthcoming N.Y. Times Magazine, "What Teenagers Are Learning From Online Porn," by Maggie Jones:
Why it matters: "American adolescents watch much more pornography than their parents know — and it's shaping their ideas about pleasure, power and intimacy."
There are problems with gender stereotyping and lack of affection, but the takeaway is confusion: "These images confound many teenagers about the kinds of sex they want or think they should have. In part, that's because they aren't always sure what is fake and what is real in porn."
Another problem: "As one suburban high school senior boy told me recently, 'I've never seen a girl in porn who doesn't look like she's having a good time.'"
https://www.axios.com/newsletters/axios-am-ee6817fa-7265-448e-a098-570a19c5a2e6.html?chunk=10#story10
10. 🥇🥈🥉 1 fun thing: The Games begin!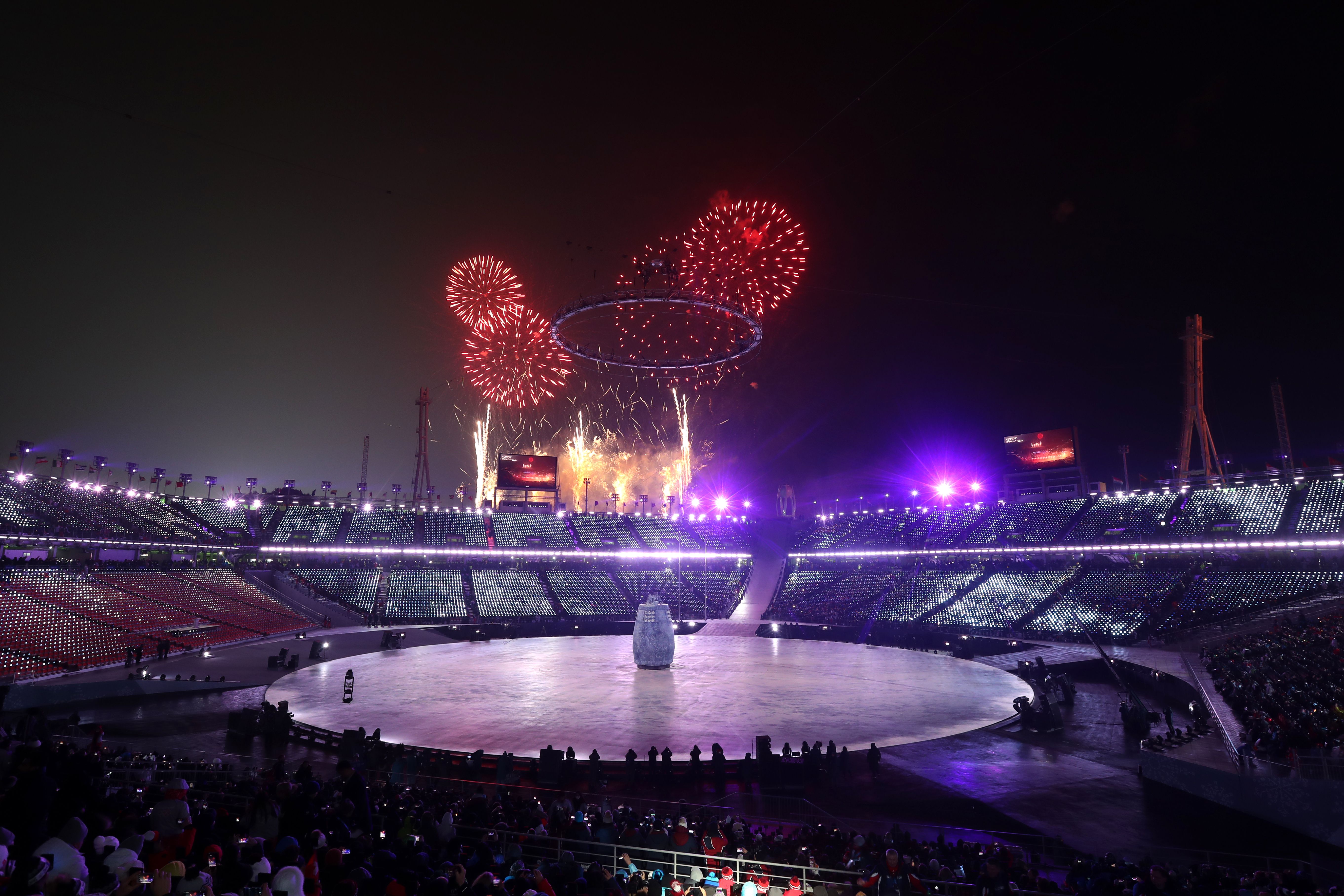 David Davies / PA Images via Getty Images
"After two failed bids, hundreds of millions of dollars spent on infrastructure, venues and preparation and a nagging national debate about whether it's all even worth it, the Olympics" finally open today in Pyeongchang, South Korea, per AP:
"This isolated mountain backwater, one of the oldest, poorest — coldest — and most disgruntled parts of an otherwise prosperous South Korea, will be a global player for three weeks of winter sports, diplomacy and, maybe, inter-Korean reconciliation."
The Opening Ceremony began at 6 a.m. ET ... Watch it live here!
"As the ceremony started, the lights dimmed and the crowd cheered as fireworks exploded overhead."
"The ceremony's program follows the journey of five children as they travel through time from the past to the future as 'they discover peace envisioned by Koreans.'"