July 22, 2022
Happy Friday. Smart Brevity™ count: 1,484 words ... 5½ mins. Edited by Noah Bressner.
1 big thing: A radical plan for Trump's second term
Former President Trump's top allies are preparing to radically reshape the federal government if he is re-elected, Axios' Jonathan Swan writes in a new series, "Inside Trump '25."
They want to purge potentially thousands of civil servants, and fill career posts with loyalists to him and his "America First" ideology.
Why it matters: The preparations are far more advanced and ambitious than previously reported. What is happening now is an inversion of the slapdash and virtually non-existent infrastructure surrounding Trump ahead of his 2017 presidential transition.
The impact could go well beyond typical conservative targets like the EPA and IRS:
Trump allies are working on plans that would potentially strip layers at the Justice Department — including the FBI, and reaching into national security, intelligence, the State Department and the Pentagon, sources close to the former president say.
Trump's groups are operating on multiple fronts: shaping policies, identifying top lieutenants, curating an alternative labor force of unprecedented scale and preparing for legal challenges and defenses that might go before Trump-friendly judges, all the way to a 6-3 Supreme Court.
🔎 This is a major series — in the style of "Off the Rails," our online and podcast series about Trump's final days in office — that Swan has been working on for months. Axios is running it at great length because of the depth of the reporting and importance of the subject matter.
The two-part series, today and tomorrow, goes deep into the infrastructure preparing an administration-in-waiting for Trump. It reveals key players, the legal strategy and the extensive personnel vetting — with loyalty as the key criteria for Trump.
Tomorrow's episode pulls back the curtain on that vetting process — how a radically different mindset took hold in 2020, and has continued in exile as Trump's top allies have worked to build a better machine.
💡 Swan's key reporting about the scope and seriousness of the effort:
Trump remains distracted by his obsession with contesting the 2020 election results. But he has endorsed the work of several groups to prime a second administration. Personnel and action plans would be executed in the first 100 days of a second term starting Jan. 20, 2025.
Their work could accelerate controversial policy and enforcement changes — but also enable revenge tours against real or perceived enemies, and potentially insulate the president and allies from investigation or prosecution.
The heart of Trump's new plans derives from an executive order, "Schedule F," developed and refined in secret over most of the second half of Trump's term, and launched 13 days before the 2020 election.
Trump insiders intend to stack thousands of mid-level staff jobs. Well-funded groups are already developing lists of candidates selected often for their animus against the system — in line with Trump's long-running obsession with draining "the swamp." This includes building extensive databases of people vetted as being committed to Trump and his agenda.
The bottom line: This isn't a bunch of fringe characters blowing hot air. It's well-funded groups run by former top Trump administration officials, working with Trump's blessing — and, in some cases, direct financial support.
2. 🧠 How Trump could reimpose Schedule F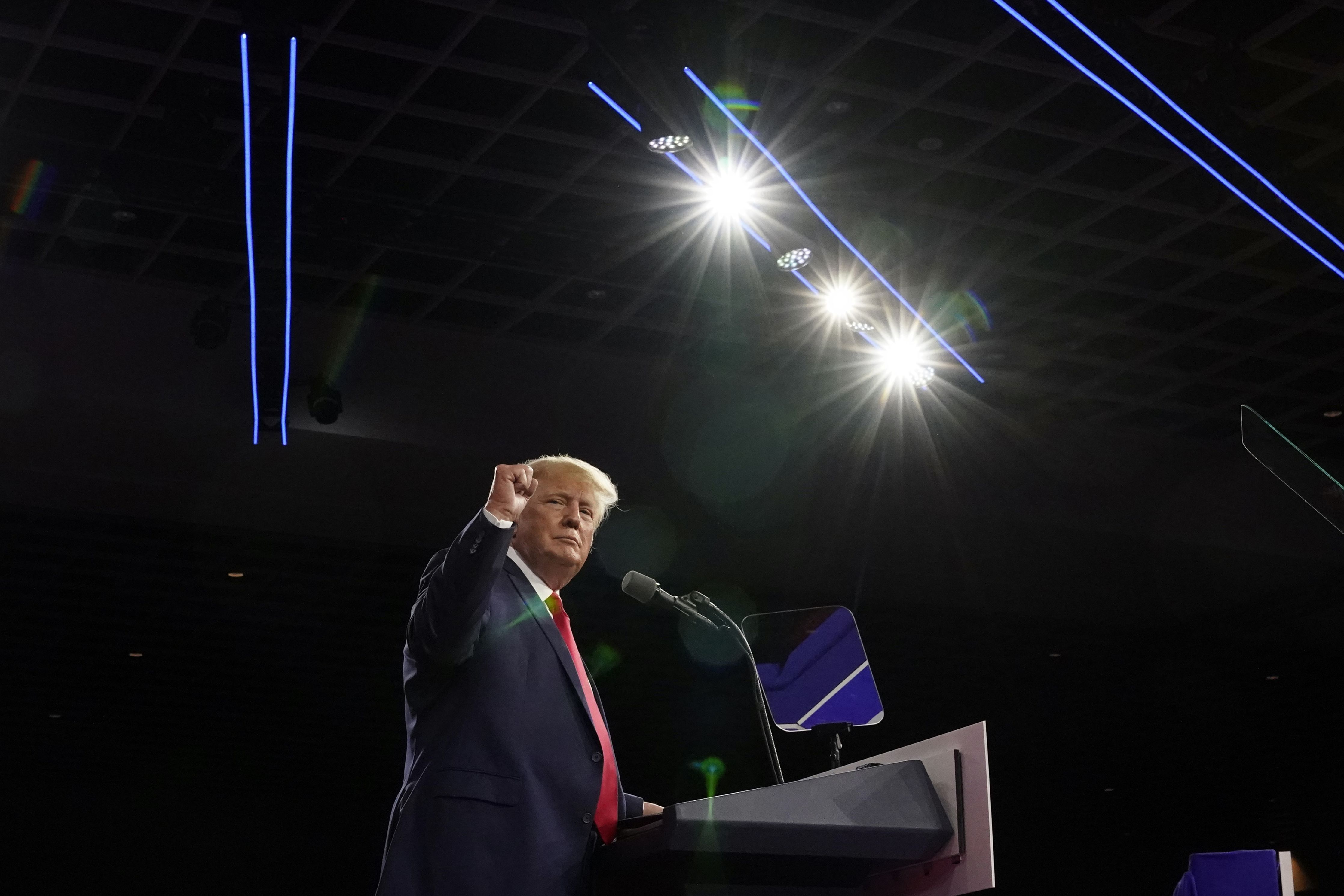 Sources close to Donald Trump tell Axios' Jonathan Swan the former president would immediately reimpose his "Schedule F" executive order if he takes back the White House in the 2024 presidential elections.
The order is designed to remove employment protections for as many as 50,000 career civil servants, out of a workforce of more than 2 million — giving Trump the power to fire them and replace them with loyalists.
Why it matters: That would effectively upend the modern civil service, and put future presidents in the position of bringing in their own loyalists or reverting to a traditional bureaucracy.
The backstory: Trump signed an executive order in October 2020 which established a new Schedule F employment category for federal employees.
It was rescinded by President Biden shortly after he took office in 2021.
But back in March of 2022, Trump floated the possibility of going after the federal workforce.
"We will pass critical reforms making every executive branch employee fireable by the president of the United States," he said at a rally in South Carolina. "The deep state must, and will be brought to heel."
3. 🏛️ Trump just couldn't say it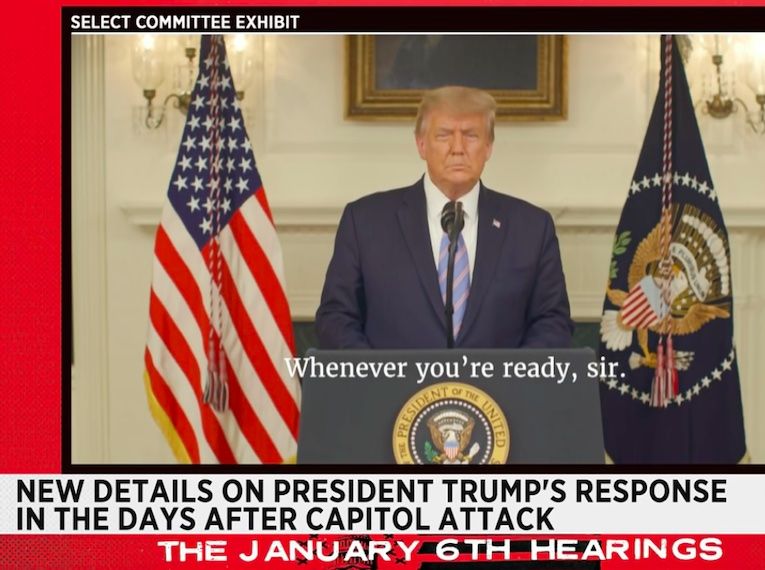 The Jan. 6 committee's summer-finale hearing used testimony from top White House officials and former President Trump's own Twitter feed to show how he watched the violent mob, Axios' Alayna Treene reports.
Why it matters: The panel showed how many of Trump's allies, including top Republicans in the House and Senate, were united in their opposition to how he handled the insurrection. Expect the spotlight on those members to follow them through the next months.
The committee used Trump's favorite mediums, Twitter and TV, against him — revealing raw footage of his addresses on Jan. 6 and 7 to demonstrate how he rebuffed his team in insisting on downplaying the attack and refusing to concede he lost.
The outtakes showed Trump balking at a script saying "the election is over."
🥊 "I don't want to say the election's over," Trump said. "I just want to say 'Congress has certified the results,' without saying the election's over, OK?"
4. 🏛️ Jan. 6 backstory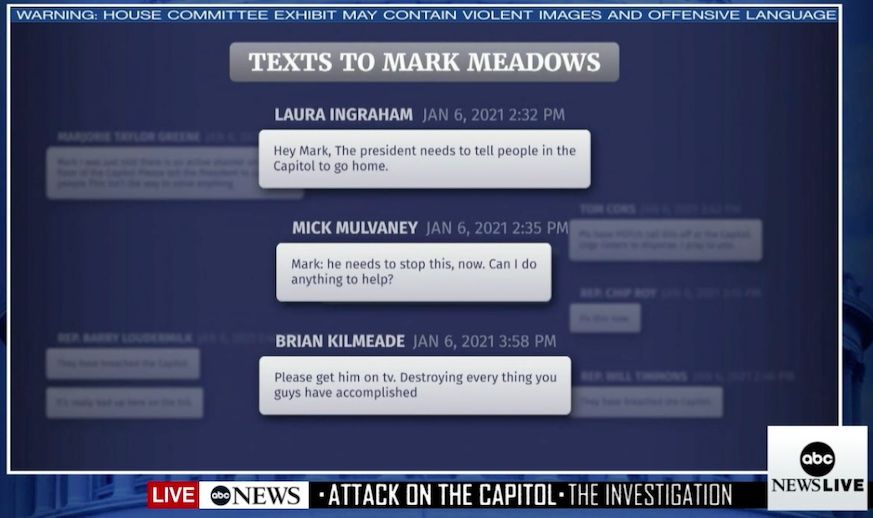 Fox News personalities were among those texting White House chief of staff Mark Meadows, insisting President Trump should stop the riot.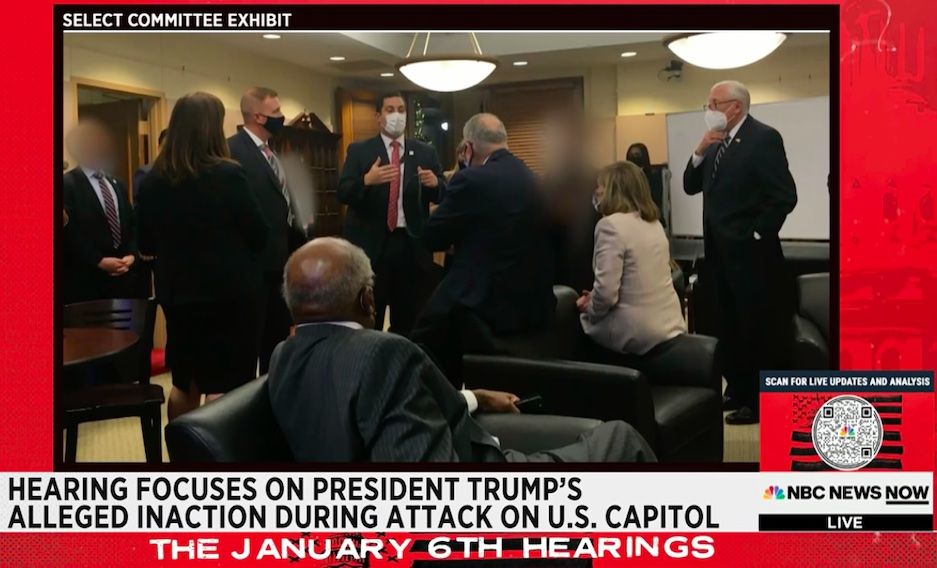 Historic photo: Congressional leaders in a secure location after evacuating the Capitol chambers.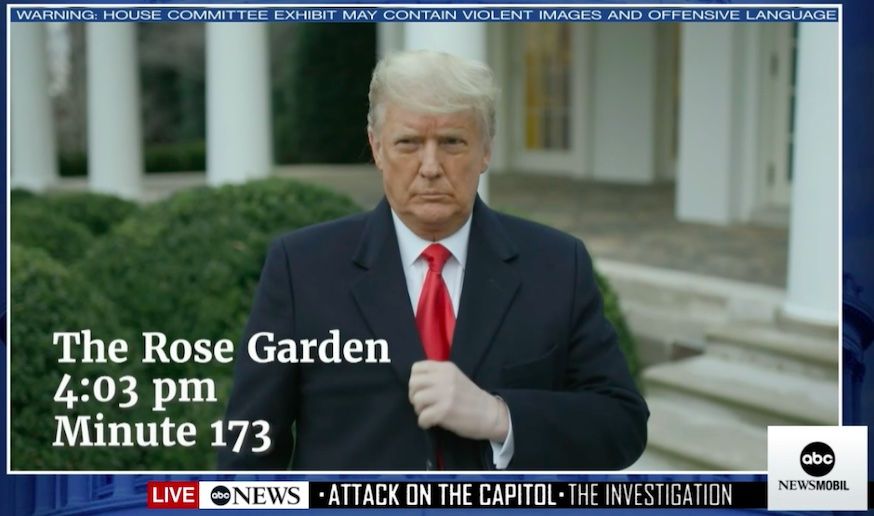 In outtakes never seen publicly before, President Trump adjusts his suit before taping belated comments urging rioters to go home.
5. ⛽ Why gas could go back up
Falling gas prices are a political relief for President Biden and Democrats, but there is no guarantee the relief will last through the fall, Ben Geman writes in Axios Generate.
The national average has plummeted by nearly 60¢ since breaching $5-per-gallon in mid-June, per AAA, though costs remain high.
It's $4.41 today.
What's happening: Future oil and gas prices are notoriously hard to game out, and this moment is especially heavy on wild cards. But analysts see the possibility of another price spike in the months ahead, even though markets have loosened up somewhat. Two key risks:
Tightening European sanctions and other efforts to cut Russia's fossil fuel exports windfall — steps that could slash production there.
An active hurricane season could produce powerful storms that hit the Gulf Coast.
6. 🗳️ GOP candidate attacked at rally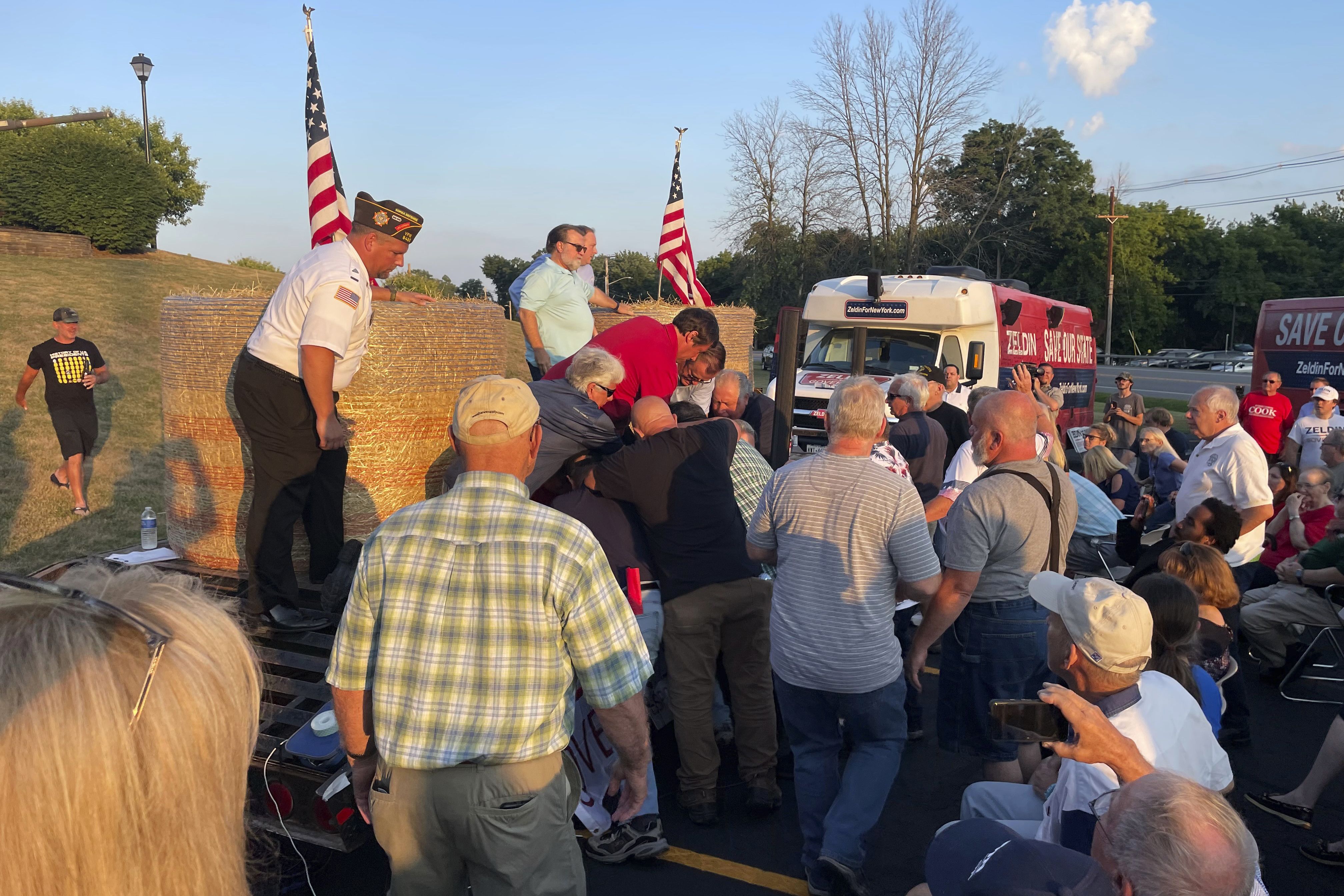 Rep. Lee Zeldin, the Republican candidate for New York governor, was assaulted by a man who apparently tried to stab him at an upstate event Thursday, but the congressman escaped serious injury.
Zeldin is challenging incumbent Democratic Gov. Kathy Hochul in November.
"I'm OK," Zeldin said in a statement. "Fortunately, I was able to grab his wrist and stop him for a few moments until others tackled him."
Zeldin's campaign said the attacker was taken into custody and the congressman continued his speech, AP reports.
The attacker climbed onto a low stage where the congressman spoke to a crowd of dozens outside Rochester, flanked by bales of hay and American flags. A video posted on Twitter shows the two falling to the ground as other people try to intervene.
Hochul condemned the attack and said she was "relieved to hear that Congressman Zeldin was not injured and that the suspect is in custody."
7. 🕶️ Quote du jour, Remote Summer Edition
From a New York Times article — "Hey, Is Anybody Watching the Interns?" — about young people commuting to empty offices and "trying desperately to impress managers over video calls":
"The thing I've always been taught by my parents is to be the first one in and last one out. But there's no one else there."
—
Alex Hyman, 20, who arrived to a largely empty office to begin his summer internship at an entertainment agency in L.A.
8. The cost of fake reviews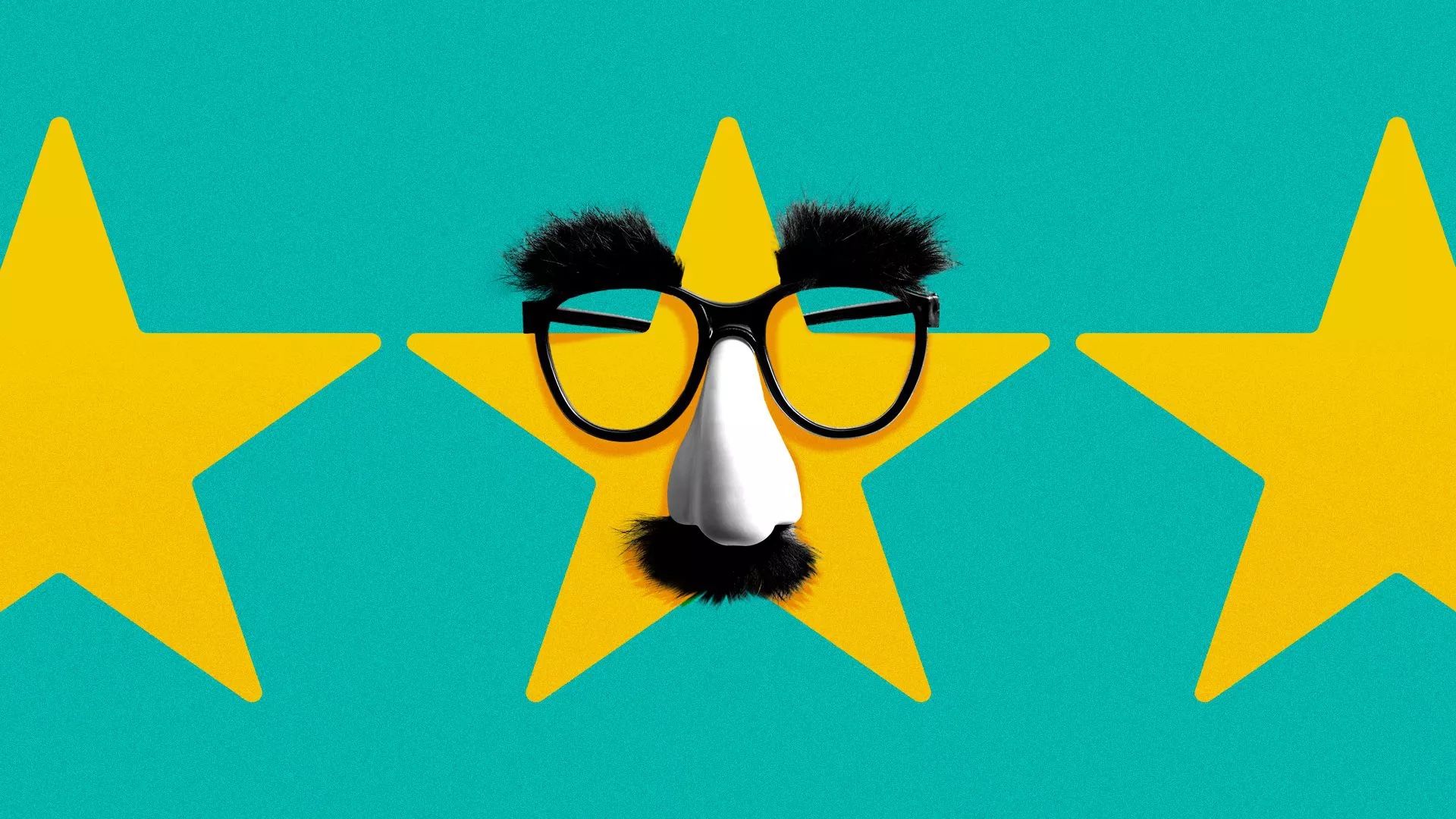 Fake online product reviews cost shoppers 12 cents for every dollar they spend, and increase the likelihood they buy inferior products, Axios Markets' Emily Peck writes from a paper to be presented today at the NBER Summer Institute.
Why it matters: We intuitively know fake reviews are bad. But the paper offers a deeper picture of how phony write-ups and inflated star ratings change shopping behavior.
How it works: The researchers recruited 10,000 online participants in the U.K. to shop on an Amazon-like platform they'd created.
All of the items were real, and rated for quality by a nonprofit consumer advocacy group that sponsored this study.
Researchers showed some participants fake reviews or inflated star ratings — or both. Others didn't get any phony reviews. A few participants received guidance on how to spot a phony review.
Those who saw fake written reviews were 7 points more likely to buy faulty products. Inflated star ratings also decreased the likelihood that a shopper would buy a superior product.
📬 Invite your friends to sign up here for their daily essentials — Axios AM, PM and Finish Line.