Axios AM
January 15, 2020
Happy Wednesday!
Today's Smart Brevity™ count: 1,196 words ... 4½ minutes.
1 big thing: The future of firefighting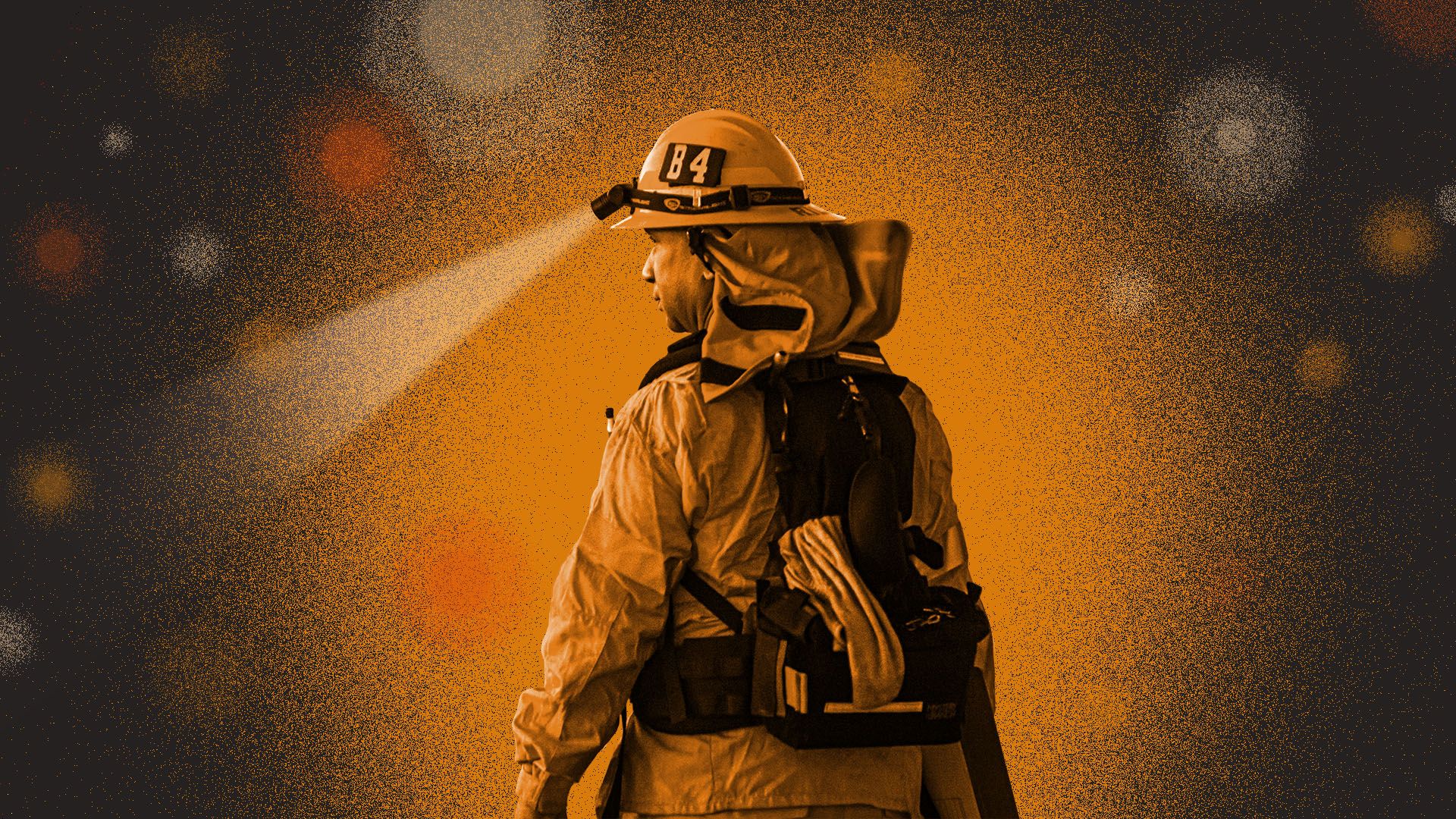 The world is entering the age of extreme fire — and we're unprepared for it, Axios' Erica Pandey writes.
Why it matters: As we've seen in Australia, California and the Amazon, fires are burning hotter, longer and more frequently around the world. Our resources to suppress them are stretched dangerously thin. And the way we fight them hasn't changed in a century.
Even with help from seasonal workers, student volunteers, inmates and more, the crews that fight wildfires are often understaffed, says Don Whittemore, a wildland fire expert in Boulder, Colo.
"There's no such thing as a fire season anymore," says Fernanda Santos, a former New York Times reporter and author of "The Fire Line." "There has to be a rethinking of the way we fight fires."
What's next: In the face of bigger fires and labor shortages, firefighters are turning to technology to help. They now use 747s and air tankers, which help give firefighters a break, "but at the end of the day all fires need to stopped on the ground," says Whittemore.
Experts say one new tool that would make a big difference is GPS locators for fighters, who currently use radios but often run into dead zones while on the job.
And some researchers haven't given up on moonshot ideas. XPRIZE, a California company, has teamed up with the state to solicit proposals and award multimillion dollar grants to researchers who want to develop a system to detect and suppress a wildfire within five minutes.
2. Warren: "Look at the men on this stage"
Elizabeth Warren had the line of the night at the Democratic debate in Des Moines when she resisted prods to spar with Bernie Sanders:
"Look at the men on this stage. Collectively, they have lost 10 elections. The only people on this stage who have won every single election that they've been in are the women — Amy [Klobuchar] and me!"
Why it matters: The exchange, 20 days before caucus night, was a microcosm of a broader debate about electability.
But Iowa voters Axios has spoken with don't look at gender as a signifier of electability. They say they're more likely to reach for qualities like truth-telling and candidates' willingness to work across the aisle.
Other top bites:
Joe Biden, on whether he's prepared for President Trump's insults: "Look, I've been the object of his affection now more than anybody else on this stage. [Laughter.] I've taken all the hits he can deliver, and I'm getting better in the polls."
Sanders: "[T]he two great foreign policy disasters of our lifetimes were the war in Vietnam and the war in Iraq. Both of those wars were based on lies."
Warren, on Afghanistan: "We've turned the corner so many times, we're going in circles."
Pete Buttigieg: "If a guy like Donald Trump keeps trying to use religion to somehow recruit Christianity into the GOP, I will be standing there not afraid to talk about a different way to answer the call of faith and insist that God does not belong to a political party."
Klobuchar: "We're not going to have a shortage of MBAs. We're going to have a shortage of plumbers."
Between the lines: Billionaire Tom Steyer said in the final 10 minutes: "We're going to have to beat [Trump] on the economy." But the candidates spent the first hour and 50 minutes talking about everything else.
The bottom line: The discussions of foreign policy and health care underscored the basic fault lines: Warren-Sanders vs. Biden-Buttigieg-Klobuchar.
Go deeper: 4 takeaways from the debate, via Axios' Zach Basu.
3. In pics: Warren-Sanders post-debate set-to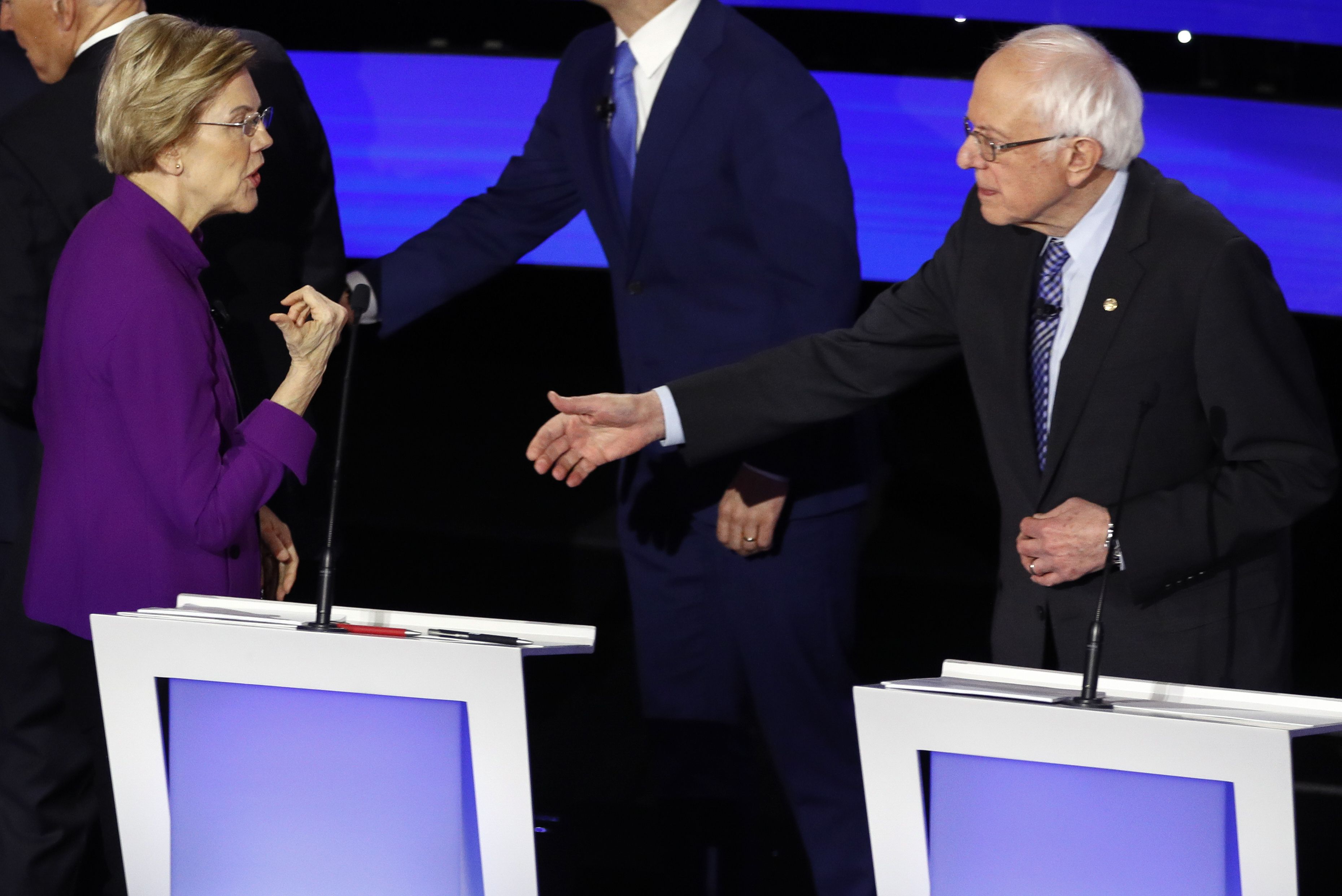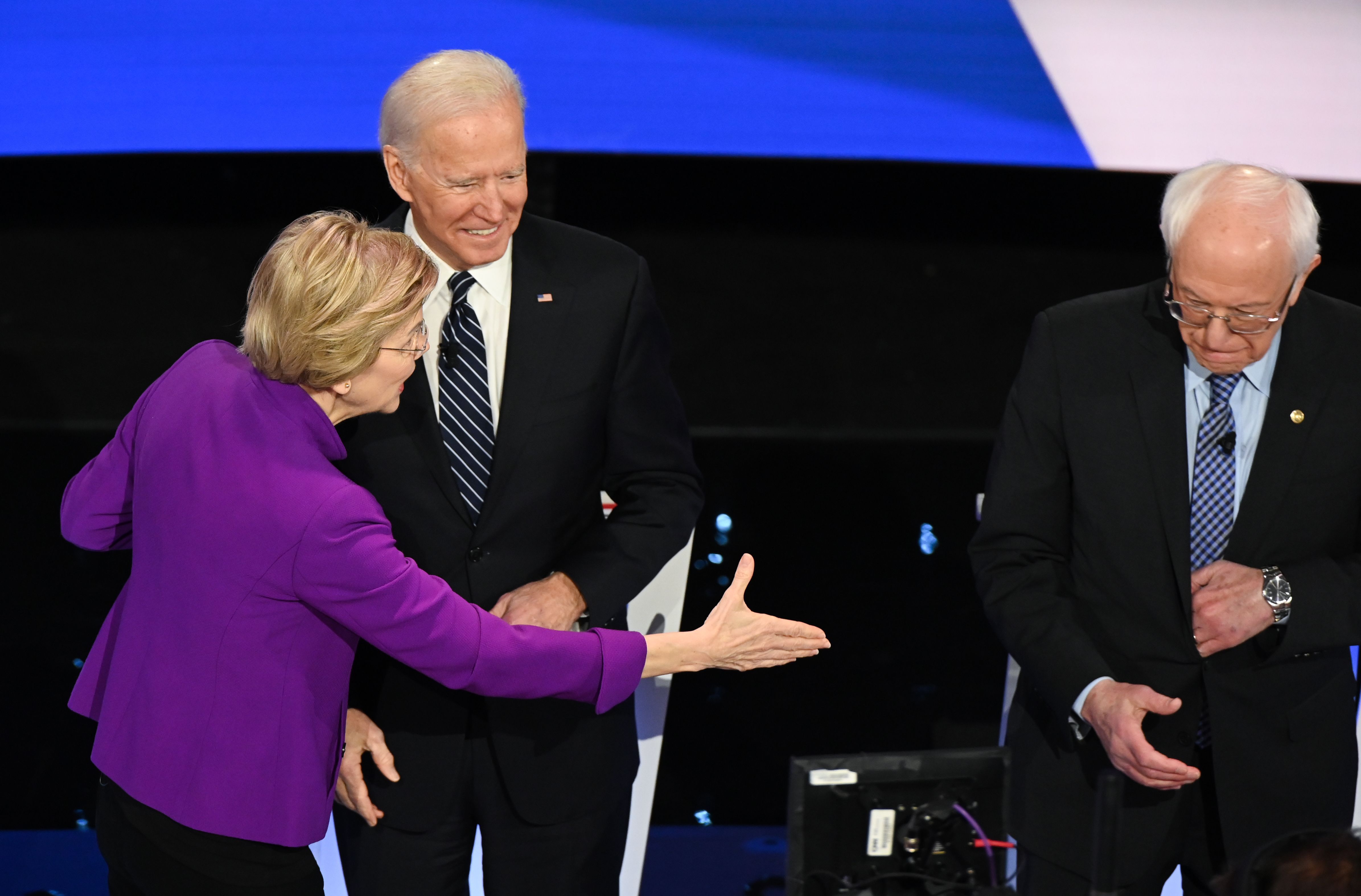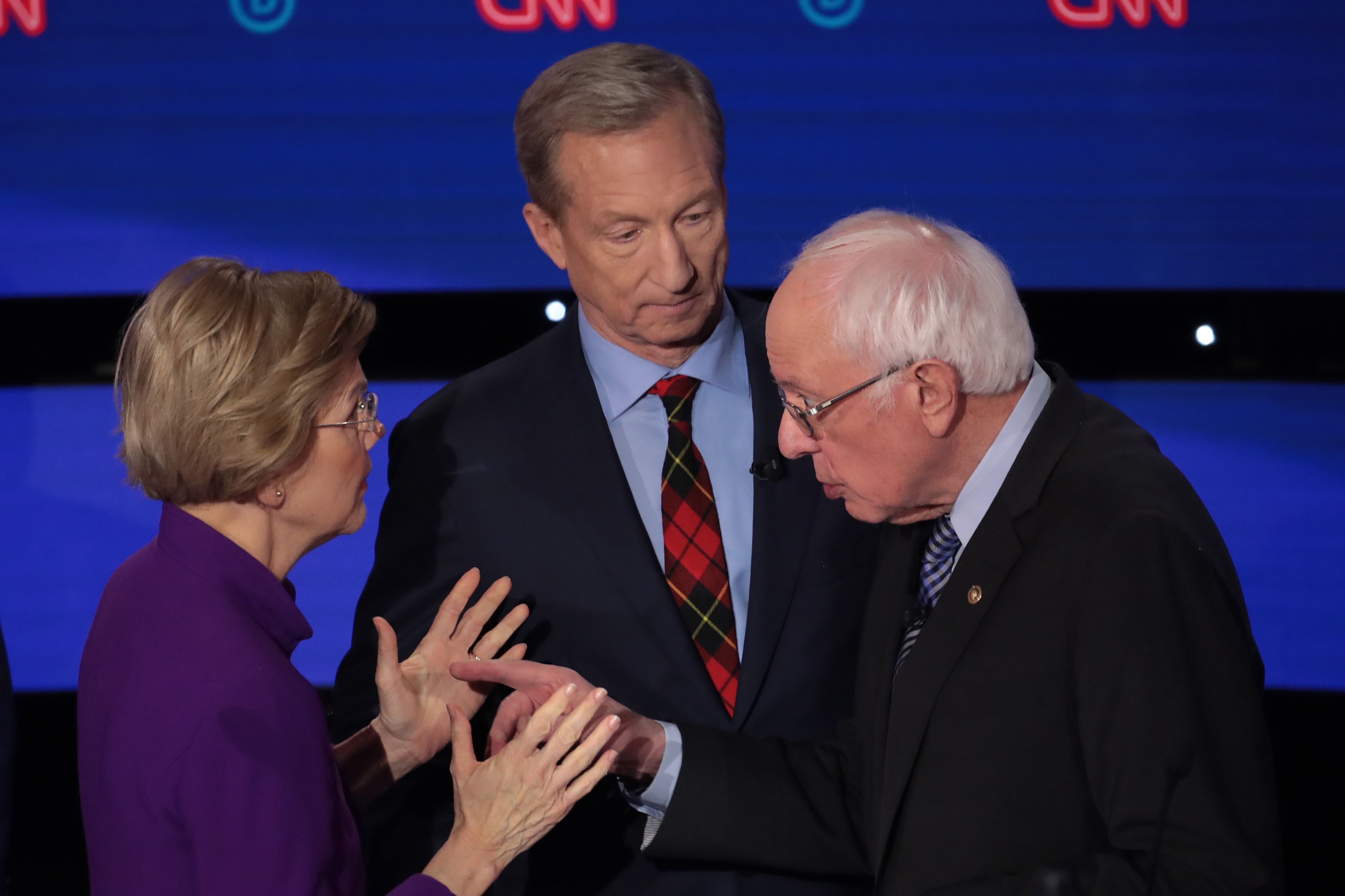 4. Australia from space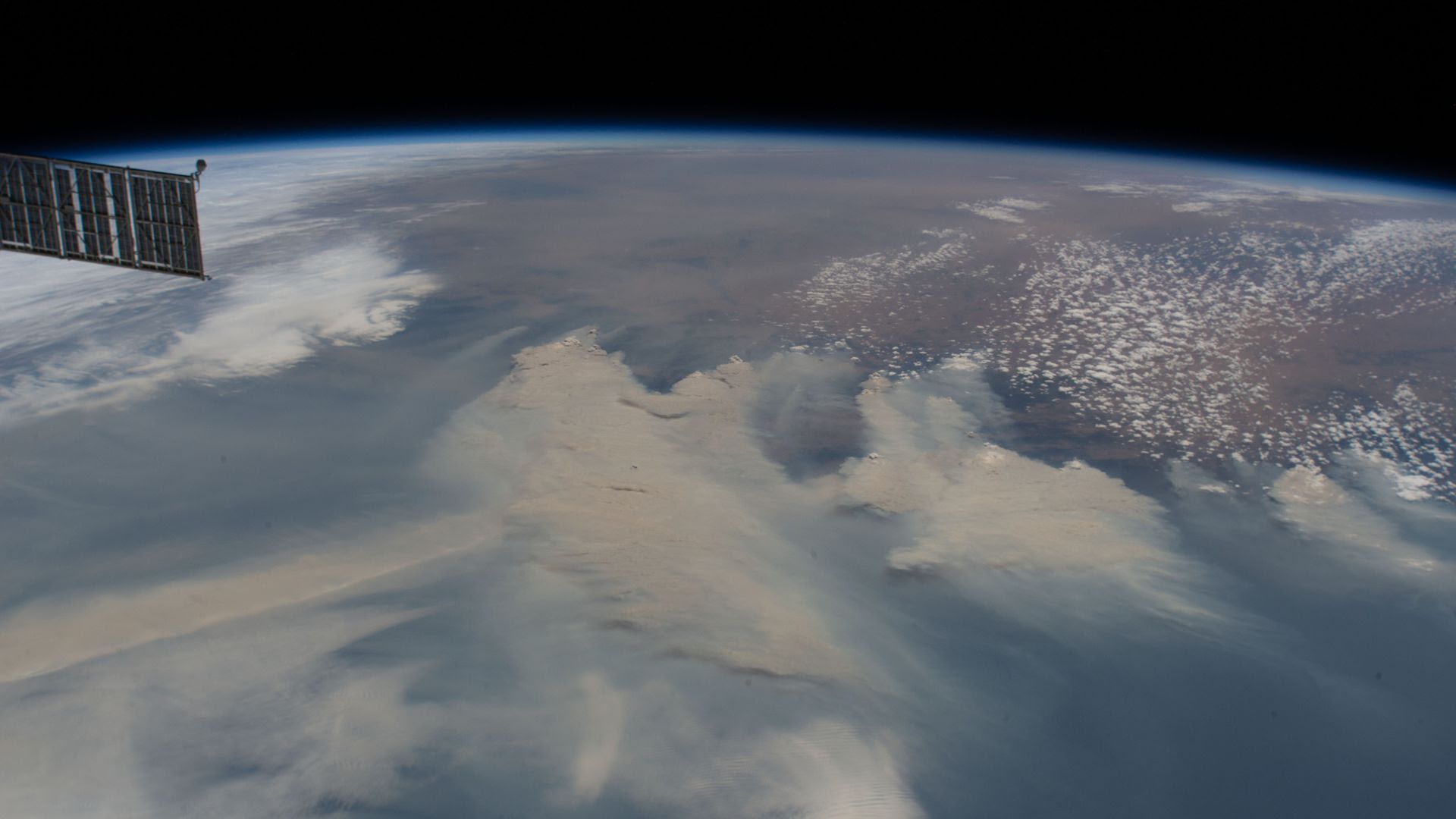 The smoke from Australia's wildfires, pulled into the stratosphere, "is expected to make at least one full circuit around the globe." (NASA)
5. ⚖️ Senate impeachment trial begins Tuesday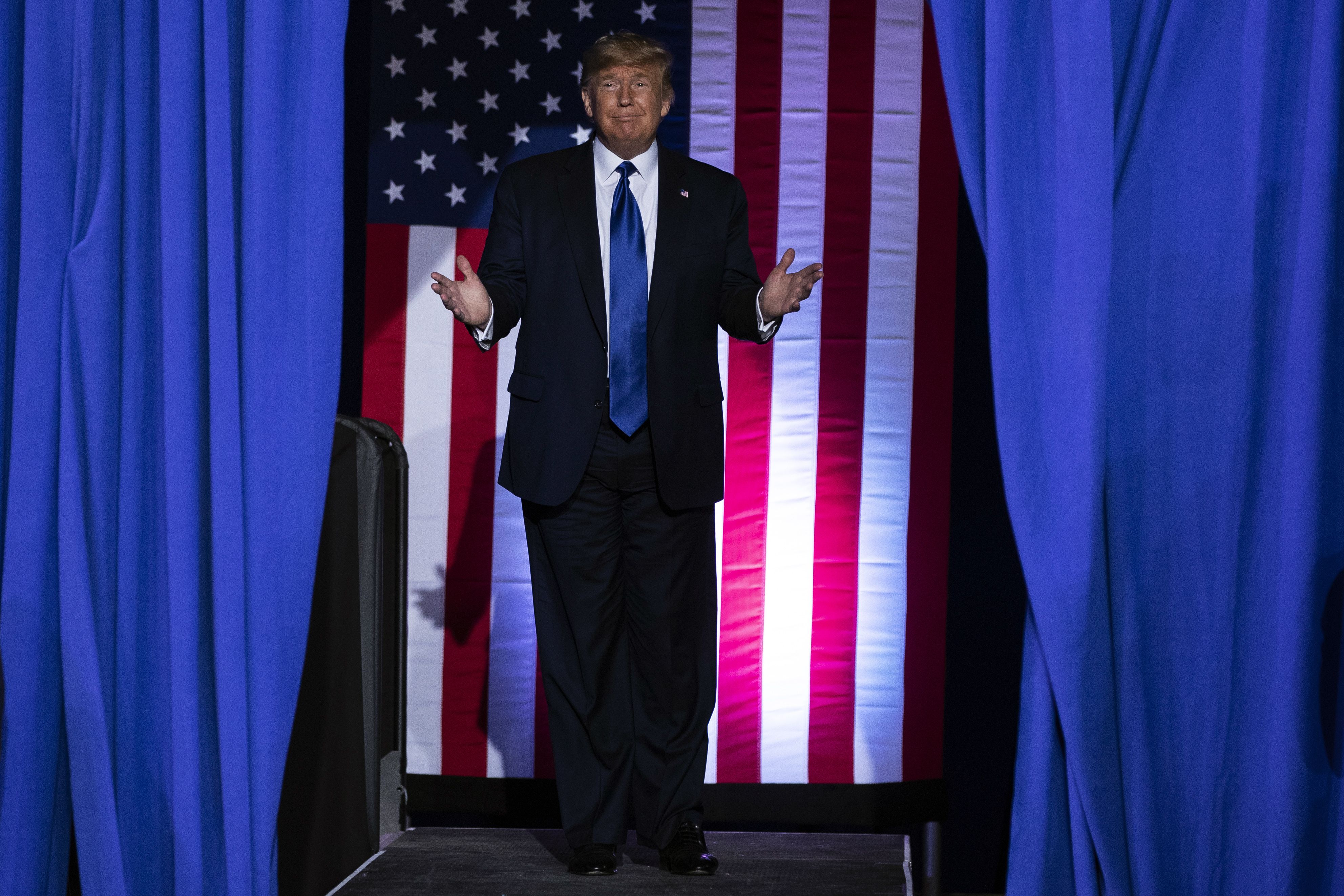 In the age of PDFs and email, the House will deliver the articles of impeachment to the Senate the old-fashioned way — on paper, and in person, Axios' Alayna Treene reports.
Speaker Pelosi will announce the House managers for the Senate's impeachment trial at a press conference at 10 a.m.
It's unclear how many and who Pelosi will pick, but House Intelligence Chairman Adam Schiff and House Judiciary Chairman Jerry Nadler will almost certainly be named.
During President Clinton's 1999 Senate trial, there were 13 House managers. Hill sources tell Axios to expect six to 12.
The House will then vote on a resolution appointing House managers and transmitting the articles impeaching President Trump.
After the vote, Pelosi will hold an Engrossment Ceremony photo op with the House impeachment managers, then they will travel through the Capitol to present the articles to the Secretary of the Senate.
6. Last-minute impeachment evidence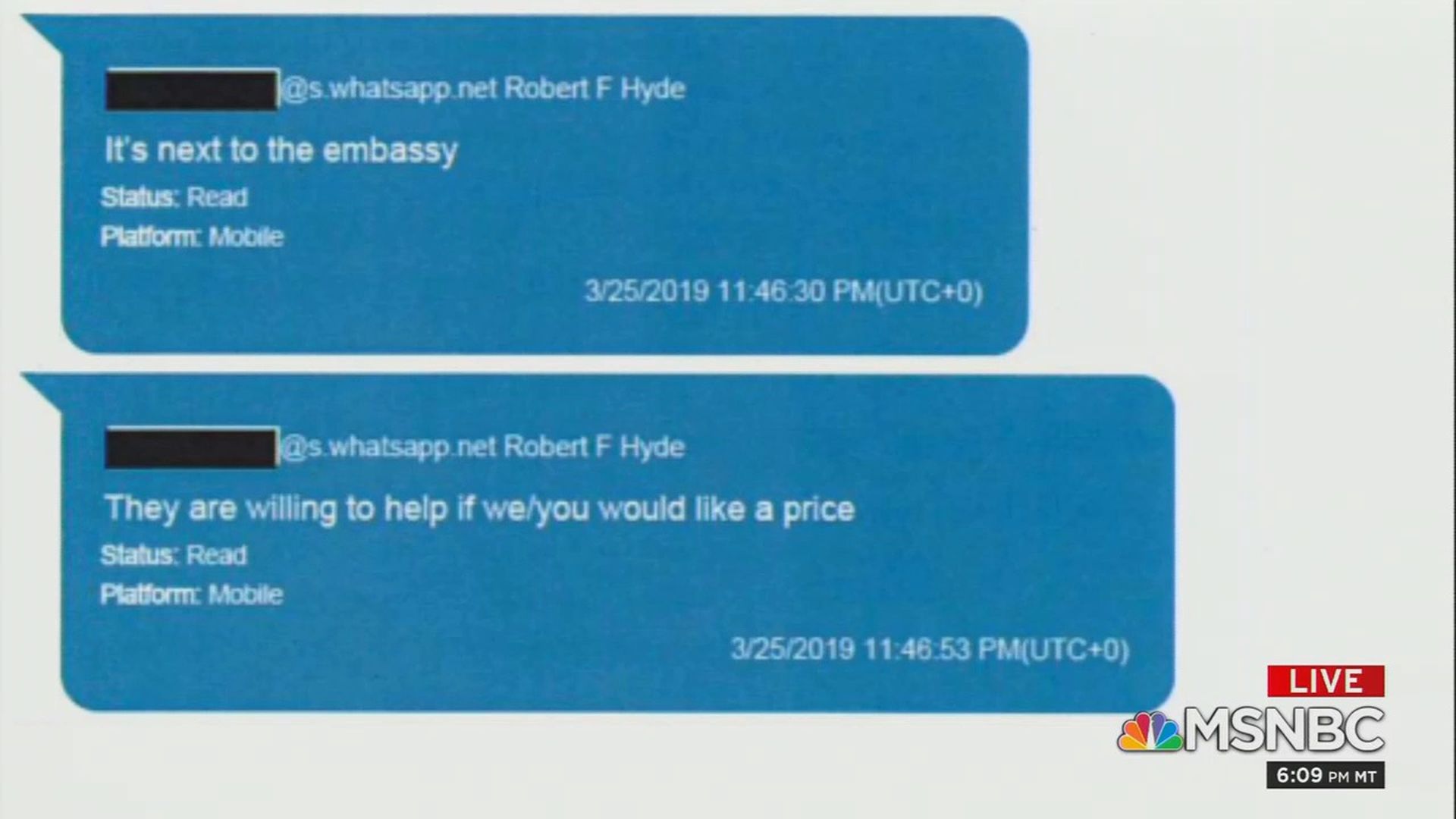 House Democrats released a trove of documents they obtained from Lev Parnas, a close associate of Rudy Giuliani, including a handwritten note that mentions asking Ukraine's president to investigate "the Biden case," AP reports.
The documents, obtained as part of the impeachment investigation, were sent to the House Judiciary Committee by three other House panels "to be included as part of the official record that will be transmitted to the Senate."
The documents show Parnas communicating with Giuliani before the removal of Marie Yovanovitch, the U.S. ambassador to Ukraine.
A man named Robert F. Hyde gave Parnas updates on Yovanovitch's location and cell phone use, raising questions about possible surveillance.
Among the documents is a screenshot of a previously undisclosed letter from Giuliani to Ukrainian President Volodymyr Zelensky dated May 10, 2019, which was before Zelensky took office.
Giuliani requests a meeting with Zelensky "as personal counsel to President Trump and with his knowledge and consent."
7. 🇮🇷 Iran threatens Europe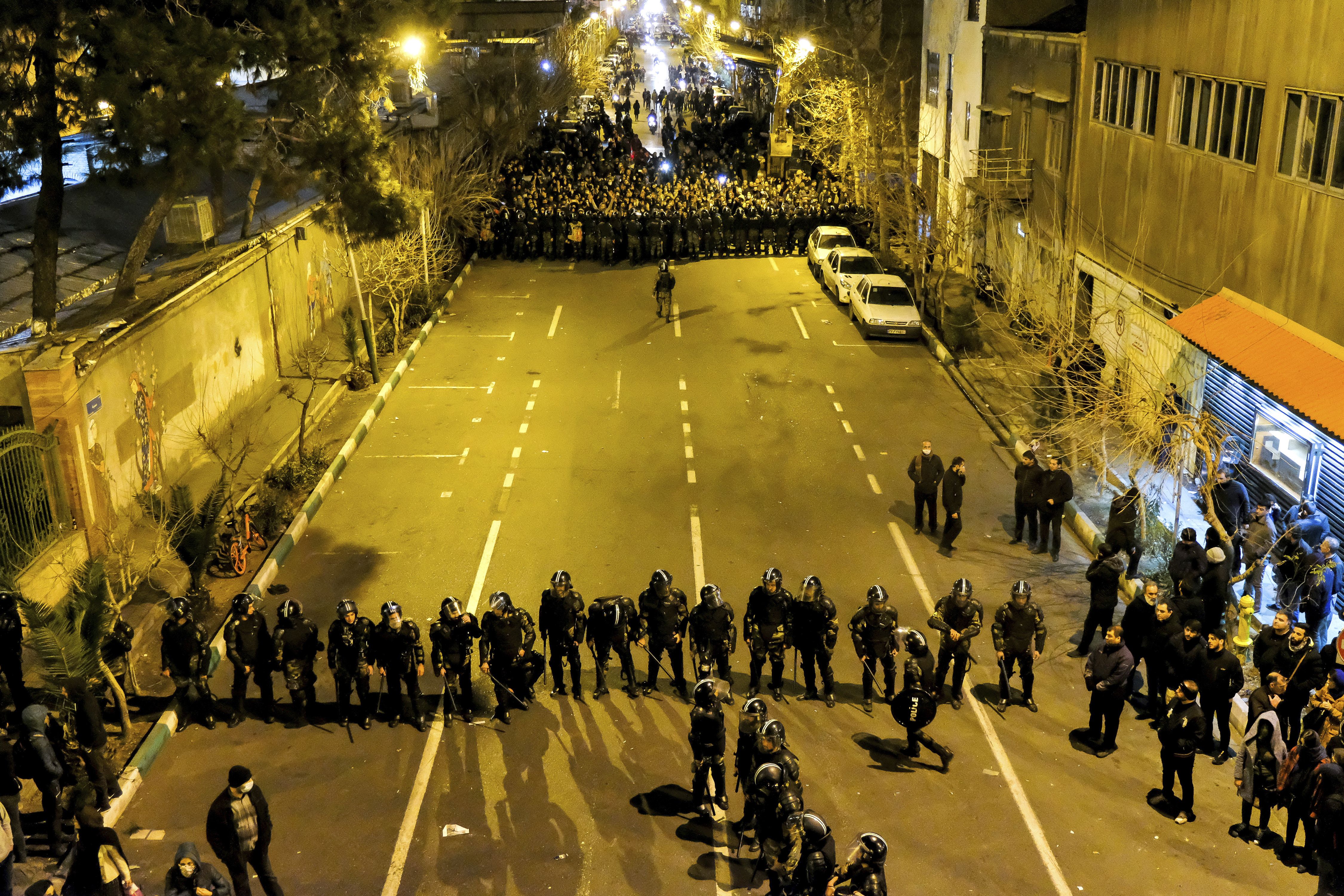 Iran's president warned today that European soldiers in the Mideast "could be in danger" after three nations — Britain, France and Germany — challenged Tehran over breaking the limits of its nuclear deal, AP reports.
Why it matters: President Hassan Rouhani's remarks in a televised Cabinet meeting represent the first direct threat he's made to Europe.
🥊 Tehran's top diplomat, Foreign Minister Mohammad Javad Zarif, acknowledged that Iranians "were lied to" after the shootdown of a Ukrainian jet:
"In the last few nights, we've had people in the streets of Tehran demonstrating against the fact that they were lied to for a couple of days."
8. First look: Sarah Sanders to tell press tales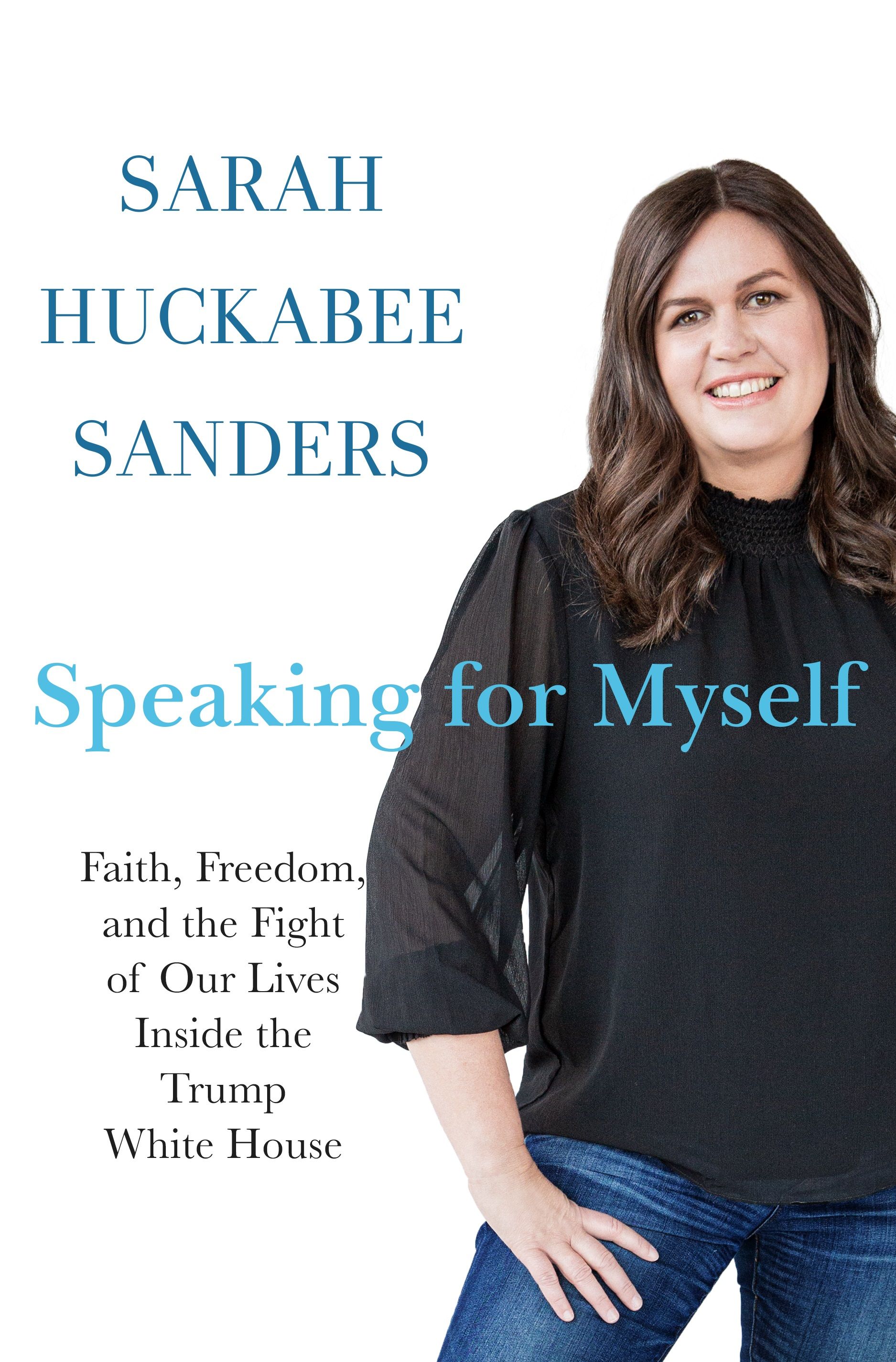 Sarah Huckabee Sanders' new book includes "a candid account of my relationship and interactions with the press. And some reporters come out a lot better than others!"
Gearing up for a possible run for Arkansas governor, Sanders will be out Sept. 8 — during the home sprint of the presidential race — with "Speaking for Myself," from St. Martin's Press.
Sanders says: "From Arkansas to the White House and back, I'm excited to tell my story about the challenges of being a working mom at the highest level of American politics."
Reality check: A book tour means Sanders, who had tense relations with the press, will be pushed to explain her approach.
9. Red Sox boot Cora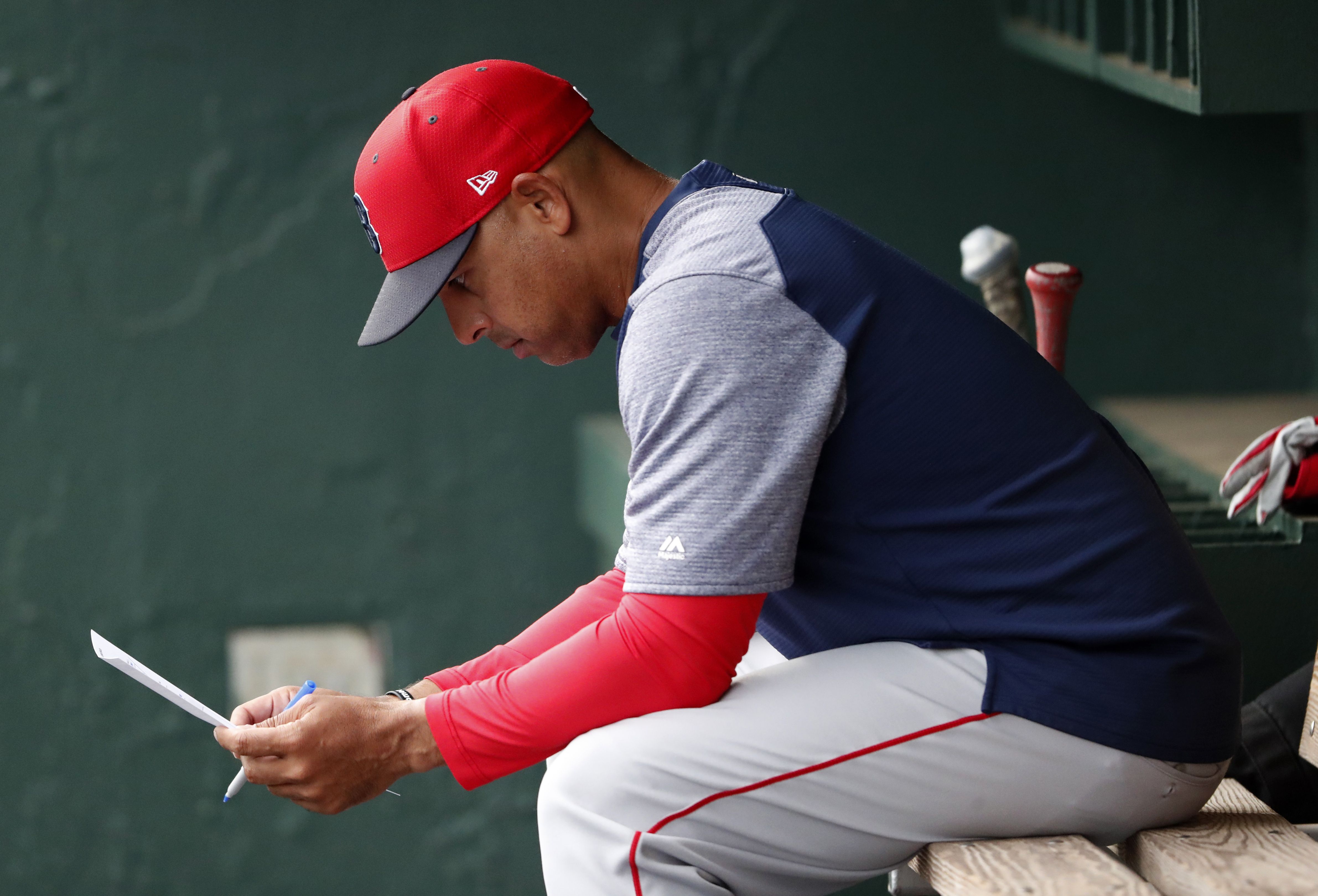 The Boston Red Sox fired manager Alex Cora over his role in a sign-stealing scandal "less than 15 months after winning the World Series in his record-setting rookie season," writes the Boston Globe's Peter Abraham.
10. 1 "Jeopardy!" thing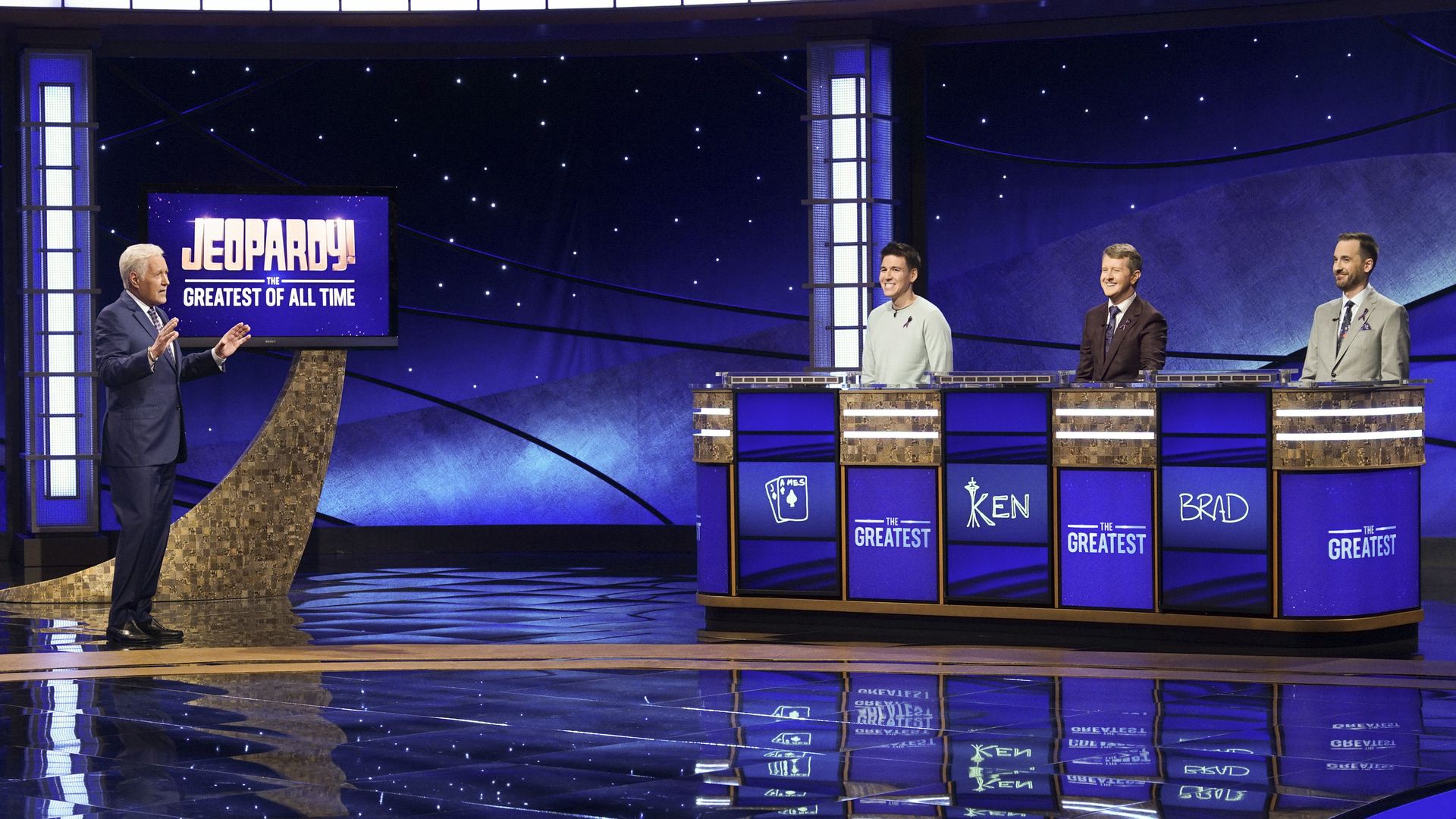 Ken Jennings won the "Jeopardy!" greatest-of-all-time title (and $1 million) by being bold, per AP:
In "Final Jeopardy," Jennings bet all 32,800 of his points on the clue: "This area of Greece, home to Pan, is synonymous with a rural paradise; it's a setting for Vergil's shepherd poems the 'Ecologues.'"
He correctly answered: "What is Arcadia?"