November 06, 2021
⏰ Happy Saturday. Your phone will fall back tonight, giving you a secret hour of sleep.
🎥 Coming tomorrow on "Axios on HBO" (6 p.m. ET on HBO and HBO Max): I interview Sen. Josh Hawley ... Jonathan Swan flies to India to talk vaccines with Serum Institute CEO Adar Poonawalla ... and Margaret Talev sits down with Amtrak CEO William Flynn in Penn Station's new Moynihan Hall. Watch a clip.
Smart Brevity™ count: 1,196 words ... 4½ minutes. Edited by Laurin-Whitney Gottbrath.
1 big thing: Build Back Biden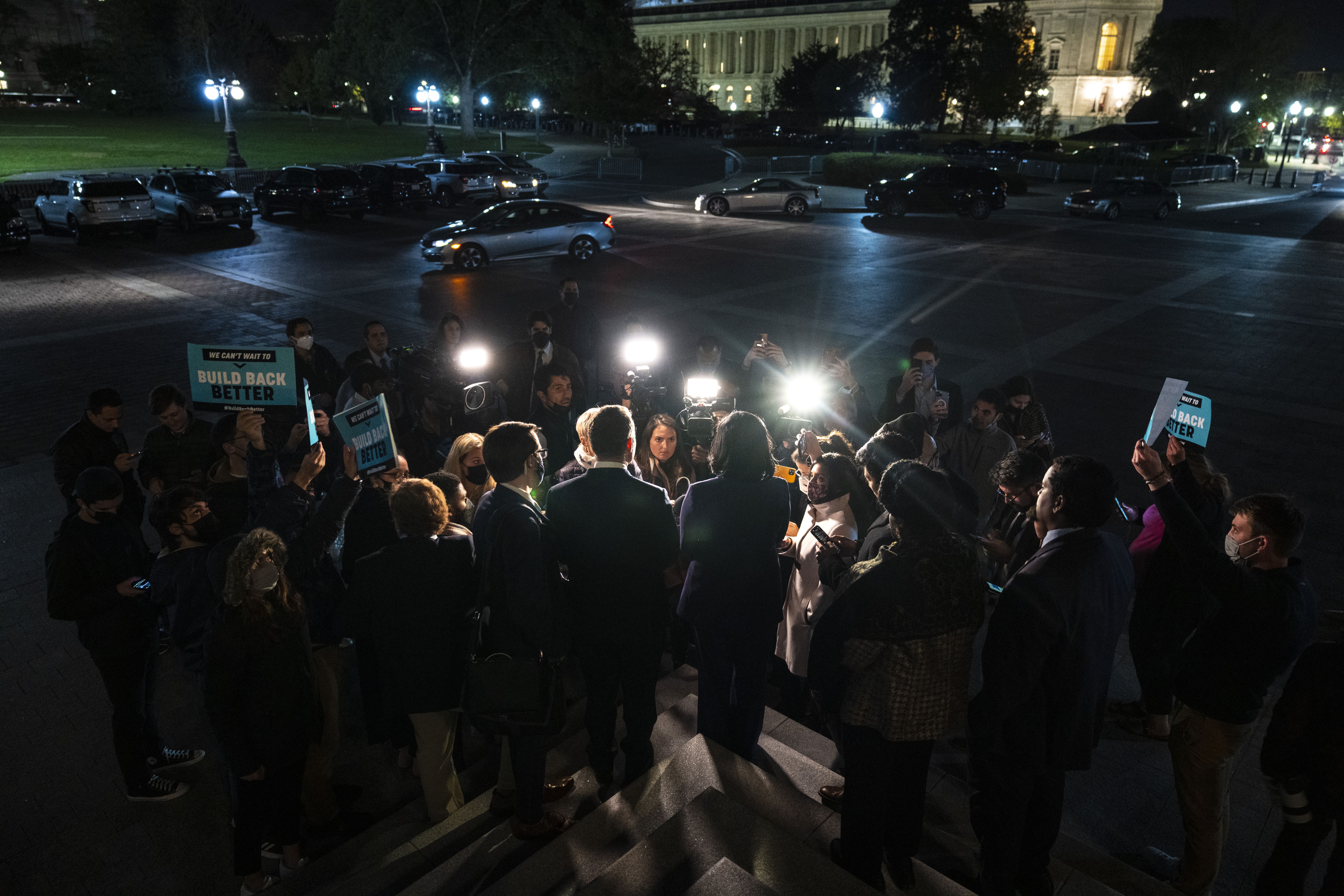 When it looked like she might be some 20 votes shy yesterday afternoon, Speaker Pelosi told reporters she had a "Speaker's secret whip count."
"I don't tell anything that people tell me — not even you, my dear, good friends," she said. "But I have a pretty good feeling."
Bluffing or not, seven suspenseful hours later — at 11:26 p.m. — Pelosi delivered a historic victory for President Biden, just as his agenda looked like it might vaporize.
"Finally: Infrastructure Week!" Biden said at the White House this morning.
The House passed, 228-206, a $1.2 trillion "hard infrastructure" bill, with massive investments in roads, bridges, broadband and more.
House leaders didn't have the votes on the bigger half of Biden's agenda — $1.85 trillion to expand the social safety net — and punted to later this month. (The House is out for a week.)
The infrastructure bill, passed by the Senate in August, now goes to Biden for signing.
Zoom out: Infrastructure was the easier half. But congressional leaders and the White House were dying to lock in a win after Tuesday's results gave Democrats a grim prelude to next year's midterms.
🐦 Terry McAuliffe, who had been pushing fellow Dems to pass the infrastructure bill ahead of his disastrous Election Day in Virginia, last night "liked" a 10:53 p.m. tweet from Punchbowl's Jake Sherman proclaiming: "INFRASTRUCTURE VOTE!"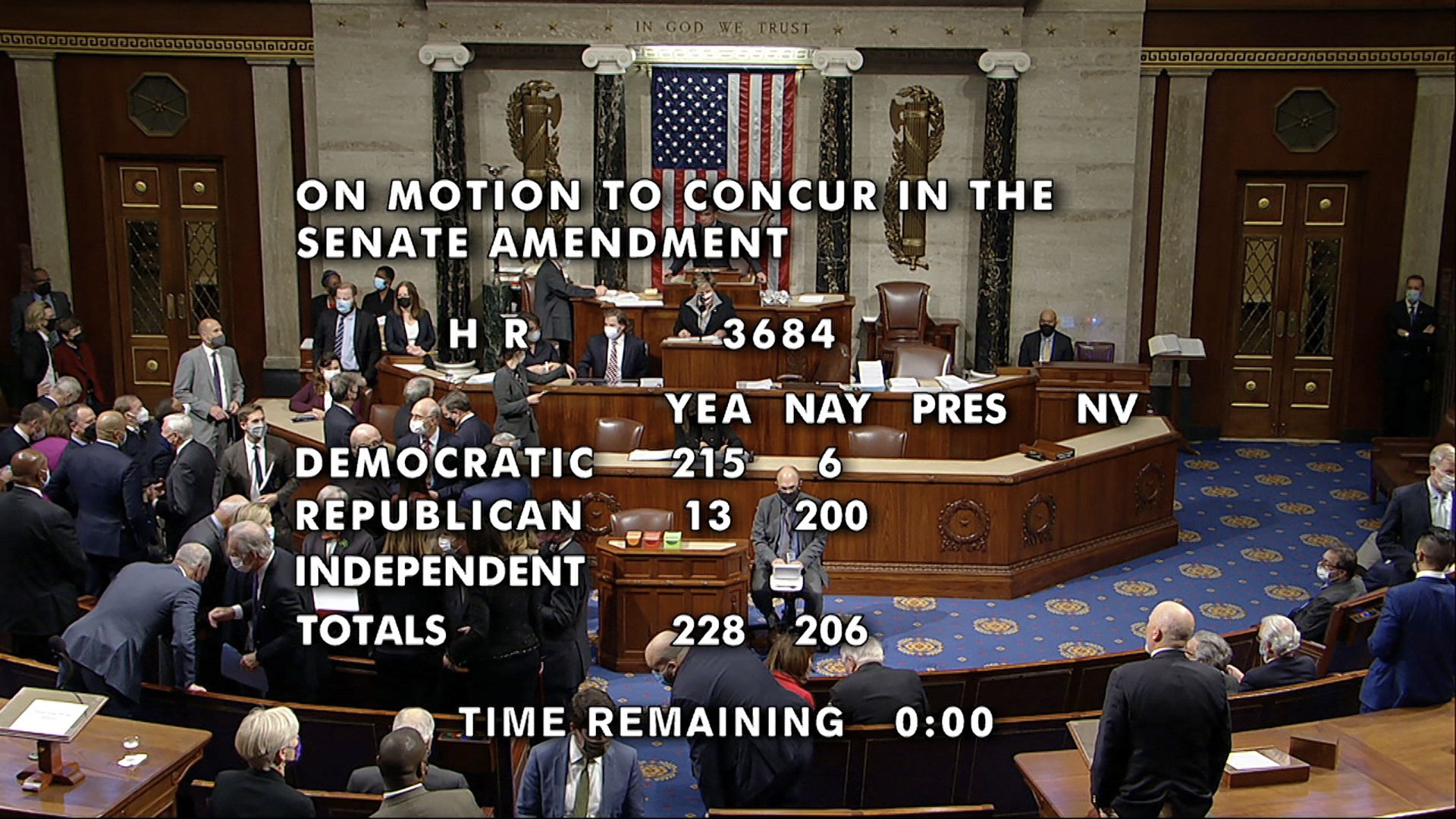 Here's the deal: Progressives wanted the packages voted on together, fearing moderates would pocket the win on infrastructure — then let the social spending die. But House Progressive Caucus Chair Pramila Jayapal says she got a guarantee: "Every single one of those individuals looked us in the eyes and said they were voting for it."
Moderate holdouts, who were demanding a Congressional Budget Office price tag for the social-spending bill, agreed to sign a statement they'd vote "aye" once the analysis is released, Axios' Hans Nichols reports.
Biden had planned to head to Rehoboth Beach, Del., yesterday. POTUS postponed his weekend and spent hours in the residence making calls to House members.
Go deeper: "The infrastructure Republicans," by Andrew Solender.
Crossovers: See the 13 Rs who voted for the bill, and 6 Dems who opposed.
2. Being there
Members of the House Progressive Caucus had to leave their phones outside the meeting room.
President Biden called in. He also phoned into a group of moderates.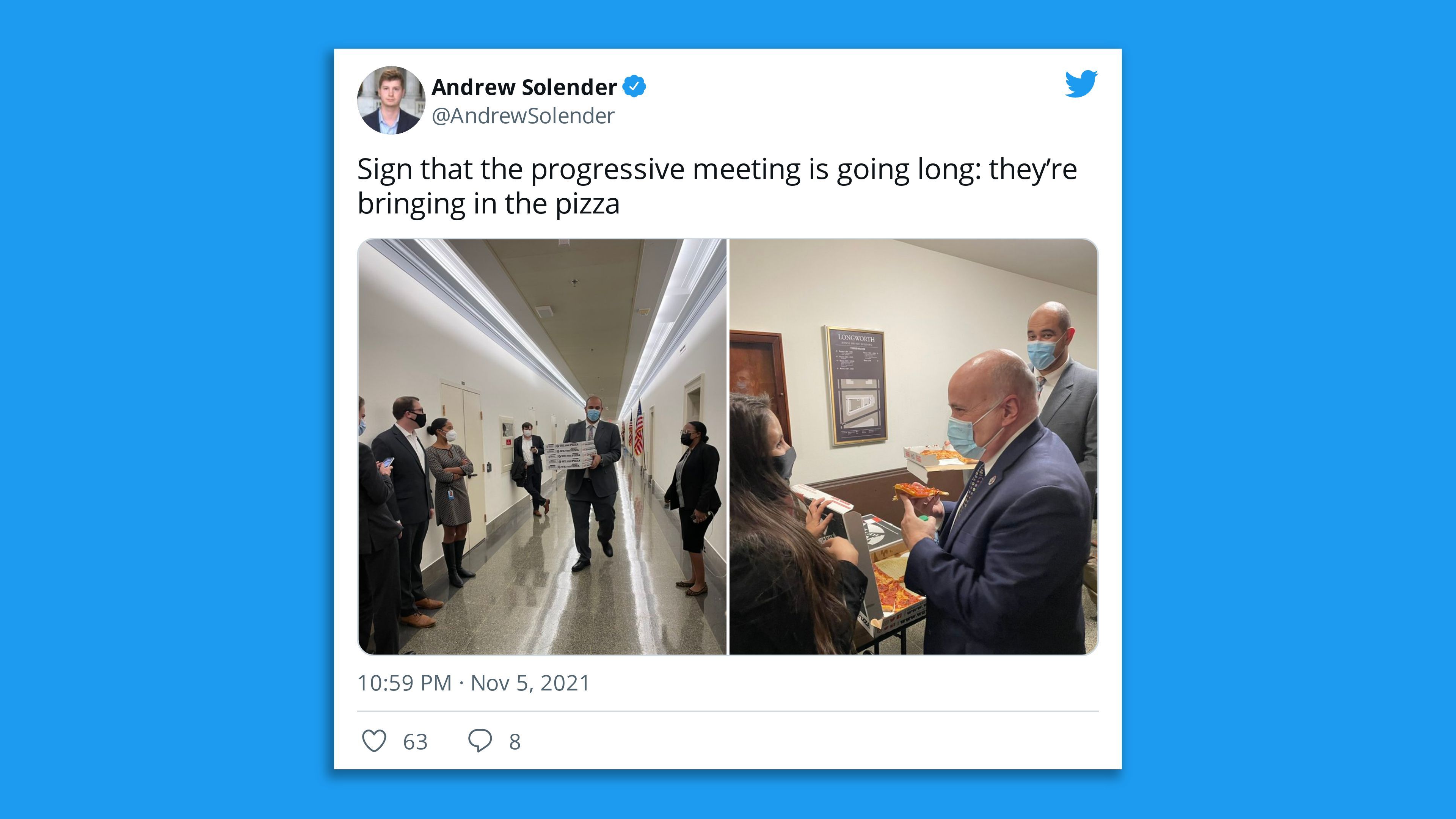 Biden and Speaker Pelosi spoke at least four times as they coordinated calls to members, Axios' Sarah Mucha and Andrew Solender report.
3. 🚆 What's inside
The infrastructure plan costs $1.2 trillion over eight years, with $550 billion in new spending, Axios' Sarah Mucha and Andrew Solender report:
$110 billion for roads, bridges and other infrastructure fix-ups. Of that, $40 billion is new funding for bridge repair, replacement and rehab.
$73 billion for electric grid and power structures.
$66 billion for rail.
$65 billion for broadband.
$55 billion for water infrastructure.
$21 billion for environmental remediation.
$47 billion for flooding and coastal resiliency, as well as "climate resiliency," including protections against fires.
$39 billion to modernize transit — the largest federal investment in public transit in history, according to the White House.
$7.5 billion for electric vehicles and EV charging ... $2.5 billion for zero-emission buses ... $2.5 billion for low-emission buses ... $2.5 billion for ferries.
Go deeper: White House fact sheet.
4. Saluting Gen. Colin Powell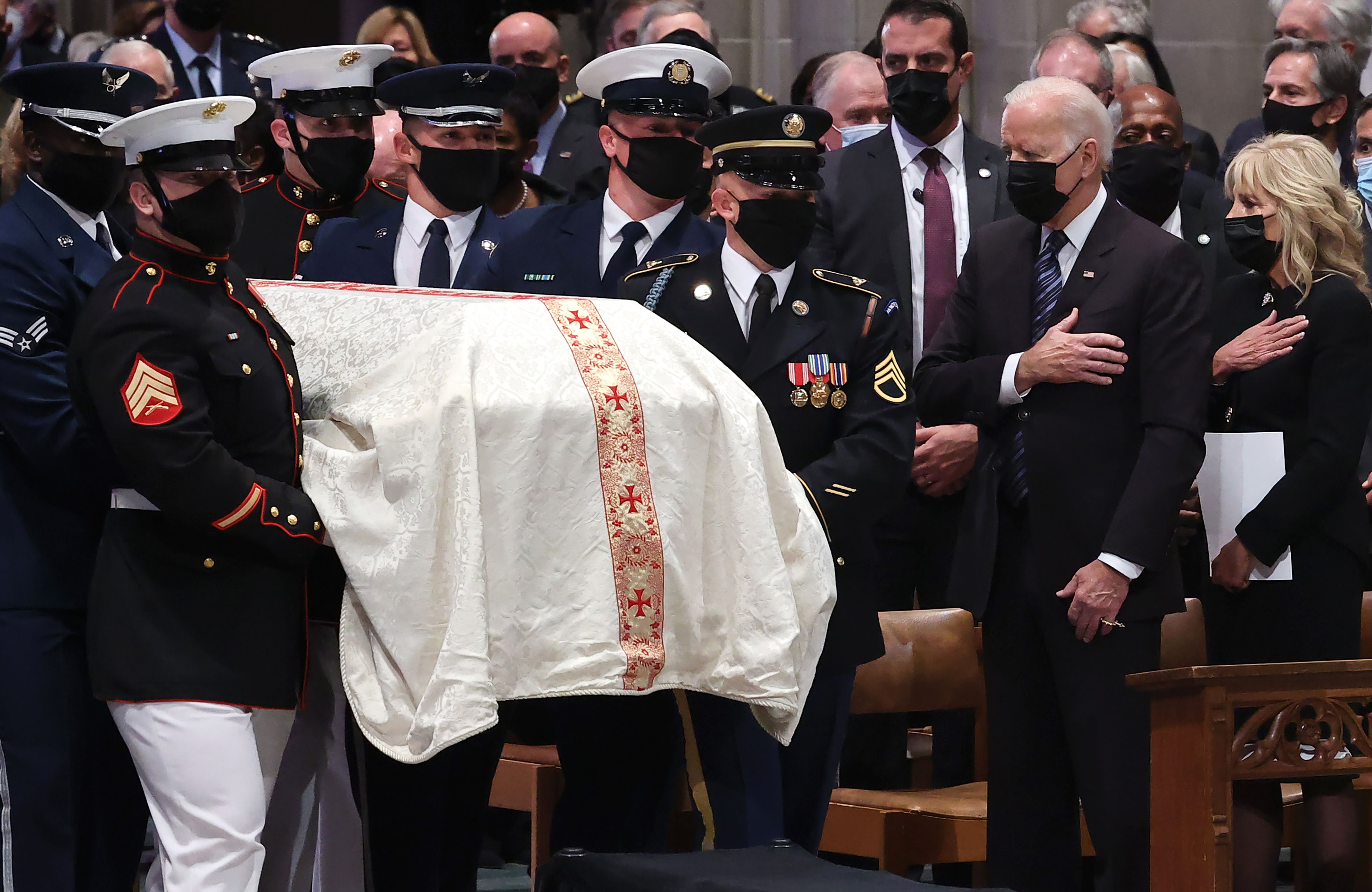 Three presidents — Bush, Obama and Biden — were at the Washington National Cathedral for yesterday's funeral for Gen. Colin Powell, a son of the Bronx who went on to serve his fellow Americans around the world.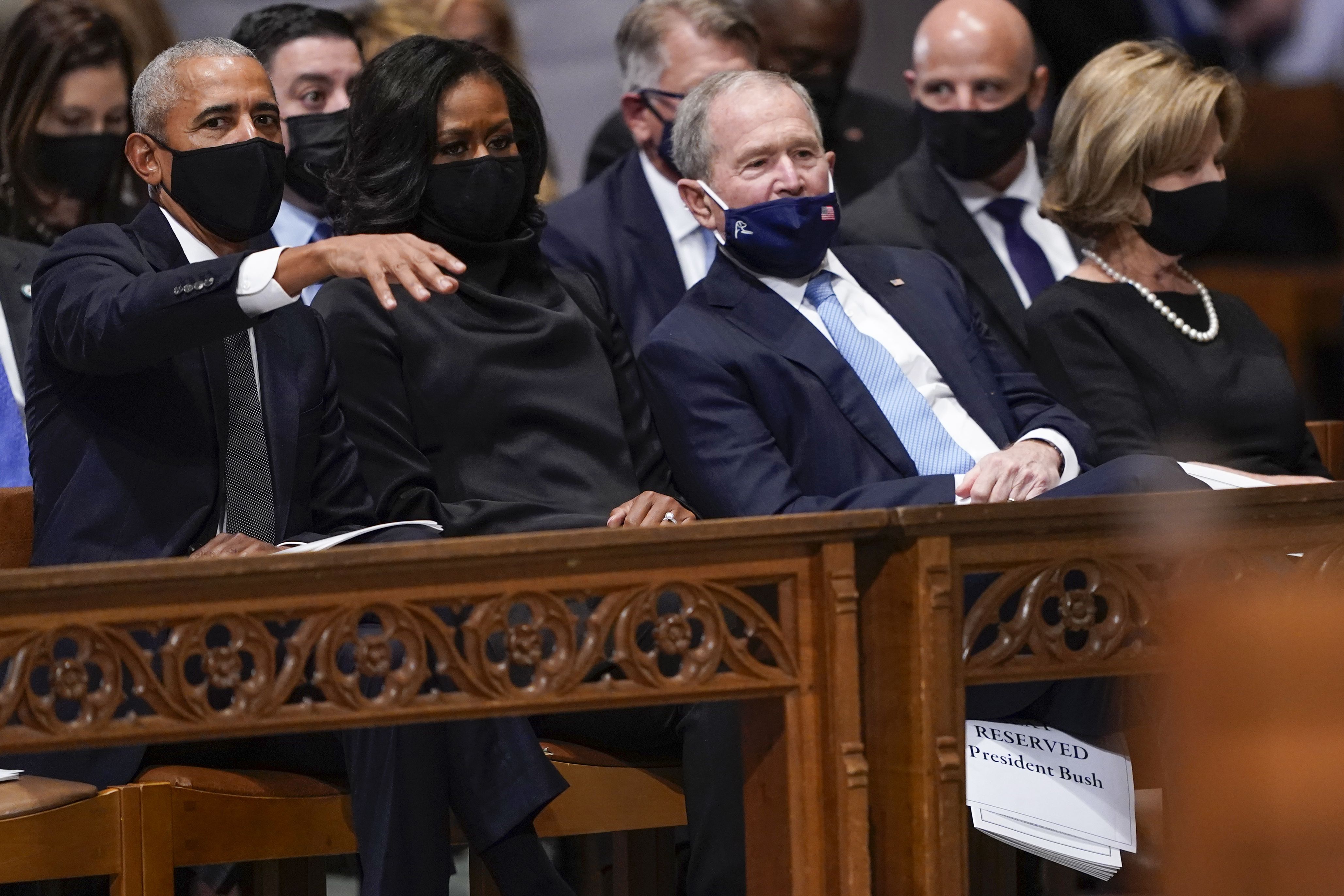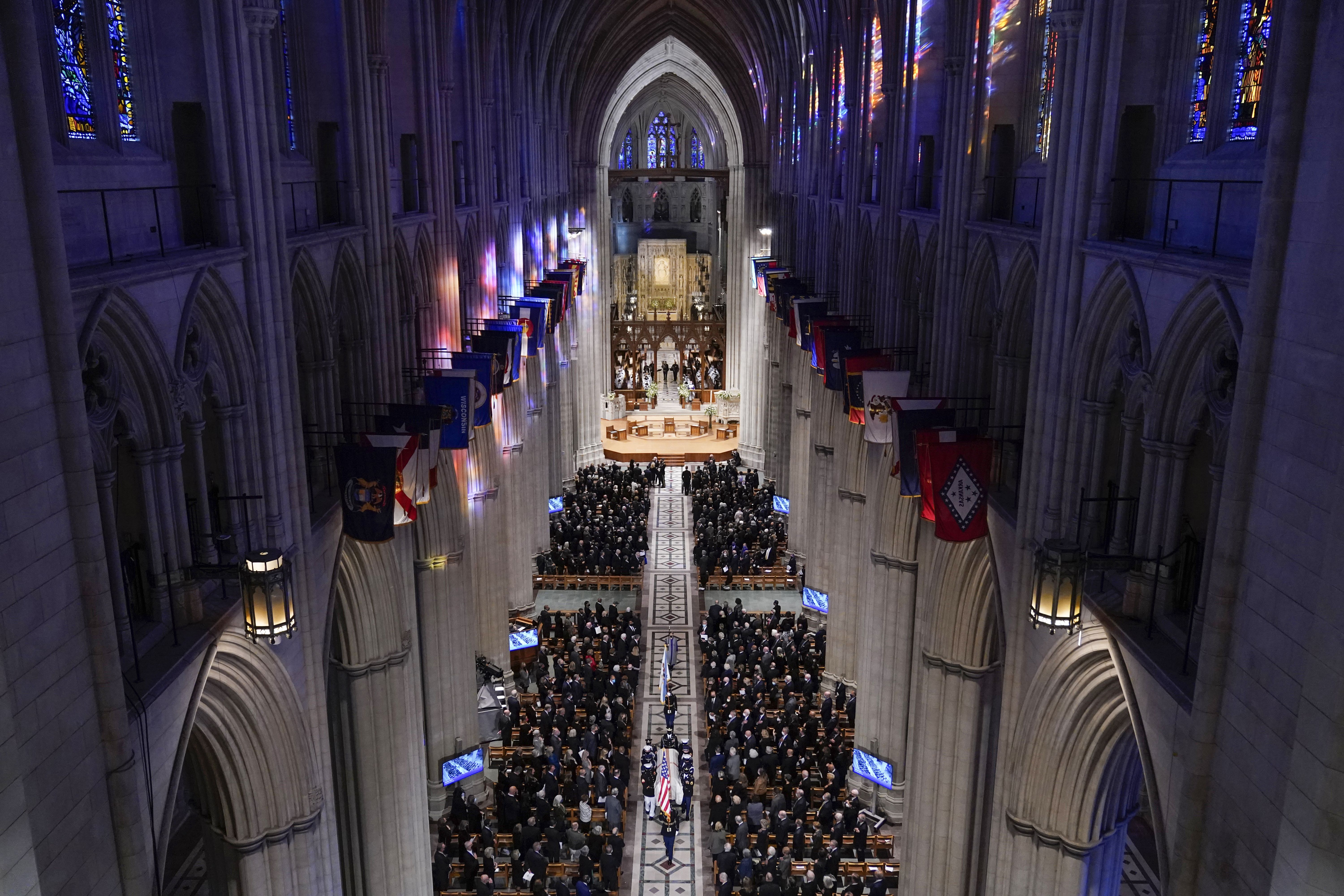 Go deeper: A photo timeline of Gen. Powell's life.
5. Houston stampede kills 8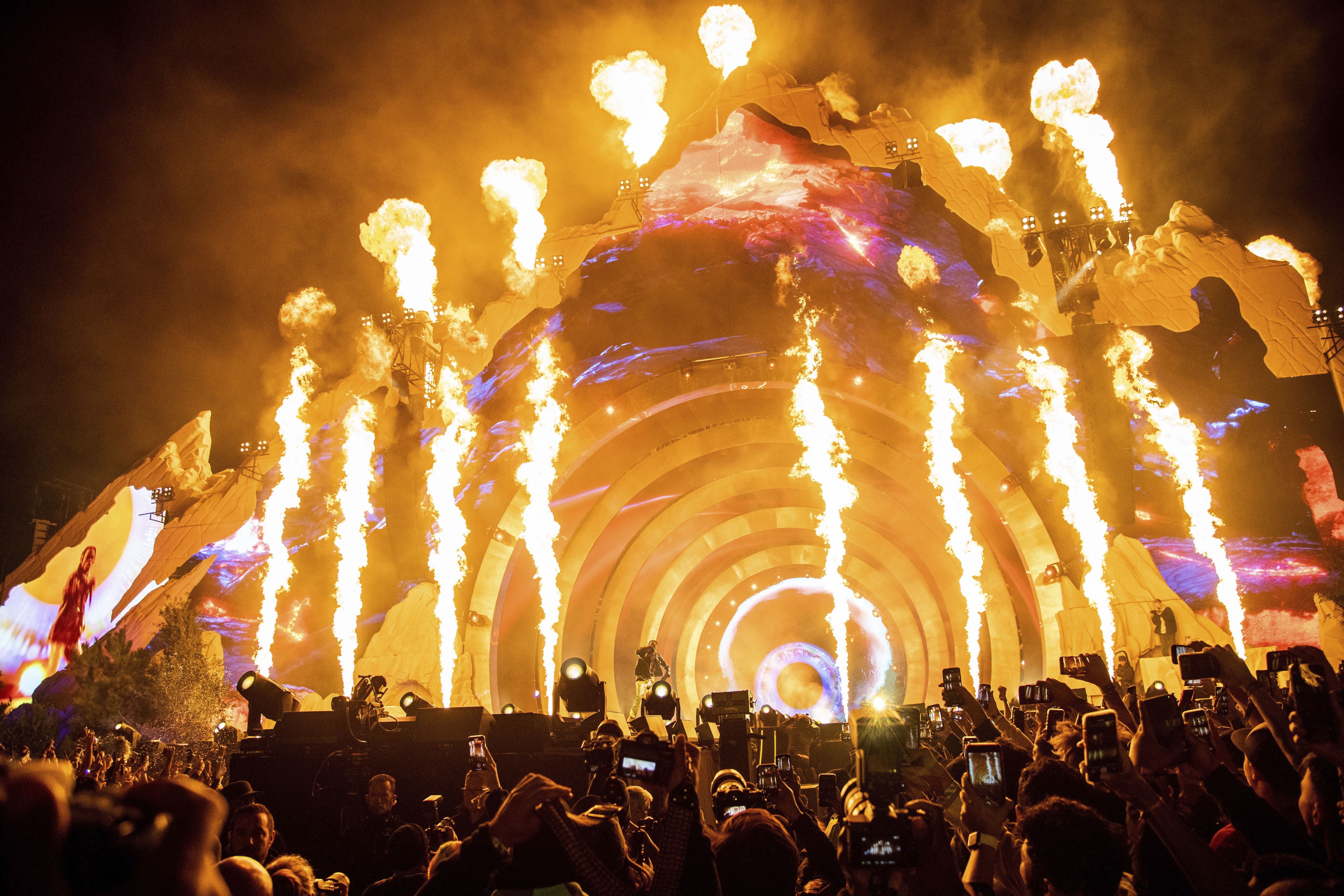 At least eight people died and scores were injured in Houston last night in what officials described as a surge of the crowd at the Astroworld music festival while rapper Travis Scott was performing, AP reports.
"The crowd began to compress towards the front of the stage, and that caused some panic," the fire chief said. "People began to fall out, become unconscious, and it created additional panic."
6. Glasgow diary: Behind the summit scenes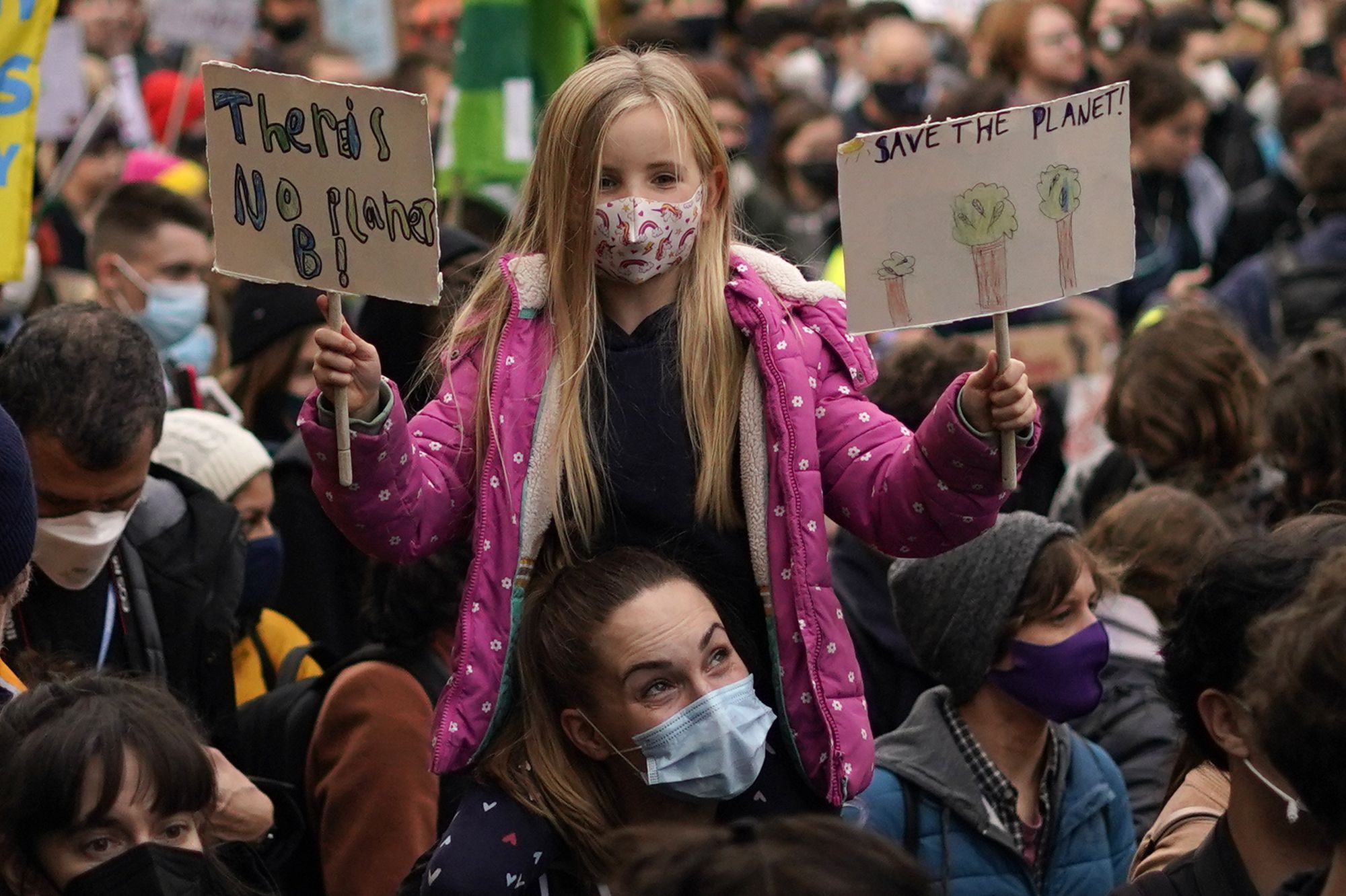 Axios World author Dave Lawler writes from the climate summit in Glasgow ... Heads of state pop up everywhere, identifiable because they don't wear IDs — they don lapel pins rather than badges.
Some were mobbed by processions of shouting journalists. But most just wandered through with two or three aides or security escorts.
COP26 can humble a world leader:
A summit on climate adaptation in Africa was delayed when a previous meeting ran over. No one told the presidents, who kept arriving — only to be apologetically turned away.
After Zimbabwean strongman Emmerson Mnangagwa's entourage forced its way to the front, an aide had to explain to the boss that they now had to retreat through the crowd.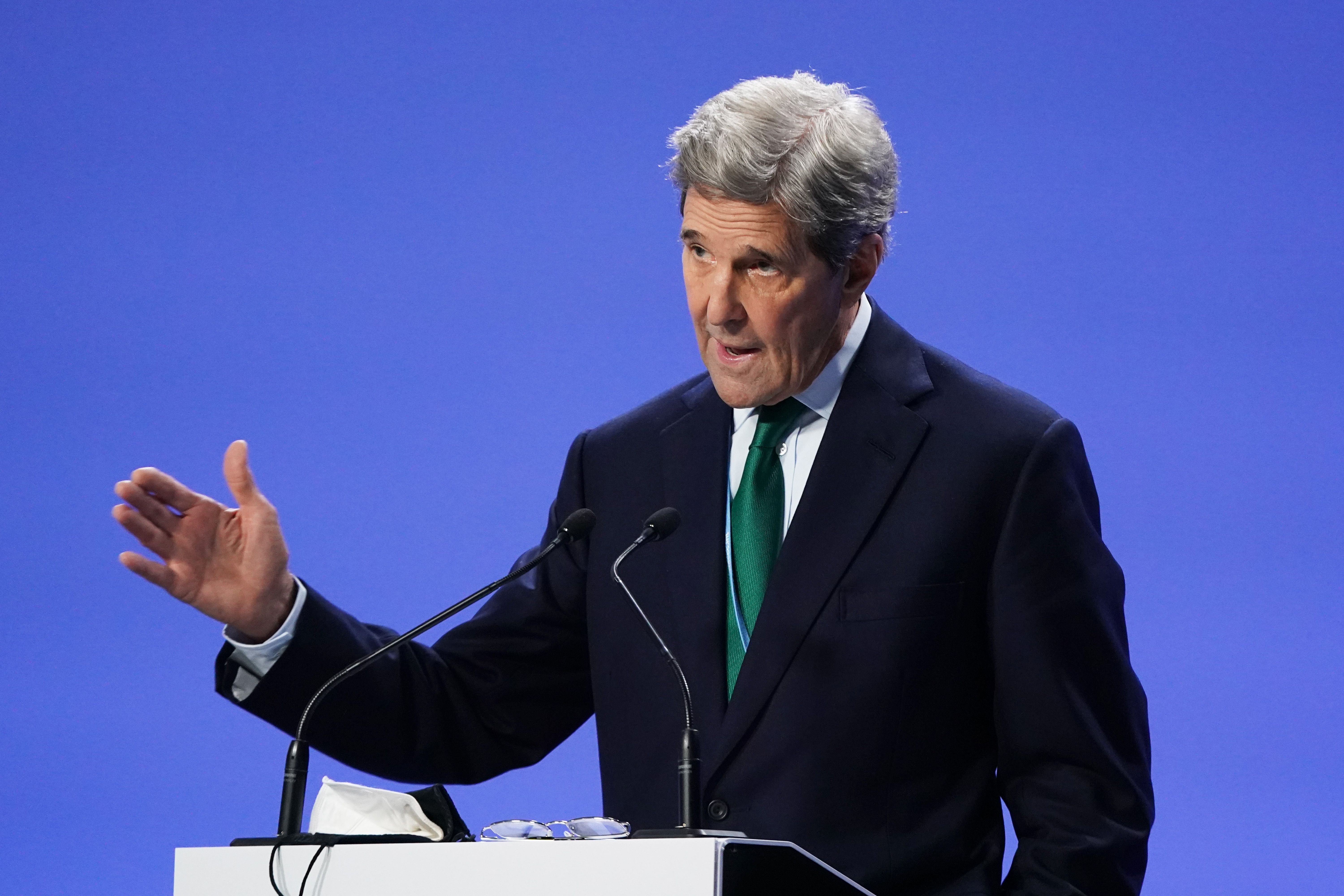 Axios Tel Aviv author Barak Ravid, who was in Glasgow to cover Israeli Prime Minister Naftali Bennett, spotted Egyptian intelligence director Abbas Kamel stepping outside for a cigarette.
Barak gamely grabbed a smoke of his own, asked the secretive spy chief for a light, and identified himself as an Israeli reporter.
With Kamel's aides lingering nervously, President Abdel Fattah Al-Sisi's right-hand man chatted amiably and at some length about relations with Israel and mediating with Hamas.
The spies and celebrities are gone now. Let the negotiations begin. COP26 runs through Friday.
7. Study: Benefits of in-person school outweigh COVID risks
U.K. researchers report in the journal Science that kids can safely remain in schools with proper COVID mitigation measures, Axios Future author Bryan Walsh writes.
Why it matters: The pandemic's toll on learning has been enormous. With vaccines now approved for almost everyone older than 4, classes should be able to remain open.
Schools around the U.S. are still shuttering because of COVID outbreaks, though the number of closures has fallen this fall.
In the Washington metro area, 10,000+ of Prince George County's 130,000 students are still in virtual classes, largely because of parental anxiety.
8. 1 for the road: Aaron Rodgers' COVID adviser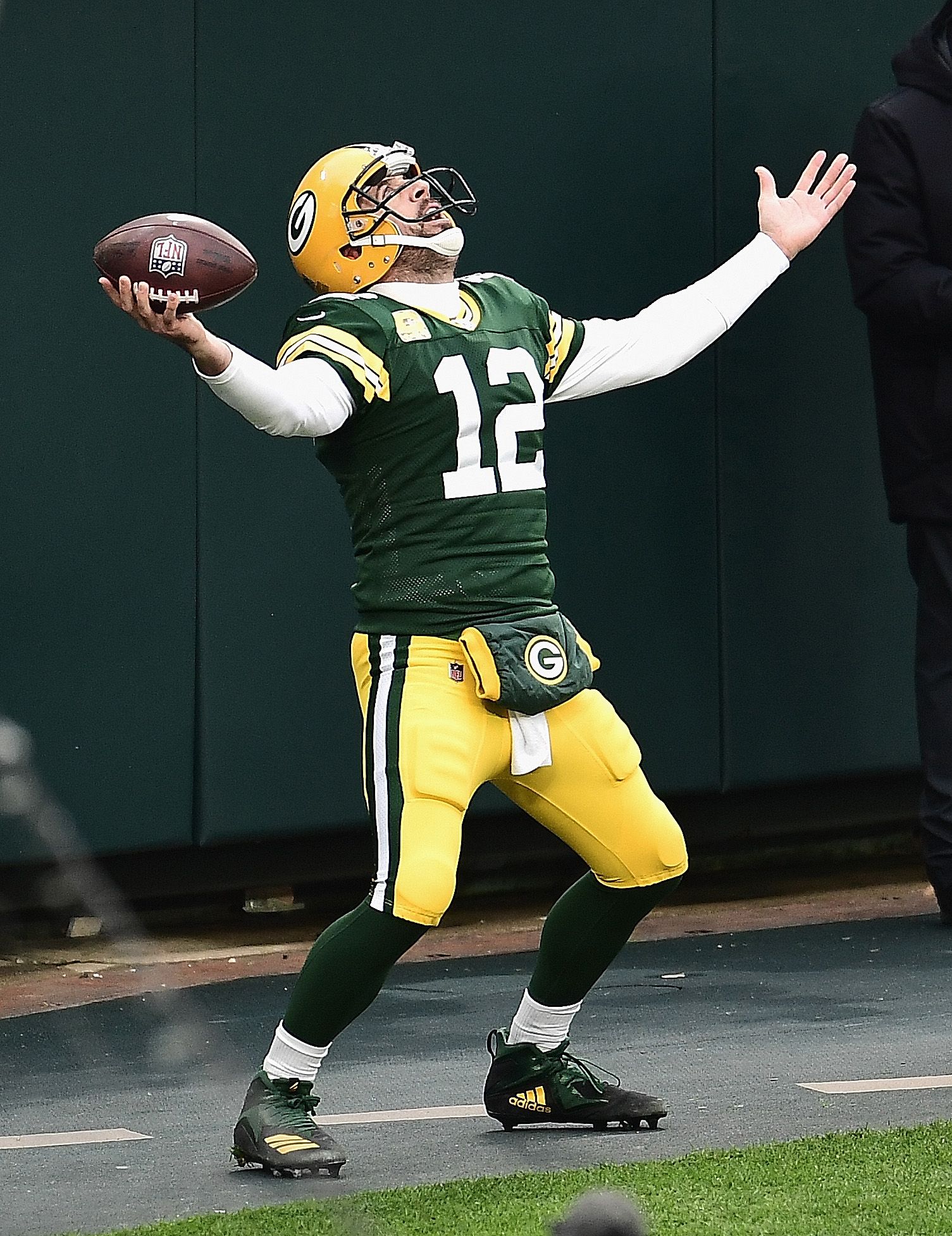 Green Bay Packers QB Aaron Rodgers on SiriusXM, after it was revealed that he's unvaccinated, and will miss tomorrow's game because he's in the NFL's COVID protocol after a positive test:
I consulted with a now good friend of mine, Joe Rogan, after he got COVID — and I've been doing a lot of stuff that he recommended in his podcasts and on the phone to me.
I'm not an anti-vax, flat-earther. I have an allergy to an ingredient that's in the mRNA vaccines. I found a long-term immunization protocol to protect myself, and I'm very proud of the research that went into that.
📬 Was this email forwarded to you? Sign up here for your own copy of Axios AM and Axios PM.