April 14, 2021
🏐 Good Wednesday morning. It's 100 days until the opening of the Summer Olympics in Tokyo.
Smart Brevity™ count: 971 words ... < 4 minutes.
🖥️ Please join Axios' Russ Contreras tomorrow at 12:30 p.m. ET for an Axios Latino virtual event on immigration, featuring Rep. Joaquin Castro (D-Texas) and The LIBRE Initiative president Daniel Garza. Sign up here.
1 big thing: New vaccine threat is fear itself
The FDA's decision to pause the J&J vaccine has set off a chain reaction of fear — about the safety of the vaccine, and about whether the FDA is overreacting, Axios health care editor Sam Baker writes.
Of 20 social-media stories about J&J that drew the most engagement, just two headlines included the context that blood clots were rare occurrences, Axios' Neal Rothschild notes from NewsWhip data.
The number of reported blood clots is low — just six patients out of the roughly 7 million who have gotten a J&J shot.
Several other common medications, including birth control, carry a higher risk of blood clots than that. And the coronavirus causes a far higher incidence of blood clots than any of them.
That's part of the reason critics say the FDA overreacted, allowing a very small number of adverse events to potentially undermine confidence in the vaccines.
But the number of incidents will likely grow, now that doctors and regulators are looking for them more closely.
All six patients who experienced blood clots in the U.S. were adult women.
The bottom line: The federal government has purchased enough of the Pfizer and Moderna vaccines to vaccinate the vast majority of American adults.
2. Ending two decades of sacrifice
President Biden announces at 2:15 p.m. ET today that the U.S. will withdraw the roughly 2,500 U.S. troops remaining in Afghanistan by Sept. 11 — the 20th anniversary of 9/11. That will end a war that killed 2,200+ American troops, wounded 20,000, and cost as much as $1 trillion.
Biden is "starkly signaling his belief that the United States needs to shift its focus to other parts of the globe, especially Asia," the WashPost's Anne Gearan writes:
Biden sees the war against the Taliban as a drag on the need to deal with bigger threats like China, climate change ... and even a terrorism menace that has mutated significantly ... He is also focused on threats from Russia.
🗞️ How it's playing ...

3. Pelosi's weapons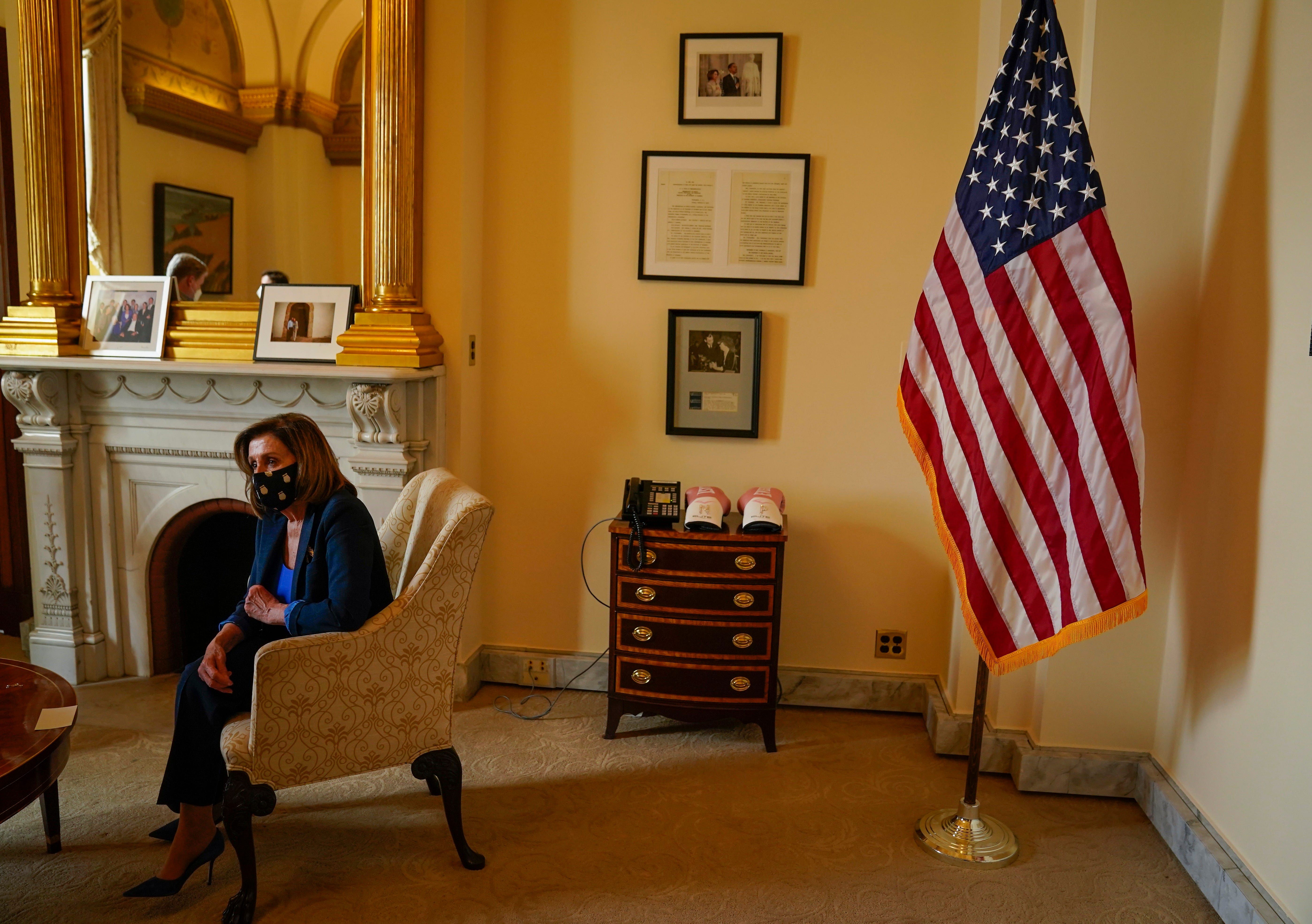 On her 100th day as speaker of the 117th Congress, Speaker Pelosi told USA Today's Susan Page (out today with "Madam Speaker") and Ledyard King that the Capitol mob was "setting out" to kill her:
Asked if that frightened her, she replied, "Well, I'm pretty tough. I'm a street fighter. They would have had a battle on their hands."
Besides, she said with a laugh, lifting a foot clad in her classic 4-inch-high stilettos, "I would have had these."
4. Pictures of America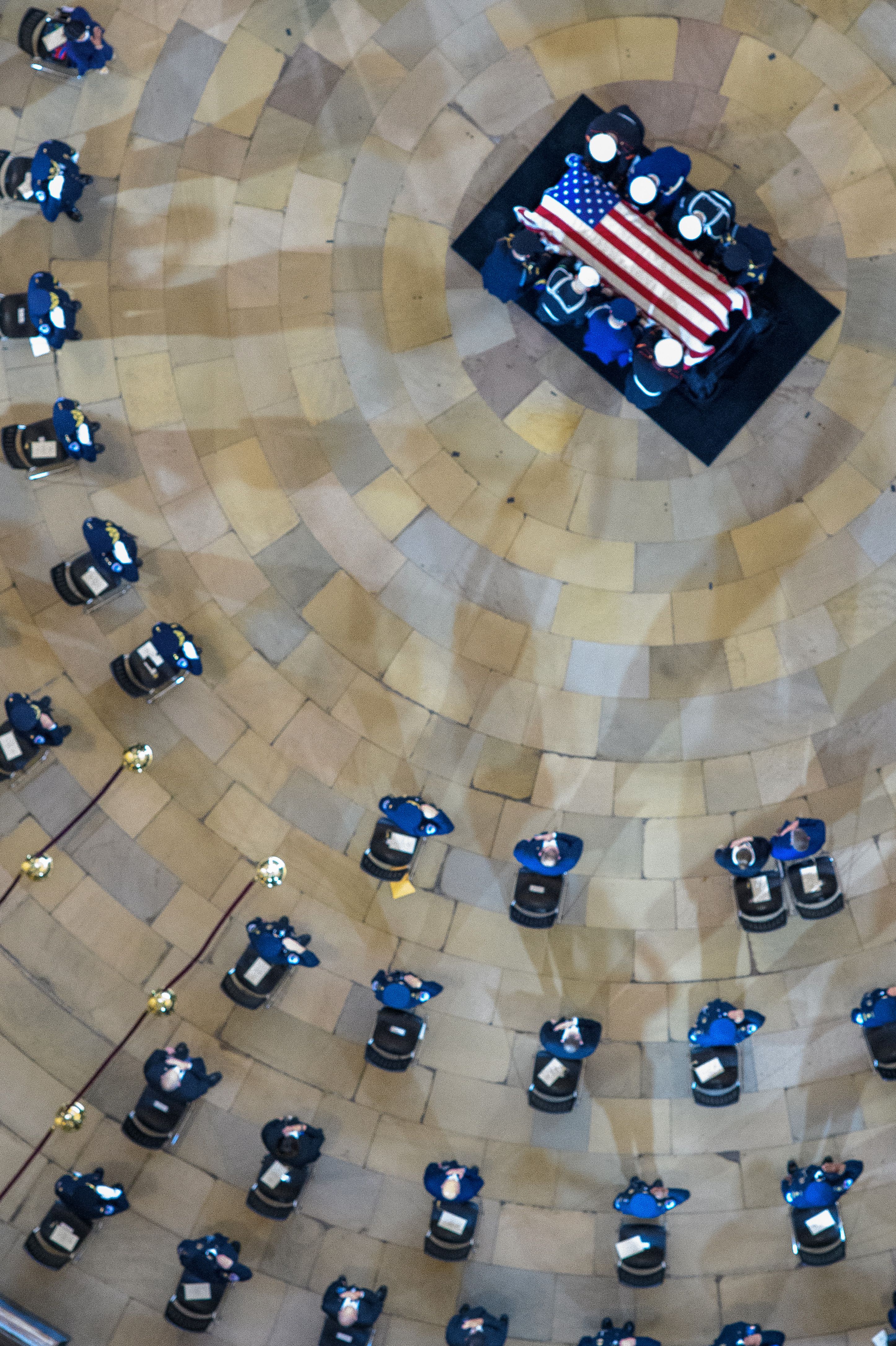 Capitol Police officer William Evans lies in honor in the Capitol rotunda, after dying in the line of duty during the April 2 attack.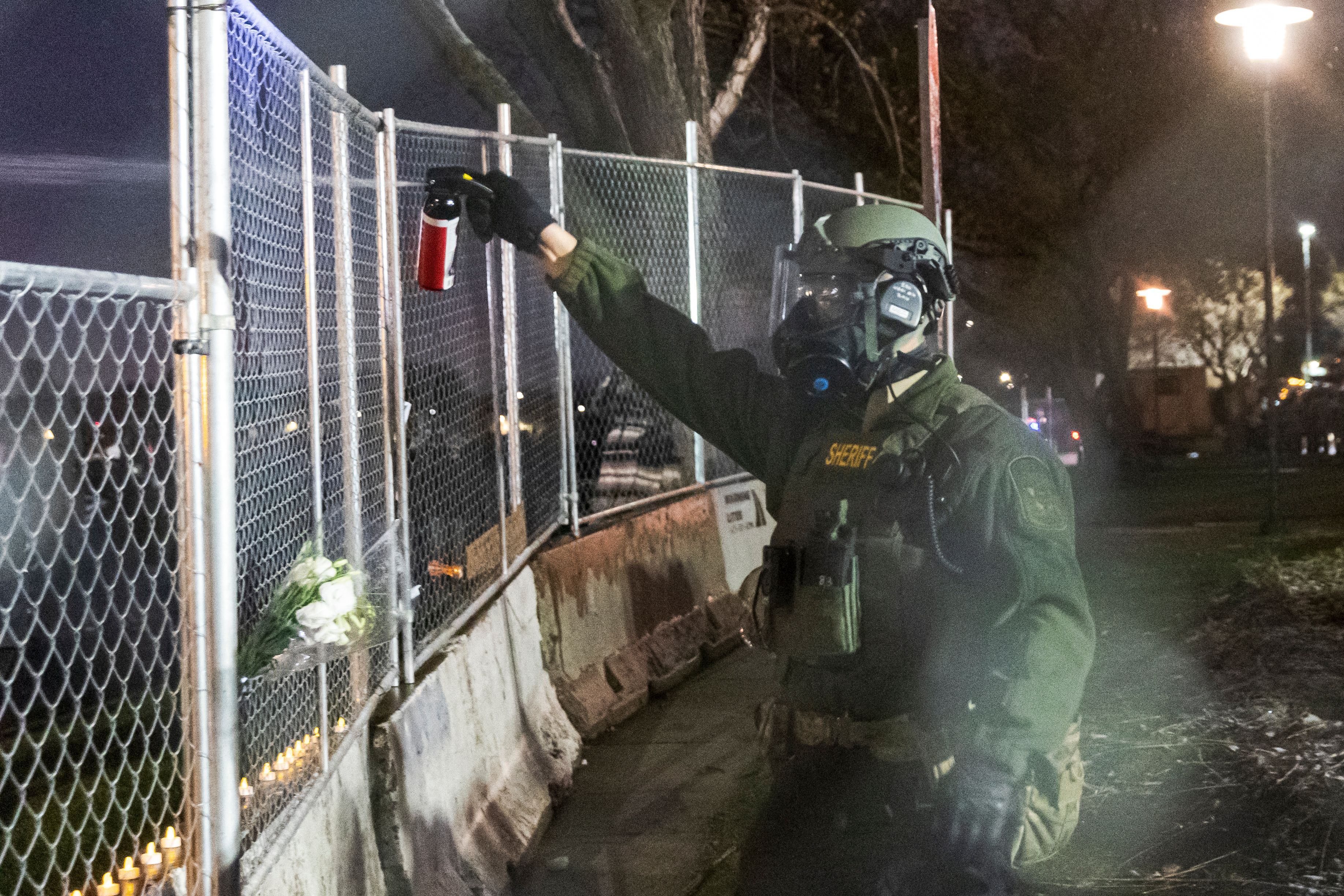 A sheriff's officer sprayed tear gas through a fence near the police station in Brooklyn Center, Minn., last night as demonstrators protested the death of Daunte Wright for a third night.
5. Happy appiversary
The Axios app turns 1 year old today!
Download it here to get alerts, access podcasts, and create your own custom feed from over 25 channels.
6. Lingo for in-person pupils, remote teachers: "Zoom in a room"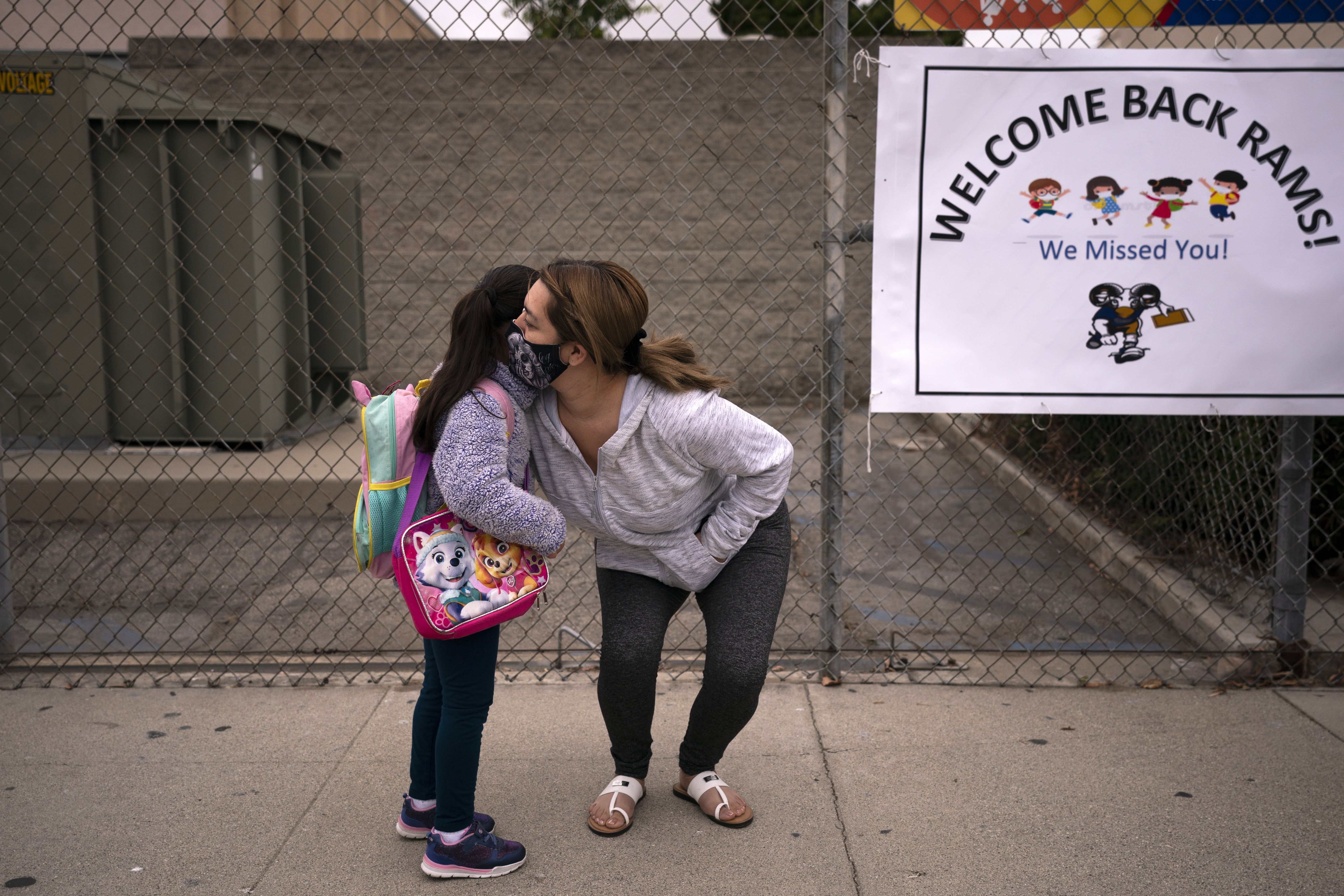 Frustrated parents in San Francisco call it "Zoom in a Room," AP reports:
Kira Gaber was told to send her kindergartner back to his classroom with a laptop and headphones. His teacher will be working online from home, while an adult monitor watches the kids.
What's happening: Educators were among the first groups eligible for vaccines, but some districts let them keep working from home if they — or someone they live with — is at high COVID risk.
California ranks last in the country for in-person K-12 instruction, according to Burbio, which tracks some 1,200 school districts.
7. "Andrew Cuomo's White-Knuckle Ride"
New York's governor "seems determined to prove that the instincts that have gotten him into trouble can get him out of it," Matt Flegenheimer writes in the N.Y. Times Magazine:
Once liable to be spotted about town, flashing a thumbs-up from a 1968 Pontiac GTO with a "1" license plate, Cuomo has ventured out recently under only the most prescribed of circumstances. ...
He has said he wore his dad's shoes on especially trying days. "Shakespeare, Oedipus, Freud," Liz Krueger, a Manhattan state senator, who has known the family for decades, told me. "They all need to be in the room."
Keep reading (subscription).
8. Crypto gets legit
Coinbase, the country's largest cryptocurrency exchange, goes public today at a valuation that could top $100 billion, Axios Pro Rata maestro Dan Primack and Pro Rata Weekend creator Kia Kokalitcheva write.
Why it matters: This gives crypto a Wall Street seal of legitimacy, after an early existence marred by ties to illicit goods.
Coinbase is going public via a direct listing, rather than through an initial public offering (IPO) or special purpose acquisition company (SPAC). This means that early investors and employees will sell shares directly, with Coinbase itself not receiving any proceeds.
"It's exactly in the spirit and ethos of crypto," Coinbase president and COO Emile Choi tells the Axios Re:Cap podcast, in an episode posting later this morning. "Let the market determine what the price should be without intermediaries."
The big picture: Coinbase is going public in the midst of a Bitcoin price boom that's lasted for more than a year.
A bear case is that Bitcoin prices plummet, creating what industry insiders call a "Bitcoin winter."
9. Cover of the week
Courtenay Brown noted in Axios Closer that this is basically a Mad Libs for our times.
10. 1 fun thing: Airline seats of the future
The annual Crystal Cabin Awards, based in Hamburg, are trophies for innovative airplane-interior design. The University of Cincinnati won the "University" category for the Coffee House Cabin (above), "a long table for meetings, productive work and coffee breaks."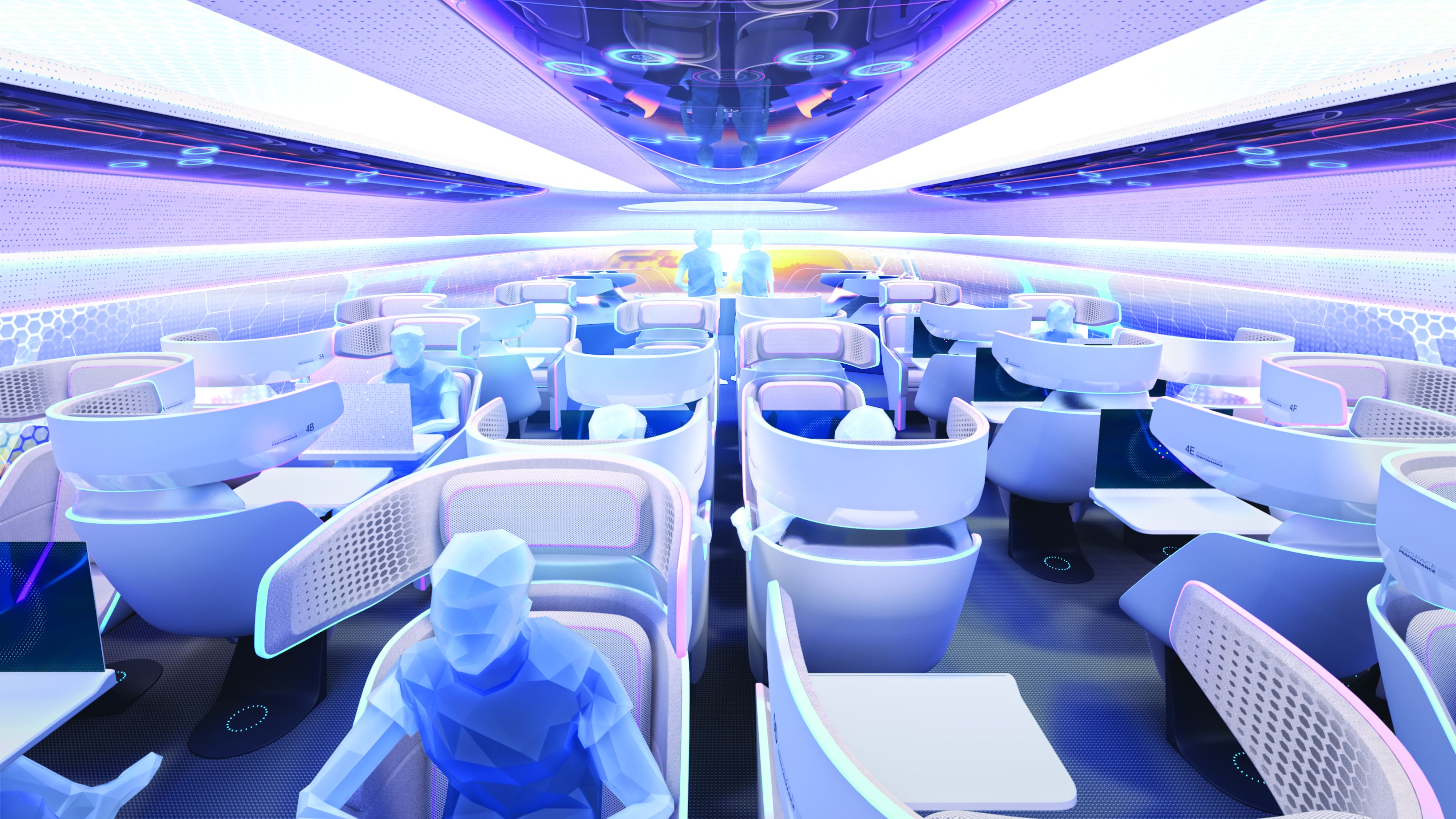 Airbus won "Visionary Concepts" for a mock-up (above) with individual seats that swivel to change direction, "so families or groups traveling together can form smaller pods," per CNBC:
Before you board, you can pre-program seat preferences, like the degree of recline, so your pod is customized when you arrive.
💡 Axios AM is written in Smart Brevity®. Learn how your team can communicate in the same smart, clear style with Axios HQ.