Axios AM
January 02, 2019
☕ Good Wednesday morning, and welcome back.
1 big thing: What Facebook knows about you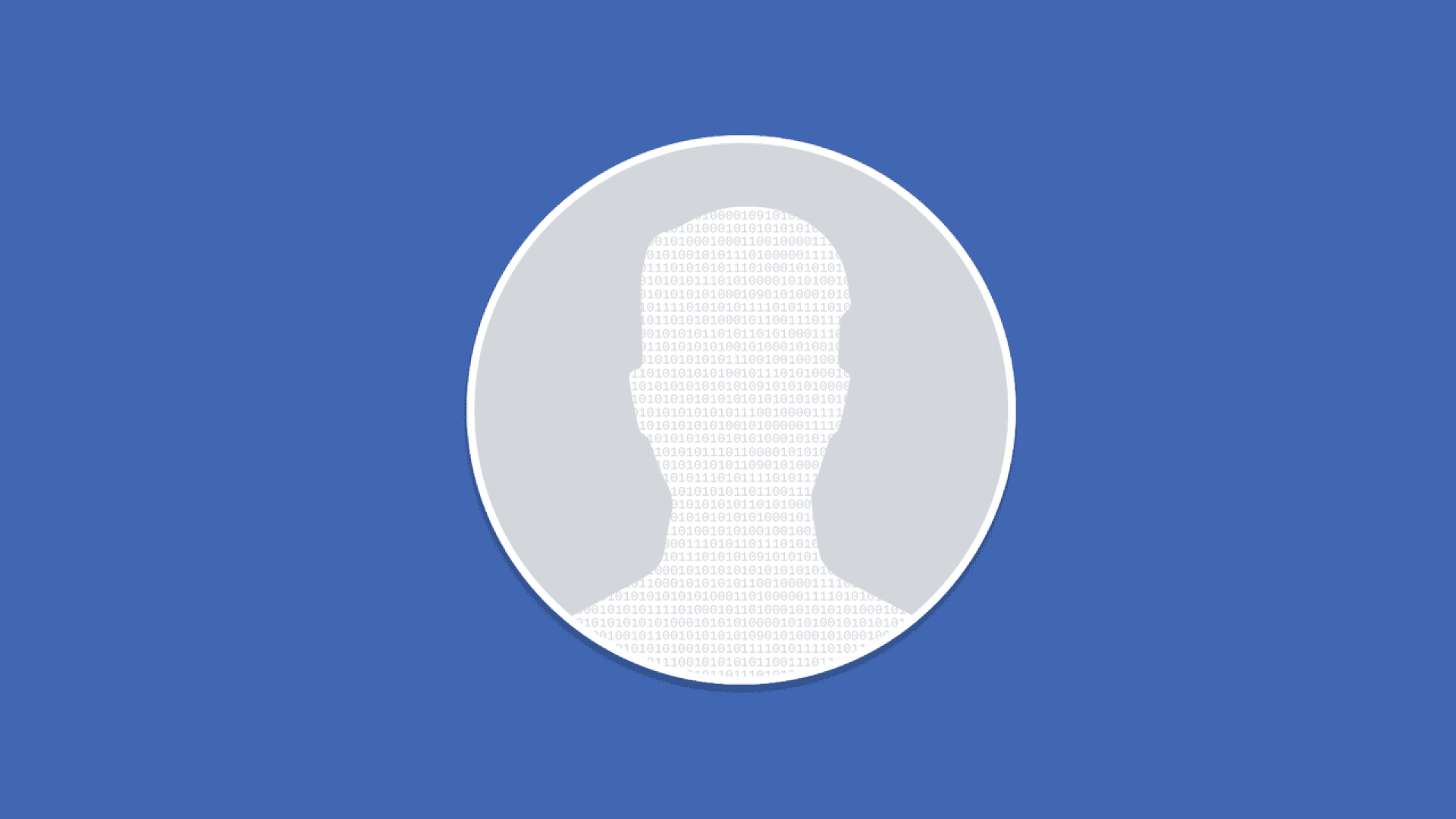 On Facebook's map of humanity, the node for "you" often includes vast awareness of your movements online — and a surprising amount of info about what you do offline, Axios chief tech correspondent Ina Fried writes.
And even when you're cautious about sharing, Facebook's dossier on you will be hefty.
Assembling your profile — where your Facebook presence begins:
When you create an account, Facebook asks for your name and birthdate, along with either a phone number or e-mail.
Then there's all the information you give Facebook as you fill out your profile, potentially including schools, current and past occupations, relationship status, hometown and current city, as well as your physical address, birth name, web site and other social links.
All of this forms the core of the profile Facebook uses to serve you ads. It's why you see offers for clever T-shirts based on your college or job.
Following what you do on Facebook ... The company has near-total awareness of every move you make on its website or in its apps, including:
When you log in, how long you spend online and where you are logging in from — hence it can welcome you to new cities and suggest places to visit and eat (and also serve up local ads).
Places you check in.
The pages, accounts, and hashtags you connect with on Facebook — and not just who you are connected with, but how often you interact and for how long.
Your contacts, if you choose to upload your phone book or call history.
Things you buy directly from or through Facebook, but also things you may not think about, like the metadata from photos you upload.
Your friends can tag you in posts and photos, which gives Facebook additional information.
Following what you say on Facebook Messenger:
Messenger can collect information on who you talk to, how often and for how long, as well as phone history if users opt in. But the company says it isn't serving ads based on the content of users' messages.
Following you outside Facebook: Facebook sees you less thoroughly outside its own digital turf, but it still sees a lot. This data comes from two places: partner services and third-party information brokers.
Facebook has tools that partner websites use to integrate with Facebook, including the inclusion of "Like" and "Share" buttons, as well as a tracking cookie known as Facebook Pixel.
Facebook knows your location, even if you haven't directly given it permission to access your phone's GPS, by tracking the IP address of the phones, computers and other devices you use to access its servers.
Following you across your apps: Many apps are connected to Facebook, including through its popular Facebook Login feature, which uses your Facebook account as a shortcut for you to sign in.
Following you at home and around town: Facebook's new Portal video chat system is basically a camera that lives in your home.
What Facebook does with all this data: Facebook says, emphatically, that it doesn't sell your information.
It does use the data to sell you to advertisers who set criteria for people they want to target. The more the company knows about you, the more valuable those advertisements can be.
It also uses the information to enhance its social graph, which it uses to build new features and products, and to power its suggestions of "People you may know."
What Facebook doesn't know about you: Facebook insists it doesn't monitor your phone calls or secretly record you via microphone, despite long-running suspicions to the contrary.
2. Scoop: Trump's plan for today's shutdown meeting
On Day 12 of the shutdown, President Trump plans to hold today's meeting with congressional leaders in the Situation Room as a way of dramatizing security concerns at the border, according to Hill sources in both parties.
Top House and Senate leaders from both parties RSVP'd "yes" to yesterday's invitation and will attend, I'm told.
Talks were on ice over the holidays, lending drama to face-to-face negotiations despite widespread skepticism about a breakthrough.
With some Republicans worried Trump hasn't used the bully pulpit deftly enough during the shutdown, this is a chance for Trump to regain the offensive before Democrats take control of the House tomorrow.
Speaker-designate Nancy Pelosi wrote House Democrats yesterday: "On Thursday, House Democrats will take action to end the Trump Shutdown, as we pass strong, bipartisan legislation to reopen government, which has already received strong bipartisan support in the Senate."
"We are giving the Republicans the opportunity to take yes for an answer."
3. 2020 is about to speed up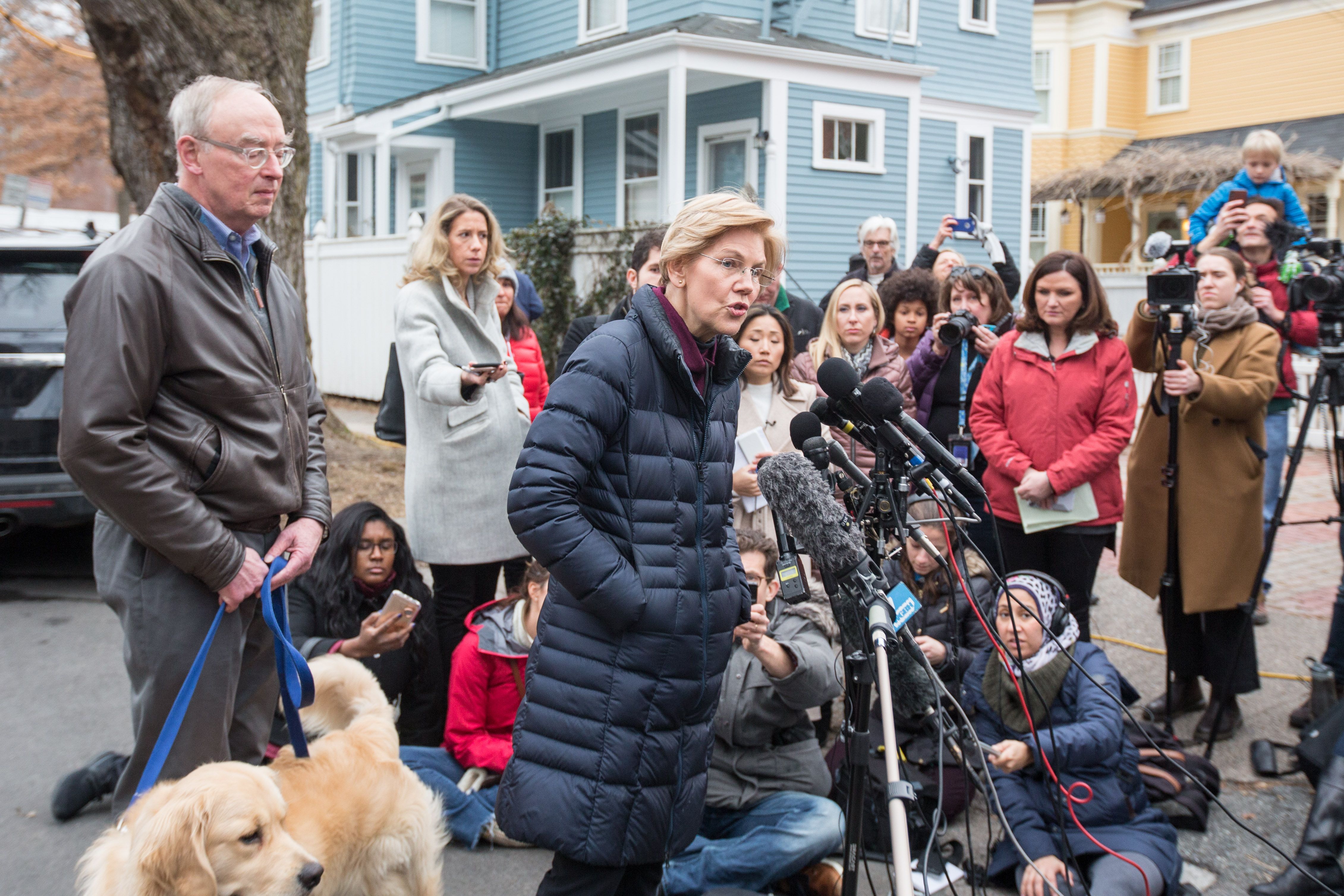 After two months of behind-the-scenes jockeying since the midterms, Democrats' race for president is about to burst into the open with a series of candidacy announcements and staff hires, 2020 operatives tell me.
"This has been a slow dance," one top strategist said. "No one was in a rush — people said they would make a decision over the holidays. Now, the pace is about to change fast."
A wave of announcements, like the one Sen. Elizabeth Warren made on New Year's Eve morning, is planned for the next few weeks.
The hopefuls need to raise money, and need an organization for housing the aides they want to hire to take them off the hot 2020 job market.
Look for announcements this month by Sen. Cory Booker of New Jersey, Sen. Kamala Harris of California, Sen. Kirsten Gillibrand of New York, Colorado Gov. John Hickenlooper and likely others.
"They need a vehicle," the strategist said. That could include an exploratory committee or a full candidacy.
I'm told that "the Bs" — Biden, Bernie, Beto and the billionaires, including Mike Bloomberg — can wait longer because they'll be able to quickly raise money.
Be smart: A veteran of Democratic presidential campaigns said top aides will start to jump to campaigns this month. But many of the "big-time consultants, many of whom have multiple possible 2020 clients," will take longer.
P.S. ... Former Vice President Biden has created a "campaign in waiting" while earning substantial wealth for the first time, "building a network of nonprofits and academic centers that are staffed by his closest strategists and advisers," the N.Y. Times' Kevin Sack and Alex Burns report.
Golden nugget: A contract for a Biden speech at the University of Utah specified that there "would be no insertion of the word 'former' before 'vice president' in social media promotions."
4. First look: House Dems to go for jugular on Day 1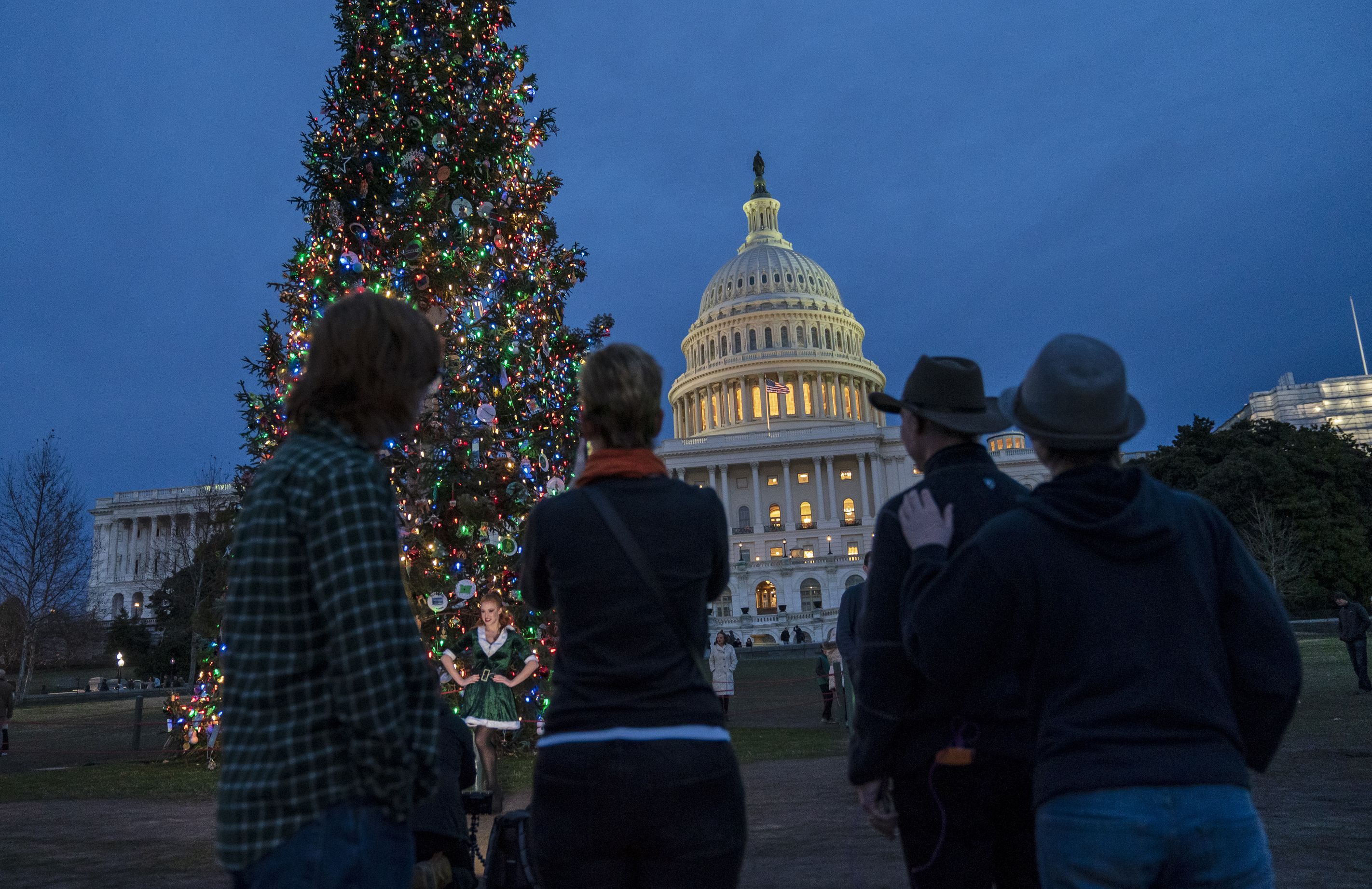 With their very first vote when the new Congress opens tomorrow, House Democrats plan to pounce on one of Republicans' biggest political vulnerabilities, the lawsuit to wipe out the Affordable Care Act.
A congressional source tells me that a key provision tucked in House Dems' 14-page opening-day rules package, "Restoring Congress for the People," focuses on the federal judge in Texas who struck down the ACA (which remains in effect during appeals).
The provision authorizes the House counsel to intervene in the lawsuit on behalf of the House of Representatives, to try to protect people with pre-existing conditions, a popular and consequential feature of the ACA.
Next week, Democrats will hold an additional vote on a stand-alone resolution on intervening to defend protections for people with pre-existing conditions.
Why it matters: House Dems view the health care issue as a key reason they won the majority in November's midterms.
The vote shows that House Democrats will aggressively leverage advantages of the majority, even with the government shut down, and without needing the Senate to agree or President Trump to sign anything.
Be smart: Axios' Caitlin Owens points out that while this is good politics, voting to intervene in the lawsuit probably won't have any practical effect.
And Axios' David Nather says it's no accident that Democrats are putting the spotlight on pre-existing conditions rather than the whole health care law, which has had its ups and downs with the public.
Protection for pre-existing conditions is part of the health care law that has always been popular. Republicans know it — and so does Trump.
This is also key to protecting incoming Speaker Nancy Pelosi's legacy: She had a bigger role in passing the law than many people realize, and insisted on pushing forward in 2010 when other Democrats wanted to scale back the plan.
Henry Connelly, a Pelosi spokesman, said: "After two years of brutal attacks on health care and desperate GOP misrepresentations on the campaign trail, we're not giving Republicans anywhere to hide."
"Republicans who survived the election on their tardy promises to protect pre-existing conditions will have to explain why they have once again been complicit in trying to strike down those life-saving protections."
5. Romney takes on Trump from the get-go
Mitt Romney — the 2012 Republican president nominee, who will be sworn tomorrow as a U.S. senator from Utah — instantly becomes President Trump's highest profile intra-party critic with this WashPost op-ed today:
The Trump presidency made a deep descent in December. ... [H]is conduct over the past two years, particularly his actions this month, is evidence that the president has not risen to the mantle of the office. ...
The world is ... watching. America has long been looked to for leadership. Our economic and military strength was part of that ... Trump's words and actions have caused dismay around the world.
Be smart: For Romney to refer to the president as "Trump" says a lot.
6. Stat du jour
Homicides in Washington, D.C., "surged in 2018, driven by what police say are the more frequent use of guns in crimes and more fatal outcomes when a shooting occurs," the WashPost reports:
"The tally of 160 homicides ... was about a 40 percent increase over the previous year ... and brought Washington to the cusp of a count not seen since 2015, when a violent summer alarmed residents."
The rise "occurred as many other large cities saw homicides decline and as killing tallies elsewhere in the Washington region rose slightly or dropped."
P.S. ... The number of traffic deaths in New York City dropped in 2018 to 200, the lowest level "since the city began tracking such deaths in 1910," the N.Y. Times' Emma Fitzsimmons reports.
Bonus: The year in charts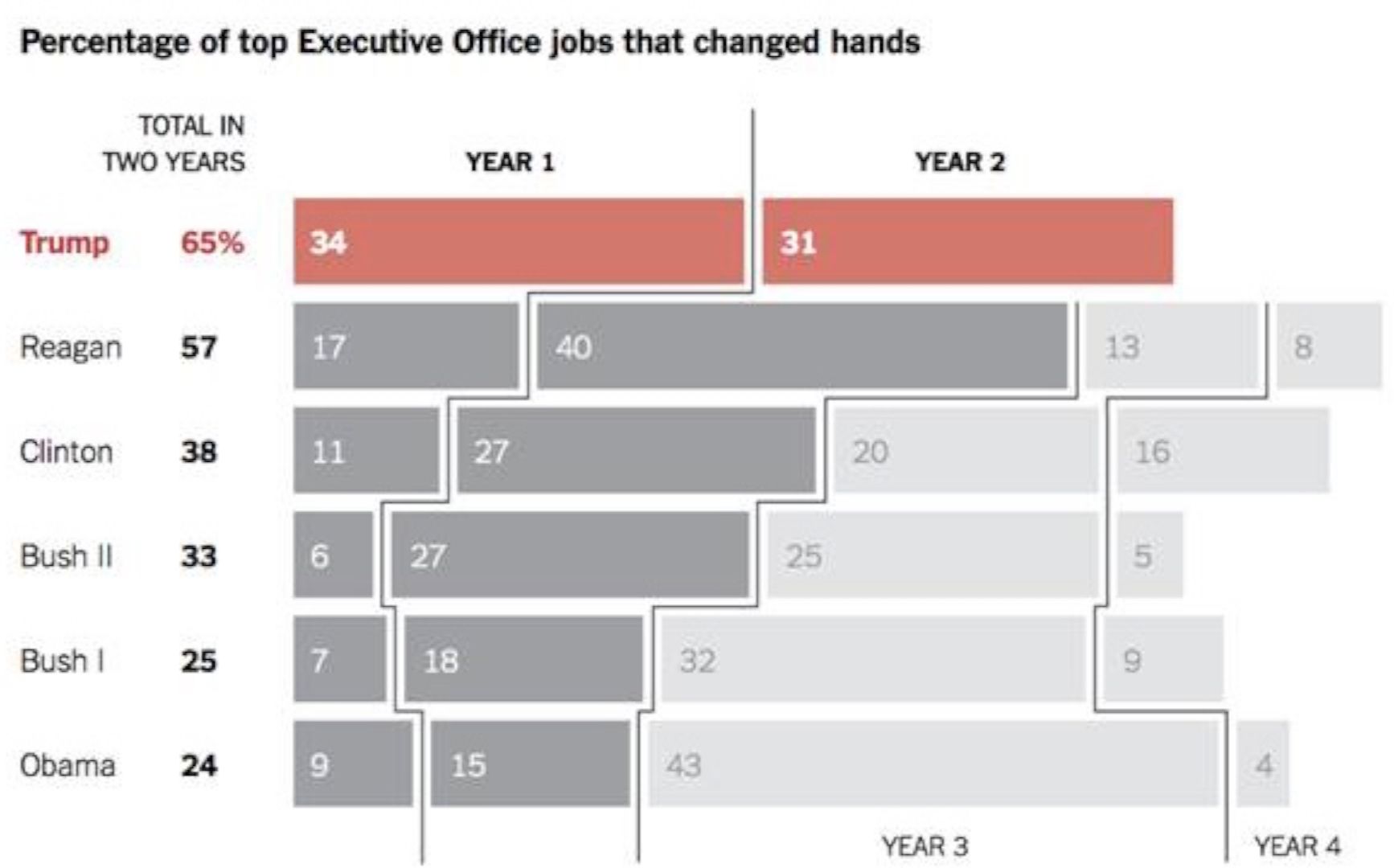 "Economic and other indicators are making it increasingly clear that Trump's economic dreams are unlikely to come true," Steven Rattner, counselor to the Treasury secretary in the Obama administration, writes in the N.Y. Times.
Among the year-end selection of Rattner charts, made famous by "Morning Joe":
"In two years,

65 percent

of the president's most senior aides have departed. That's the highest of any president since Ronald Reagan, and it's similar to the turnover experienced by many of Mr. Trump's predecessors over an entire four-year term."
7. New year, new drug prices
"Pharmaceutical companies are ringing in the new year by raising the price of hundreds of drugs," The Wall Street Journal's Jared Hopkins reports (subscription):
"More than three dozen drugmakers raised the prices on hundreds of medicines in the U.S." yesterday.
"Many companies' increases are relatively modest this year, amid growing public and political pressure on the industry over prices."
"Yet a few are particularly high, including on some generics, the cheaper alternative to branded" medications.
"Overall, price increases ... continue to exceed inflation."
The industry points out that these are list prices and don't reflect substantial rebates and discounts that payers negotiate off the initial list price.
8. "Tropical Trump" sworn in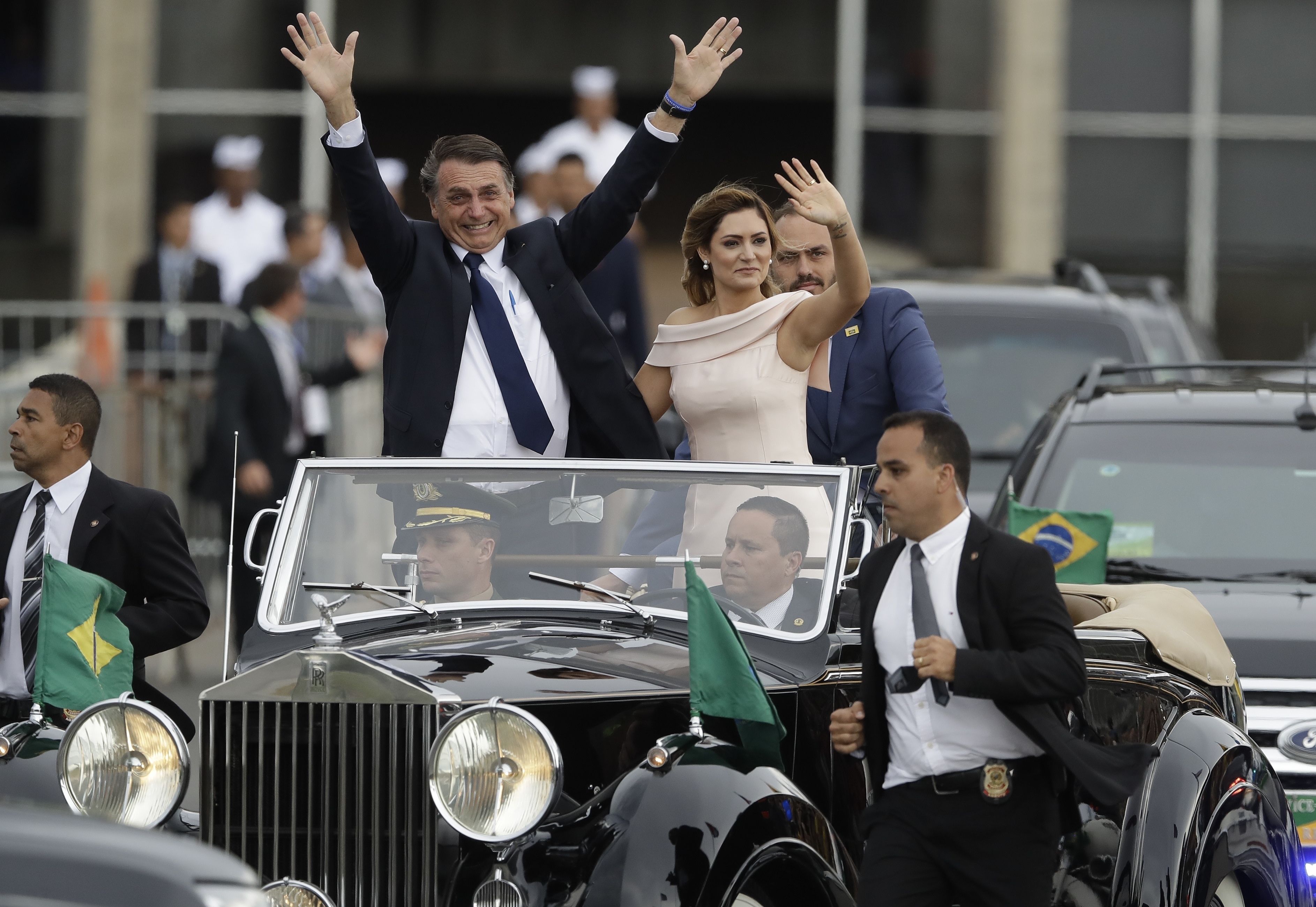 "Brazil's newly inaugurated far-right President Jair Bolsonaro said in his address to the nation [yesterday] that his country had been 'liberated from socialism and political correctness' now that he has taken power," Reuters reports.
"Bolsonaro vowed to respect democracy and carry out difficult economic reforms needed to get Latin America's biggest economy back on track."
9. Credit cards try to cut rewards
"Rewards Credit Cards Gained a Fanatic Following — Now Banks Are Pulling Back ... Major perks like airfare and cash back were meant to lead to higher returns. But consumers figured out how to game the system," The Wall Street Journal's AnnaMaria Andriotis and Emily Glazer report (subscription):
Many users are "spending just enough to earn generous sign-up bonuses — then abandoning the cards in a drawer. Others pay their bills in full and avoid interest charges and late fees."
"After ratcheting up the perks for several years, banks hit peak rewards frenzy about two years ago. Now banks face increasing costs associated with the cards."
Several large banks are "discussing how to cut back or rejigger ... rewards [to] encourage more card usage and scale back upfront bonuses."
10. 🏈 1 mascot amok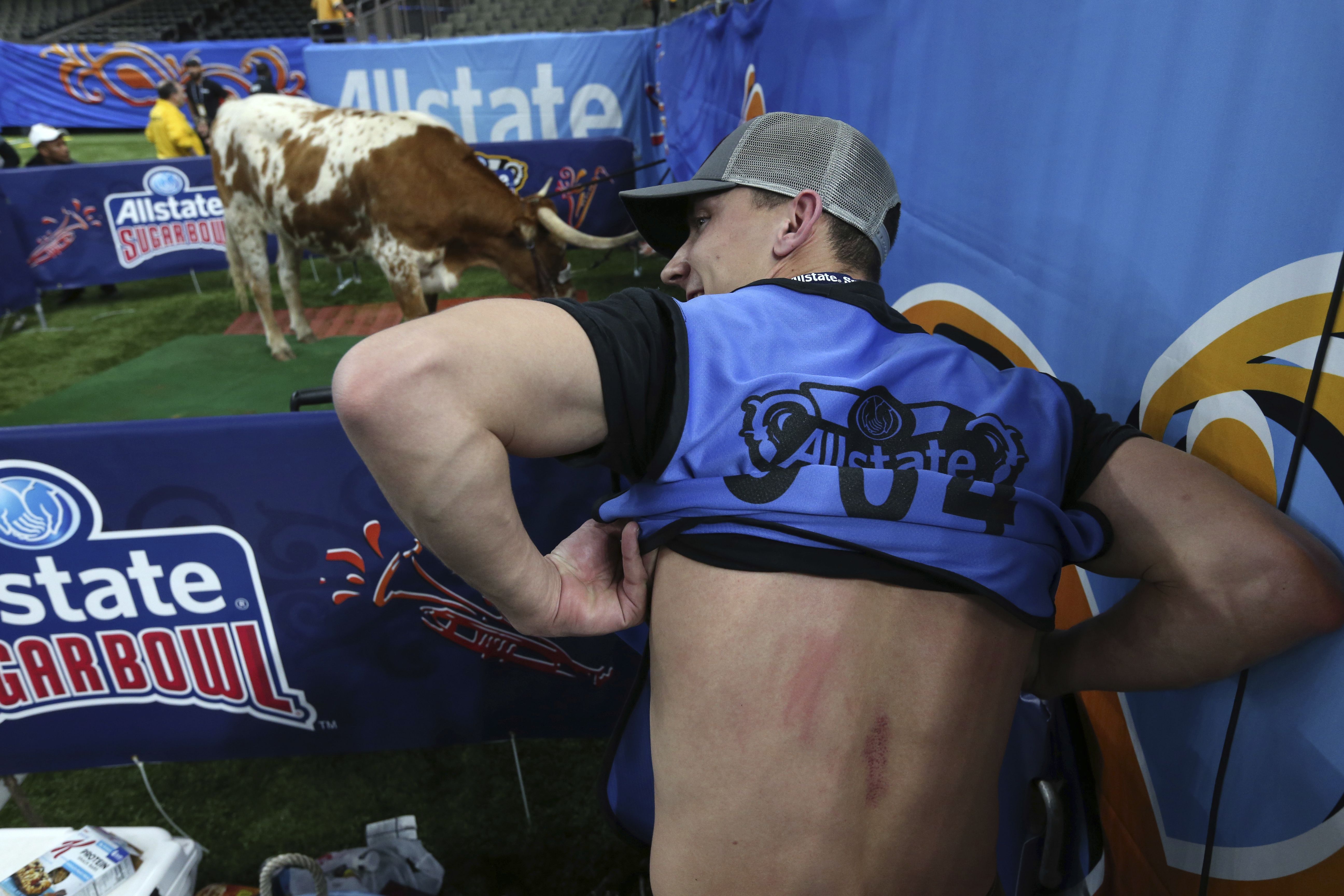 The University of Texas mascot, a 1,700-pound longhorn steer named Bevo, knocked down its barricade at the Sugar Bowl in New Orleans yesterday and charged toward Georgia's mascot, a bulldog named Uga, AP reports:
The English bulldog, wearing a bright red Georgia sweater, was quickly pulled out of harm's way.
But Bevo's head and horns appeared to make contact with several people, including a couple of photographers, who scampered out of the way or were knocked down.
Bevo was quickly restrained; there were no reported injuries.
The incident, about an hour before kickoff, was caught on video and quickly became a sensation on social media.
Ricky Brennes, Bevo's handler, said the steer was simply agitated because he wanted to walk.
The Longhorns won, 28-21. Sorry, Kathleen.