July 26, 2021
Happy Monday! Smart Brevity™ count: 1,480 words ... 5½ minutes. Edited by Zachary Basu.
1 big thing: It's not working
The graph above shows the wrong kind of "flattening the curve."
The COVID vaccination rate tailed off, and Anthony Fauci warned on CNN's State of the Union: "We're going in the wrong direction."
It's in everyone's interest to persuade the unvaccinated to get the jab, rather than shame them. Chris Christie said it exactly right yesterday on ABC's "This Week":
"What they don't want is to be indoctrinated — they're willing to be vaccinated," the former New Jersey governor said. "And so let's be smart about this."
"I think that one of the places where our leaders have fallen down is they're not explaining it," Christie added. "They're just saying: Get vaccinated. ... [T]hese folks do not respond to being ordered to do those things."
Christie said he had a "very smart guy" visit him who said: "I don't want the government telling me what I have to do."
"It's a libertarian type of response," Christie said. "I sat with this guy and I walked him through the facts, and then he said: 'OK, I'm going to go get vaccinated.' That's what we need to be doing."
There are lots of reasons the vaccinated need to worry more about the unvaccinated, Axios health care editor Tina Reed writes:
Breakthrough infections — infections in vaccinated people — are still rare, and few are life-threatening. But COVID's continued circulation makes them more probable, and helps give rise to new variants.
Some experts fear the COVID rebound could slow economic growth.
In a note to investors, Bank of America economists Stephen Junaeu and Anna Zhou say Delta is expected to shift consumer behavior, including a "sharp pullback in services spending," Insider reported.
2. Left warned not to get greedy
Joel Benenson, who led polling for President Obama, tells me liberal Democrats are endangering the House majority in next year's midterms by trying to load too much onto President Biden's spending packages.
Why it matters: Benenson has years of data showing that the more lawmakers add to a massive piece of legislation, the less likely that swing voters will swallow it. And, as Benenson put it: "You gotta win the middle to win."
Lemme tell you a secret: You know someone who agrees with Joel Benenson? President Biden.
I'm told Biden firmly believes that politically, the country lives in the middle. He'll resist pressure from the party's muscular left to add elements to his proposals that could sink them.
Benenson did polling on infrastructure in 2019 in six crucial states: Colorado, Florida, Iowa, North Carolina, Pennsylvania and Texas.
The takeaway: Overwhelming majorities, of all political stripes, support infrastructure spending. Support is strongest the closer it's connected to their lives — Benenson is big on broadband and clean water, both in the Biden plan.
3. China's cold greeting for Biden
China came out swinging at face-to-face talks with Deputy Secretary of State Wendy Sherman, blaming the U.S. for a "stalemate" in relations and calling on America to change "its highly misguided mindset and dangerous policy," AP reports from Tianjin, China.
Why it matters: Sherman, America's No. 2 diplomat, is the highest-ranking U.S. official to visit China since President Biden took office. The world's two largest economies are at odds over a host of issues, including technology, cybersecurity and human rights.
Axios between the lines: China continues to lecture Washington, like in Alaska in March, testing Biden's mettle.
Clearly synchronized: Also this week, Secretary of State Blinken travels to India, and Defense Secretary Lloyd Austin becomes the first member of Biden's Cabinet to visit Southeast Asia.
Austin, in a keynote speech in Singapore tomorrow and in meetings in Vietnam and the Philippines, "will call out aggressive Chinese behavior in the South China Sea," Reuters reports.
4. Ina's Tokyo diary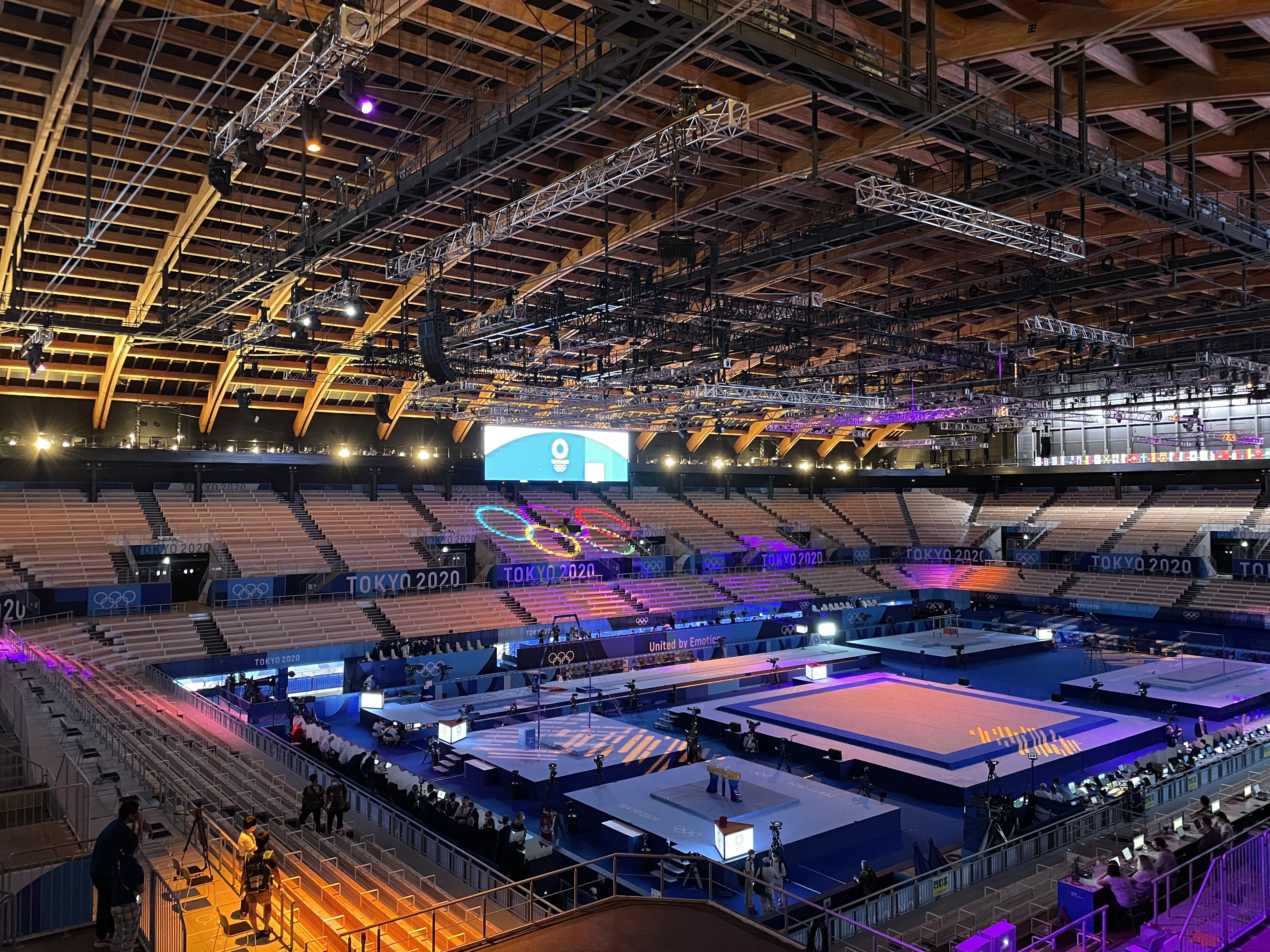 Axios' Ina Fried reports from Tokyo: I'm at Ariake Gymnastics Centre, site of the men's gymnastics final.
This a temporary venue — explaining the unfinished wood seats, which make this look like the world's biggest and most complicated IKEA set.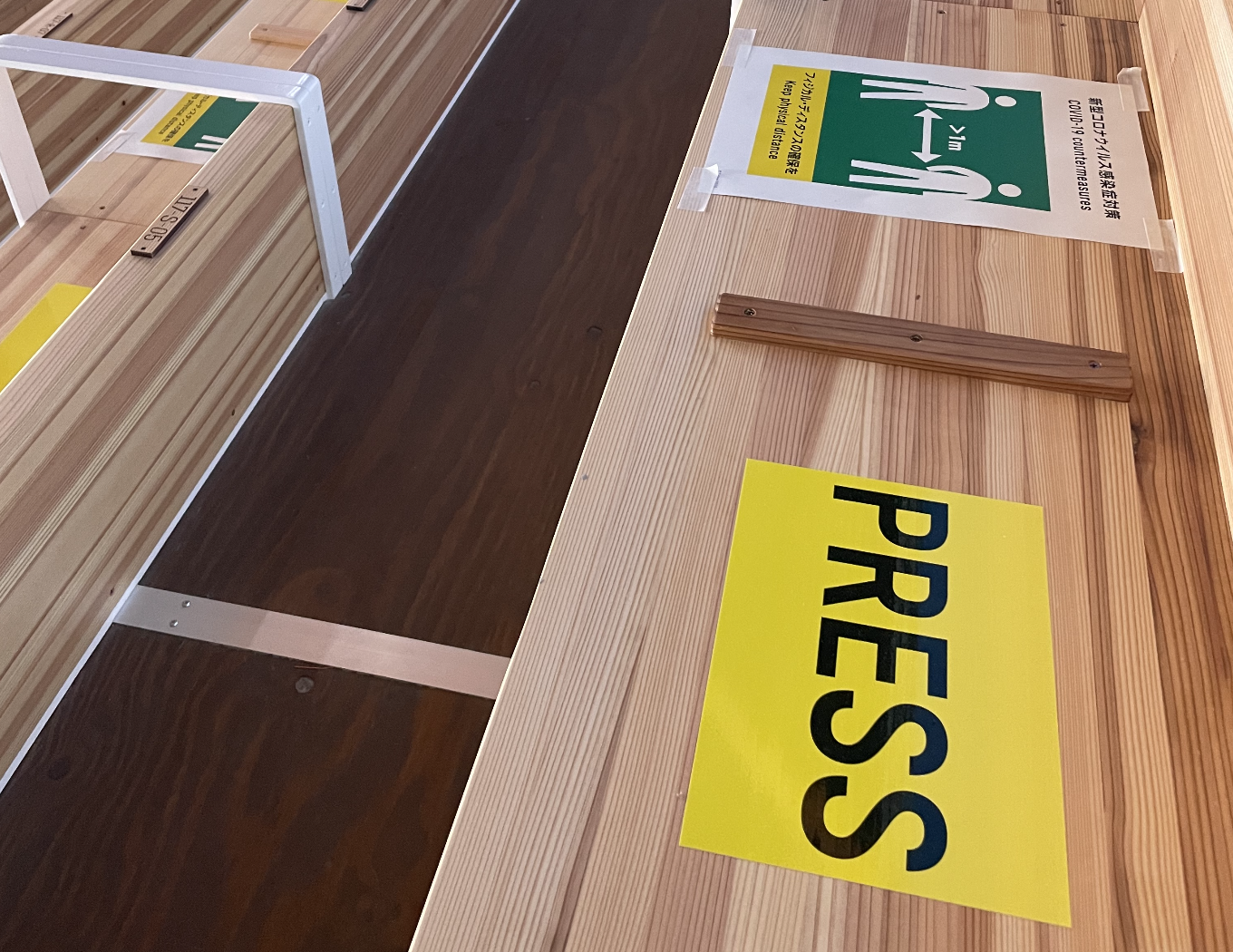 📷 In photos: Day 3 highlights ... Axios Olympics Dashboard.
5. Conservative courts could rescue tech
The Biden administration's push to increase competition in the technology industry could be on a collision course with a formidable obstacle: the courts, Axios' Kim Hart writes in her "Tech Agenda" column.
Why it matters: Regulatory-agency actions — whether adopting new rules or bringing enforcement cases against companies — are almost always challenged and litigated in the courts.
As president, Donald Trump appointed 226 federal judges, leaving a huge mark on the judicial system, particularly appellate courts. Conservative judges across the country tend to take a narrower view of antitrust law focused on proving "consumer harm" to justify antitrust enforcement.
What's happening: Proponents of taking antitrust measures against Big Tech were dealt a huge blow last month when a federal district judge dismissed the FTC's December complaint against Facebook.
That ruling has made progressives push harder for Congress to enact stronger antitrust rules while giving additional clarity and authority to the key agencies — the FCC, DOJ and FTC.
6. Exclusive poll: Deep divide over trans athletes
Americans are deeply divided over how transgender athletes should compete in Tokyo, with no option coming close to a consensus, Oriana González writes from an Axios/Momentive poll.
While 39% of people say transgender athletes should compete against others of the gender they were assigned at birth, 20% say they should compete against others of the gender with which they identify.
14% say trans athletes shouldn't be allowed to compete at all, and 23% say they don't know. 
The big picture: This year's Games include at least 142 athletes who are publicly part of the LGBTQ community — "more than have participated at all other Summer Games combined," Axios' Jeff Tracy reports.
Our thought bubble, from Axios' Ina Fried: Polling is one way of assessing how people feel, but not all issues boil down to how things poll. Many people see this as a matter of fundamental human rights.
7. 💰 New business risk: Post-ransom lawsuit
"Companies that have been locked out of their computer networks by hackers are now getting sued by consumers and workers claiming they were hurt by lax cybersecurity," the WashPost's Gerrit De Vynck reports.
Why it matters: "Cybersecurity lapses at major companies have led to class-action lawsuits and settlements in the hundreds of millions of dollars."
8. First look: Don Jr., DeSantis edge for '24
Don Jr. and Florida Gov. Ron DeSantis top a poll — provided first to Axios — gauging the popularity of seven key GOP figures.
Tony Fabrizio of Fabrizio, Lee & Associates, who was pollster on both of Donald Trump's presidential campaigns, concludes:
We found Mitch McConnell's image has significantly improved since February, while Kevin McCarthy's has remained consistent but positive. Liz Cheney is incredibly unpopular, while Matt Gaetz and Marjorie Taylor Greene have positive images but are largely undefined and driven by the far right of the party. Ron DeSantis and Donald Trump Jr. are well-known and very well-liked by most Republicans, doing best among President Trump's biggest supporters.
Between the lines: Don Jr. is the Trump child with the strongest connection to the base, and the most political promise should he ever decide to run. And the results reaffirm Ron DeSantis' rise as an early 2024 front-runner should Trump decide not to run.
9. Sneak peek: Biden to tout ADA's bipartisan roots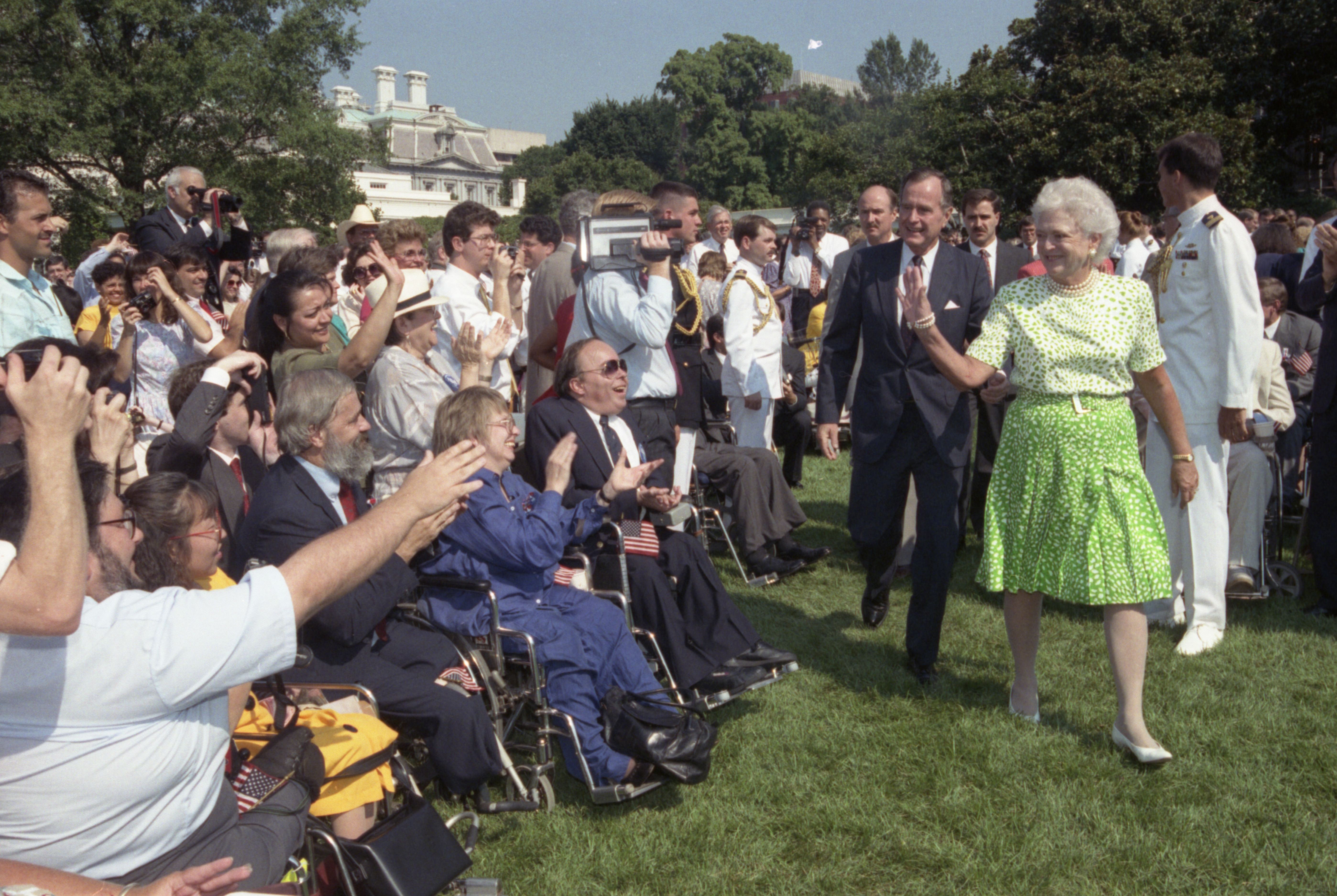 President Biden will highlight the bipartisan roots of the Americans with Disabilities Act when he holds a Rose Garden event today with Vice President Harris to mark the law's 31st anniversary.
Biden, a co-sponsor of the bill as a senator, will say that the ADA was a Democratic bill signed into law by a Republican president, George H.W. Bush, who was surrounded by both Democrats and Republicans.
Biden, who'll be joined at the event by lawmakers of both parties, will note that more than three decades later, leaders from across the aisle are standing together again because the ADA is a product of passion and compassion — not partisanship.
10. Remembering Bob Moses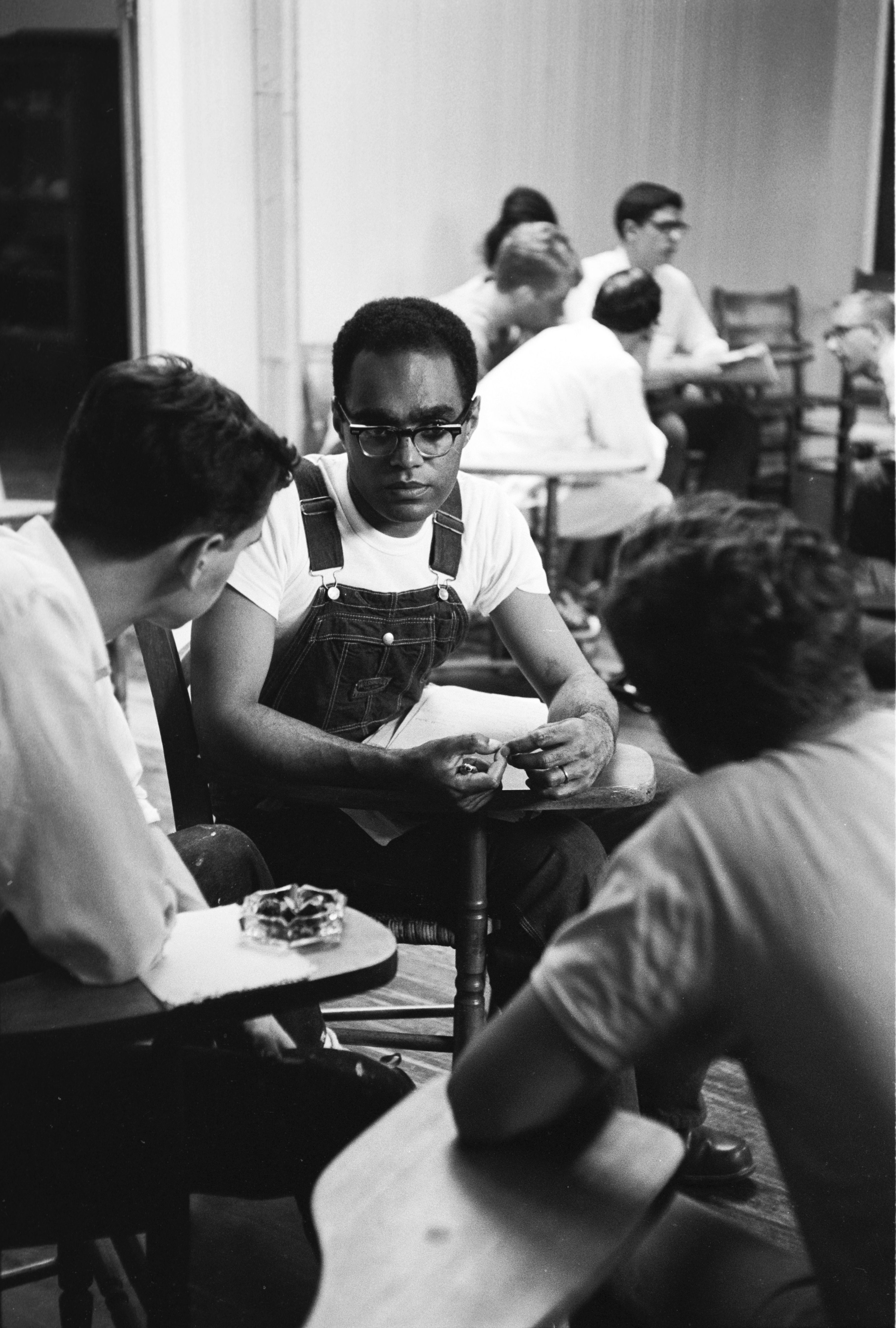 Bob Moses — a civil rights activist who was shot at and endured beatings and jail while leading Black voter registration drives during the 1960s, and later helped minority education in math — died at 86 in Florida, Axios' Russell Contreras, an AP alumnus, writes in this AP obit.
Moses worked to dismantle segregation as the Mississippi field director of the Student Nonviolent Coordinating Committee, and was central to the 1964 "Freedom Summer," in which hundreds of students went to the South to register voters.
The press-shy Moses, born in Harlem, started his "second chapter in civil rights work" in 1982 by founding the Algebra Project, including a curriculum Moses developed to help struggling students succeed in math.
Former President Obama tweeted: "Bob Moses was a hero of mine. His quiet confidence helped shape the civil rights movement, and he inspired generations of young people looking to make a difference."
📬 Thanks for starting your week with us! Please invite your friends, family, colleagues to sign up here for Axios AM and Axios PM.