Axios AM
January 10, 2018
Good Wednesday morning. Situational awareness: "Judge William Alsup of Federal District Court in San Francisco [ruled] that the administration must 'maintain the DACA program on a nationwide basis' as the legal challenge to the president's decision goes forward." (N.Y. Times)
1 big thing: The other Trump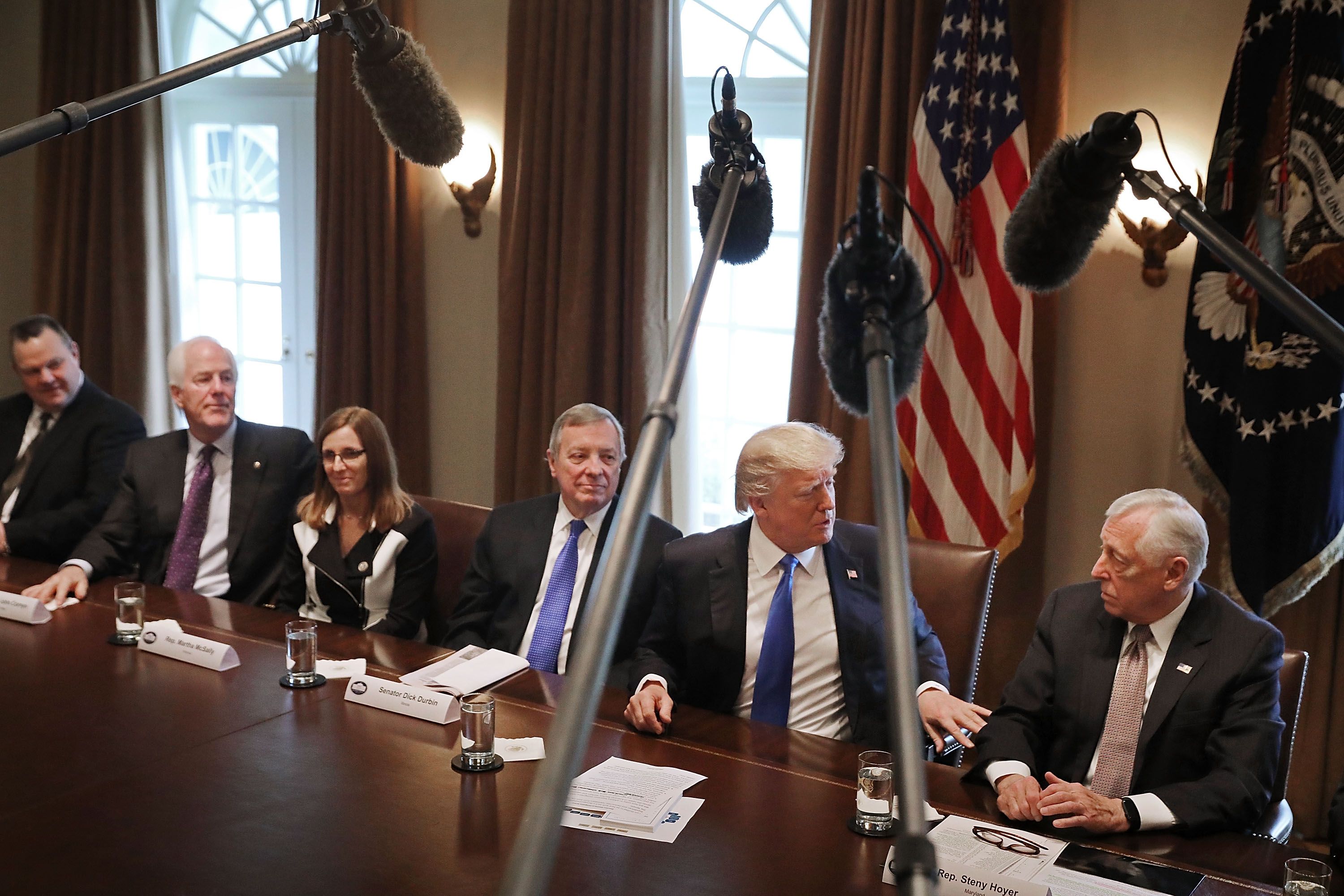 President Trump enjoyed yesterday's episode of "The Trump Show": He played the president he sometimes fantasizes being — a post-partisan leader, bigger than Republican or Democrat, a celebrity dealmaker with no firm attachments, who'd overwhelm Washington through the sheer strength of statecraft and deal-cutting genius. A real Davos man. P.T. Barnum with a pulpit. 
His presidency hasn't lived up to that vision. Trump's victories have been partisan victories — unwinding regulations, appointing conservative judges, withdrawing from the Paris climate deal, passing a Republican tax bill and repealing the cornerstone of Obamacare. 
But Axios' Jonathan Swan points out that Trump yesterday showed the side we often hear about from behind closed doors:
He opened an immigration negotiation session to reporters for 54 minutes. During the meeting, he floated that he wanted a comprehensive immigration deal — something that scares the living daylights out of the right wing of his party. (N.Y. Times lead story: "Trump Receptive to Working Out Citizenship Path ... 'I'll Take the Heat,' He Says, Seeming to Back a Broader Deal."
He lamented about how the two parties don't get along, and can't cut deals like they did in the good old days.
He said that maybe Congress should bring back earmarks — a.k.a. "pork" — another Republican apostasy.
We learned that he'll attend Davos — the clubby globalist conference in Switzerland (60 heads of state or government, plus top CEOs and over 1,000 leaders from civil society, academia and media).
Why this matters: When Trump is in these moods, he's at his most unpredictable (and therefore most dangerous, in the eyes of Republican leaders.)
Trump is in the middle of high stakes negotiations to avoid a government shutdown, and his lack of attachment to any ideology or principles means he could easily veer into Chuck and Nancy's arms.
The juice: What Trump will tell the World Economic Form in Davos later this month ... A senior administration official tells me Trump will have "a very carrot-and-stick message," like on his Asia swing, and won't back off anything:
Trump will reaffirm alliances — talking about growth, economic success and innovation — and is keen to tout his tax cut on a global stage.
But he'll also say America has been mistreated, and is going to stand up for itself.
The official noted: "A lot of people in these venues aren't used to that."
Trump will say that in a rules-based global order, everyone should follow the rules.
The administration says no one in the room should be surprised the U.S. is taking a harder line.
Trump's shorter message: I'm serious about what I've been saying.
2. Scoop: Jared's new policy push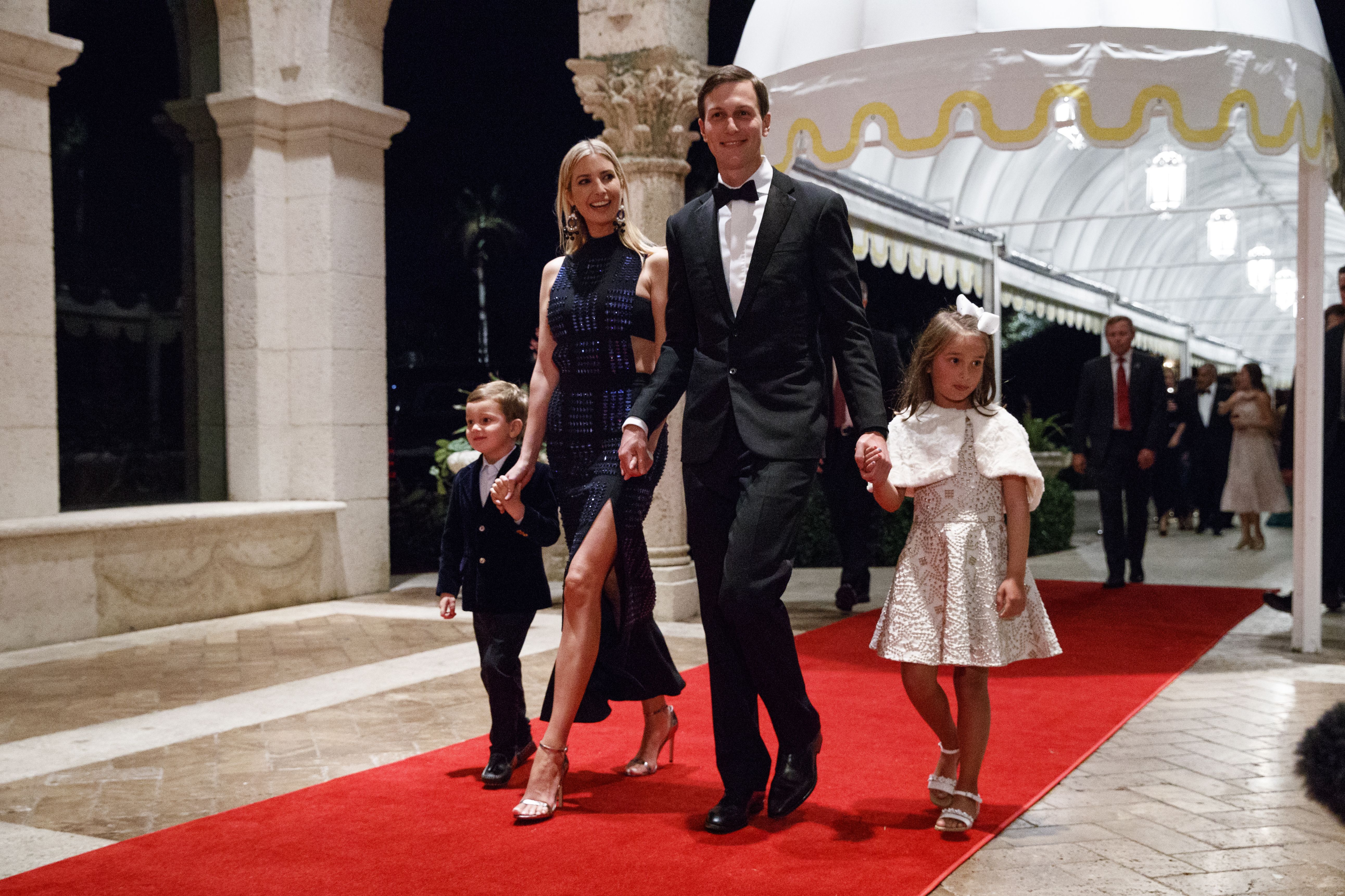 President Trump tomorrow will hold a listening session on prison reform, after six months of quiet exploration of the issue by senior adviser Jared Kushner (who turns 37 today):
Under the auspices of Kushner's Office of American Innovation, administration officials have met with faith-based leaders, former inmates who have been rehabilitated, conservative leaders, and experts on the issue.
Jared and his wife, Ivanka Trump, held a dinner discussion at their home, including Sens. Dick Durbin (D-Ill.), Amy Klobuchar (D-Minn.), Mike Lee (R-Utah) and Sheldon Whitehouse (D-R.I.)
Why it matters: The White House sees this as a conservative issue (save money, cut crime) that could get bipartisan support (spending for workforce development), heading into a midterm election year when it'll be even harder to get congressional accomplishments than it was last year.
The administration is exploring possible legislative proposals and administrative actions. An early step could include a push for public awareness involving churches.
The issue came up during this weekend's Camp David meeting with GOP congressional leaders.
Koch Industries general counsel Mark Holden, a longtime champion of the issue, told me he has been impressed with Kushner's passion, and that the approach the administration is exploring "has been showed to markedly reduce recidivism."
Be smart: The issue is personal for Kushner, given the former imprisonment of his father, developer Charles Kushner.
3. Sentence du jour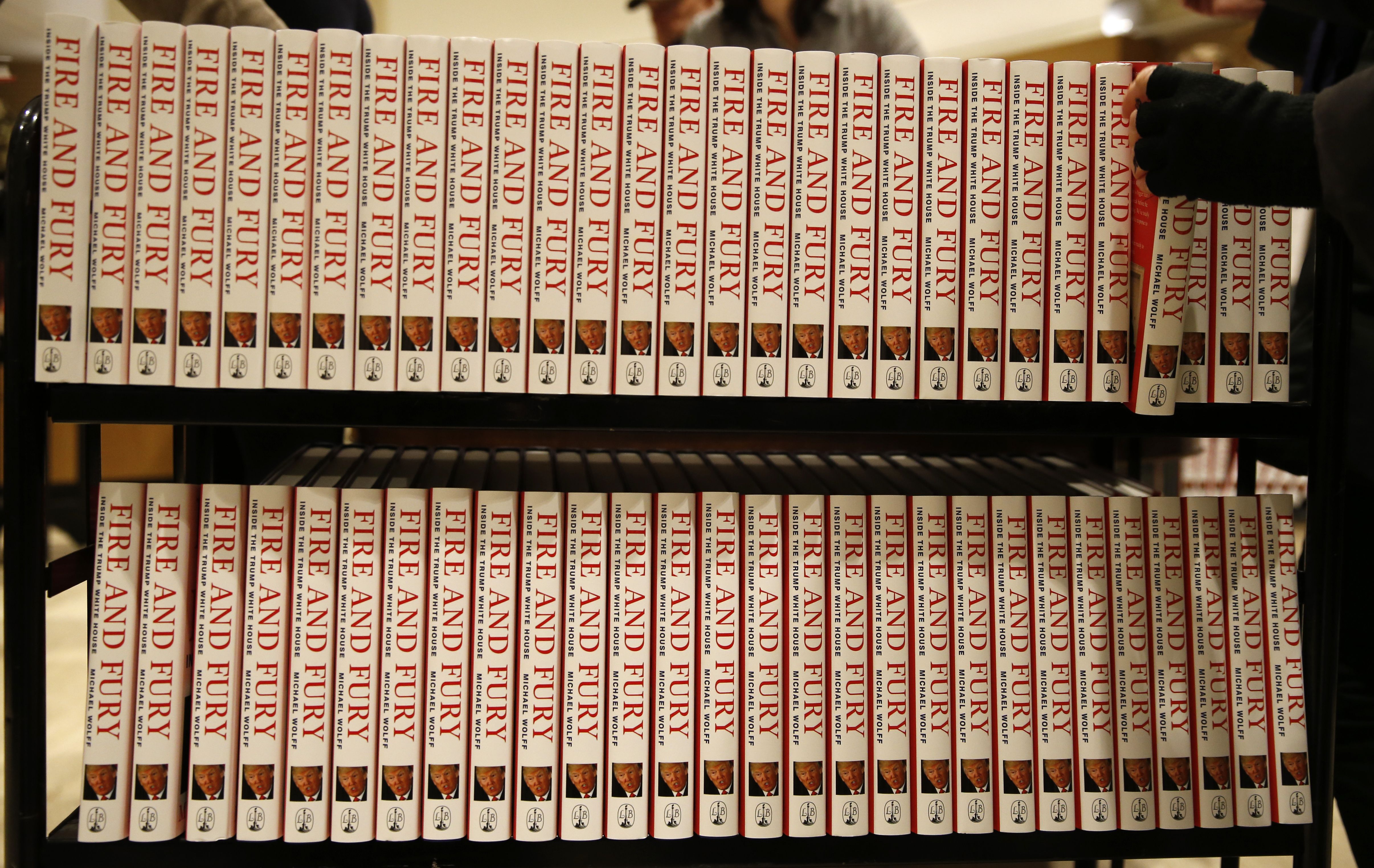 Axios' Jonathan Swan: "Steve Bannon lit himself on fire — and Trump extinguished him."
Two more: "The guy loves history. Well, this political suicide is historic."
Bonus: Pic du jour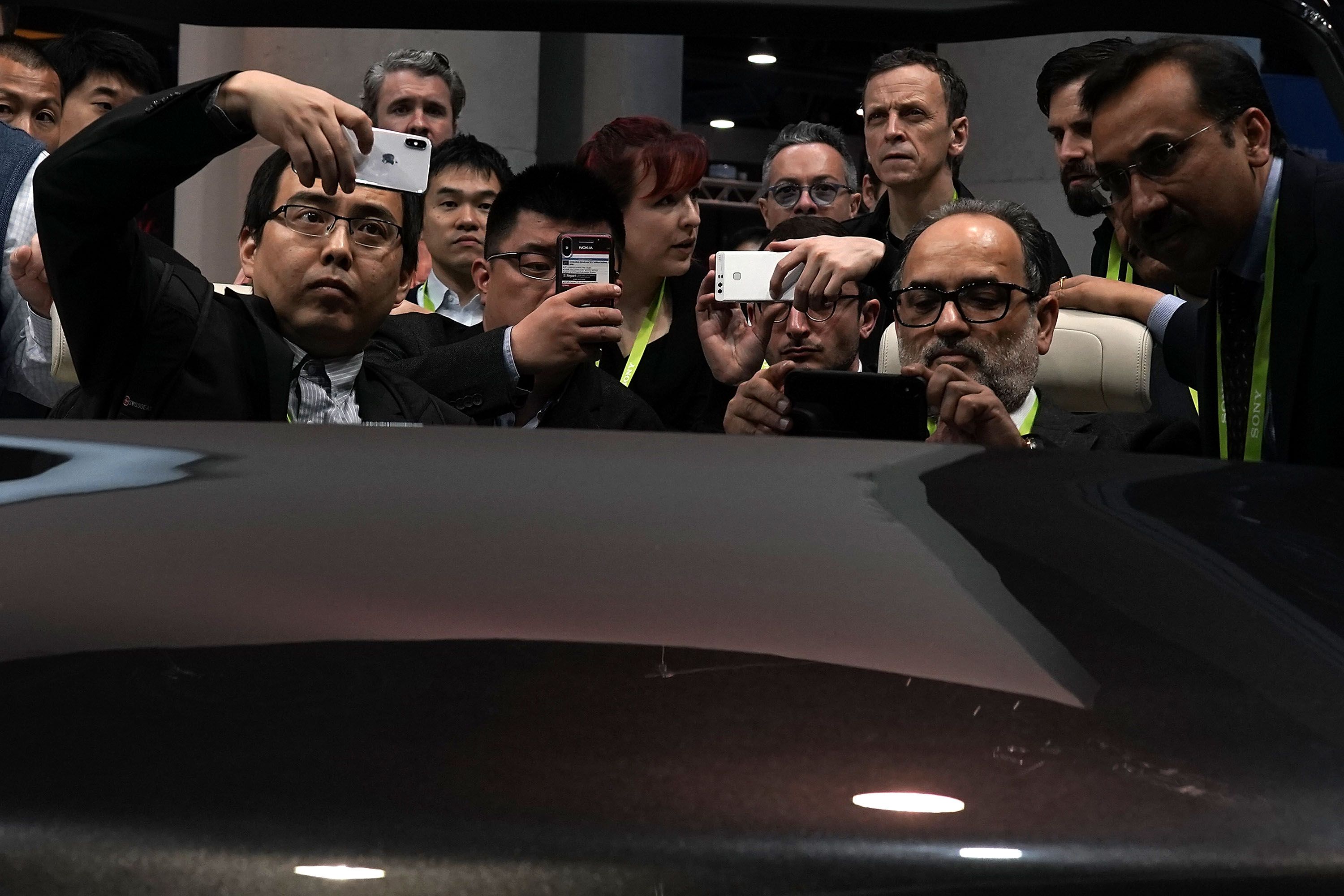 This is the view from inside an autonomous-driving exhibit at the Hyundai Mobis booth at the Las Vegas Convention Center yesterday during CES.
CES, the world's largest consumer technology trade show, began yesterday and continues through Friday.
The tech show has 3,900 exhibitors and more than 170,000 attendees.
Go deeper: running coverage from Axios chief tech correspondent Ina Fried.
4. Russia's "asymmetric assault on democracy"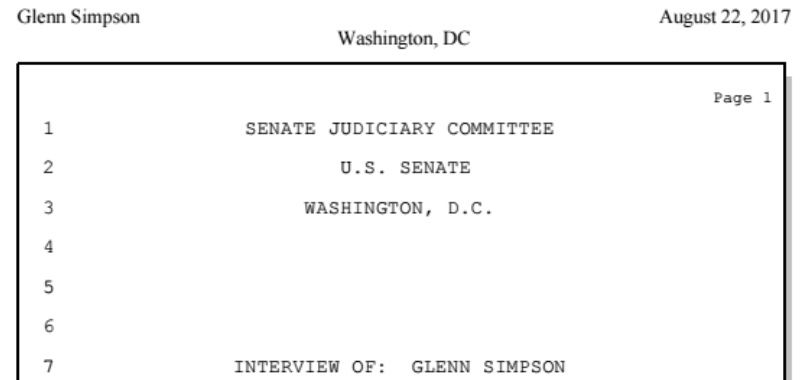 "A sweeping new report by congressional Democrats warns of deepening Russian interference throughout Europe," AP reports:
"The 200-plus page report released by Sen. Ben Cardin of Maryland, the ranking Democrat on the Senate Foreign Relations Committee, comes without sign-off from Republicans on the panel."
Why it matters: "[E]ven without GOP backing, the report's recounting of Russian operations in 19 European nations foreshadows the still-unpublished Senate intelligence committee's bipartisan inquiry into Russia's role during the 2016 U.S. presidential election."
"Cardin's report ... cites years of cyber-attacks, disinformation, clandestine social media operations, financing of fringe political groups, corruption and in the extreme, assassination attempts and military operations that destabilized fledgling democratic governments in the Ukraine and Georgia."
P.S. WashPost A1, "Transcript release intensifies feud over FBI, Trump dossier":
"The transcript of Fusion GPS co-founder Glenn R. Simpson's interview with the Senate Judiciary Committee was released by Sen. Dianne Feinstein, the panel's senior Democrat, over the objections of Chairman Charles E. Grassley."
Why it matters: "The 312-page transcript shows that Republican staffers on the committee repeatedly pressed Simpson about whether he had political motivations ... Simpson acknowledged that he didn't like Trump as a candidate but said his job was to find facts, not to push an agenda."
5. China's state-by-state reach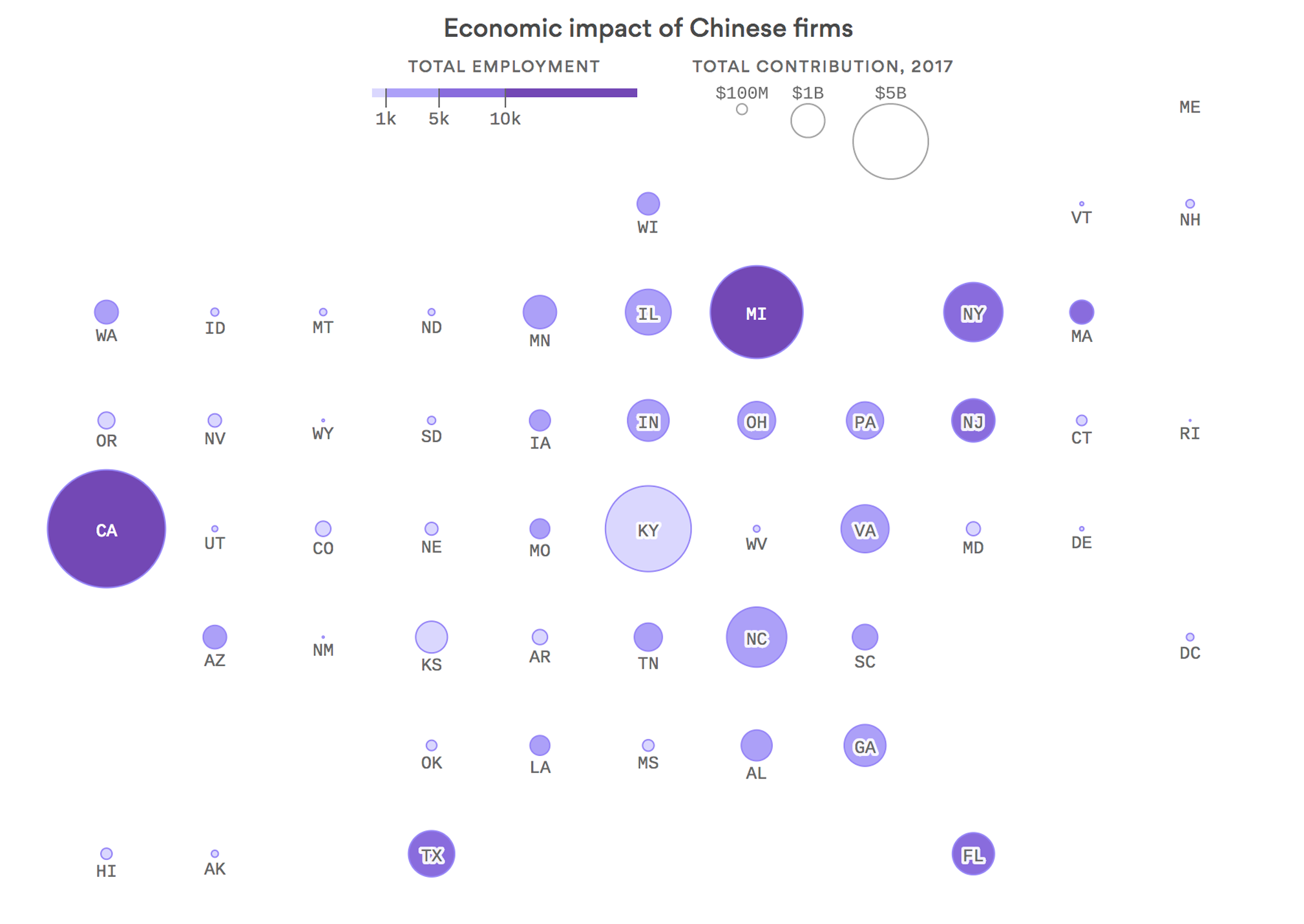 Chinese investors and firms own a majority of almost 2,400 American companies, employing 114,000 people — about the same number as the combined U.S. staffs of Google, Facebook and Tesla, according to data from MacroPolo.
Go deeper, and seen an interactive version of the map, with Axios' Steve LeVine.
6. Dozens more "resistance" books

"As Trump's presidency begins its second year and with Michael Wolff's book ... topping best-seller lists, dozens more books about everything from civil liberties to fears of autocracy are scheduled to come out in 2018," AP's Hillel Italie writes:
"Books of 'resistance' will include guides to activism, reflections on democracy, investigations of Russian interference in last year's election and legal analysis, along with poetry and fiction."
"Trump's election revived interest in such classic Dystopian novels as '1984' and 'The Handmaid's Tale.'"
"[A]n upcoming compilation, 'It Occurs to Me That I Am America: New Stories and Art,' .. uses narrative as a form of social consciousness. The book, which will help support the [ACLU], includes original material by such popular authors as Neil Gaiman and Mary Higgins Clark."
Several new works will address challenges to the government:
"How Democracies Die," by Harvard professors Steven Levitsky and Daniel Ziblatt, traces the demise of political rights in countries around the world.
David Frum's "Trumpocracy" warns against the "complacent optimism" that American politics are immune from fatal damage.
Amy Siskind's "The List" compiles her widely read online annal of breaks from democratic tradition during 2017.
Timothy Snyder is following his best-selling "On Tyranny," a brief handbook about signs of authoritarianism, with "The Road to Unfreedom: Russia, Europe, America."
7. Christie leaves stage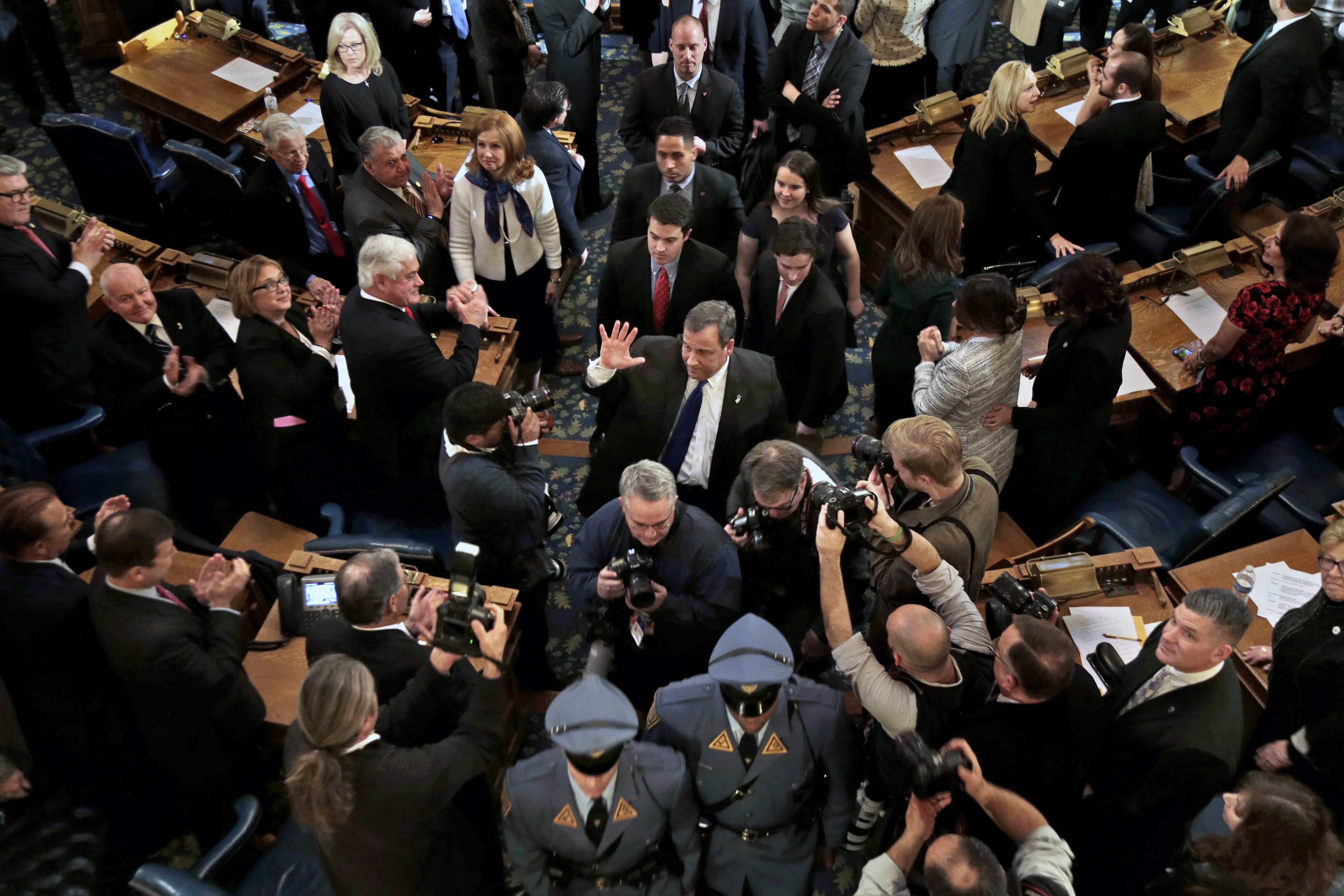 New Jersey Gov. Chris Christie makes his way out of Senate chambers after delivering his final state of the state address in Trenton yesterday.
Christie turns over control next Tuesday to Democratic Gov.-elect Phil Murphy, who takes office on Jan. 16.
NJ.com: Christie "leaves office in a week as the state's most unpopular governor in modern times, a once-rising star whose presidential ambitions were dashed by the Bridgegate scandal and the rise of Donald Trump."
"Poised like a prosecutor making closing arguments to a jury, the brash former U.S. attorney offered a soaring assessment of his two terms, filled with praise for some of his unlikely Democratic allies and no shortage of jabs at those who stood in his way."
8. Brady gave a filmmaker huge access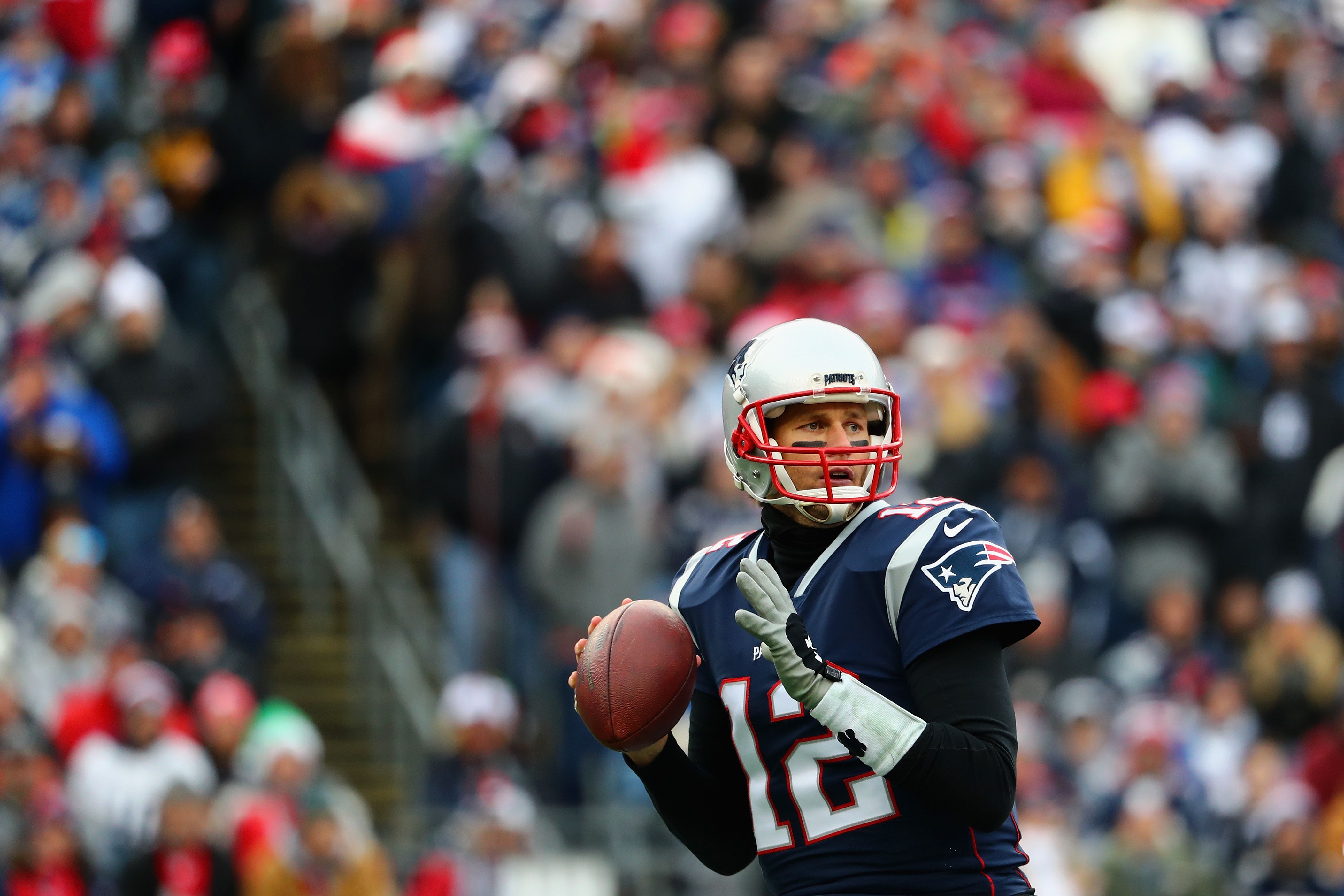 "Filmmaker Gotham Chopra was granted sweeping access to [New England Patriots quarterback Tom] Brady in an array of intimate settings," writes the N.Y. Times' Mark Leibovich, whose juicy NFL book will be out in time for next season:
"There is extensive footage of Brady at his Brookline, Mass., home, with his children, with his wife, Gisele Bündchen, on family retreats to Costa Rica, on a bro-trip to Montana (with teammates Julian Edelman and Danny Amendola), on a summer tour of China with his son Jack, and in the car during Brady's commute."
The "documentary series, 'Tom vs. Time,' ... will be posted later this month [after the Pats' season ends] via Facebook's mobile video platform, Facebook Watch."
"The series follows Brady not just as he has pursued his sixth Super Bowl championship in 2017, but also — as the title indicates — as [the 40-year-old] conducts his ongoing subversion campaign against the actuarial tables of quarterback longevity."
"Chopra, son of the prolific New Age author Deepak Chopra, grew up a Patriots fan in Lincoln, Mass. He spent several years working as a television journalist around the world before settling in Los Angeles, where he met Brady though mutual friends nearly a decade ago."
"Chopra had become interested in exploring the spiritual side of sports and competition ... He had spoken from time to time with Brady about this, and for years had been trying to get him interested in some kind of film."
A very Brady quote: "I do want to know the whys in life ... I do want to know why we're here, where we're going; trying to find that deeper purpose. To live it, through sports in a very authentic way, makes so much sense to me."
9. The race for "Face"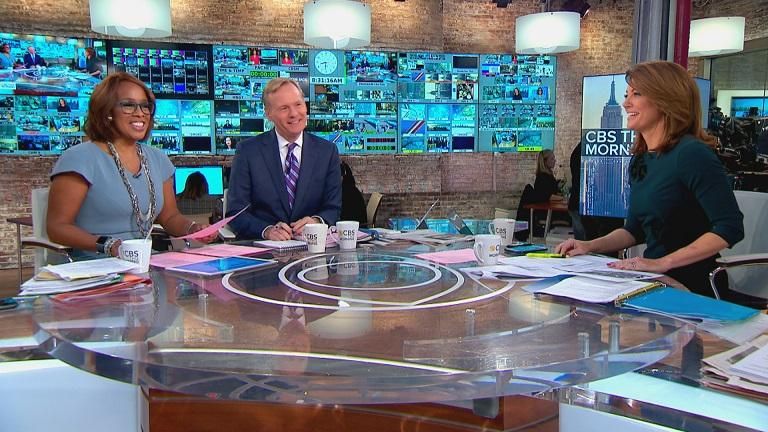 "Face the Nation" anchor John Dickerson will move to New York to replace Charlie Rose as co-host of "CBS This Morning," joining Gayle King and Norah O'Donnell beginning today, CBS News President David Rhodes announced:
Dickerson, 49, joined CBS News in 2009 as political director, then was named "Face the Nation" anchor in 2015. During the 2016 campaign, he moderated CBS News' two presidential debates.
Dickerson, a U.V.a. grad, covered politics for 12 years for TIME, then was Slate's chief political correspondent.
John was one of the earliest tweeters and podcasters.
N.Y. Times' Michael Grynbaum: "Dickerson — whose mother, Nancy Dickerson, in 1960 became the first female correspondent at CBS News — plans to move his family to New York and relinquish his duties at 'Face the Nation.'"
"CBS has not yet chosen his successor, effectively setting off a horse race for one of television's most influential political roles."
10. One life lesson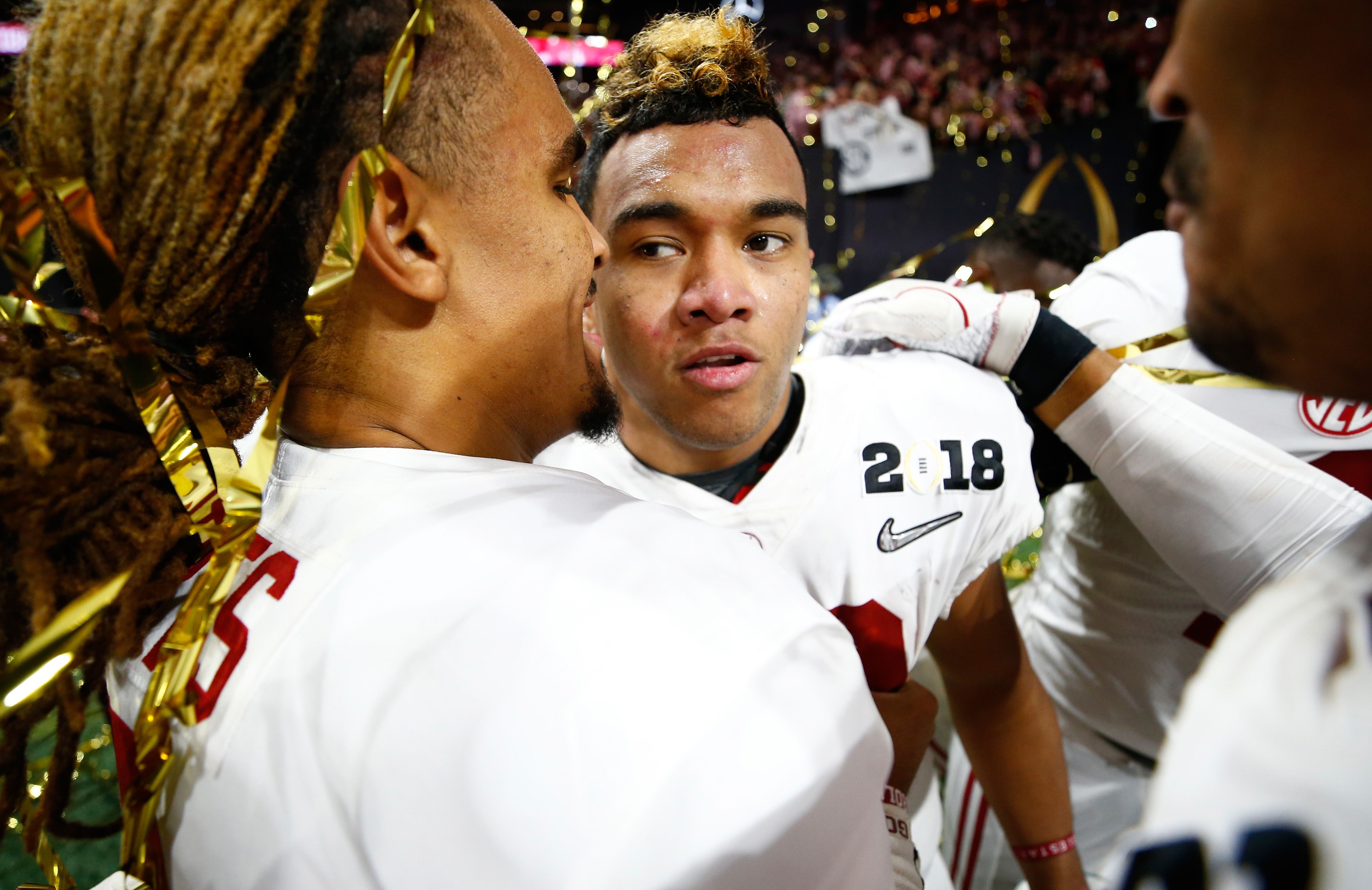 "Alabama star revealed himself in most crushing moment of truth ... How Jalen Hurts handled one of the most devastating public benchings we'll ever see," by N.Y. Post's Mike Vaccaro:
At Monday night's college football championship game in Atlanta, Alabama sophomore and starting QB Jalen Hurts, who had won 26 of his 28 starts for the Crimson Tide, was benched at halftime "and then watched his replacement put on as electrifying a performance as you'll ever see."
"Maybe there was a part of Jalen Hurts that wanted ... the kid from Hawaii to fall on his face so Nick Saban would have little choice but to go back to him. Hell, that was sure how ESPN's cameras were betting, for all the reaction shots we saw of Hurts. Surely he would crack. Surely he would react."
"He did react: by pounding on Tagovailoa's shouder pads after one touchdown pass, and by hugging him after another. After the game-winner, that magnificent 41-yard touchdown pass to DeVonta Smith that won the game for the Crimson Tide, Hurts ran around deliriously with his teammates, his smile as big as the Mercedes-Benz Dome, his joy evident for the world to see."
Leadership in a nutshell, from Jalen Hurts in the euphoric Alabama locker room after the game: "It was important for me to stay true to myself and be the person I am, and be the leader I am, regardless of the circumstance ... It's my duty to do things like that, and do all those things genuinely."
Thank you for reading. See you all day in the Axios stream ...