Happy Friday! 🎣 Note from Mike: After 480 straight Axios AMs, I'm off the grid in Maine, catching fish and clearing my mind.
Top journalists have generously agreed to carry the torch, starting with Jonathan Karl, ABC News chief White House correspondent..
https://www.axios.com/newsletters/axios-am-e5ac420b-4ad7-4258-8b88-f14eb76facfe.html?chunk=0#story0
1 Big Guest ... ABC's Jonathan Karl: The great game of chicken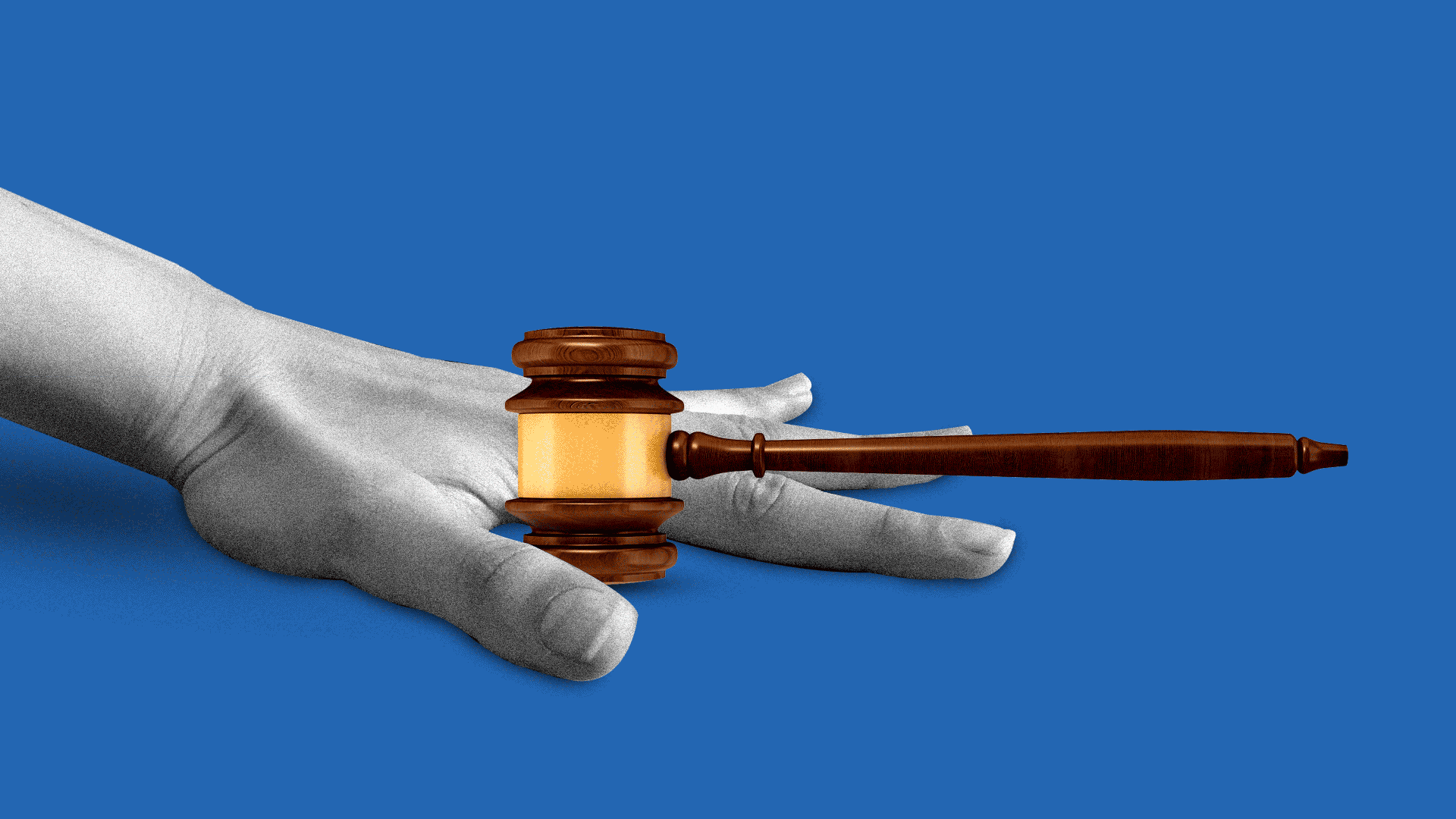 Last June, President Trump told me he was "100 percent" willing to answer questions — under oath — from Robert Mueller. Over the tumultuous months that followed, two things have remained consistent: 1) Virtually every lawyer friendly to the president has urged him to avoid an interview; and, 2) The president has said he is willing, even eager, to sit down with the special counsel.
Now it's the Rudy Show. The President is gearing up not to talk to Robert Mueller, but to fight him.
Rudy Giuliani tells ABC News the Trump legal team is now preparing to battle against a subpoena for Trump to testify. "I think it's 50/50" that Mueller subpoenas the president's testimony, Giuliani says. "I got to prepare for the 50 percent."  
What he's not saying: If the president is amped up to fight an effort by Mueller to force him to testify, he can't exactly be driving his lawyers crazy anymore by talking about voluntarily testifying.
The big picture: The president and the special counsel are engaged in a game of chicken — both sides threatening steps neither wants, because they could trigger a crisis with dangerous and unpredictable consequences.
Trump, for all his Twitter threats about using "the powers granted to the presidency," knows firing Mueller would have dire political consequences.
And Mueller, despite the threat to compel the president to testify, doesn't want to subpoena the president because the ensuing legal battle, which he could lose, would last a minimum of six months and possibly a year.
That would give the president's allies time to wage a campaign to undermine public support for the investigation.
What to watch: The negotiations over a Trump/Mueller interview continue.
Despite Rudy's 50/50 odds, the Trump legal team thinks Mueller won't pull the trigger on a subpoena, and will ultimately be forced to accept written  answers from the president.
https://www.axios.com/newsletters/axios-am-e5ac420b-4ad7-4258-8b88-f14eb76facfe.html?chunk=1#story1
2. Trump wants to be like LBJ
LBJ withheld the title of chief of staff from his top aides, and President Trump is now living out that fantasy even with John Kelly in the building.
As part of his exasperation with being handled, Trump has taken to telling friends that — like Lyndon Johnson — he doesn't even need a chief.
And now, with Trump and his new TV lawyer Rudy Giuliani conducting their own media-legal operation with little to no White House oversight, it's becoming a reality.
Jonathan Swan reports that Steve Bannon — who has zero contact with Trump these days and is loathed by many in the building — has told associates that Trump never had any respect for the chief of staff position and from the outset saw it as a lowly, administrative post.
It needed to be explained to Trump that this was one of the most powerful roles in the U.S. government.
Trump has never fully grasped the concept. Sources close to Trump repeat the cliché that he wants to run the White House like the Trump Organization — an unstructured family business where he woke most days unsure of what lay ahead, and ran his business like a series of jazz improv sets.
Back then, he spent his days on the phone, taking calls, receiving ideas, making decisions on pure gut instinct with a disdain for sophisticated data or prescriptions from consultants.
Now, Trump is effectively running the White House the same way:
The Trump 'n' Rudy show of the past few days has operated entirely independently of the White House communications department.
Giuliani and Trump are playing a different game, and the staff inside the building only learn about the plays by watching them on TV.
White House Press Secretary Sarah Sanders effectively conceded yesterday she's been operating in the dark with her previous answers to questions about payments made to Stormy Daniels. (It's not the first time Sanders has had to repeat lines from her boss that have quickly proven false.)
A source who speaks to Kelly often told Swan the chief is now resigned to the fact that he can't come close to controlling Trump:
The reality is that nobody can and nobody ever will.
Whoever replaces Kelly — if, indeed, anybody does — will have to accept that there's no such thing as a chief of staff in Trump's White House.
https://www.axios.com/newsletters/axios-am-e5ac420b-4ad7-4258-8b88-f14eb76facfe.html?chunk=2#story2
3. China fears its minorities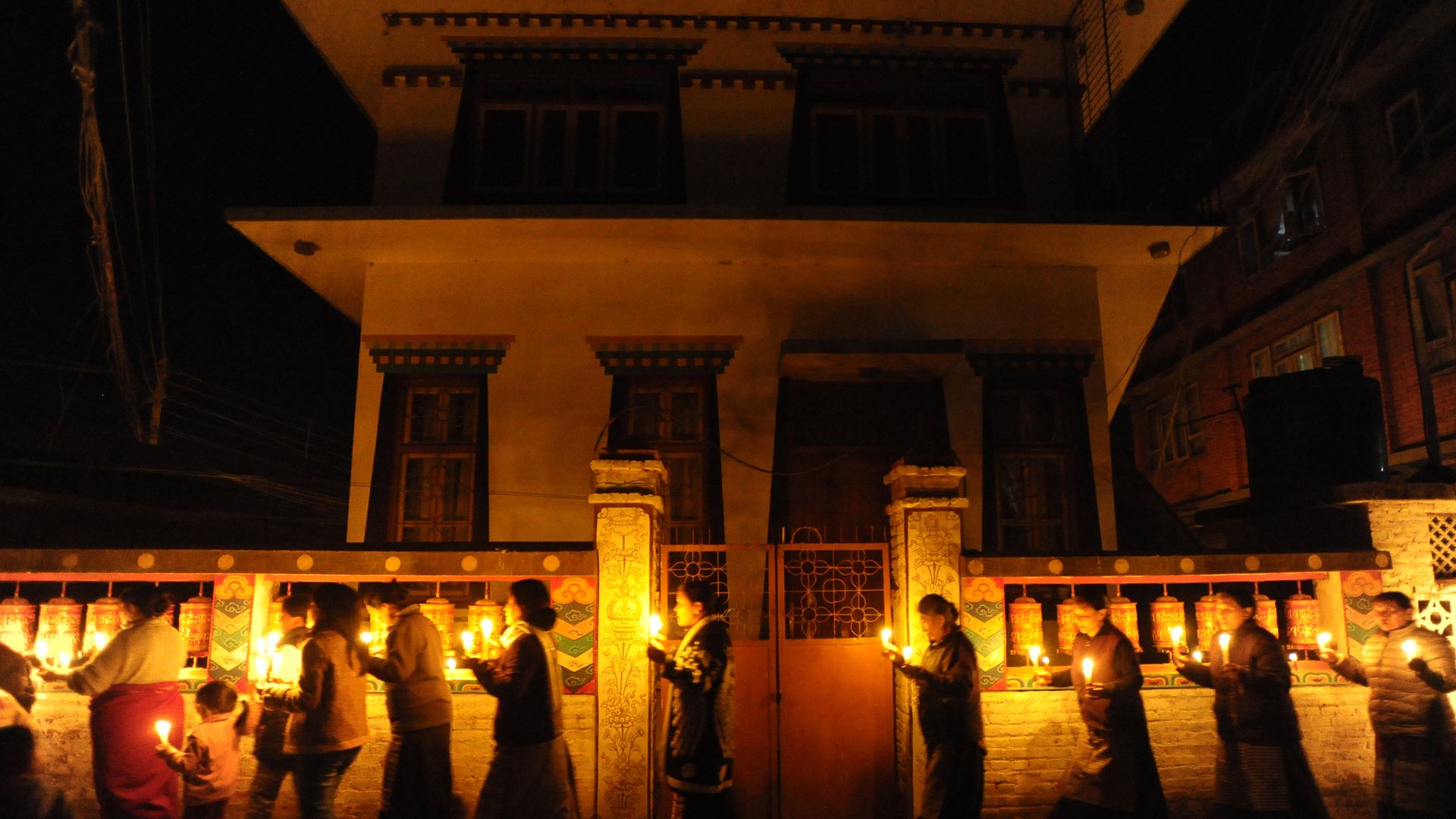 As President Xi Jinping takes Chinese influence to every corner of the world, there remain corners of his own country that his government struggles to control, Axios' Erica Pandey writes.
The big picture: The Chinese Communist Party has no tolerance for dissent from its ethnic minorities, and fears it could be damaged if word of human rights violations against them spreads outside China's borders.
The intrigue: Some U.S. lawmakers, including Republican Sen. Marco Rubio, are pushing the Trump administration to take a harder line on human rights violations.
"We should not be quiet on this in exchange for a better trade deal, and we should not be quiet on this in exchange for their cooperation on North Korea."
https://www.axios.com/newsletters/axios-am-e5ac420b-4ad7-4258-8b88-f14eb76facfe.html?chunk=3#story3
Bonus: Pic du jour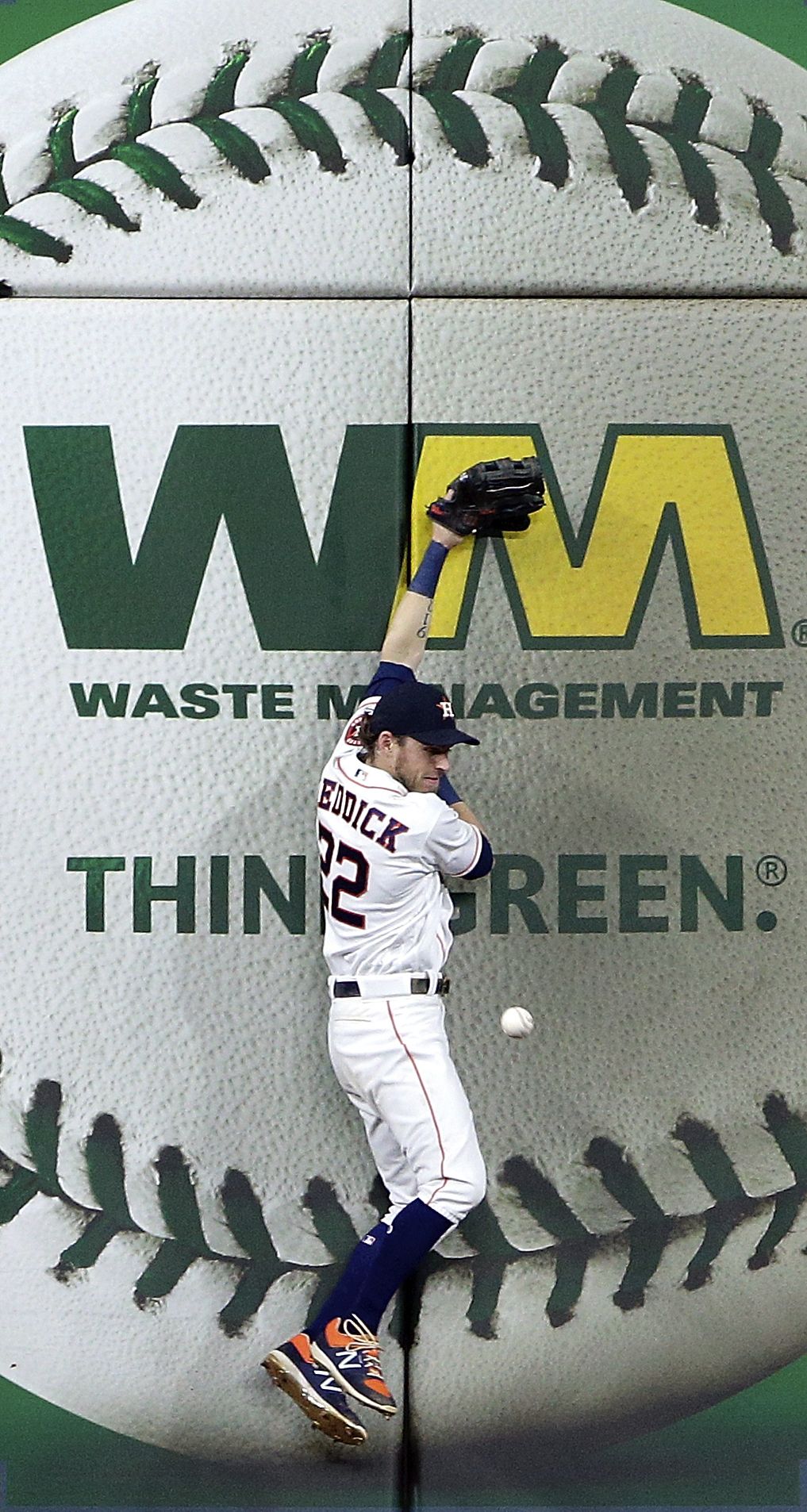 AP's Michael Wyke
Houston Astros left fielder Josh Reddick loses the ball as he hits the wall on a single by the Yankees' Neil Walker in Houston yesterday. Yanks won, 6-5.
https://www.axios.com/newsletters/axios-am-e5ac420b-4ad7-4258-8b88-f14eb76facfe.html?chunk=4#story4
4. Efforts to arm teachers stall
"In the two months after the Florida school shooting that left 17 dead, Republican legislators across the country introduced 25 measures to arm teachers and staff members in schools," the WashPost's Joe Heim reports:
"[J]ust one of those efforts [a school safety bill in Florida] has succeeded, and there are few indications the others will be enacted."
https://www.axios.com/newsletters/axios-am-e5ac420b-4ad7-4258-8b88-f14eb76facfe.html?chunk=5#story5
5. Tax cut fuels best earnings quarter since 2011
"The largest U.S. companies found a new formula for success in the first quarter: larger pretax profits and smaller tax bills—mostly compliments of the federal tax overhaul," the Wall Street Journal's Theo Francis and Richard Rubin report (subscription):
"More than half of the combined net-income growth reported by 200 large public companies for the first quarter stemmed from a decline in the companies' effective tax rates."
Why it matters: "The tax savings are helping to drive profits to new highs among companies in the S&P 500 index."
https://www.axios.com/newsletters/axios-am-e5ac420b-4ad7-4258-8b88-f14eb76facfe.html?chunk=6#story6
6. #MeToo gets a permanent infrastructure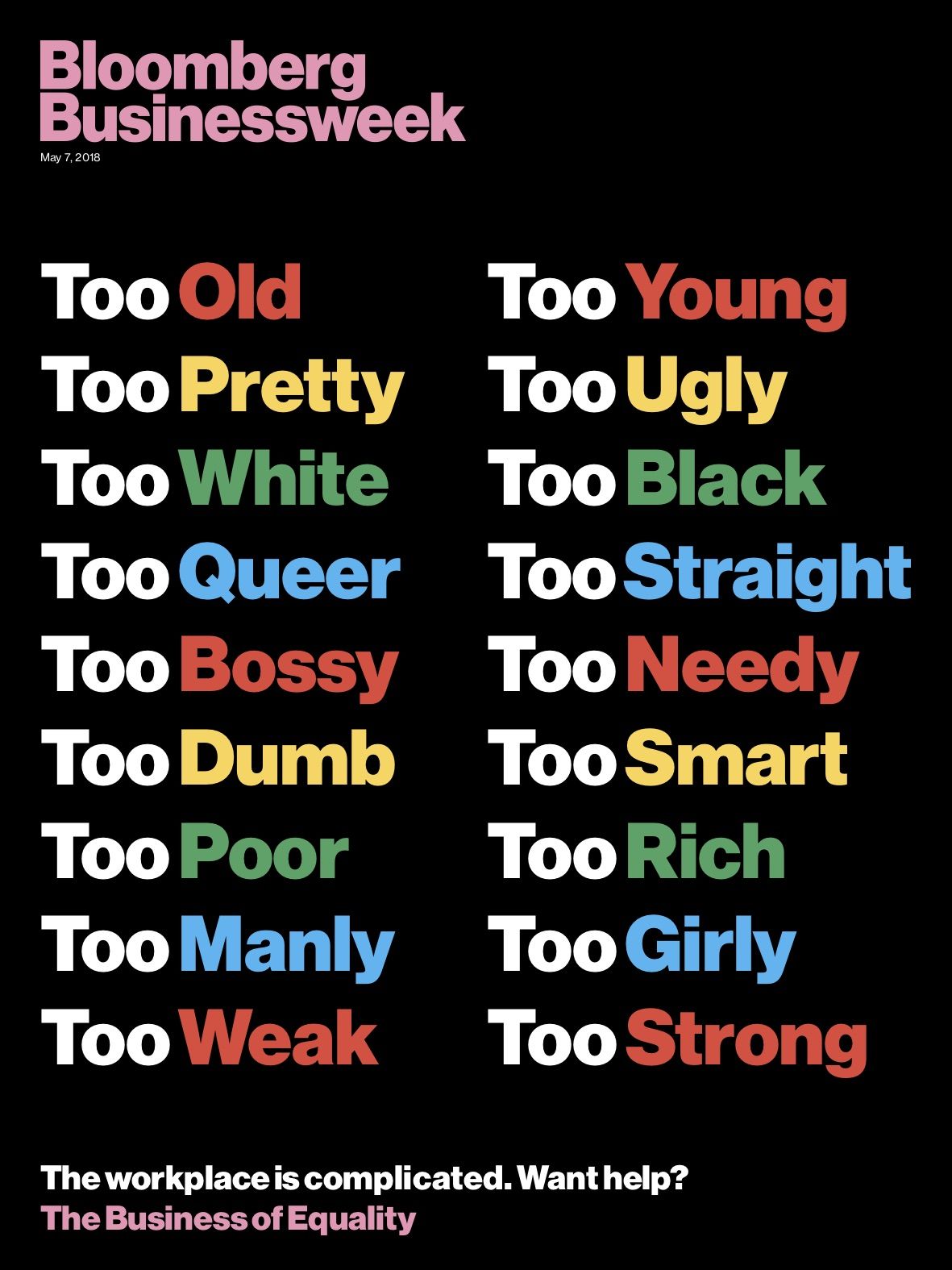 Courtesy Bloomberg Businessweek
"The #MeToo Lawyer Fighting for Women in the Workplace: Tina Tchen is building up the Time's Up Legal Defense Fund, which already has more than 2,000 potential clients," by Bloomberg Businessweek's Arianne Cohen:
Tchen, former chief of staff to First Lady Michelle Obama, "pitched the National Women's Law Center on the idea of administering a pool of money to help victims defray legal expenses. And that was that: The Time's Up Legal Defense Fund ... was born."
Why it matters: "With 600 lawyers signed up and $21.7 million raised, the TULDF has more than 2,000 potential clients so far seeking legal counsel and representation as well as PR advice."
Go deeper ... The new issue of Bloomberg Businessweek includes "how-tos" for navigating the workplace: file a complaint with the EEOC ... get paid what you deserve ... confront a colleague who offended you ... break an NDA.
https://www.axios.com/newsletters/axios-am-e5ac420b-4ad7-4258-8b88-f14eb76facfe.html?chunk=7#story7
7. Prison violence rises as budgets slashed
"Saving money may come at a deadly cost .... Bloodied bodies stacked in a prison yard — What happens when states slash prison spending," by USA Today's Steve Reilly:
"Across the country, states slashed prison spending by more than $200 million between 2010 and 2015. Meanwhile, violence appears to be on the rise, according to a USA TODAY review of public records, lawsuits, academic studies and news reports."
"Slayings reported inside prisons almost doubled over a decade, from about four homicides per 100,000 to about seven in 2014."
Why it matters: "[S]tate records and news media accounts show there were at least nine prison riots nationwide in 2017 — matching levels last seen in the 1980s."
https://www.axios.com/newsletters/axios-am-e5ac420b-4ad7-4258-8b88-f14eb76facfe.html?chunk=8#story8
8. Today's leaders don't fear Armageddon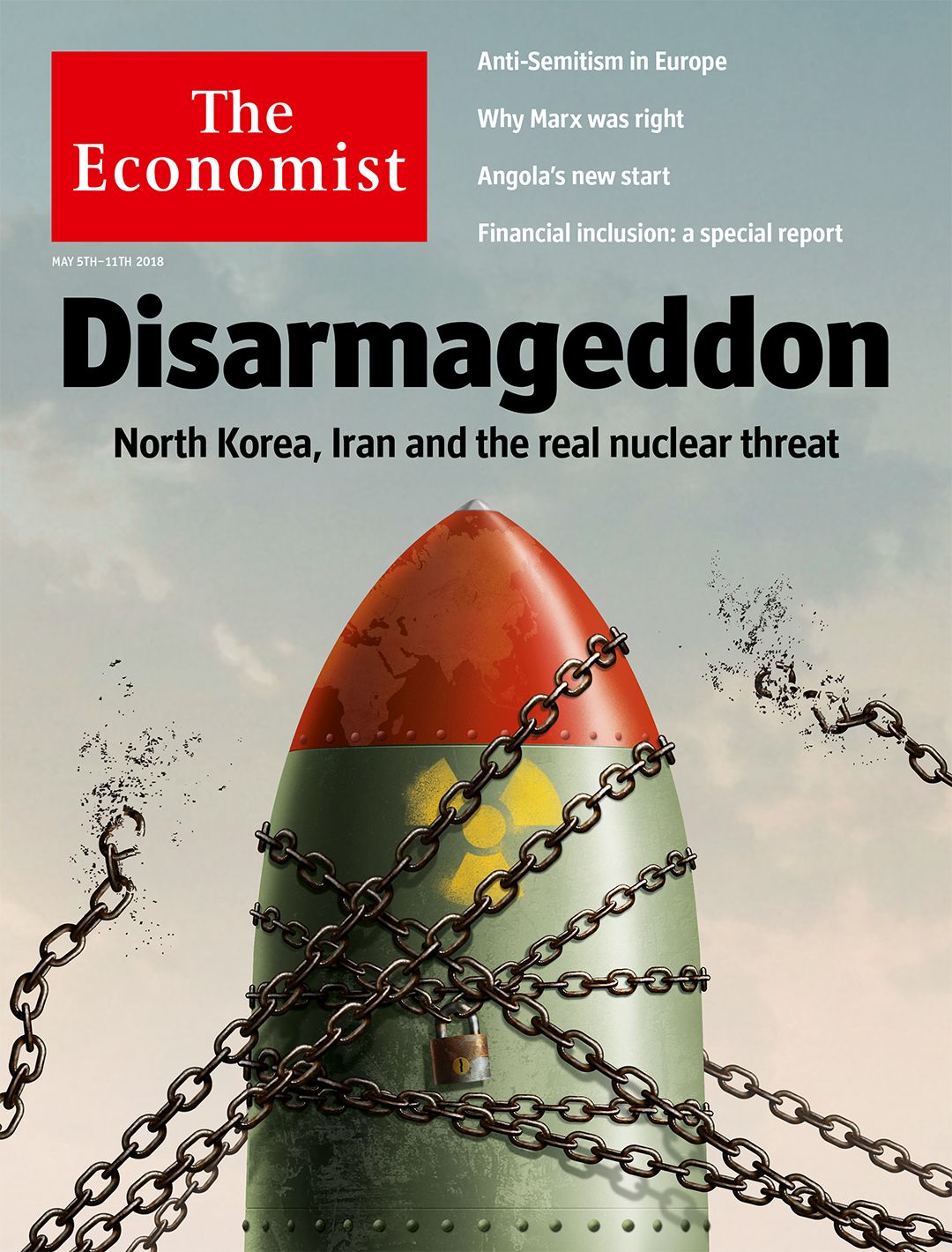 Courtesy The Economist
"Despite North Korea, arms control is unravelling ... Complacent, reckless leaders have forgotten how valuable it is to restrain nuclear weapons," per The Economist's cover editorial:
The background: "In the cold war a generation of statesmen, chastened by conflict and the near-catastrophe of the Cuban missile crisis, used arms control to lessen the risk of annihilation."
What's new: "Their successors, susceptible to hubris and faced with new tensions and new technology, are increasing the chances that nuclear weapons will spread and that someone, somewhere will miscalculate."
Why it matters: "A complacent world is playing with Armageddon."
https://www.axios.com/newsletters/axios-am-e5ac420b-4ad7-4258-8b88-f14eb76facfe.html?chunk=9#story9
9. Summer gas prices will be highest in 4 years
Geopolitical trends will drive the usual summer price increases even higher, Axios' Amy Harder writes. The causes:
A decrease in the global supply of oil, led by ongoing cuts by OPEC, is driving up global oil prices.
Environmental regulations require refineries to switch to a cleaner, more expensive type of gasoline every summer compared to winter.
Increased demand overall for gasoline and oil, driven by an improving global economy.
https://www.axios.com/newsletters/axios-am-e5ac420b-4ad7-4258-8b88-f14eb76facfe.html?chunk=10#story10
10. 1 future thing: LaGuardia security robot gives women the creeps
"The Port Authority is paying thousands of dollars every month renting a security robot to patrol LaGuardia Airport — but the bot is creeping out women while the crooks look on and laugh," the N.Y. Post reports:
One female security guard said she fended it off with a luggage cart: "It's a pain in the ass. It keeps bothering people."
"The airport deployed the R2-D2-esque Knightscope K5 three months ago to roll around outside Terminal B, recording everything with its four cameras, microphones and sensors."
"Human guards at the airport say it's supposed to thwart the scammers and illegal cabdrivers who plague the parking lot."
But a high-level security specialist at the airport said: 'They just laugh at it. They walk around the bot."