https://www.axios.com/newsletters/axios-am-e2cc4de9-5112-4833-8ddb-dbeda825cf8d.html?chunk=0#story0
1 big thing: Finally paying a price
Someday, that'll catch up to you, young man.
Until now, Trump and his team have been able to lob claims with impunity or even to advantage — distracting the opposition and media, or adding to the rogue image that enthralls his voters.
But Trump's unwillingness to back off his wiretapping tweet (two weeks ago today!) is exacerbating differences with allies abroad and exasperating allies on the Hill, while heightening the risk of embarrassment when investigations are complete.
The tipping point may be the White House suggestion that British spies were involved in surveilling Trump Tower — with the White House citing a Fox News commentary when even Fox says, via Shep Smith:
"Fox News knows of no evidence of any kind that the now-president of the United States was surveilled at any time, any way. Full stop." (Video)
The lead of today's N.Y. Times says British officials are "livid."
Sean Spicer told reporters during a brief gaggle in the East Room: "I don't think we regret anything. We literally listed a litany of media reports that are in the public domain."
BREAKING ... Trump tweets from Mar-a-Lago this morning:
"Despite what you have heard from the FAKE NEWS, I had a GREAT meeting with German Chancellor Angela Merkel. Nevertheless, Germany owes..... ...vast sums of money to NATO & the United States must be paid more for the powerful, and very expensive, defense it provides to Germany!"
https://www.axios.com/newsletters/axios-am-e2cc4de9-5112-4833-8ddb-dbeda825cf8d.html?chunk=1#story1
2. Bite of the day
Donna Brazile on TIME.com, re passing potential CNN town-hall topics to the Clinton campaign: "[S]ending those emails was a mistake I will forever regret."
https://www.axios.com/newsletters/axios-am-e2cc4de9-5112-4833-8ddb-dbeda825cf8d.html?chunk=2#story2
3. Must-read window into Valley culture
Cover of tomorrow's N.Y. Times Business section, "Stepping In at Uber ... In Silicon Valley, a Voice of Caution Scolds a High-Flying Uber: The venture capitalist Bill Gurley is a rare figure in Silicon Valley, vocally chiding some of the biggest start-up stars to show some discipline," by Katie Benner:
"Gurley, 50, didn't respond to requests for comment on Uber. In one of three interviews last year, he said of his warnings for start-ups that ... 'the longer bad behavior goes on, the worse things end up.'"
"Hurley ... cuts a distinctive figure in Silicon Valley in no small part because of his lanky 6-foot-9 frame."
"For more than 20 years, Mr. Gurley has maintained a personal blog, called Above the Crowd, a reference to both his height and his point of view."
"Since 2014, the blog has tended to contain more cautionary notes about start-up behavior. In one post in 2015, as investors were pouring money into what became known as 'unicorn' companies — venture-backed companies valued at more than $1 billion — Mr. Gurley wrote, 'We are in a risk bubble.'"
"Last year, he wrote that there would be 'inevitable failed unicorns.'"
"Among Mr. Gurley's main concerns are Silicon Valley's growing self-importance, which he has said is expertly captured in [HBO's ] 'Silicon Valley' ... 'The Valley reeks of entitlement,' he said in an interview last year. 'It's bad for the industry.'"
https://www.axios.com/newsletters/axios-am-e2cc4de9-5112-4833-8ddb-dbeda825cf8d.html?chunk=3#story3
4. The talk of tech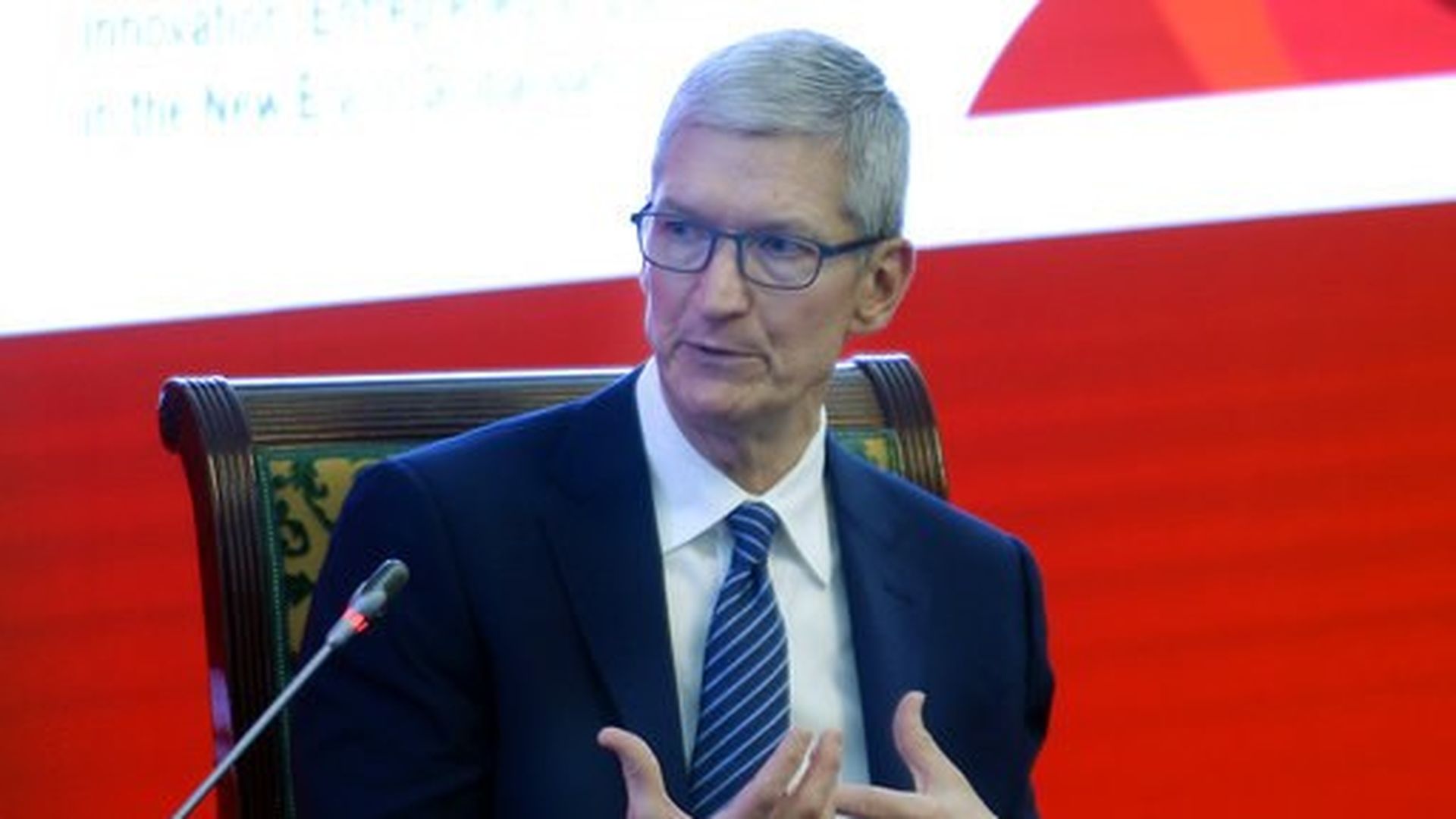 Apple CEO Tim Cook sounds like the anti-Trump in a rare public speech in Beijing today. Per WSJ's Eva Dou, Cook said globalization "in general is great for the world." He acknowledged gains aren't evenly distributed within countries, but cautioned against countries retreating from globalization as a response:
"I think the worst thing would be to — because it didn't help everyone — is to say it's bad and do less of that ... I think the reality is you can see that countries in the world … that isolate themselves, it's not good for their people."
The Guardian's Olivia Solon in S.F. ... "Has the tech bubble peaked? Signs that the startup boom may be fizzling: Startups are beginning to run out of money":
"A stream of 'down rounds' – when a company raises funds by selling shares that are valued lower than the last time they raised funds, leading its overall valuation to fall – has led investors to be more discerning. CB Insights has tracked more than 100 of these down rounds and exits since 2015, including software company Zenefits, mobile app Foursquare and online music streaming service Rdio. 'It used to be that 95% of [investment] rounds were up, now 20% are down.'"
"Then there are the so-called 'decacorns' – unicorn startups valued at tens of billions of dollars – such as Airbnb, Uber and Palantir – which some believe are overvalued, but it's hard to tell until they go public and are forced to reveal details of their underlying finances."
"Evan Spiegel has lost $2 billion since Snapchat's post-I.P.O. peak: Snap stock falls, Spiegel's massive fortune is slowly evaporating." (Vanity Fair Hive's Maya Kosoff)
https://www.axios.com/newsletters/axios-am-e2cc4de9-5112-4833-8ddb-dbeda825cf8d.html?chunk=4#story4
5. The "Silent Secretary" speaks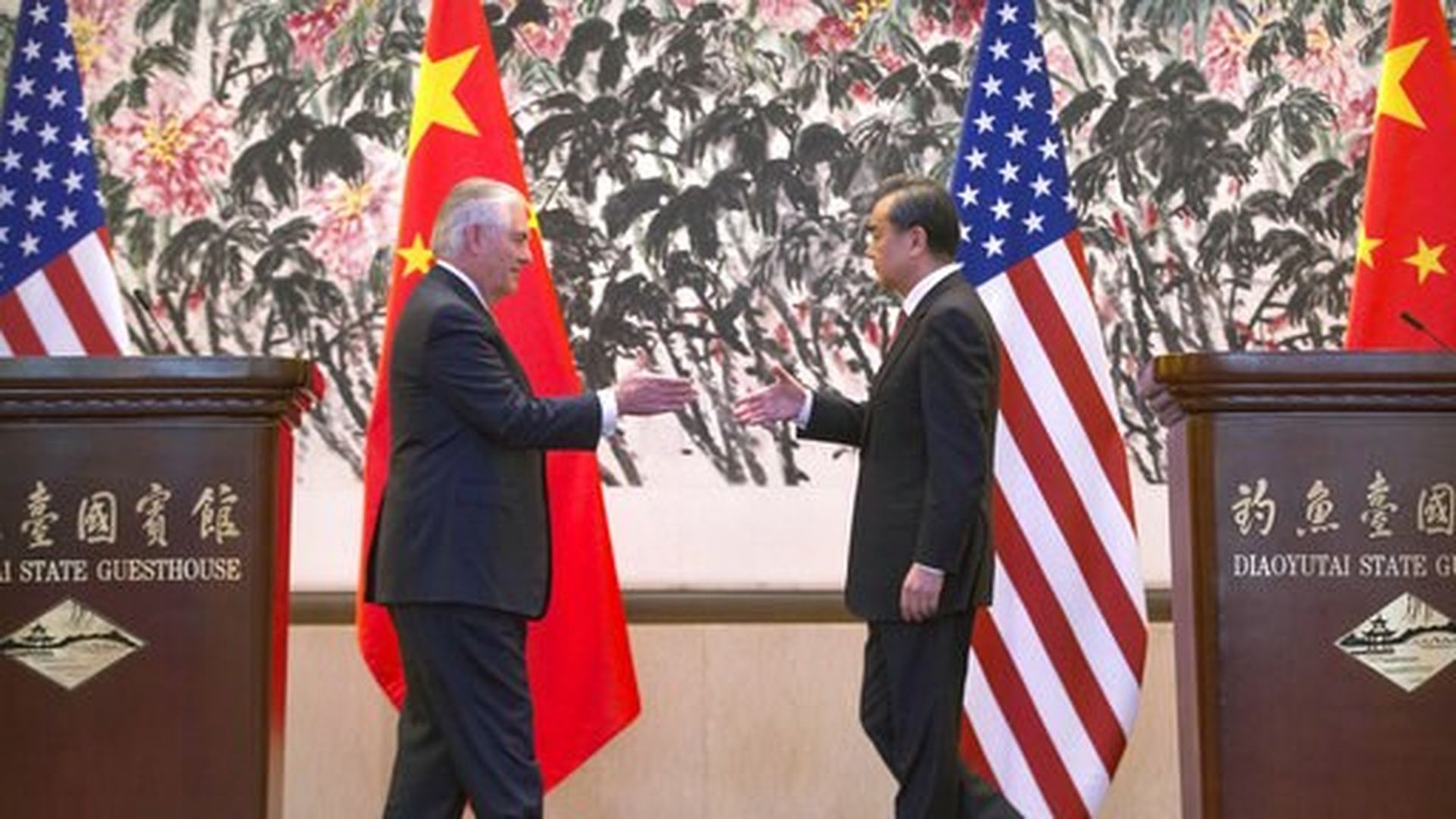 SecState Rex Tillerson, en route to Beijing — in an interview with IJR's Erin McPike, the sole reporter board his plane for his Asia swing — re Trump's tweet yesterday morning that "North Korea is behaving very badly. They have been 'playing' the United States for years. China has done little to help!"
"I did not know that he was going to tweet anything out, but the message that he sent out is very consistent with the message that I've been delivering so far in Tokyo and in Seoul. And I don't think it will come as any surprise to the Chinese government that we do not view that they have ever fully used all of the influence available to them to cause the North Korean regime to rethink its pursuit of these weapons, and that's some of what I'll be talking with the Chinese government about."
Justin Green has les highlights.
https://www.axios.com/newsletters/axios-am-e2cc4de9-5112-4833-8ddb-dbeda825cf8d.html?chunk=5#story5
6. Trump's chilly Merkel meeting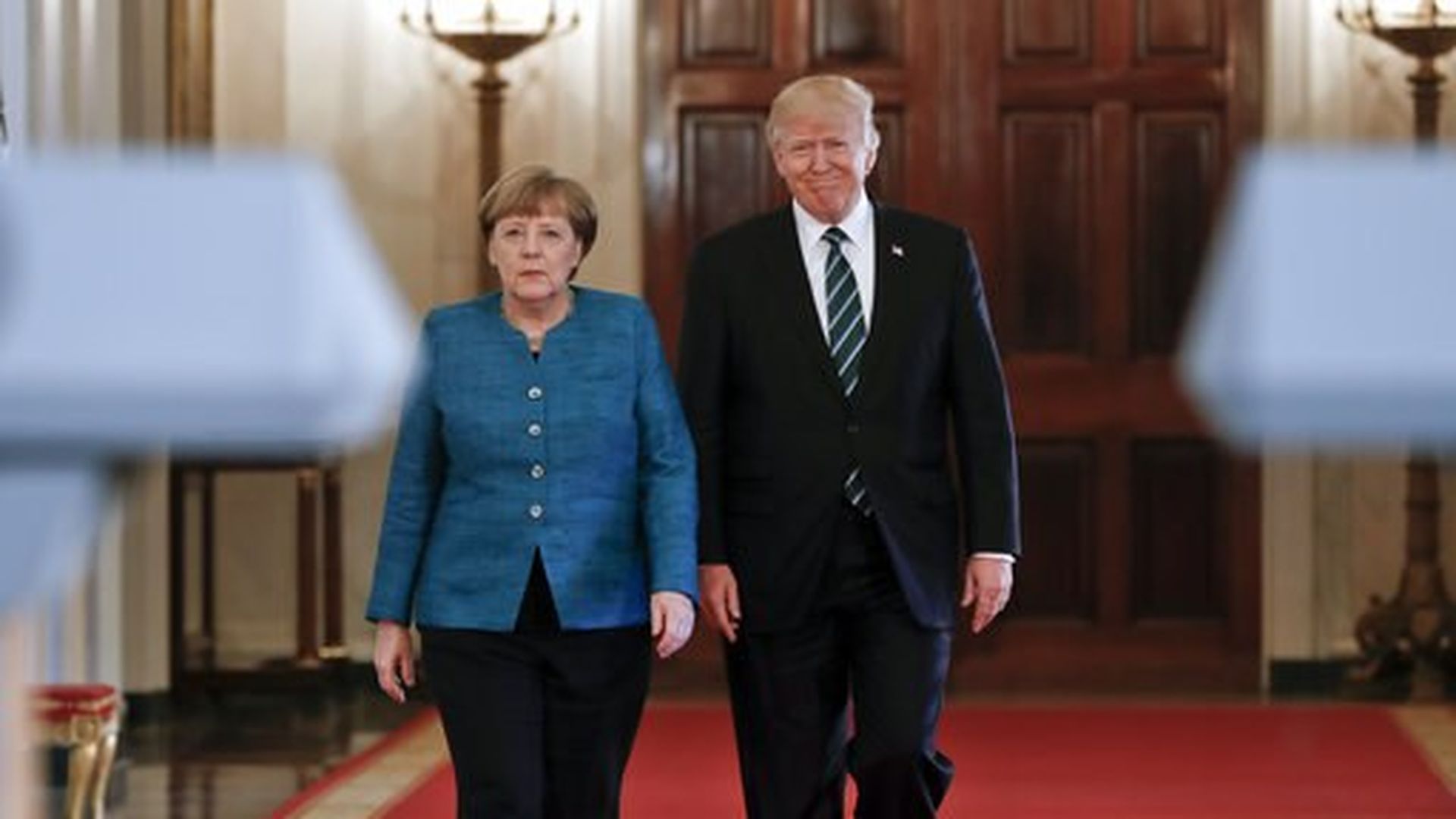 President Trump pushed German Chancellor Angela Merkel very hard on NATO during their closed-doors meeting, Axios' Jonathan Swan reports:
"Trump said Germany has accumulated an immense lack of investment over many years, according to one of our sources, telling Merkel the U.S. feels taken advantage of for spending so much on defense while its allies have benefited without their own degrees of contribution."
Daily Beast's Eleanor Clift: "Trump appeared impatient and restless as he stood at the podium, and took offense at the questions posed by German reporters."
"'Nice friendly reporter,' Trump quipped to laughter from the friend and family section to his left, where Vice President Pence sat with Reince Priebus ... Steve Bannon, Jared Kushner and Ivanka Trump."
"The Axis Of Awkward: When Merkel Met Trump," by NPR chief international editor William Dobson: "Merkel is pragmatic, a committed internationalist and the unquestioned champion of the EU. ... [W]hether these polar opposites can collaborate may be the single biggest factor in determining the future of the trans-Atlantic partnership."
UNLESS she loses reelection Sept. 24, as some in the White House expect.
https://www.axios.com/newsletters/axios-am-e2cc4de9-5112-4833-8ddb-dbeda825cf8d.html?chunk=6#story6
7. Behind the scenes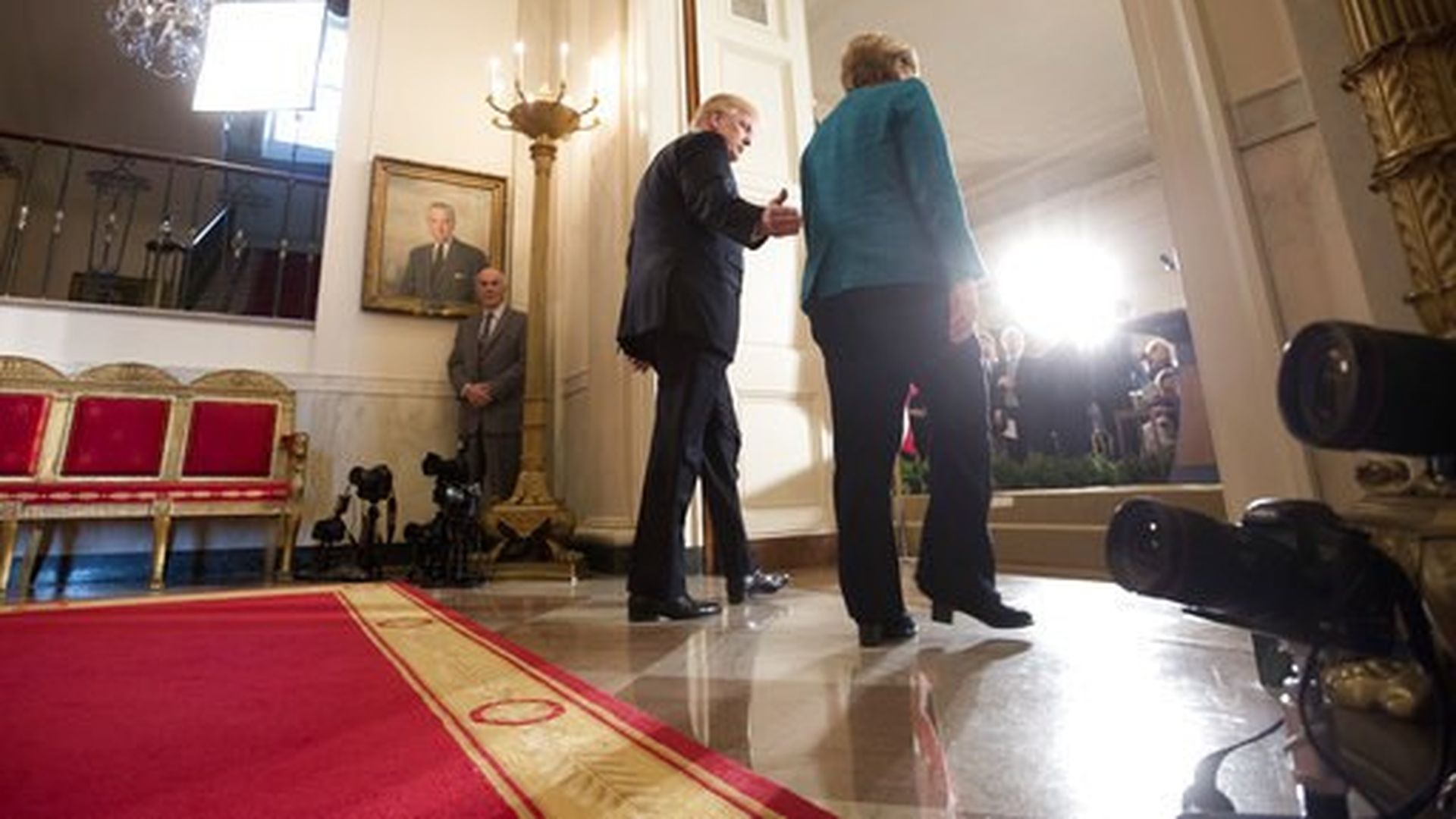 Entering from the Cross Hall, how the East Room looks to the President ...
Jamie Rubin, assistant secretary of State under Bill Clinton, burns for Politico Mag: "The Leader of the Free World Meets Donald Trump."
https://www.axios.com/newsletters/axios-am-e2cc4de9-5112-4833-8ddb-dbeda825cf8d.html?chunk=7#story7
8. Hill zeitgeist
Shot ... N.Y. Times Quote of the Day — Rep. Charlie Dent, a moderate Republican from Pennsylvania, on sentiment that the legislation to repeal and replace the Affordable Care Act is headed for defeat in the Senate: "If I hear one more senator tell me that this bill is dead on arrival, I think my head is going to explode."
Chaser ... Speaker Ryan to Rich Lowry yesterday at National Review Institute's Ideas Summit: "The president has been a great closer on this."
WSJ front page, "Key Bloc of Conservative Lawmakers Endorse GOP Health Plan": "The president said that his administration had worked overnight to persuade figures such as Rep. Mark Walker (R., N.C.), who leads the 170-member [Republican Study Committee], to back the House bill after agreeing to ... more stringent curbs on funding for Medicaid, as well as work requirements for its low-income beneficiaries."
Speaker's office tells reporters: "The framework remains intact. Discussions with members of the conference continue about other potential small modifications as the legislative process continues."
https://www.axios.com/newsletters/axios-am-e2cc4de9-5112-4833-8ddb-dbeda825cf8d.html?chunk=8#story8
9. What Wall Street is reading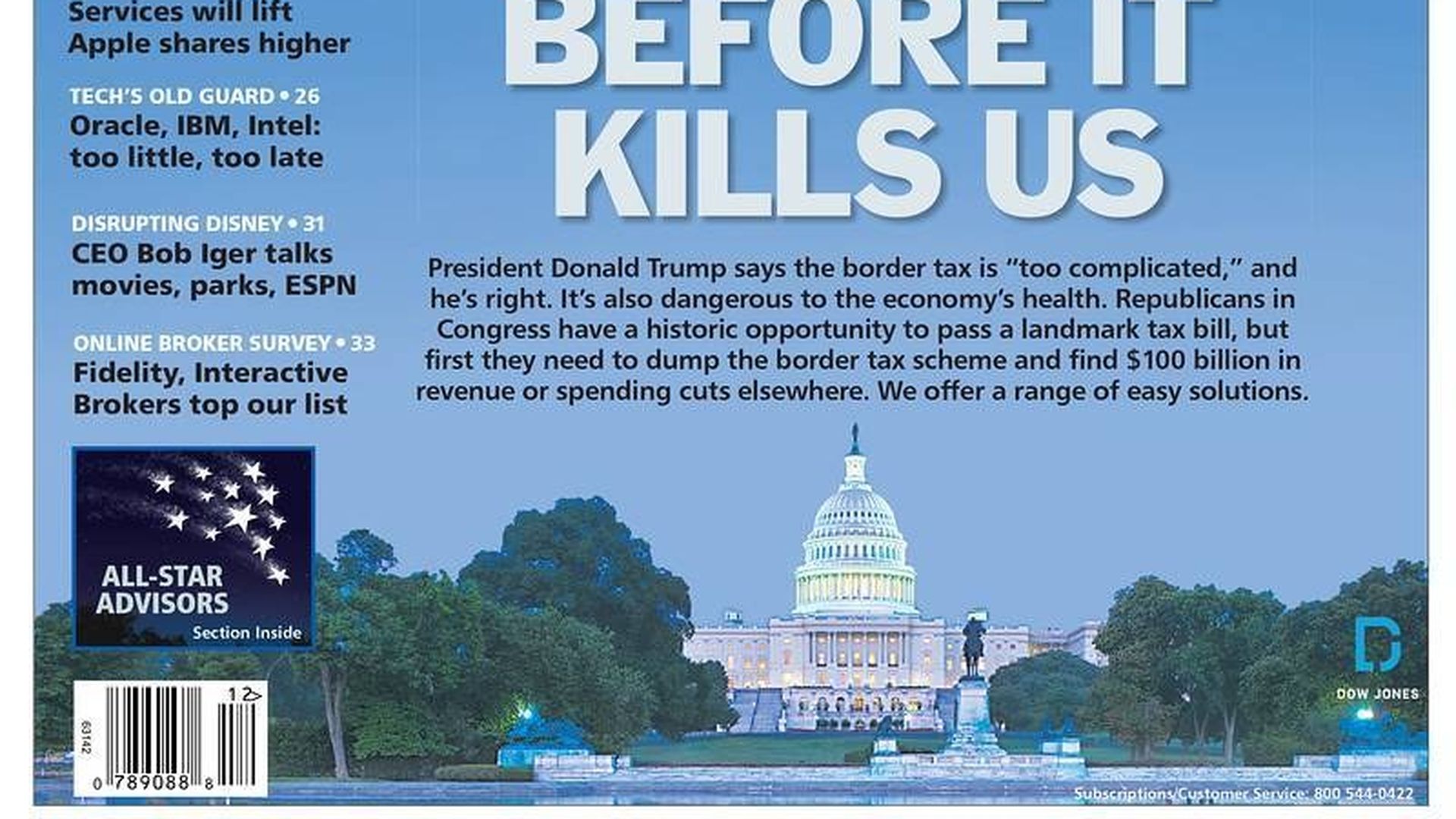 https://www.axios.com/newsletters/axios-am-e2cc4de9-5112-4833-8ddb-dbeda825cf8d.html?chunk=9#story9
10. 1 fun thing: 3 new Monopoly pieces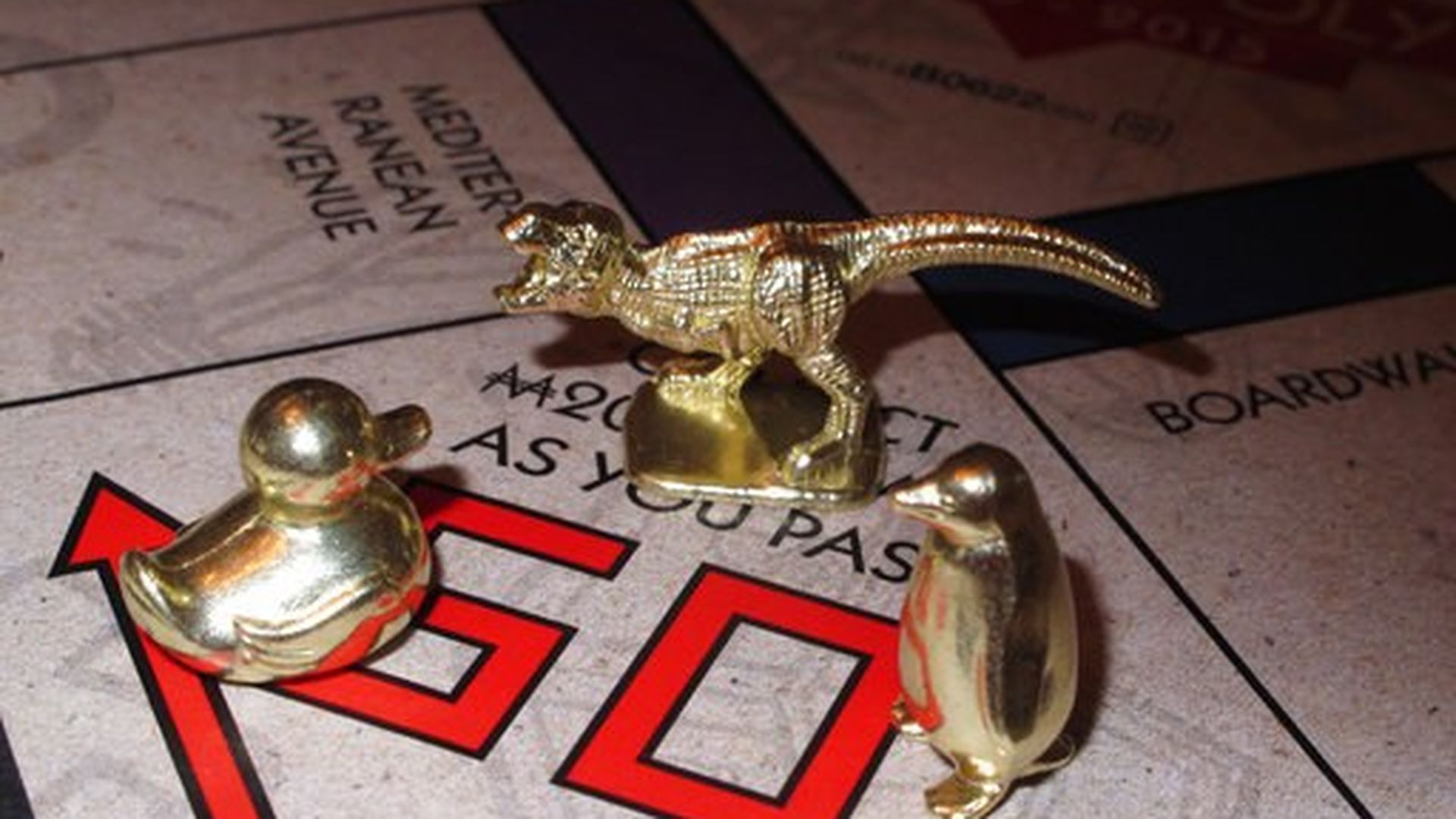 "Boot, wheelbarrow, thimble ousted from Monopoly," by AP's Wayne Parry in Atlantic City: "In their place [in new editions on sale this fall] will be a Tyrannosaurus rex, a penguin and a rubber ducky. More than 4.3 million voters from 146 countries weighed in on which tokens they wanted to see in future versions."
"There were 64 contenders, including a winking emoji, a hashtag, a clunky '80s-style cellphone and a pair of bunny slippers."
"The existing Scottish Terrier, battleship, racecar, top hat and cat tokens will carry on."
"The original 10 tokens [in 1935] were an iron, purse, lantern, racecar, thimble, shoe, top hat, battleship, cannon and a rocking horse."