Good Saturday morning. Today is Day 366 of the Trump era — the one-year anniversary of President Trump's inauguration. It's worth pausing to remember where you were, and what you thought the months ahead would bring. Nailed it?!
https://www.axios.com/newsletters/axios-am-e2b81b96-3e94-47eb-aba8-d5c6ae94f99a.html?chunk=0#story0
1 big thing: Government shuts while Senate talks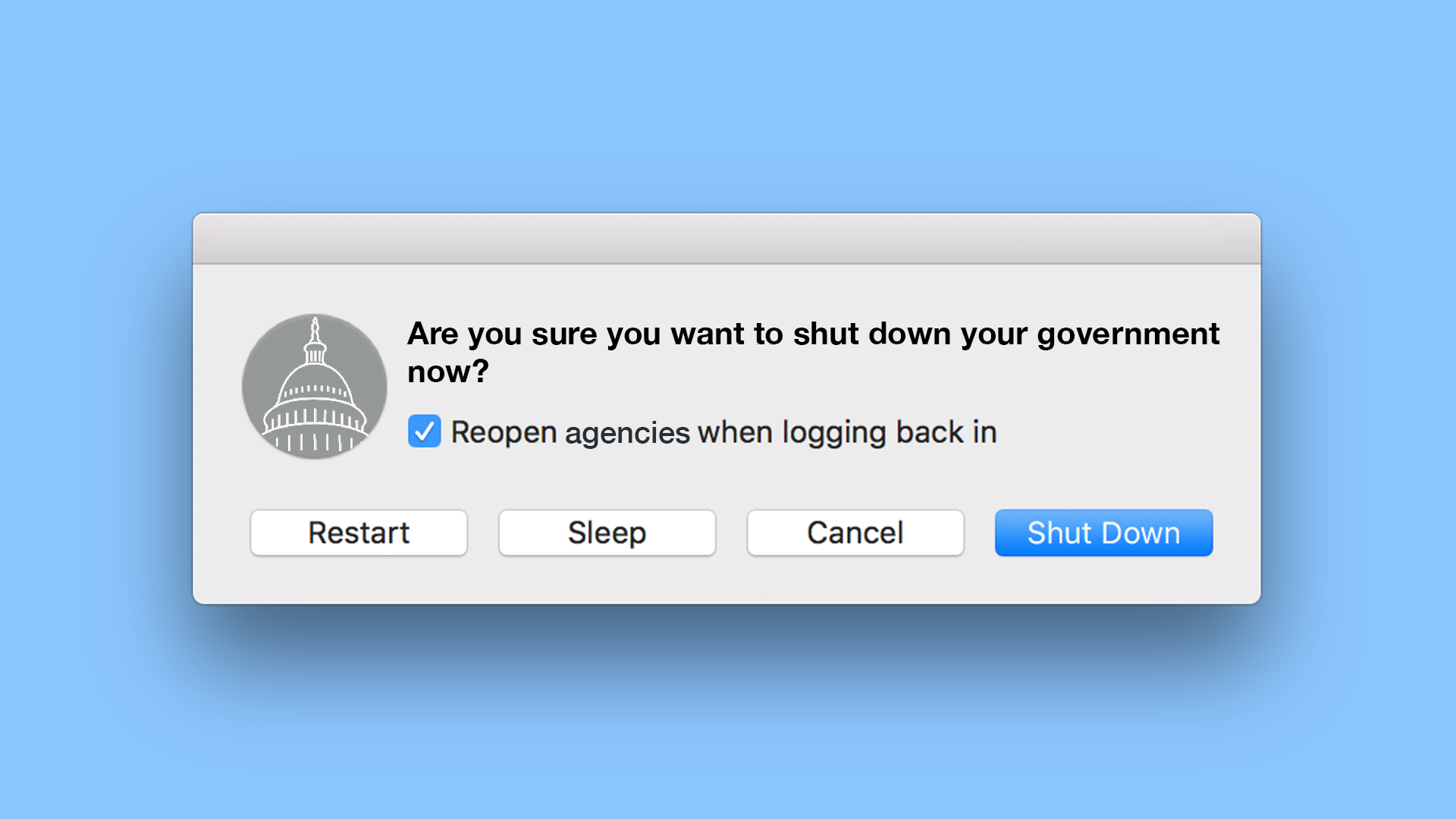 Today is President Trump's first anniversary in office, but his planned celebration is clouded by the first government shutdown since 2013 — and the first modern shutdown with one party controlling the White House and Congress:
Senators huddled in big bunches on the floor at midnight, their last-second negotiations shown live on cable news. But then the cable clocks switched from counting down to the shutdown to counting up the length it has lasted.
The House was standing by in case a 1 a.m. vote was needed. One member told me at 8 a.m.: "Everybody's grumpy, their families want to kill them, and nobody knows anything."
Speaking on the Senate floor at 12:17 a.m., Senate Majority Leader Mitch McConnell called the shutdown "100% avoidable," blaming Democrats for "shoehorning" immigration in the negotiations.
McConnell's key quote: "Almost everybody on both sides doesn't understand how we ended up here. Because most of this stuff, we agree on."
Senate Democratic Leader Chuck Schumer, following him at 12:23 a.m.: "What happened to the President Trump who asked us to come up with a deal, and promised that he'd take heat for it? ... He backed off at the first sign of pressure."
Many experienced Republican operatives believe the party will be clobbered in public opinion, since the GOP controls the whole government.
A source close to Republican leadership gives me the argument that Democrats will pay the greater political price: "Furloughing, not paying troops, pulling children's health insurance all over illegal immigration is untenable to say the least. In the states that matter in 2018 it's a kiss of death."
Our prediction: Regardless of whether Rs or Ds ultimately get blamed more, a shutdown is bad for incumbents, both parties. So top sources in both parties expect the shutdown will be short — solved over the weekend or early next week.
P.S. "Massive confusion spreads through federal bureaucracy ahead of shutdown deadline," per WashPost: The White House is determined to keep the government as functional as possible, but the vast workforce typically scales back when its congressional appropriations expire.
White House budget director Mick Mulvaney, at a pre-shutdown briefing: "Parks will be open this time, and they weren't before ... but things like the trash won't get picked up.  Fannie and Freddie will be open. The Post Office will be open. The TSA will be open." (Full text)
https://www.axios.com/newsletters/axios-am-e2b81b96-3e94-47eb-aba8-d5c6ae94f99a.html?chunk=1#story1
2. Younger Rs want Trump alternative
One year since President Trump's inauguration, a majority of Republicans under age 45 want an alternative in 2020, according to an Axios/SurveyMonkey poll: Most Republicans under 25 want the president to face a primary challenge.
https://www.axios.com/newsletters/axios-am-e2b81b96-3e94-47eb-aba8-d5c6ae94f99a.html?chunk=2#story2
3. Facebook to rank news quality
Facebook CEO Mark Zuckerberg announced that the tech giant will begin to prioritize news that is "trustworthy, informative, and local" from "trusted sources" in its News Feed beginning next week, Axios' Sara Fischer writes:
Facebook will do this by using data from user surveys about which news sources they find trustworthy to inform their News Feed algorithm.
Why it matters: It's a major step Facebook is taking to weed out bad content and misinformation.
The move is part of a larger mission-driven overhaul of the News Feed to ensure that "meaningful interactions" will replace "passive scrolling."
Key stat: Facebook says the News Feed changes announced last week will reduce news content by 1%, from 5% roughly today to 4%.
P.S. "Twitter ... said it identified 1,062 more accounts tied to a Russian government-backed propaganda outfit, [bringing the total to] 3,814." (Wall Street Journal; subscription)
https://www.axios.com/newsletters/axios-am-e2b81b96-3e94-47eb-aba8-d5c6ae94f99a.html?chunk=3#story3
Bonus: Pic du jour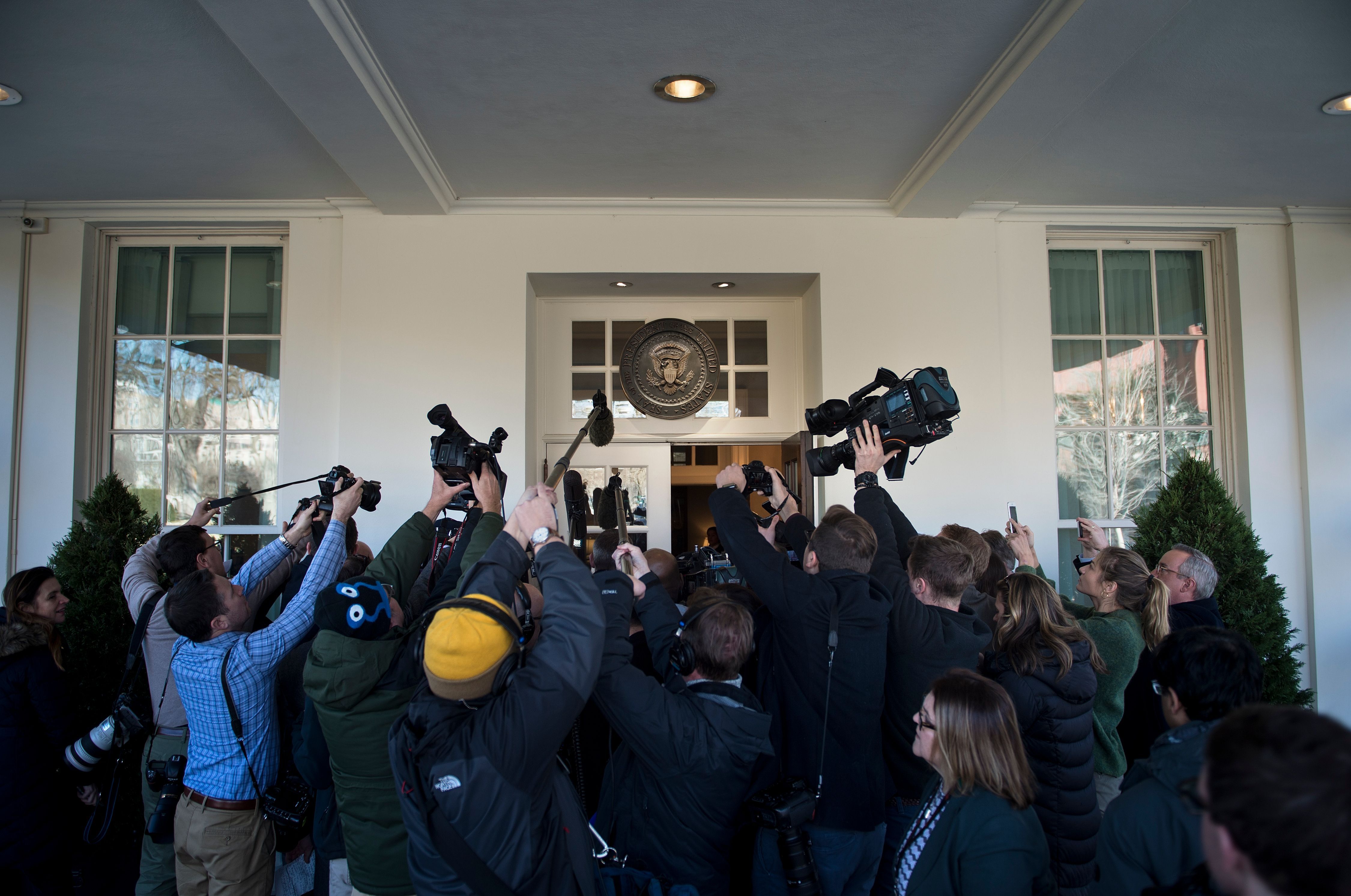 Members of the press follow counselor Kellyanne Conway as she talks shutdown, outside the West Wing. (Brendan Smialowski/AFP/Getty Images)
https://www.axios.com/newsletters/axios-am-e2b81b96-3e94-47eb-aba8-d5c6ae94f99a.html?chunk=4#story4
4. Data du jour: Trump Year 1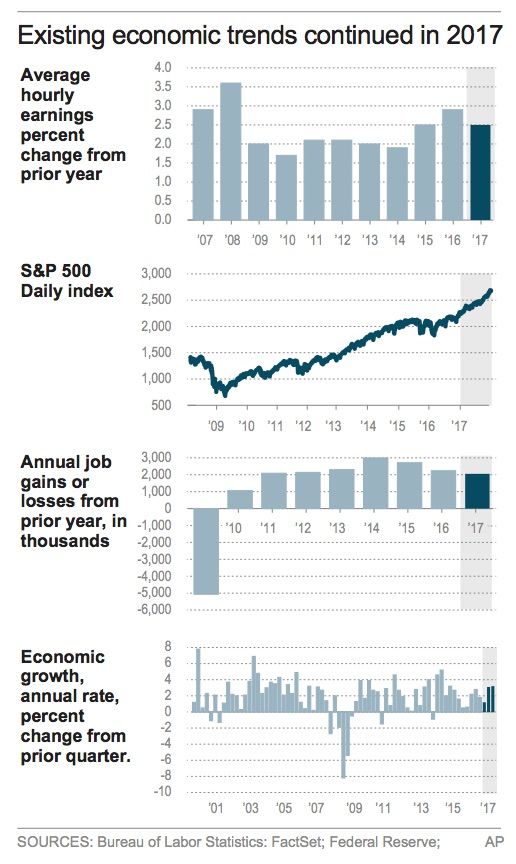 https://www.axios.com/newsletters/axios-am-e2b81b96-3e94-47eb-aba8-d5c6ae94f99a.html?chunk=5#story5
5. Back-to-back marches energize activists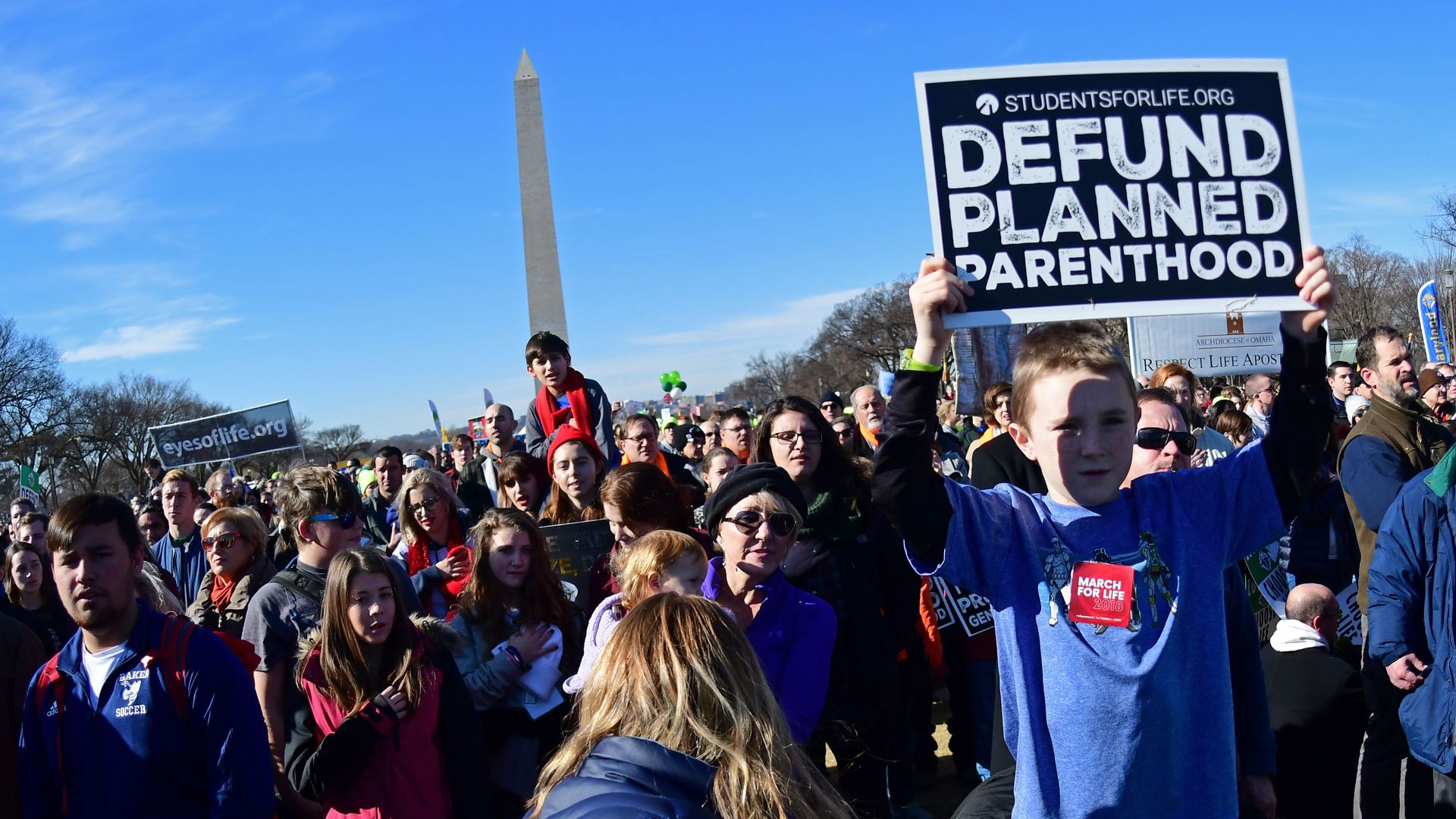 "President Trump became the first sitting U.S. president to directly address the March for Life anti-abortion rally in Washington. He spoke live via satellite from the White House Rose Garden" to the crowd on the National Mall, per USA Today:
"Previous presidents [including] Ronald Reagan and George W. Bush addressed the march via phone call or recorded message."
"[T]he annual rally ... marks the 45th anniversary Monday of the Supreme Court's Roe. v. Wade decision."
Why it matters: "Trump's speech to marchers gave the protest added visibility, rededicating himself to a conservative base that he sees as the key to his election victory in 2016."
Happening this weekend ... "Women will march again with aim to become a political force," per AP:
"Activists are returning to the streets a year after a million people rallied worldwide at marches for female empowerment, hoping to create an enduring political movement that will elect more women to government office."
"Hundreds of gatherings are planned Saturday and Sunday across the U.S. and in places such as Beijing, Buenos Aires, Argentina, and Nairobi, Kenya."
https://www.axios.com/newsletters/axios-am-e2b81b96-3e94-47eb-aba8-d5c6ae94f99a.html?chunk=6#story6
6. Huge talker on right: #ReleaseTheMemo
"GOP memo on surveillance 'abuse' targets dossier" — WashPost:
"A document described by House Republicans as a top-secret memo about [FISA] surveillance 'abuse' contains talking points focused on discrediting Fusion GPS, the firm that hired a British ex-spy to compile intelligence reports about alleged connections between President Trump's associates and the Kremlin."
"It suggests that the former spy, Christopher Steele, lied to FBI agents who interviewed him during their probe of the 2016 election and that this purported lie was included in a successful application for a federal court order to conduct electronic surveillance on Trump campaign adviser Carter Page."
"The document was produced by the House Intelligence Committee's GOP majority, which voted Thursday to make it available to the entire House membership, though not to the public."
"[T]he committee's ranking Democrat, Rep. Adam B. Schiff (D-Calif.), called the document 'profoundly misleading,' saying it was 'drafted by Republican staff attacking the FBI.'"
Why it matters: "Conservative Republicans are increasingly calling for the document's public release after first declaring it should remain classified. Several have taken to social media, conservative television and radio outlets, and even the House floor, to demand the public be able to see what they've read."
"The hashtag #ReleaseTheMemo trended shortly after [Rep. Mark Meadows (R-N.C.), the head of the House Freedom Caucus] and other House conservatives tweeted it."
https://www.axios.com/newsletters/axios-am-e2b81b96-3e94-47eb-aba8-d5c6ae94f99a.html?chunk=7#story7
7. Bite of the day
N.Y. Times Quote of the Day ... Jim Brulte, the California Republican leader, on daunting races the state's G.O.P. candidates face in the midterm election:
"Republicans lost every statewide race in California in 2002, 2010 and 2014, before Donald Trump even announced he was running for president. So anybody who wants to blame Donald Trump for the problems of the Republican Party, which began 20 years ago, is a revisionist historian."
https://www.axios.com/newsletters/axios-am-e2b81b96-3e94-47eb-aba8-d5c6ae94f99a.html?chunk=8#story8
8. Zucker may be in mix for ESPN
Jeff Zucker, president of CNN Worldwide, is one of the possibilities to replace ESPN president John Skipper, who abruptly resigned one month ago, according to CNN's Brian Stelter and Dylan Byers:
"Two of the [three] sources cautioned that there have not been any formal talks between Zucker and" Disney CEO Bob Iger.
Why it matters: "Zucker is a sports junkie and a live-television expert, and he knows how to manage on-air personalities — three key points for ESPN."
https://www.axios.com/newsletters/axios-am-e2b81b96-3e94-47eb-aba8-d5c6ae94f99a.html?chunk=9#story9
9. Turmoil at L.A. Times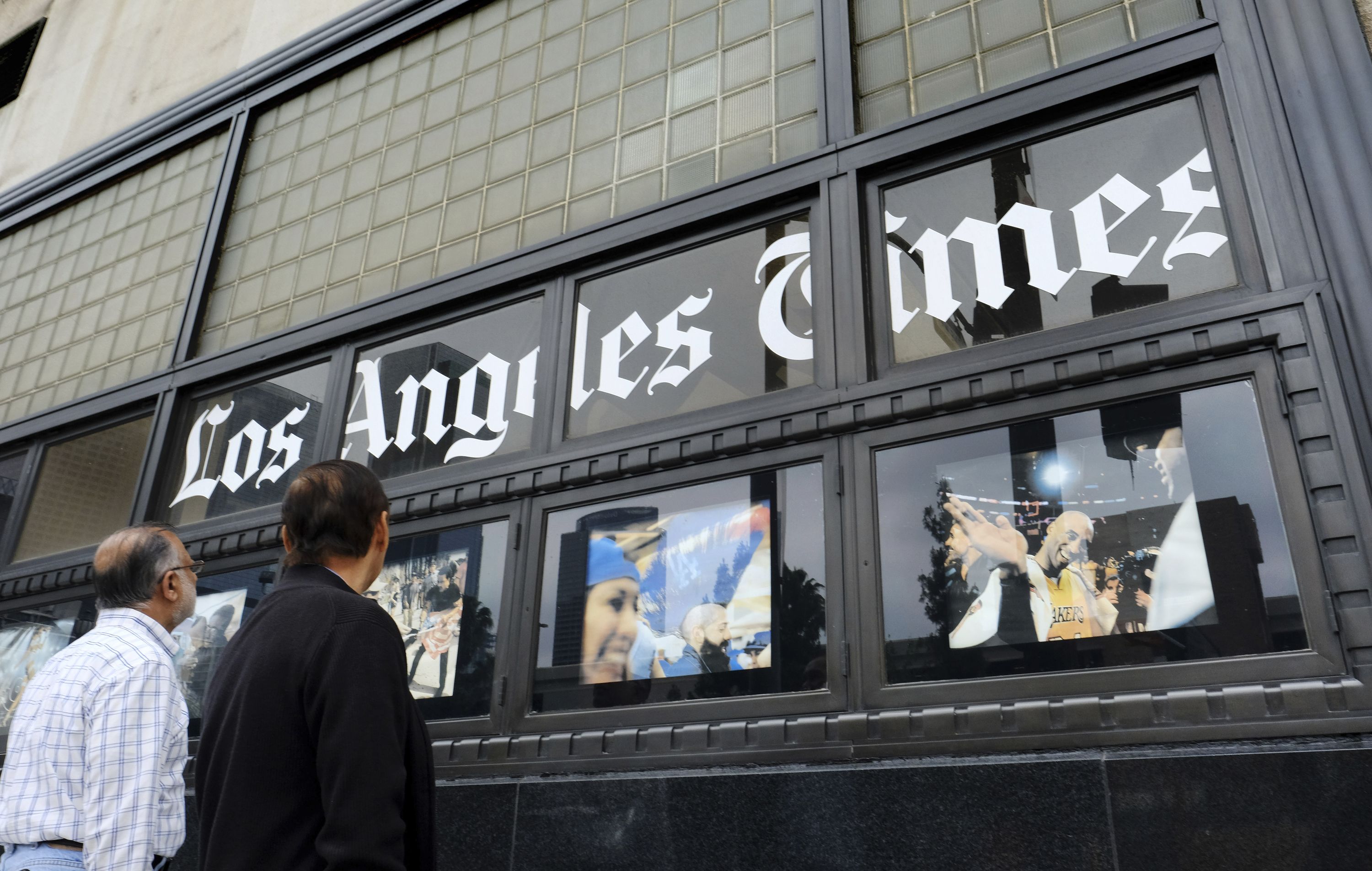 Passersby look at news photos posted outside the Los Angeles Times building in downtown Los Angeles in May. (AP's Richard Vogel)
"Los Angeles Times Publisher and Chief Executive Ross Levinsohn was placed on an unpaid leave of absence [yesterday] as the paper's parent company, Tronc, investigates allegations of inappropriate conduct while he was an executive at other companies," the L.A. Times' Meg James writes:
"Tronc said it has hired the law firm Sidley Austin LLP to review the allegations contained in a detailed report Thursday by ... [NPR] media correspondent David Folkenflik, [saying] that Levinsohn was a defendant in two sexual harassment lawsuits and that he allegedly engaged in 'frat-boy' behavior in work settings before joining The Times on Aug. 21."
"Levinsohn acknowledged that he had rated the relative 'hotness' of his female colleagues while he served as an executive at the search engine AltaVista in the early 2000s, according to court documents reviewed by NPR. He also said he speculated about whether a female subordinate had a side job as a stripper."
P.S. "Journalists at the Los Angeles Times ... overwhelmingly [248 to 44] elected to form a union, a first for the 136-year-old news organization that for much of its history was known for its opposition to organized labor." (L.A. Times)
https://www.axios.com/newsletters/axios-am-e2b81b96-3e94-47eb-aba8-d5c6ae94f99a.html?chunk=10#story10
10. 1 smoke thing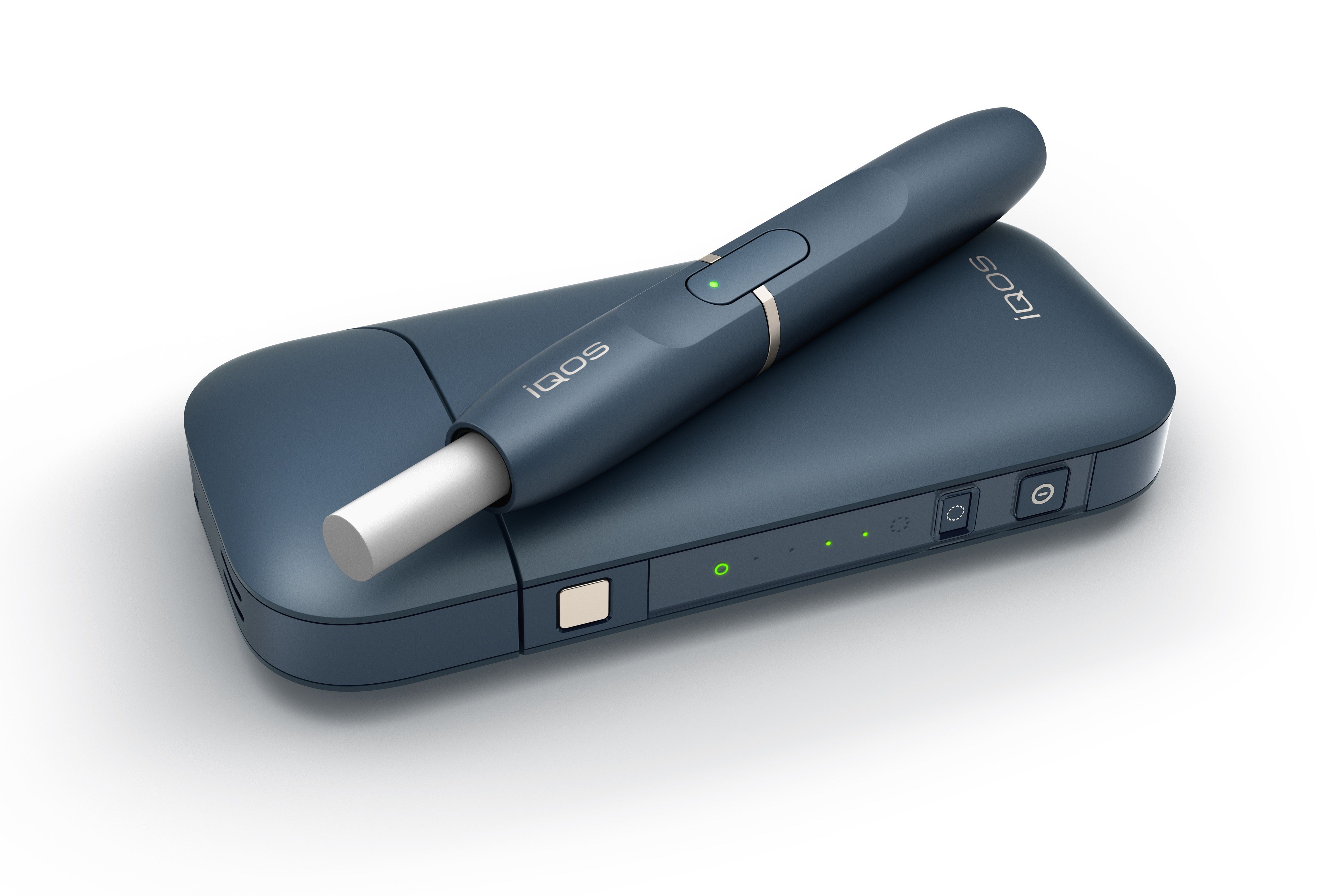 The Philip Morris iQOS ("EYE-kose"), which heats tobacco sticks but stops short of burning them. (Philip Morris via AP)
"Anti-smoking plan may kill cigarettes — and save Big Tobacco" — AP Health Writer Matthew Perrone:
"An unprecedented anti-smoking plan ... from the Food and Drug Administration could have another unexpected effect: opening the door for companies to sell a new generation of alternative tobacco products, allowing the industry to survive — even thrive — for generations to come."
"The plan puts the FDA at the center of a long-standing debate over so-called 'reduced-risk' products, such as e-cigarettes, and whether they should have a role in anti-smoking efforts, which have long focused exclusively on getting smokers to quit."
What's next: "The FDA is expected to soon begin what will likely be a years-long process to control nicotine in cigarettes. And next week, the agency will hold a public meeting on a closely watched cigarette alternative from Philip Morris International, which, if granted FDA clearance, could launch as early as February."
"iQOS (pronounced EYE-kose), is a penlike device that heats Marlboro-branded tobacco but stops short of burning it, an approach that Philip Morris says reduces exposure to tar and other toxic byproducts of burning cigarettes. This is different from e-cigarettes, which don't use tobacco at all but instead vaporize liquid usually containing nicotine."
Why it matters: "For anti-smoking activists these new products may mean surrendering hopes of a knockout blow to the industry. ... Tobacco companies have made claims about 'safer' cigarettes since the 1950s, all later proven false. ... Philip Morris executives say they are offering millions of smokers a better, less-harmful product."