Good Thursday morning! On Sunday evening, we're launching a new newsletter, Axios Sneak Peek, by Jonathan Swan, one of the best-wired reporters on both ends of Pennsylvania Avenue. Jonathan will help us navigate the political climate in D.C. by previewing the week ahead on Capitol Hill and at the White House. (Bonus: best bits from the Sunday shows!)
https://www.axios.com/newsletters/axios-am-e28e855e-db0e-41f9-9039-15e3752228d5.html?chunk=0#story0
1 big thing: The media IS the opposition party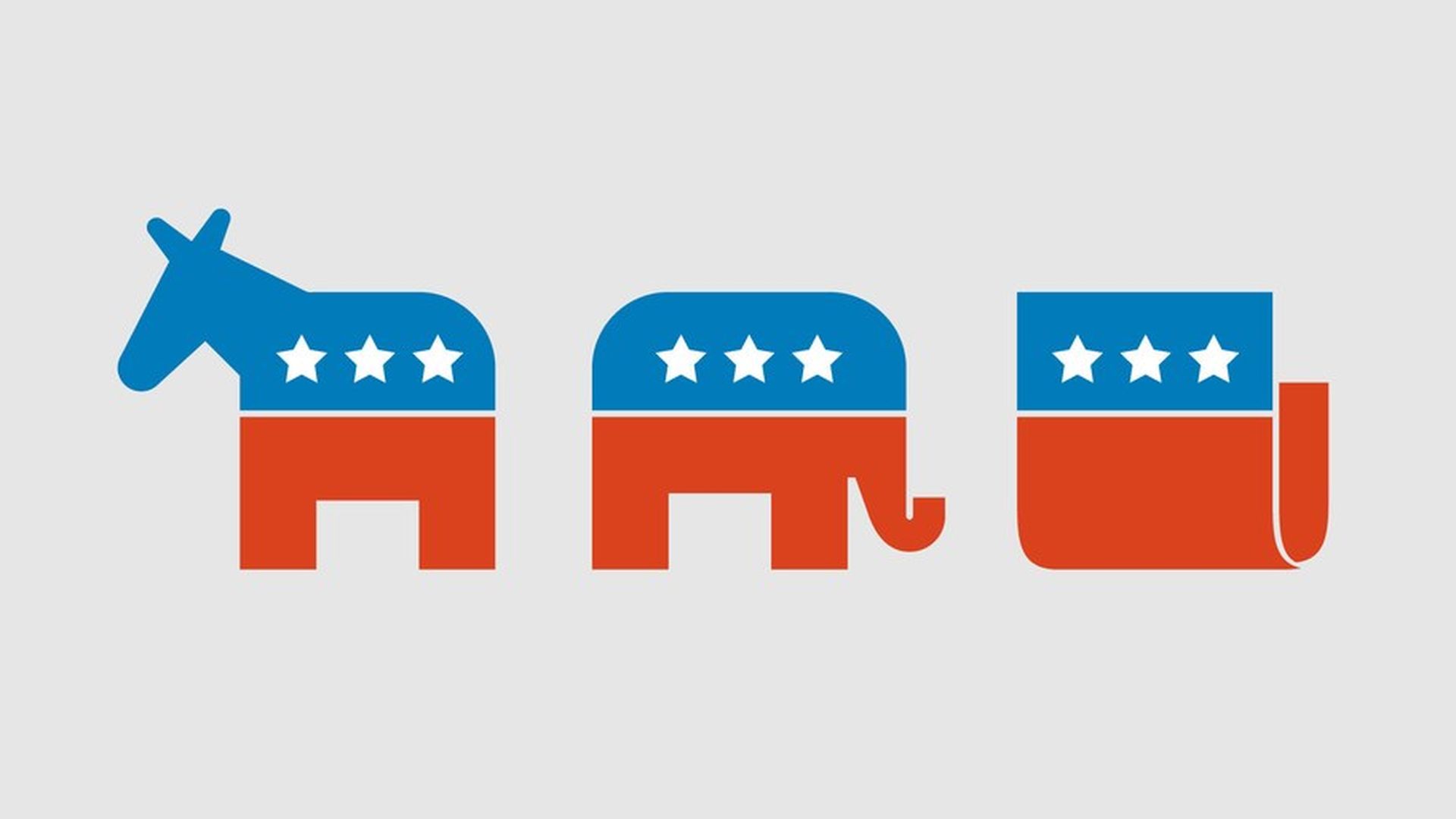 With the press in full frenzy, Jim VandeHei and I just posted a big-picture piece you'll want to read in full:
"Trump claims traditional media represent a stronger, more effective opposition party than the Democrats. So far, he's undeniably correct. This has only a little to do with the Democrats.
"It has a lot to do with the media, which was unambiguously anti-Trump during and after the presidential campaign, but is now legitimately hammering away on administration scandals and missteps. A snarling press corps is turning ravenous."
The big change: "The media — often, but not always, with an assist from anti-Trump career government employees — is the new U.S. Oversight Committee."
The news cyclone: "[T]here is no incentive for reporters to calm down, take a breath, give Trump the benefit of the doubt."
Why it matters: "Trump and senior strategist Steve Bannon are clearly right about the media being the opposition. What was once a useful foil for Trump is becoming a real danger to his ability to control the national conversation — and govern."
Mood music ... Wall Street Journal front-page tease, "Is This Trump's Watergate?," to column by Dan Henninger: "Unless Team Trump gets back to the basics of the 2016 election, 1974 could return ... A president's blood is in the water and another White House staff can only look out the windows as the sharks arrive."
"[A] good question is whether they'll drain the swamp before the swamp swallows them. ... Trump and Bannon should give an older member of the Washington establishment a temporary Oval Office visa to talk about what it was like during Watergate."
Who should that be? Email me mike@axios.com, and I'll share your suggestions tomorrow.
https://www.axios.com/newsletters/axios-am-e28e855e-db0e-41f9-9039-15e3752228d5.html?chunk=1#story1
2. Behind the curtain: How Trump works
"Trump's F-35 Calls Came With a Surprise: Rival CEO Was Listening," by Bloomberg's Anthony Capaccio: "Days before taking office, President-elect Donald Trump made two surprise calls to the Air Force general managing the Pentagon's largest weapons program, the Lockheed Martin Corp. F-35 jet. [In the room for] one of those calls was Dennis Muilenburg -- the CEO of Lockheed's chief rival, Boeing Co. ...
"Muilenburg, whose company makes a [competing] fighter jet, was in the president-elect's New York office for a meeting during the second call. He appeared caught off-guard but heard at least Trump's end of the call."
Axios behind the scenes: This is part of Trump's casual M.O. We talked to people who had the surreal experience of being in his Trump Tower office, then having him interrupt to take a call about an unrelated personnel matter -- sometimes very sensitive. One visitor got up to step out, and Trump motioned for him to stay. But it got so awkward that the guest stepped out anyway.
https://www.axios.com/newsletters/axios-am-e28e855e-db0e-41f9-9039-15e3752228d5.html?chunk=2#story2
3. Top talker
"Spies Keep Intelligence From Trump" -- Wall Street Journal, top of front page, by Shane Harris and Carol Lee:
"U.S. intelligence officials have withheld sensitive intelligence from ... Trump because they are concerned it could be leaked or compromised":
"The officials' decision ... underscores the deep mistrust that has developed between the intelligence community and the president."
"In some of these cases, ... officials have decided not to show Mr. Trump the sources and methods that the intelligence agencies use to collect information."
"The intelligence agencies have been told to dramatically pare down the president's daily intelligence briefing, both the number of topics and how much information is described under each topic,"
"[O]fficials said the decision to avoid revealing sources and methods with Mr. Trump stems in large part from the president's repeated expressions of admiration for ... Putin and his call during the presidential campaign for Russia to continue hacking the emails of ... Hillary Clinton."
The conversation ... On "Morning Joe," Scarborough dismisses the story as thin.
https://www.axios.com/newsletters/axios-am-e28e855e-db0e-41f9-9039-15e3752228d5.html?chunk=3#story3
4. Trends in Trump tweets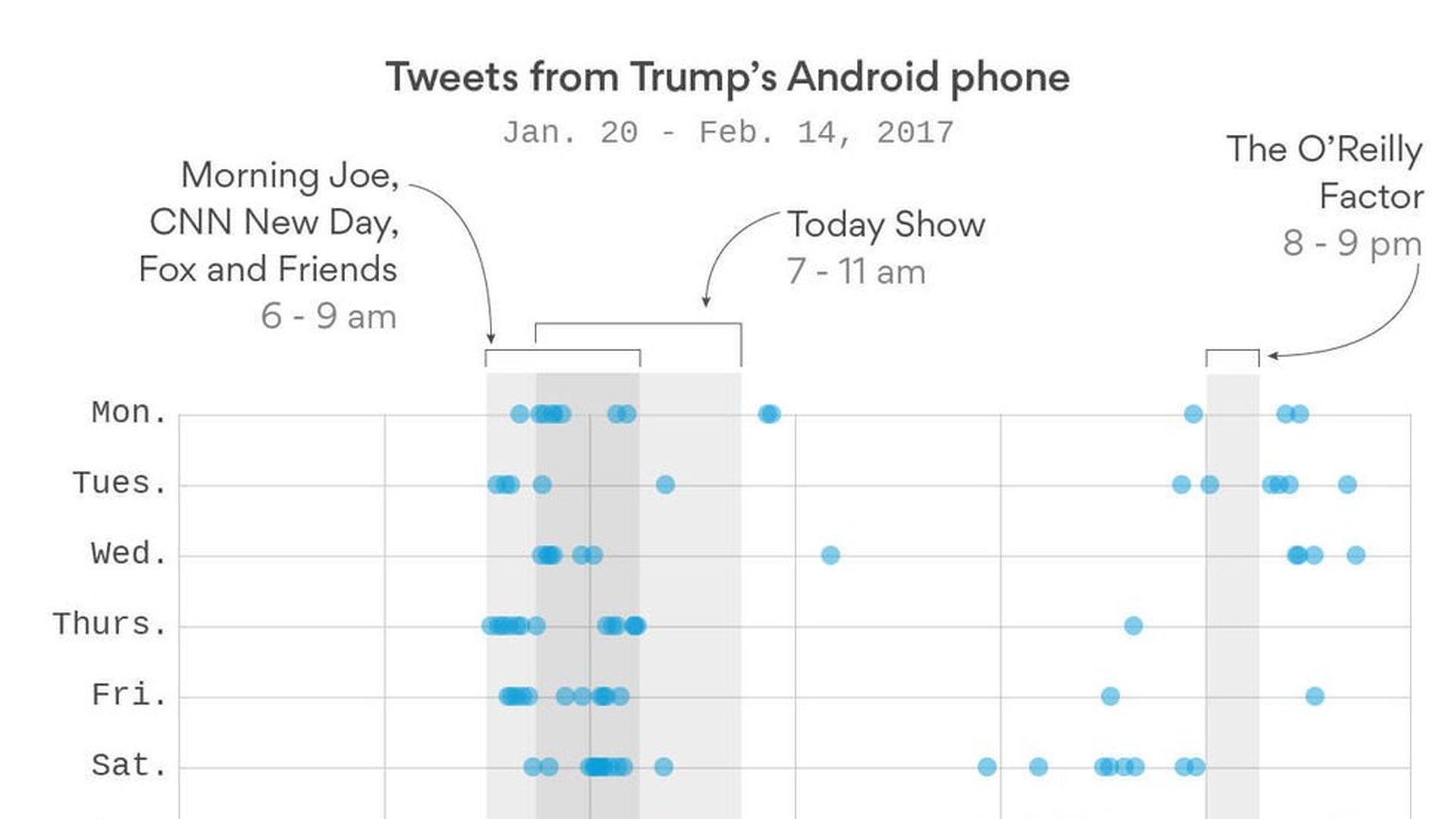 Since becoming president 27 days ago, Trump has tweeted 109 times from his phone -- just over 4 per day, Axios found in a deep dive @realDonaldTrump. Monday was the first day since the inauguration that Trump didn't tweet before 8:15 a.m. Among the trends Shane Savitsky discovered:
A morning tweeter: Trump has tweeted 70 times from 6 to 9 a.m., during his favorite cable news shows, "Morning Joe" and "Fox & Friends." That's 64% of his tweets as president. 47% of his tweets as president-elect and 33% as GOP nominee came during that 3-hour block.
At least 15% of his tweets during the presidency were directly in response to a segment on cable or network news.
Media matters: 29 of his tweets as president mention the media — a specific outlet, ratings, or "FAKE NEWS." That's more than a quarter.
On the clock: From 9 a.m. to 6 p.m. on workdays, Trump has tweeted only 4 times as president.
No more 3 a.m. tweets: Since the election, he has only tweeted once between midnight and 4 a.m. -- to call SNL "unwatchable" and "sad."
https://www.axios.com/newsletters/axios-am-e28e855e-db0e-41f9-9039-15e3752228d5.html?chunk=4#story4
5. Trending in tech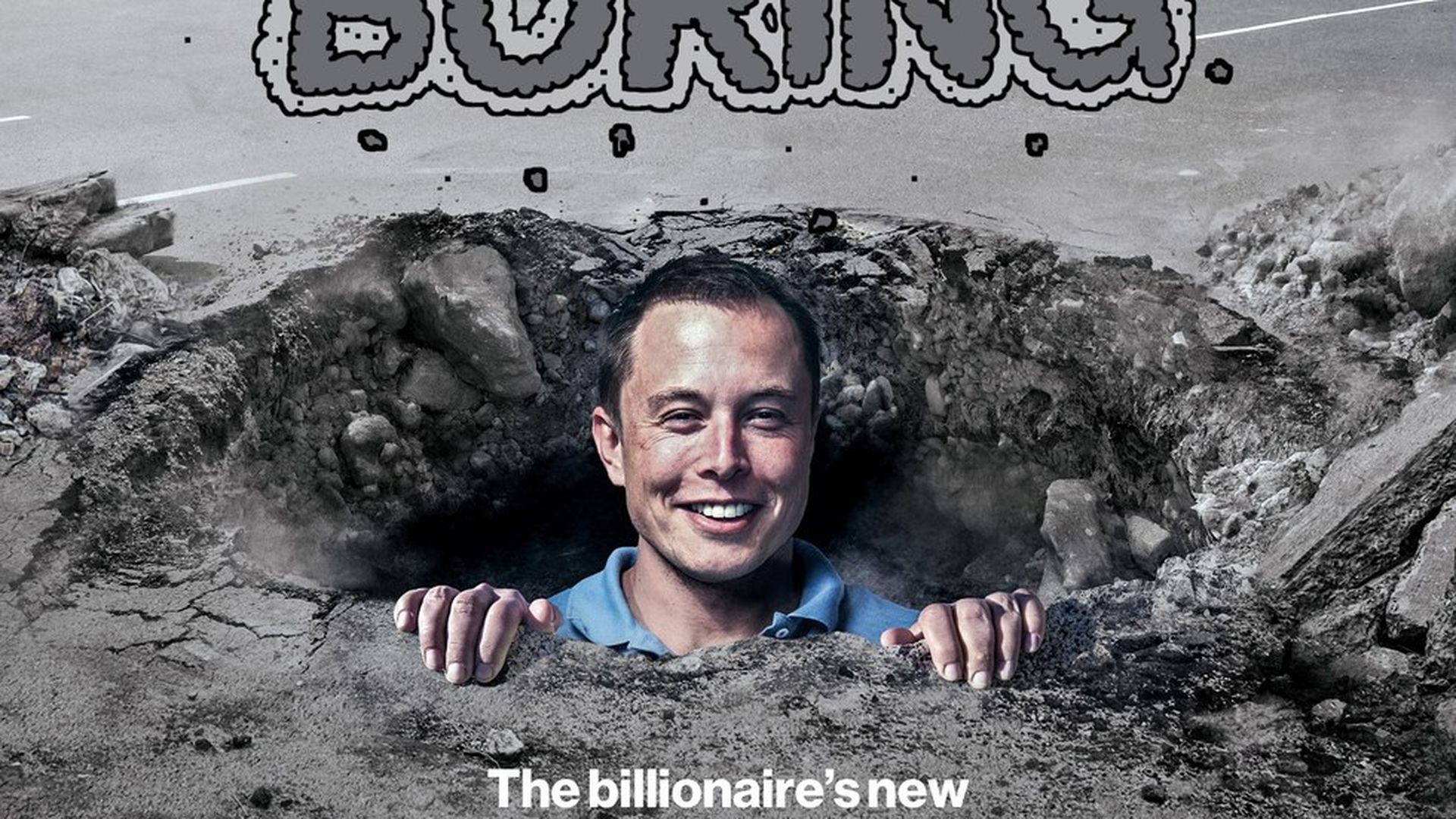 Bloomberg Businessweek cover story goes inside Elon Musk's Trump connection: "[A]fter the election, Musk made several trips to Trump Tower, impressing the president and, especially, Bannon."
After meeting privately with Musk on Jan. 6, Bannon told an associate that he views Musk and his companies as embodying the kind of U.S.-based job growth that Trump intends to foster."
"For Trump, who's been publicly shunned by many Silicon Valley executives, the connection to Musk gives his administration a whiff of innovation and dynamism."
"Facebook is going after LinkedIn," by Recode's Kurt Wagner: "The social network will now let employers post jobs directly to their Page, and users can apply for those jobs on Facebook. Applications are pre-populated with a user's Facebook data ... then sent to the employer via Messenger. Facebook hopes employers and prospective employees will then use Messenger to communicate throughout the courting process."
"Snap Inc. Sets Valuation at $19.5 Billion to $22.2 Billion as IPO Approaches," per WSJ: "The valuation range, which equates to $14 to $16 a share, is near the low end of the $20 billion to $25 billion range the Snapchat parent company had earlier targeted."
https://www.axios.com/newsletters/axios-am-e28e855e-db0e-41f9-9039-15e3752228d5.html?chunk=5#story5
6. U.S-Israel change in tone, substance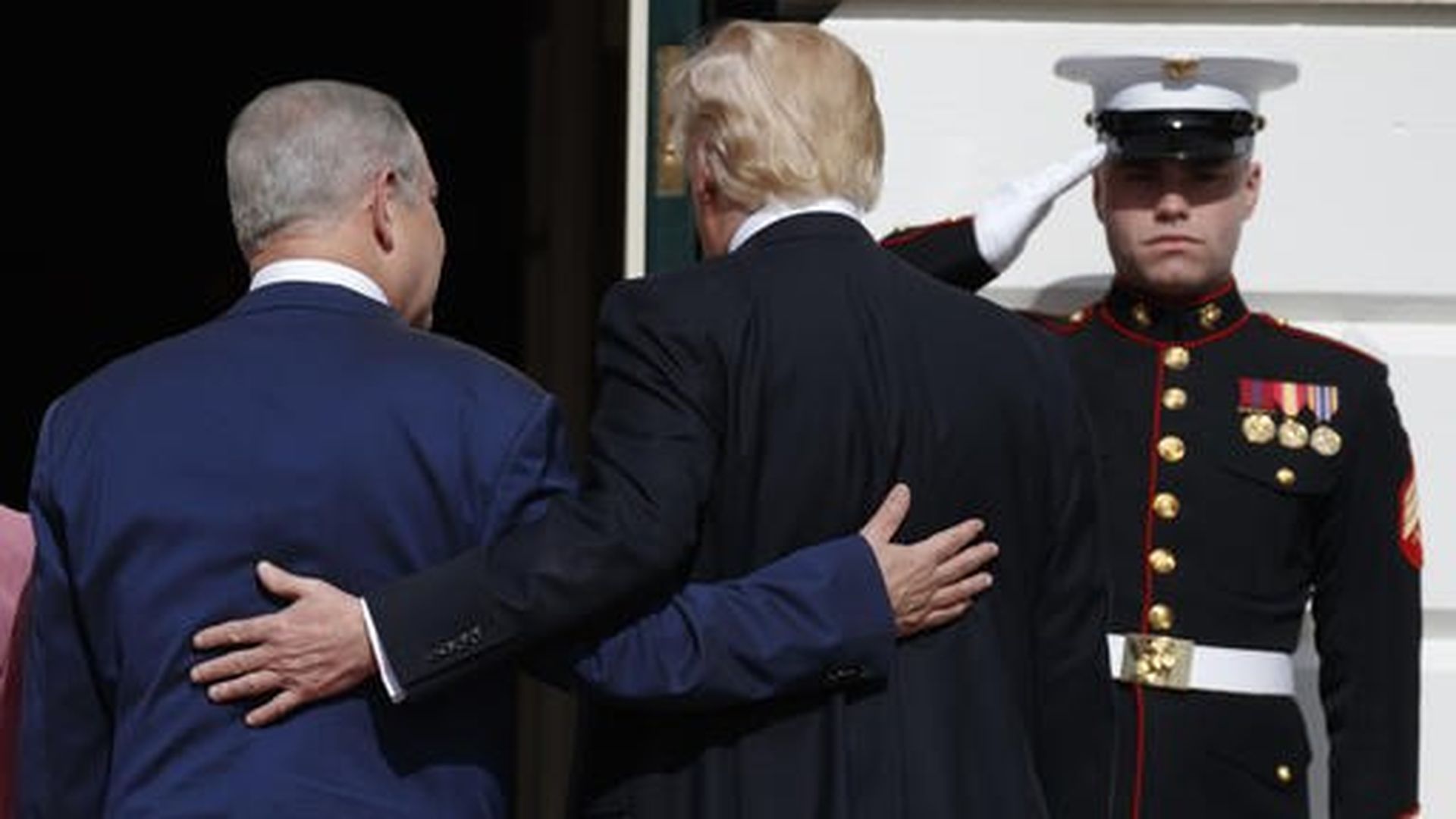 Jerusalem Post on yesterday's White House visit by Israeli Prime Minister Benjamin Netanyahu: 'From Obama to Trump, a change in tone and substance," by diplomatic correspondent Herb Keinon:
"Trump's refraining from clearly saying that two states is the only way, while endorsing a wider regional approach, is a significant reset of the entire diplomatic process with the Palestinians."
"There will be differences between the two men because they are leaders of different countries, whose interests do not always intersect, but the differences will be dealt with very differently – as among friends, not rivals."
"Obama's tone, his demeanor at his first meeting, was almost that of a teacher telling a pupil what he has to do. Trump's tone was friendlier, lighter."
N.Y. Times 1-col. lead story, "Trump, Meeting With Netanyahu, Backs Away From Palestinian State," by Peter Baker and Mark Landler: "
"Trump's position on a two-state solution discarded a policy that has underpinned America's role in Middle East peacemaking since the Clinton administration."
"The Palestinians are highly unlikely to accept anything short of a sovereign state, and a single Israeli state encompassing the Palestinians would either leave them as second-class citizens or would no longer be majority Jewish, given the growth rate of the Arab population."
"Still, long before Mr. Trump's ascension, momentum for side-by-side states had faded not just in Washington but also in the Middle East."
https://www.axios.com/newsletters/axios-am-e28e855e-db0e-41f9-9039-15e3752228d5.html?chunk=6#story6
7. Trump v. China
"Exclusive: EU preparing early China summit in message to Trump" -- Reuters/Brussels: "The European Union is preparing an early summit with China in April or May in Brussels to promote free trade and international cooperation in the face of a more protectionist and inward-looking Washington."
"The EU believes China wants to use the summit to press home President Xi Jinping's vigorous defense of open trade and global ties ... in Davos in January, in response to ... Trump."
An official who helps formulate EU policy: "With an early summit, China wants to send a message to the United States that it has friends in Europe."
https://www.axios.com/newsletters/axios-am-e28e855e-db0e-41f9-9039-15e3752228d5.html?chunk=7#story7
8. Facts matter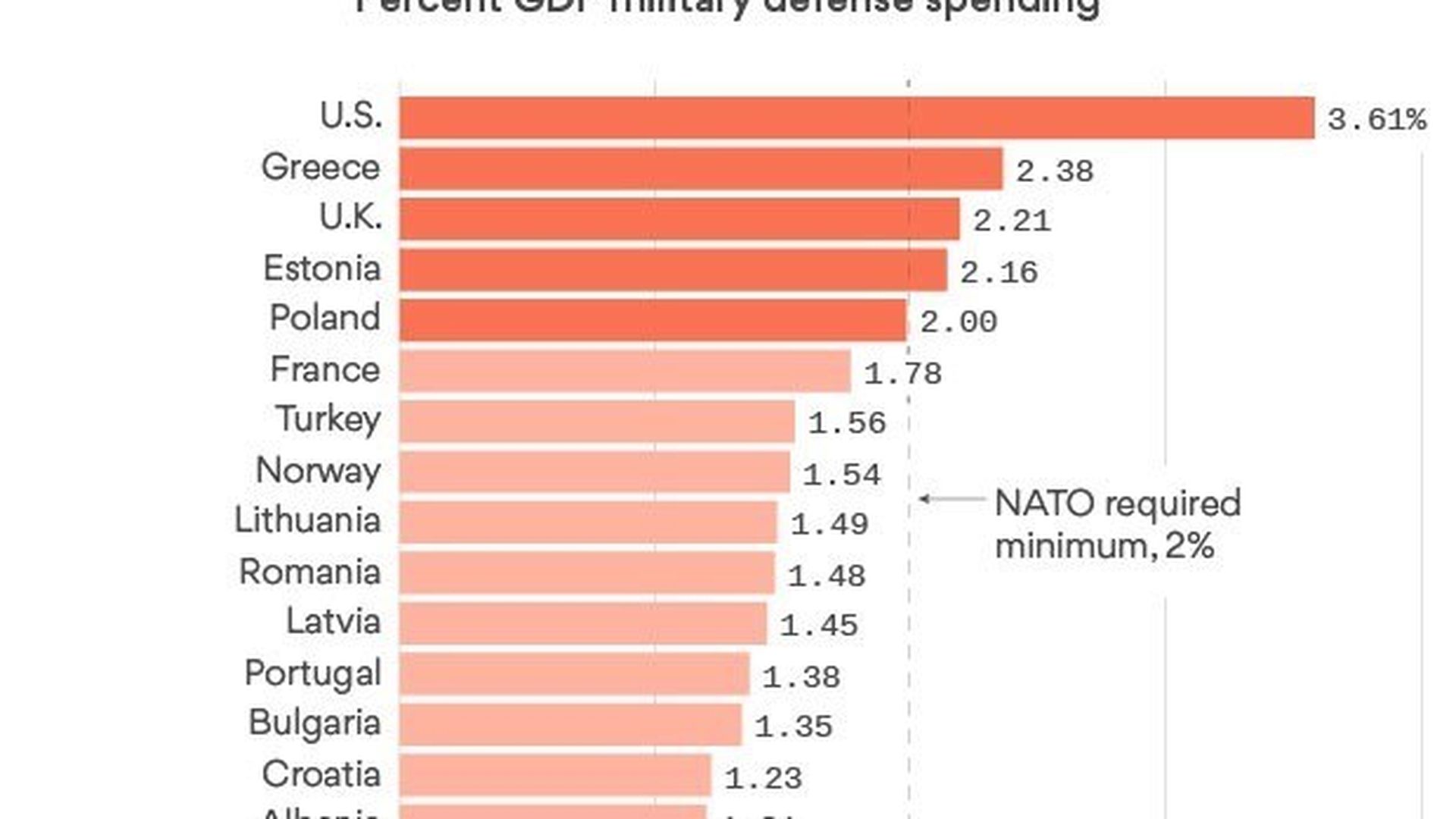 "Only five countries meet NATO military requirements," per Axios' Shannon Vavra: "NATO countries are supposed to spend 2% of their GDP on defense."
"Defense Secretary Mattis, on his first trip to Europe, warned NATO countries to meet their defense spending goals or the U.S. might 'moderate its commitment' to the alliance."Trump's secretary of state faces questions on first trip
Trump's SecState on first overseas trip ... AP Diplomatic Writer Matt Lee in Bonn: Rex Tillerson "will face a blizzard of questions about the Trump administration's foreign policy from nervous Asian and European allies."
"Tillerson arrived in Germany late Wednesday for a meeting of the foreign ministers of the Group of 20 nations. He will be playing defense amid the chaos and turmoil caused by the firing of national security adviser Michael Flynn."
https://www.axios.com/newsletters/axios-am-e28e855e-db0e-41f9-9039-15e3752228d5.html?chunk=8#story8
9. What in the world?
"Eiffel Tower to be surrounded by $20M bulletproof glass wall by year's end" -- USA Today front page: "Trump isn't the only leader building a wall, and this one is just as controversial. The French government is constructing an 8.2-foot-high, bulletproof glass enclosure around the base of the Eiffel Tower to protect the iconic structure from a terrorist attack. But many French are offended by what they describe as a tasteless design that will be an eyesore. ...
"Critics said the wall, slated to go up in the fall, could undermine the French capital's tourism industry that is already in a slump after a series of terrorist attacks."
"Currently the base of the Eiffel Tower is surrounded by metal grids set up in June for the Euro 2016 soccer championships. The barriers were to be a temporary security measure but have remained in place with terrorism fears still widespread."
https://www.axios.com/newsletters/axios-am-e28e855e-db0e-41f9-9039-15e3752228d5.html?chunk=9#story9
10. 1 fun thing
Sponsor-player politics: "Experts say recent moves by Under Armour and Nike to respond to or get ahead of political statements from athletes show the sponsor-athlete relationship is changing" -- AP's Eddie Pells:
"The back-and-forth between [NBA star Stephen] Curry and Under Armour CEO Kevin Plank is now into its second week and making for some awkwardness that could very well extend into this weekend's NBA All-Star Game, where Curry, LeBron James, Kevin Durant, James Harden and all the league's biggest endorsers will converge."
"Plank called ... Trump 'a real asset to our country.' ... [T]he CEO followed up [yesterday] with a full-page advertisement in The Baltimore Sun, saying his words last week 'did not accurately reflect my intent.'"
Under Armour has long been viewed as a progressive company, admired in part for its huge investment in rebuilding parts of Baltimore, where the company's headquarters are based."
"Last weekend, Nike went big with an ad campaign featuring LeBron James, Serena Williams and openly gay soccer player Megan Rapione touting 'Equality' — the latest in a number of pro-LGBT statements the company has made over the past several months."