Axios AM
September 20, 2018
1 big thing: Dems plot massive campaign if Kavanaugh falls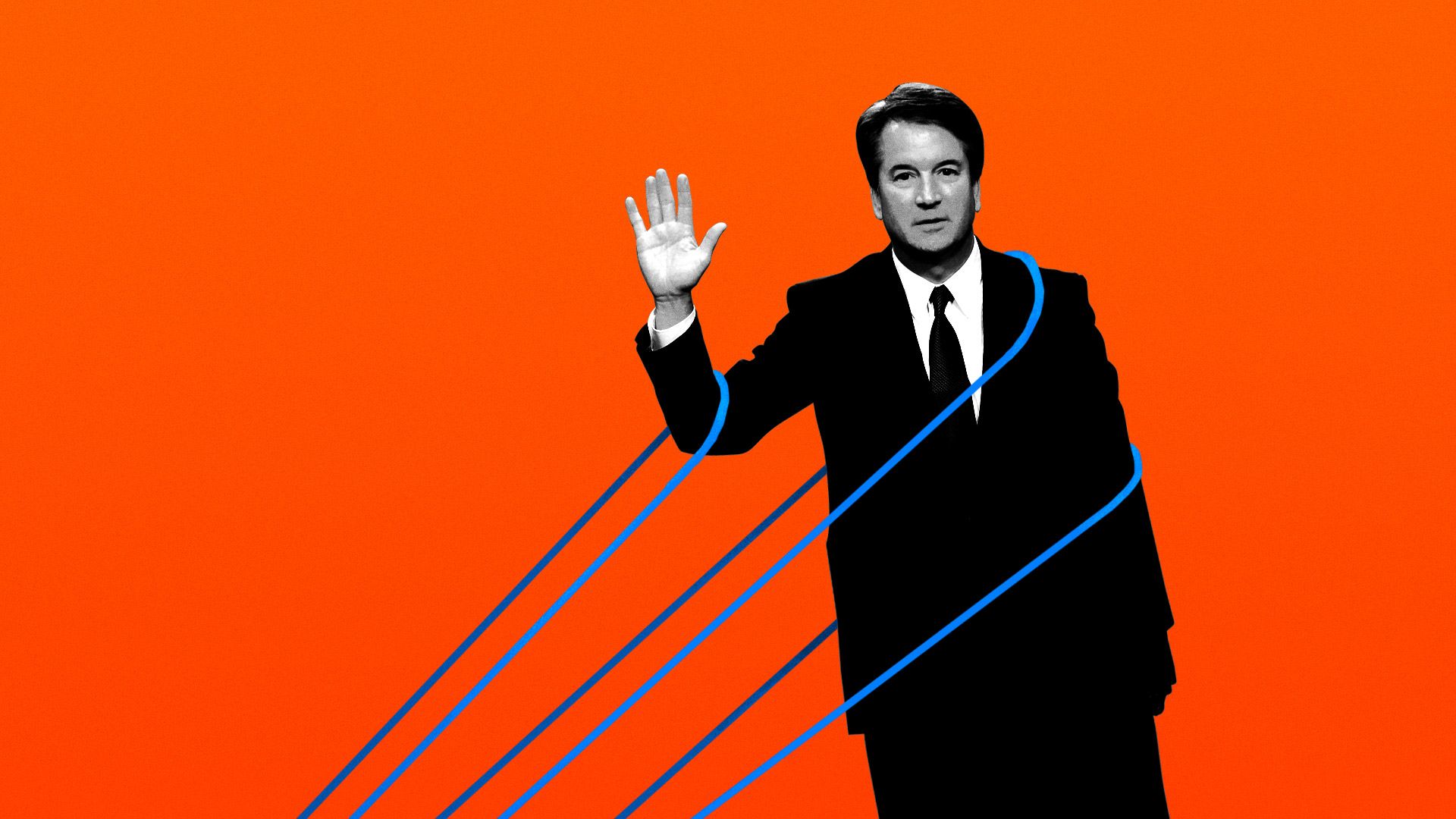 If Brett Kavanaugh's nomination sinks, Democrats would turn the midterms into a referendum not just on President Trump but also women's rights, abortion and the future of the Supreme Court, sources tell Axios CEO Jim VandeHei and me.
In what Republicans believe is an increasingly unlikely scenario where Kavanaugh tanks ...
Dems believe they can juice turnout — already hitting record levels — by playing off the huge public attention to the court, and Roe v. Wade in particular.
They envision President Obama and Michelle Obama locking arms with the Clintons, the Bidens, and Democratic congressional leaders to crank up a presidential-election-sized campaign.
They feel confident every rich liberal in America would help fund this effort. 
If Democrats downed Kavanaugh, the White House would be inclined to nominate someone at least as conservative, or even more vocally so — perhaps Judge Amy Coney Barrett of Chicago, a Catholic conservative.
Brian Fallon, executive director of the progressive court group Demand Justice, said such a choice "would simultaneously electrify evangelicals on their side, and animate progressives on our side."
"There wasn't anybody else on the short list who has more pronounced positions against abortion and Obamacare," Fallon said. "It wouldn't take a lot to explain the urgent threat to progressives."
Be smart: Matt Miller, a former aide to Senate Democratic Leader Chuck Schumer, told me that a court opening during the stretch run of midterms would "convince Democrats all around the country, many of whom have been afraid that nothing matters anymore, that some things still do matter."
2. "Weird standstill" between accuser, GOP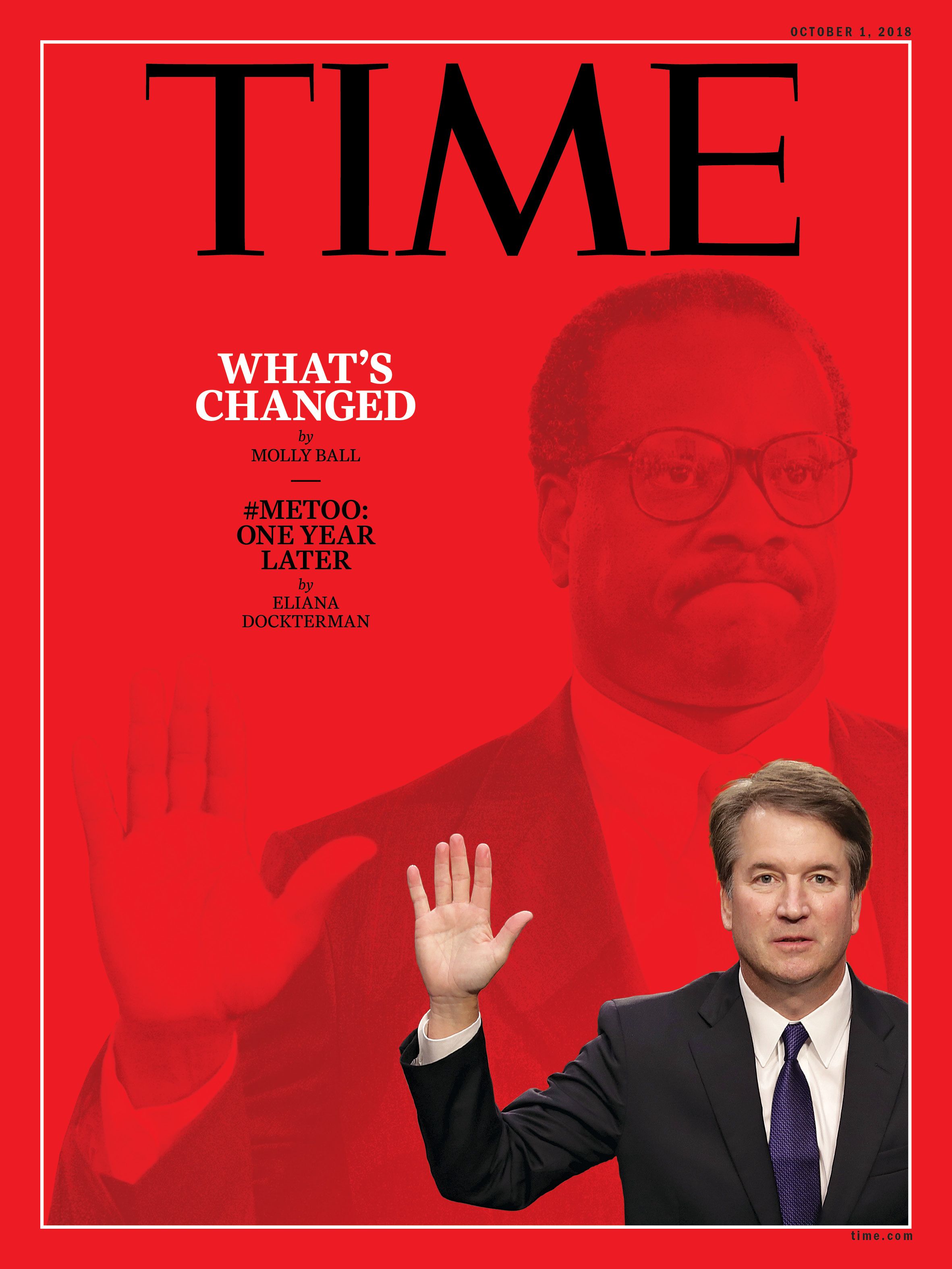 Republicans, panicked as the week began, are increasingly confident that Kavanaugh will be confirmed next week:
A top Democrat close to the negotiations tells me it now looks unlikely that Dr. Christine Blasey Ford will testify on Monday.
Smart brevity ... Jeffrey Toobin on CNN: "If she refuses to testify on Monday, Kavanaugh is getting confirmed." (hat tip: Brian Stelter)
The top Democrat said Republicans may "win the battle of confirmation, but could lose the war of public opinion" if the accuser looks railroaded.
A source involved in the process tells Jonathan Swan: "There is certainly some level of unity [between Senate Rs and the White House] that it's bizarre [that] after offering to testify, it now appears she doesn't want to."
"[W]e're at this weird standstill. But is there going to be another shoe to drop? I am paranoid that this is just right now and they're going to come back with something else."
"I'm just not convinced this is game, set, match through to Monday. There's plenty of time."
3. Ds crushing Rs in 2018 elections
Riding an anti-Trump surge, more Democrats turned out in House primaries than Republicans this year — the first time that has happened since 2008, Axios' Chris Canipe and Neal Rothschild report.
Why it matters: 2008 was the last time Democrats won a majority in the House. They lost it in 2010, when Republican primary turnout skyrocketed and Democratic turnout plummeted — the reverse of what's happening now.
David Brady, electoral politics expert and senior fellow at the Hoover Institution, predicts around a 7% Democratic turnout advantage in November driven by women — particularly independent women.
🛴 Bonus: Stat du jour
Scooter startups Lime and Bird have each crossed 10 million rides, with Lime recently reaching 11.5 million, Axios' Kia Kokalitcheva reports.
4. 🇨🇳 Lingo: economic Cold War
N.Y. Times: "The world's two largest economies are in the opening stages of a new one that could persist well after Mr. Trump is out of office."
WashPost: "China said ... it would retaliate for President Trump's latest tariff salvo, risking further U.S. trade actions that could result in what some analysts are calling an economic Cold War."
5. One of the great pivots of the 21st century
As the U.S.–China trade war escalates, the two powers are fighting a greater battle at the frontiers of technology, Kevin Rudd — former Australian Prime Minister, and now president of the Asia Society Policy Institute — writes for Axios Expert Voices:
Why it matters: In 2018, U.S.–China relations have entered a period of profound strategic drift, a pivotal moment in the transition from cooperation to competition.
It's an open question whether this split will spawn a cold war or even a military confrontation — prospects some policymakers are now considering for the first time — but there's no doubt that a wider economic war is now upon us, to be waged over ownership of the technological innovations that will drive the 21st century.
6. 🗞 Inspired by Nixon
Today's print N.Y. Times includes an 11-page, ad-free section (promo on the back), "The Plot to Subvert an Election: Unraveling the Russia Story So Far," by Scott Shane and Mark Mazzetti. In an "Inside The Times" explainer, the two write:
"Any long-running investigation develops its own cast of characters, its own jargon and catchphrases. As Watergate unfolded, there were Mitchell, Haldeman, Dean, Magruder, Hunt; the 'modified, limited hangout,' a cover-up formula agreed upon between President Richard M. Nixon and his aides; and the '18 ½-minute gap' on a White House tape."
"In this story, there are Manafort, Flynn, Papadopoulos, Page, Stone; the Internet Research Agency and the G.R.U., 'collusion' and 'Putin's niece'; and President Trump's recurring protests, with his signature Twitter capitalization, about a 'Hoax' and 'Witch Hunt.'"
"Times editors recalled that The New York Times Magazine had published two special issues devoted entirely to recounting the Watergate affair: 'The Story So Far,' in July 1973, and 'The Story Continued,' the following January."
7. Exclusive: Exxon, Chevron join global industry climate group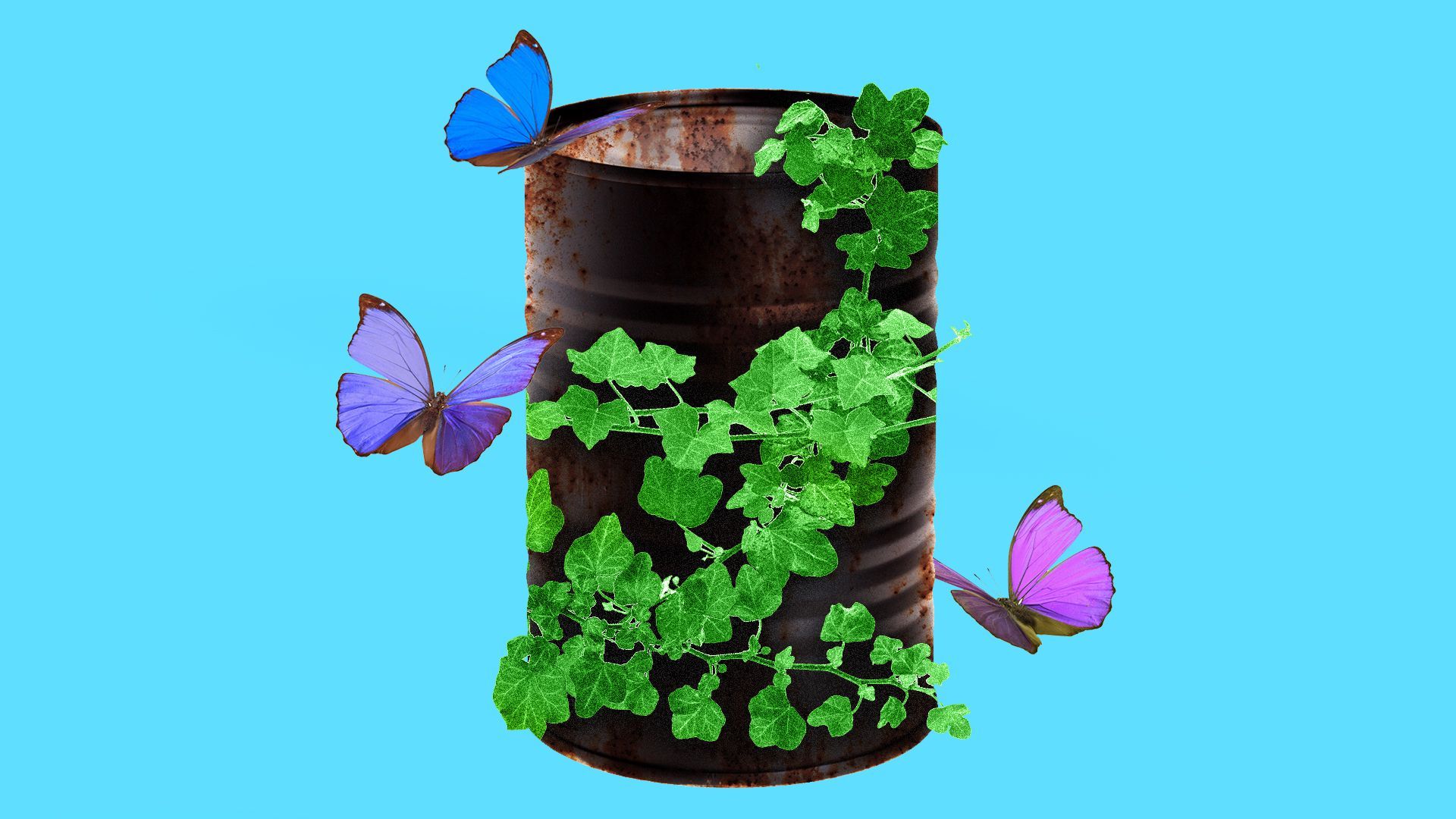 Some of America's most powerful U.S.-based oil companies — ExxonMobil, Chevron and Occidental Petroleum — are joining a global consortium of oil and gas producers seeking to address climate change, Axios' Amy Harder scoops.
CEOs of most of the 13 member companies of the group, the Oil and Gas Climate Initiative — including Saudi Aramco, Shell, BP and Occidental — are scheduled to speak at an event Monday in New York.
Why it matters: This is one of the strongest signs yet of how America's biggest oil companies, under pressure from investors and lawsuits, are joining most other U.S. corporations in working to reduce greenhouse gas emissions.
The group's clout is now truly global, with the addition of U.S. companies, which had been a notable omission since the group's founding four years ago.
8. A politically savvy Fed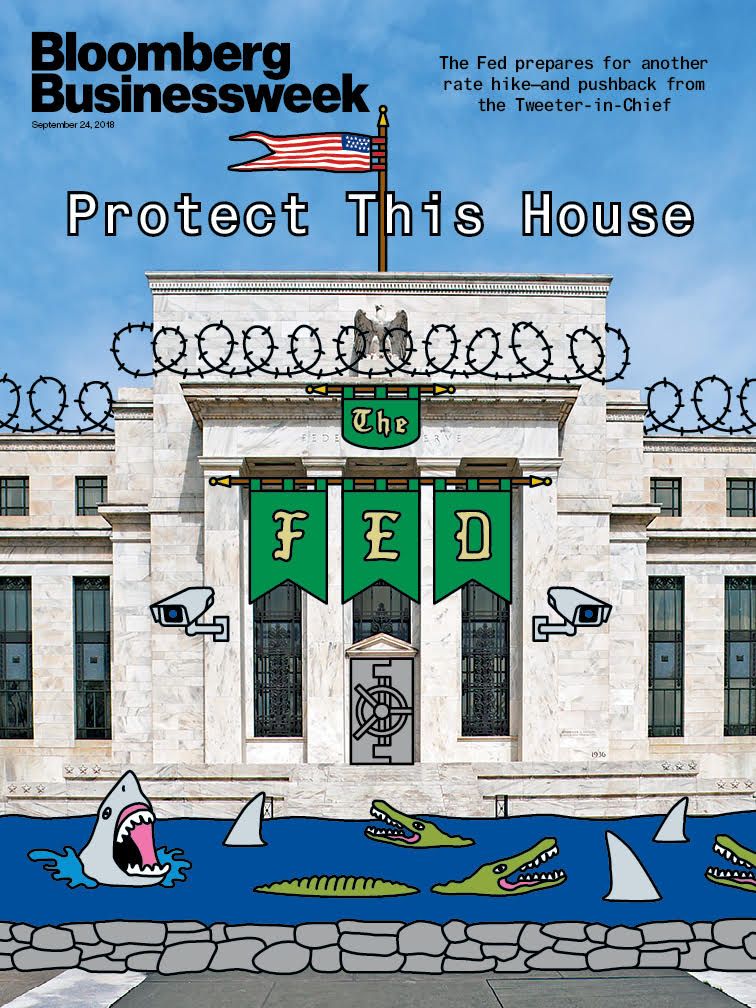 "The Politics of Being Jay Powell," Rich Miller and Craig Torres of Bloomberg Businessweek have an inside look at the Fed chair's political relationships in D.C.
"Cultivating Congress, paradoxically, is a cornerstone of Powell's strategy to protect the Fed's freedom to conduct monetary policy without political interference. Economists say that independence, granted to the bank by lawmakers, is key to any modern ­economy's success."
Flashback to a July Trump tweet: "The United States should not be penalized because we are doing so well. Tightening now hurts all that we have done. The U.S. should be allowed to recapture what was lost due to illegal currency manipulation and BAD Trade Deals. Debt coming due & we are raising rates - Really?"
9. Remembering Arthur Mitchell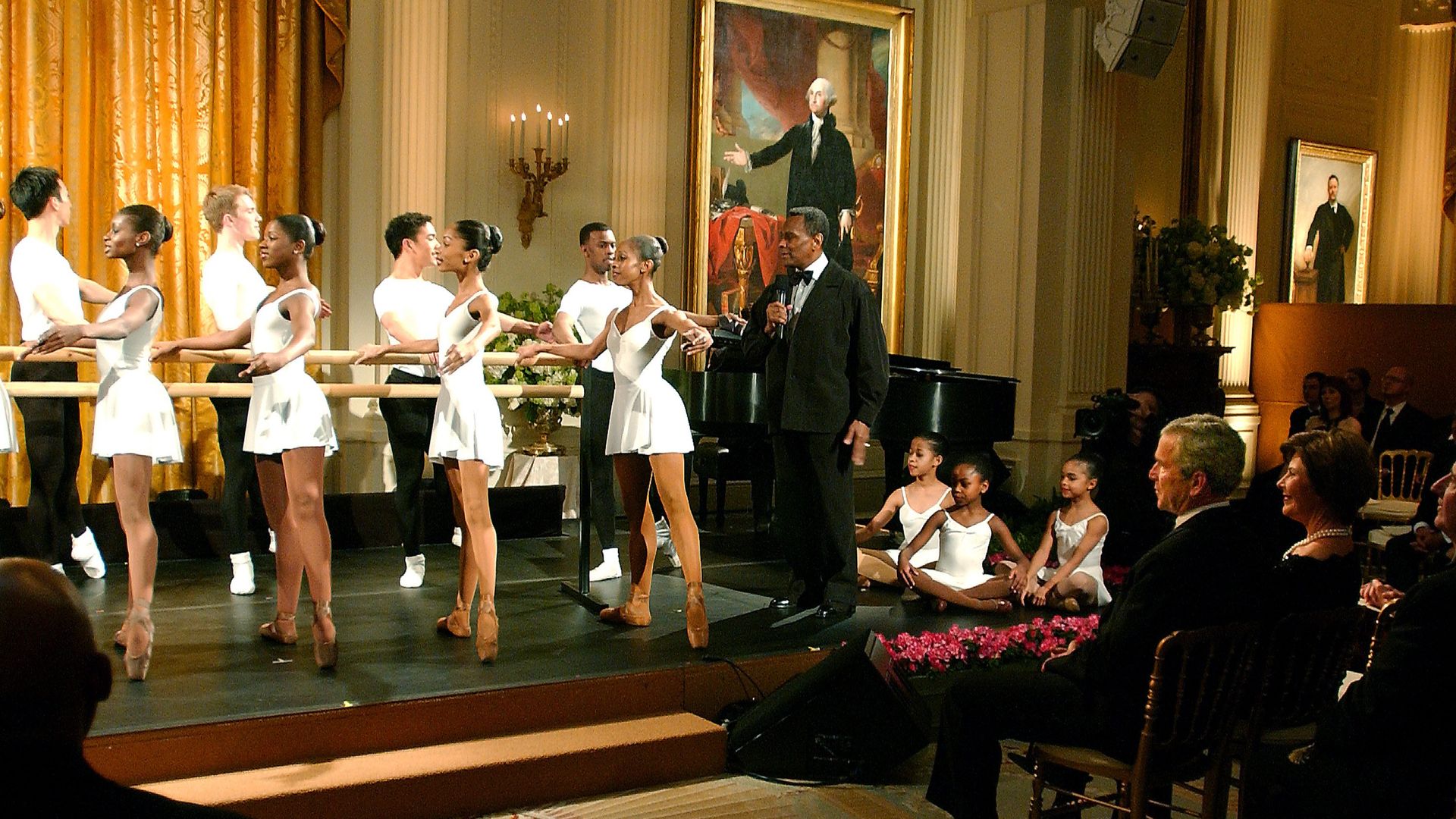 "Arthur Mitchell, who paved the way for other minority dancers by becoming one of the first black dancers to join a major ballet company and who helped start the acclaimed Dance Theatre of Harlem, died Wednesday" at 84, writes the L.A. Times' Sarah Halzack.
He "described himself as the Jackie Robinson of the ballet world [and] was hired by choreographer George Balanchine in 1955 to perform with the New York City Ballet."
"Still, in an era when segregation was just beginning to crumble, his ascent to the upper echelon of dance met with many obstacles, from instructors who encouraged him to take up other dance genres to shocked theatergoers who wrote letters expressing outrage about Mitchell being paired onstage with a white woman."
10. 1 fun thing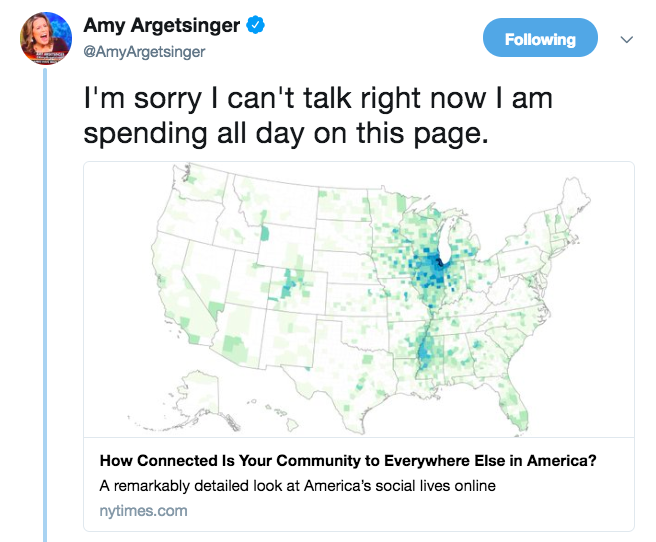 Human geography: The Social-Network States of America ... The N.Y. Times Upshot's "Picture of Social Connectedness in America," by Emily Badger and Quoctrung Bui:
Choose your county or independent city to see the relative probability that someone in any U.S. county has a Facebook friendship link to that locality.
The map was "created using friendship links between pairs of anonymous Facebook users from a snapshot of the platform."
"The darker the color, the greater the relative likelihood that any two people living in two different counties are connected on Facebook."