March 16, 2020
😷 Axios has a new, constantly updated coronavirus dashboard, with the latest data and headlines from around the U.S. and the world. Check it out here.
📬 If this email was forwarded to you, please sign up here.
Today's Smart Brevity™ count: 1,965 words ... 7 minutes.
1 big thing: Testing problem is worse than you think
If the coronavirus outbreak in the U.S. gets really bad — if it stretches on longer than we anticipated, if huge numbers of people get sick, if the disruptions to daily life become even more severe — early flaws in the testing process will bear a lot of the blame, Axios health care editor Sam Baker writes.
The big picture: You probably know that there were some early problems with testing, and that they're getting better — which they are. But those early failures will help define the entire scope of this pandemic, and there's not much we can do now to reverse the damage.
Why it matters: Because we haven't been doing enough testing, we don't actually know how many people in the U.S. have coronavirus. We know the official count is too low, and that the number of confirmed cases is likely to explode in the coming weeks as testing improves.
But that's not the only problem. The lack of testing hasn't just left us in the dark about how bad the situation is. It has also made that situation worse.
By the numbers: Independent researchers estimate that the U.S. has completed about 20,000 coronavirus tests as of Friday.
By contrast, South Korea — a success story in controlling the coronavirus — has performed an estimated 250,000 tests.
And the U.S. population is more than six times bigger than South Korea's (327 million vs. 51 million).
Widespread, accurate testing has been a key component of other countries' success in bringing their outbreaks under control.
So the virus has probably been spreading undetected in the U.S. for weeks.
More people than we know about are infected, which means more people than we know about are spreading the virus.
Between the lines: This makes other interventions, including individual "social distancing" and the cancellation of big events, even more important.
What's next: Testing capacity in the U.S. is improving quickly. Nationwide, we now have the ability to test about 26,000 people per day, former FDA Commissioner Scott Gottlieb tweeted.
He expects that capacity to "rise substantially" this week.
How we got here: The testing shortfall has been a multi-phase failure.
For reasons that remain unknown, the U.S. did not rely on the World Health Organization's coronavirus test in the earliest days of the outbreak. Instead, the CDC set out to make its own.
But the CDC's test didn't always work. Manufacturing had to be relocated following a possible contamination. And it has taken time to come up with a new one.
Regulatory red tape slowed down academic labs that wanted to jump in and develop their own tests, and capacity among private-sector labs is still ramping up.
In the early days, testing was focused narrowly on people who had traveled to China. That was probably the best way to triage limited resources. But it was never going to be sufficient.
2. Parents' daunting new coronavirus reality
A new reality sets in today for many working parents: double duty as a remote employee and a home-school supervisor, Axios' Kim Hart writes.
As schools and offices both shut down because of the coronavirus outbreak, parents are trying to figure out how to do two full-time jobs at once.
It'll be a struggle even for privileged households, and could border on impossible for some working-class families.
Working from home with kids in tow is a lot to juggle, no matter what. And social distancing will make it even harder to redirect kids' short attention spans long enough to write an email.
Steve Silvestro, a pediatrician in Bethesda, Md., advises against most playdates, especially indoors or on playgrounds. Outdoor playdates with one or two friends are probably OK for now, but not in crowded places.
"We need to spend time with our own germs and only our own germs," Silvestro wrote in a blog post that's been making the rounds among D.C.-area parents.
"If you're still set on getting together, here's my suggestion: Pick your best friend family," he wrote. "If you can trust them and they can trust you, agree that your families will only hang out with each other. This way you're at least minimizing possible exposure."
Another pediatric practice recommends virtual playdates, over Skype or FaceTime.
Craft stores in the D.C. area were picked over this weekend as parents stocked up on time-filling activities like slime-making kits, paint sets and coloring books.
And screen time limits? Those have flown out the window.
Reality check: Playdate bans and juggling kids while working remotely are problems of the privileged. White-collar professionals often have the leeway to work from home, even without a crisis to force it.
The real challenges will fall on parents who aren't able to work remotely and don't have or can't afford childcare outside of school, as well as those who are not working because their hours have been cut now that more people are staying home.
To try to help, Comcast is making Xfinity WiFi hotspot access free, even for non-customers, and AT&T is waiving data overage fees.
Some schools have sent students home with iPads that would normally stay at school.
Outschool, which offers online classes via video chat, is making classes free for kids affected by public school shutdowns.
3. Quick catch-up: Life in the time of virus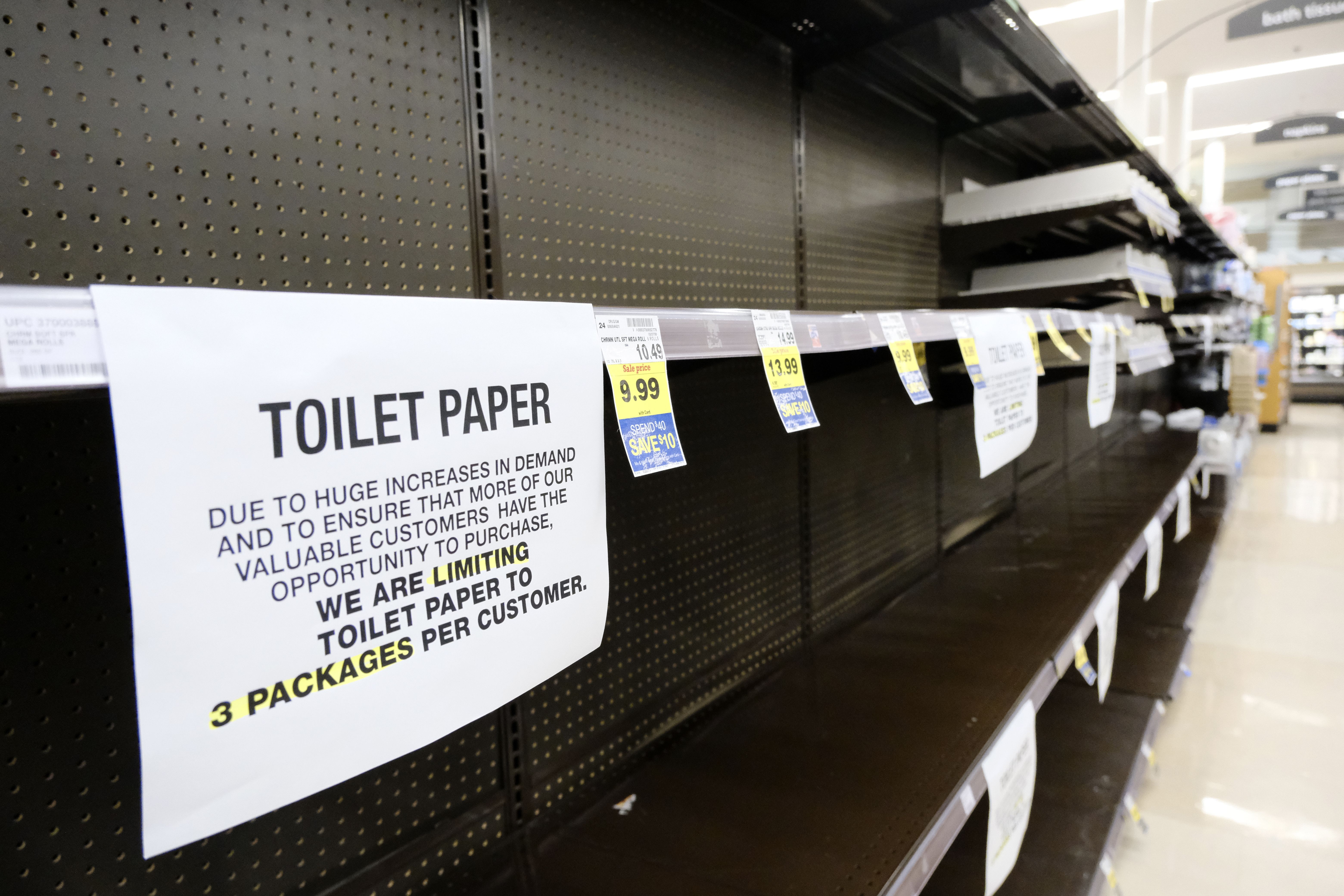 The CDC said in new guidelines that gatherings of 50 or more people should be postponed, cancelled or held virtually for the next eight weeks.
"This recommendation does not apply to the day to day operation of organizations such as schools, institutes of higher learning, or businesses."
The White House National Security Council tweeted at 11:48 p.m.: "Text message rumors of a national #quarantine are FAKE. There is no national lockdown."
CNBC now: "GLOBAL SELL-OFF UNDERWAY."
"Governors and mayors closed restaurants, bars, and schools as the nation sank deeper into chaos, AP reports.
Illinois, Ohio, Massachusetts, Washington state, New York City and Los Angeles are among the places that ordered bars to close and restaurants to stop dine-in service. Takeout and delivery will still be allowed. Go deeper.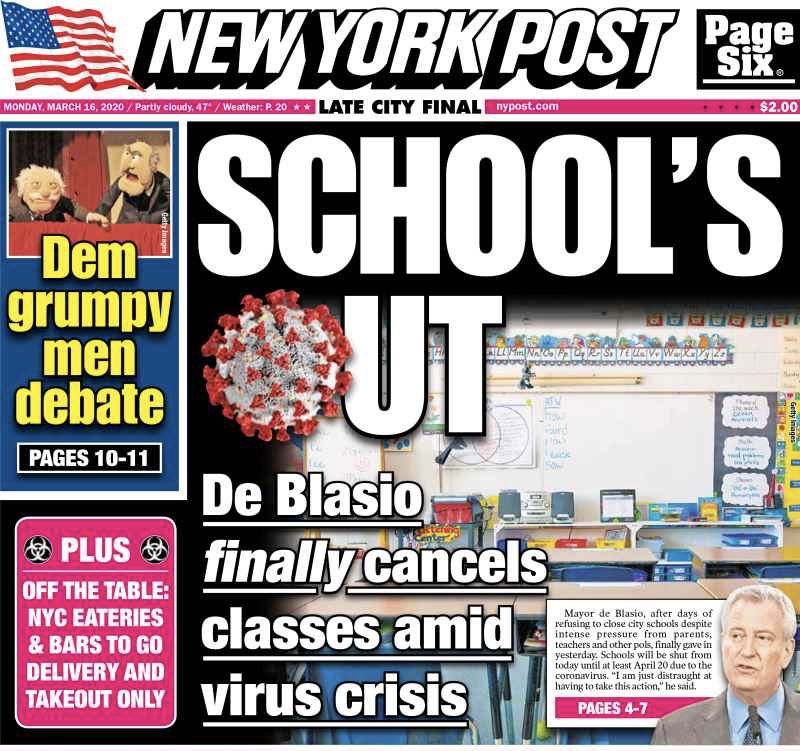 4. Pic du jour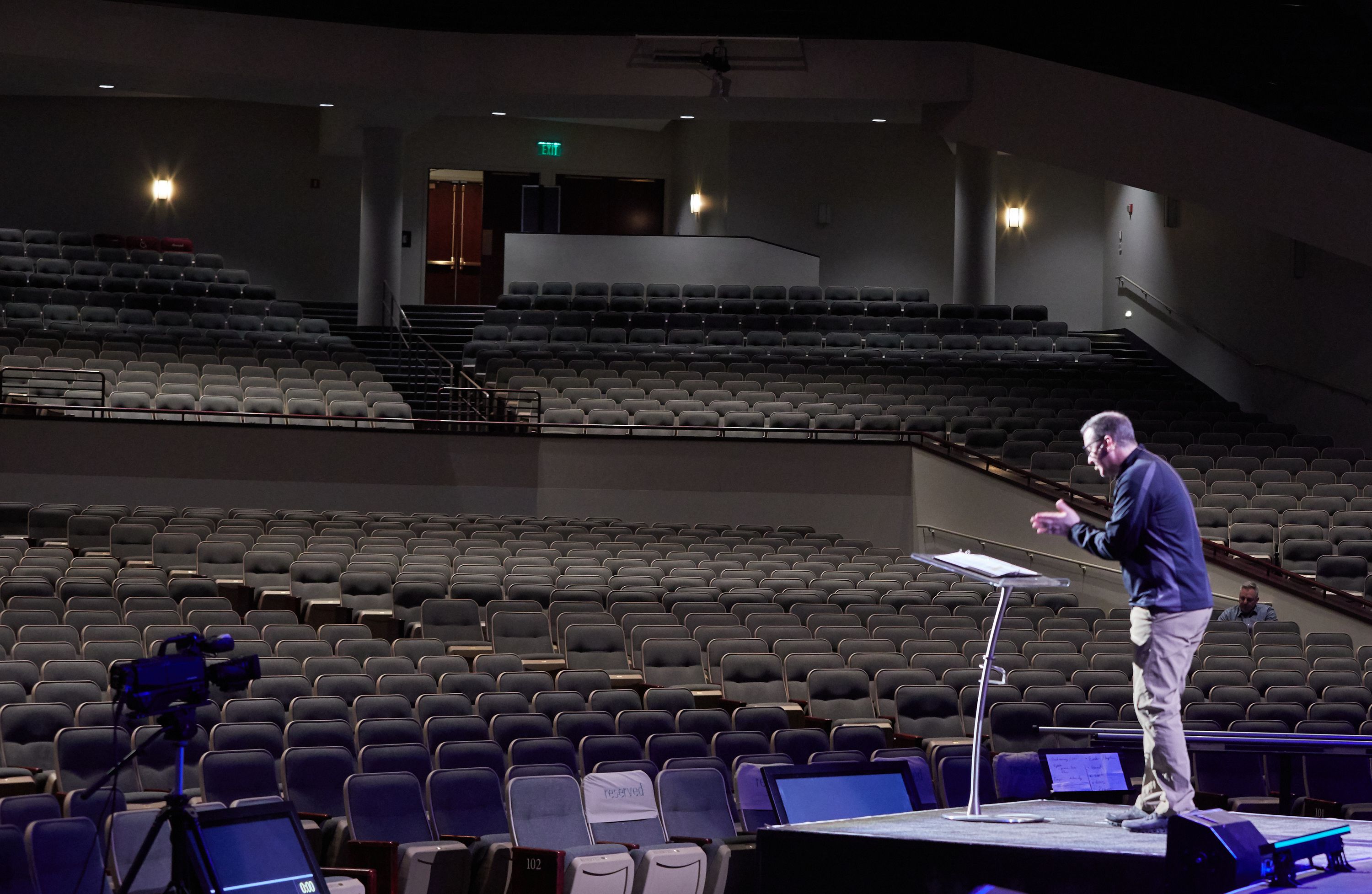 Senior Pastor Troy Dobbs speaks to an empty Grace Church in Eden Prairie, Minn., with an estimated 3,500 worshipers tuning in online.
5. Biden promises a woman for VP
Joe Biden was first to offer an elbow as he hustled onto the debate stage last night (above).
Biden's bar was to not screw things up. But he went beyond that and established himself as the dominant candidate of the pair, Axios' Alexi McCammond and Margaret Talev write.
The biggest news was Biden's explicit commitment to pick a woman as his VP.
"My Cabinet, my administration will look like the country," Biden said. "And I commit that I will, in fact, ... pick a woman to be vice president."
Sanders said "in all likelihood I will" and "my very strong tendency is to move in that direction."
It turns out that a debate with no live audience is more substantive and involves less yelling. And when it's just two candidates, it's more conversational.
The debate was held at CNN's Washington bureau, moved from the planned Arizona site as a coronavirus precaution.
Between the lines: Sanders, knowing he's unlikely to win the nomination, is trying to push Biden as far to the left as he will go, to get more attention for progressive policies.
Sanders continued to express doubts that Biden could get the enthusiasm and turnout from the Sanders base that he'd need to win.
But Sanders' tone signaled he's going to support Biden much more than he did Hillary Clinton in 2016. 
🗳️ On deck: Biden holds a tele-town hall today with folks in Arizona, Florida, Illinois and Ohio (all voting tomorrow). Sanders is doing a digital rally at 7 p.m. ET.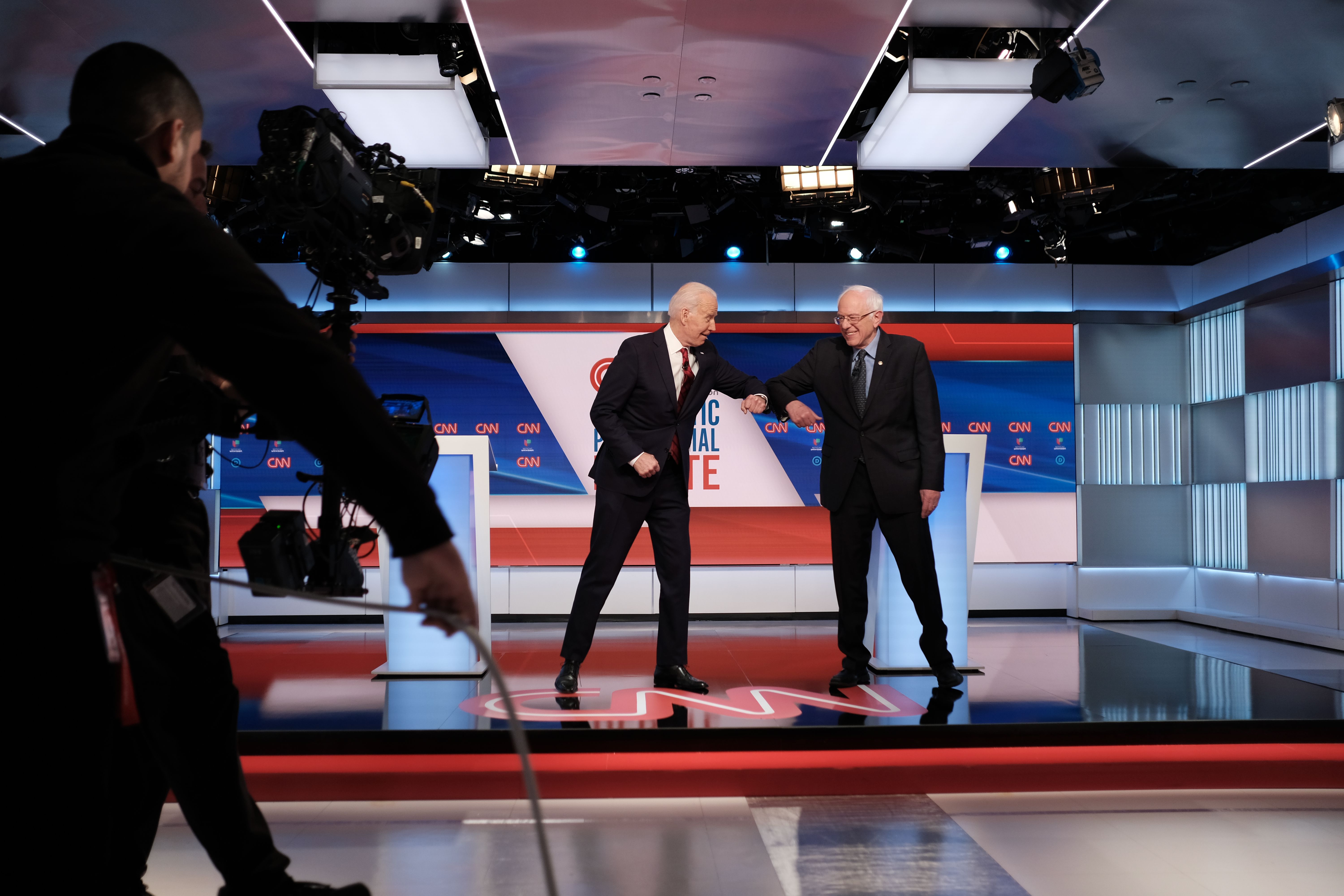 6. Why the Fed threw a Hail Mary
The Federal Reserve, in conjunction with central banks around the world, took drastic action last night — the kind of action not seen since the global financial crisis — to try to prevent coronavirus from devastating the economy, Axios chief financial correspondent Felix Salmon writes.
What they did: The Fed slashed interest rates to near zero, announced a $700 billion bond-buying program, and relaxed bank capital regulations to encourage further lending.
Why it matters: Thousands of businesses and millions of households are about to suffer extreme economic hardship. Employers and employees in the travel, entertainment, sports, hospitality, retail, and many other industries are going to see losses and layoffs for as long as the virus is raging.
Once the pandemic is over, all of those businesses can and should come roaring back. In order to do so, they will require new loans to help them get through the bad times, as well as money to refinance existing debts as they come due.
Monetary policy can't fight the coronavirus directly. But it can help ease the economic pain that the virus causes.
The bottom line: The Fed is using every weapon in its arsenal to encourage banks to lend money freely at the lowest possible interest rates. If its actions work, it will prevent thousands of businesses, large and small, from failing.
7. Climate to get short shrift amid pandemic
Time is what keeps everything from happening at once, someone wisely said.
But in once-in-a-lifetime moments when everything does seem to be happening at once, like what's unfolding with the cascading coronavirus crisis, time is a ruthless prioritizer, Axios' Amy Harder writes in her "Harder Line" column.
Acting on the decades-long problem of climate change falls to the bottom.
The intrigue: Peter Atwater, a behavioral economist and an adjunct lecturer at William & Mary, has a framework, called the "Horizon Preference," for how we perceive the world based on our level of confidence. When confidence is high, we have a "us-everywhere-forever" mindset. When it's low, it's "me-here-now."
The bottom line: Climate change and pandemics are both long-term systemic risks society often ignores, but they have vastly different time frames.
8. Workers crave frequent updates from employers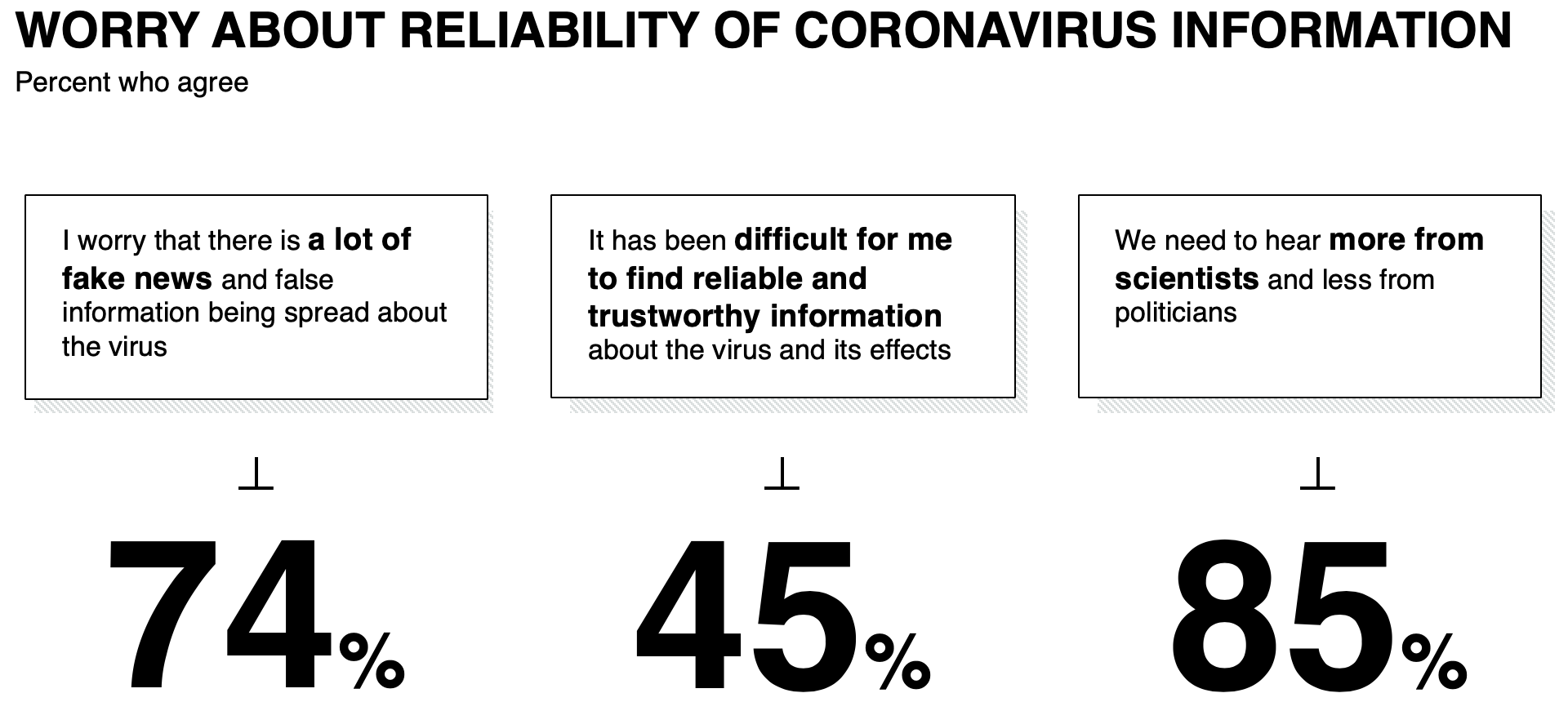 People around the world say they're more likely to believe their employers than government websites or traditional or social media when it comes to information about the coronavirus, Axios' Sara Fischer writes from a new Edelman Trust Barometer 10-country survey about the virus.
Why it matters: Absent consistent information from the government about the virus, and amid growing skepticism around fake news online, people are turning to business leaders for critical information.
When it comes to the most trusted spokespeople about the virus, even more people say they trust health officials — such as scientists, doctors, and CDC and WHO officials — than their employers.
The opportunity for companies: In the U.S., more than half (54%) of those surveyed say they want daily updates from their employers.
Nearly 20% say they are looking for updates several times per day.
Between the lines: Diminishing trust in traditional societal leaders, like the government and traditional media, has generally forced people to turn to their employers more often for trusted information.
This ongoing dynamic has created a closer and more trusting employee-employer relationship over the past few years. But it has also placed more responsibility on CEOs and corporate leaders to communicate more effectively and efficiently with their employees.
9. Trump's Google claims fit his pattern of tech hype
President Trump's exaggerated claims about a Google-developed website to triage coronavirus diagnosis and treatment nationwide is the latest instance of a longstanding presidential pattern of tech-related misrepresentations and hype, Axios tech editor Kyle Daly writes.
The claim blindsided Google when Trump first made it Friday.
Verily, the health-tech unit of Google parent Alphabet, is now ramping up a pilot project in two San Francisco-area counties that resembles a smaller version of what Trump suggested, while Google scrambles to launch an entirely new, less personalized nationwide information portal about the virus.
Google CEO Sundar Pichai said in a blog post yesterday: "We're partnering with the U.S. government in developing a website dedicated to COVID-19 education, prevention, and local resources nationwide. ... We'll be rolling out an initial version of the website late Monday."
The bottom line: Tech companies have learned not to contradict the president, even when they know he is wrong, to stay on his good side.
10. 1 food fad: Blended meats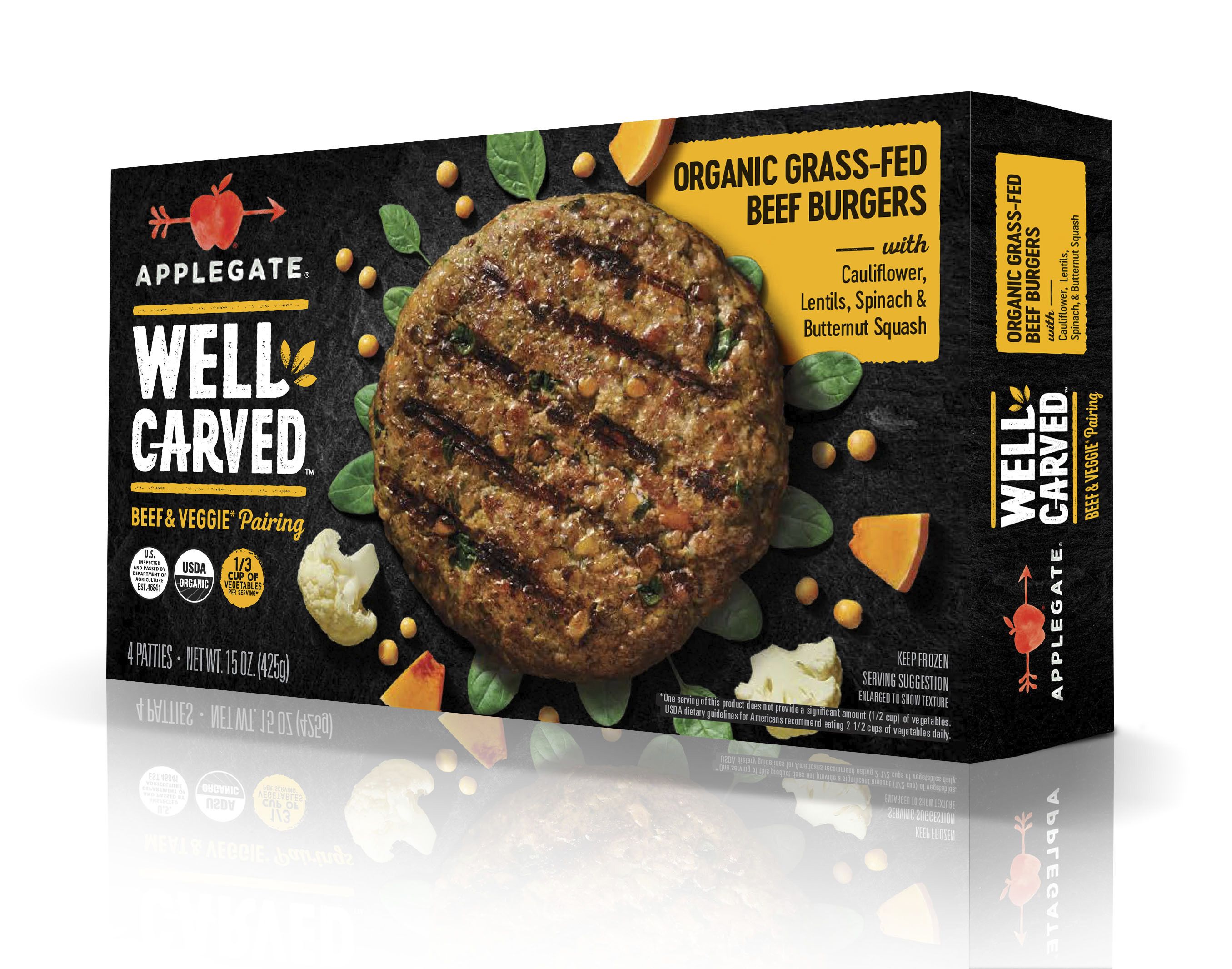 Meat companies are making it easier for you to eat your vegetables by blending them into burgers, meatballs and sausages, AP's Dee-Ann Durbin writes.
Why it matters: The companies are hoping to quell consumers' growing misgivings about meat and its impact on health and the environment.
Many options will be ready for summer grilling:
Applegate is introducing a line of meat-and-veggie burgers and meatballs at grocery stores next month.
Tyson Foods is already selling a beef-and-pea protein patty as well as blended sausages.
Perdue Farms has chicken-and-vegetable nuggets.
📬 Be safe, be careful. And please tell a friend about Axios AM/PM.