July 10, 2018
Good Tuesday morning.
Flash: Thai navy SEALS say ninth boy has been rescued from cave. (AP)
Situational awareness: "A federal judge in Los Angeles dealt the Trump administration a significant blow ... by rejecting its attempt to indefinitely detain immigrant children caught crossing the border illegally with their parents." (L.A. Times)
1 big thing: Trump's most powerful, durable move
President Trump wanted a walk-off home-run win with his Supreme Court pick:
When confidants raised doubts about Brett Kavanaugh over the past week, according to Jonathan Swan, Trump brushed them aside and offered the simple retort: "He's got the votes."
Why it matters:
So many reluctant Republicans voted for Trump because of the Court. They got Justice Neil Gorsuch, and now they have Kavanaugh, validating and institutionalizing their ideology for 30 years to come.
Trump stuck to the list of conservative judges he had promised to draw from. He delivered what he promised, as he promised, on the one thing most Rs care most about.
He has cemented his credibility and power with the base — giving him nearly infinite license, especially with evangelicals.
Why voting matters: Remember that a shift of fewer than 80,000 votes in three states (Michigan, Pennsylvania and Wisconsin) would have made Hillary Clinton president.
Now there's a conservative court for a generation.
Trump secretly settled on Kavanaugh because the 53-year-old federal appeals court judge, who lives seven miles from the White House, is "in Washington, but not of Washington."
That was the description last night by the Federalist Society's Leonard Leo, Trump's closest outside adviser on judicial selections.
Leo told me that Kavanaugh, 53, cemented his bond with Trump during their second in-person meeting, when his show of strength and humility convinced the president that he would "do what he thought was right, no matter what the social, cultural and politics fashions of the day might be."
Leo said that between Kavanaugh's 300 opinions and his private conversations, he showed "a willingness to demand transparency and accountability from an ever-growing administrative state."
Trump aides had advised him from the beginning that Kavanaugh was perhaps the most certainly confirmable option on his shortlist:
Advisers told me that Kavanaugh's Ivy League credentials (Yale 1987, Yale Law 1990) and Central Casting family made a deep impression on Trump.
Using Trumpian lingo, the five pages of talking points the White House sent its allies last night declare: "Judge Kavanaugh is the single most qualified person in the country to serve on the Supreme Court."
Listen to this story ... Over the past year, when Trump talked about his first pick for the Court, Justice Neil Gorsuch, he frequently bragged: "He went to Harvard, then Oxford. He actually said Oxford was tougher than Harvard. How smart must he be?"
This quote says it all ... A source close to Trump told me: "For an anti-elitist, he is a hardcore credentialist."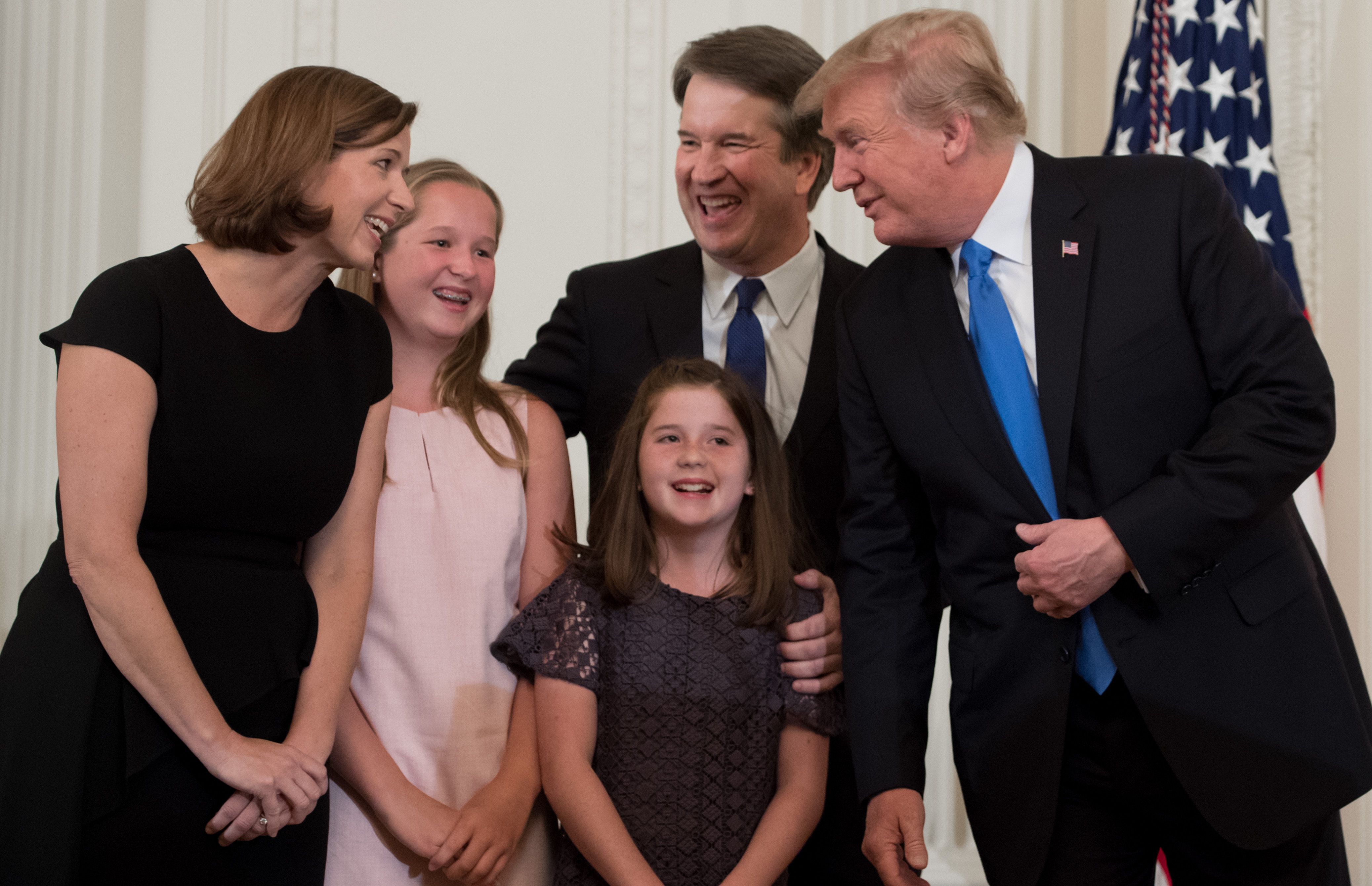 Be smart ... N.Y. Times columnist Ross Douthat, a Catholic and abortion opponent, captures the dynamic behind last night's prime-time selection show:
"[N]otwithstanding all the head-fakes and reality-television atmospherics, Trump has demonstrated that he'll take his Trumpishness only so far."
"It's one thing to blow up the G-7 with trade wars and make nice with a murderous North Korean despot; it's quite another to disappoint the D.C. conservative legal establishment."
"So ... he circled back to the best-known, deepest-resumed, most-vouched-for choice."
2. Kavanaugh the conservative
Brett Kavanaugh would have the second most conservative score (0.693) on the bench if confirmed, next to Justice Clarence Thomas (0.725), per a measure that scores judges on a liberal-conservative spectrum.
Why it matters: Justice Anthony Kennedy often sided with the liberal wing of the court, so with this choice, Trump is cementing a solid conservative majority.
The biggest criticism in the early coverage ... N.Y. Times' Adam Liptak:
Kavanaugh "served under Kenneth W. Starr, the independent counsel who investigated President Bill Clinton ... After the Clinton investigation and impeachment proceedings concluded, ... Judge Kavanaugh came to have doubts about the wisdom of criminal investigations of presidents while they are in office. 'Whether the Constitution allows indictment of a sitting president is debatable,' Judge Kavanaugh wrote in a 1998 law review article."
That's why MSNBC's Chris Matthews said that for Trump, this could amount to "judge-shopping."
3. "I have two spirited daughters"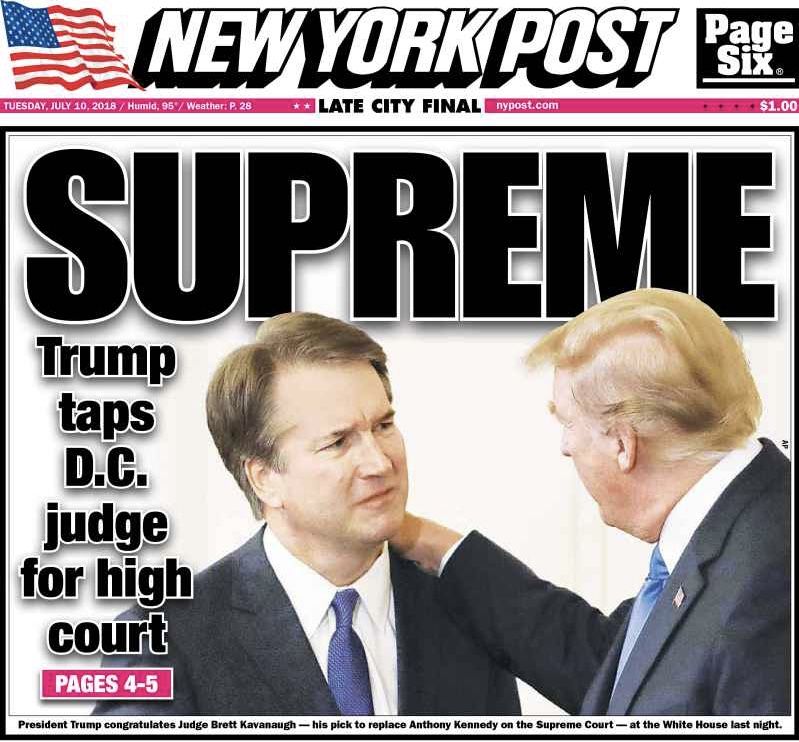 When President Trump unveiled his pick in the East Room last night, Judge Kavanaugh's remarks showed both his appeal to the president, and why his confirmation will be difficult to derail:
"I am proud that a majority of my law clerks have been women."
"I am part of the vibrant Catholic community in the D.C. area. The members of that community disagree about many things, but we are united by a commitment to serve. Father John Enzler is here. Forty years ago, I was an altar boy for Father John. These days, I help him serve meals to the homeless at Catholic charities."
"I have two spirited daughters, Margaret and Liza. Margaret loves sports, and she loves to read. Liza loves sports, and she loves to talk. I have tried to create bonds with my daughters like my dad created with me."
"For the past seven years, I have coached my daughters' basketball teams. The girls on the team call me Coach K. I am proud of our Blessed Sacrament team that just won the city championship."
"My wife Ashley is ... the town manager of our community. We met in 2001, when we both worked in the White House. Our first date was on September 10, 2001."
4. Pic du jour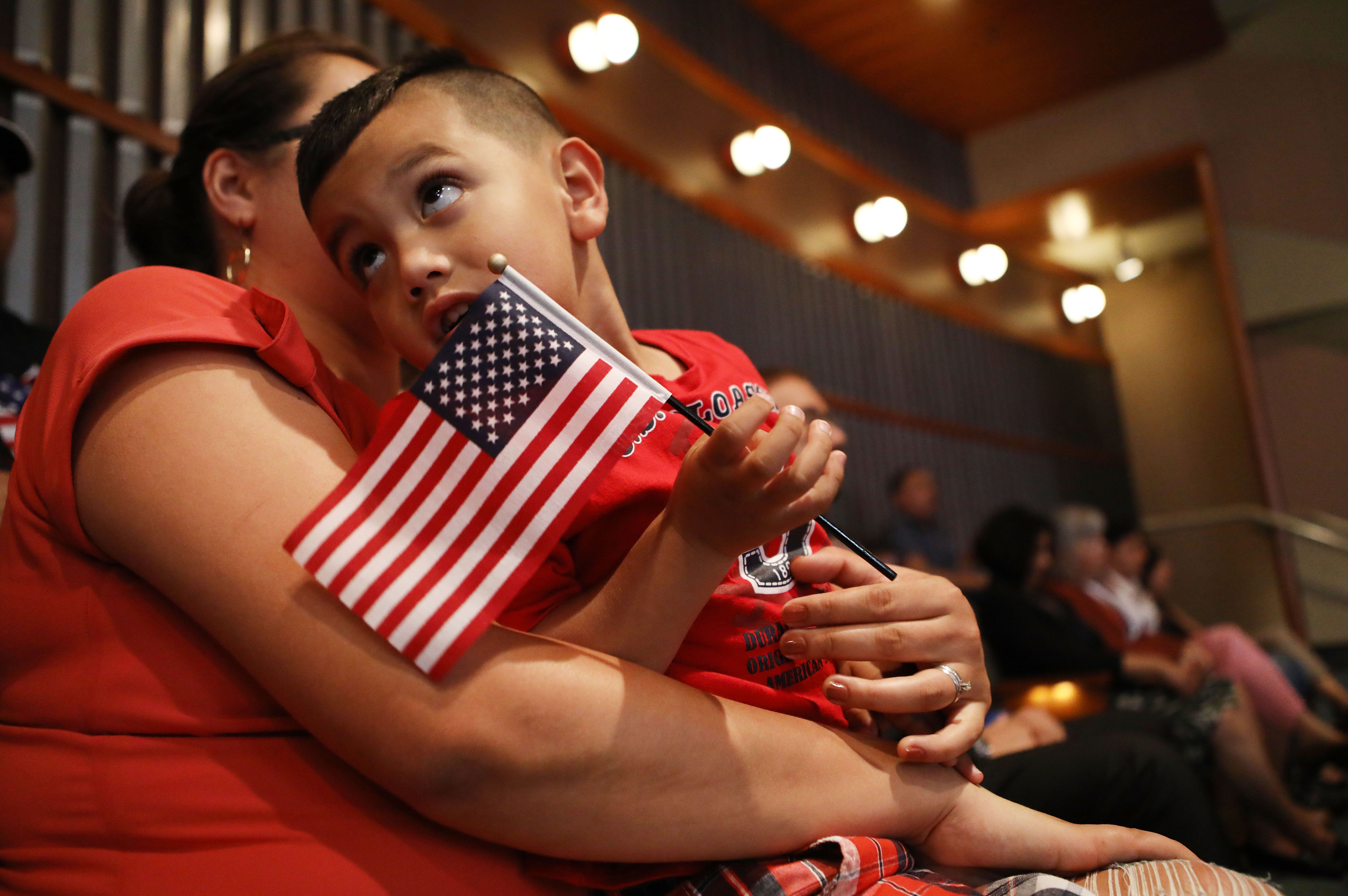 Sergio Montana, 3, originally from Mexico, receives citizenship papers at a celebration for young people held in L.A. yesterday by Homeland Security's U.S. Citizenship and Immigration Services.
Citizenship papers were presented to 60 young people who received their citizenship when their parents naturalized.
The ceremony was part of annual Independence Day celebrations by USCIS, which will welcome 14,000 new citizens between June 28 and today.
5. Facebook's push for facial recognition
"When Facebook rolled out facial recognition tools in the European Union this year, it promoted the technology as a way to help people safeguard their online identities," the N.Y. Times' Natasha Singer writes:
"It was a risky move by the social network. Six years earlier, it had deactivated the technology in Europe after regulators there raised questions about its facial recognition consent system. Now, Facebook was reintroducing the service as part of an update of its user permission process in Europe."
"Facial recognition works by scanning faces of unnamed people in photos or videos and then matching codes of their facial patterns to those in a database of named people."
"Facebook is taking a huge reputational risk in aggressively pushing the technology at a time when its data-mining practices are under heightened scrutiny in the United States and Europe."
"Already, more than a dozen privacy and consumer groups, and at least a few officials, argue that the company's use of facial recognition has violated people's privacy by not obtaining appropriate user consent."
What's next: "Over the last few years, Amazon, Apple, Facebook, Google and Microsoft have filed facial recognition patent applications.'
6. Stat du jour
"High violent crime exposure fuels health risks, study finds" — Chicago Tribune:
"In a study published recently in the Journal of the American Heart Association, University of Chicago researchers found there is a connection between repeated exposure to violent crime in some West and South side neighborhoods and elevated blood pressure and obesity."
"Using police data alongside patient health records, they learned that those living in areas with high rates of violent crime have 25 percent higher odds of having hypertension and 53 percent higher odds of being obese."
7. Bite of the day
During a phone call with Vladimir Putin in March, the N.Y. Times reports in a walk-up story to tomorrow's NATO summit in Brussels, President Trump (who leaves for Europe with the First Lady this morning) "described as 'stupid people' the unnamed Trump administration officials whom the Russian president said had tried to prevent the call from happening."
"[W]hen the president was urged by aides not to congratulate the Russian president on his electoral victory, Mr. Trump did just that."
8. Michael Bloomberg announces business forum and One Planet Summit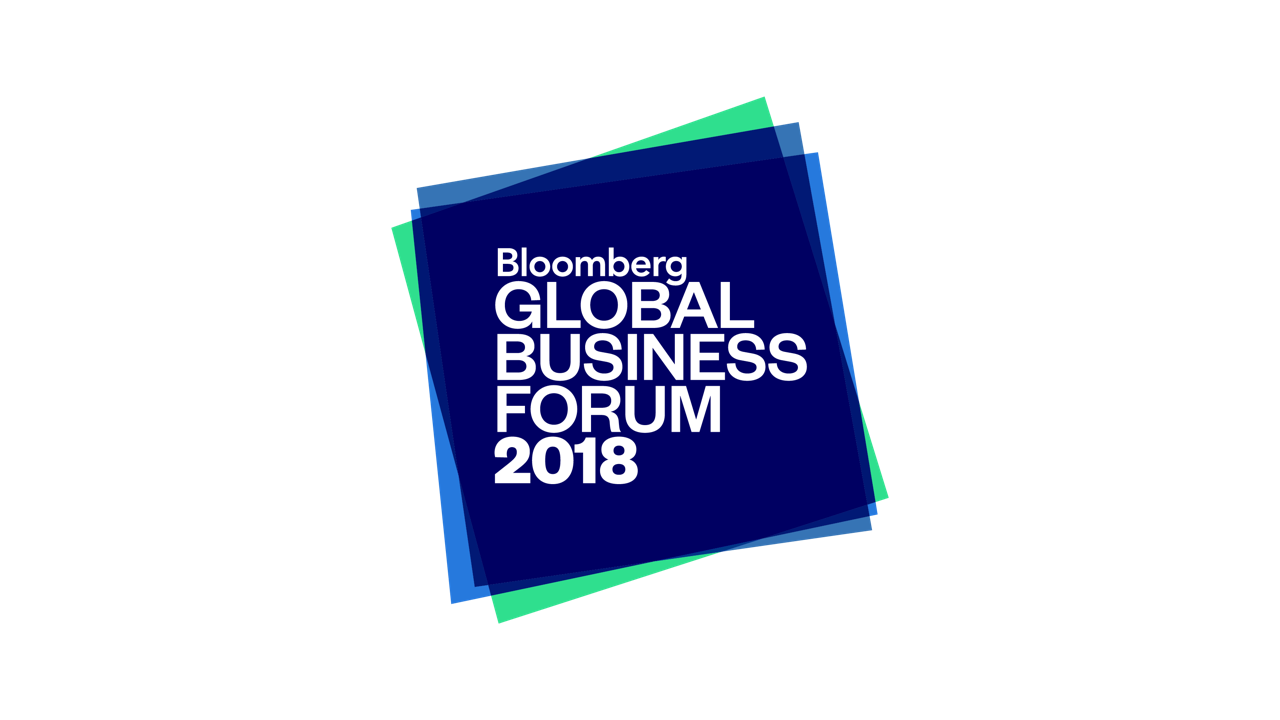 First look ... For the second year in a row, former New York Mayor Michael Bloomberg will convene world leaders and CEOs for a Bloomberg Global Business Forum in New York, on Sept. 26 during the United Nations General Assembly. Per a release:
"Heads of state from five continents are already confirmed to attend this year's Forum."
"Supported by Bloomberg Philanthropies, the daylong forum is the sole convening dedicated to encouraging presidents, prime ministers and CEOs to collaborate on trade issues."
"Leaders from the public and private sectors and civil society, French President Emmanuel Macron, Secretary-General of the United Nations António Guterres, President of the World Bank Group Jim Yong Kim and ... Michael Bloomberg will host the second One Planet Summit on the afternoon September 26th at the Plaza Hotel."
Mayor Bloomberg: "The Forum comes at a critical time as tensions around tariffs create economic uncertainty in many industries."
Forum partners: Alphabet Inc./Google CFO Ruth Porat, BNP Paribas CEO Jean-Laurent Bonnafé, Credit Suisse CEO Tidjane Thiam, Dangote Group President/Chief Executive Aliko Dangote, Engie Global CEO Isabelle Kocher, EXOR Chairman and CEO John Elkann, LVMH CEO Bernard Arnault, Mahindra Group Chairman Anand G. Mahindra, Misk Foundation Chairman and His Royal Highness Crown Prince of Saudi Arabia Mohammad bin Salman bin Abdulaziz, and SOHO China Founder and CEO Xin (Shynn) Zhang.
9. Warner Bros. proposes Hollywood Skyway
"$100-million project is aimed at reducing traffic," per L.A. Times' Ryan Faughnder:
"Residents of the hilly neighborhoods surrounding the famed Hollywood sign ... have long blamed the attraction for ... parking nightmares."
"Now one of the movie and television business' biggest players, Warner Bros., says it has a bold solution."
"The 95-year-old studio [yesterday] told city officials it would foot the bill for an aerial tramway to transport visitors to and from the Hollywood sign, starting from a parking structure next to its Burbank lot."
"The ... Hollywood Skyway ... would cost the studio an estimated $100 million":
"The tramway would take visitors on a 6-minute ride more than 1 mile up the back of Mt. Lee to a new visitors center near the sign."
"The purpose, the AT&T- owned entertainment company said, is to give selfie-seeking visitors a way to see the famed letters without driving and hiking through residential neighborhoods, such as Beachwood Canyon."
"The traffic problem has worsened in recent years with the rise of social media photo-sharing sites such as Instagram, ride-sharing apps including Uber and Lyft, and navigation services such as Waze."
10. 1 phone thing: Apple's App Store opened 10 years ago today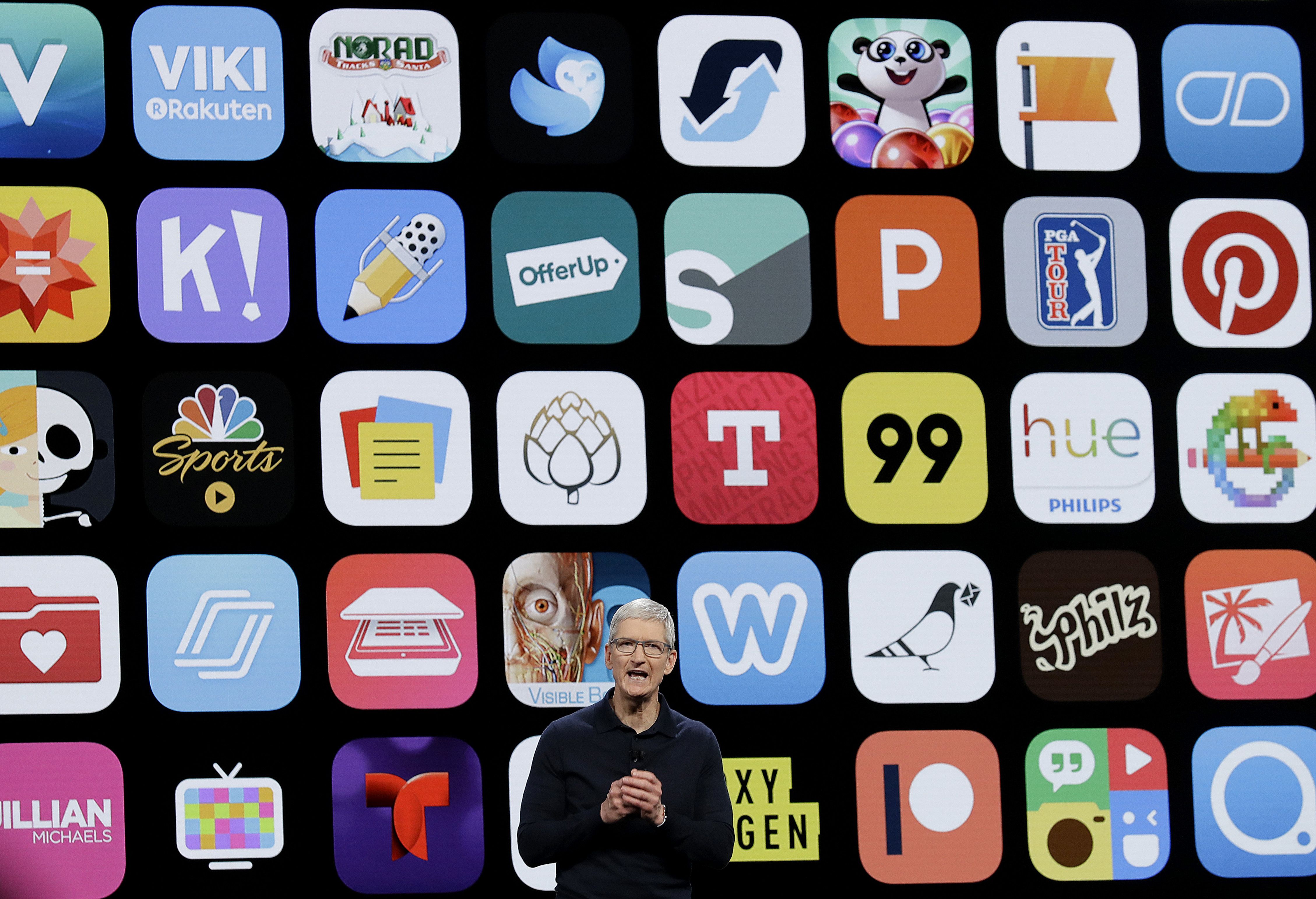 Apple opened its App Store on July 10, 2008, with 500 apps.
The resulting explosion of phone apps — there are now more than 2 million for the iPhone alone — has changed daily life for billions of people around the world, AP Tech Writer Michael Liedtke writes:
"At the time, mobile phones were largely a take-it-or-leave it proposition, with features programmed by their manufacturers and customization mostly limited to a choice between tinny electronic ringtones."
"During [the store's] first weekend, people downloaded 10 million apps — many of them games."
"Apple competitors Google, Amazon and Microsoft soon launched their own app stores. Together, these companies now offer roughly 7 million apps. Apple, meanwhile, has now sold more than a billion iPhones."
The app economy/tsunami:
"Billions of dollars flowed into startups dependent on their apps, from Uber to Snapchat to Spotify to game makers like Angry Birds creator Rovio."
"Apple perhaps benefited most of all. Its 'free' apps usually display advertising or make money from subscriptions or other in-app purchases, while others charge users to download. Apple takes a cut of this action, sometimes as much as 30 percent."
"The app store is now the fasting growing part of Apple's business. ... The company says it has paid out more than $100 billion to developers during the past decade."
Thanks for reading. We'll have updates all day on Axios.com.