https://www.axios.com/newsletters/axios-am-de6f3933-be4c-4546-adf6-6780e4776889.html?chunk=0#story0
​1 big thing: The price of impulse and improvisation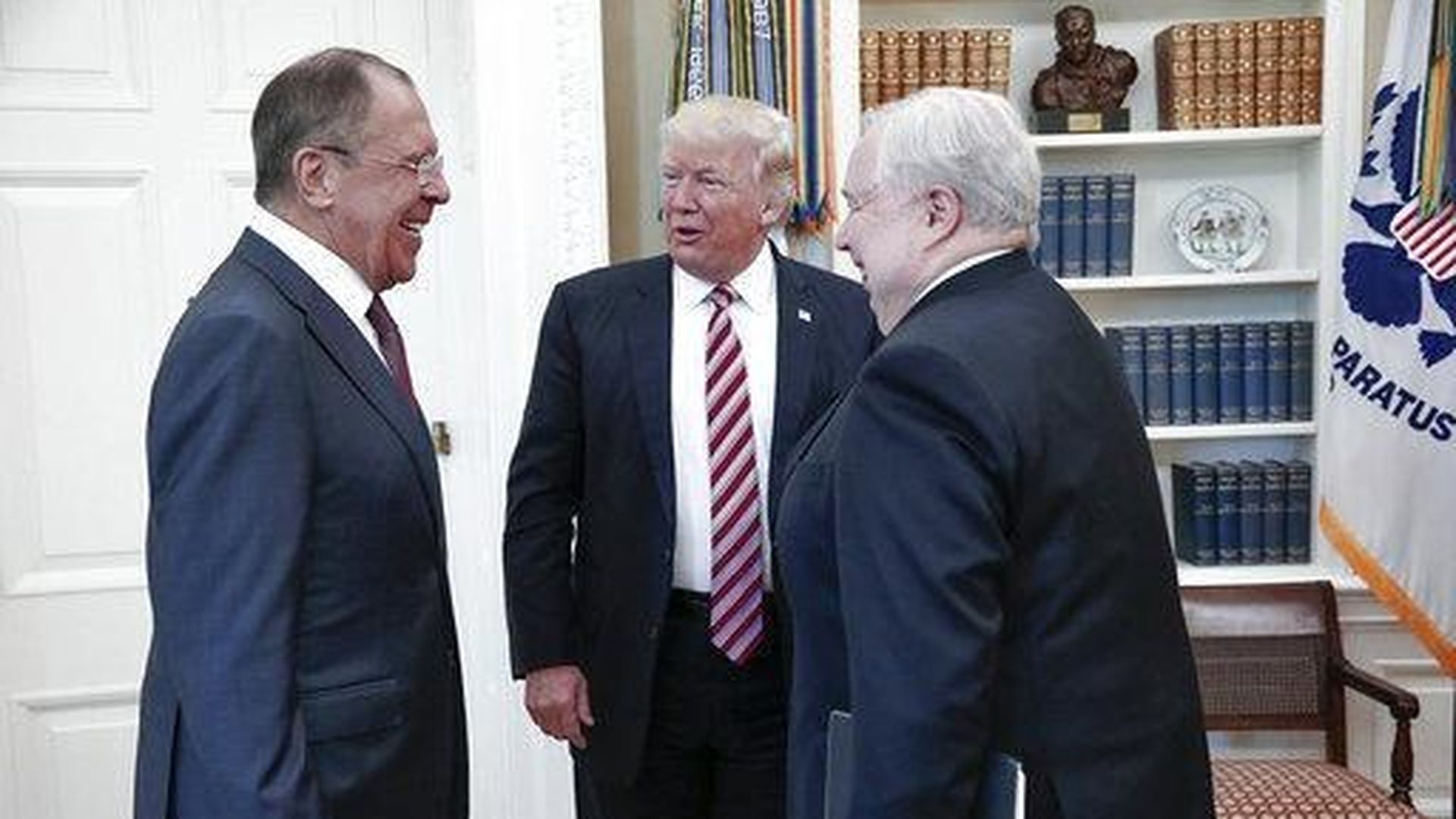 The answers to why Trump canned Comey are becoming clear: The president was filled with grievance about the FBI probe and acted on impulse without clearly thinking through the fallout, numerous sources tell me.
The consequences are also becoming clear: This one quick decision put everything at unnecessary risk, from his legislative agenda to his public standing — and potentially his presidency.
"It is a debacle," said one Republican in constant touch with the West Wing. "They got everything — timing, rationale, reaction — completely wrong."
The fallout:
A Senate committee put off a health-care markup yesterday because Democrats and Republicans were occupied with their Comey response — a first indicator of the price the Trump agenda may pay in the days ahead, through both distraction and the souring of interpersonal relations along Pennsylvania Avenue.
Dems smell blood, both with investigations and a possible House takeover. They had little incentive to help before. Now they have none.
We told you yesterday that this would only increase the ferocity of the investigations. That's already true in the Senate, where Mike Flynn was subpoenaed yesterday for documents about his interactions with Russians that he had refused to provide.
Axios' Jonathan Swan pointed out yesterday that the White House isn't prepared for the leaks that are coming. Sure enough, CNN's Jake Tapper soon popped some of the day's most damaging reporting: A source close to Comey said he believes he was fired because he "never provided the President with any assurance of personal loyalty," and because "the FBI's investigation into possible Trump team collusion with Russia in the 2016 election was accelerating." And this is someone who's going to be called to testify before Congress, and is likely to write a book and speak widely.
As one Republican put it to me: "The team are rank amateurs who picked a fight with the intelligence agencies and the FBI. Hard to unite those historically competitive organizations. And they have the ability to find out almost anything!"
Sound smart I: This crisis of his own making is about to get worse.
Sound smart II: Wait, Spicer's to blame?! Hard to see how anyone could magically spin your boss abruptly canning the guy investigating the very legitimacy of his job.
https://www.axios.com/newsletters/axios-am-de6f3933-be4c-4546-adf6-6780e4776889.html?chunk=1#story1
2. Shoes dropping everywhere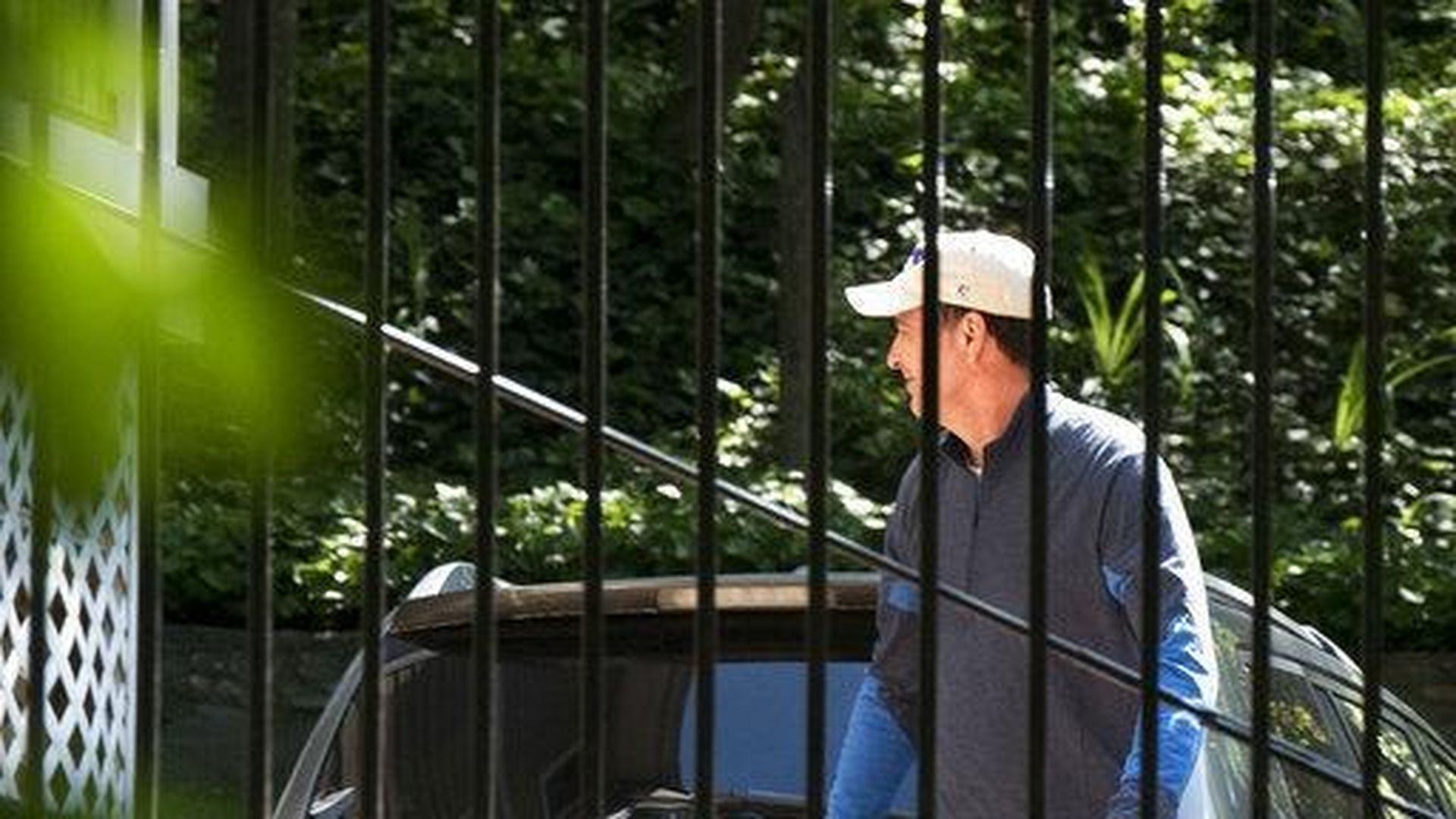 Trump on Comey: "infuriated" ... "white hot" ... "enraged ... fuming about Russia" ... "impatient with what he viewed as his sanctimony" ... "There was 'something wrong with' Mr. Comey, he told aides."
Blows massive hole in White House account — WashPost's Philip Rucker, Ashley Parker, Sari Horwitz and Robert Costa: Deputy Attorney General Rod Rosenstein "threatened to resign after the narrative emerging from the White House on Tuesday evening cast him as a prime mover of the decision to fire Comey and that the president acted only on his recommendation."
Wall Street Journal's Shane Harris and Carol Lee: "Comey started receiving daily instead of weekly updates on the investigation, beginning at least three weeks ago ... Comey was concerned by information showing possible evidence of collusion."
WashPost: "Within the Justice Department and the FBI, the firing of Comey has left raw anger, and some fear ... Trump had 'essentially declared war on a lot of people at the FBI' one official said. 'I think there will be a concerted effort to respond over time in kind.'"
Key Republicans agree the firing intensified the investigations ... From an L.A. Times analysis, "By firing Comey, Trump may have fanned the flames he hoped to control," by David Lauter:
"In an email lament circulated among prominent Republicans, A.B. Culvahouse Jr., former Reagan White House counsel and head of Trump's vice presidential search effort, said the firing 'both prolongs the FBI/DOJ investigation and undermines the credibility of the Trump campaign's denials of no conspiracy with Putin.' 'We could be talking about Russian hacking in the mid-terms at this rate.'"
N.Y. Times' Matthew Rosenberg and Matt Apuzzo: "Comey's firing appears to have imbued the Senate Intelligence Committee with a renewed sense of urgency."
https://www.axios.com/newsletters/axios-am-de6f3933-be4c-4546-adf6-6780e4776889.html?chunk=2#story2
3. For your radar
https://www.axios.com/newsletters/axios-am-de6f3933-be4c-4546-adf6-6780e4776889.html?chunk=3#story3
4. Zeitgeist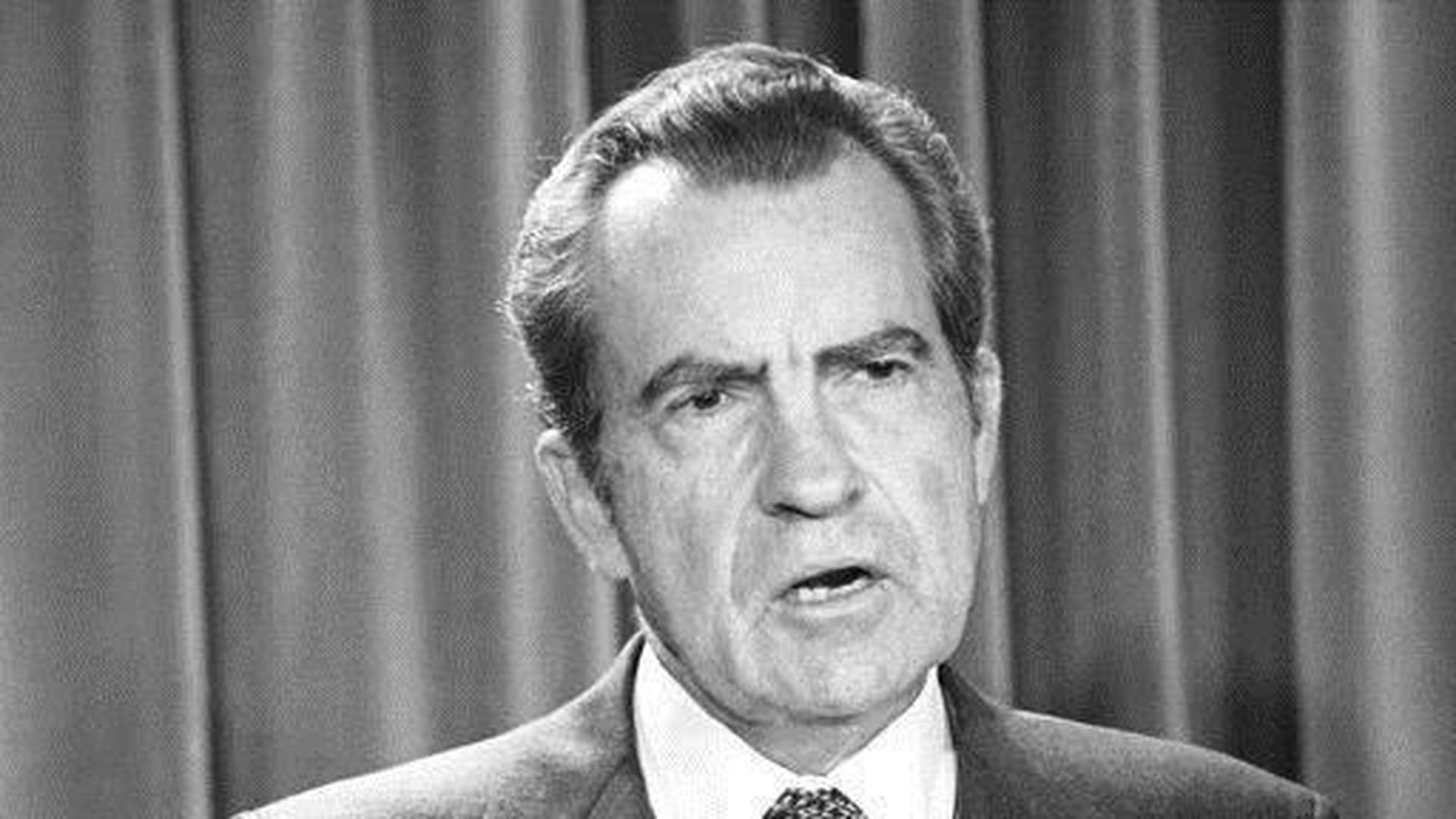 "Morning" Joe Scarborough: "[A]s you look at how Donald Trump has ravaged the Justice Department and the law enforcement arm of the executive branch, it is now up to the United States Senate to actually stand up to a man who sees himself as an authoritarian, an autocrat, a man whose power is not to be questioned."
Historian Michael Beschloss, on "Morning Joe": "Nixon fired Archibald Cox, the Watergate special prosecutor, and his intention was to shut down that Watergate investigation. ... [T]he only reason that things changed was that members of the Senate — especially members of Nixon's own party, Republicans — said, 'You know, this is not something that shows respect for our institutions and our democracy. This is the way an autocrat behaves, and you cannot have an investigation that's done by your own Justice Department.'
"They demanded a new special prosecutor, and only because of that protest, both in the Senate and the House and by Americans across the country, was Nixon forced to hire a new special prosecutor, Leon Jaworski, who was just as tough."
N.Y. Times Quote of the Day ... Sen Dick Durbin (D-Ill.): "I think the Comey operation was breathing down the neck of the Trump campaign and their operatives, and this was an effort to slow down the investigation."
NYT rounds up "How the Right and Left Reacted to Comey's Firing."
https://www.axios.com/newsletters/axios-am-de6f3933-be4c-4546-adf6-6780e4776889.html?chunk=4#story4
5. "Something was clearly going on"
The N.Y. Times' Mike Shear posts an insider account of what it was like to be at the White House when the Comey news broke, "Breaking the Comey News, One Sentence at a Time":
I had arrived at the White House just in time to meet the 6 p.m. deadline to turn in my passport and visa applications for President Trump's first foreign trip next week. I walked through a mostly-deserted press briefing room ... and into the cramped office known as Lower Press, where White House press aides sit. There, I saw Sean Spicer, the press secretary, huddled over a computer, with all his assistants crowded around him. ... Something was clearly going on.
After a few minutes, Mr. Spicer opened the door and announced to me and the half dozen other reporters who were nervously waiting that something important would be in our inboxes momentarily. ... Spicer pointed to ABC's Jon Karl. 'It's your question from the briefing,' he said, smiling. 'Comey?' Mr. Karl offered, recalling that he had asked Mr. Spicer whether the president still had confidence in the F.B.I. director. Mr. Spicer smiled broadly and put his finger on his nose.
https://www.axios.com/newsletters/axios-am-de6f3933-be4c-4546-adf6-6780e4776889.html?chunk=5#story5
6. Trump's TV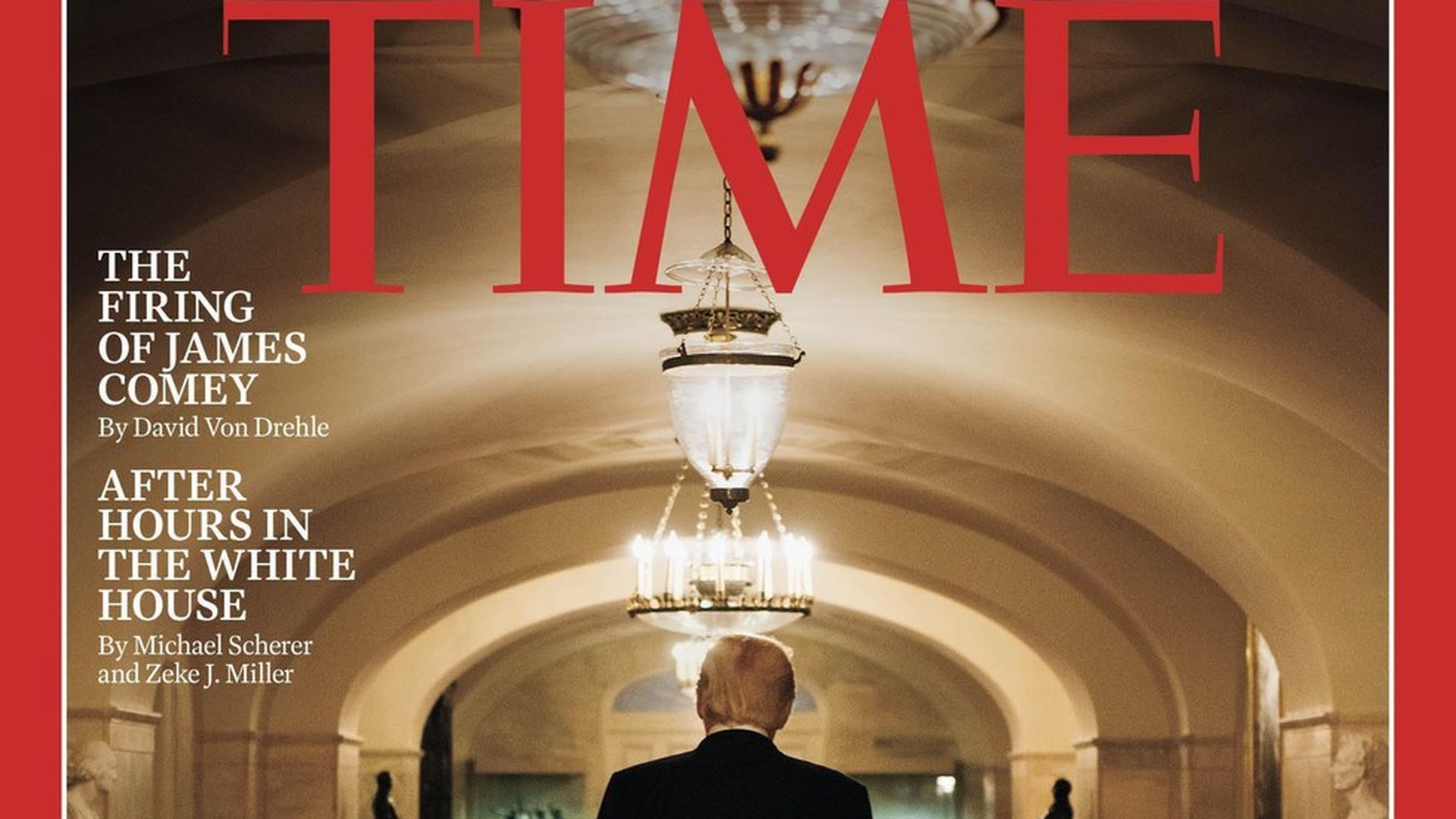 https://www.axios.com/newsletters/axios-am-de6f3933-be4c-4546-adf6-6780e4776889.html?chunk=6#story6
7. "Going to keep people real happy"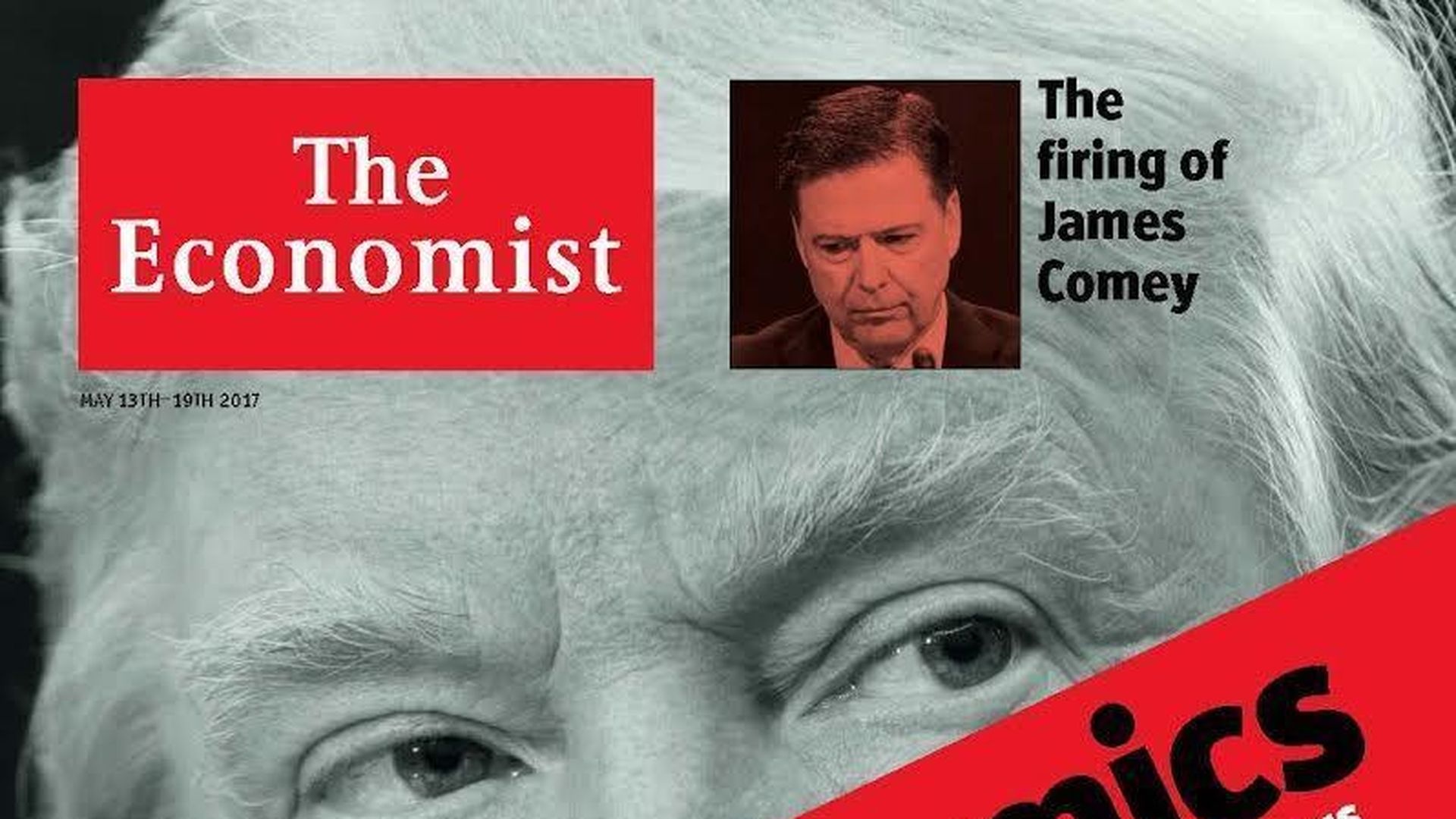 Trump defines "Trumponomics" when asked by The Economist: "[I]t really has to do with self-respect as a nation. It has to do with trade deals that have to be fair, and somewhat reciprocal, if not fully reciprocal. And I think that's a word that you're going to see a lot of, because we need reciprocality in terms of our trade deals. ... I'm absolutely a free-trader. I'm for open trade, free trade, but I also want smart trade and fair trade."
"[W]hen you talk about the tax cut, the regulation cut, Dodd-Frank, you'll be doing a story on that fairly soon because we're doing a very massive overhaul on Dodd-Frank. We're doing things that are going to keep people real happy.
"And then ultimately, when I leave office, on the assumption [Mike Pence] doesn't follow me, but he will. But when I leave office what happens is slowly they'll nip away at it, nip away, nip away and then in 40, 50 years somebody else will come along and bring it back. But we're bringing back entrepreneurship. We're bringing back enthusiasm."
https://www.axios.com/newsletters/axios-am-de6f3933-be4c-4546-adf6-6780e4776889.html?chunk=7#story7
8. A three-act play
Act I ... WashPost's Jenna Johnson on Tuesday night, "After Trump fired Comey, White House staff scrambled to explain why": "As Democrats and Republicans began to criticize and question the firing with increasing levels of alarm, Spicer and two prominent spokeswomen [Sarah Huckabee Sanders and Kellyanne Conway] were suddenly speed-walking up the White House drive to defend the president on CNN, Fox News and Fox Business."
"After Spicer spent several minutes hidden in the bushes behind these [TV standup] sets, Janet Montesi, an executive assistant in the press office, emerged and told reporters that Spicer would answer some questions, as long as he was not filmed doing so. Spicer then emerged."
Act II ... "Spicer in the bushes" trends hard: "Someone mashed Sean Spicer with that GIF of Homer Simpson hiding in the bushes" ... "11 Hilarious Memes of Sean Spicer Literally Hiding in Bushes" ... "Spicer Hid in the Bushes ... and the Internet Roasted Him in Seconds" ... "A Sean Spicer In The Bushes Meme-Fest" ... "17 Of The BEST Sean Spicer Hiding In Bushes Memes The Internet BLESSED Us With Today."
Act III ... WashPost "EDITOR'S NOTE" added to Jenna's dispatch: "This story has been updated to more precisely describe White House press secretary Sean Spicer's location late Tuesday night in the minutes before he briefed reporters. Spicer huddled with his staff among bushes near television sets on the White House grounds, not 'in the bushes,' as the story originally stated."
The takeaway: You've been POSTED!
So NEVER MIND, "Saturday Night Live" writers' room!
https://www.axios.com/newsletters/axios-am-de6f3933-be4c-4546-adf6-6780e4776889.html?chunk=8#story8
9. Number of the day
The Fox News bill for settlement payments so far, per CNN's Brian Stelter: $45 million.
P.S. "Snap's stock plummets after missing earnings goals," by Axios' Sara Fischer: "Snap's pitch to investors when it went public was that, although it wouldn't be profitable this quarter, user growth and investments in ad technology would bring profitability in the foreseeable future.
"Based on reactions to its first earnings call, investors aren't confident. Shares were down nearly 25% after trading Wednesday to roughly $17.5 per share, negating any growth it experienced after going public at $17 per share in March."
https://www.axios.com/newsletters/axios-am-de6f3933-be4c-4546-adf6-6780e4776889.html?chunk=9#story9
10. 1 fun thing: How we watch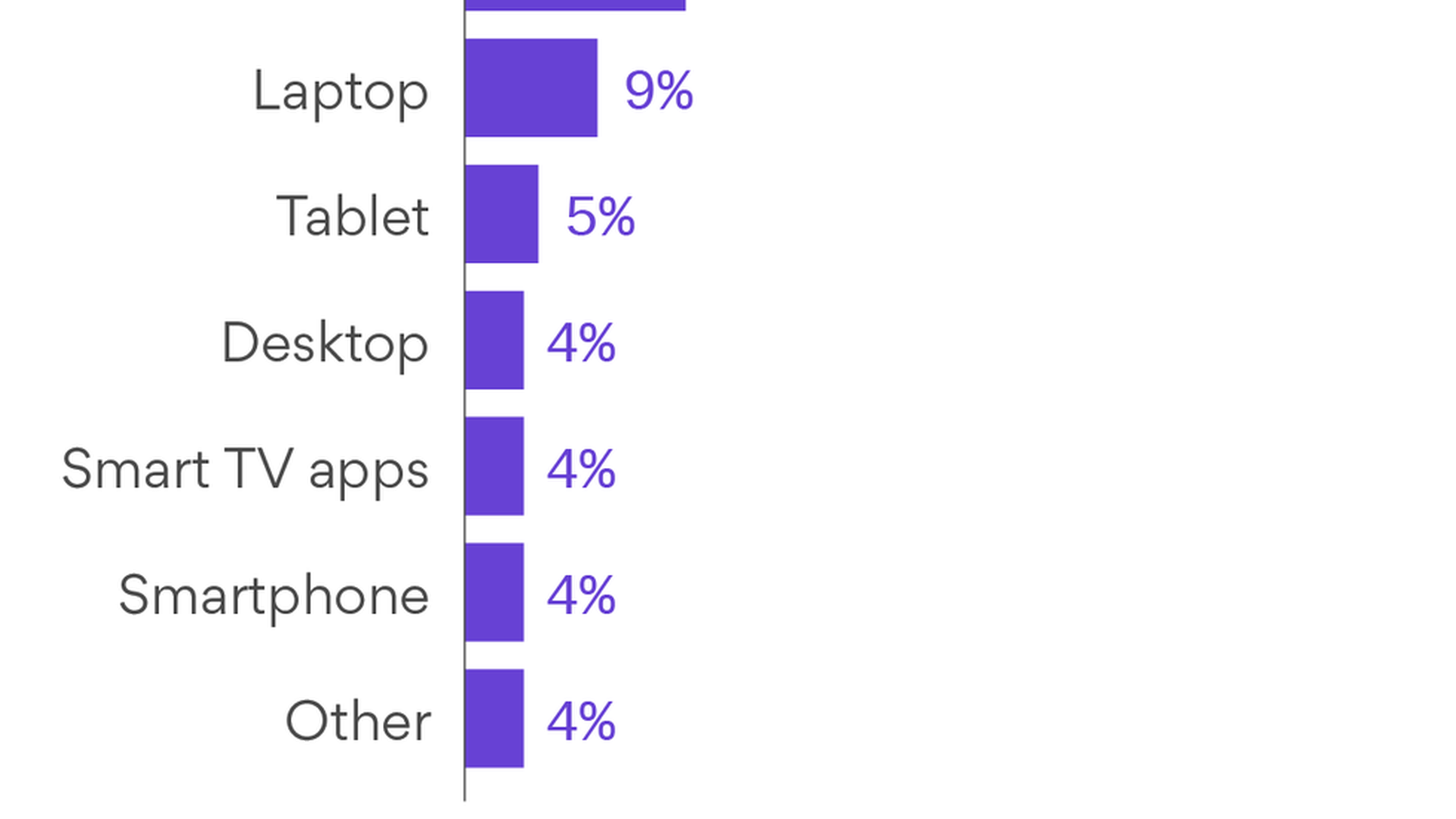 Americans like watching TV content on big screens, according to Axios' Sara Fischer.
Why it matters: If TV content is to be consumed on smaller screens, it needs to be made for a mobile viewing experience, which means shorter, quicker, more interactive formats. (Reminder: 55% of all mobile sessions last less than 30 seconds.) Most major platforms (Twitter, YouTube, Facebook, etc.) have been inking original content deals with TV shows. But so far; none has officially rolled out a TV video experience as unique to mobile as Snapchat.