Good Thursday morning. Situational awareness: "Apartment rents in Manhattan fell the most in almost four years as landlords made deeper price cuts to lure tenants in a market brimming with choices." Median rent last month: $3,295. (Bloomberg)
https://www.axios.com/newsletters/axios-am-ddb22dd7-9345-4abd-a6c0-5881227ccb7a.html?chunk=0#story0
1 big thing: #MeToo sweeps states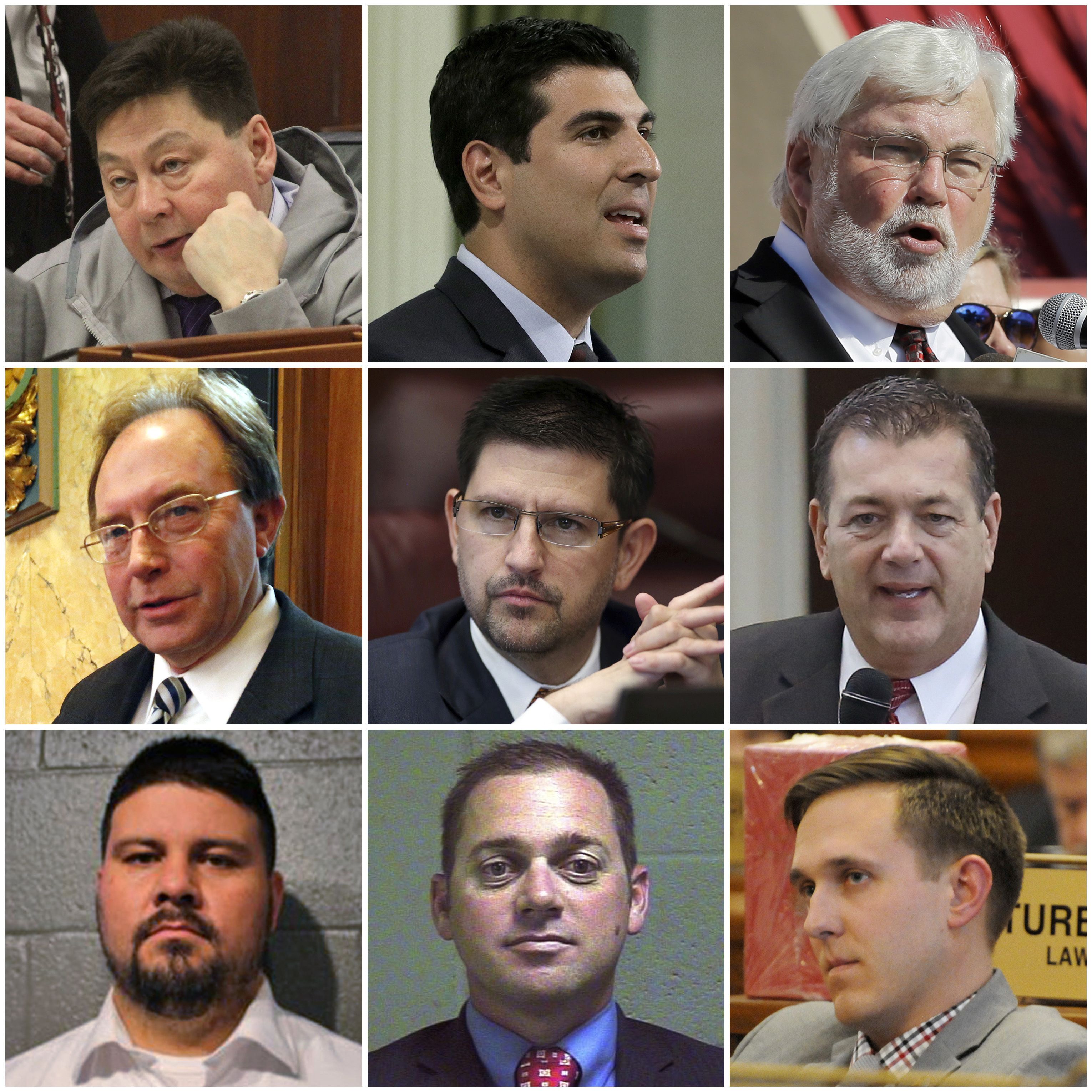 State lawmakers who resigned after being accused of sexual misconduct or harassment (from top left, row by row): Alaska Rep. Dean Westlake, California Assemblyman Matt Dababneh and Florida Sen. Jack Latvala. Middle row: Mississippi Rep. John Moore, Nevada Sen. Mark Manendo and Oklahoma Rep. Dan Kirby. Bottom row: Oklahoma Sen. Ralph Shortey, Oklahoma Sen. Bryce Marlatt and South Dakota Rep. Mathew Wollmann. (AP)
As the state legislative season begins, the #MeToo revolution is cleaning up state capitals.
Early in my career, I covered state legislatures in Richmond and Hartford. All winter, up-and-coming lawmakers are thrown together with young staff and ambitious lobbyists for weeks at time of boozy nights far from home.
That's a lot of bad behavior.
In the past year, at least 14 legislators in 10 states (list) have resigned from office following accusations of sexual harassment or misconduct, AP found in a state-by-state review:
"At least 16 others in more than a dozen states have faced other repercussions, such as the voluntary or forced removal from legislative leadership positions."
AP's David Lieb writes from Jefferson City, Mo, that "a majority of state legislatures across the country are considering strengthening sexual harassment policies that have gone unheeded or unchanged for years."
"[A]bout a third of all legislative chambers do not require lawmakers to receive training about what constitutes sexual harassment, how to report it and what consequences it carries."
Be smart: The #MeToo revolution — including more scandals, and debate over new workplace norms — is just beginning. One front that has gotten zero attention, but will: staff behavior on Capitol Hill.
P.S. "NPR reported ... that James Rosen, a former Washington correspondent who left Fox News last month, had done so after the network began scrutinizing sexual misconduct allegations against him. And Joel Achenbach, a Washington Post reporter, received a 90-day suspension ... for unspecified misconduct involving current and former female colleagues." (N.Y. Times)
https://www.axios.com/newsletters/axios-am-ddb22dd7-9345-4abd-a6c0-5881227ccb7a.html?chunk=1#story1
2. Virtual assistants and car tech dominate CES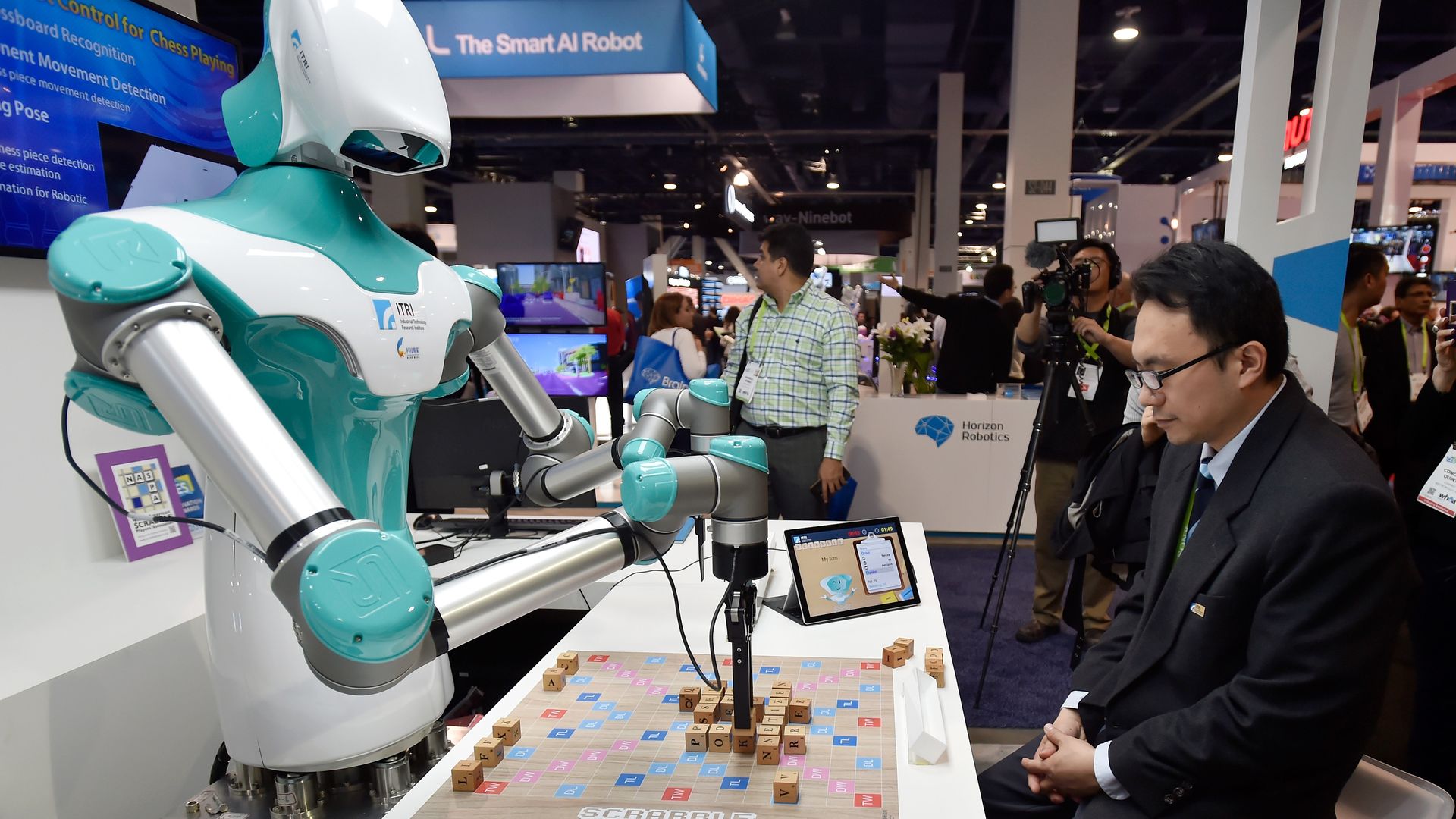 The single biggest development at this year's big consumer electronics show in Vegas was an escalation of the battle between Google and Amazon to get their voice assistants built into all manner of tech gear, Axios' Ina Fried reports from the Strip:
Google had its name splashed on booths, billboards and monorails, while Amazon had its own slew of banners and announcements.
The other big trend: Cars. CES has become a big show for the auto industry over the years, but this year, car tech, especially that of the self-driving variety, was one of the biggest themes of the year, second only to the race between Amazon's Alexa and Google's Assistant.
Follow our live coverage from Vegas.
https://www.axios.com/newsletters/axios-am-ddb22dd7-9345-4abd-a6c0-5881227ccb7a.html?chunk=2#story2
3. Stat du jour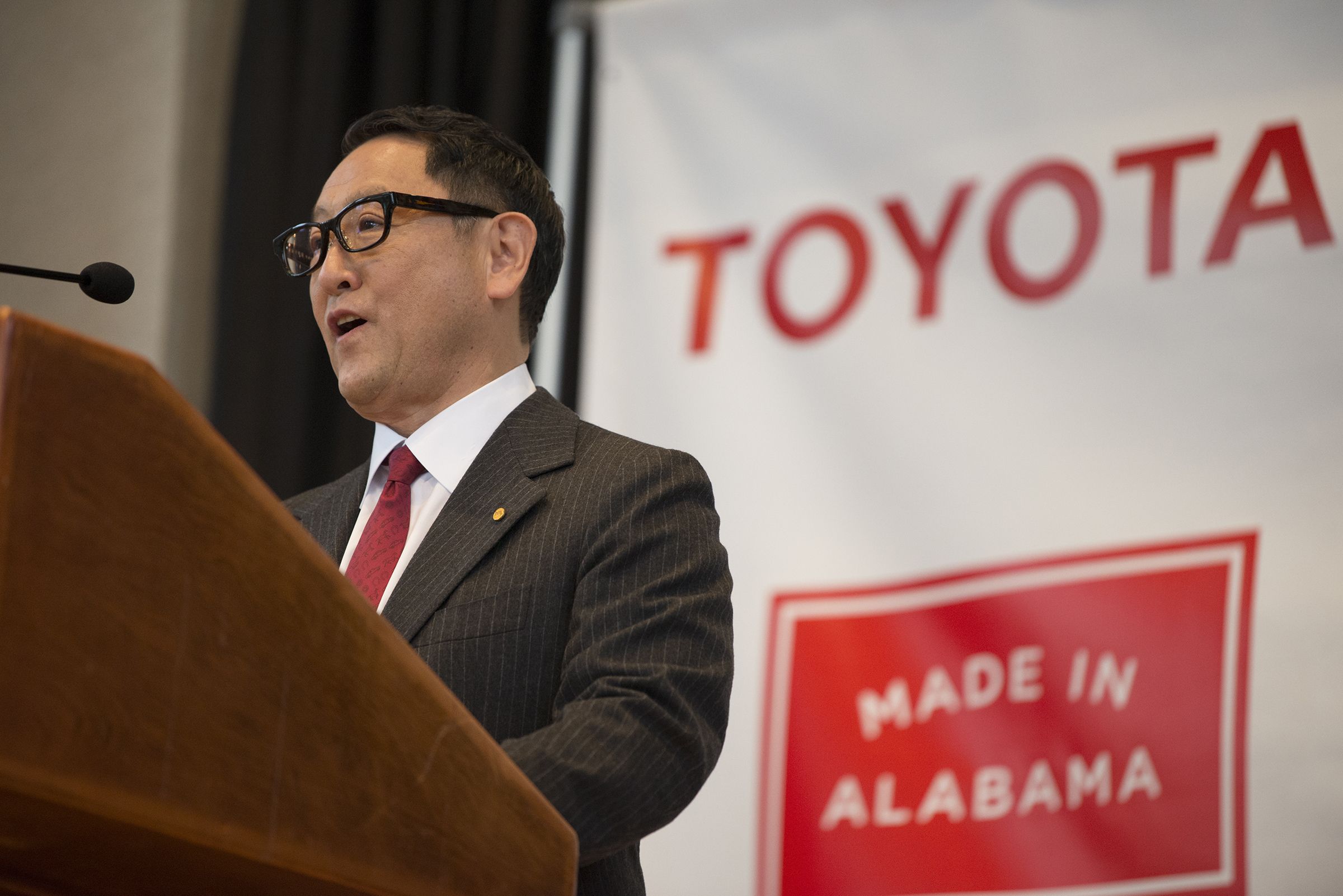 Toyota Motor Corp. president Akio Toyoda speaks during a news conference yesterday in Montgomery, Ala. (Albert Cesare/The Montgomery Advertiser via AP)
Toyota's announcement yesterday of Alabama as the home for a shared factory with Mazda puts foreign car makers on pace to pass Detroit in U.S. production, per Wall Street Journal front page:
The stat: "In the first quarter of 2018, foreign makers are expected to produce 1.4 million vehicles in the U.S., WardsAuto.com projects, equaling their American rivals for the first time."
Why it matters: GM, Ford and Fiat Chrysler "are likely see their dominance in vehicle production entirely evaporate as rivals such as Toyota and Mercedes-Benz boost their American workforces and add new factories."
"Already, the Big 3 are being outsold by non-U.S. rivals, as their share of American sales dwindled to 44% in 2017."
https://www.axios.com/newsletters/axios-am-ddb22dd7-9345-4abd-a6c0-5881227ccb7a.html?chunk=3#story3
4. Hundreds hunt for mudslide victims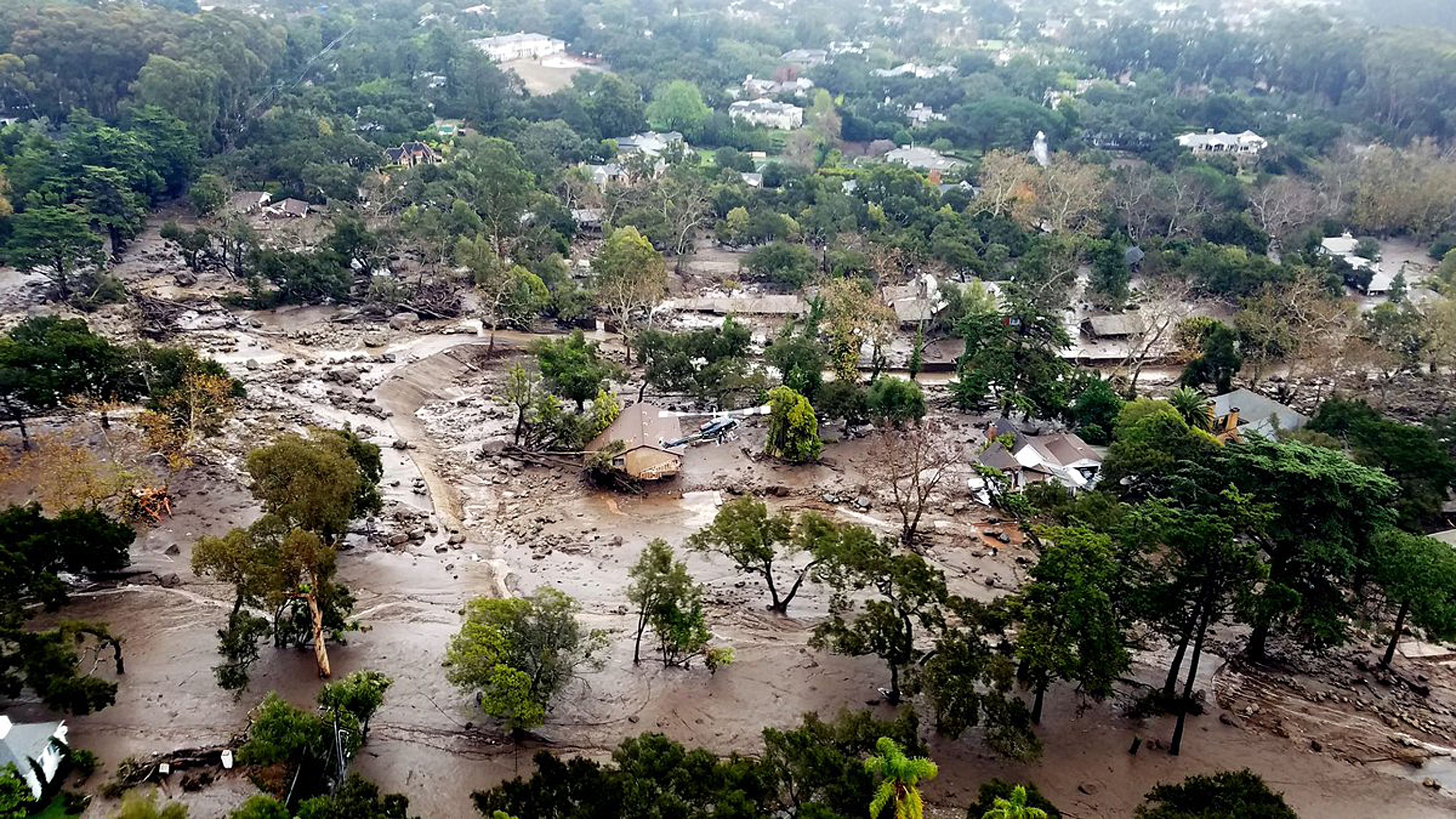 Aerial photo shows mudflow and damage to homes in Montecito, Calif. (Matt Udkow/Santa Barbara County Fire Department via AP)
With at least 17 dead and hundreds trapped in California mudslides, crews search from the air and dig through a deluge of debris, per L.A. Times.
What happened: "Santa Barbara County officials chose not to send an emergency alert to cellphones warning of mudslides until destructive flooding had already begun in Montecito ... [T]he downpour was much worse than anticipated."
"The message, similar to an Amber Alert for abducted children, was sent about 3:50 a.m. Tuesday to all registered cellphones in areas that were under voluntary and mandatory evacuations."
Why it matters: "Deadly natural disasters in California over the last few months have sparked debate over how best to warn the public about an impending safety threat."
"More than 40 people died in October when fires swept through wine country. Some residents said they got little or no warning, in part because Sonoma County decided not to use the cellphone bulletins."
Go deeper ... The Wall Street Journal has a more sympathetic take for government: "Many Ignored Evacuation Orders Before Mudslides."
https://www.axios.com/newsletters/axios-am-ddb22dd7-9345-4abd-a6c0-5881227ccb7a.html?chunk=4#story4
Bonus pic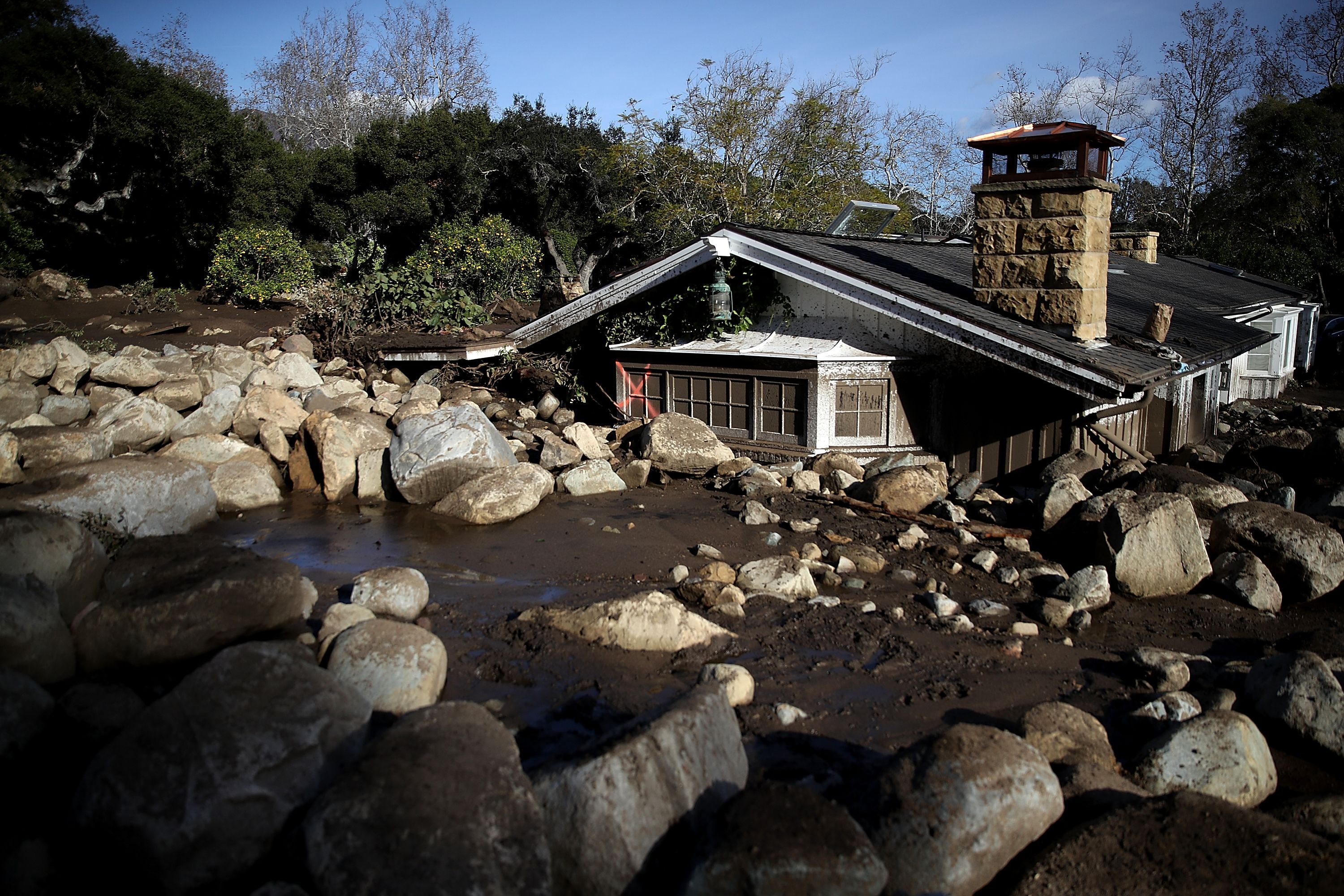 Justin Sullivan/Getty Images
Debris from a mudslide buries a home in Montecito, Calif.
https://www.axios.com/newsletters/axios-am-ddb22dd7-9345-4abd-a6c0-5881227ccb7a.html?chunk=5#story5
5. Axios interview: BP CEO Bob Dudley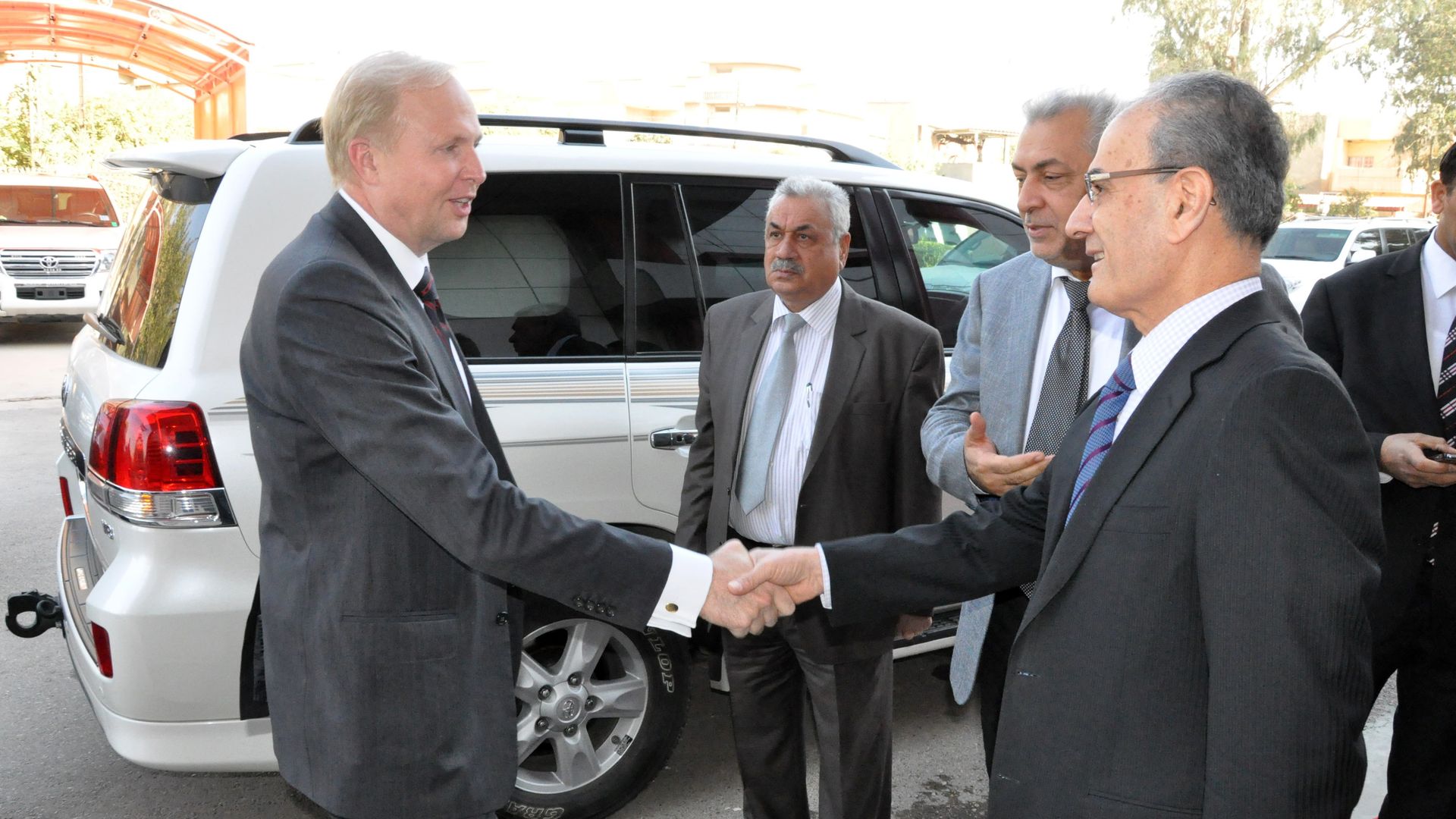 BP CEO Bob Dudley showed a muted appetite for pursuing drilling in new areas off America's coasts, in an interview with Axios' Amy Harder:
Why it matters: Dudley's comments throw cold water on the idea oil companies are going to jump on drilling new wells off America's coasts in response to the Trump administration proposal to open up almost all federal waters to new leasing.
The reality is more complicated — and less compelling — than top administration officials have made it seem as they pursue Trump's "energy dominance" agenda.
Dudley, who's based in London: "For us, we've got a very full plate in the United States ... We don't have a plan that says, 'Here's what we're interested in,' because we have prioritized a lot of activity, including reducing exploration and the size of the company."
https://www.axios.com/newsletters/axios-am-ddb22dd7-9345-4abd-a6c0-5881227ccb7a.html?chunk=6#story6
6. House GOP at odds with Trump on border
"House Republicans stepped forward ... with a [hardline] vision of immigration policy that clashed fiercely with President Trump's recent overtures of bipartisanship and highlighted how difficult it will be ... to reach accord in the coming weeks," the N.Y. Times writes in its lead story:
Why it matters: "[T]he House proposal [more expansive than what Trump has outlined] highlighted the uncertainty surrounding negotiations that are supposed to coalesce before the government runs out of money on Jan. 19."
"Trump's positions vacillate daily. And members of both parties are divided. Some Democrats are pressing for confrontation, while others seem to fear a political backlash. Some Republicans are searching for compromise against a conservative tide of anti-immigrant fervor."
N.Y. Times Quote of the Day ... Francis Madi, 28, who was brought to the United States from Venezuela in 2003, on the tension she and other "Dreamers" feel as they watch their fate being debated:
"It's like watching a telenovela. Every day is different. Now we're just going to the stressful part of the telenovela where you wonder what will happen to the protagonist."
https://www.axios.com/newsletters/axios-am-ddb22dd7-9345-4abd-a6c0-5881227ccb7a.html?chunk=7#story7
7. Retirements fuel GOP fear of losing House
"Rep. Darrell Issa (R-Calif.) ... became the latest GOP veteran to announce that he would not seek reelection, two days after his fellow California Republican, House Foreign Affairs Committee Chairman Edward R. Royce, said he would retire," the WashPost writes on the front page:
Why it matters: Democrats had placed both men high on their midterm target lists, and key congressional forecasters immediately moved their seats to likely Democratic pickups."
Ominous math for GOP: "At least 29 House seats held by Republicans will be open in November; only 22 GOP seats were open in 2006, and 19 Democratic seats in 2010. The 1994 'Republican revolution' that swept the GOP into power after decades of Democratic rule saw 27 Democratic retirements."
How it's playing ... L.A. Times, top of column 1, "A blue wave may be forming in West: Departure of Issa and Royce suggests Democrats' hopes for retaking Congress may begin in California."
https://www.axios.com/newsletters/axios-am-ddb22dd7-9345-4abd-a6c0-5881227ccb7a.html?chunk=8#story8
8. Quote du jour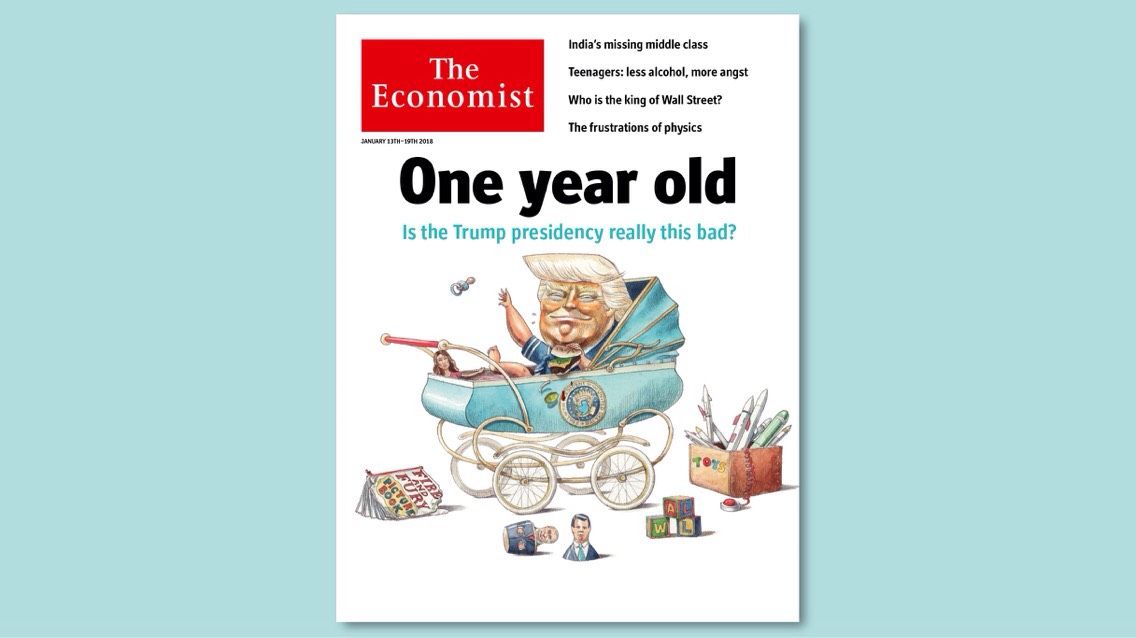 Courtesy The Economist
Shot ... President Trump, greeting reporters in the Cabinet Room, site of Tuesday's 54-minute, on-camera immigration negotiating session:
"Welcome back to the studio. Nice to have you. (Laughter.)"
Chaser ... Trump, in the same session, which was the first Cabinet meeting of the New Year:
"[W]e are going to take a strong look at our country's libel laws so that when somebody says something that is false and defamatory about someone, that person will have meaningful recourse in our courts. If somebody says something that's totally false and knowingly false, that the person that has been abused, defamed, libeled will have meaningful recourse."
"Our current libel laws are a sham and a disgrace, and do not represent American values or American fairness. So we're going to take a strong look at that. We want fairness. You can't say things that are false — knowingly false — and be able to smile as money pours into your bank account. We're going to take a very, very strong look at that. And I think what the American people want to see is fairness."
https://www.axios.com/newsletters/axios-am-ddb22dd7-9345-4abd-a6c0-5881227ccb7a.html?chunk=9#story9
9. Pyongyang ♥️ Michael Wolff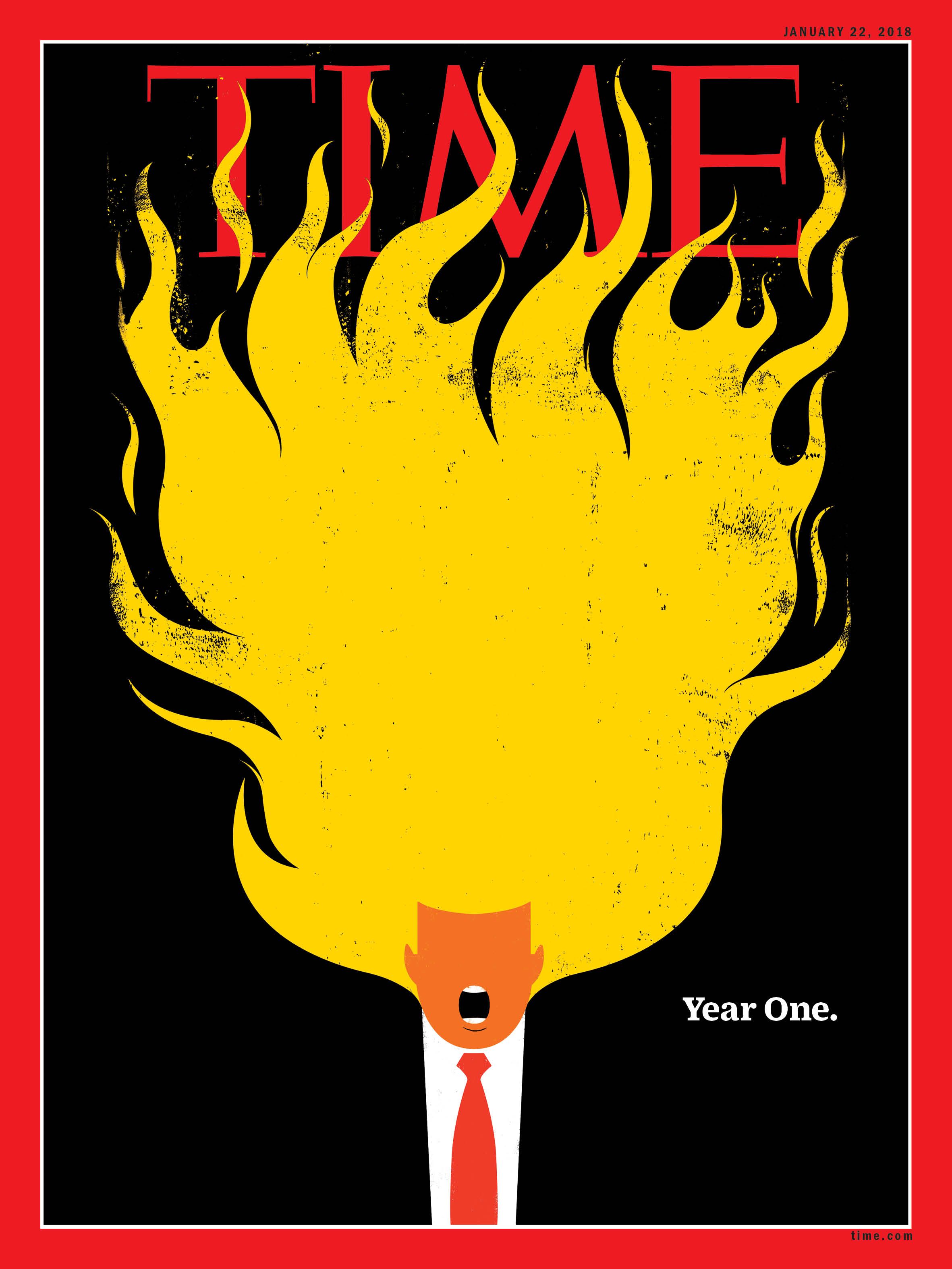 Courtesy TIME
A North Korean newspaper — Rodong Sinmun, run by its ruling Workers' Party — says the popularity of Michael Wolff's book reflects "rapidly surging anti-Trump sentiments in the international community," and "foretells Trump's political demise." (AP)
On the Jan 21. N.Y. Times Best Sellers list, "Fire and Fury" debuts at #1 in two nonfiction categories: Print Hardcover, and Combined Print & E-Book.
NPD BookScan said "Fire and Fury" sold 29,000 hardcover copies in its first weekend (sales through Saturday, after going on sale last Friday).
https://www.axios.com/newsletters/axios-am-ddb22dd7-9345-4abd-a6c0-5881227ccb7a.html?chunk=10#story10
10. To tell your kids: 1 far thing
AI is helping astronomers study the vast universe — fast, Axios science editor Alison Snyder writes:
What's happening: The next generation of powerful telescopes will scan millions of stars and generate massive amounts of data that astronomers will be tasked with analyzing. AI will help them sift.
Why it matters: Algorithms have helped astronomers for a while, but recent advances in AI — especially image recognition and faster, more inexpensive computing power —mean the techniques can be used by more researchers."
Slip the surly bonds of earth.