https://www.axios.com/newsletters/axios-am-dd23afbf-22e6-4da0-b997-f3a1925d4c07.html?chunk=0#story0
1 Big Guest ... Megan Murphy: Outrage overload hits big business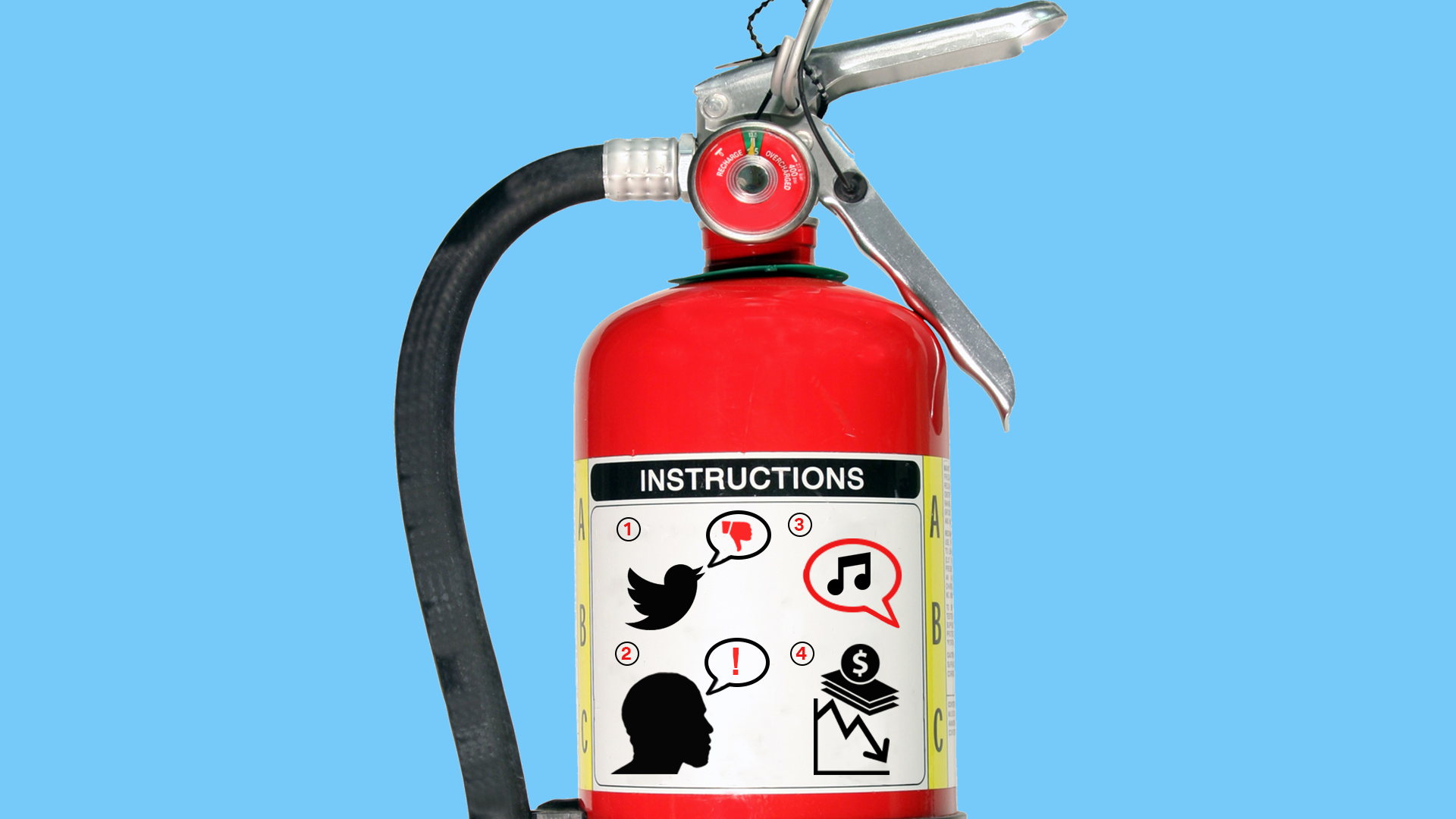 Note from Mike: Megan Murphy — former editor of Bloomberg Businessweek, Washington bureau chief of Bloomberg News and the Financial Times, and securities lawyer in Palo Alto — is today's "1 Big Guest" (writing from London), as I continue fishing, hiking and loafing in Maine.
It's not just Washington that's burning in a seemingly perpetual cauldron of outrage. Global executives are still obsessing about how to get ahead of the next viral crisis, with mixed success. 
Just this week:
Adidas CEO Kasper Rorsted was forced to distance himself from bizarre comments about slavery by brand collaborator Kanye West.
UK supermarket giant Sainsbury's boss was caught singing "We're in the Money" ahead of a planned mega-merger that could cost thousands of jobs.
Elon Musk wiped $2B off Tesla's market capitalization after cutting off analysts for the temerity of asking "boring, bonehead questions" such as how much cash the company is burning. (A lot)
Trump's early, scattershot twitter rants about specific industries and companies forced many to draft a better response plan in the event of a surprise presidential broadside. But many are proving much less adept at reining in public outrage — justified or not — once a crisis spirals.  
Why it matters: Some incidents, such as the furor after two black men were arrested at a Philadelphia Starbucks earlier this year, can force positive brand and societal change. Others are the corporate equivalent of WHCD hot takes: moments that would (and arguably should) have passed largely without comment are now occupying ever larger chunks of senior management's time. 
Does anyone really think that Kanye speaks for Adidas on slavery?
The big picture: Long-term corporate brand damage is still largely the result of deception (Volkswagen), greed (Facebook), incompetence (TSB) or bad product decisions (Snap).
Be smart: The strongest CEOs make sure a crisis doesn't define them, and remain ruthlessly focused on the basics. The weakest — and the most ill-advised — are still checking their Twitter feed on the way out the door. 
https://www.axios.com/newsletters/axios-am-dd23afbf-22e6-4da0-b997-f3a1925d4c07.html?chunk=1#story1
2. California passes U.K. on global economic chart
California has reclaimed its spot as the world's fifth-biggest economy, passing the U.K. and trailing only the U.S. as a whole, China, Japan and Germany, the AP reports citing federal data.
"All economic sectors except agriculture contributed to California's higher GDP, said Irena Asmundson, chief economist at the California Department of Finance."
"Financial services and real estate led the pack at $26 billion in growth, followed by the information sector, which includes many technology companies, at $20 billion. Manufacturing was up $10 billion."
"California's strong economic performance relative to other industrialized economies is driven by worker productivity, said [UCLA economics professor] Lee Ohanian... The United Kingdom has 25 million more people than California but now has a smaller GDP, he said."
Why it matters: "The data demonstrate the sheer immensity of California's economy, home to nearly 40 million people, a thriving technology sector in Silicon Valley, the world's entertainment capital in Hollywood and the nation's salad bowl in the Central Valley agricultural heartland. It also reflects a substantial turnaround since the Great Recession."
https://www.axios.com/newsletters/axios-am-dd23afbf-22e6-4da0-b997-f3a1925d4c07.html?chunk=2#story2
3. John Kerry's freelancing to save the Iran deal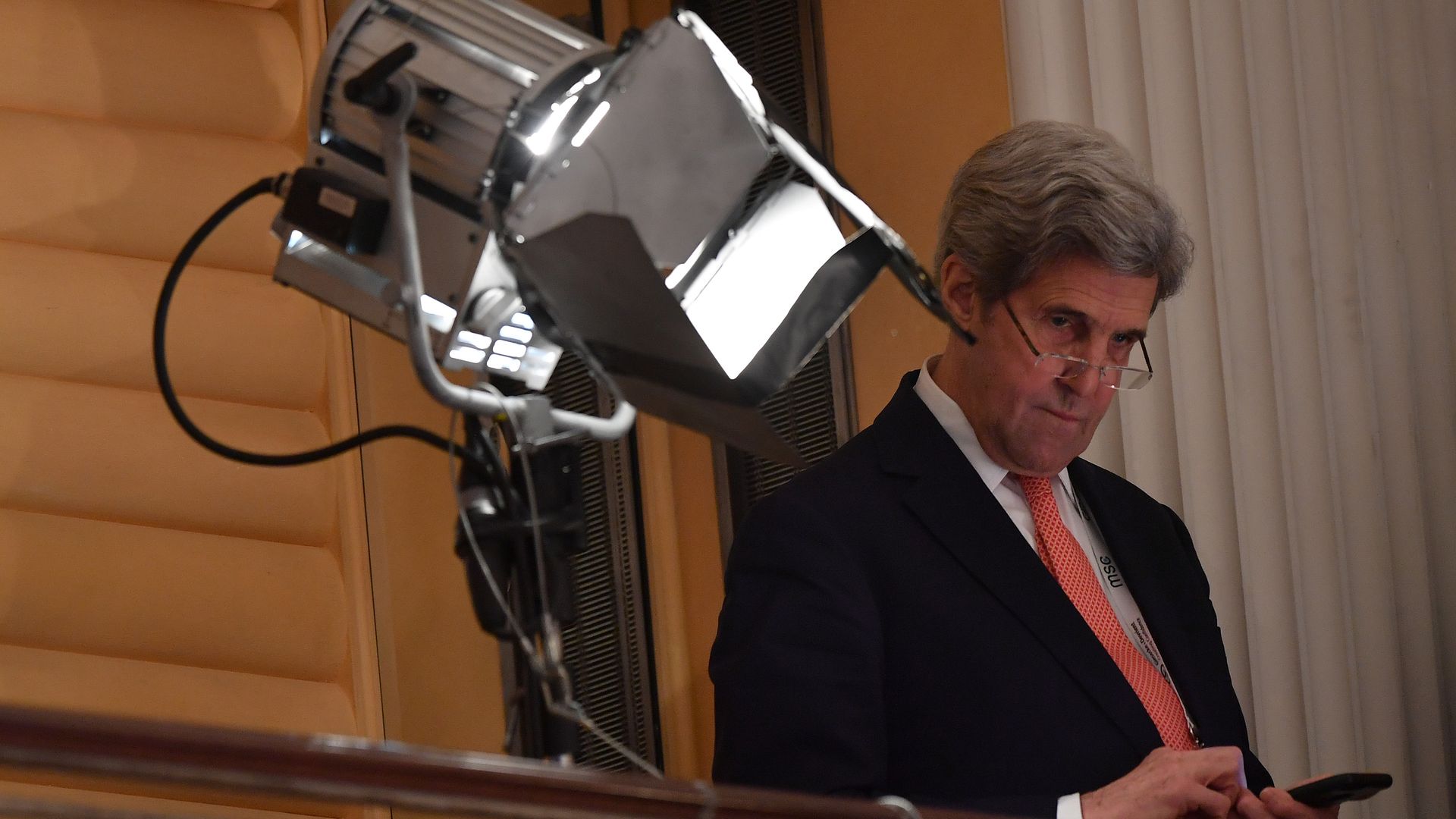 Former Secretary of State John Kerry has been on a low-profile campaign to hold together the Iran nuclear deal that was signed under his watch, meeting with leaders from Iran, France, Germany and the E.U. in recent weeks, the Boston Globe's Matt Viser reports.
How it's playing on Drudge: "KERRY SHADOW DIPLOMACY EXPOSED... SECRET HUDDLES WITH IRAN"
Kerry's list:
Iranian Foreign Minister Javad Zarif
German President Frank-Walter Steinmeier
French President Emmanuel Macron
European Union official Federica Mogherini
Why you're just hearing about this now: "[H]e and his allies believe a high-profile defense of the deal by prominent Democrats would only backfire and provoke Trump, making it more likely the president would pull the United States out of the deal."
"Kerry supporters see in this campaign some of his trademark traits, especially his unflagging energy even in the face of potential failure."
"Critics see something else, a former office holder working with foreign officials to potentially undermine the policy aims of a current administration."
https://www.axios.com/newsletters/axios-am-dd23afbf-22e6-4da0-b997-f3a1925d4c07.html?chunk=3#story3
4. NYT: Trump knew about the Stormy payment
President Trump knew about Michael Cohen's payment to Stormy Daniels "several months before he denied any knowledge of it to reporters aboard Air Force One in April," the NYTimes reports, citing two sources "familiar with the arrangement."
The intrigue: "[T]hree people close to the matter said that Mr. Trump knew that Mr. Cohen had succeeded in keeping the allegations from becoming public at the time the president denied it."
Why it matters: "Giuliani told The Times on Friday that the issue was 'primarily' about keeping Mr. Trump's wife, Melania, from being embarrassed by the claim, which Mr. Trump has maintained was false."
"But if investigators determine that the hush payment was in effect a campaign expenditure, then how the funds were distributed could take on added legal significance."
https://www.axios.com/newsletters/axios-am-dd23afbf-22e6-4da0-b997-f3a1925d4c07.html?chunk=4#story4
Bonus. Hawaii's Big Island is shaking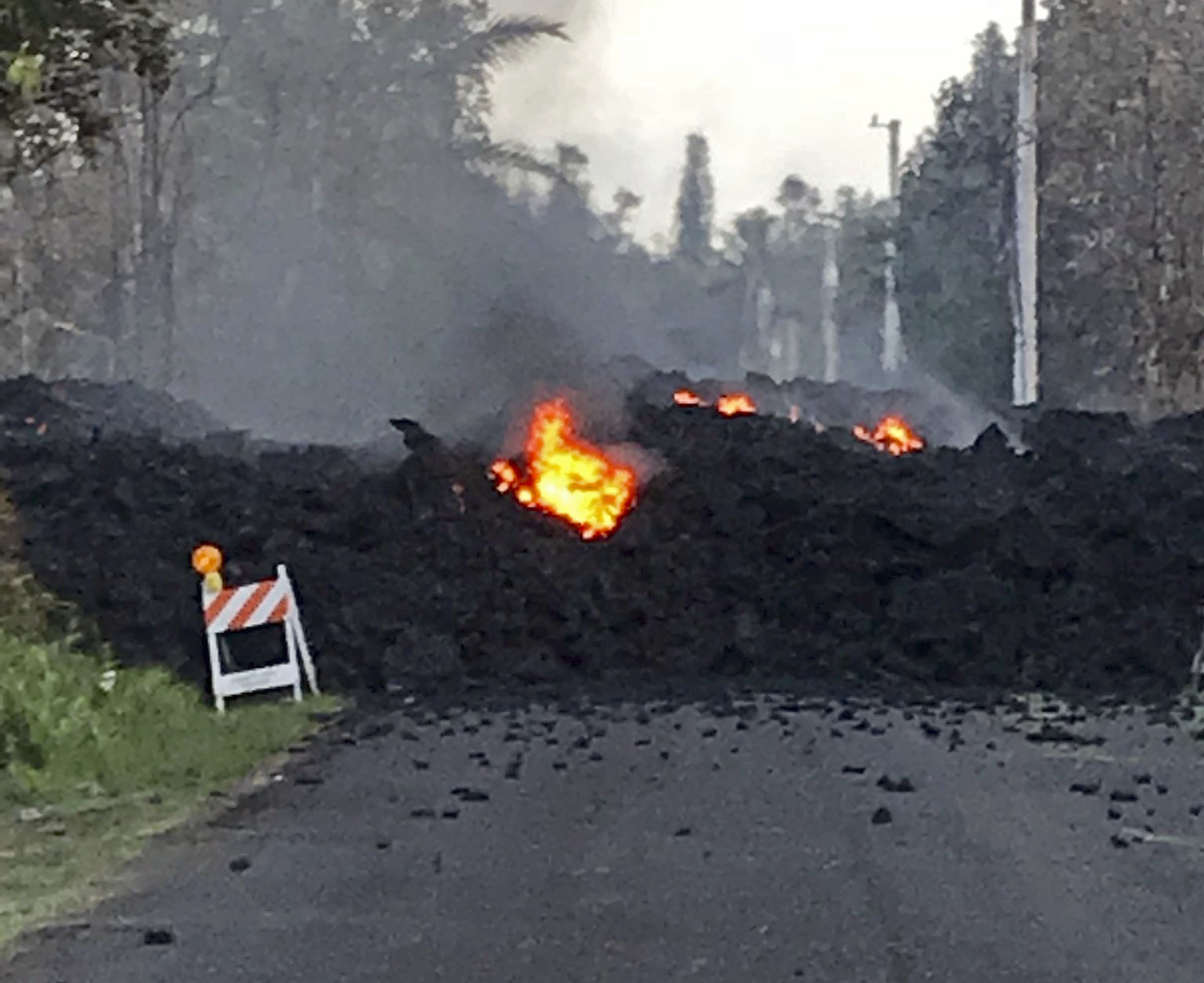 Mohala Street in Leiliani Estates near the town of Pahoa on Hawaii's Big Island that is blocked by a lava flow from the eruption of Kilauea volcano. Hawaii Electric Light via AP

A magnitude 6.9 earthquake hit Hawaii's Big Island yesterday, the biggest in four decades and the result of magma from the erupting Kilauea volcano, the AP's Caleb Jones and Marco Garcia report.
"Officials ordered more than 1,700 people out of Big Island communities near the lava, warning of the dangers of spattering hot rock and high levels of sulfuric gas that could threaten the elderly and people with breathing problems. Two homes have burned."
"Julie Woolsey evacuated her home late Thursday as a volcanic vent, or an opening in the Earth's surface where lava emerges, sprouted up on her street in the Leilani Estates neighborhood."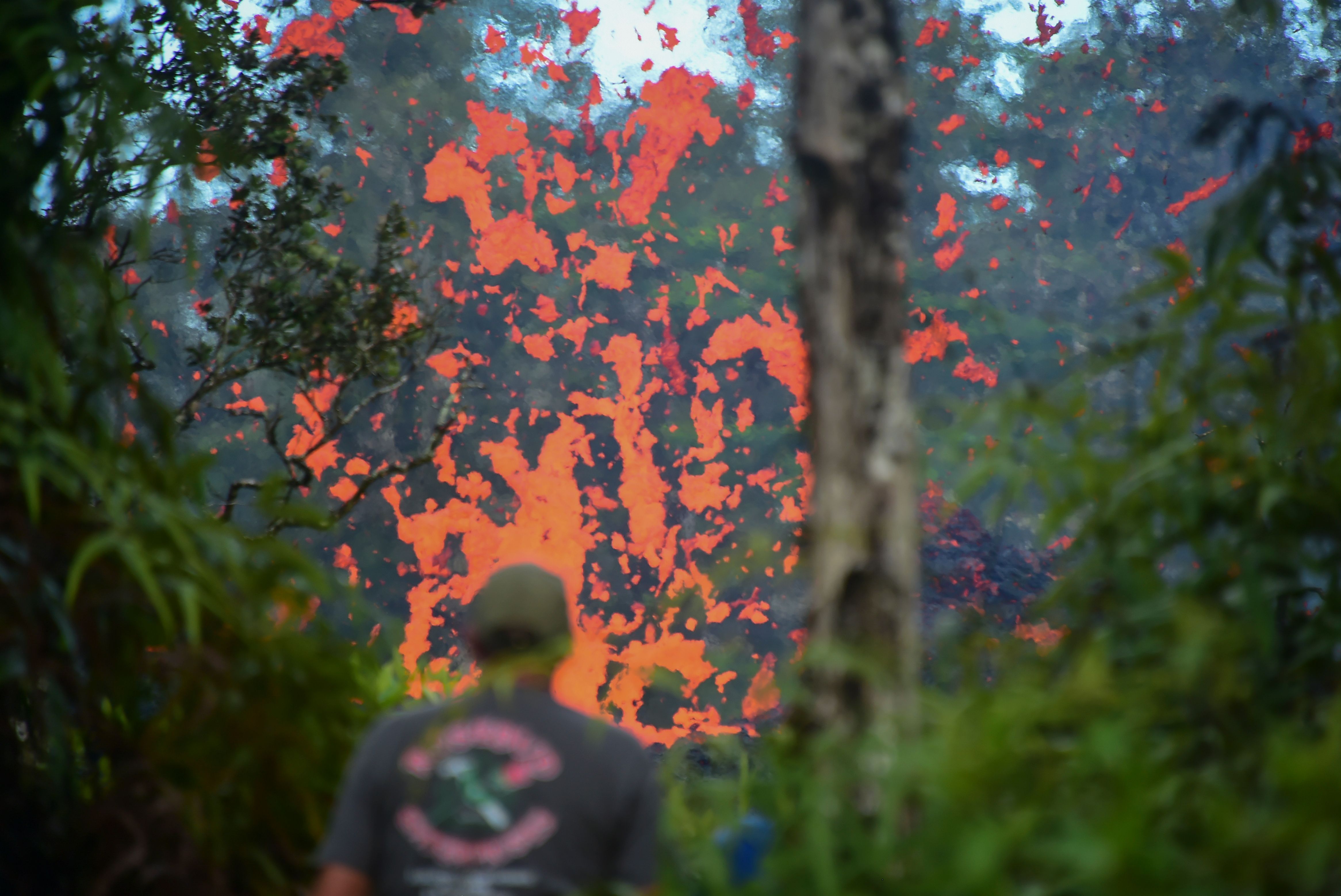 A man watches as lava is seen coming from a fissure in Leilani Estates subdivision on Hawaii's Big Island. Photo: Frederic J. Brown/AFP/Getty Images
https://www.axios.com/newsletters/axios-am-dd23afbf-22e6-4da0-b997-f3a1925d4c07.html?chunk=5#story5
5. Big banks face GOP blowback on guns
Bank of America and Citigroup are dealing with upset Republican politicians after using their financial influence to support gun restrictions, Axios' Haley Britzky notes.
Details: Citigroup imposed new gun control policies on its clients, like age restrictions and background checks, while Bank of America said it would stop lending money to clients who manufacture military-style assault weapons.
They joined a list of companies that adopted pro-gun control policies after the Parkland shooting.
Why it matters: The backlash shows how private-sector gun control measures can put the companies under just as much pressure as politicians who try to restrict guns through new laws.
Go deeper: What the Republicans are saying
https://www.axios.com/newsletters/axios-am-dd23afbf-22e6-4da0-b997-f3a1925d4c07.html?chunk=6#story6
6. 1 fun thing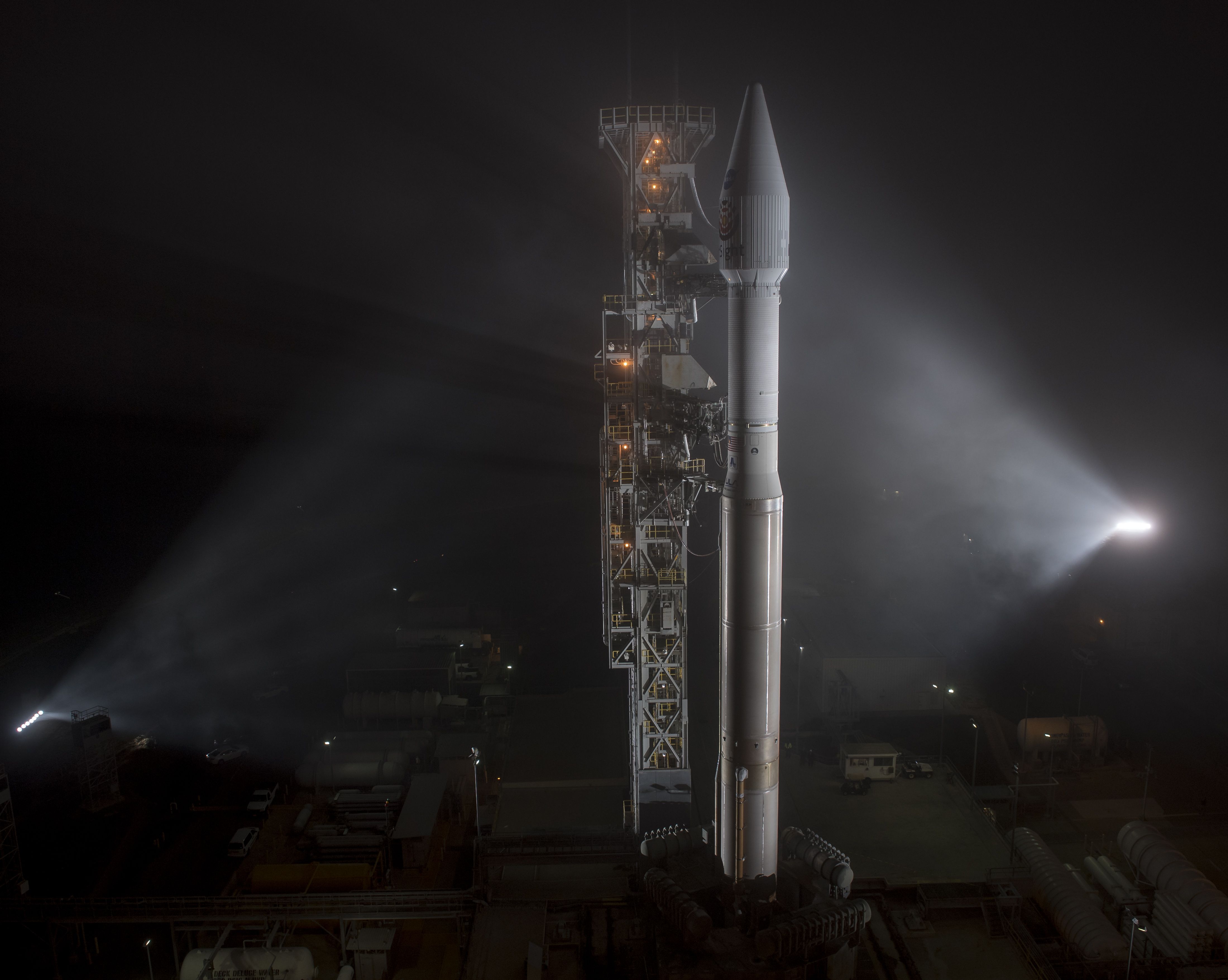 The United Launch Alliance Atlas-V rocket with the NASA InSight spacecraft onboard after the mobile service tower was rolled back at Vandenberg Air Force Base in California for NASA's first West Coast launch. InSight is a Mars lander designed to study Mars' crust, mantle, and core. Photo: Bill Ingalls/NASA via Getty Images