January 27, 2018
Good Saturday morning, en route back from Davos.
Situational awareness: Justice Ginsburg, nearing 85, signals she won't retire soon, AP writes for Sunday papers: "Soaking in her late-in-life emergence as a liberal icon, she's using the court's monthlong break to embark on a speaking tour."
1 big thing: Trump's two reality shows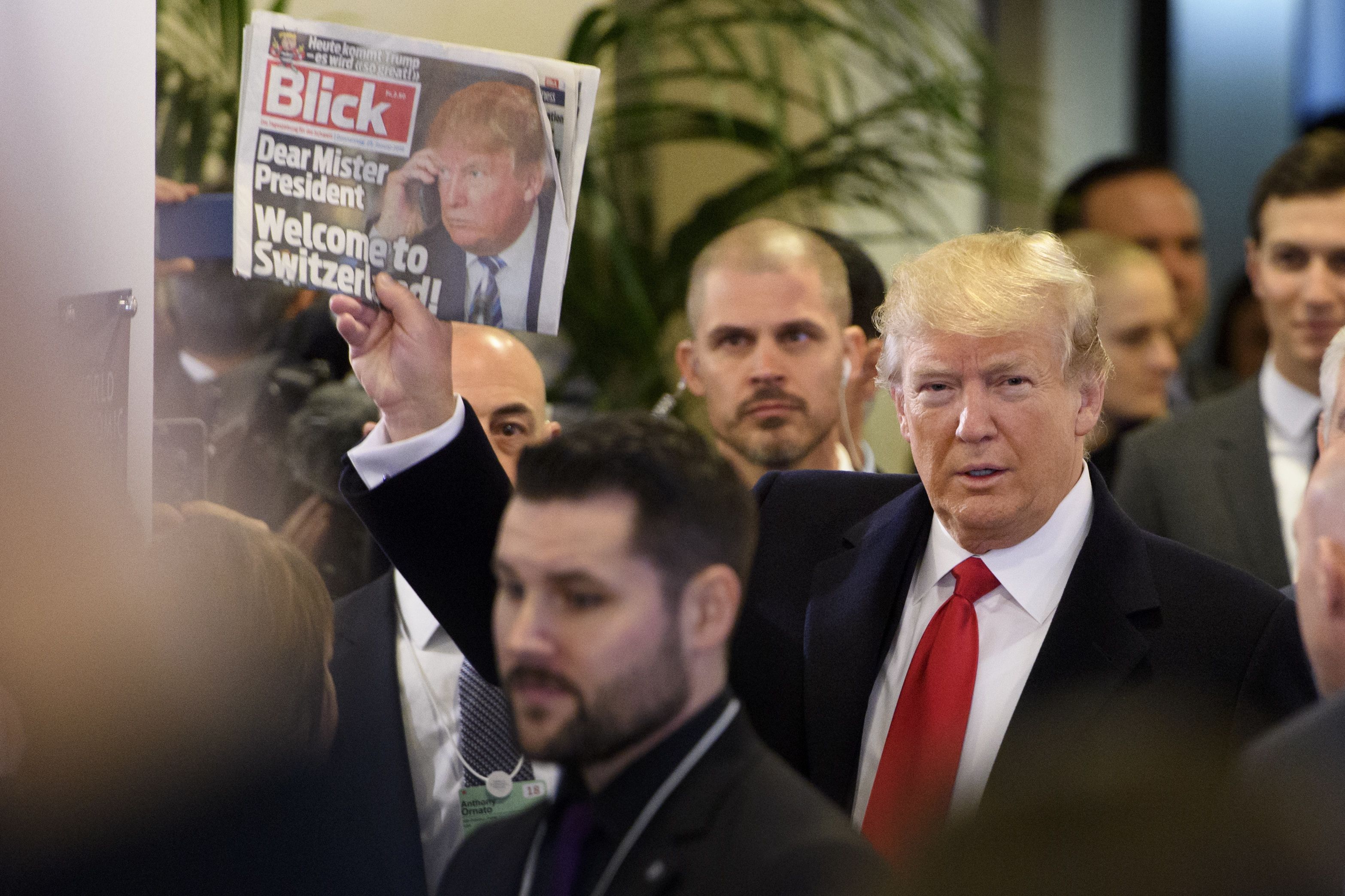 Imagine a world without Twitter and "Fox & Friends." Imagine a more restrained President Trump, like we saw onstage in Davos — sans the impulsive and offensive rants against Muslims, immigrants and women.
We might be talking about a resurgent Golden Age for America:
Record low unemployment.
Economic growth here and abroad.
Economic optimism so strong that Democrats feel better about the economy than they did during the Obama years.
Employers handing out bonuses, pay raises and new benefits, thanks to a new spirit of America First for our economy.
Companies bringing back jobs and money too long parked overseas.
Bank forecasters say a robust 4% growth is possible.
At the same time, on the other Trump show, special counsel Robert Mueller is picking up more and more evidence of obstruction, with the case looking increasingly ominous for POTUS:
Be smart: Everything from the 2018 elections to potential impeachment proceedings will be determined by the clash of the two Trump shows.
2. The talk of Davos
"Davos 2018 has emerged as a bastion for anti-Silicon Valley sentiment," writes Vanity Fair's Maya Kosoff:
George Soros compared Google and Facebook to mining and oil companies, saying that both "earn their profits by exploiting their environment."
"Soros is far from the only Davos attendee who has embraced the techlash. Salesforce C.E.O. Marc Benioff said on Tuesday that Facebook should be regulated like a cigarette company."
"And British Prime Minister Theresa May ... warned of the weaponization of tech companies, and urged them to take responsibility for 'harmful and illegal' activity online."
Zeitgeist ... "Warnings of complacency made by some as crisis memory endures," per Bloomberg:
"[T]he giddiness ... gave some investors pause as they warned against turning too exuberant."
David Rubenstein, who co-founded the Carlyle Group: "The biggest concern I have is that most people think there's no problem of a likely recession this year or early next year ... Generally, when people are happy and confident, something wrong happens.''
3. Article of the day: Growth across the globe
"For the first time since the financial crisis a decade ago, all of the world's major economies are growing," the N.Y. Times' Peter Goodman writes for Sunday:
"The United States has been propelled by government spending unleashed during the previous administration, plus a recent $1.5 trillion shot of tax cuts."
"Europe has finally felt the effects of cheap money pumped out by its central bank."
"The long convalescence has yielded a global recovery that is far from blistering in pace, and geopolitical risks threaten its demise."
"Many economists are skeptical that the benefits of growth will reach beyond the educated, affluent, politically connected class that has captured most of the spoils in many countries and left behind working people whose

wages have stagnated

even as jobless rates have plunged."
Why it matters: "There is no guarantee that this expansion will prove more equitable. Yet if growth were to evolve, bolstering wages while adding to the security of middle-class lives, the beginning would probably feel something like now. "
4. Pic du jour
5. RNC's #MeToo nightmare
"Dozens of People Recount Pattern of Sexual Misconduct by Las Vegas Mogul Steve Wynn," who became the Republican National Committee finance chair after Trump's election — Wall Street Journal front-pager :
"[D]ozens of people ... who have worked at Mr. Wynn's casinos told of behavior that cumulatively would amount to a decades-long pattern of sexual misconduct by Mr. Wynn."
"Some described him pressuring employees to perform sex acts."
"The contrast between Mr. Wynn's position and that of the salon and spa employees is stark. Former employees [cited] a feeling of dependence and intimidation when Mr. Wynn made requests of them."
"Some said that feeling was heightened at times by the presence in a confined office space of one or more of his German shepherds, trained to respond to commands in German."
6. Hillary's non-apology
Hillary Clinton responds on Twitter to N.Y. Times report that Burns Strider, a "senior adviser to Hillary Clinton's 2008 presidential campaign [,] who was accused of repeatedly sexually harassing a young subordinate[,] was kept on the campaign at Mrs. Clinton's request:
"A story appeared today about something that happened in 2008. I was dismayed when it occurred, but was heartened the young woman came forward, was heard, and had her concerns taken seriously and addressed. ... I called her today to tell her how proud I am of her and to make sure she knows what all women should: we deserve to be heard."
Key points in the NYT story, by Maggie Haberman and Amy Chozick:
"Clinton's campaign manager at the time recommended that she fire the adviser ... Instead, Mr. Strider was docked several weeks of pay and ordered to undergo counseling, and the young woman was moved to a new job."
"Strider ... was hired five years later to lead ... Correct the Record, which was created by a close Clinton ally, David Brock. ... [Strider] was fired after several months for workplace issues, including allegations that he harassed a young female aide."
7. Barron's: Goldman regains glory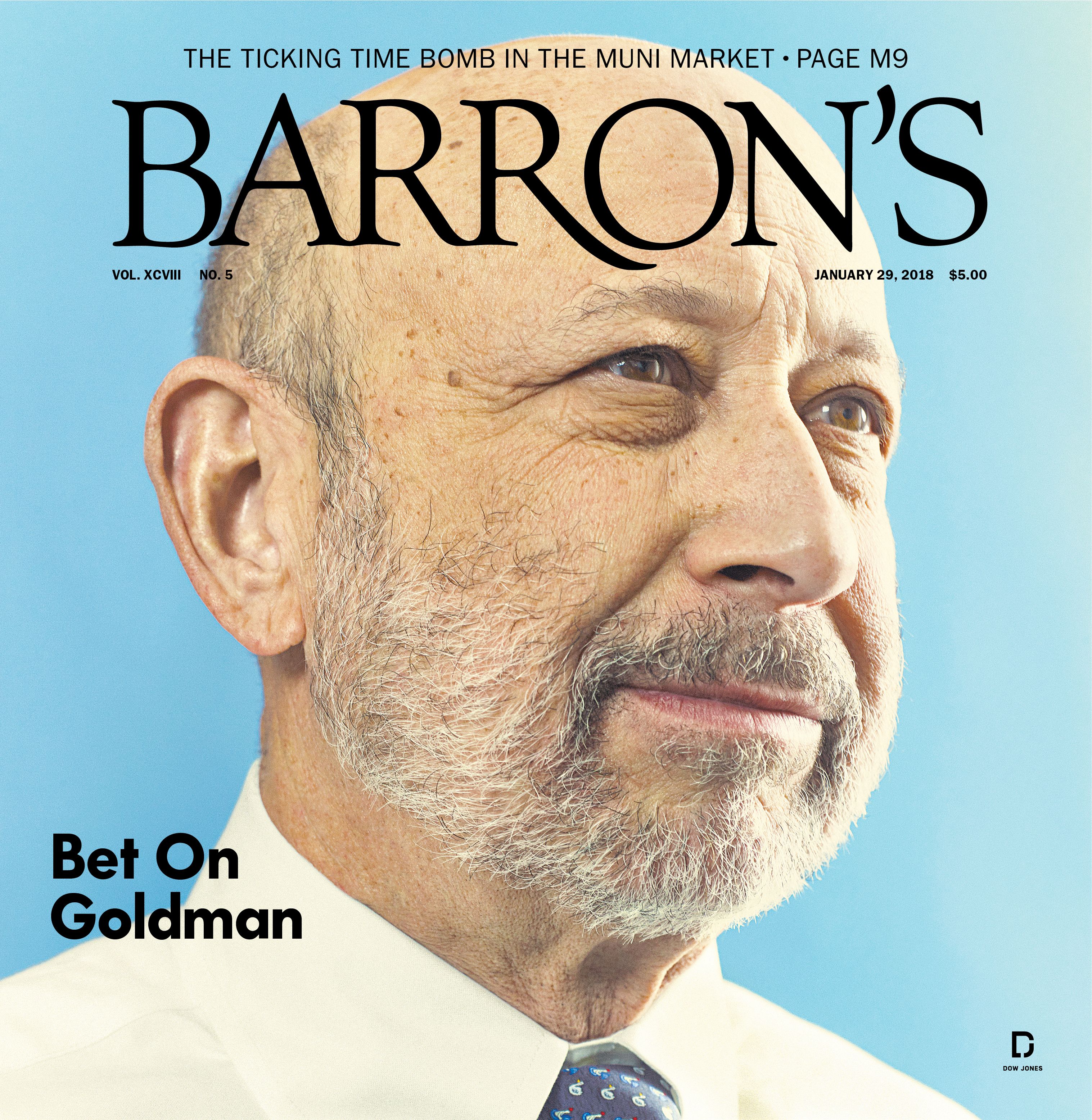 "How Goldman Sachs Is Regaining Its Touch" — Barron's cover story by Jack Hough:
"As with other big corporations, Goldman could benefit from the Trump administration's lighter regulatory touch. It will definitely gain from a deep cut to corporate taxes and full access to overseas cash, even if the firm must mark down some tax assets and pay a one-time repatriation tax."
"More significantly, when trading conditions improve, FICC [fixed income, currency, and commodities] could bounce back quickly."
Why it matters: "No one else is as poised as Goldman to profit."
"With trading humbled, the firm is more diversified than it was before the financial crisis. And it is becoming more prosperous, as it expands in mergers, lending, and money management; buys back stock; and invests in technology."
"Whether improvements come from external conditions, organic growth, or a mix of the two, the conversation could quickly shift from Goldman's fall from past trading glory to its relative value."
8. Today: International Holocaust Remembrance Day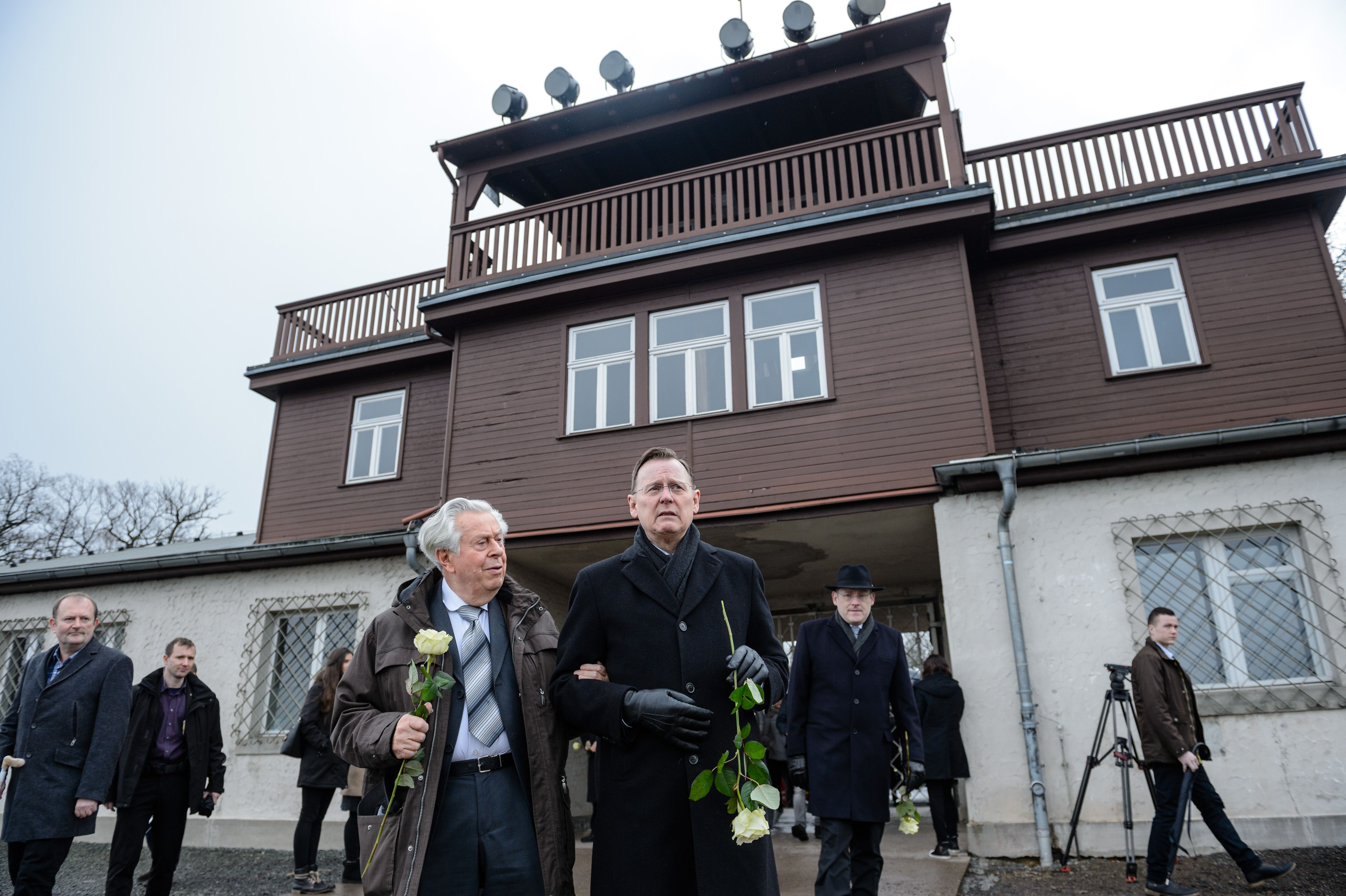 Holocaust survivor Kurt Pappenheim (left) and Thuringia's State Premier Bodo Ramelow hold flowers yesterday near Weimar, Germany, at the Buchenwald concentration camp.
Memorial events will take place across the globe today.
The Buchenwald camp housed Jews, prisoners of war and dissidents. They worked as slave laborers in armaments and other factories in the region, per Getty. An estimated 56,000 inmates died at the camp between 1937 until its liberation by the U.S. Army in 1945.
Backstory to today, via Getty: On January 27, 1945, Auschwitz-Birkenau, the largest Nazi concentration camp, was liberated by the Red Army.
The date now marks the commemoration of the genocide that occurred during World War II Nazi regime and its collaborators.
The toll is estimated at 6 million Jewish people, 200,000 Romani people, 250,000 mentally and physically disabled people, and 9,000 gay men.
Why it matters ... "World remembers Holocaust amid signs of rising hatred," per AP:
"German Chancellor Angela Merkel has warned anti-Semitism is on the rise in her country as political leaders, Holocaust survivors and others mark International Holocaust Remembrance Day. "
9. Axios World
Taliban kill 95 with ambulance suicide attack in center of Afghan capital of Kabul. (BBC)
P.S. "Saudi Arabian billionaire Prince Alwaleed bin Talal was released from detention [today], family sources said, more than two months after he was taken into custody in the kingdom's sweeping crackdown on corruption." (Reuters)
10. 1 gear thing
Sales of outdoor equipment are slipping, and guess who's getting blamed?
Millennials favor clothes and sporting goods that are less specialized and more versatile, AP reports from the Outdoor Retailer and Snow Show, in Denver:
"Millennials — ... born between 1982 and 2004 — are less likely than the previous generation to demand outdoor gear that stands up to extreme conditions."
Why it matters: "Millennials are outdoorsy and support environmental preservation and sustainability, ... but they have a different take on health and fitness than their predecessors. They have a more lighthearted approach that involves their friends."
Matt Powell of market researcher NPD Group: "The hardest, the most extreme condition some of these boots are going to have is walking from the Prius to the craft brewery."