Axios AM
August 08, 2018
Good Wednesday morning ...
Breaking ... Coming this fall: Axios on HBO.
Axios has signed a deal with HBO to produce a limited docu-news series this fall that will feature breaking news, interviews with the world's most influential leaders, and short documentaries on the topics that matter most.
Why it matters: Axios will work with HBO and a cast of Emmy-winning producers to help viewers better understand the collision of politics, technology, business and the world. The series is co-directed and co-produced by Perri Peltz and Matthew O'Neil.
Axios CEO Jim VandeHei: "The world needs new, smarter ways to better understand the dominant personalities and definitive trends changing politics, business, technology and our lives."
Be smart ... The Wall Street Journal's Benjamin Mullin (subscription): "It is part of Axios's strategy to gradually expand the breadth of content the company publishes and experiment with new formats."
🌊 1 big thing: Ohio cliffhanger powers blue wave
This year's last special election left Democrats energized and Republicans worried: A U.S. House race in Ohio that should have been a layup for Republicans instead wound up too close to call with 100% of the vote in, although Republican Troy Balderson and President Trump declared victory.
The AP advisory at 11:25 p.m.: "Republican Troy Balderson has a slight lead over Democrat Danny O'Connor in the special election in [Ohio's] 12th Congressional District. But there are at least 3,367 provisional ballots left to be reviewed. That's enough for O'Connor to potentially pick up enough votes to force a mandatory recount."
CNN's John King points out that such leads typically stand. But the race is deadlocked for now with a 1,754-vote margin for the GOP.
Why it matters ... Regardless of which way the race tips (in a district that Trump won by 11 points in 2016, and Mitt Romney carried by 10 in 2012), we have learned four things heading into the epic November midterms:
Be smart: Both parties will obsess about luring their own people to the polls, with little incentive or bandwidth for outreach to the middle (less likely to vote in midterms than in presidential elections) or the other side (everyone dug in).
That means an ugly, loud spectacle befitting our times.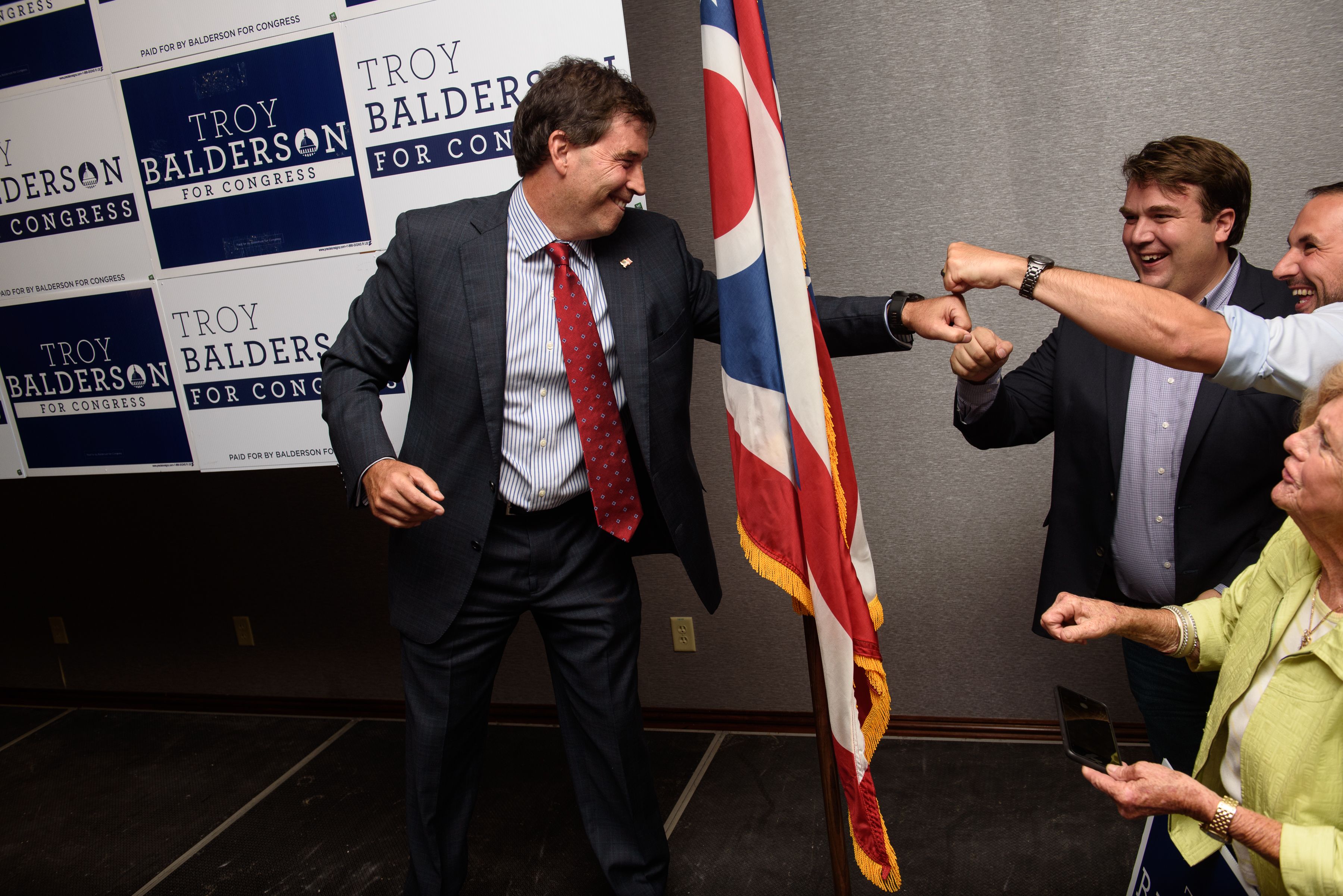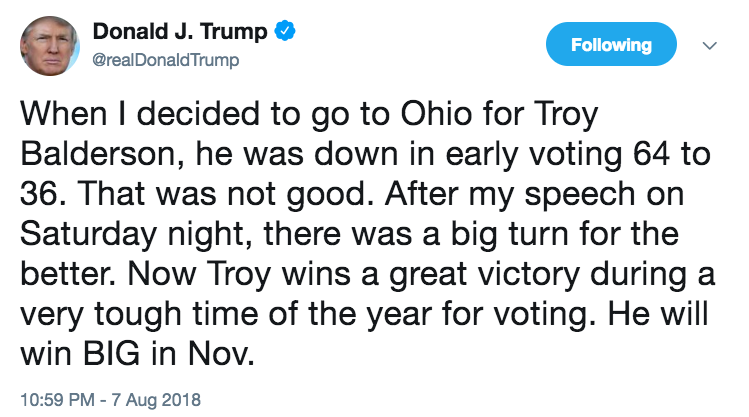 2. 2018 officially has record number of women nominees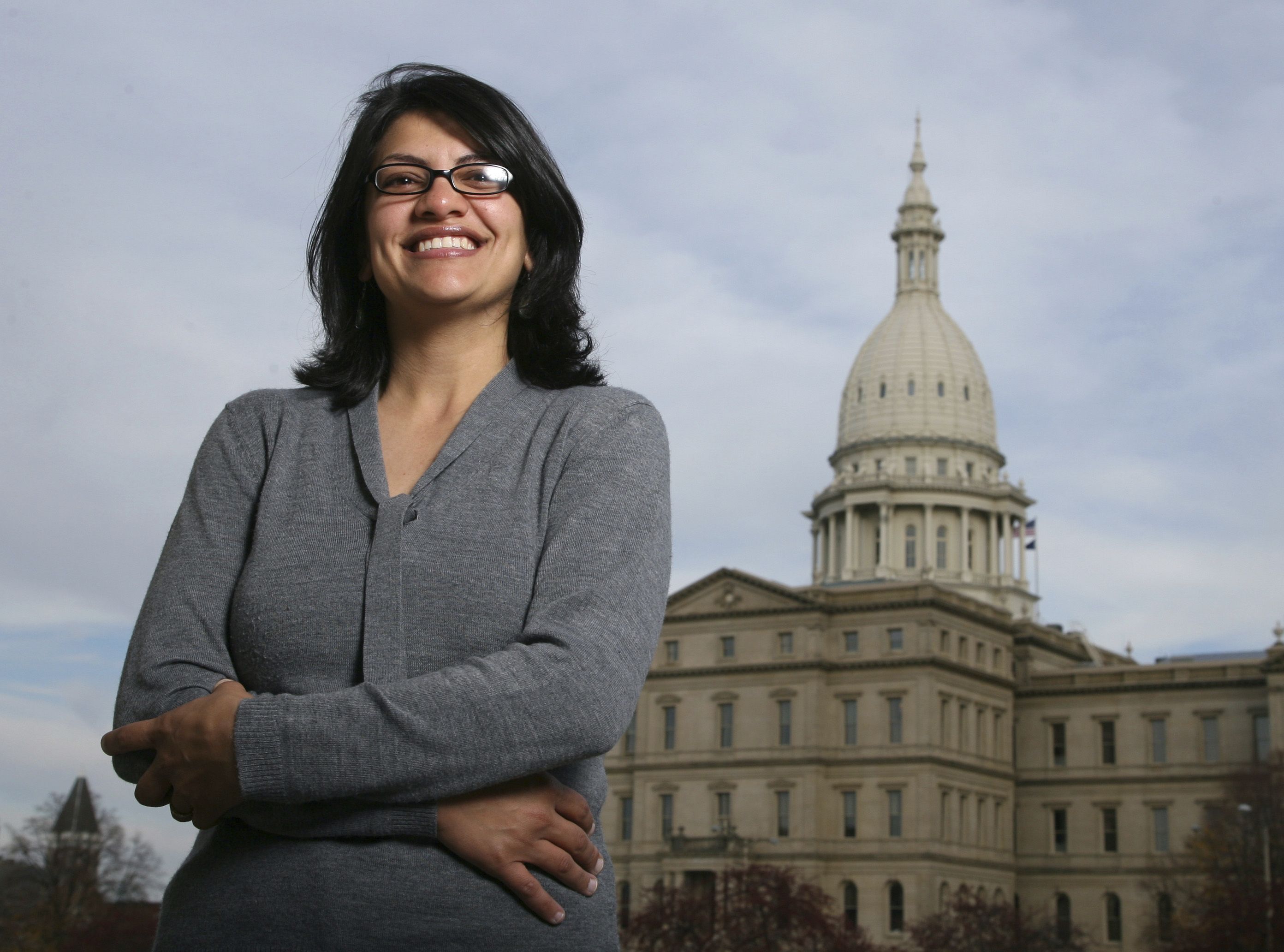 "There are now at least 172 women nominees for U.S. House and 11 women nominees for governor — the highest in history, per the Center for American Women and Politics," Axios' Alexi McCammond reports.
"Former Michigan state lawmaker Rashida Tlaib has won the Democratic nomination to run unopposed for a House seat, setting her up to become the first Muslim woman elected to Congress." (AP)
"Former legislative leader Gretchen Whitmer will lead Michigan's first all-female statewide ticket in the November election, winning the Democratic nomination for governor and pitting her against Republican state Attorney General Bill Schuette, an ally of President Donald Trump." (AP)
P.S. "Labor Gains Victory as Missouri Voters Reject Anti-Union Law," per the N.Y. Times' Noam Scheiber:
"A measure on the ballot on Tuesday asked voters to pass judgment on a prospective law barring private-sector unions from collecting mandatory fees from workers who choose not to become members. The law was rejected by a 2-to-1 margin."
3. If you read only 1 thing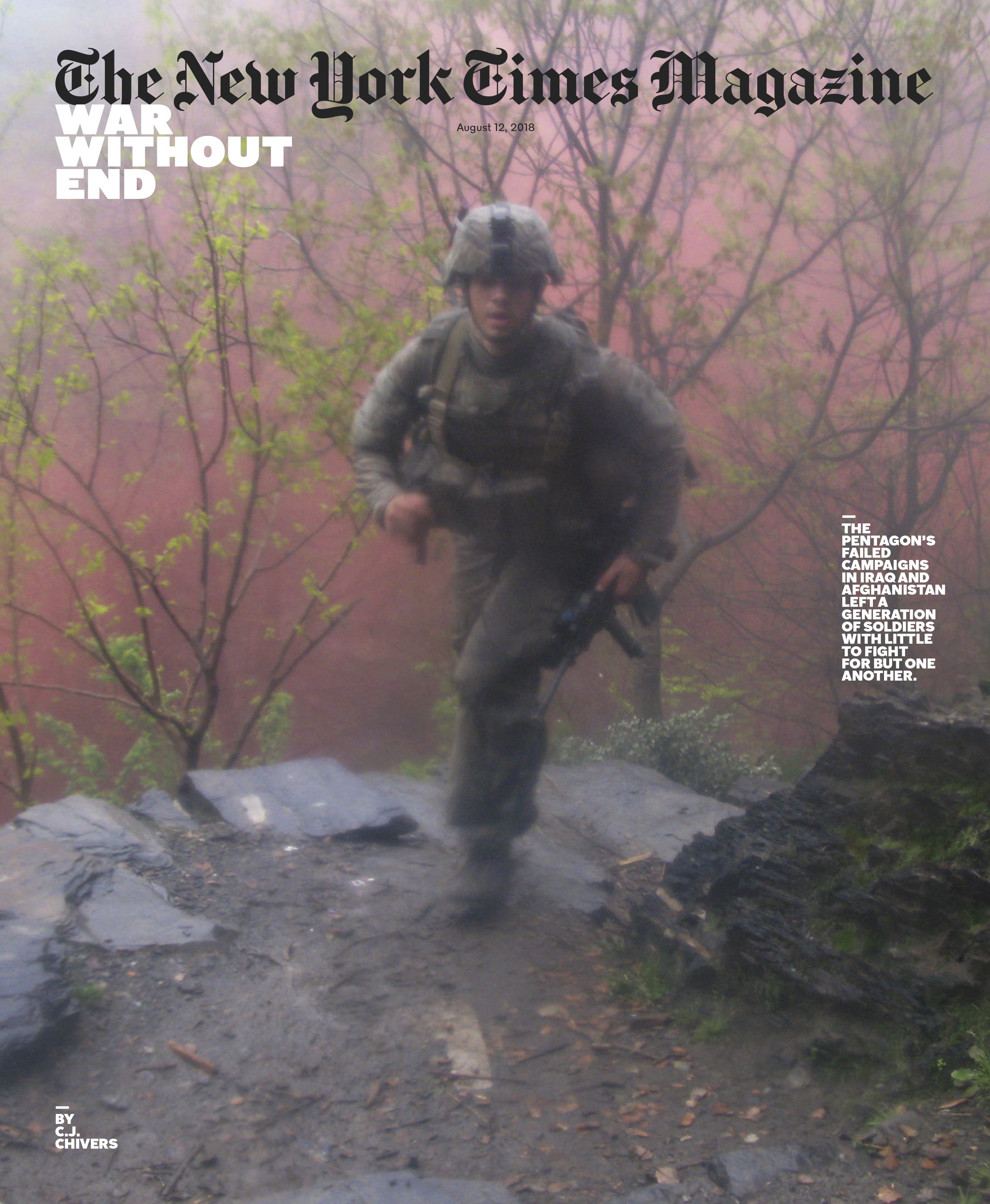 From this weekend's New York Times Magazine ... "War Without End," by C.J. Chivers, a Marine Corps infantry veteran of the Persian Gulf war who is a writer at large for the Magazine, and a former international correspondent for The Times (adapted from his new book, "The Fighters: Americans in Combat in Afghanistan and Iraq," out next Tuesday from Simon & Schuster):
"In early October, the Afghan war will be 17 years old, a milestone that has loomed with grim inevitability as the fighting has continued without a clear exit strategy across three presidential administrations."
"With this anniversary, prospective recruits born after the terrorist attacks of 2001 will be old enough to enlist."
"And Afghanistan is not the sole enduring American campaign. The war in Iraq, which started in 2003, has resumed there and continues in a different form over the border in Syria."
"The United States has at various times declared success in its many campaigns ... And still the wars grind on, with the conflict in Afghanistan on track to be a destination for American soldiers born after it began."
"More than 2.7 million Americans have served in uniform in these wars":
"Nearly 7,000 of them have died. Tens of thousands more have been wounded."
Why it matters: "The foreign policies that sent these men and women abroad, with their emphasis on military action and their visions of reordering foreign nations and cultures, have not succeeded."
"It is beyond honest dispute that the wars did not achieve what their organizers promised, no matter the party in power or the generals in command."
"Astonishingly expensive, strategically incoherent, sold by a shifting slate of senior officers and politicians and editorial-page hawks, the wars have continued in varied forms and under different rationales each and every year since passenger jets struck the World Trade Center in 2001."
"They continue today without an end in sight, reauthorized in Pentagon budgets almost as if distant war is a presumed government action."
4. Sputnik moment for U.S. military
China appears determined to seize the AI "high ground" of future conflict, while the Pentagon "is still largely wedded to legacy weapons of the past," David Ignatius writes in this important Washington Post column:
"For the past two years, Chinese companies have won an AI competition for detecting objects."
"The Chinese are happy for the United States to keep building carriers and bombers, so long as they deploy the more advanced technologies that can disable these systems."
At an Aspen Strategy Group conference, "Republicans and Democrats were equally passionate about spreading the message that this is a Sputnik moment for modernizing our military."
Why it matters: To compete with a rising China, the U.S. needs "a more nimble Pentagon and a country that's more united to face the big problems ahead."
Be smart: "[T]here was an intense discussion here of the issue that's vexing America this summer: the growing political polarization that's creating so much discord that it's becoming a national security problem."
5. Gates admits to cheating on wife, bilking Manafort
"The courtroom showdown between Paul Manafort and his former right-hand man, Rick Gates, grew painfully personal ... as a defense lawyer forced Gates ... to admit he had a transatlantic extramarital affair and embezzled money to live beyond his means," the WashPost's Rachel Weiner, Matt Zapotosky, Roz Helderman and Devlin Barrett report:
"During his second day on the witness stand, Gates detailed the lies, phony documents and fake profits he claims to have engineered at Manafort's direction."
"Manafort, seated at the defense table, at times stared intently at his former protege and business partner, who has assiduously avoided Manafort's gaze despite their proximity inside the federal courthouse in Alexandria."
"Asked whether he stole as much as $3 million [from Manatfort], Gates replied that he thought the figure was lower but agreed that he had taken money from Manafort."
6. Social media ceiling?
"Snap's Drop in Active Users Could Signal a Social Media Peak," the N.Y. Times' Kate Conger writes on the cover of Business Day:
"Snap, the maker of the Snapchat app, said it

lost three million daily active users

in the second quarter from earlier this year. It was the first time since the company

went public

in early 2017 that it had reported a decline in users."
The trend: "Snap's report follows similar trends from Facebook and Twitter."
Why it matters: "The declines and flattening growth raise questions about whether the social media companies have reached a saturation point in some markets, especially in developed countries."
7. Someone else who makes news on Twitter

"Tesla Inc. Chief Executive Elon Musk jolted financial markets ... with a surprise proposal to take the electric-car maker private in what would be the biggest buyout in history," The Wall Street Journal's Mike Colias and Miriam Gottfried report (subscription):
Why it matters: "The notion of a buyout, which would value Tesla above $70 billion, is itself extraordinary, as it would be far larger than any previous take-private deal."
"The way Mr. Musk broke the news added to the drama, disclosing in a casually worded tweet the prospect of a buyout that would be an enormously complicated transaction for a company struggling to generate cash."
"It was a shocker even for investors who are often whipsawed by Mr. Musk's erratic comments on Twitter."
8. World is "losing the war against climate change"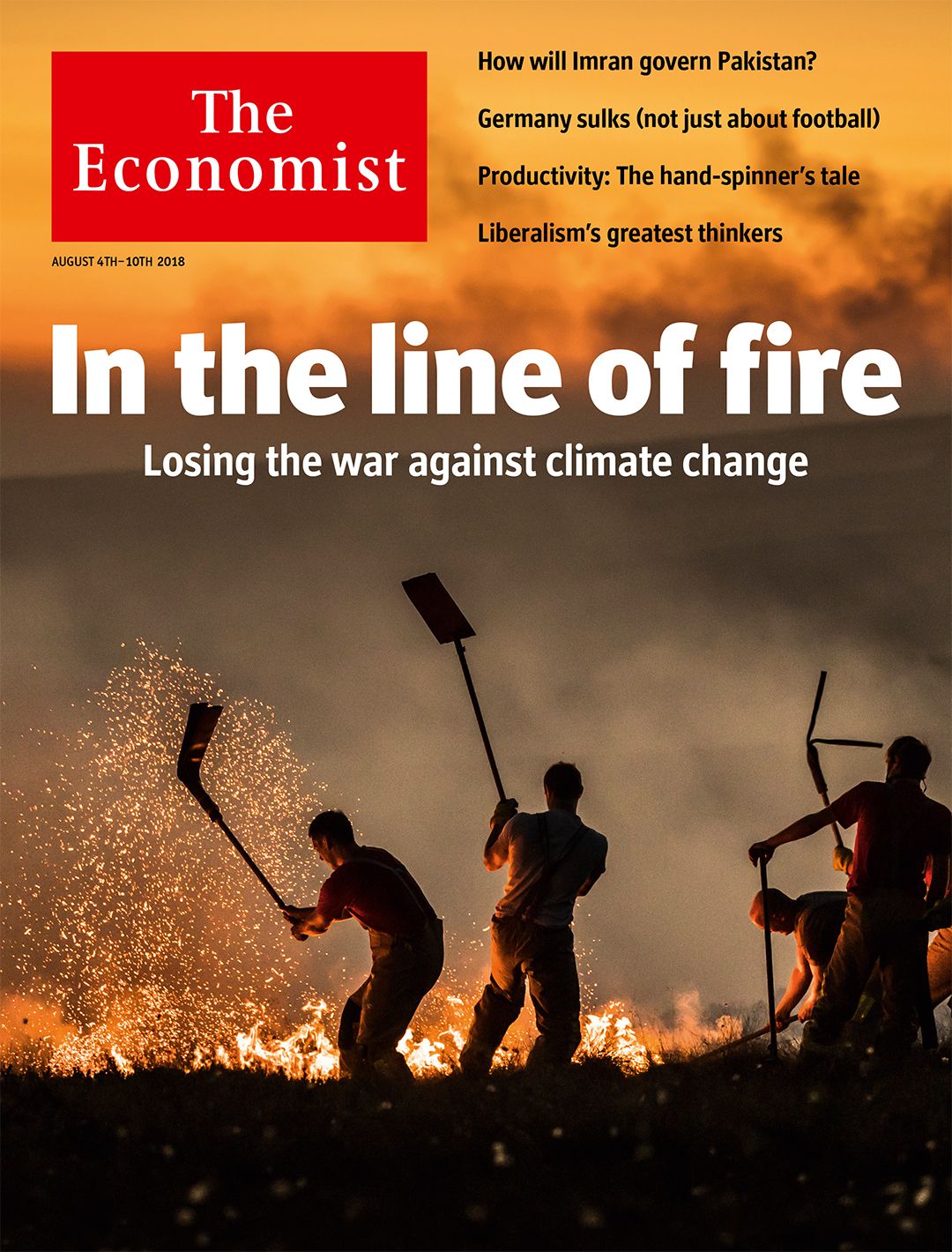 "Rising energy demand means use of fossil fuels is heading in the wrong direction," The Economist reports in its lead editorial:
"Earth is smouldering. From Seattle to Siberia this summer, flames have consumed swathes of the northern hemisphere."
Why it matters: "[C]alamities, once considered freakish, are now commonplace."
Be smart: "Averting climate change will come at a short-term financial cost — although the shift from carbon may eventually enrich the economy, as the move to carbon-burning cars, lorries and electricity did in the 20th century."
9. School supplies get fancy
"Reusable notebooks where writing disappears with heat are among the basic school supplies raising their game against gadgets like iPads," AP national retail writer Anne D'Innocenzio reports:
"Also hot in the paper aisle this year: Decorative tape, creative journals and scented pencils in smells like bacon and pickle."
Scott Bayles, vice president of stationery at Walmart, on school supplies: "There's an explosion of innovation and fun."
10. 1 mouse thing
"'Every Minute Matters': Disney Diehards Race to Hit 49 Rides in One Day" — Wall Street Journal A-hed by Nancy Coleman (subscription):
"An elite group of Disney superfans attempt the 'Parkeology Challenge,' trying to take a spin on all the attractions in the Orlando, Fla. resort's four parks."
The quest "requires months of planning. Challengers dart from the Mad Tea Party to Space Mountain while braving the Florida heat, swarms of tourists and the occasional broken toe."
"Runners map out detailed routes in hopes of joining the few dozen who have ever completed the grueling race. To endure the 20-plus-mile day, some train by hitting the treadmill, Rollerblading or running in quarter-mile sprints to imitate racing between rides."
"Challengers weigh whether to bring a bag—useful for carrying food, but going without can save time through the faster no-bag line at park entrances."
Thank you for reading. See you all day on Axios.com — and this fall on HBO.