Good Sunday morning. You're invited (Slides!) ... Today at 5 p.m. at Politics and Prose Bookstore in D.C., I'll interview Barry Blitt, the New Yorker artist famous for political covers like the Obamas fist-bumping, and Barack and Hillary in bed together, each lunging for the phone at 3 a.m. Blitt's compendium, out this week, is called "Blitt."
Proud of Axios ... Our top-shelf events team, led by Ali Rubin, wins a "best event concept" award from BizBash for our launch party in January, a time-traveling experience that showed "the future of news" by opening in a speakeasy with Prohibition-style outfits. Then a bookcase wheeled away to reveal a minimalist space with backlit touchscreen walls and LED flower centerpieces.
Situational awareness: "Tropical Storm Philippe approaches southern Florida."
https://www.axios.com/newsletters/axios-am-d8fe4c42-c09c-4d1a-8df6-62ec914b106e.html?chunk=0#story0
1 big thing: Inside the dossier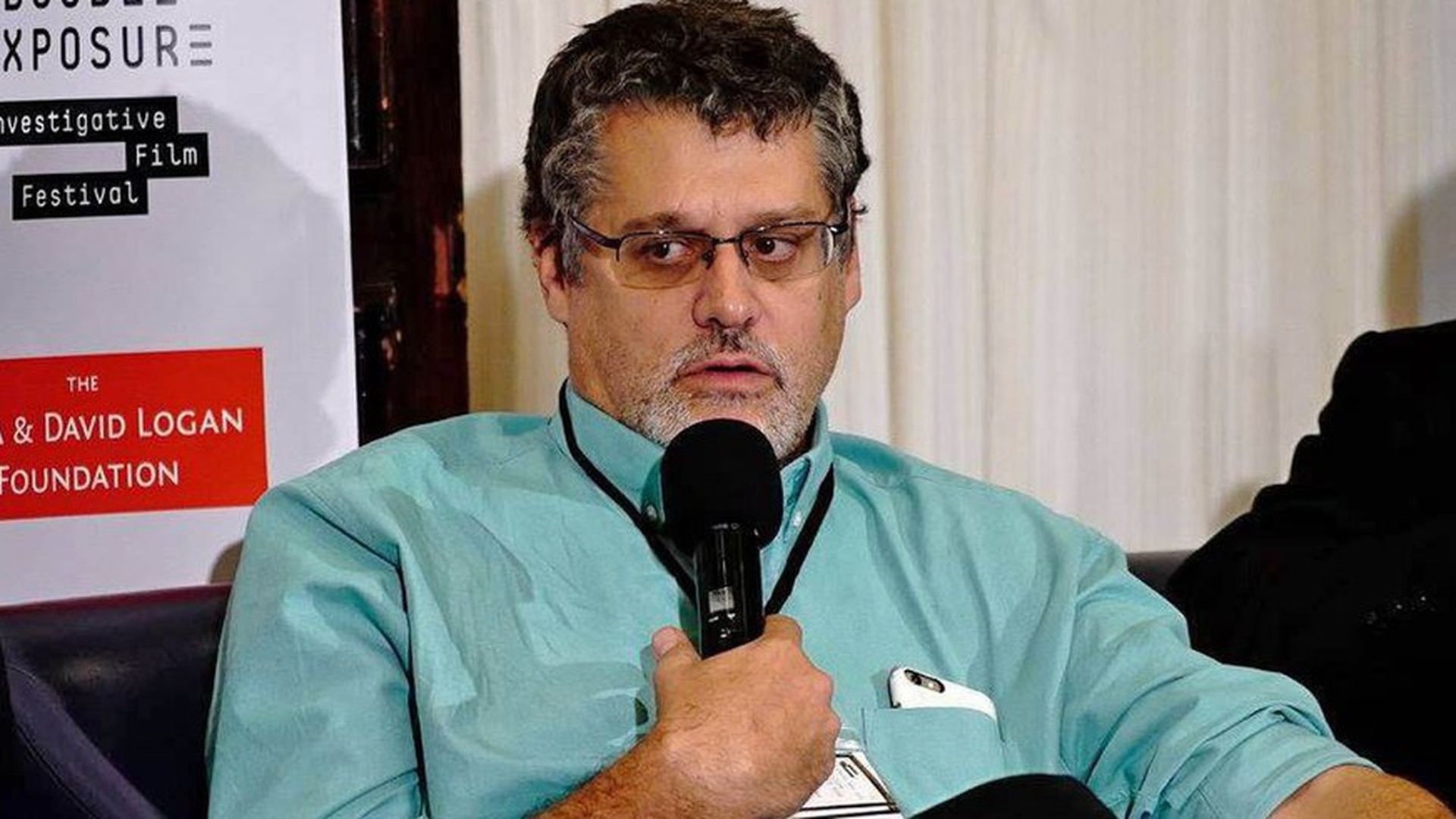 The reporters behind the Trump dossier ... In fall 2015, Fusion GPS, an investigative firm run by former senior reporters at the Wall Street Journal, began working on a new assignment — a deep dive into Republican presidential candidate Donald Trump, Axios' Steve LeVine writes:
The Washington Free Beacon, funded by a Republican backer of Trump rival Sen. Marco Rubio, was the client. Quickly, Fusion's researchers understood one big thing about Trump's business empire: It seemed inordinately weighted to Russia, and so they turned much effort to untangling that part of his business story.
Why it matters: Trump and Republicans in Congress have tried to discredit Fusion as a tool of Democrats. But the history of the firm's principals suggests the main motive was the thrill of the chase — and serious money.
LeVine worked on investigative stories with Fusion's two principals — Glenn Simpson (pictured above) and Peter Fritsch — at the Wall Street Journal in the early 2000s, when Steve was the Central Asia correspondent.
The two former reporters are seriously savvy at finding hard-to-locate — and even more difficult to understand and contextualize — documents and other intelligence on globally powerful people.
How it happened: "In September 2015, the Washington Free Beacon, whose main funder is Republican hedge fund manager Paul Singer, at the time a Rubio backer and a fierce Trump critic, hired Simpson and Fritsch to look at Trump."
"They began with a document scrub — collecting all the voluminous legal papers related to Trump's four bankruptcies. Using Pacer, the federal government's repository for legal cases, they began to track lawsuits."
"Help from a former British intelligence agent came in spring 2016, when Simpson and Fritsch sought some more specialized expertise on Russia, and hired an old acquaintance — Christopher Steele, the former premier Russia expert for British intelligence, and now a private investigator. The documents were suggesting that Trump's businesses were heavily weighted to Russia and Russians; could Steele ask around for some details?
P.S. BuzzFeed: "The FBI's investigation of Donald Trump's former campaign manager, Paul Manafort, includes a keen focus on [at least 13] suspicious wire transfers in which offshore companies linked to Manafort moved more than $3 million all over the globe between 2012 and 2013."
https://www.axios.com/newsletters/axios-am-d8fe4c42-c09c-4d1a-8df6-62ec914b106e.html?chunk=1#story1
2. If you read only 1 thing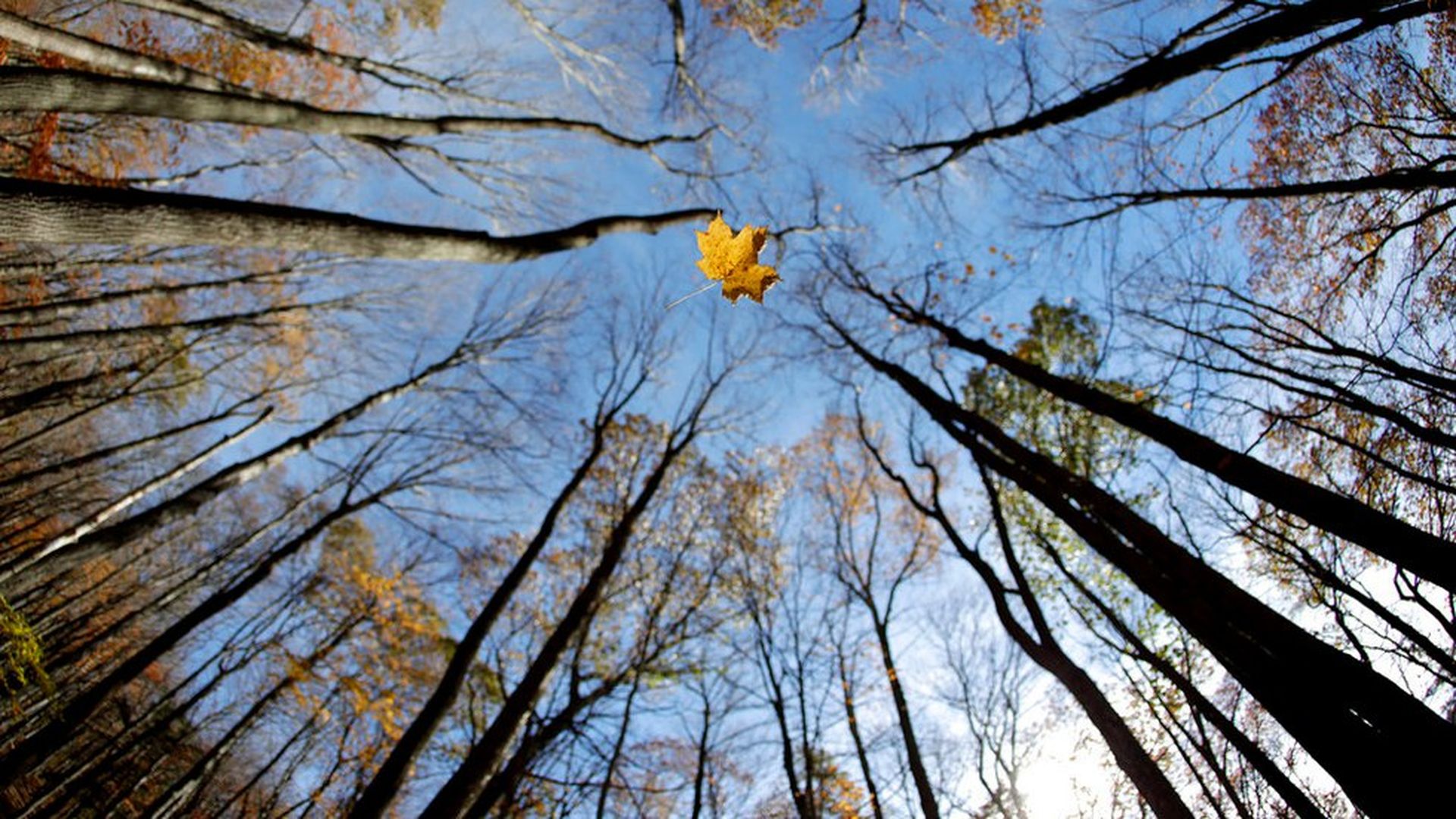 This mesmerizing photo captures a leaf falling from the sky yesterday as a gentle breeze blows it off a tree branch in Tully, N.Y.
My wish for you today is that you take advantage of the fall weekend and do something that breaks your routine — that gets you off your hamster wheel.
If you do something cool, let me know at mike@axios.com, and I'll share it with your fellow AMers.
https://www.axios.com/newsletters/axios-am-d8fe4c42-c09c-4d1a-8df6-62ec914b106e.html?chunk=2#story2
3. Harvey's hush money
L.A. Times lead story from Sacramento, "At Capitol, women raise their voices: Once told only in whispers, stories of sexual harassment and abuse are now pouring into public view":
What's happening: "No matter the details, each story involves a man with power — the kind of power bestowed by voters, an influential lobbying client or a supply of campaign cash. And instead of wielding that power to shape politics or public policy, the man used it to proposition women or to touch them inappropriately. ... Now the stories are flooding into public view."Why it matters: "Men in politics who engage in this type of behavior might say 'this is absolutely consensual, without realizing there is a power hierarchy that is absolutely unequal, and they should not participate in that,' Assemblywoman Laura Friedman (D-Glendale) said."In their own words. Ronan Farrow, who wrote The New Yorker's Weinstein exposé, returns with ... "Weighing the Costs of Speaking Out ... Annabella Sciorra, Daryl Hannah, and other women explain their struggles with going public": "[M]any still say that they face overwhelming pressures to stay silent, ranging from the spectre of career damage to fears about the life-altering consequences of being marked as sexual-assault victims.""[T]he actress Ellen Barkin told me that, though she was never a victim of Weinstein's sexual advances, he frequently verbally abused her." [Remember what Axios AM told you about "the screamers."]"[M]any of the women with allegations about Weinstein told me that the forces that kept them quiet continue to this day. Beginning in the early months of this year, Weinstein and his associates began calling women to determine who had spoken to the press. Three women who received those calls said that they were pressed for details about their communications with reporters. The calls nearly silenced them.""[S]everal other individuals connected to the story received calls from a man they believed was working for Weinstein and posing as a journalist, who offered few details about himself and did not name any publication he was working for. 'He said he was doing a piece about how movies have changed in the last thirty years.'"P.S. N.Y. Times' Susan Domnius, on A1: "In late September, just as multiple women were days away from going on the record" about Weinstein, one of his alleged assault victims, Rose McGowan, was offered $1 million in hush money by someone close to Weinstein, in exchange for signing a nondisclosure agreement.
https://www.axios.com/newsletters/axios-am-d8fe4c42-c09c-4d1a-8df6-62ec914b106e.html?chunk=3#story3
Bonus: Pic du jour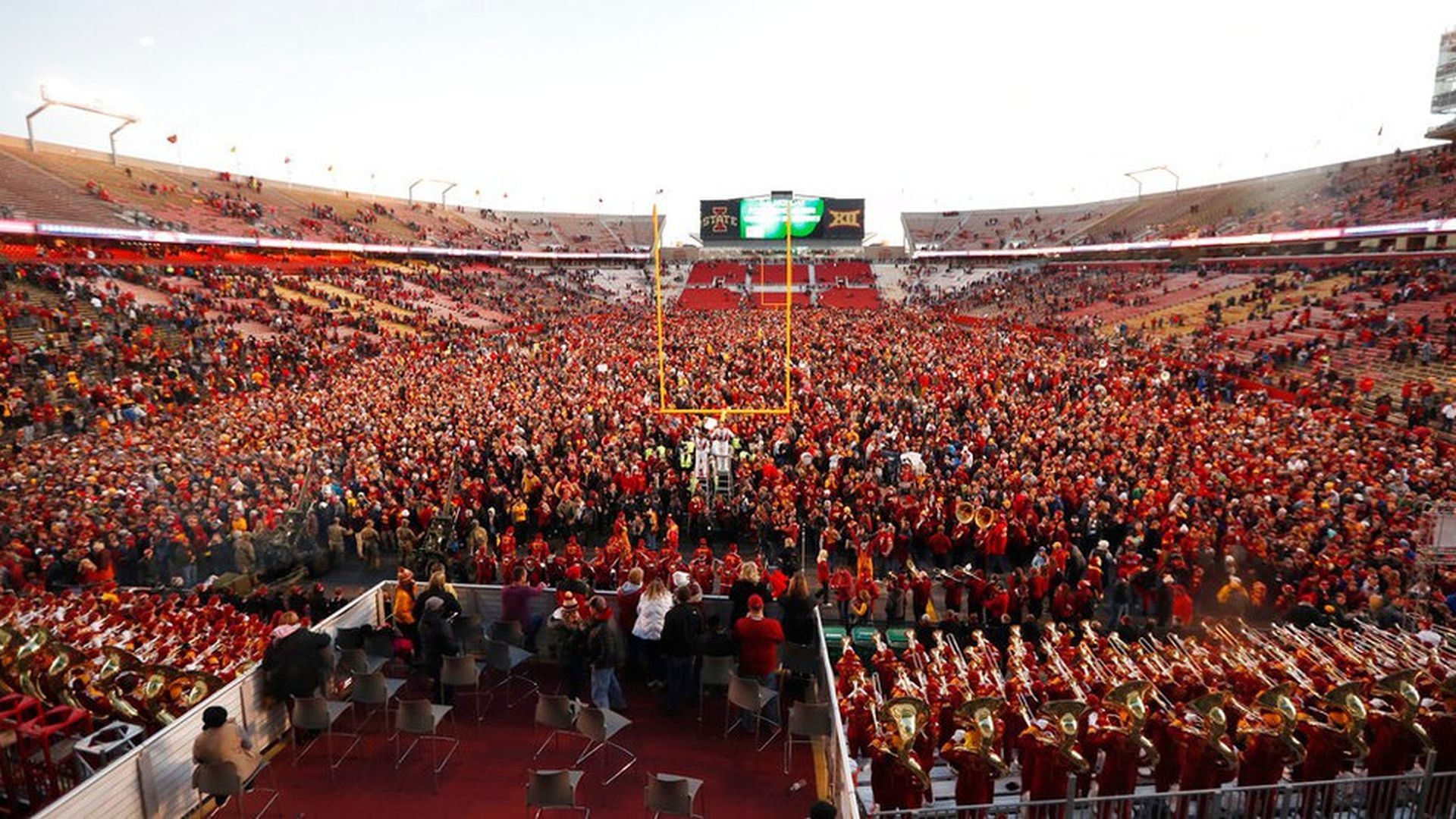 Iowa State fans rush the field in Ames yesterday after the #25-ranked Cyclones upset #4 Texas Christian University, 14-7.
Fun fact: "Iowa State is the first team since Florida in 2005 to beat two top-five teams before Nov. 1. The Cyclones also beat No. 3 Oklahoma."
https://www.axios.com/newsletters/axios-am-d8fe4c42-c09c-4d1a-8df6-62ec914b106e.html?chunk=4#story4
4. What could go wrong?
In response to North Korean provocations, Japan and South Korea are having "a daily argument" about "the nuclear option" — acquiring their own arsenals, the N.Y. Times reports in its lead story.
"In South Korea, polls show 60 percent of the population favors building nuclear weapons. And nearly 70 percent want the United States to reintroduce tactical nuclear weapons for battlefield use, which were withdrawn a quarter-century ago."
Why it matters: "There is very little public support for nuclear arms in Japan, the only nation ever to suffer a nuclear attack, but many experts believe that could reverse quickly if North and South Korea both had arsenals."
https://www.axios.com/newsletters/axios-am-d8fe4c42-c09c-4d1a-8df6-62ec914b106e.html?chunk=5#story5
5. Mark Cuban on "the edge"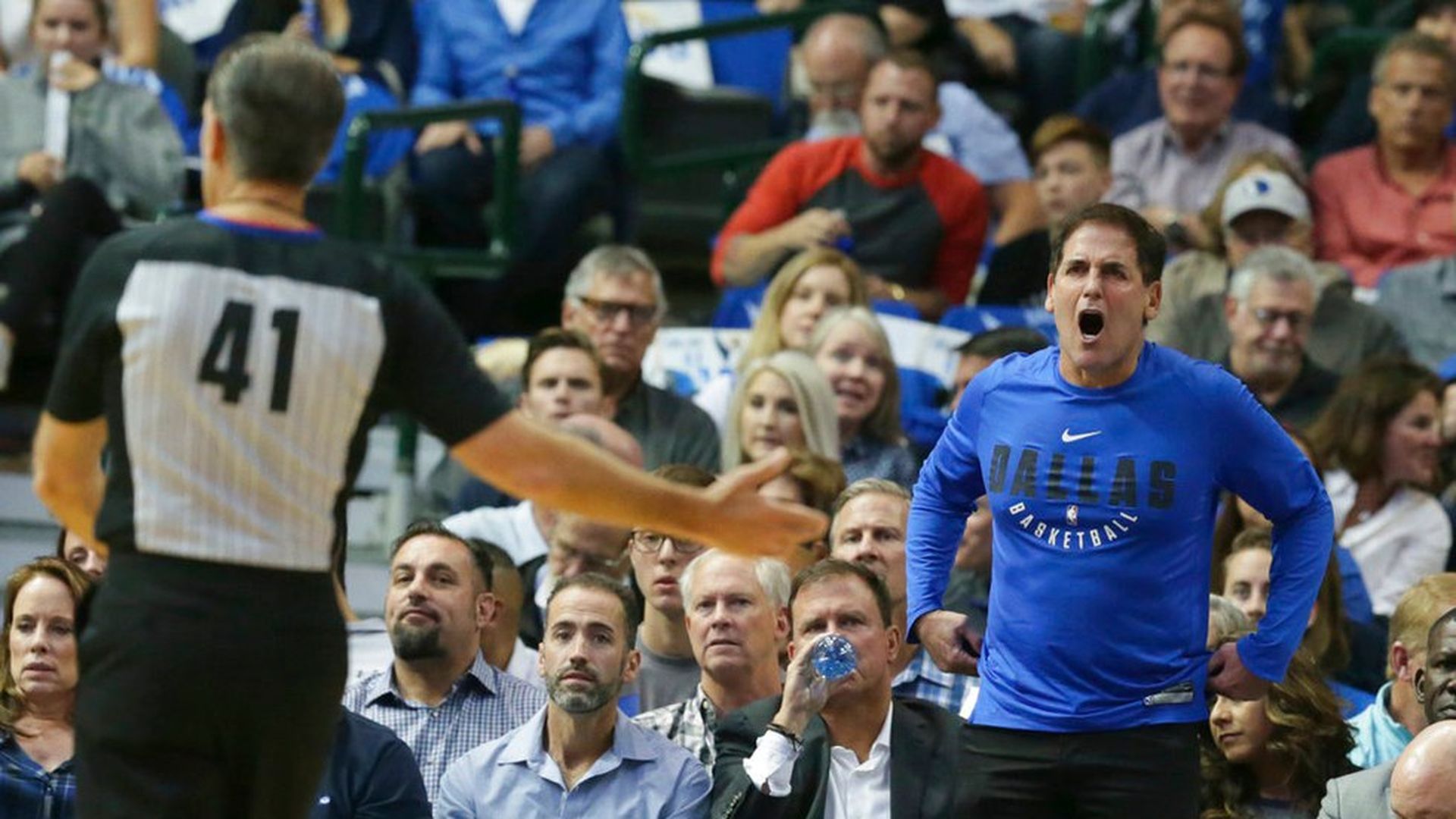 Mark Cuban tells Maureen Dowd that the chance he'll challenge Trump in 2020 is 10%, "maybe 11":
"I met the voluble owner of the Dallas Mavericks at Jean-Georges in the Trump hotel at Columbus Circle, where he keeps an apartment. ... He ambles into the three-star Michelin restaurant in his usual jeans and Adidas kicks."
"When I ask if he would run as an independent, he replies: 'Probably, or a Republican. I'm registered as an independent. I mean, I'd rather do it as an independent.'"
"The 59-year-old, who got rich with one of the first online streaming companies, has been described as 'Trump without the crazy.' He calls Trump batty but has also written that it's good to have 'the edge,' when 'people think you're crazy and they are right, but you don't care what they think.'"
"Asked if he would send the Mavericks' former player Dennis Rodman to negotiate with Little Rocket Man, he replies, 'Why not?'"
The matchup: "Trump and Cuban are testosterone twins in some ways. Both savor poking elites and flouting convention. Both have owned sports teams and love making movie and TV cameos. Both say the government has conspired against them."
https://www.axios.com/newsletters/axios-am-d8fe4c42-c09c-4d1a-8df6-62ec914b106e.html?chunk=6#story6
6. Tax reform chances rise
"Bowing to concerns from Republican House members in high-tax states, the chamber's chief tax writer said he'll preserve a federal income-tax break for property taxes," per Bloomberg's Ben Brody.
House Ways and Means Chairman Kevin Brady said in a statement Saturday afternoon: "At the urging of lawmakers, we are restoring an itemized property tax deduction to help taxpayers with local tax burdens."
P.S. Breaking on "Meet the Press": 38% of Americans approve of Trump's job performance — down 5 points from September, and his lowest job-approval rating since taking office, according to a new NBC News/Wall Street Journal poll. 58% disapprove.
https://www.axios.com/newsletters/axios-am-d8fe4c42-c09c-4d1a-8df6-62ec914b106e.html?chunk=7#story7
7. Future of work: an encouraging data point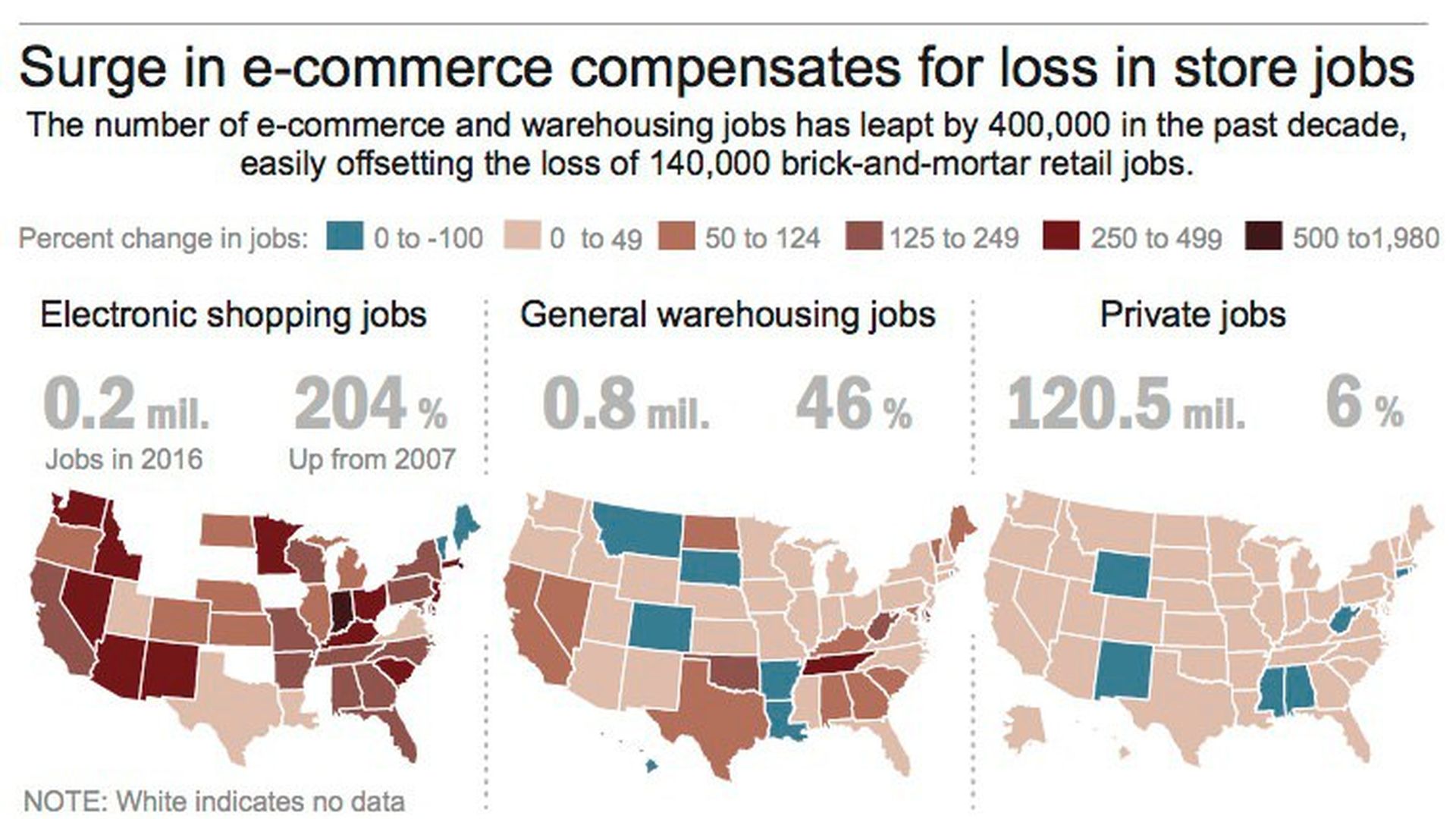 "The surge in e-commerce has required the rapid build-out of a vast network of warehouses and delivery systems that include both robots and human workers," AP's Christopher Rugaber reports in "Why the explosive growth of e-commerce could mean more jobs: When people shop online, tasks that consumers once did are now done by warehouse employees and truck drivers."
https://www.axios.com/newsletters/axios-am-d8fe4c42-c09c-4d1a-8df6-62ec914b106e.html?chunk=8#story8
8. Amazon odds-fixing
N.Y. Times business columnist James Stewart looks at Amazon's criteria for its second headquarters city, "and the weight I expect Amazon to place on them," and comes up with these six finalists:
Pittsburgh
Baltimore
Philadelphia
Toronto
Chicago
Boston
https://www.axios.com/newsletters/axios-am-d8fe4c42-c09c-4d1a-8df6-62ec914b106e.html?chunk=9#story9
https://www.axios.com/newsletters/axios-am-d8fe4c42-c09c-4d1a-8df6-62ec914b106e.html?chunk=10#story10
10. 1 movie thing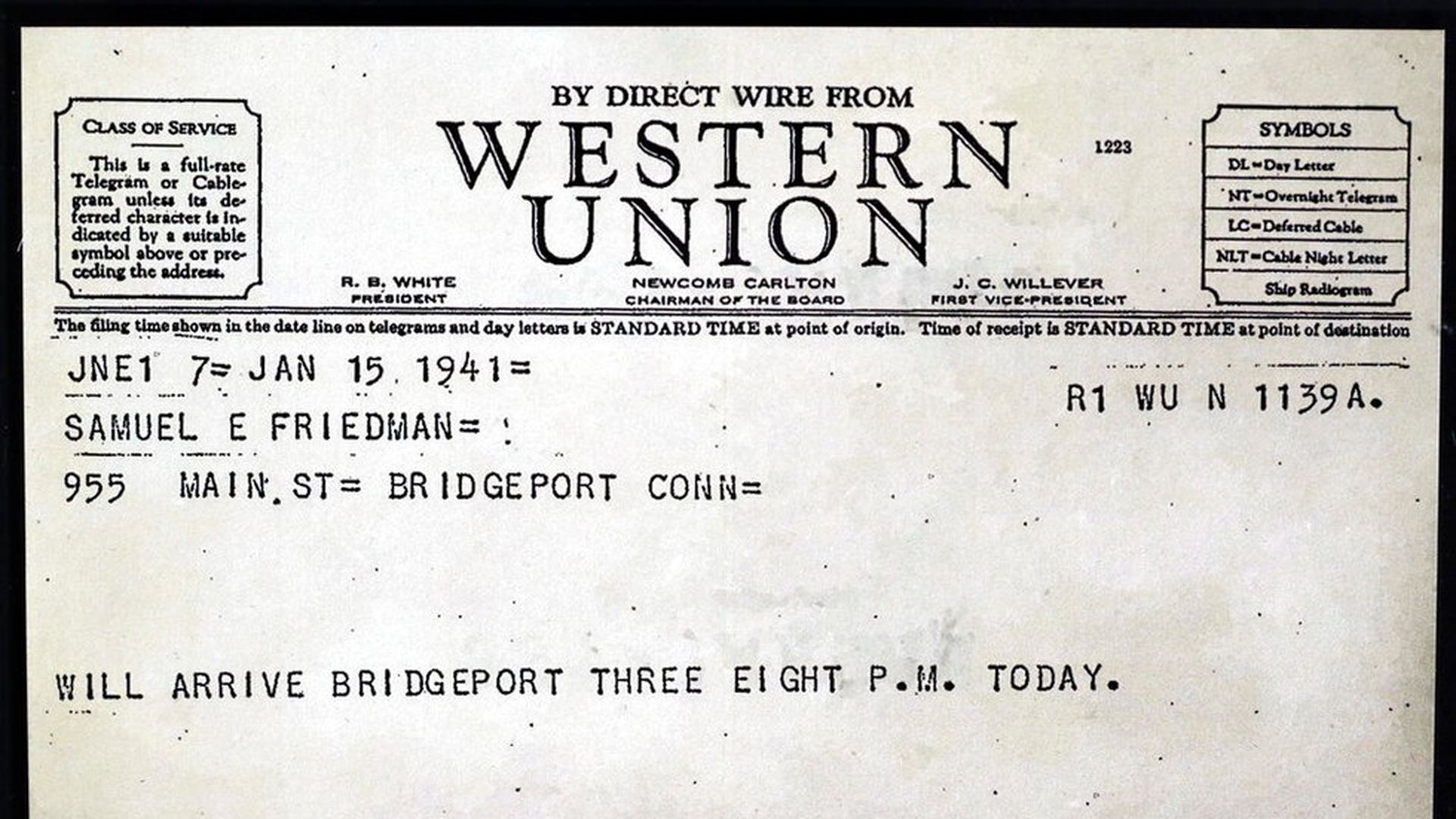 "Marshall," in theaters now ... "[W]hat moviegoers get in 'Marshall' is a film faithful to the facts and to the man, according to those who have studied the real-life Connecticut rape case from 1941 and those who knew Marshall, who died in 1993 at age 84." AP's Jessica Gresko:
"The movie ... shows a 32-year-old [Thurgood] Marshall, with one Supreme Court argument under his belt and more than a decade before his victory in the landmark Brown v. Board of Education case that outlawed segregation in public schools."
Marshall represented Joseph Spell, a black chauffeur in Bridgeport, Conn., who was accused of rape by his wealthy, white employer.
"There was no transcript of the court proceedings. As a result, much of the courtroom dialogue is made up."
Why it matters: "Moviegoers who linger in the theater through the credits will get to hear Marshall himself in a bit of old audio. He says in part: 'You know, there are so many people, indeed my own sons at times, look at me with an expression on their face that they don't believe what happened in the past.'"