October 20, 2022
Happy Thursday. Smart Brevity™ count: 1,478 words ... 5½ minutes. Edited by Noah Bressner.
1 big thing: Ditching 9-to-5
Businesses often think about post-pandemic flexibility as the ability to choose where we work. But being able to choose when we work may be far more important, Axios' Erica Pandey writes.
Why it matters: Work-whenever has allowed many types of workers to boost their productivity — including parents, who make up around a third of the U.S. workforce.
Stunning stat: Employees with flexible schedules report 29% higher productivity and 53% greater ability to focus than those with set hours, according to Slack Future Forum research out today. More than 10,000 desk workers around the world were surveyed.
Place also matters, but not nearly as much as time. Workers who chose where they worked were 4% more productive than their fully in-person counterparts.
Between the lines: While a 9-to-5 schedule favors early birds, time flexibility allows night owls to work during their sharpest hours.
2. Overwhelming majority of workers make the effort
81% of workers say they're putting in as much effort — or more — as they were six months ago, Emily Peck of Axios Markets writes from a Conference Board survey out yesterday.
Why it matters: With so much talk of "quiet quitting" — a viral term loosely defined as workers who are doing the bare minimum, or not going "above and beyond" — you might get the sense that American workers are phoning it in. That's not quite what's going on.
🧠 What's happening: Just getting your baseline level of work done — amid a labor shortage — is challenging, said Robin Erickson, vice president of human capital at the Conference Board.
"People are having to work harder just to get the work done," she said, noting that this is the first time the Conference Board has asked about effort specifically.
And you may not feel appreciated, she added. Or you found out that the person sitting next to you makes more money because the company was desperate to hire. "Or you've been loyal during COVID and the organization isn't doing well."
At the same time they're working harder, workers are less "engaged," the Conference Board and other studies have found.
31% of Conference Board respondents said their work engagement is lower than six months ago.
Gallup found a similarly high level of disengagement in a poll last month.
3. 👀 First look: Biden backs federal fund for abortion support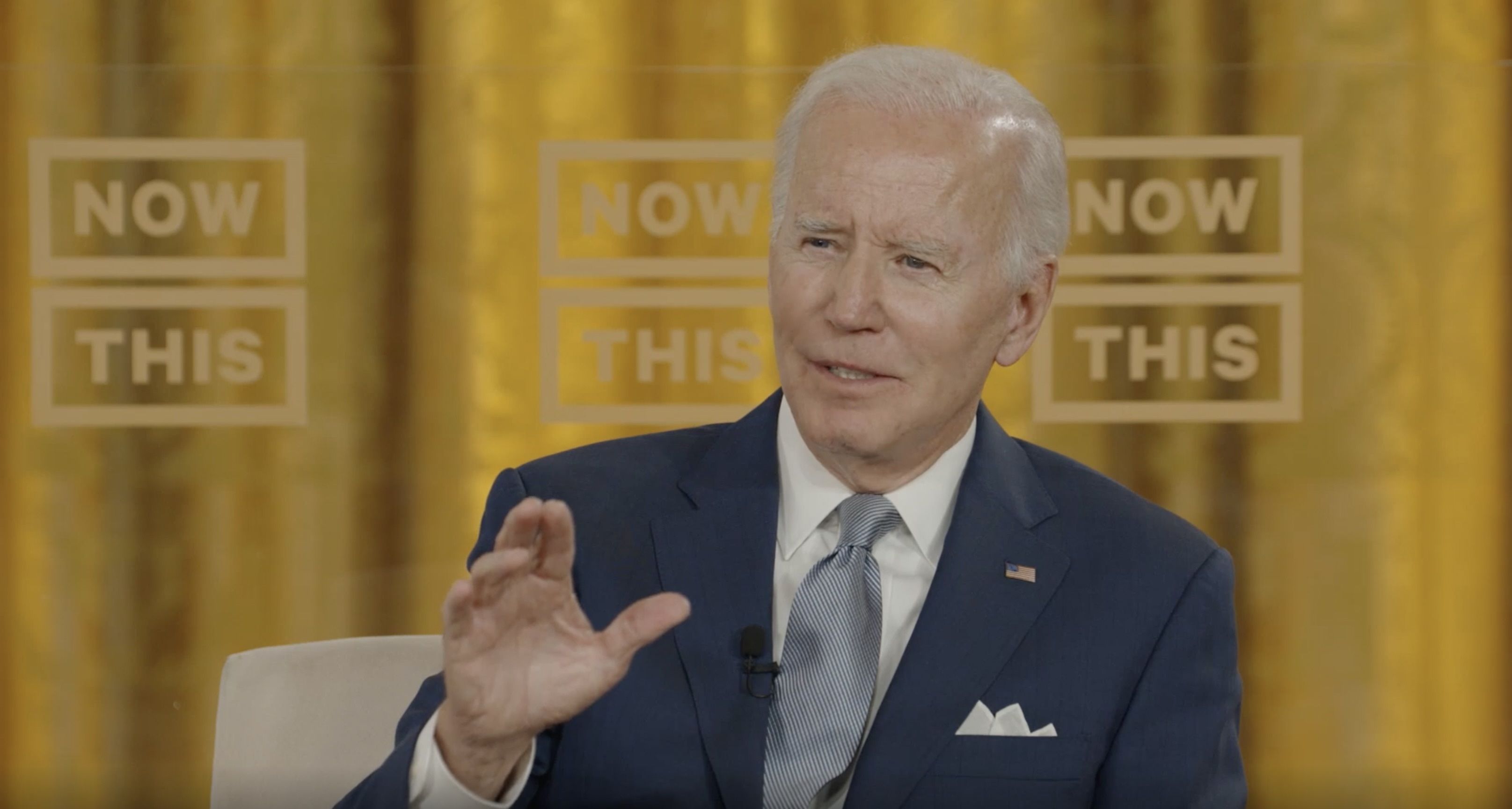 President Biden would support a federal fund for people who need to take time off work and pay for childcare to obtain an abortion, he said in an interview with NowThis News that will air Sunday on social media.
Why it matters: It's one of his strongest public comments in favor of federal support for those seeking an abortion since the Supreme Court overturned Roe in June, Axios' Sara Fischer writes.
Biden was responding to a question from Danielle Mathisen, a 26-year-old medical resident. She noted that some companies have begun helping workers pay for abortions, and asked whether Biden would support federal funding for such services.
"The answer is absolutely ... I do support that, and I've publicly urged companies to do that," Biden said in the interview, taped Tuesday. "I've urged them publicly as president of the United States ... 'This is what you should be doing.'"
"I urge you to do it because there's so many, and imagine the women who need that kind of assistance, but have no money at all to be able to do this," the president added. "None. ... What do they do? They don't have the option."
💡 Between the lines: The interview represents a strategic effort by the White House to communicate with young voters about social issues ahead of the midterms.
NowThis News has a significant social media presence, with over 80 million followers across its Snapchat, TikTok, Facebook, YouTube and Instagram.
The majority of its followers across TikTok, Instagram and Snapchat are under 35.
4. 🔋 New frontier: Battery Belt goes national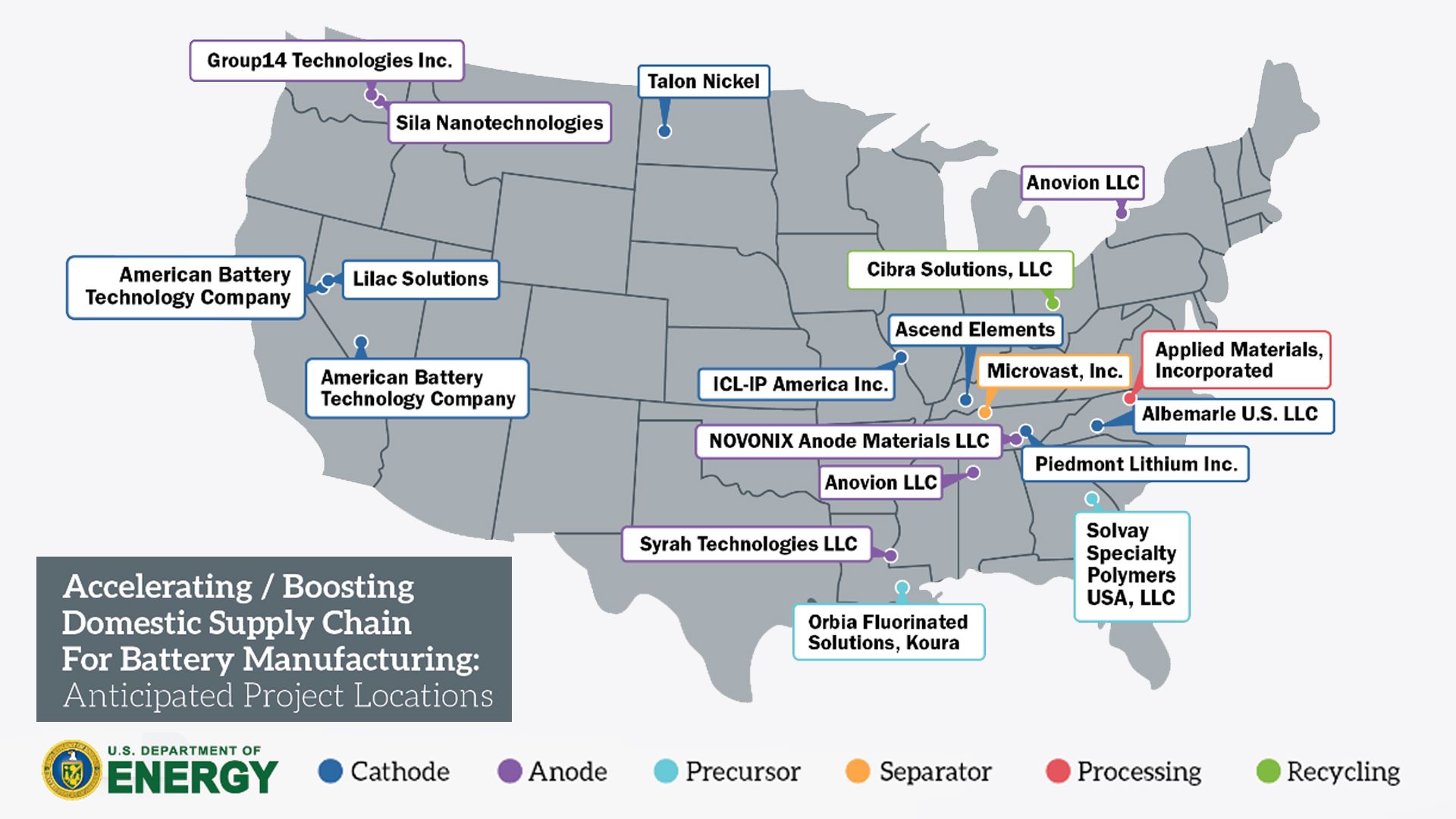 This Energy Department map, pinpointing projects that were part of a White House announcement yesterday, shows the electric-vehicle Battery Belt will sweep from coast to coast in coming years.
Why it matters: The map vividly shows the way America's hubs for tech and manufacturing — and therefore influence — are escaping their traditional bubbles, and extending to smaller cities nationwide.
🔭 Zoom out: The Biden administration awarded $2.8 billion in grants to boost domestic manufacturing of batteries for electric vehicles in 12 states, AP reports.
20 companies will get grants for projects to extract and process lithium, graphite and other battery materials, manufacture components and strengthen U.S. supply of critical minerals.
🔎 Zoom in: The 12 states are Alabama, Georgia, Kentucky, Louisiana, Missouri, Nevada, New York, North Carolina, North Dakota, Ohio, Tennessee and Washington state.
The grants are funded by President Biden's $1 trillion infrastructure law.
🥊 The intrigue: Eight of the 12 states, mostly in the South and Midwest, supported Donald Trump in 2020.
Biden said at an announcement event: "Republicans who voted against the infrastructure bill [attacked] Democrats for passing it because it's socialism."
"Well, now, quietly and privately, they're sending me and the administration letters asking for money," the president added. "I was really surprised to find out there are so many socialists in the Republican caucus."
🏠 Get Axios Local, now with morning newsletters in 24 cities.
Go deeper: Fact sheet for each project on the map above.
5. Axios-Ipsos Latino poll: Warnings for Dems
In a survey early this month, nearly one in four Latino adults didn't know how they'd vote in November's midterms, Margaret Talev and Russell Contreras write from an Axios-Ipsos Latino Poll in partnership with Noticias Telemundo.
Why it matters: The findings underscore Latinos' collective hold on the American swing vote. Democrats' relatively modest advantage is an ominous sign for those who fear a further erosion of their party's support among this large, diverse ethnic group.
Inflation and crime remained by far the biggest worries for survey respondents. Abortion ranked significantly lower.
🥊 Reality check: Democrats have some advantages. Respondents support President Biden's student loan forgiveness and the Inflation Reduction Act by two-to-one margins.
Four in five favor expanded background checks on 18-to-21-year-olds who want to buy a gun.
57% opposed governors busing or flying migrants to other states, or to the nation's capital.
🔬 Zoom in: 37% of respondents cited inflation, and 36% cited crime or gun violence, when asked to identify up to three of their top worries.
Just 12% cited abortion or access to abortion as a top concern.
Several other concerns outpaced abortion, including immigration (26%) and climate change (25%).
6. ⚖️ Charted: Court's lonely left
Andrew D. Martin of Washington University in St. Louis and Kevin Quinn of the University of Michigan have estimated "Martin-Quinn scores" for the ideology of every Supreme Court justice back to 1937.
Why it matters: After overturning Roe in June, the court is poised to continue pushing American law to the right this term on issues of race, voting and the environment.
Between the lines: Brett Kavanaugh remains the court's "median justice," Axios' Sam Baker writes:
That doesn't mean he's a swing vote, or ideologically moderate. It means the court is so conservative that its center is pretty far to the right — and likely to stay that way for a long time.
7. 🚙 Uber ads while you wait for driver
Uber launched ads in its ride-hailing app — a huge step for the company, which had largely limited ads to sponsored listings for Uber Eats.
The new "Journey Ads" will appear while you're waiting for your car, and during the trip, Axios' Sara Fischer and Hope King report.
The average Uber ride lasts about 20 minutes. Uber executives told Axios they see ample opportunities to sell ads that users will see as they consult the app during their rides.
Sponsored listings on Uber Eats are already a massive business, bringing in $350 million in annualized revenue from 170,000 advertisers in 30 countries globally.
The new business will also expand Uber ads to car-top screens.
Go deeper: "Everyone wants to sell your attention."
8. Sports Equinox: NFL, NBA, NHL, MLB games collide
Happy Sports Equinox! Today is the 27th time in history that the "Big Four" pro leagues (NFL, NBA, NHL, MLB) are all in action on the same day, Axios' Jeff Tracy writes.
The second round of the MLS playoffs also kicks off tonight. And there's good college football, golf and European soccer action, too.
What's happening: This collision has gotten more common now that "Thursday Night Football" is a fixture, the World Series starts later and the NBA season starts earlier.
🔮 What's next: There'll be a record four Sports Equinoxes this year — including back-to-back this Sunday and Monday, then another one on Halloween, with the World Series in full swing.
📬 Invite your friends to sign up to get their daily essentials — Axios AM, PM and Finish Line.