Axios AM
February 03, 2018
Good Saturday morning!
Situational awareness ... "Secret Alliance: Israel Carries Out Airstrikes in Egypt, With Cairo's O.K.," by N.Y Times' David Kirkpatrick: "Their collaboration in the North Sinai is the most dramatic evidence yet of a quiet reconfiguration of the politics of the region."
Why it matters: "Shared enemies like ISIS, Iran and political Islam have quietly brought the leaders of several Arab states into growing alignment with Israel — even as their officials and news media continue to vilify the Jewish state

in public

."
1 big thing ... Shock poll: GOP turns on FBI
President Trump's hammering on the FBI — and green-lighting yesterday of the Russia memo's release over Bureau objections — is having a profound effect:
A SurveyMonkey poll for Axios finds that not even 40% of Republicans approve of America's main federal law enforcement agency — a stunning turn for the law-and-order party.
Why it matters: Trump, who earlier turned a huge swath of Republicans toward more favorable opinions of Russia, has now turned his party against his own FBI.
The numbers: FBI approval in the SurveyMonkey Poll, taken over the past two days, is 64% among Democrats and just 38% among Republicans. Unfavorable opinion of the FBI: 47% in the GOP; 14% among Ds.
As you see below, overall opinion of the FBI fell over the past year in the two polls we compared, likely driven entirely by falling approval from Rs.
Be smart: The stark new Republican skepticism of the FBI means that Trump has succeeded in preemptively undermining the findings of special counsel Bob Mueller.
Many Republicans will now see Mueller's report or recommendations as a political document, and the conservative media will portray it that way.
It's the great muddying we have been telling you about since December.
This is a massive swing from the initial bipartisan accolades for Mueller.
When the special counsel was named last May, Newt Gingrich tweeted: "Robert Mueller is superb choice to be special counsel. His reputation is impeccable for honesty and integrity. Media should now calm down."
P.S. "Though President Trump and his allies hope the controversial release of a GOP-written memo alleging surveillance abuses by the FBI will tarnish the legitimacy of the entire Russia probe, that argument may be undercut by a single sentence buried near the end of the four-page document," per the WashPost:
The memo says in its final paragraph: "The Papadopoulos information triggered the opening of an FBI counterintelligence investigation in late July 2016 by FBI agent Pete Strzok."
Why it matters: "[T]he FBI did not seek authorization to conduct surveillance on [Carter] Page [invoking the dossier] until three months later."
"Deputy attorney general's job may be in jeopardy," the WashPost's Sari Horwitz reports:
"Rod J. Rosenstein's tenure as deputy attorney general and the top Justice Department official overseeing the Russia investigation appears to be in peril after President Trump refused to say ... whether he had confidence in him."
"After Trump authorized release of [the] memo, ... he was asked by a reporter whether he was more likely to fire Rosenstein."
Trump replied: "You figure that one out."
2. Two Americas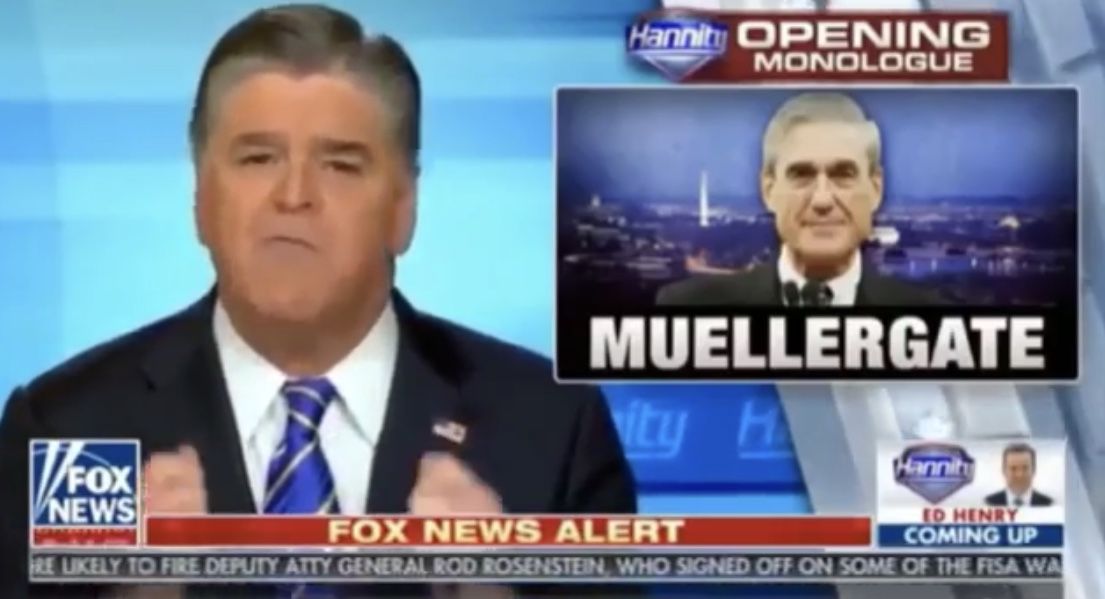 On MSNBC, Rachel Maddow was literally laughing. Over on Fox News, Sean Hannity put up his dukes.
At 9 last night, you could just flip between the two and see an encapsulation of our two Americas — total dismissal of the memo's import, vs. the assertion that it's "only about 15 percent of what's coming."
So, Rachel, how was your day?
"This thing?! This was two weeks of: This memo is going to end everything. This memo, have you heard about the memo? Hashtag: Release the memo! This memo will make Donald Trump innocent. This memo will put Robert Mueller in jail. It will abolish the FBI. The Justice Department will have to rename itself the Donald J. Trump & Family Private Security Task Force."
"I mean, I can't believe this is it."
"I don't really believe in the whole Cable News Wars idea. I know people who work across the street at the Fox News Channel. I've got friends that work there. I think we're all doing our own thing in our own way best we can."
"But, oh my God, right? ... [T]his ... hyping and huffing and puffing and working their audience up into a frenzy for two solid weeks."
"And apparently, despite all of that, ... they either didn't know or they didn't notice that this thing they have been clamoring for and hyping for two solid weeks, ... it actually disproves their whole point."
"They release this memo to prove that the dossier started everything. The memo says the dossier didn't actually start anything."
What's up, Sean?
"[W]hen you put all this information together, here's what it all means. The FBI misled and purposely deceived a federal court while using an unverified, completely phony opposition research bought and paid for by Hillary Clinton."
"We have never, ever in history seen anything like this, and it was spearheaded not by rank-and-file members of the FBI intelligence community and Department of Justice. No. High-ranking officials: James Comey, Andrew McCabe, Rod Rosenstein, Peter Strzok, Lisa Page, likely Loretta Lynch."
"But here's the bottom line: Crimes have been committed. There is no way that they did not know that the FBI was lying to a FISA court in order to spy on an opposition campaign during an election year. They have aided and abetted what is a massive constitutional violation."
"Comey, McCabe, Rosenstein and others all need to be investigated and, in many cases, prosecuted to the fullest extent of the law."
"Now, of course, Comey is running scared. He's out of his mind right now, now that he is exposed with this memo."
"[T]he special counsel must be disbanded immediately."
"And, by the way — nobody else will say this — all charges against Paul Manafort and General Michael Flynn need to be dropped. It's that simple."
"This scandal is only in Phase 1. ... Stay tuned! Tick tock! "
3. America's most surprising new pundit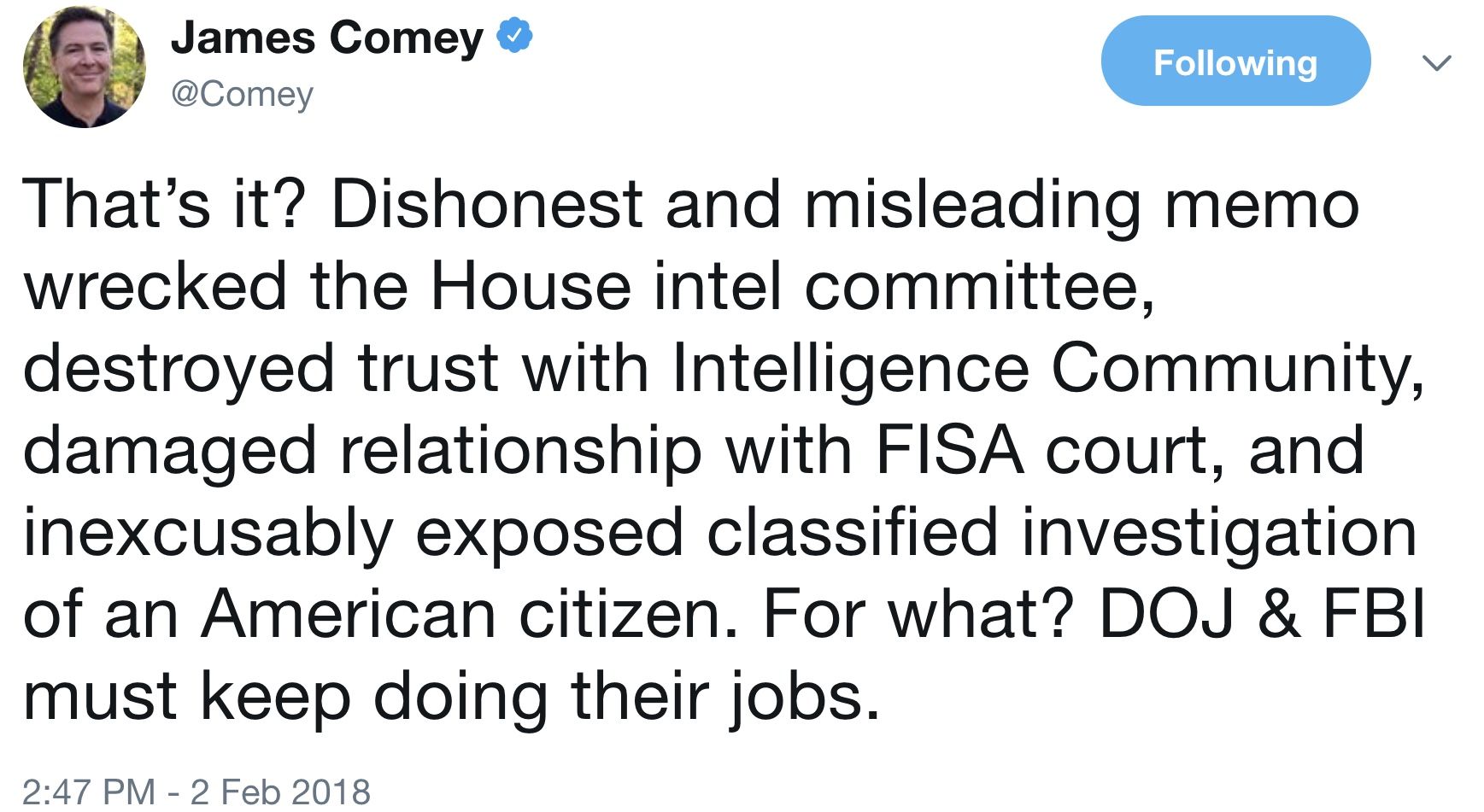 James Comey — the fired FBI director, who has a hotly awaited memoir, "A Higher Loyalty," coming out May 1 — uses his Twitter feed to lob some of the most biting, terse commentary on White House handling of the Russia probe:
Above, you see Comey's hot take on The Memo.
The day before, when the FBI warned of "grave concerns" about the memo's release: "All should appreciate the FBI speaking up. I wish more of our leaders would. But take heart: American history shows that, in the long run, weasels and liars never hold the field, so long as good people stand up. Not a lot of schools or streets named for Joe McCarthy."
On New Year's Eve: "Here's hoping 2018 brings more ethical leadership, focused on the truth and lasting values. Happy New Year, everybody."
After attending "Springsteen on Broadway": "'The arc of the moral universe is long, but it bends toward justice.' - Bruce Springsteen tonight, quoting Martin Luther King, Jr."
And one of his most noted posts, when Michael Flynn pleaded guilty: "'But justice roll down like waters and righteousness like an ever-flowing stream' Amos 5:24.'"
Bonus: Pic du jour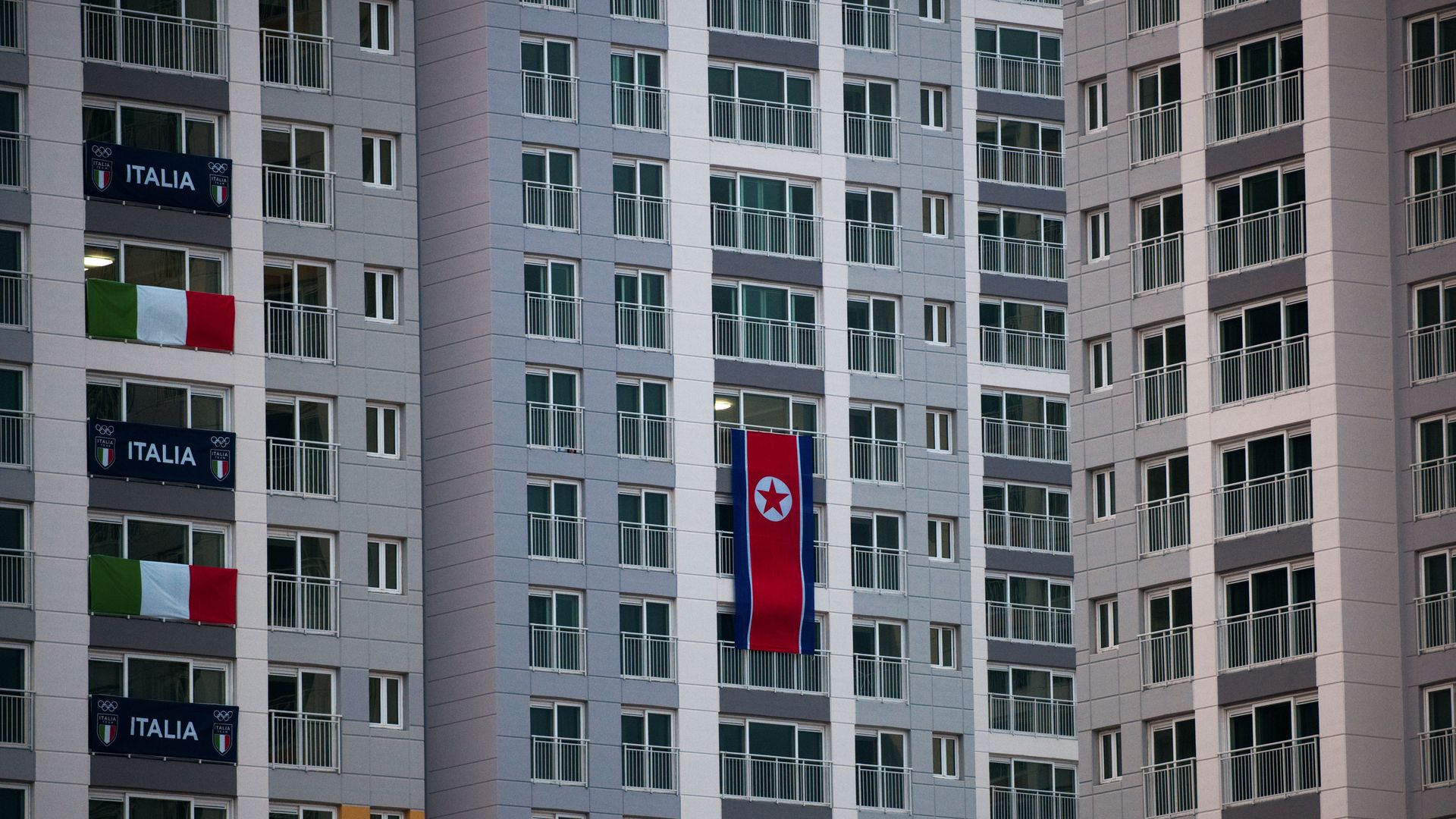 A large North Korean flag hangs from an apartment building in the athletes' village in Gangneung, South Korea, ahead of the Winter Olympics.
4. Markets: Risk roars back
"A sharp shift from the tranquility that has characterized much of the nearly nine-year bull-market run" ...
The Dow had its worst week in two years, and the plunge is a clear warning to investors, Barron's Randall W. Forsyth writes:
"[R]ising interest rates ... provided the proximate cause for stocks' tumble."
"That the stock market could be tripped up by what historically are extremely modest bond yields shows how dependent equities have been on exceptionally low interest rates."
Friday's 666-point selloff was prompted by the January jobs report: "What really got the markets spooked was a 0.3% jump in average hourly earnings [best wage growth since recession], which translated into a 2.9% year-over-year rate, the highest since June 2009."
Why it matters: The "seemingly unstoppable ascent gave rise to heady optimism. With sentiment so one-sided, it wouldn't take much to cause a reversal."
"The Investors Intelligence polling of advisors last week found bears fell to a 32-year low of 12.6%, while bulls registered 66%, just below a 32-year high."
"[T]he Conference Board's consumer confidence survey found a record number of respondents expecting stocks to be higher in the coming year. The organization first asked that question in ... 1987," the year of Black Monday.
"The University of Michigan also found a record (66.1%) who expected stocks to be up this year, but it's been asking that question only since 2002, in the wake of the dot-com collapse."
5. Yellen's final act: Wells hit with unusual ban
"After markets closed on her final workday in office, Federal Reserve Chair Janet Yellen delivered a blow to one of the nation's largest banks: Wells Fargo & Co. won't be allowed to grow until it cleans up," Bloomberg reports:
"Fed officials said the San Francisco-based lender's pattern of consumer abuses and compliance lapses called for an unprecedented sanction."
"Until Wells Fargo addresses shortcomings in areas including internal oversight, it can't take any action that would boost total assets beyond their level at the end of 2017, without the Fed's permission."
Why it matters: "Wells Fargo began stumbling through a spate of scandals 17 months ago, starting with revelations that branch employees opened millions of accounts without customer permission to meet aggressive sales targets."
The bank's response: "Wells Fargo & Company ... is confident it will satisfy the requirements of the consent order ... which recognizes that the company already has implemented improvements."
6. You should be aware: A massive story in Africa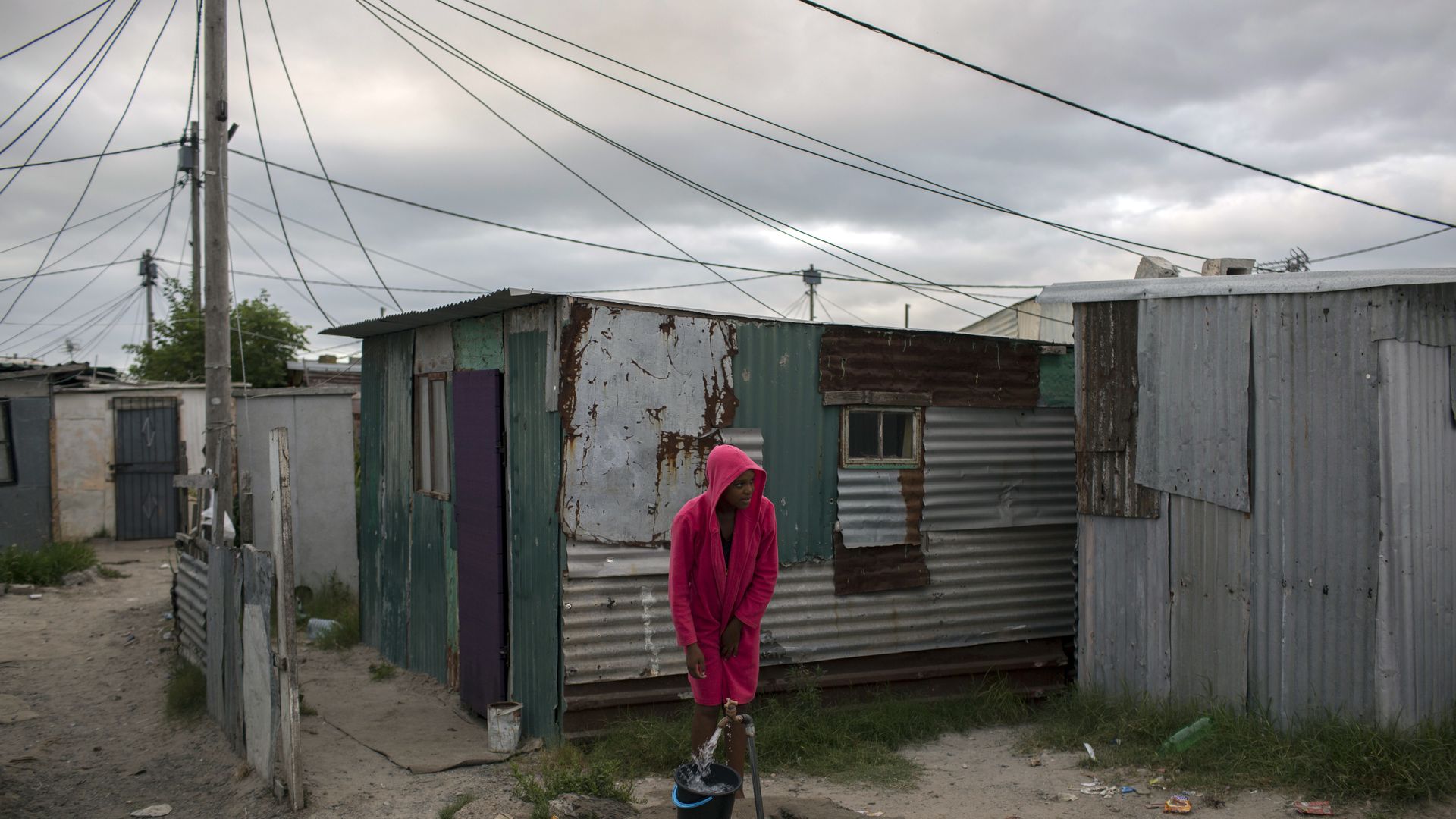 "Day Zero" is approaching as South Africa's showcase city of Cape Town prepares to turn off most water taps amid the worst drought in a century, AP reports:
"The top international tourist destination has both sprawling informal settlements and high-income oceanside neighborhoods."
"About a quarter of Cape Town's population [1 million out of 4 million] lives in the informal settlements, where they get water from communal taps instead of individual taps at home."
"Under new water restrictions that began Thursday, residents are asked to use no more than 50 liters (13.2 gallons) of water daily, down from the previous limit of 87 liters (23 gallons). The use of city drinking water to wash vehicles, hose down paved areas, fill up private swimming pools and water gardens is illegal."
"[C]auses of the city's water shortages include climate change and huge population growth. The local reliance on reservoirs, while projects such as desalination plants were largely left to the future, has been hurt by three straight years of drought."
Why it matters: "Scientists are watching how authorities cope, as this would be the world's first major city to go dry."
7. Trump ends Obama push to cut arsenal
Critics say Trump's Nuclear Posture Review shows greater willingness to use nukes first, per CNBC:
The document, released by the Pentagon, calls for development of new nuclear weapons and capabilities to counter rivals, notably Russia and China.
It also said the U.S. will "strengthen the integration of nuclear and non-nuclear military planning."
Lisbeth Gronlund, senior scientist and co-director of the Global Security Program at the Union of Concerned Scientists, said: "This new policy deliberately blurs the line between nuclear and conventional forces and eliminates a clear firewall."
8. #MeToo hits nonprofit
"Humane Society of the United States chief executive Wayne Pacelle resigned Friday amid sexual harassment complaints and a backlash by major donors," the WashPost reports:
"The board named Kitty Block, an attorney who is president of Humane Society's international affiliate, as acting chief executive."
"Block's appointment ends a tumultuous week at the Humane Society after an internal investigation identified three complaints of sexual harassment against Pacelle, and found senior women who said he had ignored warnings to change his conduct."
9. The real America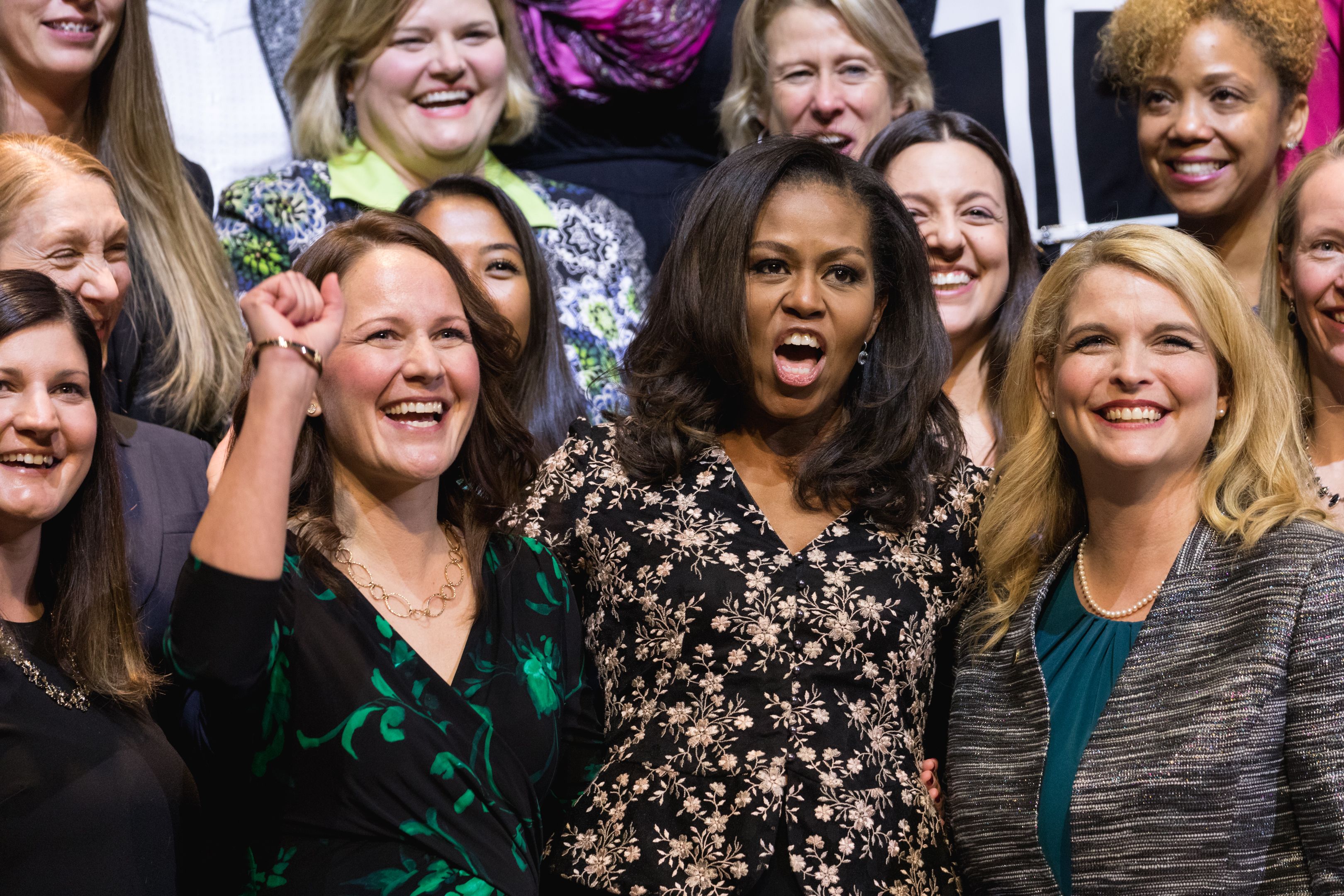 At the Kennedy Center yesterday, Michelle Obama honored the 2018 School Counselor of Year, Kirsten Perry of Lawndale Community Academy in Chicago, named by the American School Counselor Association.
2018 School Counselor of the Year finalists:
10. 1 football thing: Super Bowl tomorrow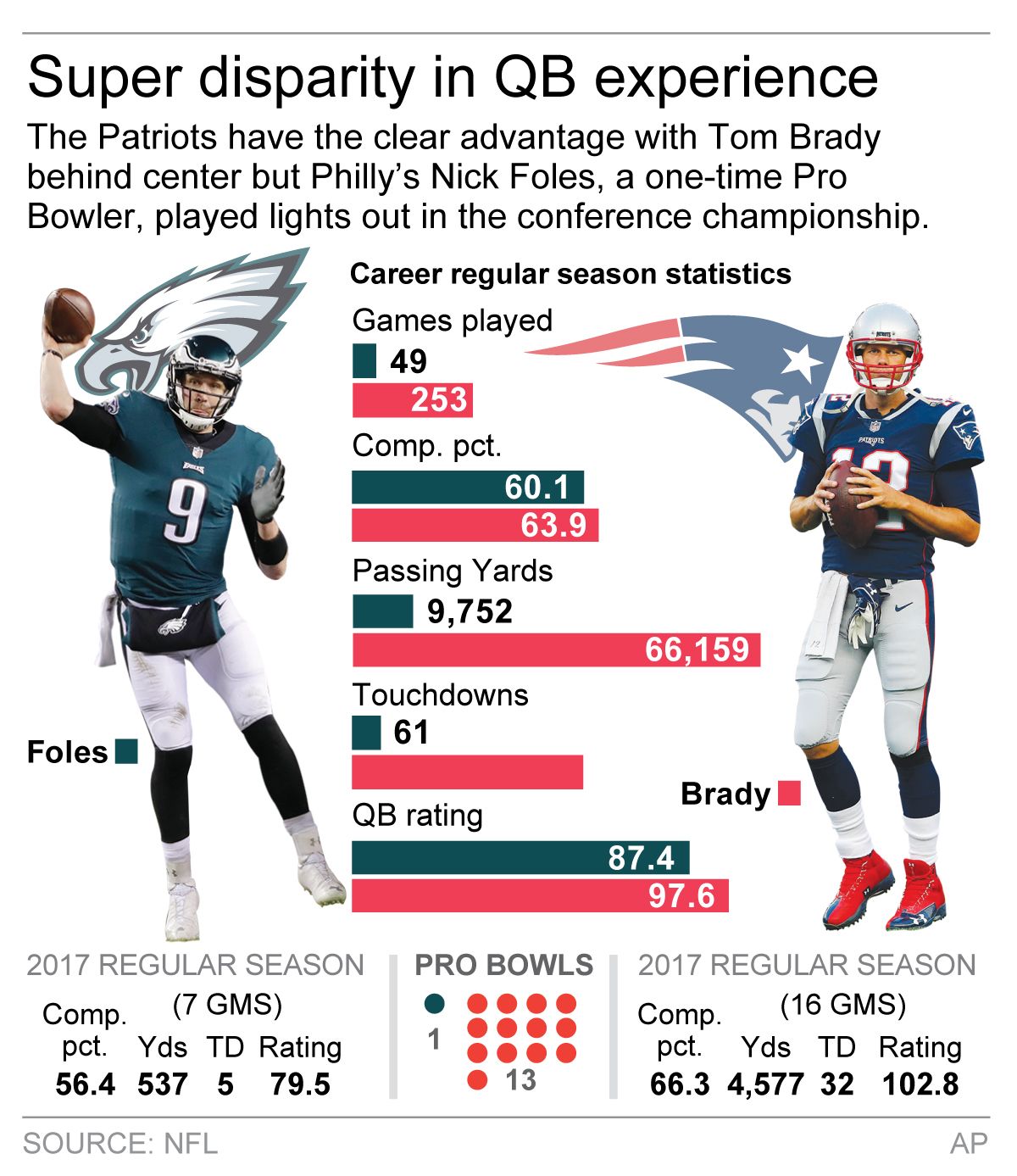 Philadelphia Eagles QB Nick Foles plans to become a pastor in a high school after football, AP reports:
Foles: "It's on my heart. I took a leap of faith last year and signed up to take classes at seminary. I wanted to continue to learn and challenge my faith. It's a challenge because you are writing papers that are biblically correct. You want to impact people's hearts."
Foles is part of a team that has a strong Christian brotherhood. MVP contender Carson Wentz has been outspoken about his faith and many players spend a lot of time together in prayer, studying the Bible and sharing devotionals.
Foles was one of the study leaders during his first stint in Philadelphia and has become a go-to source for younger guys. Left guard Stefen Wisniewksi also plans to become a pastor after his career ends.
Thanks for reading! See you all weekend in the Axios stream ...