Axios AM
August 25, 2021
🐪 Good Wednesday morning! Smart Brevity™ count: 1,457 words ... 5½ minutes. Edited by Fadel Allassan.
Situational awareness: Rep. Seth Moulton (D-Mass.), and Rep. Peter Meijer (R-Mich.) flew unannounced into Kabul in the middle of the chaotic evacuation, stunning State Department and U.S. military personnel who had to divert resources to provide security and information, AP reports.
🥊 Speaker Pelosi said in a "Dear Colleague" email last night: "I write to reiterate that the Departments of Defense and State have requested that Members not travel to Afghanistan ... during this time of danger."
1 big thing: Biden's ugly exit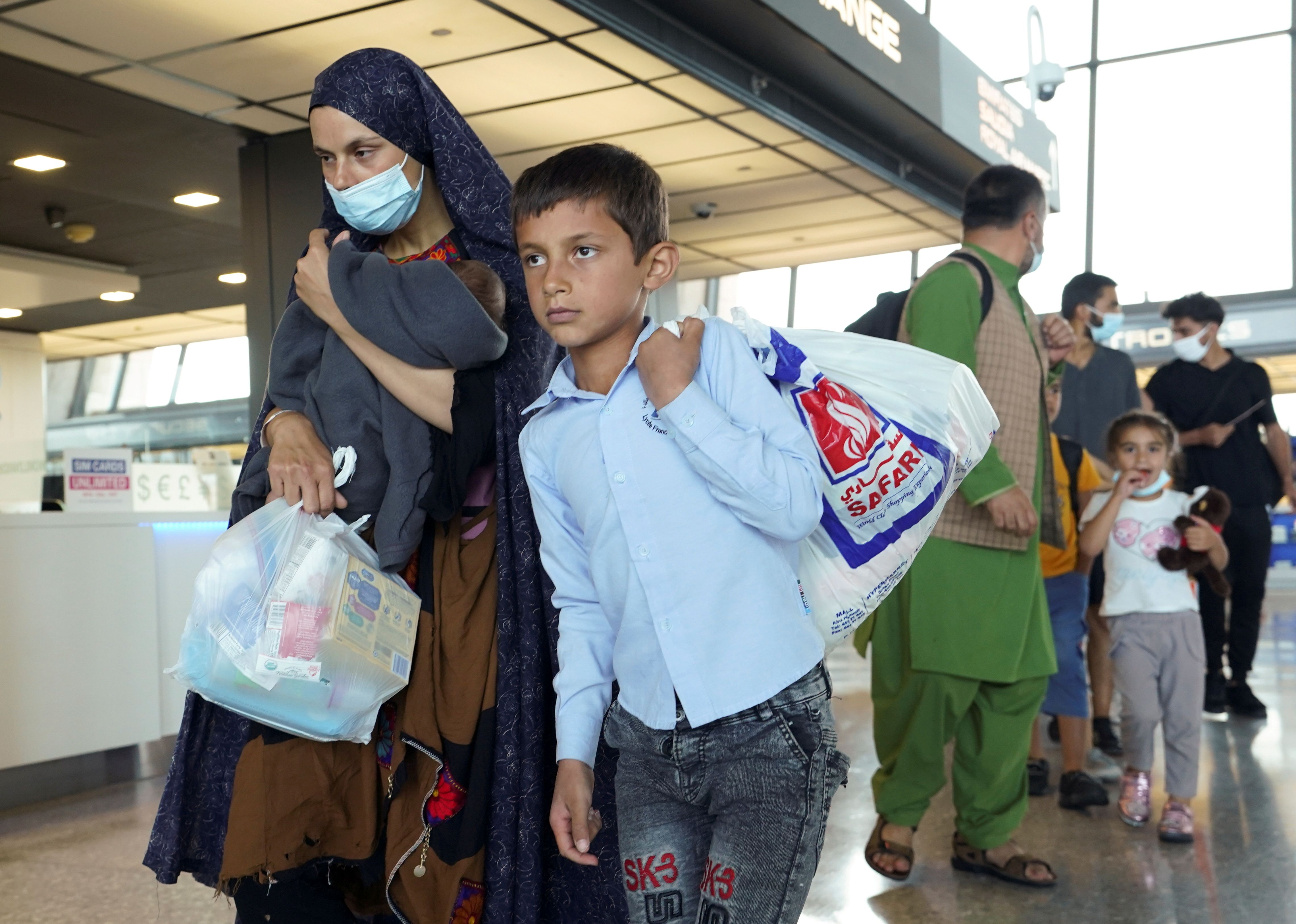 With the Afghan government and military no longer able to provide cover, President Biden risks the ugliest of exits from Kabul if he blows past his promise to leave Aug. 31, Axios' Glen Johnson writes.
Why it matters: The Taliban controls the area around Kabul's airport, as the U.S. removes its final 5,800 troops — and shrinks the security perimeter they've been providing.
Taliban fighters operate their own checkpoints within eyesight of the Americans, and could shut down the airport by firing mortars into the runway or tarmacs, or by shooting at departing airplanes.
Biden said the Taliban itself could be attacked by ISIS-K, a bitter enemy of both parties: "[E]very day we're on the ground is another day we know that ISIS-K is seeking to target the airport and attack both U.S. and Allied forces and innocent civilians."
The Taliban reiterated its deadline of Aug. 31. So Biden is sticking to his timetable, despite pleas from outside groups trying to evacuate Afghans.
"Who wants to be the last man there?" a U.S. veteran nearly killed in Afghanistan told Axios.
The U.S. had 2,500 troops in Kabul as of last month, with long-term plans to maintain a force of 650 Marines to protect the U.S. embassy.
When the government collapsed on Aug. 15, the Taliban encircled the lifeline out — Hamid Karzai International Airport.
Pentagon Press Secretary John Kirby acknowledged the risks as U.S. forces move toward the last outbound airplanes.
Soldiers, along with State Department employees who've been processing the evacuees, will be on those final flights.
There'll be no U.S. troops left in Afghanistan to safeguard them when the last plane departs.
2. 🇦🇫 14 steps to America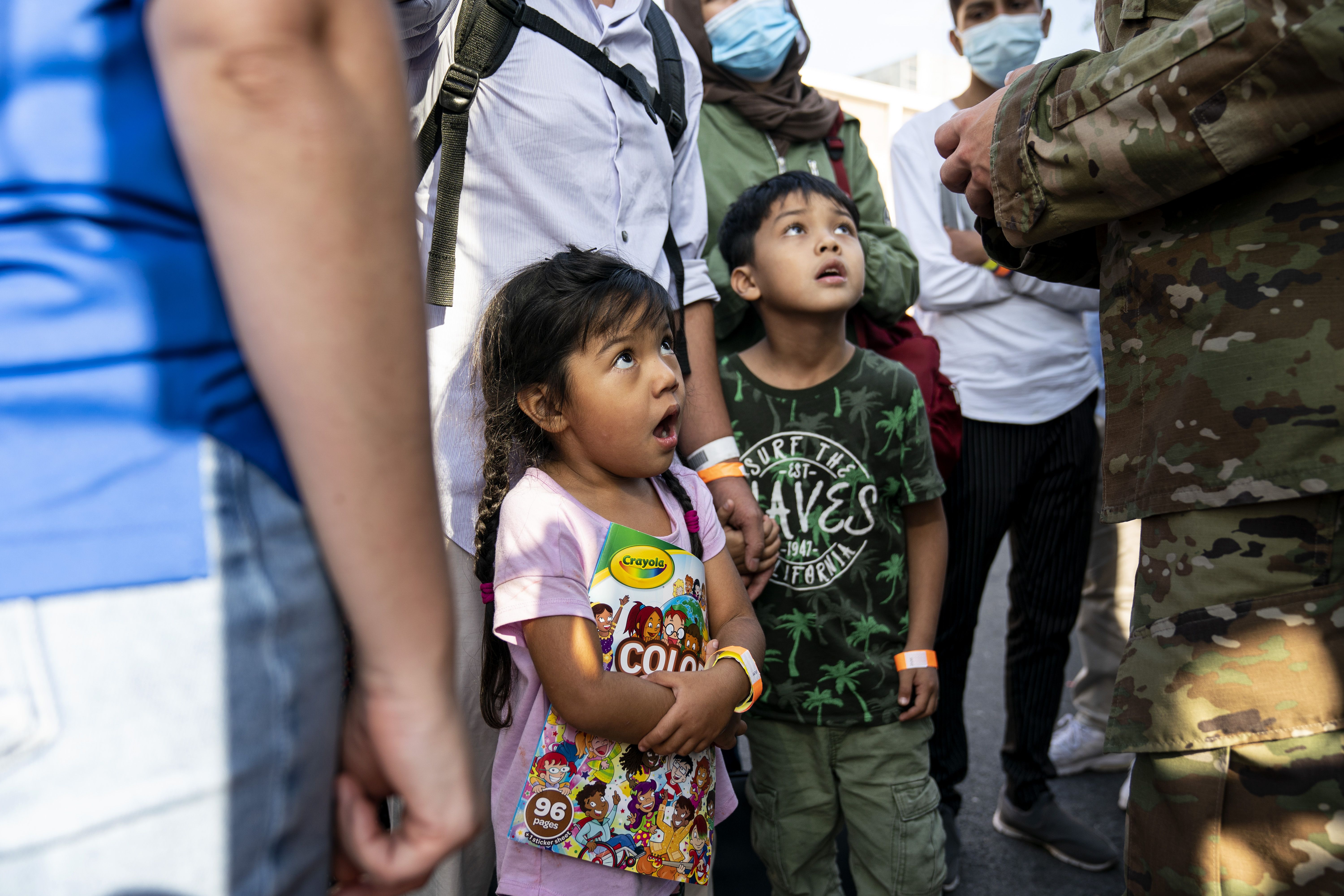 Afghans fleeing Kabul aren't supposed to reach America's shores until they've passed a multi-step vet — 14 steps, in the case of some interpreters and others who helped the U.S military, Axios' Stef Kight writes.
The U.S. has helped evacuate more than 70,000 Afghans since Aug. 14. Only a fraction are believed to have entered the U.S. — though the administration won't say how many.
How it works: After navigating Taliban checkpoints, mobs at the airport and eligibility requirements to board evacuation planes, fleeing Afghans are being taken to military bases in Europe and the Middle East.
Al Udeid Air Base in Qatar has been a top initial destination.
The administration announced last week that Bahrain, Denmark, Germany, Italy, Kazakhstan, Kuwait, Tajikistan, Turkey, the UAE, the U.K. and Uzbekistan are accepting people fleeing Afghanistan.
People planning to relocate to the U.S. are first vetted in those countries, including "biometric and biographic security screenings," a senior administration official told reporters on a call yesterday.
Those screenings are "conducted by our intelligence, law enforcement and counterterrorism professionals, who are working quite literally around the clock to vet all of these Afghans before they're allowed to enter the United States," the official said.
Afghans who aren't U.S. citizens or green card holders are then sent to military bases, including Fort Lee, Va., for a full health screening.
What to watch: Homeland Security Secretary Alejandro Mayorkas is using humanitarian parole to allow certain people leaving Afghanistan to come to the U.S. who would otherwise have no legal status.
This could include people who've not yet completed the Special Immigrant Visa (SIV) process, the official said.
3. Scoop: Tyson offers $10,000 vaccine carrot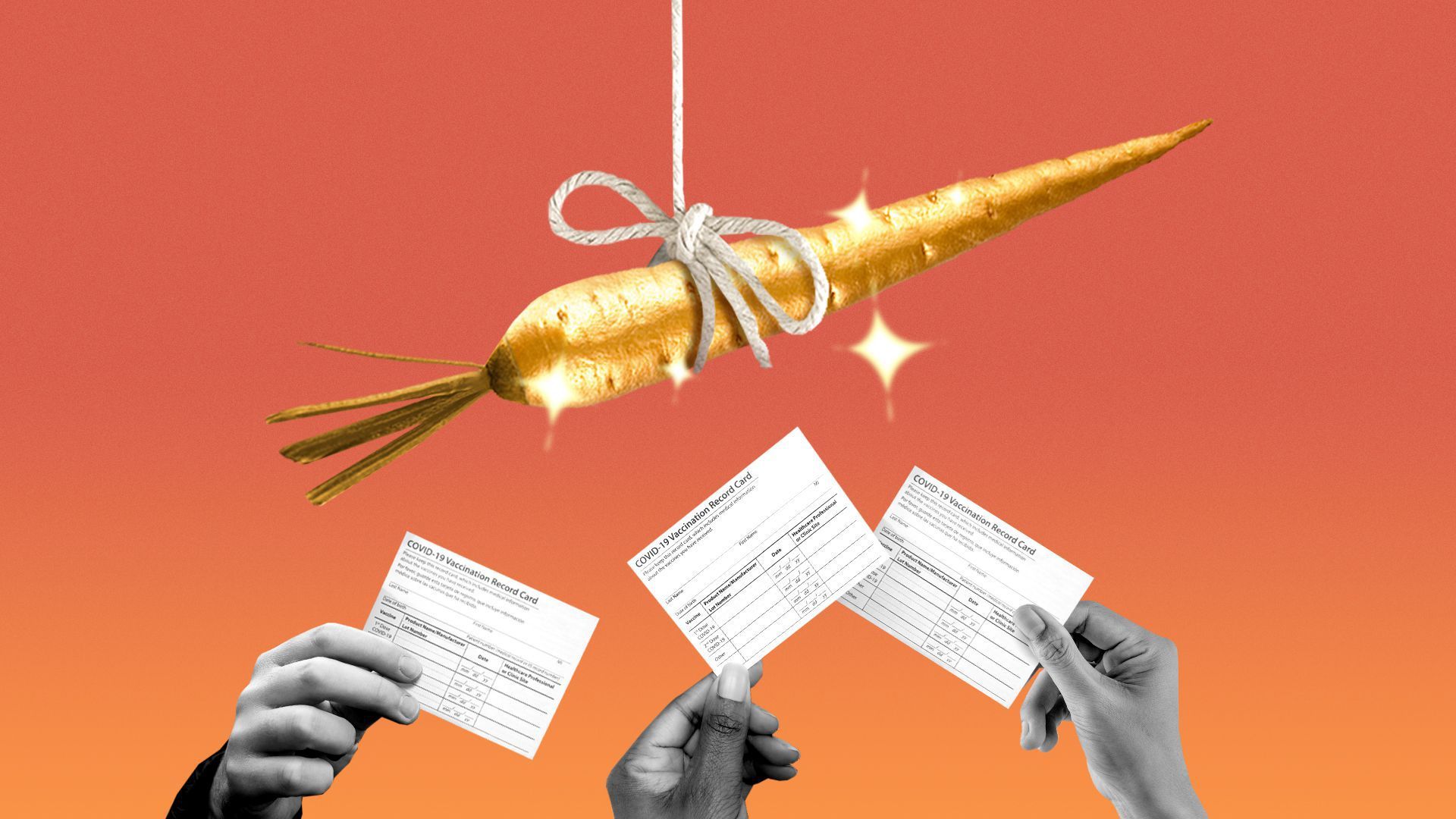 Employees at nearly 50 Tyson chicken plants can win $10,000, once a week for the next five weeks, if they've received at least one dose of COVID vaccine, Worth Sparkman of Axios Northwest Arkansas writes from an internal flyer posted on Facebook.
Tyson, America's biggest meatpacker, employs 139,000 people, most of them in the U.S., with about 24,000 in Arkansas.
Only employees at the company's chicken plants are eligible for the $10,000 giveaway. Tyson's prepared foods, beef and pork plants are offering other monetary incentives, the company told Axios.
Tyson is requiring all U.S. employees to be vaccinated by Nov. 1.
The company said it would pay each worker $200 to get the vaccine. It also offers up to four hours of pay if you have to get the jab outside normal work hours, or away from a Tyson location.
At the time of the mandate announcement, only 47% (56,000) of Tyson's 120,000 U.S. employees had received the vaccine.
4. ICU beds are running out
More than 77% of America's ICU beds are being used right now as hospitals grapple with a crush of severely ill COVID patients, almost all of them unvaccinated, Axios' Tina Reed reports.
Arkansas and Alabama officials said this week their states were completely out of ICU beds.
North Texas hospitals may begin to prioritize vaccinated patients over the unvaccinated, Forbes reported last week.
Between the lines: The shortage is a demand problem, not a supply problem, says Nick VinZant, a senior research analyst for QuoteWizard, which released a new report yesterday measuring states' preparedness.
5. Axios interview: United CEO Scott Kirby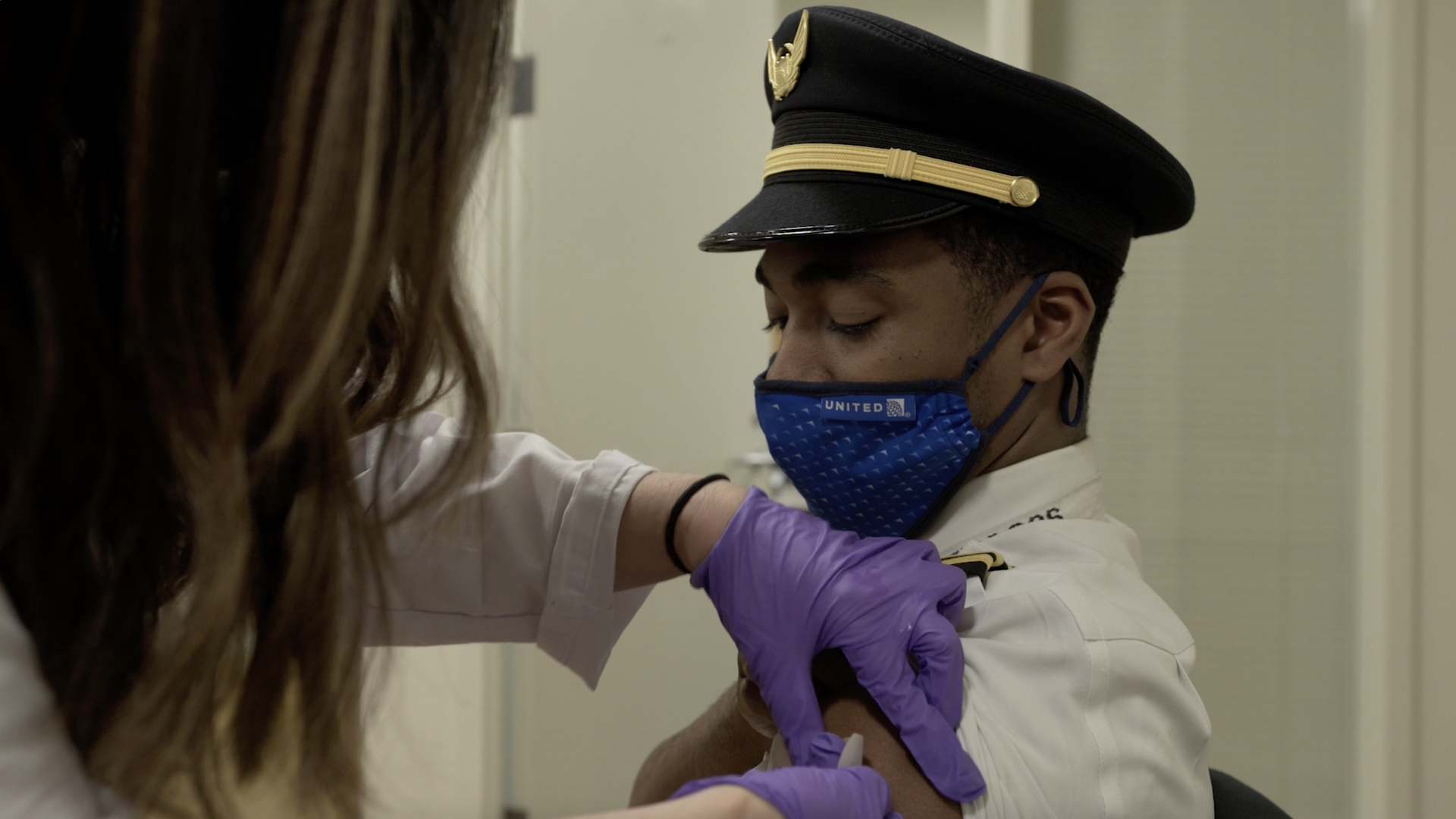 United Airlines CEO Scott Kirby doesn't find it hard to defend his company's decision to require COVID-19 vaccines for all of its nearly 67,000 U.S. workers.
He's already seen too many employees die, he told Axios' Joann Muller.
Why it matters: United so far is the only major airline to require vaccines for its employees, and it imposed that requirement earlier this month.
But Kirby expects many corporations will follow suit now that the FDA has fully approved the Pfizer shot.
"It eliminates one of the last substantive hurdles for vaccine hesitancy," he told Axios. "And because of that, it makes it easier for leaders to require vaccines."
"The more companies that do it, the harder it will be to not require it."
6. Quote of the day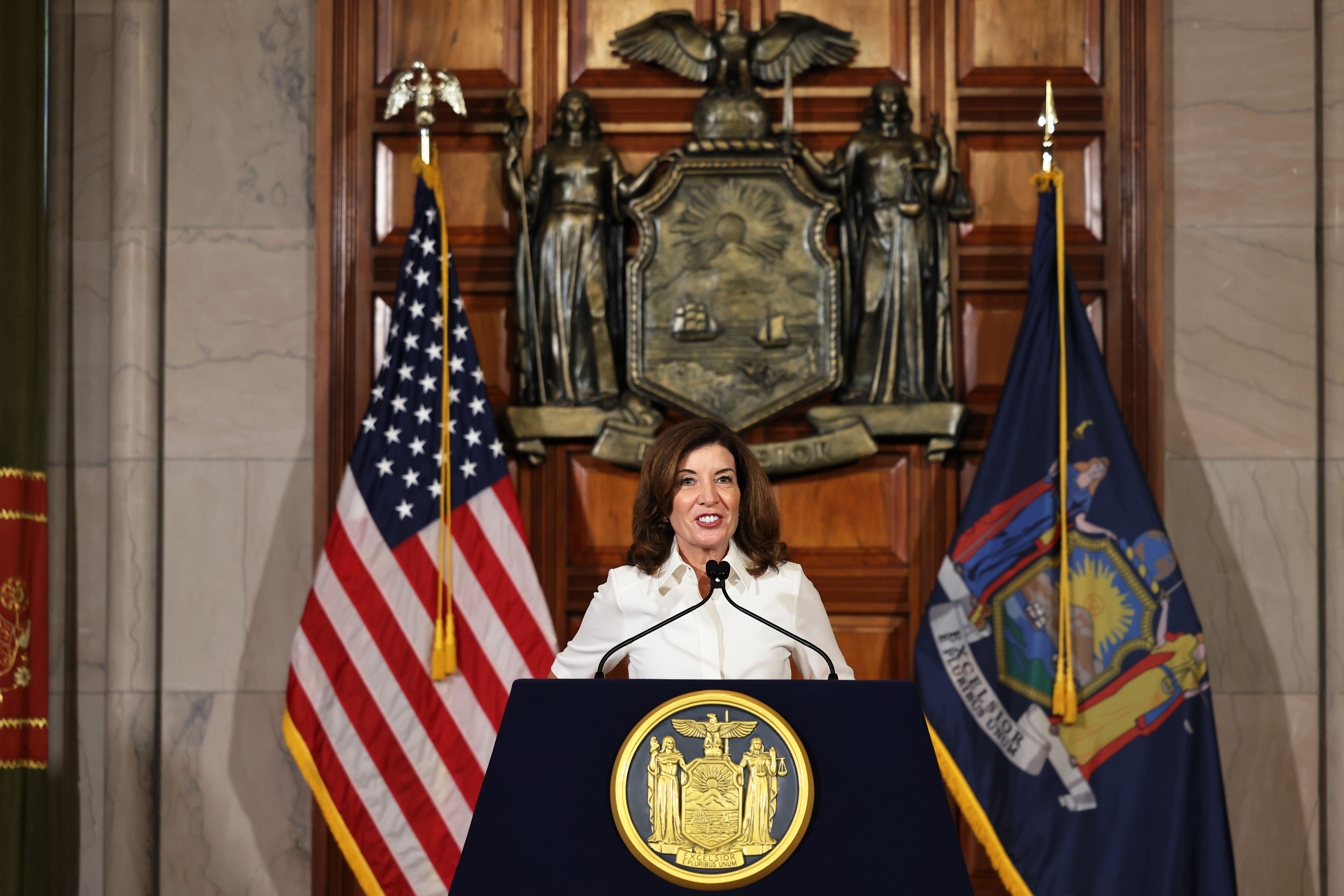 "It is our time to unleash the power of New York's women. And make sure that any barriers to success and opportunity are eradicated, once and for all."
— Gov. Kathy Hochul on Day 1,
via N.Y. Times
7. Herschel Walker runs for Senate in Ga.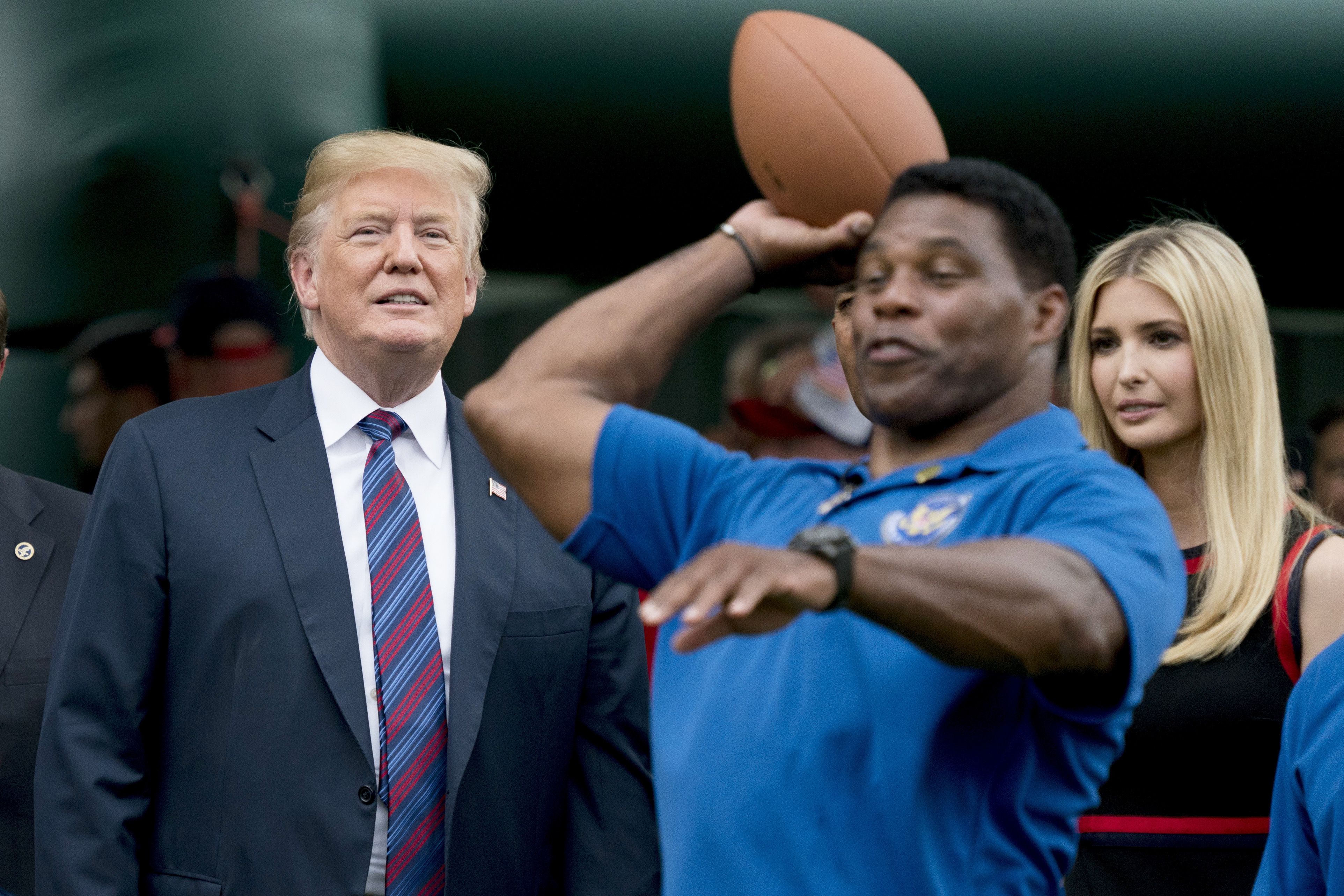 Herschel Walker, Heisman Trophy winner and former Georgia football star, launched a campaign for U.S. Senate with former President Trump's support, The Atlanta Journal-Constitution's Greg Bluestein reports.
"Walker becomes the most prominent Republican to line up against Democratic U.S. Sen. Raphael Warnock."
8. First look: House Rs hit inflation, not Afghanistan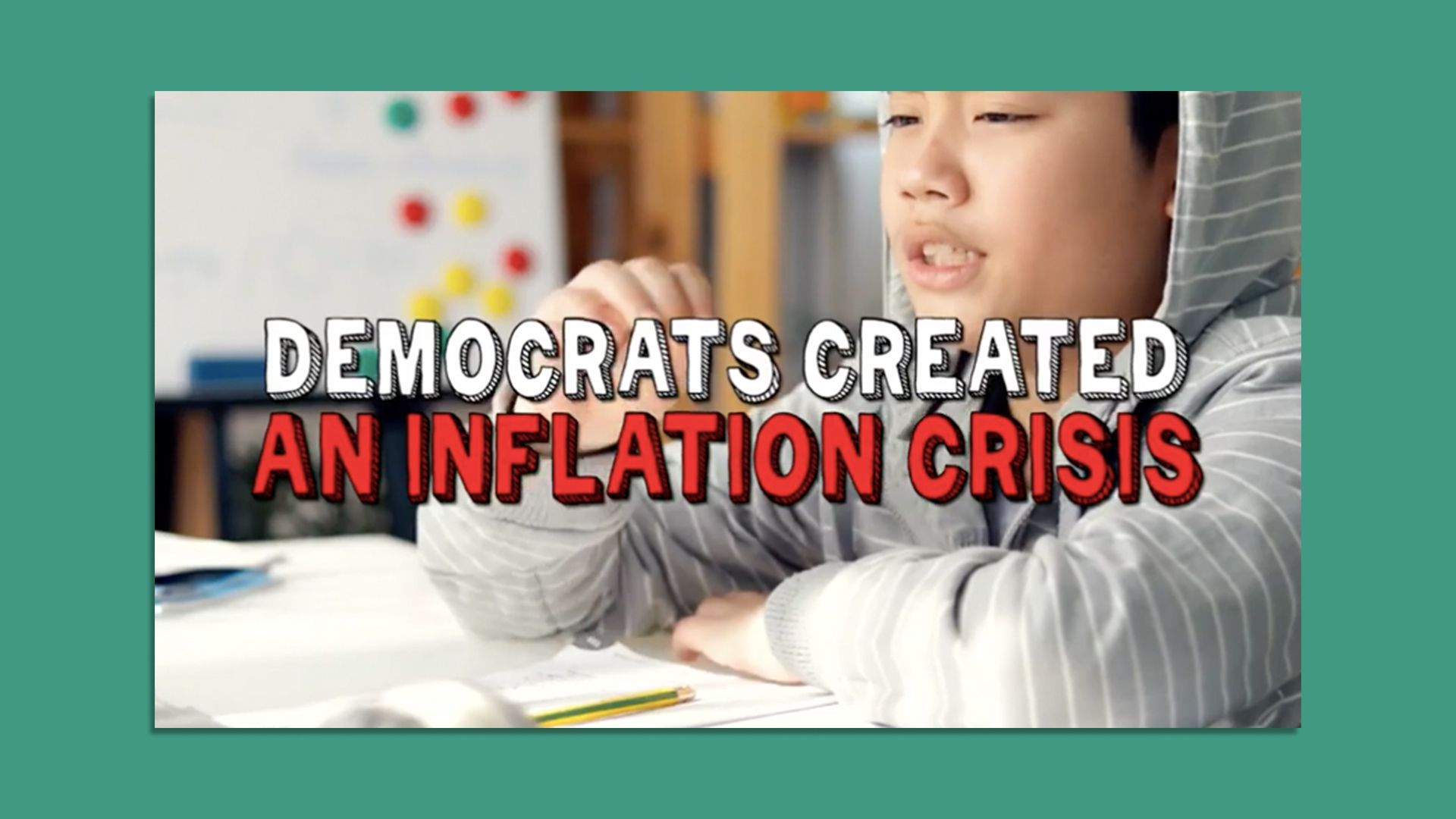 The House Republicans' campaign arm today will launch attack ads against 15 vulnerable Democrats, focusing entirely on inflation instead of the chaotic withdrawal from Afghanistan, Axios' Alayna Treene reports.
Why it matters: The decision to focus on a domestic issue highlights the GOP belief that kitchen-table issues will resonate best with voters in next year's midterms.
The five-figure buy creates a roadmap to the 15 hottest districts — all held by moderate Democrats — that the National Republican Campaign Committee (NRCC) think can be flipped to win the House majority:
Reps. Tom O'Halleran (Ariz.-01) ... Josh Harder (Calif.-10) ... Jahana Hayes (Conn.-05) ... Stephanie Murphy (Fla.-07) ... Cindy Axne (Iowa-03) ... Sharice Davids (Kansas-03) ... Jared Golden (Maine-02) ... Elissa Slotkin (Mich.-08) ... Haley Stevens (Mich.-11) ... Angie Craig (Minn.-02) ... Chris Pappas (N.H.-01) ... Tom Malinowski (N.J.-07) ... Sean Maloney (N.Y.-18) ... Matt Cartwright (Penn.-08) ... Vicente Gonzalez (Texas-15).
9. 📺 Fox News beats Big 3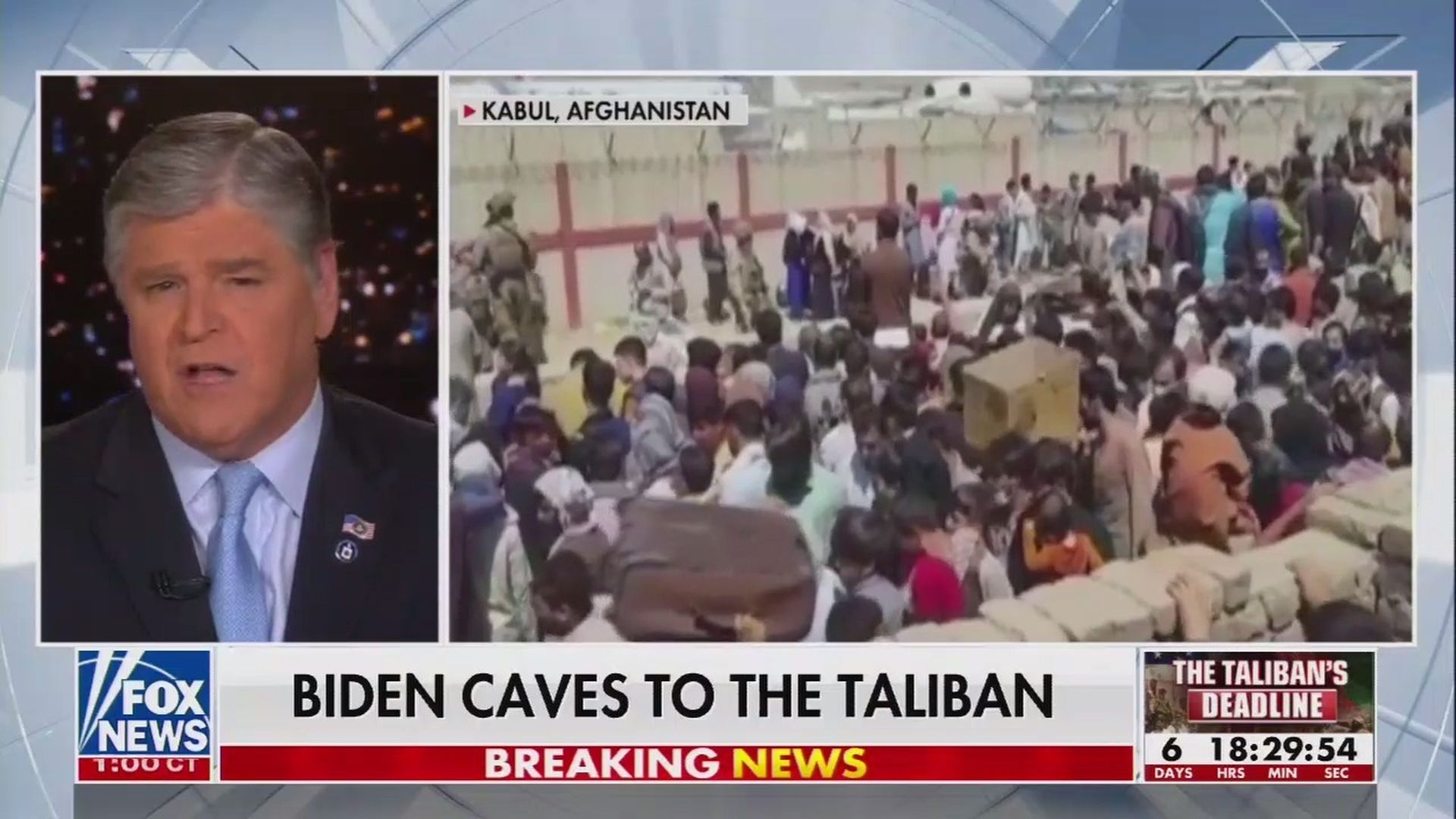 Fox News, bolstered by viewers' rapt attention to Afghanistan, beat the broadcast networks in last week's ratings, AP writes from Nielsen figures.
Fox News averaged 2.94 million viewers, followed by CBS (2.57 million), NBC (2.53 million), ABC (2.39 million), Fox broadcast (1.38 million), Univision (1.28 million), Ion Television (1.12 million) and Telemundo (1.04 million).
MSNBC averaged just under 1.2 million. CNN had 943,000.
Of last week's top 20 shows on TV, three were "Hannity" and five were "Tucker."
The last time Fox News claimed the No. 1 spot on all of TV was last September, when Chris Wallace moderated a Trump-Biden debate.
10. 🇬🇧 How Brits remember Charlie Watts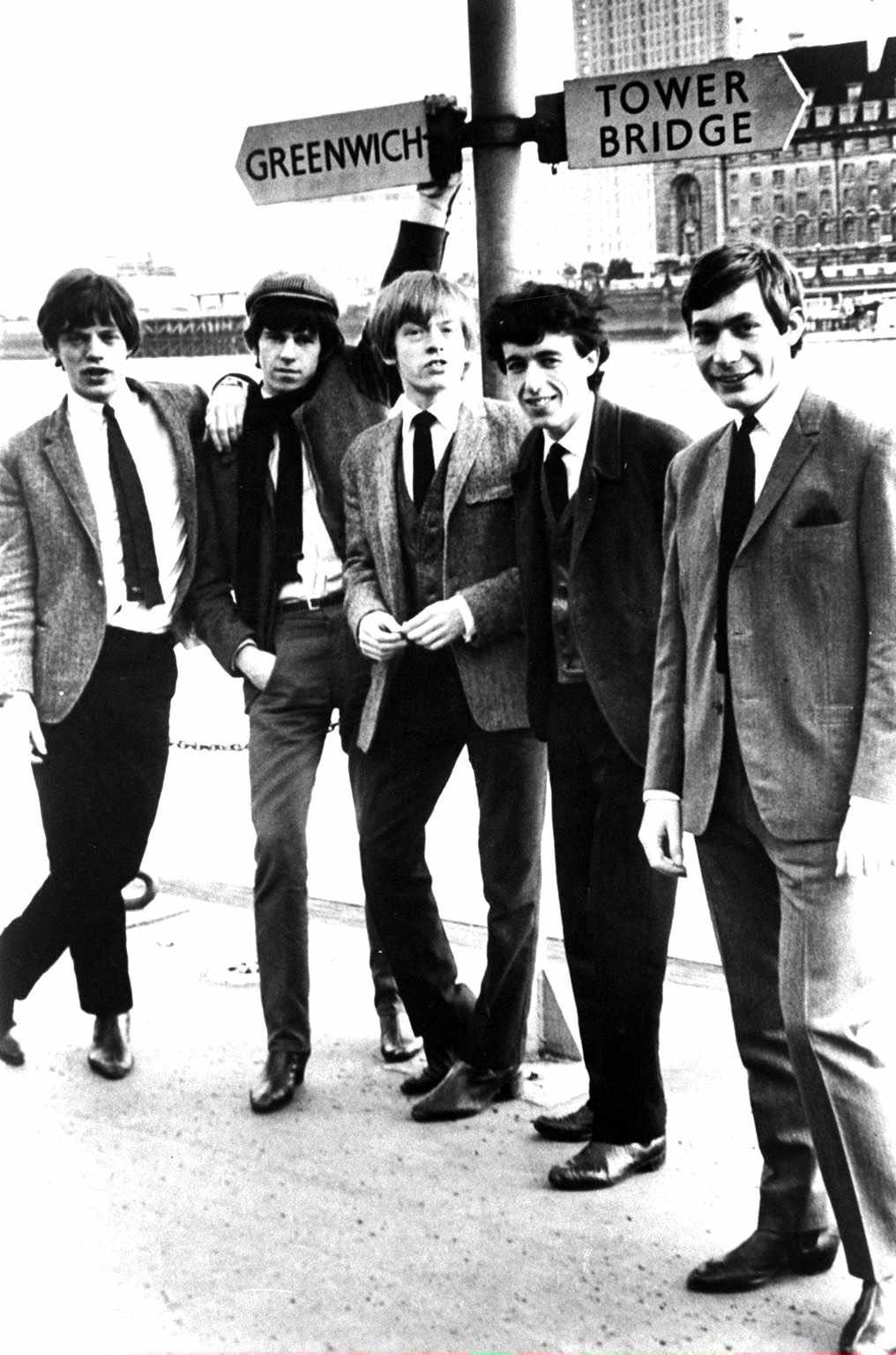 In an obit of Charlie Watts, the Rolling Stones drummer who died at 80 in London, The Times of London writes (subscription):
Watts may have been the most mild-mannered member of the Rolling Stones, but he saw red when Mick Jagger made the mistake of possessively referring to him as "my drummer." ...
It happened one night in Amsterdam in 1984 and according to Keith Richards's autobiography, the drummer hauled Jagger up by his lapels and gave him a punishing right hook that sent him sprawling across a table laden with platters of smoked salmon.
Some recollections have Watts adding: "You're my [expletive] singer."
📬 Invite your friends, family and colleagues to sign up here for Axios AM and Axios PM.